June, 23, 2014
Jun 23
10:00
AM PT
BRADENTON, Fla. -- The IMG 7v7 National Championship held at IMG Academy over the weekend featured some of the top 7-on-7 teams from all over the country and even a few teams from Canada. The event, which included 12 prospects ranked in the top 50 of the ESPN 300, showcased some of the best talent you will find in a single tournament. Led by Alabama verbal commits
Calvin Ridley
and
Shawn Burgess-Becker
, the Florida Fire from South Florida defeated Tampa's Unsigned Preps 20-18 in the championship game to take home the title.
Quarterbacks shine
There were several high-profile quarterbacks in attendance, and they lived up to the hype for the most part.
Deondre Francois
, who recently transferred to IMG Academy, made numerous impressive throws. The 6-foot-2, 188-pound signal-caller has a top three of Oregon, Auburn and Florida State and is planning to make his decision at the end of July.
February, 6, 2014
Feb 6
5:30
AM PT
The Early Offer is RecruitingNation's regular feature, giving you a daily dose of recruiting in the mornings. Today's offerings: Alabama's 2014 class is special, but is it the best class ever? Who were my biggest winners Wednesday, and what can we look forward to with the class of 2015?
Special class for Bama
To continue reading this article you must be an Insider
February, 5, 2014
Feb 5
5:30
AM PT
The Early Offer is RecruitingNation's regular feature, giving you a daily dose of recruiting in the mornings. Today's offerings: The Class of 2014 will go down as one of the wildest recruiting rides in recent memory. With so many players switching commitments and some elite prospects still left on the board, here are five things to keep an eye on heading into recruiting's biggest day.
Does Bama have the best class ever?
To continue reading this article you must be an Insider
January, 13, 2014
Jan 13
10:30
AM PT
By
Brett Perrotta, ESPN Stats & Info
| ESPN.com
With the door closed on the 16-year reign of the BCS, we dove into the 72 BCS bowl games to find the 10 most memorable moments of the BCS era.
10. Utah's hook-and-ladder:
The first team ever dubbed a "BCS Buster" was the Urban Meyer-coached and
Alex Smith
-led Utah Utes in 2004. In the 2005 Fiesta Bowl, Utah led Pittsburgh 28-7 late in the third quarter and lined up at the Panthers' 18-yard line. Smith swung it left to Steven Savoy, who lateraled to
Paris Warren
, who ran it in for the score as the Utes completed a 12-0 season.
9. Peerless Price down the sideline:
Tennessee led Florida State 14-9 with 9:29 remaining in the fourth quarter in the 1999 Fiesta Bowl with the first BCS Championship on the line. UT quarterback
Tee Martin
found Price down the right sideline, and Price took it the distance for a 79-yard score. Price had 199 receiving yards for the winning Vols, the most ever in the BCS title game.
8. Ginn's costly return:
Ohio State received the opening kickoff from Florida in the 2007 BCS Championship game, and
Ted Ginn
Jr. wasted no time in getting the game's first score on a 93-yard return. What will always be remembered, however, is that Ginn suffered a foot injury on the ensuing celebration and was out for the rest of the Buckeyes' 41-14 loss.
7. Warrick's juggling score:
Though the championship of the 1999 season was marked by Virginia Tech freshman QB
Michael Vick
, it was Florida State's
Peter Warrick
who was named the most outstanding player. He had a punt return for a touchdown in the second quarter, and his juggling catch on a 43-yard score midway through the fourth served as the dagger.
6. Vince Young, Part I:
Facing Michigan in the 2005 Rose Bowl, Young was responsible for all five Texas touchdowns in a 38-37 win. Though he had runs of 60, 23 and 20 yards, the most impressive was a 10-yard run in which Young escaped the tackle of Michigan lineman Pat Massey before scampering to the right pylon.
5. Dyer isn't down:
Tied at 19 with Oregon with just more than two minutes remaining in the 2011 BCS Championship Game, Auburn running back
Michael Dyer
appeared to be tackled for a short gain at the Auburn 45-yard line. Having rolled over the defender, Dyer was never ruled down, and ended up gaining 37 yards on the play before he was taken down at the Oregon 23-yard line. Auburn would win on a field goal as time expired.
[+] Enlarge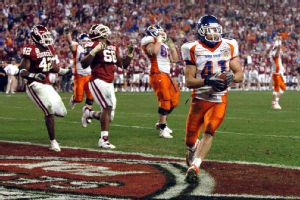 Steve Grayson/WireImageIan Johnson's two-point conversion run in overtime propelled Boise State over heavily favored Oklahoma in the 2007 Fiesta Bowl.
4. Winston to Benjamin:
Trailing Auburn 31-27 in the final BCS Championship Game, Heisman Trophy winner
Jameis Winston
drove the Noles 78 yards in less than a minute to the Auburn 2-yard line. Receiving the snap with 17 seconds left in a wild fourth quarter, Winston threw a perfect pass to
Kelvin Benjamin
, who brought it down for the game-winning score to complete an undefeated season.
3. Was it pass interference?
Some will remember Maurice Clarett's game-saving strip of
Sean Taylor
, but the lasting legacy of the game is the dubious pass interference call in overtime. Miami led 24-17 and Ohio State faced fourth-and-3 from the 5-yard line.
Glenn Sharpe
was called for pass interference, giving the Buckeyes new life in a game they would win 31-24.
2. Boise State's trick plays:
In the 2007 Fiesta Bowl, Boise State trailed heavily favored Oklahoma 35-28 with 18 seconds left and facing fourth-and-18 from the 50-yard line. Jared Zabransky completed a pass to Drisan James just short of the first down, but he lateraled it to Jerard Rabb, who took it the rest of the way for the tying touchdown. In overtime, down 42-35 on fourth down, wide receiver Vinny Perretta completed a 3-yard pass to
Derek Schouman
for a touchdown. Chris Petersen elected to go for two, and Zabransky faked a throw to his right before handing it behind his back to Ian Johnson on the Statue of Liberty play for the winning two-point conversion. Johnson would propose to his girlfriend, a Boise State cheerleader, on the sideline after the game.
1. Vince Young, Part II:
After a Longhorns touchdown and key fourth-down stop, undefeated Texas trailed undefeated USC 38-33 with 26 seconds remaining and faced fourth-and-5 from the 9-yard line, with the 2005 BCS championship on the line. Vince Young dropped back to pass but saw nobody open, and immediately sprinted for the right pylon for the title-winning score in the marquee game of the BCS era.
August, 16, 2013
8/16/13
10:45
AM PT
By
ESPN.com staff
| ESPN.com
The
All-American wealth
has spread across the land. The Pac-12 leads the conferences with seven, one more than the SEC. Dual-threat QB
Marcus Mariota
and RB
Lache Seastrunk
both originally signed with Oregon. Now that Seastrunk plays for Baylor, he and Mariota no longer have to share a backfield. Seastrunk and G
Cyril Richardson
make the Bears the only team with two on offense. Richardson is surely the first All-American named Cyril, but Lache is not the first body of water to make it. He joins 1939 Heisman winner Nile Kinnick.
Alabama has won three of the past four BCS titles with defense and placed LB
C.J. Mosley
and S
Ha Ha Clinton-Dix
on this team. Alabama and Oregon lead with three players apiece on the list. That's one more than the Big Ten and two more than the ACC and Conference USA. -- Ivan Maisel
View ESPN.com's 2013 Preseason All-America team here
.
July, 28, 2013
7/28/13
1:00
PM PT
GAINESVILLE, Fla. -- Class of 2014 safety
Quincy Wilson
won't be announcing his decision until the first week of August, but he has narrowed his list of schools to Florida, Notre Dame, Ohio State, South Carolina and USC.
The 6-foot-1, 197-pound standout from Fort Lauderdale (Fla.) University School of Nova South -- whom ESPN ranks as the No. 12 safety in the country -- made that announcement after participating in Florida's Friday Night Lights one-day camp. Wilson said he had a good time at Florida Field and spent a lot of time with UF commits
Will Grier
(Davidson, N.C./Davidson Day),
J.C. Jackson
(Immokalee, Fla./Immokalee),
Dalvin Cook
(Miami Central), and
Duke Dawson
(Cross City, Fla./Dixie County) as well as fellow uncommitted recruit
Adoree' Jackson
(Gardena, Calif./Junipero Serra), the nation's No. 5 overall player and No. 2 cornerback.
To continue reading this article you must be an Insider
October, 16, 2012
10/16/12
11:09
AM PT
By
RecruitingNation staff
| ESPN.com
College GameDay's Kirk Herbstreit covers Alabama's No. 1 ranking, his expectations for USC, Mack Brown's future at Texas, Notre Dame's 6-0 start, the state of the Big Ten and more.
Listen to the complete ESPN Radio interview
.
September, 22, 2012
9/22/12
5:05
AM PT
By
ESPN.com staff
| ESPN.com
Welcome to Week 4! Join our ESPN.com college football experts as they get you ready for GameDay.
Contribute your thoughts and questions beginning at 10 a.m. ET.
Now's the time to hit us up with your best tailgate photos. Send your pictures
@ESPNCFB
or upload them through the chat. We can't wait to see what you're cooking up today. Here are
our previous tailgates
.
September, 13, 2012
9/13/12
10:43
AM PT
By
ESPN Stats & Information
| ESPN.com
1.
Matt Barkley
has thrown 119 consecutive passes against five or more pass-rushers without an interception -- a streak that dates to Sept. 24 of last season. During that time, Barkley has thrown 18 touchdowns when opponents blitz, including four games with at least three touchdown passes.

The first of those four games was against Stanford last year in Week 7, Barkley's second career three-touchdown game against the Cardinal blitz. Overall, Barkley has thrown 37 touchdowns and three interceptions against blitzes since the start of his sophomore season.
2. UL Monroe faces Auburn on Saturday after pulling off a stunning upset of Arkansas last week. In the process, the Warhawks can achieve something that hasn't been done in 24 years. The last team not currently in a BCS-AQ conference to beat SEC opponents in consecutive games was Tulane in 1988. In 1988, the Green Wave beat Ole Miss on Nov. 5 and then knocked off Mississippi State. Memphis pulled off a similar feat just a few weeks earlier in 1988, beating Mississippi State and Florida in consecutive games.
3. Alabama begins its SEC slate this week at Arkansas. On the field, Alabama has won 20 straight SEC openers, with its last loss coming in 1991 to Florida. (Note: Some of those games have since been vacated or forfeited.)

How impressive is that? Not only is it the longest current win streak in conference openers, but it beats the next highest by eight. Boise State has won 12 straight conference openers dating to 2000, accomplishing that in three different conferences. The Broncos open their 2012 conference schedule on Sept. 29 at New Mexico.
4. Last week against Air Force,
Denard Robinson
had more total yards (426) than the entire Michigan team (422). One big reason for this was Robinson's 218 rushing yards. The remainder of the team had minus-4. While this seems like it would be a rarity, it isn't. In fact, he wasn't even the only player to accomplish this last week (Temple's
Chris Coyer
). Since 2004, it's happened 25 times, and the only player to do it twice over that stretch? Indiana's Kellen Lewis in 2007.
5. Michigan State soared into the AP Top 10 this week, and that could be bad news for its opponent this week.

Notre Dame has lost nine straight games against AP Top 10 teams by an average of more than 15 points per game. The last time the Fighting Irish beat a team in the top 10 was 2005, when they knocked off No. 3 Michigan. The nine-game losing streak is the longest in Notre Dame history. The previous longest was seven games spanning 1984-86.
September, 11, 2012
9/11/12
1:41
PM PT
By
Sharon Katz
and
Toby Petitpas, ESPN Stats & Information
| ESPN.com
In order to win a Heisman Trophy, candidates must find a way to separate themselves from the competition. One amazing performance can vault a player into the national spotlight, and one bad game can end a player's Heisman aspirations.
In Week 2, there were several outstanding performances by potential Heisman Trophy candidates, led once again by USC's senior quarterback.
Matt Barkley
had 187 yards passing and threw a school-record six touchdowns in USC's 42-29 victory over Syracuse.

Barkley became the first FBS quarterback in the last 12 seasons to throw at least six touchdown passes with less than 200 yards passing in a game. Barkley has 20 touchdown passes in his last four games, six more than any other player in FBS during that span. He kept his passes short in a stormy MetLife Stadium, averaging a career-low 3.7 air yards per attempt. USC's receivers turned these short passes into big gains with 137 yards coming after the catch -- the 10th straight game that the Trojans gained 100 yards after the catch.
With his play the first two weeks of this season, UCLA running back
Johnathan Franklin
has vaulted himself into the Heisman discussion.

Franklin had 217 rushing yards on 26 attempts in the Bruins' 36-30 upset of Nebraska. It was his second consecutive 200-yard rushing game and third of his career. Franklin's 215.5 rushing yards per game leads FBS this season. In fact, he's averaging more than 90 teams. Franklin leads FBS with six runs that gained 20 yards or more, and is one of two players with two touchdown runs of at least 60 yards.
Ohio State's
Braxton Miller
accounted for a career-high four touchdowns (three rushing, one passing) and 296 yards in Ohio State's 31-16 win against UCF. Miller gained 141 yards on the ground, his second-straight 100-yard game and seventh of his career. Only Terrelle Pryor has more 100-yard games rushing than Miller among Ohio State quarterbacks. Miller gained a career-high 106 rushing yards inside the tackles, including two touchdowns. After averaging 4.6 yards per rush between the tackles last season, Miller is averaging 7.2 yards in 2012.
After being kept in check by Alabama,
Denard Robinson
was back to making plays with his arm and his legs.

In Michigan's 31-25 win over Air Force, he completed 14-of-25 passes for 208 yards and two touchdowns. On the ground, he had 20 carries for 218 yards and two more touchdowns. It was his third career game with at least 200 rushing yards and at least 200 passing yards, the most among all FBS players since 2000. Robinson gained 211 of his 218 rushing yards on 19 designed-running plays. During Michigan's Week 1 loss to Alabama, the Wolverines called only six designed-running plays for Robinson, who gained 25 yards.
August, 2, 2012
8/02/12
10:00
AM PT
USC wasn't eligible for the coaches' poll in 2011 due to NCAA sanctions, but it will start 2012 almost at the top.

The Trojans
are ranked third
, behind No. 1 LSU and No. 2 Alabama, the two SEC teams that played for the BCS national title last season.
The vote at the top was tight. USC, with 19, and Alabama, with 20, actually got more No. 1 votes than LSU (18). That should be your first warning of the "What the heck" nature of the poll. LSU, which welcomes back 15 starters from a 13-1 team and upgraded at quarterback with
Zach Mettenberger
, seems like a clear No. 1 to the Pac-12 blog.
LSU, with 1,403 points, was just ahead of Alabama, at 1,399. USC got 1,388.
It's a little surprising that USC isn't No. 2. Alabama only has 11 position players returning, including just five from last season's outstanding defense. But coaches tend to tip their caps to defending champs, and it's not unlikely that each of the seven SEC coaches in the poll -- the Pac-12 had six -- voted the SEC teams one-two. I also have a hunch a Pac-12 coach -- or two -- didn't vote USC either No. 1 or 2.
And, of course, the coaches poll, though it is unfortunately included in the BCS standings, is the least respected of all polls due to its regional biases, obvious conflicts of interest, lack of transparency and the simple fact that few coaches pay attention to teams they don't play. Oh, and many of the coaches hand off their votes to sports information directors.
Oregon comes in at No. 5, 18 points behind No. 4 Oklahoma. Stanford is 18th, just ahead of the Oklahoma State team that nipped the Cardinal in the Fiesta Bowl.
And that's it for the Pac-12 in the top-25. Washington came in at No. 26 and Utah at 32nd, based on the "others receiving votes" tally.
The SEC led all conferences with seven ranked teams. The Big 12 had six, including new members West Virginia and TCU. The Big Ten had four, the ACC three.
It's also evident that the voters ran out of steam in the top 25. Florida, Notre Dame and Auburn combined for 16 losses in 2011, but were ranked Nos. 23, 24 and 25, respectively.
As we noted, "What the heck!"
Here are the coaches who voted, per USA Today, including the six Pac-12 coaches, who are bolded:
The USA TODAY Board of Coaches is made up of 59 head coaches at Bowl Subdivision schools. All are members of the American Football Coaches Association. The board for the 2012 season: David Bailiff, Rice; Frank Beamer, Virginia Tech; Tim Beckman, Illinois; Bret Bielema, Wisconsin; Terry Bowden, Akron; Art Briles, Baylor; Troy Calhoun, Air Force; Matt Campbell, Toledo; Gene Chizik, Auburn; Dave Christensen, Wyoming; Mark Dantonio, Michigan State; Tim DeRuyter, Fresno State; Dave Doeren, Northern Illinois; Sonny Dykes, Louisiana Tech; Jimbo Fisher, Florida State; Kyle Flood, Rutgers; James Franklin, Vanderbilt; Al Golden, Miami (Fla.); Jim Grobe, Wake Forest; Darrell Hazell, Kent State; Brady Hoke, Michigan; Dana Holgorsen, West Virginia; Skip Holtz, South Florida; Mark Hudspeth, Louisiana-Lafayette; Curtis Johnson, Tulane; Ellis Johnson, Southern Miss; Butch Jones, Cincinnati; Brian Kelly, Notre Dame; Lane Kiffin, Southern California; Mike Leach, Washington State; Pete Lembo, Ball State; Tony Levine, Houston; Mike London, Virginia; Rocky Long, San Diego State; Dan McCarney, North Texas; Mike MacIntyre, San Jose State; Ruffin McNeill, East Carolina; Gus Malzahn, Arkansas State; Bronco Mendenhall, BYU; Les Miles, LSU; George O'Leary, Central Florida; Paul Pasqualoni, Connecticut; Bo Pelini, Nebraska; Chris Petersen, Boise State; Joker Phillips, Kentucky; Paul Rhoads, Iowa State; Mark Richt, Georgia; Mike Riley, Oregon State; Rich Rodriguez, Arizona; Nick Saban, Alabama; Steve Sarkisian, Washington; Frank Solich, Ohio; Steve Spurrier, South Carolina; Rick Stockstill, Middle Tennessee; Bob Stoops, Oklahoma; Dabo Swinney, Clemson; Jeff Tedford, California; Tommy Tuberville, Texas Tech; Kevin Wilson, Indiana.
December, 28, 2011
12/28/11
1:04
PM PT
It was announced Wednesday that the Pac-12 and Big Ten conferences will form a "collaboration" for future scheduling that will involve all sports, with the football collaboration starting with the 2017 season.
The conference commissioners described the process as getting many of the benefits of expansion without the hassles involved. In all honesty, that logic makes a lot of sense. There's probably going to be another major shift in the college sports landscape in a few years -- be it a super-conference or something else -- so the conferences get to explore this option to see where it goes in the meantime.
There's no real need for the Pac-12 to expand beyond its current number of teams and media contract right now. There are a lot of good natural rivalries that have been structured in the new conference -- plus a lot of money -- and it makes sense to let things settle for a while before looking at expanding even more.
To continue reading this article you must be an Insider
PAC-12 SCOREBOARD
Thursday, 8/28
Friday, 8/29
Saturday, 8/30