March, 19, 2014
Mar 19
9:00
AM PT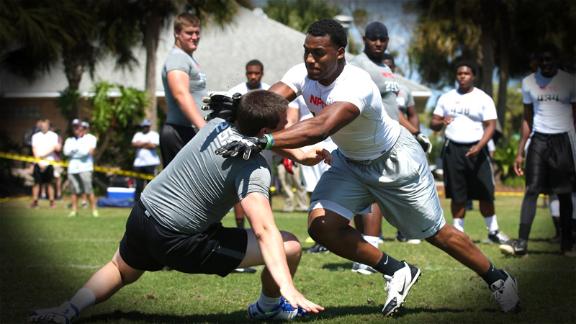 Throughout this recruiting cycle, RecruitingNation will profile a number of ESPN 300 prospects in the 2015 class, including an inside look at the prospect, his recruitment, a scouting report and what college program could benefit when he ultimately makes his decision.
ORLANDO, Fla. -- For most highly-rated defensive line prospects coming out of high school, the word "technique" is rarely used. Not because the prospects don't want to learn, but because proper technique is something that is seldom taught or even required at the high school level. Top defensive line prospects generally rely on brute strength or superior speed to beat the offensive linemen they face. But for ESPN Junior 300 defensive end
Byron Cowart
, who is the No. 68-ranked prospect in the country, technique has been his sole focus during the offseason.
To continue reading this article you must be an Insider
January, 30, 2014
Jan 30
5:30
AM PT
The Early Offer is RecruitingNation's regular feature, giving you a daily dose of recruiting in the mornings. Today's offerings: Nebraska coach Bo Pelini brought his lucky charm with him on the recruiting trail Wednesday; while a lot of fans are focused on
Adoree' Jackson
and
John Smith
, schools haven't forgotten about
Damien Mama
; and Notre Dame's upgrades to its facilities will help on the trail.
Hope recruits don't have allergies
To continue reading this article you must be an Insider
January, 13, 2014
Jan 13
10:30
AM PT
By
Brett Perrotta, ESPN Stats & Info
| ESPN.com
With the door closed on the 16-year reign of the BCS, we dove into the 72 BCS bowl games to find the 10 most memorable moments of the BCS era.
10. Utah's hook-and-ladder:
The first team ever dubbed a "BCS Buster" was the Urban Meyer-coached and
Alex Smith
-led Utah Utes in 2004. In the 2005 Fiesta Bowl, Utah led Pittsburgh 28-7 late in the third quarter and lined up at the Panthers' 18-yard line. Smith swung it left to Steven Savoy, who lateraled to
Paris Warren
, who ran it in for the score as the Utes completed a 12-0 season.
9. Peerless Price down the sideline:
Tennessee led Florida State 14-9 with 9:29 remaining in the fourth quarter in the 1999 Fiesta Bowl with the first BCS Championship on the line. UT quarterback
Tee Martin
found Price down the right sideline, and Price took it the distance for a 79-yard score. Price had 199 receiving yards for the winning Vols, the most ever in the BCS title game.
8. Ginn's costly return:
Ohio State received the opening kickoff from Florida in the 2007 BCS Championship game, and
Ted Ginn
Jr. wasted no time in getting the game's first score on a 93-yard return. What will always be remembered, however, is that Ginn suffered a foot injury on the ensuing celebration and was out for the rest of the Buckeyes' 41-14 loss.
7. Warrick's juggling score:
Though the championship of the 1999 season was marked by Virginia Tech freshman QB
Michael Vick
, it was Florida State's
Peter Warrick
who was named the most outstanding player. He had a punt return for a touchdown in the second quarter, and his juggling catch on a 43-yard score midway through the fourth served as the dagger.
6. Vince Young, Part I:
Facing Michigan in the 2005 Rose Bowl, Young was responsible for all five Texas touchdowns in a 38-37 win. Though he had runs of 60, 23 and 20 yards, the most impressive was a 10-yard run in which Young escaped the tackle of Michigan lineman Pat Massey before scampering to the right pylon.
5. Dyer isn't down:
Tied at 19 with Oregon with just more than two minutes remaining in the 2011 BCS Championship Game, Auburn running back
Michael Dyer
appeared to be tackled for a short gain at the Auburn 45-yard line. Having rolled over the defender, Dyer was never ruled down, and ended up gaining 37 yards on the play before he was taken down at the Oregon 23-yard line. Auburn would win on a field goal as time expired.
[+] Enlarge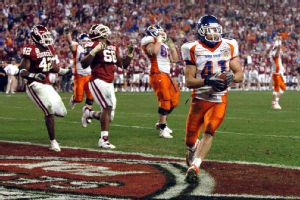 Steve Grayson/WireImageIan Johnson's two-point conversion run in overtime propelled Boise State over heavily-favored Oklahoma in the 2007 Fiesta Bowl.
4. Winston to Benjamin:
Trailing Auburn 31-27 in the final BCS Championship Game, Heisman Trophy winner
Jameis Winston
drove the Noles 78 yards in less than a minute to the Auburn 2-yard line. Receiving the snap with 17 seconds left in a wild fourth quarter, Winston threw a perfect pass to
Kelvin Benjamin
, who brought it down for the game-winning score to complete an undefeated season.
3. Was it pass interference?
Some will remember Maurice Clarett's game-saving strip of
Sean Taylor
, but the lasting legacy of the game is the dubious pass interference call in overtime. Miami led 24-17 and Ohio State faced fourth-and-3 from the 5-yard line.
Glenn Sharpe
was called for pass interference, giving the Buckeyes new life in a game they would win 31-24.
2. Boise State's trick plays:
In the 2007 Fiesta Bowl, Boise State trailed heavily favored Oklahoma 35-28 with 18 seconds left and facing fourth-and-18 from the 50-yard line. Jared Zabransky completed a pass to Drisan James just short of the first down, but he lateraled it to Jerard Rabb, who took it the rest of the way for the tying touchdown. In overtime, down 42-35 on fourth down, wide receiver Vinny Perretta completed a 3-yard pass to
Derek Schouman
for a touchdown. Chris Petersen elected to go for two, and Zabransky faked a throw to his right before handing it behind his back to Ian Johnson on the Statue of Liberty play for the winning two-point conversion. Johnson would propose to his girlfriend, a Boise State cheerleader, on the sideline after the game.
1. Vince Young, Part II:
After a Longhorns touchdown and key fourth-down stop, undefeated Texas trailed undefeated USC 38-33 with 26 seconds remaining and faced fourth-and-5 from the 9-yard line, with the 2005 BCS championship on the line. Vince Young dropped back to pass but saw nobody open, and immediately sprinted for the right pylon for the title-winning score in the marquee game of the BCS era.
September, 10, 2013
9/10/13
11:00
AM PT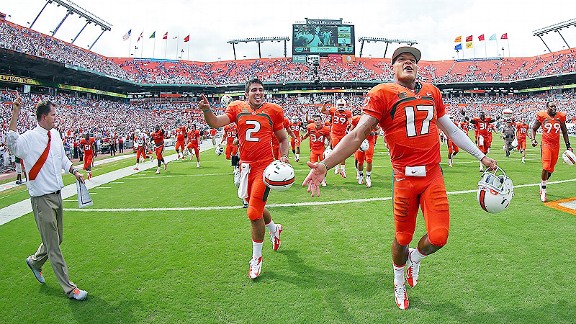 Mike Ehrmann/Getty ImagesThe Miami Hurricanes celebrated an upset win over the Florida Gators on Sept. 7.
For four months, ESPN The Magazine will follow the march to the Vizio BCS National Championship, moment by moment, culminating in our Story of the Season double-issue on Dec. 27. Every Tuesday, Mag senior writer Ryan McGee will pick the previous week's biggest moments and tell you why they'll have the most impact on potential BCS title matchups. If you disagree, send a tweet to @ESPNMag and tell us why your moment matters more, using the hashtag #StoryoftheSeason. Who knows? Your moment (and tweet) might just end up in our issue.
---
ON PAPER,
Week 2 didn't exactly appear overrun with BCS-altering showdowns. But by the time the final whistle had blown in the Pacific time zone, there were indeed dashed postseason hopes scattered among the wreckage.
If Week 1 was the Saturday that the FCS-FBS line officially blurred, then Week 2 was the Saturday that the BCS storylines officially started to take shape. Let's just call it Power Shift Saturday. And let's start in South Florida.
The previous five times the Florida Gators and Miami Hurricanes played, the winner finished the season ranked in the top 5 in the AP poll. The programs have been on-again, off-again rivals, part of a longstanding, round-robin tourney (along with Florida State) to be the kings of the Sunshine State.
Sensing that this will be the final regular-season matchup between the two teams for the foreseeable future, the oft-maligned Sun Life Stadium crowd actually showed up. Officials even uncovered extra seats, a practice normally reserved for the Orange Bowl, not Hurricanes fans who don't typically bother with the drive from Coral Gables.
With the heightened stakes, the blood was up early on both sidelines -- early as in before the game started. During warm-ups, the two teams started edging closer and the jawing became so intense that game officials had to give a polite warning. "There was so much smack talk, I can't even describe it," Miami quarterback
Stephen Morris
said after the game.
To open the game, the Gators' offense, led by
Jeff Driskel
, marched down the field on an eight-play drive, only to fumble in Miami territory. They marched again on a seven-play drive that bled into the second quarter, only to have Driskel throw a pick inside the Miami 5. And again they marched, only to have an 11-play drive stall after a failed fourth-and-1 at the Miami 16. Finally, a 12-play drive ended on a
Trey Burton
fumble in the red zone, with less than a minute to play in the half.
Still, the Gators' defense gave the offense a chance to win, eventually locking down what started as a runaway Hurricanes offense and limiting them to less than 2 yards per rush.
With seven minutes remaining in the game, Miami led 14-9, but Florida was driving (again), with a third-and-3 at the Canes' 16-yard line. Driskel took the snap from the shotgun and immediately fell into the habit that plagued him all day: His eyes betrayed him.
As soon as he had the ball, he was looking right, where two wide receivers were running quick outs. With an onrushing Miami defender in his face, Driskel rocketed a pass toward the sideline and wideout
Quinton Dunbar
, who was at the Miami 7, just beginning his turn to the quarterback.
"This is where you see Driskel get himself into trouble as a one-level thinker," an NFL scout told me on Sunday, watching film of the play on my laptop. "It's a boom-boom play; he's not supposed to take a lot of time, but damn, he never even considered another option. He already had his mind made up who the ball was going to, come hell or high water."
The play had a designed safety valve, which was Burton, running toward the sideline at the 12. Instead, Driskel fired it past Burton to Dunbar, who was cut inside by cornerback
Tracy Howard
, who essentially iced the game with an interception. The Gators did get the ball back, but turned it over (again), this time on a Driskel fumble deep in their own territory. Florida's final TD made the 21-16 result look closer than the game was.
"[Driskel] does this the whole game," the scout said, taking my laptop and scrolling back to the second quarter, when Driskel appeared to be first-option only, gunning blindly into nearly quadruple-coverage for an INT. "That play was designed to the running back on the left. If he's not there, then he's got a clear out to run. But again, he'd decided where he was going with it before the play even started. You can't be a real title contender like that. Did you see Tennessee against Western Kentucky? Ball hawks. That team might intercept this kid five times."
If the Vols do so on Sept. 21 in Gainesville, Florida -- which dropped from No. 12 to No. 18 in the AP poll -- is nearly guaranteed an opening SEC loss. During the Will Muschamp era, the Gators are 19-9. In those 19 wins, they've committed 18 turnovers, good for a plus-20 turnover margin. In the nine loses, that margin falls to minus-21.
As for the power shift, The U scored its first win against a top-15 opponent since 2009 and easily its biggest since knocking off No. 3 Virginia Tech in 2005. The Canes, which went from unranked to No. 15 in the poll after the win, reinforced the ACC media's preseason decision to vote them as the Coastal Division favorites. But more importantly, they reinforced the ACC itself. For the second straight week, the conference knocked off a highly ranked SEC foe. The coach who earned that first power-shifting win was quick to acknowledge the trend.
"How about that ACC?" Clemson's Dabo Swinney said as he wrapped up his postgame news conference Saturday after trouncing South Carolina State. "Spunky little league."
Then he threw up Miami's trademark "U" hand gesture and walked off the stage.
Of course, he doesn't have to face the Canes during the regular season, unlike Jimbo Fisher and Florida State, who do on Nov. 2.
---
Georgia, the team that Swinney and Clemson beat Aug. 31, last week knocked off the team that the Tigers hope to beat on Nov. 30: Jadeveon Clowney and South Carolina. The Dawgs' 41-30 win over the then-No. 6 Gamecocks also indicated a significant power shift. UGA snapped a maddening three-game losing streak to its SEC East rival. Yes, Georgia still managed to make the SEC title game the past two years, but the South Carolina losses always dogged its potential BCS title game status. Should Aaron Murray and company return to Atlanta this season, they still will have the Clemson loss hanging over them. But if the Tigers win out (they will certainly be favored in all of their remaining games), then they could potentially meet the Dawgs again in Pasadena. Then again, South Carolina could ruin the party for both if it beats Clemson in Columbia, something it has done in four straight seasons.
Michigan's 41-30 victory over Notre Dame signified a bit of a power shift: The Wolverines managed to beat a ranked opponent, something they did only once in five tries last season. Meanwhile, the Irish, who were ranked No. 14 last week, failed their first test of 2013 after beating an all-star list of schools during their improbable unranked-to-BCS title game run of 2012. Last season, Michigan lost to South Carolina (No. 11), Ohio State (No. 4), Alabama (No. 2) and yes, Notre Dame (No. 11). Now both teams have done something they couldn't a year ago -- one beat a ranked team, and the other lost a regular-season game.
Speaking of power shifts ... was it really just eight years ago that Texas and USC played for the national title at the Rose Bowl? In case you need to be reminded, both suffered surprising upsets Saturday. And if you're a member of either of those fan bases, safe to say you're also upset. The Longhorns fired one-time wunderkind defensive coordinator Manny Diaz after just two games, a decision accelerated by BYU's unthinkable 550-yard rushing performance. As for the Trojans' fall (at the Coliseum, no less), the closing minutes of the loss to Mike Leach's Washington State squad were played among "Fire Kiffin!" chants. USC has lost seven of its past nine games; Texas has dropped three of its past five.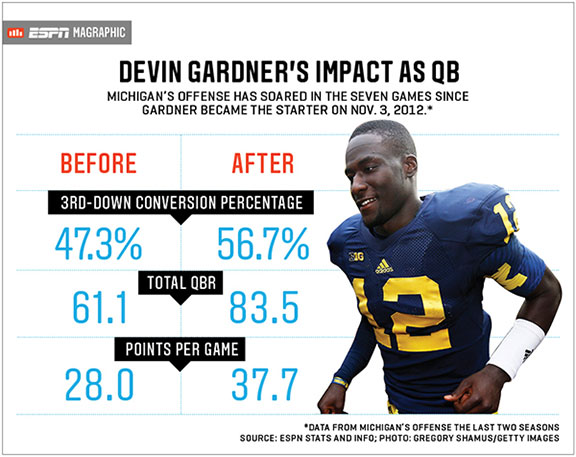 ESPN The Magazine
August, 16, 2013
8/16/13
10:45
AM PT
By
ESPN.com staff
| ESPN.com
The
All-American wealth
has spread across the land. The Pac-12 leads the conferences with seven, one more than the SEC. Dual-threat QB
Marcus Mariota
and RB
Lache Seastrunk
both originally signed with Oregon. Now that Seastrunk plays for Baylor, he and Mariota no longer have to share a backfield. Seastrunk and G
Cyril Richardson
make the Bears the only team with two on offense. Richardson is surely the first All-American named Cyril, but Lache is not the first body of water to make it. He joins 1939 Heisman winner Nile Kinnick.
Alabama has won three of the past four BCS titles with defense and placed LB
C.J. Mosley
and S
Ha Ha Clinton-Dix
on this team. Alabama and Oregon lead with three players apiece on the list. That's one more than the Big Ten and two more than the ACC and Conference USA. -- Ivan Maisel
View ESPN.com's 2013 Preseason All-America team here
.
August, 14, 2013
8/14/13
2:00
PM PT
By
ESPN.com staff
| ESPN.com
This is the last year of the BCS, and our writers look at its impact on college football:
From Ivan Maisel
: The BCS has moved NCAA football forward in a way no system before it could and given it a national stage, but along with exposure comes greater pressure and expectations, which in the end the series couldn't overcome.
From Mark Schlabach
: As we prepare for the final season of the BCS, let's take a look back at its highs and lows.
From Brian Bennett
: Five of the last seven national champions have had at least one loss, and with a playoff looming, going undefeated will be harder than ever.
December, 31, 2012
12/31/12
3:19
PM PT
Georgia Tech scored a
21-7 upset victory
over the
USC Trojans
in the Hyundai Sun Bowl. The Yellow Jackets got good production from the quarterback spot --
Tevin Washington
and
Vad Lee
both threw touchdown passes and Washington added a scoring run -- and a strong defense to get the win.


Game was over when:
Jamal Golden
intercepted a
Max Wittek
pass at the goal line with just over a minute left. The score was 21-7 in favor of Georgia Tech, but the Trojans had driven the ball for a late scoring attempt before the Wittek pass was tipped by
Quayshawn Nealy
into the arms of Golden. Golden also had a key punt return in the third quarter while Nealy had an end-zone interception of his own earlier in the fourth quarter.
Game ball goes to:
Georgia Tech's defense, a unit that gave up 30 points per game and was facing a USC offense that came in averaging over 34 points per game. The Yellow Jackets held the Trojans to a touchdown, and the only opponent to score fewer points this year against Georgia Tech was the
Presbyterian Blue Hose
, who scored a field goal. USC came into game averaging over 450 total yards per game and was held to 205. The Yellow Jackets limited 2012 Biletnikoff Award winner
Marqise Lee
to six catches for 41 yards.
Stat of the game:
USC's inability to convert. The Trojans were 3-of-16 on third- and fourth-down conversion attempts. That includes a stretch of six consecutive drives to begin the second half that were either three-and-out or turned over on downs.
What Georgia Tech learned:
What it feels like to win a bowl game for the first time in eight years. The Yellow Jackets had lost seven straight bowl games prior to Monday's win.
What USC learned:
That the 2012 season was disappointing to the end.
December, 3, 2012
12/03/12
7:58
AM PT
USC Trojans (7-5) vs. Georgia Tech Yellow Jackets (6-7)
Dec. 31, 2 p.m., El Paso, Texas (CBS)
USC take by WeAreSC's Garry Paskwietz:
It wasn't the bowl scenario USC envisioned when the 2012 season began, but it offers the Trojans a chance to end the disappointing year on a good note.

One of the big storylines will be the status of senior quarterback
Matt Barkley
, who sat out the regular-season finale against Notre Dame with an injured shoulder. It remains to be seen if he will be able to play in the bowl game.
Barkley is the Pac-12 career leader in passing yardage (12,327) and touchdowns (116).
Max Wittek
got the start against the Irish in Barkley's place and performed well enough to have USC fans talking optimistically about his role next season.
No matter who is at quarterback, they will have
Marqise Lee
and
Robert Woods
to throw to, and the pair is as good as it gets. Lee set the Pac-12 single season receptions mark this season with 112 catches to go along with 1,680 yards and 14 touchdowns. He is a candidate for the Heisman Trophy and the Biletnikoff Award. Woods set the USC career receptions mark this season, and currently has 249.
On the other hand, it was a season to forget for the Trojans defense. Not a single USC defender earned first-team All-Pac-12 honors and the unit gave up so many points (24.6 per game) and yards (396 per game) that Monte Kiffin announced his resignation effective after the bowl game.
T.J. McDonald
and
Wes Horton
are among the seniors who will be playing their final game for the Trojans.
The Trojans finished the regular season 7-5 overall, 5-4 in the Pac-12.
---

Georgia Tech take by ACC blogger Heather Dinich:
Georgia Tech needed a bowl-eligibility waiver from the NCAA just to play in this bowl game. That pretty much sums up how good the Jackets were (or weren't) this year.
Because Miami self-imposed a postseason ban, Georgia Tech backed into the Dr Pepper ACC championship game, which it lost 21-15 on Saturday to Florida State. It wasn't for a lack of effort -- Georgia Tech was in position to actually win the game and play in the Discover Orange Bowl, as it had the ball and a chance at a game-winning scoring drive on its final possession late in the fourth quarter. Quarterback
Tevin Washington
threw an interception with about a minute remaining, though, and that sealed the Jackets' postseason fate, dropping them to 6-7 and making that waiver of the utmost importance.
Georgia Tech dug itself into such a deep hole this season, it seemed an improbable candidate to win the Coastal Division, let alone play in a bowl game. The Jackets were 2-4, had lost a miserable home game to Middle Tennessee, and had just one ACC win heading into the bye week, when coach Paul Johnson decided to fire defensive coordinator Al Groh. While the move didn't magically fix the Jackets' defense, it did spark enough of a turnaround to keep the season from unraveling entirely. Georgia Tech won four of its next five games to cling to hopes of winning the division. Of course, it couldn't have done it without the assist from Miami. Now Georgia Tech is looking for its first bowl win under Johnson (0-4), and will have to go back to El Paso, Texas, for the second straight season to try and find it. Unfortunately for the Jackets, they'll have to do it against USC.
September, 22, 2012
9/22/12
5:05
AM PT
By
ESPN.com staff
| ESPN.com
Welcome to Week 4! Join our ESPN.com college football experts as they get you ready for GameDay.
Contribute your thoughts and questions beginning at 10 a.m. ET.
Now's the time to hit us up with your best tailgate photos. Send your pictures
@ESPNCFB
or upload them through the chat. We can't wait to see what you're cooking up today. Here are
our previous tailgates
.
September, 6, 2012
9/06/12
12:36
PM PT
By
ESPN Stats & Information
| ESPN.com

Trojans slip from top spot is rare
The last time a No. 1 ranked team won by more than 35 points and allowed 10 or fewer and fell from the top spot was 1974, when
Notre Dame
beat
Northwestern
49-3.
Ohio State
jumped from No. 2 to No. 1 after a 51-10 win over
Oregon State
.
USC
is the eighth team to win by more than 35 points, allow 10 or fewer and fall from No. 1 (and the first to do so in their opener).

Tide look to roll after Week 1 ascension
If
Alabama
is to stay atop the AP Poll for the remainder of the season, it would be the first team in 40 years to ascend to No. 1 in the first regular season AP Poll and run the table. In 1972, USC took over the top spot after the first week from
Nebraska
and won the national championship.
The only other time it happened since the preseason poll began in 1950 was in 1971 when Notre Dame was the preseason No. 1, but was overtaken by Nebraska after the first week.

Savannah State looks to avoid dubious mark
Savannah State
takes on
Florida State
this week after giving up 84 points to
Oklahoma State
. Could the Seminoles reach the 80-point mark this week? It would certainly be a rarity.
The only team in major college football to ever allow 80-or-more points in consecutive games was
Samford
in 1920. That year, the Bulldogs dropped an 88-0 decision to
Auburn
, then lost 120-0 to Centre (Ky.) the next week.

Post-Keenum era starts with whimper for Houston
Houston
managed just 13 points against
Texas State
last week after leading the nation in scoring a year ago with 49.3 points per game. That's not good, but won't get the Cougars into the record books.
The fewest points in an opener for a team that led the nation in scoring the previous year was seven, by
Colorado
in 1938. The last such team to score as few as 13 in an opener was
Oklahoma
in 2009 after leading the nation in scoring in 2008.

Price is right when Huskies go downfield
Washington
's
Keith Price
completed one of his five passes thrown 15 yards or longer in Week 1 against
San Diego State
. It was the rare game that the Huskies won in which Price struggled on these throws.
The Huskies are 5-1 since the start of last season when Price completes at least 50 percent of his 15-yard throws and 2-6 when he does not. He will be put to the test Saturday against an
LSU
defense that allows opponents to complete 18.5 percent of their throws of 15 yards or longer since the start of last season, including just one completion in 24 attempts by non-SEC opponents.
August, 2, 2012
8/02/12
10:00
AM PT
USC wasn't eligible for the coaches' poll in 2011 due to NCAA sanctions, but it will start 2012 almost at the top.

The Trojans
are ranked third
, behind No. 1 LSU and No. 2 Alabama, the two SEC teams that played for the BCS national title last season.
The vote at the top was tight. USC, with 19, and Alabama, with 20, actually got more No. 1 votes than LSU (18). That should be your first warning of the "What the heck" nature of the poll. LSU, which welcomes back 15 starters from a 13-1 team and upgraded at quarterback with
Zach Mettenberger
, seems like a clear No. 1 to the Pac-12 blog.
LSU, with 1,403 points, was just ahead of Alabama, at 1,399. USC got 1,388.
It's a little surprising that USC isn't No. 2. Alabama only has 11 position players returning, including just five from last season's outstanding defense. But coaches tend to tip their caps to defending champs, and it's not unlikely that each of the seven SEC coaches in the poll -- the Pac-12 had six -- voted the SEC teams one-two. I also have a hunch a Pac-12 coach -- or two -- didn't vote USC either No. 1 or 2.
And, of course, the coaches poll, though it is unfortunately included in the BCS standings, is the least respected of all polls due to its regional biases, obvious conflicts of interest, lack of transparency and the simple fact that few coaches pay attention to teams they don't play. Oh, and many of the coaches hand off their votes to sports information directors.
Oregon comes in at No. 5, 18 points behind No. 4 Oklahoma. Stanford is 18th, just ahead of the Oklahoma State team that nipped the Cardinal in the Fiesta Bowl.
And that's it for the Pac-12 in the top-25. Washington came in at No. 26 and Utah at 32nd, based on the "others receiving votes" tally.
The SEC led all conferences with seven ranked teams. The Big 12 had six, including new members West Virginia and TCU. The Big Ten had four, the ACC three.
It's also evident that the voters ran out of steam in the top 25. Florida, Notre Dame and Auburn combined for 16 losses in 2011, but were ranked Nos. 23, 24 and 25, respectively.
As we noted, "What the heck!"
Here are the coaches who voted, per USA Today, including the six Pac-12 coaches, who are bolded:
The USA TODAY Board of Coaches is made up of 59 head coaches at Bowl Subdivision schools. All are members of the American Football Coaches Association. The board for the 2012 season: David Bailiff, Rice; Frank Beamer, Virginia Tech; Tim Beckman, Illinois; Bret Bielema, Wisconsin; Terry Bowden, Akron; Art Briles, Baylor; Troy Calhoun, Air Force; Matt Campbell, Toledo; Gene Chizik, Auburn; Dave Christensen, Wyoming; Mark Dantonio, Michigan State; Tim DeRuyter, Fresno State; Dave Doeren, Northern Illinois; Sonny Dykes, Louisiana Tech; Jimbo Fisher, Florida State; Kyle Flood, Rutgers; James Franklin, Vanderbilt; Al Golden, Miami (Fla.); Jim Grobe, Wake Forest; Darrell Hazell, Kent State; Brady Hoke, Michigan; Dana Holgorsen, West Virginia; Skip Holtz, South Florida; Mark Hudspeth, Louisiana-Lafayette; Curtis Johnson, Tulane; Ellis Johnson, Southern Miss; Butch Jones, Cincinnati; Brian Kelly, Notre Dame; Lane Kiffin, Southern California; Mike Leach, Washington State; Pete Lembo, Ball State; Tony Levine, Houston; Mike London, Virginia; Rocky Long, San Diego State; Dan McCarney, North Texas; Mike MacIntyre, San Jose State; Ruffin McNeill, East Carolina; Gus Malzahn, Arkansas State; Bronco Mendenhall, BYU; Les Miles, LSU; George O'Leary, Central Florida; Paul Pasqualoni, Connecticut; Bo Pelini, Nebraska; Chris Petersen, Boise State; Joker Phillips, Kentucky; Paul Rhoads, Iowa State; Mark Richt, Georgia; Mike Riley, Oregon State; Rich Rodriguez, Arizona; Nick Saban, Alabama; Steve Sarkisian, Washington; Frank Solich, Ohio; Steve Spurrier, South Carolina; Rick Stockstill, Middle Tennessee; Bob Stoops, Oklahoma; Dabo Swinney, Clemson; Jeff Tedford, California; Tommy Tuberville, Texas Tech; Kevin Wilson, Indiana.
PAC-12 SCOREBOARD
Thursday, 8/28
Friday, 8/29
Saturday, 8/30