Texas Longhorns:

USC Trojans
March, 22, 2014
3/22/14
9:15
PM ET
MARIETTA, Ga. -- The Nike SPARQ combines have grown with each passing year, and on Saturday there was a record turnout. If the 1,993 prospects who attended weren't impressive enough, the performances by several top prospects who came to compete certainly left spectators turning heads.
Here is a rundown of some of the event's top performers.
ESPN Junior 300 running back Taj Griffin posted one of the top SPARQ scores of the day. Griffin checked in at 5-foot-10, 174-pounds, ran a 4.41 40-yard dash and a 4.35 shuttle, had a 46-inch vertical leap and a 36-foot power ball toss for a combined score of 124.29. On the recruiting front, Oregon, Clemson, Florida State, Ohio State and Tennessee continue to stand out the most.



2015 RB Taj Griffin @tg__7 with the highest SPARQ score of the day in Atlanta. pic.twitter.com/SaY2QZLPrE

— Gerry Hamilton (@HamiltonESPN) March 22, 2014

No. 3 junior offensive tackle Chuma Edoga posted an impressive score of 94.65. After measuring at 6-4 and weighing 276 pounds, Edoga ripped off a 5.01 40-yard dash, a terrific 4.69 shuttle and had a 33.8-inch vertical jump and 37-foot power ball throw. Following his impressive effort, he said his top four schools in order are Tennessee, Southern California, Georgia and Stanford with a decision likely on May 25, his birthday. The big news might have been that he currently prefers the Volunteers, but his mother is in the corner of the Bulldogs and Cardinal.
No. 252 prospect C.J. Sanders made the trip and did not disappoint. He checked in at 5-9 and 176 pounds, ran a 4.57 40-yard dash, had a blazing 4.09 shuttle run, leaped 36.5 inches and tossed the power ball 41 feet. On the recruiting front, USC, Notre Dame and Georgia are the latest to offer, joining Duke, Northwestern, Stanford, Tennessee, Vanderbilt, Mississippi State and Ole Miss. He visited USC last week, and lists Reggie Bush as his childhood idol. Sanders is the son of former Ohio State and NFL wide receiver Chris Sanders. His mom played basketball at Michigan. He reports his family favors Duke and USC early on with a decision slated for the summer.
Ben Cleveland is already considered one of the top offensive line prospects in the country, and the 6-7, 317-pounder showed why Saturday. He clocked a very impressive 5.22 40-yard dash and 4.87 shuttle, and had a 25.8-inch vertical leap and 41.5-foot power ball throw for a score of 99.78. He has offers from Georgia, Clemson, Florida, South Carolina and Texas with Alabama expected in the near future. He made an unofficial visit to Clemson two weeks ago.
Class of 2016 prospect
Class of 2015 running back Jaylen Burgess posted a 118.44. The 5-10, 214-pounder ran a 4.66 40-yard dash and a 4.38 shuttle, and had a 36.7-inch vertical leap and 42.5 power ball throw. He is receiving interest from Tennessee, Vanderbilt, Clemson, Duke and a number of other ACC schools. Duke and Tennessee are the coaching staffs Burgess talks to the most. He posted more than 1,500 all-purpose yards as a junior.
Class of 2016 linebacker and defensive end Charles Wiley checked in at 6-3, 203 pounds. He clocked a 4.68 40-yard dash and 4.45 shuttle, and also leaped 35 inches and threw the power ball 34.5 feet. He has an early offer from Virginia Tech.
Class of 2015 athlete Jeremiah Mercer is flying completely under the recruiting radar. While he had to sit out the 2013 season due to transfer rules, he made his mark Saturday posting a score of 97.47. The 5-11, 163-pound running back and wide receiver ripped off a 4.48 40-yard dash and 4.18 shuttle, and added a 36.2-vertical leap and 31-foot power ball toss. He is receiving interest from Vanderbilt and Mississippi State and lists Florida State as his dream school.
Class of 2016 inside linebacker Tyler Reed posted a very impressive score of 104.91. After measuring 6-2, 234 pounds, Reed ran a 4.96 40-yard dash and 4.59 shuttle, and had a 35.5-inch vertical leap and 41-foot power ball throw. He recorded 130 tackles as a sophomore.
Class of 2015 running back Eric Montgomery posted a 115.47, one of the day's top scores. The tailback checked in at 5-11, 185 pounds, ran a 4.46 40-yard dash and a 4.19 shuttle, and jumped 36 inches and threw the power ball 38 feet. On the recruiting front, Kentucky, Cincinnati, Ole Miss and Mississippi State, among others, are showing interest.
March, 13, 2014
3/13/14
12:30
PM ET
The new College Football Playoff is supposed to encourage schools to schedule better nonconference games, as teams try to beef up their schedule strength to earn one of the playoff's coveted four spots at season's end.
On Thursday, Texas A&M and UCLA
announced that they'll play each other
during the 2016 and 2017 seasons.
Other schools have announced future marquee nonconference opponents, including Texas A&M vs. USC, Notre Dame vs. Texas, Alabama vs. Michigan State and LSU vs. Oklahoma.
Here are five other nonconference games I'd like to see in the future:
[+] Enlarge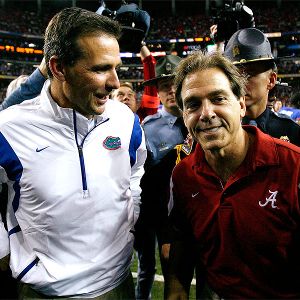 Kevin C. Cox/Getty ImagesUrban Meyer and Nick Saban have faced off for SEC titles, but their current teams, Ohio State and Alabama, have played only three times in history.
1. Alabama vs. Ohio State
: Alabama's Nick Saban and OSU's Urban Meyer dominated the SEC when Meyer was coaching at Florida, combining to win five BCS national championships from 2006 to 2012.
When Meyer was still coaching at Florida, the Crimson Tide and Gators played in two of the most anticipated SEC championship games. The No. 2 Gators beat the No. 1 Tide 31-20 in 2008, and then the Tide turned the tables on No. 1 UF with a 32-13 win in 2009.
Alabama and Ohio State have played only three times in history, with the Tide winning each time, most recently in a 24-17 victory in the 1995 Citrus Bowl.
2. Texas vs. Texas A&M
: Perhaps the biggest casualty in conference realignment, Texas and Texas A&M haven't played each other since the Aggies bolted the Big 12 for the SEC after the 2011 season. Sadly, there are no plans for the in-state rivals to play again in future regular seasons.
The Aggies and Longhorns played each other 118 times from 1894 to 2011, with their annual meeting traditionally being played on Thanksgiving Day. UT won nearly twice as many games as the Aggies (76-37-5), including nine of the last 12 meetings.
With former Louisville coach Charlie Strong taking over at Texas, and Kevin Sumlin building the Aggies into an SEC powerhouse, the game would also pit two of the sport's best African-American coaches against each other.
3. Oregon vs. Baylor
: Two of the game's most explosive offenses -- and two of its best-dressed teams -- would undoubtedly light up the scoreboard if they ever played. In fact, the contest would probably look more like a track meet.
Under coach Art Briles, the Bears have become the Ducks of the Southwest, with their hurry-up, spread offense and myriad flashy uniforms closely resembling what Chip Kelly and then Mark Helfrich built at Oregon. The Bears and Ducks follow the same blueprint on offense: play fast and score fast.
We hoped to see this matchup in the Tostitos Fiesta Bowl last season, but alas, it didn't happen. Oregon and Baylor have never met on the gridiron.
4. Michigan vs. USC
: Two of the sport's traditional heavyweights have faced each other eight times in the Rose Bowl Game Presented by Vizio, but only twice during the regular season -- in 1957 and 1958.
The Trojans won the last three meetings in the Rose Bowl, 32-18 in 2007, 28-14 in 2004 and 17-10 in 1990. USC has won six of the past seven meetings overall and holds a 6-4 advantage all-time.
We might have seen this matchup during the regular season if a Big Ten/Pac-12 scheduling partnership hadn't fallen apart in 2012.
5. Georgia vs. Florida State
: UGA coach Mark Richt was a longtime assistant under legendary FSU coach Bobby Bowden before taking over the Bulldogs, and he recently poached defensive coordinator Jeremy Pruitt off the Seminoles' staff.
The Bulldogs and Seminoles go head-to-head for a lot of recruits every year, and Florida State coach Jimbo Fisher upgraded his roster by effectively recruiting South Georgia and Atlanta.
The Bulldogs and Seminoles have played 11 times and only once since 1984 -- UGA defeated FSU 26-13 in the 2003 Sugar Bowl. Georgia leads the all-time series, 6-4-1.
January, 27, 2014
1/27/14
5:00
AM ET
1. With the signing of Florida State transfer quarterback
Jacob Coker
, Alabama head coach Nick Saban papered over a recruiting misstep. Without Coker, the Crimson Tide had no experienced quarterback to follow AJ McCarron. Phillip Sims, who had been the next in line, left Tuscaloosa nearly two years ago for Virginia. As Coker signed, 2015 recruit
Ricky Town
switched his commitment from Alabama to USC. But clearly that's only a coincidence. Coker's eligibility expires after 2015.
2. Once the NCAA put a black mark on Louisville assistant Clint Hurtt dating to his days at Miami and the Nevin Shapiro case, it was a matter of time before Hurtt shifted his career to the pro game. My colleague Brett McMurphy reported that Hurtt is going to the Chicago Bears. It was clear that Texas wasn't going to welcome his arrival with Charlie Strong. History has shown that NFL teams don't care about NCAA sanctions. The pro game has a lot fewer recruiting rules.
3.
Adam Rittenberg's analysis
of the Big Ten's issues at quarterback in 2014 reminded me of the lack of experience at quarterback in the Big 12 last season.
David Ash
of Texas began the season with 18 starts, the most of any quarterback in the league. It didn't take long to see the Big 12's offensive problems. But by the end of the season, the young talent began to grow up. If you saw Oklahoma's
Trevor Knight
and Texas Tech's
Davis Webb
, you know what I mean.
January, 13, 2014
1/13/14
10:30
AM ET
By
Brett Perrotta, ESPN Stats & Info
| ESPN.com
With the door closed on the 16-year reign of the BCS, we dove into the 72 BCS bowl games to find the 10 most memorable moments of the BCS era.
10. Utah's hook-and-ladder:
The first team ever dubbed a "BCS Buster" was the Urban Meyer-coached and
Alex Smith
-led Utah Utes in 2004. In the 2005 Fiesta Bowl, Utah led Pittsburgh 28-7 late in the third quarter and lined up at the Panthers' 18-yard line. Smith swung it left to Steven Savoy, who lateraled to
Paris Warren
, who ran it in for the score as the Utes completed a 12-0 season.
9. Peerless Price down the sideline:
Tennessee led Florida State 14-9 with 9:29 remaining in the fourth quarter in the 1999 Fiesta Bowl with the first BCS Championship on the line. UT quarterback
Tee Martin
found Price down the right sideline, and Price took it the distance for a 79-yard score. Price had 199 receiving yards for the winning Vols, the most ever in the BCS title game.
8. Ginn's costly return:
Ohio State received the opening kickoff from Florida in the 2007 BCS Championship game, and
Ted Ginn
Jr. wasted no time in getting the game's first score on a 93-yard return. What will always be remembered, however, is that Ginn suffered a foot injury on the ensuing celebration and was out for the rest of the Buckeyes' 41-14 loss.
7. Warrick's juggling score:
Though the championship of the 1999 season was marked by Virginia Tech freshman QB
Michael Vick
, it was Florida State's
Peter Warrick
who was named the most outstanding player. He had a punt return for a touchdown in the second quarter, and his juggling catch on a 43-yard score midway through the fourth served as the dagger.
6. Vince Young, Part I:
Facing Michigan in the 2005 Rose Bowl, Young was responsible for all five Texas touchdowns in a 38-37 win. Though he had runs of 60, 23 and 20 yards, the most impressive was a 10-yard run in which Young escaped the tackle of Michigan lineman Pat Massey before scampering to the right pylon.
5. Dyer isn't down:
Tied at 19 with Oregon with just more than two minutes remaining in the 2011 BCS Championship Game, Auburn running back
Michael Dyer
appeared to be tackled for a short gain at the Auburn 45-yard line. Having rolled over the defender, Dyer was never ruled down, and ended up gaining 37 yards on the play before he was taken down at the Oregon 23-yard line. Auburn would win on a field goal as time expired.
[+] Enlarge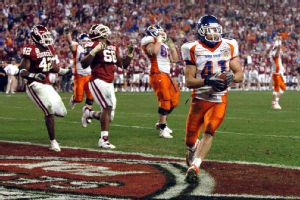 Steve Grayson/WireImageIan Johnson's two-point conversion run in overtime propelled Boise State over heavily favored Oklahoma in the 2007 Fiesta Bowl.
4. Winston to Benjamin:
Trailing Auburn 31-27 in the final BCS Championship Game, Heisman Trophy winner
Jameis Winston
drove the Noles 78 yards in less than a minute to the Auburn 2-yard line. Receiving the snap with 17 seconds left in a wild fourth quarter, Winston threw a perfect pass to
Kelvin Benjamin
, who brought it down for the game-winning score to complete an undefeated season.
3. Was it pass interference?
Some will remember Maurice Clarett's game-saving strip of
Sean Taylor
, but the lasting legacy of the game is the dubious pass interference call in overtime. Miami led 24-17 and Ohio State faced fourth-and-3 from the 5-yard line.
Glenn Sharpe
was called for pass interference, giving the Buckeyes new life in a game they would win 31-24.
2. Boise State's trick plays:
In the 2007 Fiesta Bowl, Boise State trailed heavily favored Oklahoma 35-28 with 18 seconds left and facing fourth-and-18 from the 50-yard line. Jared Zabransky completed a pass to Drisan James just short of the first down, but he lateraled it to Jerard Rabb, who took it the rest of the way for the tying touchdown. In overtime, down 42-35 on fourth down, wide receiver Vinny Perretta completed a 3-yard pass to
Derek Schouman
for a touchdown. Chris Petersen elected to go for two, and Zabransky faked a throw to his right before handing it behind his back to Ian Johnson on the Statue of Liberty play for the winning two-point conversion. Johnson would propose to his girlfriend, a Boise State cheerleader, on the sideline after the game.
1. Vince Young, Part II:
After a Longhorns touchdown and key fourth-down stop, undefeated Texas trailed undefeated USC 38-33 with 26 seconds remaining and faced fourth-and-5 from the 9-yard line, with the 2005 BCS championship on the line. Vince Young dropped back to pass but saw nobody open, and immediately sprinted for the right pylon for the title-winning score in the marquee game of the BCS era.
December, 31, 2013
12/31/13
1:00
PM ET
LAKE BUENA VISTA, Fla. -- Cornerback
Tony Brown
, No. 11 in the ESPN 300 and the No. 2 prospect in Texas, suffered an injury to his left shoulder on Tuesday and likely will not play in the Under Armour All-America Game.
Brown, of Beaumont Ozen High School, was hurt while reaching to defend a pass in a non-contact coverage drill. He received medical attention at the ESPN Wide World of Sports Complex and was transported from the practice facility by cart, his head buried in his hands and his arm in a sling.
The 6-foot, 196-pound Brown, rated as the No. 4 cornerback nationally, is scheduled to announce his college decision during the 4 p.m. telecast of the Under Armour Game Thursday on ESPN.
Brown made official recruiting visits to Ohio State, Alabama, Texas, USC and LSU.
He graduated from high school early in order to enroll in January at his college of choice. Brown is an elite sprinter and plans to compete in football and track and field in college.
September, 9, 2013
9/09/13
5:00
AM ET
1. Loyalty is an admirable quality. Loyalty to a fault will get you in trouble. In Manny Diaz's first two seasons as defensive coordinator at Texas, the Longhorns lost games by the score of 55-17, 48-24, 48-45, and 63-21. They won one, 56-50. Texas head coach Mack Brown stuck with Diaz. On Saturday night, the Longhorns lost at BYU, 40-21, allowing 550 rushing yards. Brown fired Diaz on Sunday. If that solves the Longhorns' issues, Brown will be fine. But by sticking with Diaz, Brown used up a lot of goodwill.
2. That said, USC athletic director Pat Haden is not in the same predicament as Brown. When Haden gave Trojans coach Lane Kiffin a preseason vote of confidence, he well may have meant it. It was interpreted, however, as campaign rhetoric, something Haden had to say. Haden didn't hire Kiffin, so he doesn't own him -- yet. USC's 10-7 loss at home to Washington State on Saturday night puts Kiffin in a deep hole. He can still dig out. But he needs a quarterback, not a shovel.
3. Oregon freshman tailback
Thomas Tyner
made his collegiate debut Saturday. The high school All-American rushed four times for 51 yards, including touchdowns of 3 and 31 yards, in the mop-up fourth quarter of the Ducks' 59-10 victory at Virginia. "I've wanted to play for the Ducks for the majority of my childhood," Tyner said, wearing a permagrin. "My first carry being a touchdown, everything just lights up inside of you. Words can't even explain how exciting it is. Today has been awesome."
February, 7, 2013
2/07/13
4:00
PM ET
By
Mackenzie Kraemer
| ESPN.com
1
– Alabama's class rank. Every year that head coach Nick Saban has had a full season to recruit (since 2008), the
Crimson Tide
have had a top-three class. No other school has even had a top-10 class each of the past six years. Alabama received commitments from three of the top-10 running backs, plus
Derrick Henry
(No. 9 in ESPN 300, No. 1 Athlete), the leading rusher in high school football history.
3
– Number of Ole Miss's recruits ranked in the top 20 of the ESPN 300. Since ESPN recruiting rankings were introduced in 2006,
Ole Miss
had never had a single top-20 recruit. Head coach Hugh Freeze received letters of intent from two of the top five recruits, including the top ranked player in the ESPN 300, DE
Robert Nkemdiche
.
7
– Number of players since November who have decommitted from
USC
, and all were in the ESPN 300. USC's class was ranked No. 1 for more than three months between July and November, but now it's ranked 14th. Two of those decommits,
Eldridge Massington
(No. 172 in ESPN 300, No. 21 WR) and
Kylie Fitts
(No. 86 in ESPN 300, No. 8 DE) flipped their commitments to rival UCLA. The Bruins finished the day with the 12th-ranked class, the first time since 2006 they finished ahead of their crosstown rival.
7
– The number of top-10 recruiting classes Urban Meyer has had since 2006, and not one of those classes ranked lower than sixth. The only other coach with seven top-10 classes is Mack Brown. This year, Meyer and
Ohio State
scored the No. 3 recruiting class, headlined by CB
Eli Apple
(No. 11 in ESPN 300, No. 3 CB).
7
– The number of top-five recruiting classes
Florida
has had since 2006, most among all schools. Entering National Signing Day, the Gators had the top-ranked class before finishing the day second. Florida is one of three schools with multiple five-star recruits this year (Ole Miss and Notre Dame).
12
– The number of four-star recruits
Vanderbilt
has received letters of intent from. The past two seasons, James Franklin has recruited 15 players with a grade of 80 or better. In the previous four seasons, Vanderbilt didn't recruit a single such player.
14
- The number of SEC schools with top-40 recruiting classes. All 14 schools have top-40 classes, with none lower than 36th (Kentucky). Six of those schools are ranked in the top 10, the most any conference has had since 2006.
15
– Texas' class rank, the Longhorns' lowest since 2006.
Texas
had been the only school with a top-10 class every year since 2006. Texas still had the highest ranked recruiting class in the Big 12.
15
– Number of players in the ESPN 300 that have yet to sign letters of intent. Eleven have yet to commit to any school while four have yet to sign their letters of intent for various reasons.

16
- The number of states Notre Dame's 23 recruits reside in.
Notre Dame
has the No. 4 class this season, the highest ranked class it has had since 2006. It's Notre Dame's sixth top-10 class and third straight under Brian Kelly.
February, 3, 2012
2/03/12
4:00
PM ET
ESPN The Magazine and RecruitingNation compiled the past five years (2007-11) of ESPNU 150 rankings and then crowned college football's
top 10 recruiting programs
.

Here's how they did it:
Our methodology was simple: We re-tallied the scores following signing day and ranked the schools based on total number of ESPNU 150 recruits (there have been 900) hauled in over the last six years. Of course, like success on the field, recruiting is cyclical -- and fans of programs both on and off this list might look back on Feb. 1, 2012 as the day their team began its rise (or fall) on the trail.
Here's the top-10.
1. Florida
2. Texas
3. USC

4. Alabama
5. Florida State
6. Notre Dame
T-7. Georgia
t-7: LSU
9. Miami
T-10. Ohio State
T-10. Oklahoma
Here's what it says about USC:
Top states: California (36), Florida (six), Arizona (four)
Surprise state: Georgia (three)
Sure, the Trojans have California locked up. But USC has also signed four of Arizona's 12 ESPNU 150 prospects and Georgia's second-best preps in 2008 (WR Brice Butler of Norcross) and 2010 (WR Markeith Ambles of McDonough). In 2012, USC signed seven ESPNU 150 commits -- OT Zach Banner (Lakewood, Wash.) was the lone out-of-state recruit.
(USC actually signed three out-of-state recruits, including receiver
Nelson Agholor
and DT
Leonard Williams
, who are both from Florida).
What's clear from this list: Sometimes teams with lots of ESPNU 150 players produce on the field (Alabama, LSU, Oklahoma, Ohio State) and sometimes they do not (Florida, Texas, Florida State, Notre Dame and Miami).
Florida is 15-11 over the past two seasons, when these highly rated classes should have been peaking. Texas is 13-12 over the same span. Miami has lost fewer than six games just once since 2007. Notre Dame's best years came the past two seasons -- both 8-5. Florida State has averaged 4.8 losses since 2007. Georgia was 10-4 this season, but it was a combined 14-12 in 2009 and 2010. Ohio State probably can be forgiven its 6-7 finish this year, based on the NCAA issues and firing of coach Jim Tressel. Oklahoma's lone blip was an 8-5 campaign in 2009. USC's "downturn" came in 2009 and 2010 when the Trojans went 17-9.
Conclusions?
Well, it's possible that Florida recruiting -- as good as it is -- is overrated. Perhaps the same can be said for Texas. Or at least these four programs -- Florida, Florida State, Miami and Texas -- aren't doing the best job of evaluating their wealth of in-state talent.
December, 19, 2011
12/19/11
8:00
AM ET
The Pac-10 and Big 12 nearly got married last year, but only Colorado ended up eloping with the now-Pac-12.

You know: The conference that can count!

But the Pac-12, which has, yes, 12 teams, and the Big 12, which has 10 teams (though it's often hard to keep up with which ones), play each other in three bowl games this holiday season.

Joy to the world.

Texas Longhorns Show Out On Pro Day
BIG 12 SCOREBOARD
Thursday, 9/3
Friday, 9/4
Saturday, 9/5