Texas Longhorns:

Teddy Bridgewater
May, 16, 2014
5/16/14
9:00
AM ET
Days after the NFL draft, some Texas Longhorns fans still scratch their heads in disbelief. How a celebrated college football program -- one with decorated, award-winning athletes -- have zero players drafted into the NFL?
For the first time since before World War II, a Longhorn wasn't selected in the draft. It became national news, and it's news that no program wants to have attached to it, let alone one of the nation's most established programs. When Memphis safety
Lonnie Ballentine
was selected by the Houston Texans as the 256
th
pick -- the last pick of the seven-round draft -- it opened the floodgates for barbs thrown by Texas antagonists.
What the draft ineffectiveness failed to do, however, was steer recruits -- committed and uncommitted -- away from the program's future. If anything, it's drawn some closer to the vision of new coach Charlie Strong and his staff.
"Some people are taking it all over the top," uncommitted ESPN 300 linebacker
Malik Jefferson
said. "Those weren't Charlie's people; he didn't develop any of those kids. Why would people want to change their minds off going to a great school like Texas because of something they couldn't control?"
[+] Enlarge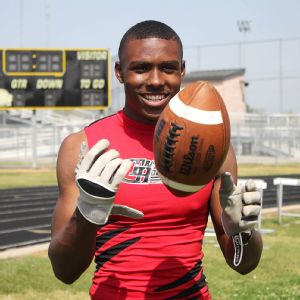 Sam Khan Jr./ESPNKendall Sheffield, the top-ranked player in Texas, said the fact the Longhorns had no draft picks has no bearing on his recruitment.
The draft has forced recruits to answer questions some might feel are slightly unnecessary:
"Will the draft affect your thoughts on Texas?"
"Can you trust the Longhorns to groom you into a pro-ready athlete after college?"
"Do you want to be a part of the laughingstock of college football?"
ESPN 300 cornerback
Kendall Sheffield
has had to answer some of these questions this week. The top-ranked player in Texas, Sheffield said he still has the Longhorns high on a list of several schools, a list that includes Texas A&M, Alabama, Baylor, Florida State, LSU, Oklahoma, Oregon and USC.
Sheffield admitted to being shocked that the Longhorns didn't have a draft pick, but to look at the program with a side eye -- particularly with a new coach in charge -- is something that never crossed his mind.
"I don't know if it plays a role in recruiting. I mean, they've still got to rebuild," Sheffield said. "I know they're going to still get some big recruits in. For me, I'm going to find the school that's the best fit for me and the place I feel has the best position coach. The draft won't have nothing to do with it."
Jefferson, believed to have Texas high on his list along with Texas A&M, Baylor, Alabama and others, reminded people that while the Longhorns went without a drafted player, Strong's former team at Louisville had three first-round picks in safety
Calvin Pryor
(No. 18 overall to the Jets), defensive end
Marcus Smith
(No. 26, Eagles) and quarterback
Teddy Bridgewater
(No. 32, Vikings).
"He knows what he's doing," Jefferson said of Strong.
During the Mack Brown era, 58 Longhorns were drafted. Safety
Kenny Vaccaro
was a first-round pick by the Saints last year. Receiver/return specialist
Marquise Goodwin
(Bills) and defensive end
Alex Okafor
(Cardinals) were selected in the third and fourth rounds in 2013.
This year's crop of undrafted talent included defensive end
Jackson Jeffcoat
and receiver
Mike Davis
. Jeffcoat was the Big 12 Defensive Player of the Year and the Ted Hendricks Award recipient, recognizing the nation's top defensive end. Davis caught 200 passes in his college career and is one of only four players in school history with 200 or more receptions.
Jeffcoat and Davis, as well as other Longhorns, signed with NFL teams as undrafted free agents, which is another reason why recruits aren't worried about the draft results. ESPN 300 offensive lineman
Patrick Vahe
-- who committed to Texas during the Brown era and chose to stay committed under Strong -- believes the draft is in full control of a player and not the coach.
Texas' ability to produce NFL offensive linemen has been sliding in recent years. The Longhorns haven't had an offensive lineman drafted since tackle
Tony Hills
in 2008. To assist in further developing linemen, Strong hired former Oklahoma State coach Joe Wickline, who coached NFL linemen
Russell Okung
,
Corey Hilliard
and
Charlie Johnson
at the college level. Okung is fresh off winning a Super Bowl with the Seahawks.
Vahe said he'll worry about being a pro athlete when that time comes. Right now, he's focused on being the best college athlete possible, and the 2014 draft isn't weighing on his decision.
"I think I can learn a lot from [Wickline]." Vahe said. "We talked about his game plan, and I'm putting a lot of trust with him. The rest of it … I think people are just taking it over the top."
Todd Dodge, head coach at Austin Westlake High School, former head coach at North Texas and a former quarterback for the Longhorns, said a draft should never have an effect on a recruit's decision.
Dodge played at Texas from 1982-85. In that span, he saw several teammates drafted, including first-round cornerbacks Mossy Cade and Jerry Gray. The 1984 draft class featured 17 Longhorns.
Not having a draftee was an eye-opener, Dodge said, but it shouldn't be a discussion piece in relation to Texas' recruiting -- particularly with the changing of the guard at head coach.
"If Coach Strong and his staff are on the road making their rounds and people are using common sense, they'll judge them by what they see," Dodge said. "Texas has always been in the hunt for great players in the state of Texas. If there's any doubt, you can always point to the players drafted from Louisville. Coach Strong has a track record that's proven."
As for the jokes from rival schools, Vahe understands that they come will with the territory, whether the program goes winless or earns a BCS championship. He also understands that the way to silence some of the jokes is by producing in practices and games and later during NFL combines and workouts. He believes a change for the better is near for the program.
"People love to talk, but it's nothing big, really," Vahe said. "I know [Strong] just got there, and they're all going to start a new era. Hopefully I'll be one of those who helps start the new era."
January, 5, 2014
1/05/14
2:25
PM ET
AUSTIN, Texas -- Texas needed a head coach who wins and wins big. Athletic director Steve Patterson had admitted that from the start of his three-week search to replace Mack Brown.
Patterson
has found a coach in Charlie Strong
who has done just that.
The next head coach of the Longhorns comes to Austin armed with more than three decades of experience and perhaps just what this program has been missing. Agreeing to leave Louisville wasn't easy for Strong, hence this long and arduous weekend, but he couldn't turn down the opportunity that Texas offers.
[+] Enlarge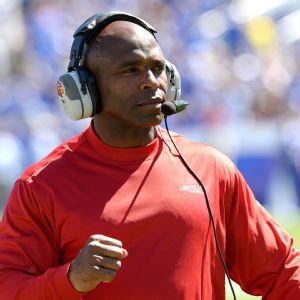 AP Photo/Timothy D. EasleyIn Charlie Strong, Texas will get a national championship winner, a tenacious recruiter and a coach who will bring toughness and discipline to the Longhorns.
How he'll fit at Texas, in a job that's both richly rewarding and unusually challenging, can't be answered today. But what we know most about Strong, the trait he's worn on his sleeve everywhere he has gone, is how hungry he is to succeed.
Strong came to Louisville as a defensive mastermind after helping lead Florida to two national championships in eight seasons. He coached 13 All-American defenders, six first-round draft picks and multiple top-five scoring defenses.
Yet for all those years of success, Strong was repeatedly passed over for head-coaching jobs. At age 49, he finally got his chance to be a head man after 27 years in the business.
"I just wanted somebody so hungry he would crawl here," Louisville athletic director Tom Jurich said when he hired Strong, "and there's no doubt he would crawl here."
Strong was just as hungry to reward Jurich's faith, and he certainly did that. Louisville won two conference titles and three bowls in his four seasons at the helm, went a combined 23-3 in his last two years and upset No. 3 Florida in last year's Allstate Sugar Bowl.
Strong, now 53, nearly moved on to Tennessee a year ago. Jurich persuaded him to stay. Now he's ready for the big stage and his biggest job yet.
A respected recruiter, Strong has wisely hitched his wagon to recruiting Florida, especially Miami, where he found
Teddy Bridgewater
and more than a dozen other current Cardinals. Two-thirds of his 2013 roster came from in-state and Florida talent.
His recruiting chops will be put to the test in Texas, a state where he has few ties. He spent one year coaching in this state -- as a Texas A&M grad assistant in 1985 -- and had no Texans on this season's Louisville roster.
Establishing a new pipeline in Florida would be a significant breakthrough for this program, but Texas also needs a coach who can keep up with Kevin Sumlin and Texas A&M and regain control of the Lone Star State.
That's just one of many tall challenges facing Strong and his staff, but in his four years at Louisville he proved adept in an area Texas has struggled with in recent years: player development.
Strong won 12 games this season with a starting lineup featuring 13 former three-star recruits and eight two-stars. Bridgewater, who has emerged as the potential No. 1 overall pick in the NFL draft, was one of just two four-star starters.
Marcus Smith
signed as a three-star wanting to play quarterback and became an All-American defensive end. Six more of the former three-stars and a trio of two-stars earned all-conference honors last month.
And by all accounts, the Cardinals players revered Strong. He's known as a tough, fiery disciplinarian with high standards, and that might be just what this program needs now.
Still, this hire is guaranteed to come with second-guessing. It's Texas. A big job comes with bigger scrutiny.
No matter how the Texas fan base feels about Strong, it wants to know why the Longhorns didn't wait for Florida State's Jimbo Fisher, or why Baylor coach Art Briles never interviewed. Those were a few of the perceived Plan A candidates, and some pundits will argue that Texas didn't make a splashy megahire. But Patterson won't care what gets said this week. He has served as athletic director for 40 days and knew he was staking his reputation at Texas to whomever he selected.
We don't know whom Strong will bring with him to Austin or who will comprise his first staff. We don't know what offense he'll run. But we do know he'll inherit plenty of talent, endless resources and far greater expectations.
For better or worse, Strong has more in common with Oklahoma coach Bob Stoops than Mack Brown. If Patterson was concerned about finding a coach with a reputation for being excessively media-savvy, as Brown was throughout his tenure, the AD would've gone in a different direction.
Instead, it seems safe to say that Patterson cared much more about the other side of a "fit": a proven, tested and respected success. A coach who's a winner and a program changer.
That's what Texas needed above all else, and winning is the best thing Strong can do to assure a divided fan base that he's the right choice.
January, 3, 2013
1/03/13
8:00
AM ET
AUSTIN, Texas -- There was a time when
Collin Klein
was average.
Actually, he was slightly below average, a reserve even. One deftly deployed to beat an awful Texas team in 2010, but a reserve just the same.
[+] Enlarge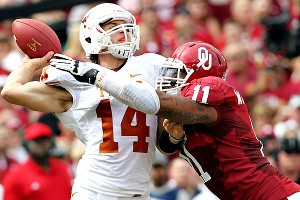 Tim Heitman/US PresswireLonghorns signal-caller David Ash improved in Year 2 as starter. What he does in his third year will determine Texas' fate.
That year Klein was a sophomore. Two years later his team is in the Fiesta Bowl, largely because of that one-time reserve.
In his second year in the program, Alabama's AJ McCarron held on extra points. Florida State's EJ Manuel had two starts his sophomore season, a win and a loss.
Jordan Lynch
, the Northern Illinois quarterback who was No. 3 nationally in total yards per game in 2012, was a backup as a sophomore.
Half of the quarterbacks in this year's BCS games either didn't play or were reserves in their second year in their current program. The other half is all in their second year. But of the latter group only Louisville's
Teddy Bridgewater
and Oregon's
Marcus Mariota
have better pass efficiency ratings that Texas'
David Ash
in 2012. It's a compelling argument that Ash, Texas' second-year quarterback, is far from being off the rails.
Still, obviously, the sophomore wasn't on track against Oklahoma, Kansas or TCU. Excuses can be found and fingers pointed, but ultimately Ash failed -- something he will readily admit -- to perform to his potential in those games. But that he flourished in so many others, particularly the last, in addition to the unavoidable conclusion that experience matters, should allow for those in the foam finger crowd to have a modicum of hope.
The point is, Ash is learning and the pace is not all that unnatural. In fact, it's been at breakneck speed. True there are others, Mariota, Bridgewater and Texas A&M's
Johnny Manziel
, who have been better quarterbacks given the same amount of time within their respective programs. They have also had better offensive minds and systems around them.
Ash had a play-caller clearly trying to find his way and his identity in a BCS conference after swimming for oh so long in the guppy waters of the far west.
Already the impact of having Major Applewhite as the quarterbacks coach appears to have taken hold of Ash. After starting poorly and ending worse in the three aforementioned games, Ash was able to turn things around against Oregon State in the fourth instead of watching from the bench. That maturity was not present at any other point this season.
That finish, while maybe not finishing off all the quarterback controversy talk this offseason, at least closed the valve a bit. There may be a leak here and there, but by and large, the belief is that Ash has now shown the ability to get the job done.
He also might have the experience necessary. To start the 2013 season, Ash will be the highest rated returning starter in the Big 12 unless
J.W. Walsh
is selected as the starter at Oklahoma State. He will also be the winningest and most experienced quarterback in the Big 12. All of which is a long way from average.
Loyal Texas Fans To Get Ticket Priority
BIG 12 SCOREBOARD
Thursday, 9/3
Friday, 9/4
Saturday, 9/5