Texas Longhorns:

Roy Williams
July, 10, 2013
7/10/13
11:00
AM ET
AUSTIN, Texas -- Now that the picks in the inaugural
all-time Texas draft
are in, it is time to pick a few nits. And maybe a few superlatives as well. Here is the good and the bad of the draft.
[+] Enlarge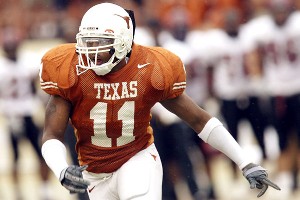 Stephen Dunn/Getty ImagesLinebacker Derrick Johnson was drafted with the first pick of the second round in our #HornsNationDraft.
Best pick:
Steve Worster, fullback, 1968-70: Sure there were a lot of players picked before Worster. In fact, he went in the last round. And it is that fact, plus his obvious skill and accomplishments while at Texas, that makes him the best pick of this draft. Worster was an integral piece of the wishbone offense under Darrell Royal. He rushed for 2,353 yards at Texas and was part of back-to-back national title teams. For Worster to last as long as he did was a shock and a nod to the fact that fullback is a position many overlook these days. Galindo, whose team was built on defense and line play, picked up a valuable asset who fits the dynamic of his team when he snagged Worster in round 24.
Most underrated pick:
Doug English. The defensive tackle had 260 career tackles (111 solo), was a two-time all-conference player, a first-team All-American in 1974 and is a member of the College Football Hall of fame. Somehow he slipped to the 18th round of a 24-round draft.
Biggest reach:
Kwame Cavil
. Texas has not been a school blessed with wide receivers, but for Cavil to be the third receiver picked, after
Jordan Shipley
and
Roy Williams
, is a stretch. Mike Adams,
Quan Cosby
and B.J. Johnson had more career receiving yards. And current Longhorn
Mike Davis
may very well, too, by the end of his career. Plus, Cavil is not in the top 10 in career touchdowns for a receiver.
Toughest position to pick:
Wide receiver. Texas simply has not produced much talent at this position. Behind Williams and Shipley it can be a crapshoot when selecting this group. Mike Davis, a current receiver who has had his ups and downs, is actually sixth on the all-time yardage list for receivers. That is how shallow the pool is for receivers at Texas.
Best offensive team:
Strickland.
Colt McCoy
to Jordan Shipley might be enough. It was the most prolific quarterback to receiver combination in the history of Texas and one of the most prolific in college football history. Add in
Jermichael Finley
who had 76 receptions over a two-year period, more than any Texas tight end, and
Alfred Jackson
, who averaged 19 yards per catch during the Earl Campbell years, and it makes for the most explosive offense of the four.
Best defensive team:
Galindo. It was clear from the start Galindo was going to pick the best Texas players from the weakest positions, which is why, saddled with the last pick of the first round and the first pick of the second, Galindo went with linebackers Tommy Nobis and
Derrick Johnson
. Add in
Brian Orakpo
as his third pick and
Tony Brackens
as the fourth, and this was a team built around defense first.
Team that would win four-team playoff:
Adams. Any of the teams can be picked apart, but Adams has a solid balance of offensive firepower and the strongest secondary of the four.
Vince Young
and Earl Campbell can do a lot of damage to any defense. Shon Mitchell was a flash-in-the-pan back but was productive in the 1995-96 seasons. Add in
Johnathan Gray
and Adams' team has the ground game covered. His team is slightly weak in the passing game -- make that very weak -- but in a four-team playoff, controlling the ball and stopping the other team from making explosive plays will win out.
Best lines:
Dunn. There were a lot of linemen to go around, especially on the defensive side of the ball. Dunn was bale to pick up maybe the best two Texas linemen early with Bob McKay and Jerry Sisemore. He followed that up with Bill Atessis at defensive tackle, completing a run in which three of his first five picks were used to build the lines. Dunn grabbed Doug English in the 18th round. The only real reach on either line was
Roger Roesler
, a third team All-American in 1999, but that didn't come until the 22nd round.
Best backfield:
Dunn. Earl Campbell and
Jamaal Charles
were two of the most prolific backs to play at Texas. Add in Bobby Layne at the quarterback position and it makes for the most complete and sturdy backfield in this year's draft.
December, 20, 2012
12/20/12
12:06
AM ET
AUSTIN, Texas -- Texas suffered its biggest loss of the season on the night it pulled off its biggest win.
Prior to the Longhorns'
85-67 victory
over No. 23 North Carolina at the Frank Erwin Center, point guard
Myck Kabongo
was ruled ineligible for the season by the NCAA, barring an appeal, according to sources from within the Texas athletics department. The story was first reported by Yahoo! Sports on Wednesday night.
The loss of Kabongo put a serious dent in this young Texas team's chances of making a 16th consecutive NCAA tournament. But the win against the Tar Heels at least gives the 7-4 Longhorns some hope.
Playing with a true freshman point guard in
Javan Felix
and only freshmen and sophomores on the court, UT played the role of the aggressor, pushed the more talented and savvy Heels around, built a big lead and -- for the first time this season -- didn't crumble.
"There is process that every student-athlete goes through, and I can only tell you that process is not done. We are in the middle of that process," said Texas coach Rick Barnes of the Kabongo situation. "Every student-athlete is entitled to a process if something comes up, and that process is ongoing."
Kabongo has been under investigation for impermissible benefits concerning a workout that involved agent Rich Paul. According to sources, the penalty was so severe because Kabongo had been less than straightforward when the NCAA initially questioned him.
While Barnes refused to take further questions on Kabongo, North Carolina coach Roy Williams now has plenty of them about his team.
"It was like comedy of errors, except it wasn't very blankety-blank funny," Williams said.
The Tar Heels' defense refused to extend in the first half and allowed Texas to build a 19-point lead. That lead was aided by two straight surprising 3-pointers from Texas forward
Jonathan Holmes
. The sophomore had made only three shots from beyond the arc in his 10 previous games.
[+] Enlarge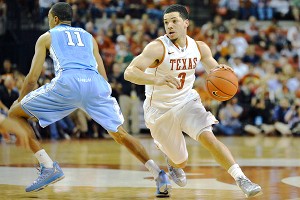 Brendan Maloney/USA TODAY SportsFreshman point guard Javan Felix effectively piloted Texas, scoring 8 points with 8 assists.
"We backed off him," Williams said.
And North Carolina continued to back down for most of the night.
"They did a better job of pushing the pace and getting us back on our heels," Williams said. "It seems like they got every loose ball."
There were plenty of those to go around, as Carolina turned it over 18 times. Texas, typically not a solid transition team, scored 14 points off those turnovers.
"Coming into the game, coach Barnes preached to us to getting the ball out and getting back in transition, and that was our game plan along with rebounding -- and that was what we tried to do," Felix said.
"They outran a running team," is how Williams put it.
In fact, Texas struggled only when it went into half-court sets. Starting the second half, North Carolina started to value the basketball more and made more of an effort to keep the Texas offense in front of it. That, coupled with the aggressiveness of
James Michael McAdoo
(14 points, 9 rebounds) and
Reggie Bullock
(a career-high 13 rebounds), allowed UNC to cut the lead to four.
Given that Texas has been a team that has struggled down the stretch -- the Longhorns were outscored 13-2 down the stretch in a 65-63 loss to UCLA -- it appeared as if the tide had started to turn.
Until, that is, North Carolina neglected to communicate on defense and allowed
Cameron Ridley
to throw down an uncontested dunk to push the lead back to seven with 6 minutes, 35 seconds remaining.
"We were aggressive and moved the ball pretty well, and some guys knocked some shots down," Barnes said. "But this was a game we thought would be won in transition and on the boards."
Texas didn't win on the boards in the box score (North Carolina had 43 to the Horns' 40). But UT did win in second-chance points with 18, and in fast-break points with 14.
"We have had a couple of tough losses because we had not played as hard as we should," said Holmes, who finished with 15 points and 8 boards. "[Wednesday night], we came out and did what we had to do. We definitely set the bar high for the rest of the season."
Regardless of who might be with Texas for the rest of the season.
--HornsNation writer Max Olson contributed to this report
July, 10, 2012
7/10/12
9:00
AM ET
There are Sooners you don't like and the Sooners you hate. And then there are these guys.
Here's a look at five Sooners who Texas fans love to hate. Truthfully, the list is much longer than five, and lots of Oklahoma standouts could've made this list.
Adrian Peterson turned down Texas and then tore its defense apart. Kenny Stills is only a junior and already Texas fans can't stand him. Bob Stoops could easily earn a spot on it for beating the Longhorns in eight of the last 12 years.
But these five set themselves apart from the rest with big-time performances and, in the case of a few, a whole lot of trash talk. These are the five that Longhorns fans truly loathe.
[+] Enlarge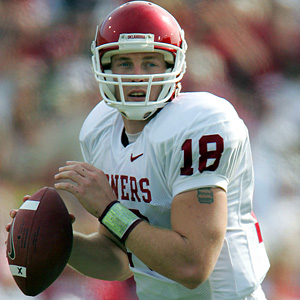 Ronald Martinez/Getty ImagesJason White was led OU to three wins over Texas in his career.
Roy Williams
No need to describe why. Texas fans won't soon forget his "Superman" dive, can't erase how the safety flew over the Longhorns line like a missile and forced Chris Simms' game-clinching pick-six to Teddy Lehman, springing Oklahoma to a 14-3 victory and win No. 2 of a five-year win streak in the Red River Rivalry. Williams also picked off a Simms pass that afternoon and recorded a sack during OU's win in 2000.
Quentin Griffin
A diminutive 5-foot-7 back from Houston's Nimitz High, Griffin tied an NCAA rushing record against Texas in 2000 despite running for only 87 yards. His six rushing touchdowns -- none from longer than 8 yards -- helped power a 63-14 whooping in which OU scored the game's first 42 points. As a senior two years later, Griffin burned the Longhorns for 250 rushing yards and scored two fourth-quarter touchdowns in a 35-24 victory.
Jason White
White played in three wins against Texas, with his finest performance coming during his 2003 Heisman Trophy year. He threw for 290 yards and four touchdowns in a 65-13 beatdown. His first Red River Rivalry game was another impressive feat: White came in for an injured Nate Hybl and threw for 108 yards during OU's 2001 victory.
Brian Bosworth
The infamous Sooners linebacker liked to say the color orange "reminds me of puke." A two-time Butkus Award winner, "Boz" was born in Oklahoma City but grew up in Irving, Texas. His contempt for Texas only grew when the Longhorns didn't recruit him, and the notorious trash-talker punished UT for that in his three Red River Rivalry games. His first was a 15-15 tie in 1984, but Oklahoma won in 1985 -- on the way to a national title -- and again in 1986.
Barry Switzer
No list of hated Sooners is complete without Switzer. His 9-5-2 career record against Texas will forever make him one of the rivalry's great villains. Few games cemented that status like the 1976 game, when Darrell Royal accused Switzer of sending a spy to Texas practices the week of the game. Switzer vehemently denied the accusations but eventually admitted to the snooping in his 1990 autobiography "Bootlegger's Boy."
April, 24, 2012
4/24/12
7:30
PM ET
By
Jeremy Willis
| ESPN Insider
Welcome to your daily Board Meeting. Each evening we'll update you on the day's hottest topics on the
HornsNation forum
.
1.
NFL draft -- Texas
: Carter Strickland crunched the numbers regarding the dearth of Longhorns selected in recent NFL drafts. The Longhorns might not have an offensive player drafted and will surely wait until late Friday to have anyone taken at all.
It comes down to development. Recruiting hasn't dried up and neither has the ample exposure that helps get players known. It's the same problem plaguing the current Texas teams. Too many misses and players who were not coached well enough or did not live up to their potential.
January, 17, 2012
1/17/12
8:30
AM ET
Signing a top five class one year might be considered just a blip. Maybe even an aberration.
Back it up with another and it's hard to deny a trend. That's just what Mack Brown did in 2000.
After signing what was considered the top class in 1999, Brown pulled together the most hyped trio of recruits in Texas history, Sloan Thomas, Roy Williams and B.J. Johnson, as a part of what would wind up the No. 2 class in 2000.
[+] Enlarge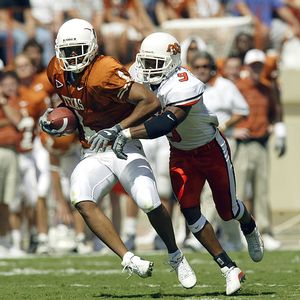 Ronald Martinez/Getty ImagesRoy Williams and B.J. Johnson might have been bigger names in the 2000 class, but Sloan Thomas did finish his Texas career with 39 total touchdowns.
History proved the trio had talent some talent -- Williams became a top-10 NFL Draft pick, Johnson would catch 16 touchdown passes in his Texas career and Thomas averaged 15.5 yards per catch. Those players helped Texas to a 41-10 record from 2000-2003, but they consistently fell short of Oklahoma and the goal of being in a BCS bowl game.
Still the Class of 2000 proved to be watershed because it showed that Texas, under Brown, would continue to be a force when it came to recruiting.
Most underrated: Jason Glynn
Maybe it is because offensive linemen are often overlooked. Or maybe it was because Glynn failed to make any all-state teams or any national recruiting lists. Either way Glynn was an afterthought in 2000. He was the other lineman. Lionel Garr was the big get. Garr became a backup while Glynn, who redshirted in 2000, became the key player on a line that would beat Michigan 38-37 in the 2004 Rose Bowl.
Glynn started all 38 games in his sophomore through senior seasons. In 2004, he led the way as Texas had six 300-yard rushing games.
Biggest gets: The WR trio -- Williams, Johnson and Thomas
Of the three, Thomas was considered the best prospect, but not by much. A 6-foot speedster who could stretch the field, Thomas was a Parade All-American as a senior at South Grand Prairie High. During his high school career he had more than 3,000 receiving yards and 42 touchdowns.
Williams, who turned out to be the most productive of the three, was recruited by everyone out of Permian High. But he was behind Johnson on most lists. That did not last at Texas. Williams had back-to-back 1,000-plus yard seasons as a junior and a senior. His 36 touchdown catches set a Texas record.
To continue reading this article you must be an Insider
Texas Longhorns Show Out On Pro Day
BIG 12 SCOREBOARD
Thursday, 9/3
Friday, 9/4
Saturday, 9/5