Texas Longhorns:

Red River Rivalry
October, 14, 2012
10/14/12
9:00
AM ET
DALLAS -- A look at who was up and who was down in
Oklahoma's 63-21 rout of Texas
.
THREE UP
Alex King:
What? It was a tough week people. At least King was productive. The punter averaged 49.6 yards per punt. Three of his eight punts went for 50 plus yards and one of those was downed inside the five.
October, 13, 2012
10/13/12
3:24
PM ET
DALLAS -- Oklahoma beat Texas every which way en route to a
dominant 63-21
victory at the Cotton Bowl.


It was over when:
Backup quarterback
Blake Bell
plunged over the goal line for his fourth touchdown to put OU ahead 36-2 three minutes before halftime. The rout was on from there.
Game ball goes to:
OU fullback
Trey Millard
, who had his best offensive performance as a Sooner. Known more for his blocking, Millard led OU with 119 yards receiving and a touchdown on five catches. He also rushed for 45 yards on three carries.
Stat of the game:
The Sooners produced both their longest rush and longest pass in the history of the Red River Rivalry. Damien Williams' 95-yard touchdown put OU up 13-2 late in the first quarter. Millard's 73-yard reception -- in which he a hurdled a Texas defender -- set up the Sooners' fourth touchdown.
Turning point:
Late in the first quarter, Texas punter
Alex King
pinned OU inside its own 5-yard line. But Williams broke free along the sideline and, with a key block from teammate
Kenny Stills
, raced 95 yards for a touchdown to put the Sooners up 13-2. Texas failed to generate any momentum the rest of the game.
Unsung hero:
Sooners defensive coordinator Mike Stoops, whose game plan completely shut down the nation's sixth-highest scoring offense. Texas was held to just 74 rushing yards, and quarterback
David Ash
was forced into three turnovers.
What it means:
The Sooners are right back in the thick of the Big 12 title race, and maybe the national championship picture, too. Voters are likely to take notice of OU's dominant Red River performance. With back-to-back losses, Texas will have its work cut out getting off the mat after getting destroyed by its biggest rival.
July, 13, 2012
7/13/12
7:00
AM ET
By
HornsNation staff
| ESPN Insider
October 13 is right around the corner. It's so close you can smell the Corny Dogs. We've spent the week looking ahead to the 2012 Red River Rivalry game, and with three months of agonizing wait ahead of us, here are the HornsNation staff's predictions.
Sean Adams:
Oklahoma and its stability at quarterback is the kicker even though Texas has the better defense. Texas will be intent on running the ball and Oklahoma will be intent on stopping Texas from running.
That will decide the game.
David Ash
will be required to make 3 – 5 big time throws in order for Texas to win, and until we see more from Ash, it is hard to feel good about him. Both teams have a good defense so I will go with the better quarterback. Texas' defense will put on a valiant effort but the Longhorns, in no way, shape or form can afford to be one-dimensional. Until the offense shows more, it would be hard to call the game for Texas. Ask me again on October 12th.
To continue reading this article you must be an Insider
July, 11, 2012
7/11/12
8:30
AM ET
The Red River Rivalry has given college football fans numerous memories, both magical and nauseating regardless of which side of the river your allegiances lay.
The root of those memories comes from the recruits that are often courted by both schools. Here is a look at three of those players that chose Oklahoma that Texas would have loved to of had on its side:
Running back Marcus Dupree, Philadelphia, Miss./Philadelphia, Class of 1982
Ask a Longhorns fan how they believe Dupree's career would have played out had he chose them instead of the Barry Switzer-led Sooners, and they'll likely tell you he wouldn't have been the subject of an ESPN '30 for 30' documentary entitled,"The Best That Never Was."
[+] Enlarge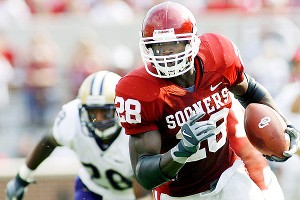 AP Photo/Ty RussellAfter leaving the Lone Star State for the Sooners, Adrian Peterson ran for 225 yards in his first appearance against Texas.
Long before the Robert Nkemdiche and Jadeveon Clowney, Dupree was a phenomenon. His combination of size, speed and agility helped him score 87 touchdowns in high school to break the national mark set by Herschel Walker.
Every college in the country wanted him, but Oklahoma and Texas always stood out to him. The two bitter rivals were locked in such a battle that they each had assistants take up residence in Philadelphia for the last month before signing day.
Dupree ultimately chose Oklahoma and scored his first college touchdown on a 63-yard run against the Longhorns. He ended his freshman season with 1,144 yards and 13 touchdowns despite not starting until the seventh game, and was named a second team All-American.
However, he suffered a concussion against Texas in the fifth game of his sophomore season and eventually transferred to Southern Miss. When told he would have to sit out a year, Dupree left after only three months before trying his hand in the USFL and eventually the NFL, where he finished his two-year career with 251 yards rushing and one touchdown.
Running back Adrian Peterson, Palestine, Texas/Palestine, Class of 2004
There was a time when the thought of Peterson joining Vince Young in Texas' backfield was more than just an imaginative plot played out in the dreams of Longhorns fans.
Texas was considered a serious player for the freakish athlete who, despite often only playing in the first half of games, rushed for 2,960 yards and 32 touchdowns as a senior at Palestine. Peterson wanted to go to a school where he could be a difference-maker in a national championship run, and thought his best chance for that would be with Oklahoma.
While he never accomplished that goal, as Texas did in 2005, Peterson put up numbers in Norman that would have looked just as good in Austin.
He had one of the greatest freshman campaigns of all-time in 2004 when he rushed for 1,925 yards and 15 touchdowns, including a 34-carry, 225-yard day in his lone victory against the Longhorns. He concluded that season by being named the first freshman finalist for the Doak Walker Award and was also a finalist for the Heisman Trophy.
A high ankle sprain (2005) and a broken collarbone (2006) kept Peterson from matching his first year's production, but he was still named a first-team All-Big 12 performer in each of those seasons. He's now an All-Pro running back for the Minnesota Vikings.
Defensive tackle Jamarkus McFarland, Lufkin, Texas/Lufkin, Class of 2009
His production has yet to match the hype of his recruitment, but from a pride standpoint alone, McFarland will always be a player Texas would have loved have kept away from OU.
For most of his recruitment it appeared that the Longhorns would be able to do exactly that. But the persistence of Oklahoma assistant Jackie Shipp not only won over McFarland but, maybe more importantly, his mother Kashemeyia Adams.
The 6-foot-2, 286-pounder, widely considered one of the nation's top defenders, took official visits to Texas, Oklahoma, LSU and USC before finally choosing the Sooners.
McFarland has put up average numbers thus far, totaling 51 tackles, including 11 tackles for loss and 4.5 sacks. He should have a chance to greatly improve those numbers this season after starting in seven games in 2011.
July, 10, 2012
7/10/12
9:00
AM ET
There are Sooners you don't like and the Sooners you hate. And then there are these guys.
Here's a look at five Sooners who Texas fans love to hate. Truthfully, the list is much longer than five, and lots of Oklahoma standouts could've made this list.
Adrian Peterson turned down Texas and then tore its defense apart. Kenny Stills is only a junior and already Texas fans can't stand him. Bob Stoops could easily earn a spot on it for beating the Longhorns in eight of the last 12 years.
But these five set themselves apart from the rest with big-time performances and, in the case of a few, a whole lot of trash talk. These are the five that Longhorns fans truly loathe.
[+] Enlarge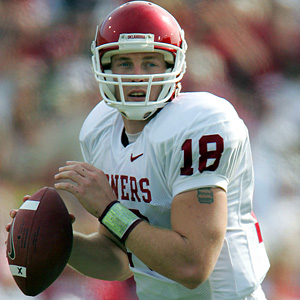 Ronald Martinez/Getty ImagesJason White was led OU to three wins over Texas in his career.
Roy Williams
No need to describe why. Texas fans won't soon forget his "Superman" dive, can't erase how the safety flew over the Longhorns line like a missile and forced Chris Simms' game-clinching pick-six to Teddy Lehman, springing Oklahoma to a 14-3 victory and win No. 2 of a five-year win streak in the Red River Rivalry. Williams also picked off a Simms pass that afternoon and recorded a sack during OU's win in 2000.
Quentin Griffin
A diminutive 5-foot-7 back from Houston's Nimitz High, Griffin tied an NCAA rushing record against Texas in 2000 despite running for only 87 yards. His six rushing touchdowns -- none from longer than 8 yards -- helped power a 63-14 whooping in which OU scored the game's first 42 points. As a senior two years later, Griffin burned the Longhorns for 250 rushing yards and scored two fourth-quarter touchdowns in a 35-24 victory.
Jason White
White played in three wins against Texas, with his finest performance coming during his 2003 Heisman Trophy year. He threw for 290 yards and four touchdowns in a 65-13 beatdown. His first Red River Rivalry game was another impressive feat: White came in for an injured Nate Hybl and threw for 108 yards during OU's 2001 victory.
Brian Bosworth
The infamous Sooners linebacker liked to say the color orange "reminds me of puke." A two-time Butkus Award winner, "Boz" was born in Oklahoma City but grew up in Irving, Texas. His contempt for Texas only grew when the Longhorns didn't recruit him, and the notorious trash-talker punished UT for that in his three Red River Rivalry games. His first was a 15-15 tie in 1984, but Oklahoma won in 1985 -- on the way to a national title -- and again in 1986.
Barry Switzer
No list of hated Sooners is complete without Switzer. His 9-5-2 career record against Texas will forever make him one of the rivalry's great villains. Few games cemented that status like the 1976 game, when Darrell Royal accused Switzer of sending a spy to Texas practices the week of the game. Switzer vehemently denied the accusations but eventually admitted to the snooping in his 1990 autobiography "Bootlegger's Boy."
July, 9, 2012
7/09/12
9:00
AM ET
As part of our Red River Rivalry in July, we look at five plays from the Red River Rivalry that OU fans would rather forget.
Royal's Roll gets started
Bobby Lackey threw only five passes against Oklahoma in 1958. He wasn't even the starter when the game began. That duty had fallen on the shoulders of Vince Matthews. But in the fourth quarter, when Texas, down by six, needed a play, it was Lackey who was under center against the No. 2 Sooners.
Texas had not beaten OU in eight years. This was perhaps the Longhorns' best chance. Lackey had Texas at the OU 10-yard line when he rolled out to find Bill Bryant for the tying touchdown. The sophomore from Welasco, Texas followed up the touchdown pass with an extra point to give Texas a one-point lead. He added a 28-yard interception on the Sooners' ensuing drive to seal the game.
It was the first of eight straight wins over Oklahoma for coach Darrell Royal.
[+] Enlarge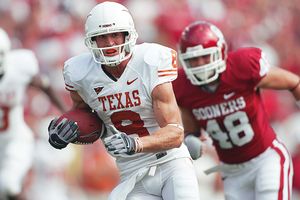 Tim Heitman/US PresswireJordan Shipley's kickoff return TD along with 11 catches and another score turned the 2008 Red River Rivalry for Texas.
Bubba's scoop and score
Peter Gardere was 4-0 against Oklahoma in his career at Texas. But it wasn't the quarterback's arm that propelled the Longhorns to a win in 1991. Instead it was the hands and the quick feet of Bubba Jacques. With 13:30 left to play and Texas on the wrong end of a 7-3 score to the No. 6 Sooners, Jacques scooped up fumble by OU fullback Mike McKinley and went 30 yards for what would be the game-winning touchdown.
However, it might have been the play before the play that turned the 5-foot-9 Jacques into a giant that day. Jacques told the media following the game that he had noticed OU's ball carriers were holding it high and told his teammates in the huddle to tackle the ball. James Patterson did just that when he went after McKinley. The ball came loose and Jacques, after finally securing the ball after three bounces, was running loose into the end zone.
Cashing In
Keith Cash was part of a package deal when he signed at Texas. Of course there was his brother Kerry, but also in the mix was another San Antonio Holmes High standout wide receiver, Johnny Walker. The trio dubbed themselves the "Posse." The goal was to return Texas to national prominence. Keith Cash's play in the final minutes against No. 4 Oklahoma in 1990 helped to do just that.
On a 4th-and-7 at the OU 16 with two minutes to play, Cash grabbed a touchdown pass from Peter Gardere to give Texas a 14-13 lead. It was the second straight year a member of the "Posse" came up with a game-winning grab. Walker had a 25-yard touchdown from Gardere with 1:33 left to play in the 1989 game.
Texas, who had not been ranked in the top five since 1984, made it to a No. 3 ranking that year before being crushed by Miami in the Cotton Bowl.
July, 9, 2012
7/09/12
8:30
AM ET
The view from here (July) to there (October) is supposed to allow for perspective.
Yeah, right.
Since the SEC's belt-loosening growth has stripped Oklahoma and Texas of two Big 12 opponents, especially former Big 12 South rival Texas A&M, perspective has gone right out the window. The Red River Rivalry just might be the only rivalry game in town.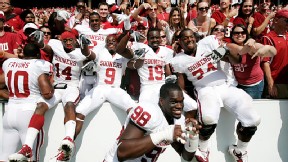 J.P. Wilson/Icon SMIOklahoma has the upper hand in the rivalry after 2011's win, but it's only three months until kickoff.
Texas, always the more ho-hum about its in-state rivals, now no longer has the distraction of Texas A&M. The Longhorns sole focus for seasons won or lost is now Oklahoma. It's a focused ire.
Oklahoma's hatred has always been more myopic. Even in the days of Nebraska, Texas still boiled more blood. Even with Oklahoma State finally hitting puberty, Texas still sits atop the hit list.
So even though it might be way too hot for face paint in July, a mask of crimson and cream or burnt orange and white is not going to turn heads this time of year, but rather, elicit knowing nods.
South of the Red River they will be in agreement that all those Bob Stoops loving, Toby Keith toboggan hat wearing, land-grabbing, Pac-12 rejects need nothing more than, in the words of Keith, to put a boot in their … And, since it's Texas, that boot will undoubtedly be a Justin Roper.
North of that trickle of water, they are all in agreement that every Mack Brown apologist with a pained Matthew McConaughey frat daddy drawl and sense of entitlement that was more self-bestowed due to size and money rather than wins and titles needs nothing more than to see yet another sea of downward turned Hook'ems in the Cotton Bowl.
Yeah, perspective is now long gone. It probably won't ever be regained either. Oklahoma and Texas are begrudgingly wed for better or worse. Because the bond of hatred has become stronger it has now become more visible year round.
So it is not only OK to obsess of the Red River Rivalry in July, it's welcomed. It's an affirmation that not only is football just a few more triple-digit weeks away, but that Oklahoma is still there for Texas and Texas for Oklahoma. And that history, which has been washed away by the confluence of new alignments among college football bloodlines, still remains intact in the Red River Rivalry.
And it is history that gives us substance and depth. Most importantly, it gives us something to talk about in July. And that's what we're doing. Consider it a gift from HornsNation and SoonerNation. Some summer reading or something to pass the time away this week at the lake or on vacation.
June, 26, 2012
6/26/12
10:15
AM ET
Each day, as a countdown to fall camp opening Aug. 2, we are going to provide you with a number that was important in 2011 and let you know why it will be important in 2012.
By now maybe the wound has healed. It's doubtful, since after all it was inflicted by Oklahoma. And it was so gaping.
[+] Enlarge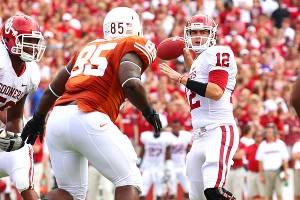 Matthew Emmons/US PresswireTexas' defense should be better equipped to deal with Landry Jones and OU's offense in 2012.
Inside the number
For the sake of looking ahead, it is time to look back and tear off the Band-Aid that was covering the 38-point loss to OU in 2011's edition of the Red River Rivalry. It was the biggest loss of the season as far as point spread and emotional let down. Texas was riding high and had some confidence going into OU. The Longhorns were winners of four straight, including blowouts over UCLA and Iowa State.
To continue reading this article you must be an Insider
October, 4, 2011
10/04/11
7:13
AM ET
Saturday's Red River Rivalry game will have several big-time prospects in attendance for both teams.
Here are the Texas commits and targets who will attend the game and those who will not:
2012 Texas commitments expected to attend Red River Rivalry
To continue reading this article you must be an Insider
October, 3, 2011
10/03/11
8:00
AM ET
What is OU's greatest strength?
Oklahoma does a lot of things better than most. But almost nobody passes the ball like the Sooners do. Quarterback
Landry Jones
and receiver
Ryan Broyles
form perhaps the top passing duo in the country. Jones holds the OU school record for career passing yards. Broyles holds the Big 12 record with 304 career receptions.
Jones has plenty of other weapons, too. Sophomore
Kenny Stills
, who made the game-winning touchdown grab at Florida State, would be a No. 1 receiver at a number of other schools.
Dejuan Miller
,
Jaz Reynolds
and tight end
James Hanna
are capable wideouts, too.
To continue reading this article you must be an Insider
October, 2, 2011
10/02/11
1:02
PM ET
As Texas gets ready for its biggest game of the year, and the game by which its success this season largely will be measured, one former Longhorn had some advice for his brother, who is currently on the Texas roster.
"Don't let the game outshine you," Quentin Jammer offered as advice to Quandre Diggs. "It's a big rivalry game. Settle down and play your game. And, if you get a pick, take it to the house."
Diggs has one interception but no return yards. He did force a fumble against Iowa State that resulted in a Texas score.
To continue reading this article you must be an Insider
Texas Longhorns Show Out On Pro Day
BIG 12 SCOREBOARD
Thursday, 9/3
Friday, 9/4
Saturday, 9/5