Texas Longhorns:

Quentin Jammer
November, 4, 2013
11/04/13
1:00
PM ET
AUSTIN, Texas -- His jersey and an oil painting of him hang in the hallways of the Texas football facility. His picture is on the wall of the "DBU" room alongside the legends. His highlights are forever cut into secondary coach Duane Akina's greatest hits.
And his little brother wants it all.
Texas cornerback
Quandre Diggs
wants to live moments such as the one he witnessed Friday night, when big brother Quentin Jammer was inducted into the Longhorn Hall of Honor.
Diggs watched with his family, wearing a suit complete with an orange shirt and pocket square and a pink bow tie, and you can guess what was on his mind. No doubt he could envision himself at that hotel ballroom podium, the bronze statuette in his hands.
[+] Enlarge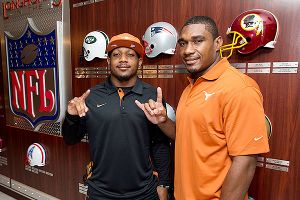 University of TexasQuandre Diggs wants to be just like his brother, NFL cornerback Quentin Jammer. They were born 13 years apart.
All in due time. On this night, Diggs snuck away from the Longhorns' team hotel for a chance to celebrate the reason he plays this game. His brother always had it all. Now it's his turn to go earn it.
Jammer and Diggs share an uncommon bond for brothers born 13 years apart. They both admit they'd probably clash more if they were any closer in age. And now, as the end of one brother's career nears, another is just beginning.
The story of their brotherhood isn't about Diggs living in a shadow. He loves the shadow.
"There's no other role model that I'd rather have in life, honestly," Diggs said.
They've been scrappy, merciless competitors ever since they were young boys living in Angleton, Texas. Diggs says he loves his brother to death and wouldn't trade him for anyone in the world, but that doesn't mean he drops his tough-guy personality around him.
Jammer was a unanimous All-American and Thorpe Award finalist as a Longhorns cornerback from 1997 to 2001. He's a 12-year NFL veteran. Diggs has always promised he's going to be even better.
"Good luck," Jammer says with a grin.
Diggs has been boasting like that since he was a boy, always trying to keep up with the guy he looks up to most. Their oldest memory together, the story they like to tell, is one of Diggs' fascination with doing anything Jammer can.
When he was 5, he once watched as Jammer played with a pocket knife in his bedroom. When he set it down and walked off to take a shower, Diggs pounced.
Out of sheer curiosity, the young boy tried to slice a hole in Jammer's waterbed. That worked a little too well. He covered up the resulting mess with a pillow and bolted out of the room.
"When I came back after my shower, I jumped in the bed and got splashed," Jammer said.
"I was already in the living room by that time," Diggs said, "because I knew what was going to happen."
What followed was the first and only time Jammer had to give his little brother a spanking. Jammer has been teaching Diggs lessons ever since.
He's the one who taught little Quandre to catch a football by firing full-speed passes in the front yard. The boy was always tagging along, always wanting to play catch, even after Jammer became a Longhorn.
"You don't really think about it," Jammer said. "Because he's so young, you try to ease out of the door and he's like, 'Nope, coming with you.' "
Diggs got to hang around the likes of Ricky Williams, Kwame Cavil and Wane McGarity. He liked to duel Major Applewhite in video games and ran routes for the quarterback in the parking lot outside the apartment.
"It's crazy to think about it now," Diggs said, "that the way [Applewhite] talks trash to me now is the way he would talk trash to me when I was younger: 'Get out the way, little man,' and things like that."
Diggs' big brother was a celebrity. He heard about it everywhere he went. Teachers would swoon at the stories he'd tell of hanging with the beloved Applewhite. Even after Jammer went to the NFL with the No. 5 overall pick in the 2002 draft and his fame kept rising, a growing Diggs was never afraid to call after Chargers games and offer his honest take.
"His first five or six years in the league, I was his hardest critic," Diggs said. "If he did something wrong, I was on him telling him what he did wrong, like I really knew what was going on."
"See, that's the difference in his personality," Jammer said. "He would just tell you right after the game."
The truth is, Diggs had nothing but affection for his idol. He'll never forget the time he got to stand on the field and high-five Jammer and his Texas teammates as they ran out of the tunnel amid billowing white smoke.
"It was something that I always wanted to be a part of," Diggs said.
He's living that dream now, and he knows how good he's got it. Diggs is coached by the same expert defensive backs coach who molded Jammer. His old nemesis Applewhite is the co-offensive coordinator who helped recruit him to Texas.
And the quest to surpass his brother's accomplishments is ongoing. Diggs has started 31 games at Texas and has developed into a dangerous weapon for Akina playing the nickel, recording 2.5 sacks off the edge this fall. Opposing quarterbacks know not to throw his way. And, no surprise here: He's as confident as ever.
"I feel like when I'm on the field and when I step on the field, I'm the best player on the field, regardless of who we're playing," Diggs said.
He's just as quick to declare Jammer one of the best to ever wear burnt orange. They're different players. Jammer prided himself on hard hits and lockdown coverage. Diggs calls himself the better playmaker. Better hands, too.
"I feel like the one thing we do have in common is we're both physical as heck and not going to take much crap from anybody on the field," Diggs said. "That's for sure."
Said Jammer: "I didn't just want to beat you; I wanted to beat the hell out of you."
The standard his brother set more than a decade ago, the one Jammer continues to uphold at age 34 with the Denver Broncos, ensures Diggs is never satisfied. In order to be better, he has to be the best.
"When I walk past those pictures of him being on the wall, it makes me want to grind that much more," he said.
Jammer encourages the goal. Keep chopping wood, he says, and continue down the path. Perhaps, someday, that path will lead the brothers back to a hotel ballroom to revel in Diggs' career.
"It's just another thing that helps me chase his legacy," Diggs said.
March, 26, 2013
3/26/13
8:00
AM ET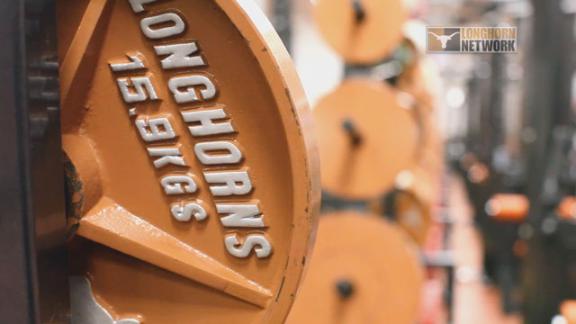 AUSTIN, Texas -- Texas has its pro day today and, yeah,
Vince Young
will be there, but so, too, will someone more important. Seriously.
In fact, make that much more important. It's
Kenny Vaccaro
.
[+] Enlarge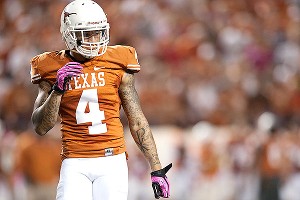 Cooper Neill/Getty ImagesSafety Kenny Vaccaro will likely end Texas' streak of not having a player taken in the first round of the NFL draft.
The former Texas safety represents a chance for Texas to put a player into the first round of the draft for the first time since following the 2009 season. His selection -- which should be right around the middle of the first round -- will signal an end to a two-year draft slide in which Texas produced one second-round player, a third-round player and five others selected in the fourth round or higher. Before that slide, Mack Brown had not gone two consecutive years without producing a first-round pick. (Defensive end
Alex Okafor
is currently not in either of the first-round mock drafts done by ESPN's Todd McShay or Mel Kiper.)
So let's see here: Brown had two of the worst years of his tenure at Texas in 2010 and 2011. And then neither of those drafts produced a first-round pick. Anyone else see the correlation?
Texas Longhorns Show Out On Pro Day
BIG 12 SCOREBOARD
Thursday, 9/3
Friday, 9/4
Saturday, 9/5