Texas Longhorns:

position breakdown 2013
February, 21, 2013
2/21/13
3:30
PM ET
AUSTIN, Texas -- Duane Akina will spend most of the spring mix and matching.

Given time, the Texas secondary coach likes to take his time before typecasting a certain player in a certain role. Ideally, Akina prefers to have every defensive back ready and able to play every role.

That versatility can not only cover up some deficiencies but also make the back four a stronger and more cohesive unit because every player understands the role to the player next to him seeing as how he has spent at least some time in that role.


February, 20, 2013
2/20/13
3:30
PM ET
AUSTIN, Texas --
Jordan Hicks
has been given time to heal. The rest of the Texas linebackers have had to lick some wounds as well.
Now all of them -- although just how much Hicks participates in the wake of his season-ending hip injury remains in the air -- get to start anew this spring. And that includes their position coach, Manny Diaz.
Diaz is back for his third season as the linebacker coach. After a first season, in which Diaz was handed fundamentally sound, veteran linebackers and excelled, Year Two saw Diaz struggle mightily teaching younger, inexperienced players.
Now all involved have some seasoning and that should help the progression of what was the worst unit for Texas in 2012.
To continue reading this article you must be an Insider
February, 18, 2013
2/18/13
3:30
PM ET
AUSTIN, Texas -- It was with a furious burst at the end of the year -- nine sacks against Oregon State -- that Texas finished just barely inside the top 20 in sacks.
Now while that last game was impressive, the overall production of the defensive ends mirrored the theme of the entire defense in 2012 -- hit or miss.
To continue reading this article you must be an Insider
February, 15, 2013
2/15/13
8:00
AM ET
AUSTIN, Texas -- Texas' offensive line is stacked with returning starters at every position.
Yet, every position remains open.
[+] Enlarge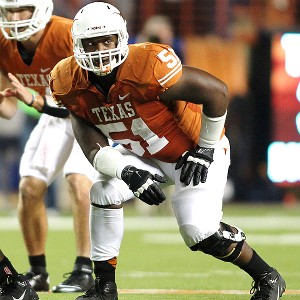 Tim Heitman/US PresswireLast season's starting left tackle Donald Hawkins might get more time at guard this spring.
Welcome to the new world of the offensive line. The Longhorns, not satisfied with the blocking against teams even remotely talented on the defensive line (The Longhorns, despite having two of the most-hyped running backs in the country, failed to gain 100 rushing yards on TCU, Oklahoma or Kansas State.) could be in a position to change things up across the line.
And while four of the recently signed offensive linemen will not make it to campus until the summer, the coaching staff can start evaluating how the current handful of returning starters reacts to the new no-huddle offense. If they do not excel in their evaluations, Texas at least now could have viable options to replace a few of them.
Tackles:
Since
Desmond Harrison
is not enrolled yet so it is tough for him to be a part of the spring conversations. Although returning tackle
Donald Hawkins
will probably get extra work inside in preparation for Harrison's arrival. Texas has a few guys it can and wants to throw into that tackle position this spring with
Kennedy Estelle
chief among them. Estelle played last season but had a shoulder injury that forced him to the sideline. He has a big, athletic body and can run so he might be very well suited for a no-huddle attack.
Camrhon Hughes
is a player Texas was extremely high on last spring but a knee injury in the offseason cost him playing time. Texas is hoping Hughes can participate throughout the spring so they can determine how and when to use him.
Returning starter
Josh Cochran
might move sides, but he is not likely to move from the tackle spot.
To continue reading this article you must be an Insider
February, 14, 2013
2/14/13
1:00
PM ET
AUSTIN, Texas -- For two years Texas wanted a tight end that could block first, seal the edge and maybe occasionally catch a pass downfield.
To continue reading this article you must be an Insider
February, 13, 2013
2/13/13
8:00
AM ET
AUSTIN, Texas -- When last Texas unfurled four wide receivers with a quarterback who proved to be slightly more than adequate (Colt McCoy), six players caught 30 or more passes.
Last season, with a quarterback not near the stature of McCoy but not a slouch either, only
Mike Davis
and
Jaxon Shipley
had more than 30 receptions.
[+] Enlarge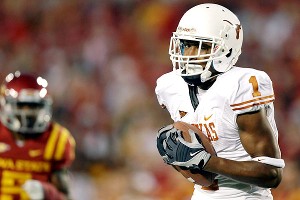 AP Photo/Charlie NeibergallMike Davis returns at Texas' top deep-threat and playmaker.
So to say changes in the new-yet-old spread offense are afoot or at hand for the Texas wide receivers is an understatement of well, Texas-sized proportions.
The first of those changes might be to find more wide receivers. While Texas does have its top two wide receivers, Davis and Shipley, back in the fold, it has lost
Marquise Goodwin
(26 catches) and has no other wide receiver who had more than 10 catches in 2012.
Bryant Jackson
has the most with eight. Next in line are
Cayleb Jones
and
John Harris
with two each.
So the priority now becomes finding bodies to throw on the field and to throw to. And, really beyond the aforementioned Davis, Shipley, Jackson and Jones (Harris is being switched to a hybrid tight end spot), there are not that many from which to choose.
There are at most three more legitimate candidates who complete Texas' complement of wide receivers:
Kendall Sanders
,
Marcus Johnson
and
Daje Johnson
. In total, that is seven players. Remember in 2009, Texas had six true wide receivers each catch at least 30 or more balls. So the depth at the position is not optimal but, to retread the maddening catch-all that
Mack Brown
uses to gloss over actual explanations, it is what it is.
And with that, here it is:
Davis and Shipley:
Each should push into at least the 60s in receptions as more one-on-one coverages are thrown their way with more receivers in pass patterns. This spring, play-caller Major Applewhite will need to experiment with how much to utilize Davis as a deep threat while also continuing to foster the chemistry between quarterback
David Ash
and Shipley.
Keeping Davis mentally engaged is another crucial component this spring. The rising senior briefly toyed with the idea of leaving for the NFL draft. And sometimes when that happens, a player who has a bad practice or two can be nagged with regrets that he didn't leave. Davis has shown in the past that he mentally can be pulled away from the game. But, on the flip side of that, as a junior Davis showed that he had matured and was dedicated.
Shipley should emerge as a clear winner in the switch to spread. Given his abilities, that is a win for the entire Texas program.
To continue reading this article you must be an Insider
February, 12, 2013
2/12/13
8:00
AM ET
AUSTIN, Texas -- Like the quarterback position, there are plenty of options for Texas at running back in 2013.
And, as it is at quarterback, there is also a clear top option,
Johnathan Gray
. Not only is the rising sophomore the leading returning rusher (701 yards), but with the switch to the spread offense, he presents Texas with a more tools than the other two possible starting running backs,
Joe Bergeron
and
Malcolm Brown
.
Gray has plant-and-go ability that is superior to the other possible every-down backs. That means he can be utilized as a big-play threat in many more scenarios than Brown and Bergeron. He also works in space better than the other two backs. And given that the spread offense not only spreads the offense but the defense as well. It's only natural that play-caller Major Applewhite is going to tinker with a variety of ways to get Gray the ball this spring.
To continue reading this article you must be an Insider
February, 11, 2013
2/11/13
11:00
AM ET
AUSTIN, Texas -- Texas might have changed quarterback coaches but don't expect the Longhorns to be changing the quarterback any time soon.
David Ash
, despite not yet being declared the No. 1 quarterback, will be the No. 1 quarterback this spring. Now all the aforementioned new quarterbacks coach Major Applewhite has to do is figure out who will fill the roles of two through five. At least there are some choices. This time last year, Texas had but two options.
[+] Enlarge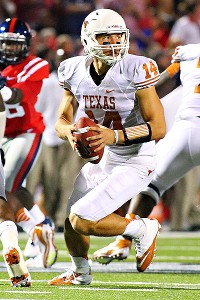 Spruce Derden/US PresswireTexas quarterback David Ash enters 2013 as the starter but there is more competition than last spring.
That Ash showed significant improvement as a sophomore, or at least enough improvement for Texas to be able to hand him the offense, lends a modicum of stability to that position.
True, Texas will be shifting its offense away from what Ash has known the last two years. Applewhite is returning Texas to its winning roots and has opted to go with the spread.
Ash still appears the best option for that offense. He has always been a runner first, sturdy and fast with a solid eye for the hole. He throws better on the move because it does not afford him the opportunity to think. He was always at his most poisonous for the offense -- Oklahoma, Kansas And TCU -- when given time to debate the merits of the pass he was about to heave. With the spread there should be no double clutch. As for clutch, Ash already proved that in the fourth quarter against Oregon State.
So now that Ash is settled -- maybe -- it's time to figure out who settles in where among the four remaining quarterbacks.
Case McCoy:
The smart move would be to slide McCoy down the list. The senior does add some value in that he has been there and done that. But he lost credibility with his off-the-field antics in San Antonio, has not proved to have the consistent talent necessary to back up his consistent fire-and-brimstone locker room speeches and only has one year left.
Texas does have to win this year. And that means 10 or more games, not eight or nine. So McCoy could remain a viable option. The likely scenario is McCoy remaining as the No. 2 quarterback quite possibly in name only while Texas furiously works to get another option up to speed in the spread attack.
Jalen Overstreet:
The freshman is the most intriguing prospect of the four quarterbacks behind Ash. He showed his selflessness when, after McCoy had been sent home from the Alamo Bowl, Overstreet stepped up and said he would burn his redshirt for that one game if the coaches and team needed him to do so. It didn't come to that.
But the move bought him many allies in the quarterback battle and showed the coaches his dedication to team.
Overstreet has also put his arm on display. He has the quickest release and best arm of the quarterbacks who are holdovers from the 2012 roster. What he has lacked are the fundamentals to make him a consistent passer.
He worked throughout the fall to understand how to structure his feet and build a base from which to operate. Moving to the spread will allow Overstreet to showcase more of his natural talents. But he still has to have the proper fundamentals to make all the necessary throws. At this point of his career, if Overstreet were thrown into a game he might very well revert back to his old habits.
To continue reading this article you must be an Insider
Texas Longhorns Show Out On Pro Day
BIG 12 SCOREBOARD
Thursday, 9/3
Friday, 9/4
Saturday, 9/5