Texas Longhorns:

Paul Millard
November, 10, 2013
Nov 10
10:00
AM ET
AUSTIN, Texas -- Texas survived and knocked off West Virginia 47-40 on Saturday in the first overtime game of Mack Brown's career, improving to 7-2 and 6-0 in Big 12 play. Here are three big takeaways from the Longhorns' last-second win.
1. Give West Virginia some credit

We usually stay Bevo-centric with these lessons learned on Sundays, but let's stop for a moment and acknowledge West Virginia's performance. The Mountaineers were truly just as resilient as the Longhorns, overcoming the loss of quarterback
Clint Trickett
to an apparent concussion and rallying repeatedly.
Paul Millard
was put in a tough spot in replacing Trickett, even if he inherited a 9-3 lead, and played well.
Charles Sims
is the real deal. The Mountaineers made a few big plays on defense, found ways to exploit Texas' soft pass coverage and scored 40 on a defense that hadn't given up two touchdowns in a game in more than a month. Give them credit.
2. Take what the D gives you
It's hard to believe that Texas' defense was able to force five turnovers and it still wasn't enough to prevent this game from going to overtime and down to the final play. Texas did score off each of its first four takeaways but settled for field goals three times. This isn't a nitpick, just the truth: Texas needs to get six points on more of those opportunities if it hopes to knock off its final three opponents. In big games like these, every takeaway has the potential to be a game-changer, especially if your opponent is scoring off your mistakes. You have to capitalize when your defense is playing as well as Texas' was early Saturday night.
3. McCoy magic is indisputable
Case McCoy
is not playing flawless by any means. His INT-TD ratio is now 8-6 on the year, and yet Texas is still 6-0 in the league. He'll mix in a bad ball or two on most possessions. But he made some terrific throws against West Virginia, none better than the corner route to
Jaxon Shipley
. He found Shipley on fourth down and
Mike Davis
for the 49-yard bomb. He made a good toss on the overtime touchdown pass to
Alex De La Torre
. He led critical drives and finished strong. He'll need to cut down on the miscues, but McCoy continues to surprise.
October, 29, 2013
Oct 29
1:00
PM ET
By
ESPN.com staff
| ESPN.com
Naming the best quarterback in the Big 12 is easy. Deciding who's second-best right now is near-impossible. So we went a step further: Why not rank them all?
This continues to be been a strange, unpredictable year for Big 12 quarterbacks. We've already seen 18 start at least two games. Only three schools -- Baylor, Kansas and Iowa State -- have started the same guy for every game, and even they've used multiple quarterbacks.
The following rankings judged how these QBs are playing right now as well as their full 2013 resumes. Deciding where to slot injured passers was tricky. You might not agree with all or any of these rankings, but this is how we'd size up the competition after nine weeks:
[+] Enlarge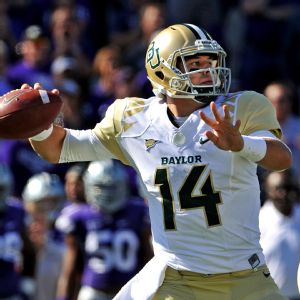 Peter G. Aiken/Getty ImagesConsidering how well he's run Baylor's high-scoring offense and the fact he leads the Big 12 in nearly every passing statistic, there is no debate that Bryce Petty is the Big 12's top QB.
1. Bryce Petty, Baylor
: Best passer in the Big 12 by nearly every statistical measure, first in FBS in yards per attempt, TD-INT ratio of 18-1 and it's only his first season of starting. The gap between No. 1 and everyone else on this list right now is tremendous.
-- Max Olson
2. Case McCoy, Texas
: The career backup has been a huge part of Texas' resurgence. In wins over Oklahoma and TCU, McCoy has Adjusted QBRs of 83.9 and 95.4.
-- Jake Trotter
3. Davis Webb, Texas Tech
: Webb hasn't been perfect but he's averaging 420.67 passing yards and 5.67 completions of 20 yards or more in TTU's past three games. He's been very solid for a true freshman.
-- Brandon Chatmon
4. Daniel Sams, Kansas State
: He might be too high at No. 4, but Sams is the best athlete of the bunch and already has 538 rushing yards on just 100 carries. Still has plenty to prove as a passer.
-- MO
5. Blake Bell, Oklahoma
: Great against Texas Tech and Notre Dame, bad against Texas. Has promising moments as a passer, firm grasp on the job and a chance to prove he's league's second-best QB.
-- MO
6. Baker Mayfield, Texas Tech
: The walk-on made waves while leading the Red Raiders to a 5-0 start before a knee injury sidelined him, but he threw more interceptions than touchdowns in his final three starts before the injury.
-- BC
7. Clint Chelf, Oklahoma State
: Chelf finally has the job again, but he'll have to complete more passes to keep it. His completion percentage this year is less than 50 percent.
-- JT
8. David Ash, Texas
: Ash is throwing again, and could be cleared to return soon. But will he resume his starting role? The way McCoy is performing, probably not.
-- JT
9. J.W. Walsh, Oklahoma State
: His combination of moxie and leadership is hard to deny but his struggles connecting on deep passes led to Chelf replacing him in the starting lineup. He remains a valuable piece as the disposal of Mike Gundy's squad, however.
-- BC
10. Jake Waters, Kansas State
: Juco transfer is starting to get the hang of Big 12 ball and his own offense, and coming off an impressive showing against West Virginia.
-- MO
11. Casey Pachall, TCU
: Pachall has only played in seven games over the last two seasons. It would be difficult for anyone to overcome that level of rust.
-- JT
12. Clint Trickett, West Virginia
: Trickett's season has mimicked the roller coaster nature of WVU's offense, but he did lead the Mountaineers to a win over Oklahoma State, the highlight of their season.
-- BC
13. Seth Russell, Baylor
: Getting mop-up time and experience in every game this season and has 427 yards on 60 percent passing. Would he start for a couple Big 12 teams?
-- MO
14. Sam B. Richardson, Iowa State
: Richardson has been banged up all year, and it's shown. At some point, the Cyclones may be forced to go with the healthier option in
Grant Rohach
.
-- JT
15. Jake Heaps, Kansas
: The BYU transfer just can't seem to find any confidence or rhythm for the Jayhawks passing attack, forcing Charlie Weis to start drastically experimenting with KU's offense.
-- BC
16. Trevone Boykin, TCU
: Dual-threat sophomore has his moments, but five touchdowns and nine turnovers in 2013. Back to backing up Pachall and could play some receiver.
-- MO
17. Trevor Knight, Oklahoma
: Knight won the job out of camp, but lost it to Bell two games in after moving the chains ineffectively. Bell's performance against Texas Tech means Knight will remain on the sidelines.
-- JT
18. Michael Brewer, Texas Tech
: Generally expected to be the Red Raiders starter heading into fall camp, Brewer has been surpassed by the true freshman quarterbacks.
-- BC
19. Paul Millard, West Virginia
: Started first two games for the Mountaineers before losing his job, got another chance late against K-State.
-- MO
20. Ford Childress, West Virginia
: The freshman quarterbacked West Virginia's worst performance of the year, a 37-0 loss to Maryland, before suffering a pectoral injury that could keep him out the rest of the year.
-- JT
21. Grant Rohach, Iowa State
: He's come off the bench to replace Sam Richardson in ISU's last two games but has yet to surpass 100 passing yards in the game.
-- BC
22. Montell Cozart, Kansas
: True freshman is now splitting snaps with Heaps and got half the reps against Baylor. Can make plays in the run game and be a spark.
-- MO
23. Michael Cummings, Kansas
: Cummings started five games in 2012 but has lost the No. 2 spot to Cozart, and is unlikely to play much going forward with Heaps also part of the offense.
-- JT
24. Tyrone Swoopes, Texas
: The 6-foot-4, 245-pound true freshman made his debut on Saturday and is a talented rusher, but he didn't attempt a pass. If McCoy goes down, he'll have to take over.
-- MO
25. Tyler Matthews, TCU
: The Horned Frogs got so desperate for production they turned to the redshirt freshman on multiple occasions, yet he's seen very limited game reps and hasn't completed a pass this season.
-- BC
October, 16, 2013
Oct 16
10:00
AM ET
Mack Brown was widely mocked last month for saying tackling had become a problem in America, not just at Texas. He wouldn't be laughed off if he made this claim: Quarterback instability is a national epidemic.
[+] Enlarge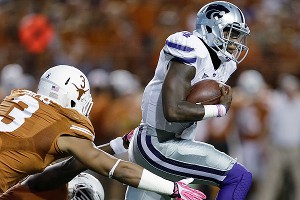 AP Photo/Eric GayKansas State is one of several Big 12 teams that have played musical quarterbacks, alternating Daniel Sams (pictured) with Jake Waters.
More than 50 FBS programs have already been afflicted, including nearly a third of the AP top 25. A total of 184 quarterbacks have started at least one game for the 126 programs, and we're only a month and a half into the 2013 season.
No major conference has dealt with more insecurity behind center than the Big 12. Good luck naming the second-best quarterback in the Big 12 behind Baylor's
Bryce Petty
, or even naming off all 18 who have made starts.
"This year, it seems like everyone is kind of juggling one to try to find answers and two to try to keep them healthy," West Virginia coach Dana Holgorsen said. "I know Texas Tech is dealing with it, we're dealing with it, TCU has dealt with it, Texas has dealt with it, Kansas State has dealt with it.
"So just until guys get established and remain healthy, that's just the reality of college football. The next guy has got to get ready to go in there and play at the highest level possible to try to get a win."
Kansas State became the seventh Big 12 team to give a second quarterback a start Saturday when
Daniel Sams
got the nod over
Jake Waters
against Baylor.
Thus far, injuries have been more at issue than ineffective play. TCU's
Casey Pachall
, Texas'
David Ash
and Oklahoma's
Trevor Knight
lost their jobs when they went down with injuries, and that could be the case for Texas Tech's
Baker Mayfield
as well.
Oklahoma State pulled
Clint Chelf
for
J.W. Walsh
in the opener, and Cowboys coach Mike Gundy is sticking with him. Same with
Blake Bell
, who's holding onto his job despite the return of Knight.
And then there's the situation at West Virginia, where Holgorsen has been dealing with a quarterback calamity all season long.
Paul Millard
,
Ford Childress
and
Clint Trickett
have each started two games, and the job is still very much up for grabs.
"Unfortunately by the time we settle on somebody, then he gets hurt and you've got to put somebody else in there," Holgorsen said. "That's not an excuse. Whoever is going to be our quarterback this week, we've got to get him prepared to play and we've got to get him to where we're playing at a higher level than what we've got out of him."
This isn't exactly unprecedented for the Big 12. During its 12-team era, two seasons were especially chaotic: 2005 and 2009. In both years, eight Big 12 teams started at least two quarterbacks. In both years, Texas rolled through the conference thanks to Heisman finalist-caliber quarterbacks Vince Young and Colt McCoy.
But take note of this: A team with multiple starting quarterbacks has not won the Big 12 Championship since Kansas State in 2003.
[+] Enlarge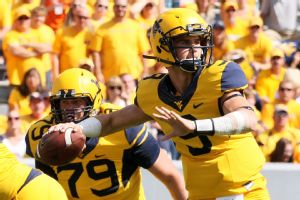 Brad Davis/Icon SMIClint Trickett is the third player to start at QB for West Virginia this season.
Bill Snyder's quarterback situation is no doubt an outlier from the rest. He likes both Sams and Waters. He likes playing both, and Sams has paired his 522 rushing yards with just 32 pass attempts. The Wildcats are just trying to find the right combination, the right rhythm.
"We just have two young guys that are competing in a very positive way to be the No. 1 quarterback, and both of them have demonstrated the capabilities beyond the field and deserve to play," Synder said.
There was a three-season stretch in this conference, from 2006 to 2008, when no more than four backups earned a start in a single season. In 2011, only Texas and Iowa State tried multiple starters.
ISU coach Paul Rhoads is now one of the three Big 12 coaches who hasn't needed his No. 2 guy this fall thanks to the solid play of
Sam B. Richardson
. He doesn't consider the problem facing his colleagues to be an unexpected one.
"With the number of new quarterbacks in the league, first of all, and then the game is physical, the game is violent and teams' quarterbacks are more active in their offenses in these leagues," Rhoads said. "There's going to be some vulnerability. So no, not surprised."
This is a problem everywhere. Forty percent of FBS schools have started two quarterbacks. Seven SEC, seven Big Ten and five ACC schools have rolled out more than one starter. The national number of 184 total starters is ahead of the 2012 midseason total (170), which finished at 210 starters by season's end.
What all that uncertainty creates, at least in the Big 12 landscape, too many unpredictable conference title contenders ... and one great advantage for Baylor.
Petty is No. 1 in the Big 12 in every passing statistic. But it's a good thing his backup,
Seth Russell
, already has 30 attempts, 381 yards and three scores on his 2013 resume.
Considering how this season is already playing out, the Bears just might end up needing him.
October, 4, 2013
Oct 4
4:00
PM ET
In today's mailbag, Cyclones are feeling heartbroken, Mountaineers are feeling confident and I am called an idiot.
To the 'bag:
Matt in Seattle writes:
It's a disgrace what the Big 12 refs did to Iowa State. Please talk about it on the blog.
Jake Trotter:
I have a feeling we're going to be discussing it plenty.
---
Timothy in Ames writes:
What did you make of the call at the end last night?
Jake Trotter:
Looked like a fumble to me.
---
Cade in Cluj-Napoca, Romania, writes:
After watching the Iowa State-Texas game, I am nothing but frustrated. I live in Romania and for the past two years I've stayed up numerous times till 6 in the morning to watch my beloved ISU football and basketball, only to be let down in the last minute of the game. This loss is heartbreaking, but how much will this loss affect the rest of ISU's season? Is there any hope for resurrection later this season? Or should I get my rest and not mind to watch any more games that are in the evening? I'll probably watch them anyways because that's what ISU fans do, but it would be nice to hear your opinion.
Jake Trotter:
Between last night's game, the overtime losses to Kansas in basketball and the way Ohio State knocked the Cyclones out of the NCAA tournament, it's been a rough year for Iowa State fans. I wouldn't give up on this team, though. The offense is finding a groove, and I think the Cyclones finally have their QB in
Sam Richardson
, who was marvelous against Texas. A bowl game is probably a longshot, but with so many inexperienced players, this team should get better every game – as long as they can put what happened last Thursday night behind them.
---
Schawki in Anderson, S.C., writes:
Hey, man. Hawkeye fan here who generally pays very little attention to the Cyclones. I watched the Texas game, and that was gross! I actually found myself actually cheering for the 'Clones simply because that was the worst case of officials helping a team win that I have ever witnessed in all my years of watching college football.
Jake Trotter:
I'm glad this forum could bring Hawkeyes and Cyclones together in perfect harmony.
---
Andy in Austin writes:
Who suspends
Mike Davis
first? The Big 12 or UT? His cheap shot was garbage. Do you believe either organization will make an example of him?
Jake Trotter:
I doubt either suspends him. The precedent is not strong for the conference to suspend players for nontargeting hits. OU offensive tackle
Tyrus Thompson
punched TCU's Stansly Maponga in the head last year after Maponga was on the ground and the ball had left their vicinity. Nothing happened. I doubt anything will happen here, either, even though it was a pretty sorry cheap shot that could have seriously injured
Deon Broomfield
.
---
Caleb Weaver in Lubbock, Texas, writes:
As a Tech student, I'm loving the publicity and hype that Kliff Kingsbury has brought back to Lubbock. The game atmospheres have been crazy so far. Before the season, I was expecting, best-case scenario, eight wins. Tech definitely has exceeded a lot of expectations, and is much further in the rebuilding process than what I was expecting. How shocked are you that Texas Tech is where it is in the conference, and are you even more shocked that it is their defense that has taken them there?
Jake Trotter:
I'm not shocked, but I am surprised. I didn't think Tech would emerge into the top tier of the conference with so many questions at quarterback. But the defense has been stout, and the skill guys have made plays for the freshman QBs. At this point, anything less than a top-four finish in the league would be a bit disappointing.
---
Vivek in San Diego writes:
I am a Texas Tech alum, and I keep hearing Kliff's name (and Kevin Sumlin's name) in USC's search for a coach here. Just when I thought there is stability and standards being maintained in the coaching staff, should I start worrying about Kliff leaving the program? What are the chances of him getting offers from big programs (USC or Texas)?
Jake Trotter:
There's always a chance, but I think Kingsbury is where he wants to be. Mike Gundy always called the Oklahoma State gig his New York Yankees job because it was his alma mater. I think Kingsbury feels similarly about being at Texas Tech.
---
Bob in Fort Worth, Texas, writes:
As a former Red Raider I wanted to add a sane perspective on the whole Baylor thing. I have grown a massive amount of respect from what they have done thus far. I don't think they are a lock to win the Big 12 or anything, but you cannot help but be impressed by their offensive performances no matter who they were against. Every game was out of reach in the first half by. That's something we are not able to say. One of the most frustrating things about being a Red Raider is having to listen to our fans say stupid stuff about football.
Jake Trotter:
A Red Raider
complimenting
Baylor? What's next, a Big 12 official making a controversial call
against
Texas?
---
Josh in Dallas writes:
Give your odds on the following coaches coming to the great state of Texas: Will Muschamp, Charlie Strong, Nick Saban, David Shaw.
Jake Trotter:
The ship seems to have sailed on Muschamp; don't see Saban leaving Alabama, unless Texas makes him a ridiculous financial offer. Strong and Shaw seem the most likely of the four.
---
Josh in Wichita, Kan., writes:
Please make my day and give me a very long list of reasons why Texas wouldn't be interested in John Currie.
Jake Trotter:
My impression is that Texas would want to make a splashier hire to replace DeLoss Dodds. But Currie has done a tremendous job at K-State. Last academic year, the Wildcats captured Big 12 titles in football, men's basketball and baseball. In the BCS era, only Stanford (1999-2000), Texas (2005-06) and Louisville (2012-13) accomplished the same feat.
---
Rob in West Chester, Pa., writes:
Why is everyone so hyped over
Clint Trickett
and saying WV may have found their QB? He was terrible and a lot of his throws were ridiculous. The Mountaineers should go back to
Paul Millard
. WV's QB problem still exists. This will show over the next couple weeks.
Jake Trotter:
I agree that West Virginia's QB problem still exists. But I completely disagree that Trickett played terrible. He gave the offense something it desperately needed – a spark.
Ford Childress
is the QB of the future in Morgantown. But at this moment, Trickett gives West Virginia the best chance to win.
---
Nick in Frisco, Texas, writes:
I'm not sure what to think of this WVU defense. They played OU well, though Bell wasn't there really. They didn't look good against Maryland, but then they looked decent to good against Oklahoma State. Is this defense for real or not?
Jake Trotter:
Honestly, I think we'll find out for sure this weekend. The Maryland game wasn't as bad as it seemed because of all the offensive turnovers. But then the Sooners weren't playing
Blake Bell
yet when the Mountaineers went to Norman. If West Virginia keeps Baylor under 40, we can go ahead and proclaim this to be a solid defense. If the Mountaineers give up 70, well, it was all smoke and mirrors.
---
Patrick in Charleston, S.C., writes:
With the way WVU's defense has been playing, if the offense keeps improving, is it crazy to think of WVU hanging around and possibly beating Baylor in Waco?
Jake Trotter:
I don't see this West Virginia offense scoring with Baylor.
---
Bit in Knoxville, Tenn., writes:
With the win over Oklahoma State, WVU has placed themselves firmly in the Big 12 race. Can they remain there? We'll find out more after the Baylor game next week. I like WVU's chances with this defense.
Jake Trotter:
I wouldn't put them firmly in the race. But I would if they somehow knocked off Baylor this weekend.
---
Charlie Bear in Panama City, Fla., writes:
Hey guys, first of all, I love the work you guys are doing on the Big 12 blog this year. You have brought a much-needed balance to our conference coverage. What would it take for Baylor to get a shot at the BCS title this year? I think we can all agree that Baylor going undefeated this year isn't impossible; though it is unlikely. So, I guess what I am asking is this: What apocalyptic events would have to transpire in the SEC, ACC, and the Pac-12 for an undefeated or one-loss Baylor to be given a title shot? Thanks again for doing what you do – you keep office drones like me sane.
Jake Trotter:
No problem, Charlie. Baylor's only chance is to go undefeated. And the Bears would probably need Ohio State, Oregon, Stanford, Clemson and Florida State to all lose, too, unless the SEC ate its own.
---
Kurt Vonnecat in San Lorenzo, Ecuador, writes:
In a recent mailbag you stated, "Kansas State is coming off its best season in school history..." I beg to differ. It was one of the best, but actually the 1997 season would have to be the best. K-State went 11-1, won the Fiesta Bowl and its lone loss was to Nebraska in Lincoln. Don't you agree '97 was best?
Jake Trotter:
What about 1998? The 'Cats were three points away from playing for the national title. I think you could argue the '97, '98 or '12 seasons as being the best in K-State history.
---
Gentry in Las Vegas writes:
With the OU D getting better, does Mike Stoops stay as defensive coordinator or does he entertain head-coaching jobs?
Jake Trotter:
I think the possibility is there Mike could be Bob's heir apparent in Norman, especially if the OU defenses get back to the level they were at early in the Stoops era.
---
Hollis Bartholomew in the Dallas area writes:
I know
Keith Ford
is a true freshman and all, but he's shown that he's a physical running back and gives his all every play that he's been in. So what I don't understand is why he didn't get in the game on offense at all against a physical Notre Dame team. Not complaining, but he could've done very well, in my opinion. Do you agree?
Jake Trotter:
In that setting, Bob Stoops wanted his veterans on the field. Ford will get more and more work as the season goes on – the Sooners want him ready to step into the starting role in 2014.
---
Ohn Thomas in DeBary, Fla., writes:
Welcome aboard. I enjoy reading your insight of the Big 12. Regarding future conference realignment, why isn't there more consideration given to UCF? I'm a Tech-san living in Florida; I have seen UCF grow all of their programs. The central Florida area would be a great road trip and would return the favor to the SEC and A&M by opening up Florida to the Big 12. UCF has a student population of almost 50,000 and as the competition has improved, the fan support has grown.
Jake Trotter:
If the Big 12 ever committed to expansion and a current BCS conference school were not available, both UCF and South Florida would be interesting options, for all the reasons you point out. The only drawback would be travel. Lubbock, Texas, is 1,488 miles from Orlando, Florida. The football programs could overcome that. But for the other sports, it would be taxing.
---
John Barnard in Dallas writes:
I've noticed that you continually talk about the Big 12 imploding, as if the conference was somehow on its last legs. I would have thought that someone who covers the Big 12 would be a little better informed about the facts. In 2011, the Big 12 members agreed to sign their first-tier media rights over to the conference, essentially locking all the members in from leaving. What evidence do you have that the Big 12 is somehow a faltering conference that is near falling apart?
Jake Trotter:
I've never suggested that the Big 12 is on the verge of imploding. But if there's anything to be learned from the past three years, it's that contracts can always be circumvented in college sports.
---
Mary in Prairie Village, Kan., writes:
You really think the Big 12 is only the fourth-best conference? You're an idiot. Stop insulting us with your lack of intelligence!
Jake Trotter:
My wife said the exact same thing to me this morning, except the discussion wasn't centered on conference rankings in college football.
September, 23, 2013
Sep 23
9:00
AM ET

Texas moves back up in this week's Power Rankings, West Virginia moves back down and the top four remain steady:
1. Oklahoma State (3-0, 0-0 Big 12; last week: 1):
When he was the coordinator in Stillwater, Dana Holgorsen recruited quarterback
J.W. Walsh
to Oklahoma State. This Saturday, Holgorsen's Mountaineers must deal with stopping Walsh, who's been terrific since taking over the starting quarterback job in the opener. Walsh ranks sixth in the country in QBR and is a major reason why the Cowboys are three-touchdown favorites for their game in Morgantown.
2. Baylor (3-0, 0-0 Big 12; last week: 2):
The Baylor-hasn't-beaten-anybody argument only holds so much water. Who in the Big 12 has really beaten anybody? Oklahoma State over Mississippi State? Texas Tech over TCU? Oklahoma over West Virginia? The fact is, even against three doldrums, Baylor has been as impressive as any team in the league. This offense has a chance to be as prolific as the 2011 Oklahoma State Cowboys or the 2008 Oklahoma Sooners.
3. Oklahoma (3-0, 1-0 Big 12; last week: 3):
After opening with three home victories, the Sooners will finally find out about their team during a road trip to South Bend, Ind., this weekend. They should find out a lot about quarterback
Blake Bell
, too -- he was marvelous after replacing
Trevor Knight
two weeks ago against Tulsa. But that was against Tulsa in Norman. This is Notre Dame in South Bend. If OU wins this game, people will begin to mention the under-the-radar Sooners as a possible dark horse national title contender.
4. Texas Tech (4-0, 1-0 Big 12; last week: 4):
The Texas Tech defense continues to play well, but the offense was sluggish again in a 33-7 victory over Texas State. Kliff Kingsbury has to decide whether he's going to stick with
Baker Mayfield
as his starting quarterback or go with
Davis Webb
, who has made plays the last two weeks in relief of Mayfield. Kingsbury might secretly and anxiously be waiting on the return of
Michael Brewer
, who's been injured since the summer with a bad back but is close to rejoining the team on the practice field.
5. Texas (2-2, 1-0 Big 12; last week: 8):
After winning their Big 12 opener 31-21 over Kansas State, the Longhorns still have plenty to play for. But they are also beaten up. Linebacker
Jordan Hicks
is out for the season again with a ruptured Achilles tendon, quarterback
David Ash
continues to deal with concussion issues and offensive playmaker
Daje Johnson
remains out with an ankle injury. The game with Oklahoma (Oct. 12) looms, too. A victory in Dallas is about the only thing that can save Mack Brown's job and completely reverse momentum in Austin.
6. TCU (1-2, 0-1 Big 12; last week: 5):
Gary Patterson was not pleased with his team during the off week. Patterson told reporters last week the Horned Frogs were "feeling sorry for themselves" after the 20-10 loss at Tech. "If we don't grow up," Patterson said, "we're not going to win any more ballgames." The Frogs had better grow up quickly if they want to avoid letting this season turn into a catastrophe. TCU faces road trips at Oklahoma and Oklahoma State in October.
7. Kansas State (2-2, 0-1 Big 12; last week: 7):
Even though Texas had been a sieve stopping opposing quarterbacks on the ground, Bill Snyder elected to use
Daniel Sams
sparingly in Austin. Sams averaged 6 yards a carry but got only eight carries as
Jake Waters
again took the bulk of the snaps at quarterback. Even though wideout
Tyler Lockett
is having a monster season, the Wildcats with Waters behind center have been just average offensively, which is flirting with disaster in the Big 12. Especially when the defense is just average, too.
8. West Virginia (2-2, 0-1 Big 12; last week: 6):
So much for the idea that the Mountaineers could just replace Geno Smith, Tavon Austin and Stedman Bailey. West Virginia looked completely inept offensively in a 37-0 loss to Maryland, which is a good team, but not
that
good. The Mountaineers, who had one of the best passing attacks in the country last year, suddenly can't pass. Quarterback
Ford Childress
threw for just 62 yards with two interceptions Saturday, not that
Paul Millard
fared any better in West Virginia's first two games. Holgorsen said he's sticking with Childress at quarterback, which is a sign the Mountaineers are building for the future. The present is not a pretty sight.
9. Kansas (2-1, 0-0 Big 12; last week: 9):
With the bottom half of the Big 12 struggling so much, the Jayhawks have the opportunity to win a couple of games in the league. But Kansas has its own problems. An offense that was supposed to be improved actually has been worse so far this season. After scoring just a field goal over three quarters against Louisiana Tech, the Jayhawks had to scramble late to escape with a 13-10 win.
Jake Heaps
owns the worst Total QBR (32.2) in the league and the Kansas wide receivers so far have been a disappointment. There is some talent on Charlie Weis' offense, especially in the backfield. But it has yet to manifest on the field.
10. Iowa State (0-2, 0-0 Big 12; last week: 10):
The Cyclones have back-to-back Thursday night games on deck: at Tulsa and at home against Texas. If Iowa State can't prevail in either, this will end up being the worst season of the Paul Rhoads era. The only way the Cyclones can avoid that fate is by conjuring something in the run game, which has been abysmal so far this season.
September, 3, 2013
Sep 3
12:00
PM ET
January, 15, 2013
Jan 15
1:00
PM ET
As we continue our season wrap, we'll be looking to 2013 today. Let's take a look with some bold predictions in 2013.
1. The Big 12 will not expand or institute a championship game.
I get the questions every day, but I simply don't believe the Big 12 will seriously consider expansion before the new college football playoff is in place, and the Big 12 gets an idea for where it stands in the college football landscape. Bob Bowlsby turned heads when a report surfaced that he'd inquired to the NCAA about bringing back the championship game, but that's a long way from actually doing so. Bringing back a No. 1 versus No. 2 league title game unless the Big 12 is a 12-team league with divisions is the surest way for the Big 12 to find it difficult to crack the four-team playoff.
[+] Enlarge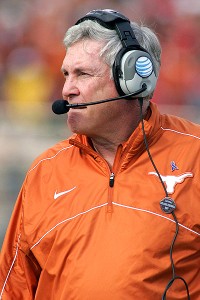 Michael C. Johnson/US PresswireTexas could face a difficult decision should coach Mack Brown and the Longhorns fall short of expectations in 2013.
2. Neither Texas nor Oklahoma will win the Big 12's automatic BCS bid.
Simply put, TCU and Oklahoma State are likely better teams. One of those two will win the league and represent the Big 12 in the Fiesta Bowl as its BCS representative. Texas is good, but not quite good enough and will have a difficult decision to make about Mack Brown's future after falling short. Oklahoma is just losing too much on defense and trying to live without
Landry Jones
, which fans will find more difficult than they imagined.
3. The Big 12 will have a Davey O'Brien Trophy finalist.
The Big 12 is reloading at quarterback, and will likely have only one starting quarterback in 2013 (barring what happens at TCU) who started at least half of his team's games in 2012: Texas'
David Ash
. It won't necessarily be him at the awards ceremony, but I believe in the Big 12's quarterback development, and we'll see a breakout star next year. Will it be
Michael Brewer
at Tech?
Bryce Petty
at Baylor?
Ford Childress
/
Paul Millard
in Morgantown or
Blake Bell
in Norman? What about
Daniel Sams
or Jake Waters at K-State?
4. Three Big 12 teams will finish in the national top 35 in total defense.
This year, the Big 12 had only one team (TCU) crack the top 35. There will be great defenses coming back. Look for Texas, TCU and Oklahoma State to grab this accomplishment, and Texas Tech might not be far off, too. Offenses as a whole will be down from their crazy pace next year, and that's an opportunity for some experienced defenses.
5. The Big 12 will not play for a national title ... again.
It's getting old for the league these days. Texas and Oklahoma both played a part in the SEC capturing seven consecutive national titles, but the Big 12's sat on the sidelines on that Monday night in January for each of the past three seasons. Make it four next year.
6. Texas Tech will be the Big 12's biggest overachiever.
They'll do it on the back of Brewer, who I buy as the most likely breakout star for the Big 12 next year. He's got great running backs, a great system and great, experienced receivers. Having
Eric Ward
back will be huge, and
Jace Amaro
and
Jakeem Grant
will continue to grow. I'm a little cautious on picking them in the top half of the league in the preseason, but I wouldn't be surprised at all to see the Red Raiders finish in the top three or four next year.
7. Baylor will win at least eight games again.
The Bears' offense will be back, and the defense will be a little bit improved. It'll be enough to win eight games in three consecutive seasons with three different quarterbacks. That's crazy, and yet another testament to what Art Briles has done in Waco.
8. Kansas will win a Big 12 game.
It has to happen eventually, doesn't it? The Big 12 losing streak now stands at 21 games. It won't reach 30 this time next year.
Mack Brown A Victim Of His Success