Texas Longhorns:

Notre Dame Fighting Irish
March, 22, 2014
3/22/14
9:15
PM ET
MARIETTA, Ga. -- The Nike SPARQ combines have grown with each passing year, and on Saturday there was a record turnout. If the 1,993 prospects who attended weren't impressive enough, the performances by several top prospects who came to compete certainly left spectators turning heads.
Here is a rundown of some of the event's top performers.
ESPN Junior 300 running back Taj Griffin posted one of the top SPARQ scores of the day. Griffin checked in at 5-foot-10, 174-pounds, ran a 4.41 40-yard dash and a 4.35 shuttle, had a 46-inch vertical leap and a 36-foot power ball toss for a combined score of 124.29. On the recruiting front, Oregon, Clemson, Florida State, Ohio State and Tennessee continue to stand out the most.



2015 RB Taj Griffin @tg__7 with the highest SPARQ score of the day in Atlanta. pic.twitter.com/SaY2QZLPrE

— Gerry Hamilton (@HamiltonESPN) March 22, 2014

No. 3 junior offensive tackle Chuma Edoga posted an impressive score of 94.65. After measuring at 6-4 and weighing 276 pounds, Edoga ripped off a 5.01 40-yard dash, a terrific 4.69 shuttle and had a 33.8-inch vertical jump and 37-foot power ball throw. Following his impressive effort, he said his top four schools in order are Tennessee, Southern California, Georgia and Stanford with a decision likely on May 25, his birthday. The big news might have been that he currently prefers the Volunteers, but his mother is in the corner of the Bulldogs and Cardinal.
No. 252 prospect C.J. Sanders made the trip and did not disappoint. He checked in at 5-9 and 176 pounds, ran a 4.57 40-yard dash, had a blazing 4.09 shuttle run, leaped 36.5 inches and tossed the power ball 41 feet. On the recruiting front, USC, Notre Dame and Georgia are the latest to offer, joining Duke, Northwestern, Stanford, Tennessee, Vanderbilt, Mississippi State and Ole Miss. He visited USC last week, and lists Reggie Bush as his childhood idol. Sanders is the son of former Ohio State and NFL wide receiver Chris Sanders. His mom played basketball at Michigan. He reports his family favors Duke and USC early on with a decision slated for the summer.
Ben Cleveland is already considered one of the top offensive line prospects in the country, and the 6-7, 317-pounder showed why Saturday. He clocked a very impressive 5.22 40-yard dash and 4.87 shuttle, and had a 25.8-inch vertical leap and 41.5-foot power ball throw for a score of 99.78. He has offers from Georgia, Clemson, Florida, South Carolina and Texas with Alabama expected in the near future. He made an unofficial visit to Clemson two weeks ago.
Class of 2016 prospect
Class of 2015 running back Jaylen Burgess posted a 118.44. The 5-10, 214-pounder ran a 4.66 40-yard dash and a 4.38 shuttle, and had a 36.7-inch vertical leap and 42.5 power ball throw. He is receiving interest from Tennessee, Vanderbilt, Clemson, Duke and a number of other ACC schools. Duke and Tennessee are the coaching staffs Burgess talks to the most. He posted more than 1,500 all-purpose yards as a junior.
Class of 2016 linebacker and defensive end Charles Wiley checked in at 6-3, 203 pounds. He clocked a 4.68 40-yard dash and 4.45 shuttle, and also leaped 35 inches and threw the power ball 34.5 feet. He has an early offer from Virginia Tech.
Class of 2015 athlete Jeremiah Mercer is flying completely under the recruiting radar. While he had to sit out the 2013 season due to transfer rules, he made his mark Saturday posting a score of 97.47. The 5-11, 163-pound running back and wide receiver ripped off a 4.48 40-yard dash and 4.18 shuttle, and added a 36.2-vertical leap and 31-foot power ball toss. He is receiving interest from Vanderbilt and Mississippi State and lists Florida State as his dream school.
Class of 2016 inside linebacker Tyler Reed posted a very impressive score of 104.91. After measuring 6-2, 234 pounds, Reed ran a 4.96 40-yard dash and 4.59 shuttle, and had a 35.5-inch vertical leap and 41-foot power ball throw. He recorded 130 tackles as a sophomore.
Class of 2015 running back Eric Montgomery posted a 115.47, one of the day's top scores. The tailback checked in at 5-11, 185 pounds, ran a 4.46 40-yard dash and a 4.19 shuttle, and jumped 36 inches and threw the power ball 38 feet. On the recruiting front, Kentucky, Cincinnati, Ole Miss and Mississippi State, among others, are showing interest.
February, 7, 2013
2/07/13
4:00
PM ET
By
Mackenzie Kraemer
| ESPN.com
1
– Alabama's class rank. Every year that head coach Nick Saban has had a full season to recruit (since 2008), the
Crimson Tide
have had a top-three class. No other school has even had a top-10 class each of the past six years. Alabama received commitments from three of the top-10 running backs, plus
Derrick Henry
(No. 9 in ESPN 300, No. 1 Athlete), the leading rusher in high school football history.
3
– Number of Ole Miss's recruits ranked in the top 20 of the ESPN 300. Since ESPN recruiting rankings were introduced in 2006,
Ole Miss
had never had a single top-20 recruit. Head coach Hugh Freeze received letters of intent from two of the top five recruits, including the top ranked player in the ESPN 300, DE
Robert Nkemdiche
.
7
– Number of players since November who have decommitted from
USC
, and all were in the ESPN 300. USC's class was ranked No. 1 for more than three months between July and November, but now it's ranked 14th. Two of those decommits,
Eldridge Massington
(No. 172 in ESPN 300, No. 21 WR) and
Kylie Fitts
(No. 86 in ESPN 300, No. 8 DE) flipped their commitments to rival UCLA. The Bruins finished the day with the 12th-ranked class, the first time since 2006 they finished ahead of their crosstown rival.
7
– The number of top-10 recruiting classes Urban Meyer has had since 2006, and not one of those classes ranked lower than sixth. The only other coach with seven top-10 classes is Mack Brown. This year, Meyer and
Ohio State
scored the No. 3 recruiting class, headlined by CB
Eli Apple
(No. 11 in ESPN 300, No. 3 CB).
7
– The number of top-five recruiting classes
Florida
has had since 2006, most among all schools. Entering National Signing Day, the Gators had the top-ranked class before finishing the day second. Florida is one of three schools with multiple five-star recruits this year (Ole Miss and Notre Dame).
12
– The number of four-star recruits
Vanderbilt
has received letters of intent from. The past two seasons, James Franklin has recruited 15 players with a grade of 80 or better. In the previous four seasons, Vanderbilt didn't recruit a single such player.
14
- The number of SEC schools with top-40 recruiting classes. All 14 schools have top-40 classes, with none lower than 36th (Kentucky). Six of those schools are ranked in the top 10, the most any conference has had since 2006.
15
– Texas' class rank, the Longhorns' lowest since 2006.
Texas
had been the only school with a top-10 class every year since 2006. Texas still had the highest ranked recruiting class in the Big 12.
15
– Number of players in the ESPN 300 that have yet to sign letters of intent. Eleven have yet to commit to any school while four have yet to sign their letters of intent for various reasons.

16
- The number of states Notre Dame's 23 recruits reside in.
Notre Dame
has the No. 4 class this season, the highest ranked class it has had since 2006. It's Notre Dame's sixth top-10 class and third straight under Brian Kelly.
December, 26, 2012
12/26/12
9:44
PM ET
HOUSTON -- The decision to decommit from Texas wasn't an easy one for Belton (Texas) High School tight end
Durham Smythe
. But for him, it was the right decision.
Now, as the weeks pass and national signing day approaches, Smythe is weighing all the options in front of him. He has plenty, but he's still in the process of trying to decide where he'll take his remaining official visits. After checking in for the Offense-Defense All-American Bowl -- set for Sunday at Reliant Stadium -- on Wednesday, he discussed all that has been going on since he made his decision.
"The week that I decommitted it was pretty crazy because the dead period was about to start at that point, so toward the end of that week, a lot of coaches and a lot of schools tried to get in contact with me to schedule home visits and stuff like that," Smythe said. "Over the dead period I've been in contact with coaches once a week on Facebook and stuff like that. It's been busy and right now I'm just in a period where I'm evaluating things and I'm trying to pick a couple favorites so I can take official visits there and have a base to compare."
June, 1, 2012
6/01/12
11:30
AM ET
The Big 12's second day of spring meetings came and went on Thursday in Kansas City, Mo., with no real news after the conference reaffirmed its commitment to 10 members on Wednesday.
Until the new configuration of the BCS is settled (i.e., what form will a four-team playoff take?), the Big 12 won't be taking much action, if any. Outgoing commissioner Chuck Neinas confirmed at least that much. Neinas also said he might stay on through July to relieve new commissioner Bob Bowlsby, who has other obligations on the United States Olympics Committee's board of directors. Bowlsby would still come aboard June 15, but there would be a period of overlapping commissioners.
"It was great to see Bob and Chuck together today at the head table, talking about things," Oklahoma State president Burns Hargis
told reporters Thursday
. "I think the transition will be smooth."
The league's presidents were in attendance Thursday and reaffirmed the athletic directors' stance on expansion.
[+] Enlarge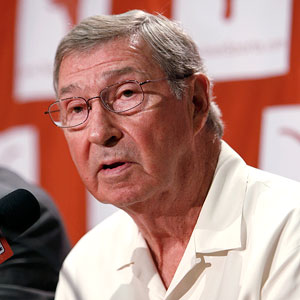 Erich Schlegel/Getty ImagesTexas athletic director DeLoss Dodds lit into the SEC and Big East during the Big 12 meetings.
"We're all very satisfied with 10 teams," Hargis said. "We're not shutting the door to any opportunity that might arrive. We're not in the market, we're not receiving applications. Our expansion committee is inactive."
To my knowledge, that's the first public confirmation that the expansion committee is indeed inactive. Interesting stuff. If Notre Dame becomes a possibility, it's clear the Big 12 would listen, and I'd assume that Florida State would engender a similar reaction, to a lesser extent. For now, though, the Big 12 maintains it's sitting at 10, even if no one (yours truly included) really believes it.
With Florida State officials expressing conflicting messages about the school's future conference affiliation, and the future of the Big East very much in flux, how could you?
A few other quick notes:
Texas AD DeLoss Dodds came out firing on Thursday, tossing barbs just about everyone's way. The SEC has Texas in its footprint? "They have a sliver of the east side," he told reporters. On the Big East? "I don't know if they qualify as a BCS [conference]. They've lost a lot of strength."
Neinas, on the league extending its six-year grant of media rights agreement, which is in progress, but not a done deal? "I don't believe the membership feels it's a gun-at-the-head arrangement. It's just a step forward moving together."
The league membership also didn't sound very fired up about re-instituting a championship game in the new iteration of the BCS. Reports John Hoover of the Tulsa World: "We have come to really appreciate the position we're in right now by not having a championship game," said Iowa State's Jamie Pollard, chairman of the Big 12 athletic directors. Said Dodds: "If this all happens the way we're visualizing today, I think there are some football coaches out there that will say, 'Well, what are we doing? We're 12-0, we've got to go into play a team that's 9-3, we've got a shot at getting beat.' Or, 'We win the game, it's a struggle, we get two kids hurt' -- I mean, those kinds of things are gonna be the reality of it."
Dodds might not have been making many friends Thursday, but he did make some among the league's coaches with that comment for sure.
Friday is the final day of meetings, but it's been a quiet week compared to the past two years at Big 12 spring meetings. For now, it's mostly just been the league's members drawing battle lines on where they stand in relation to the playoff and expansion.
May, 10, 2012
5/10/12
1:07
PM ET
The state of Texas is absolutely loaded when it comes to 2014 defensive backs. And
Edward Paris
might be the best of the best.
The Mansfield Timberview safety already hold well more than a dozen offers and has established himself as one of the nation's top sophomores.
"I'm getting offers almost every other day," Paris said Wednesday night. "Today was Notre Dame and Washington. I'm starting to lose count. It's a blessing."
To continue reading this article you must be an Insider
February, 3, 2012
2/03/12
4:00
PM ET
ESPN The Magazine and RecruitingNation compiled the past five years (2007-11) of ESPNU 150 rankings and then crowned college football's
top 10 recruiting programs
.

Here's how they did it:
Our methodology was simple: We re-tallied the scores following signing day and ranked the schools based on total number of ESPNU 150 recruits (there have been 900) hauled in over the last six years. Of course, like success on the field, recruiting is cyclical -- and fans of programs both on and off this list might look back on Feb. 1, 2012 as the day their team began its rise (or fall) on the trail.
Here's the top-10.
1. Florida
2. Texas
3. USC

4. Alabama
5. Florida State
6. Notre Dame
T-7. Georgia
t-7: LSU
9. Miami
T-10. Ohio State
T-10. Oklahoma
Here's what it says about USC:
Top states: California (36), Florida (six), Arizona (four)
Surprise state: Georgia (three)
Sure, the Trojans have California locked up. But USC has also signed four of Arizona's 12 ESPNU 150 prospects and Georgia's second-best preps in 2008 (WR Brice Butler of Norcross) and 2010 (WR Markeith Ambles of McDonough). In 2012, USC signed seven ESPNU 150 commits -- OT Zach Banner (Lakewood, Wash.) was the lone out-of-state recruit.
(USC actually signed three out-of-state recruits, including receiver
Nelson Agholor
and DT
Leonard Williams
, who are both from Florida).
What's clear from this list: Sometimes teams with lots of ESPNU 150 players produce on the field (Alabama, LSU, Oklahoma, Ohio State) and sometimes they do not (Florida, Texas, Florida State, Notre Dame and Miami).
Florida is 15-11 over the past two seasons, when these highly rated classes should have been peaking. Texas is 13-12 over the same span. Miami has lost fewer than six games just once since 2007. Notre Dame's best years came the past two seasons -- both 8-5. Florida State has averaged 4.8 losses since 2007. Georgia was 10-4 this season, but it was a combined 14-12 in 2009 and 2010. Ohio State probably can be forgiven its 6-7 finish this year, based on the NCAA issues and firing of coach Jim Tressel. Oklahoma's lone blip was an 8-5 campaign in 2009. USC's "downturn" came in 2009 and 2010 when the Trojans went 17-9.
Conclusions?
Well, it's possible that Florida recruiting -- as good as it is -- is overrated. Perhaps the same can be said for Texas. Or at least these four programs -- Florida, Florida State, Miami and Texas -- aren't doing the best job of evaluating their wealth of in-state talent.
December, 26, 2011
12/26/11
4:00
PM ET
Forbes magazine put together a
list of the top 20 most valuable college football programs
, and the team at the top is no surprise.
Everything's bigger in (Austin) Texas. Especially football budgets.
The Longhorns topped the list with a value of $129 million, producing $96 million in revenue and $71 million in total profit, far ahead of its nearest competitors.
The program's value is $17 million more than No. 2, Notre Dame. Its produced $19 million more in revenue than Alabama, second in that category. It produced $18 million more in total profit than No. 2 Georgia.
The Big 12 had three teams in the top 20. Oklahoma checked in at No. 10 and Texas A&M was No. 17.
The Sooners were valued at $87 million, produced $59 million in revenue and made $36 million in profit.
The Aggies were valued at $63 million, produced $45 million in revenue and made $30 million in profit.
Forbes also studied the game's best teams for the money, and Kansas State checked in at No. 1 this year. Its expenses were just $11 million, which cashed out at $1,086,705 per victory, the best mark of any team in the country.
Oklahoma State checked in at No. 3, at $1,253,388 per win. Its expenses were $14 million.
Baylor was No. 8, at $1,619,672 per win. Its expenses were $15 million.
Texas Longhorns Show Out On Pro Day
BIG 12 SCOREBOARD
Thursday, 9/3
Friday, 9/4
Saturday, 9/5