Texas Longhorns:

North Carolina Tar Heels
December, 20, 2012
12/20/12
12:06
AM ET
AUSTIN, Texas -- Texas suffered its biggest loss of the season on the night it pulled off its biggest win.
Prior to the Longhorns'
85-67 victory
over No. 23 North Carolina at the Frank Erwin Center, point guard
Myck Kabongo
was ruled ineligible for the season by the NCAA, barring an appeal, according to sources from within the Texas athletics department. The story was first reported by Yahoo! Sports on Wednesday night.
The loss of Kabongo put a serious dent in this young Texas team's chances of making a 16th consecutive NCAA tournament. But the win against the Tar Heels at least gives the 7-4 Longhorns some hope.
Playing with a true freshman point guard in
Javan Felix
and only freshmen and sophomores on the court, UT played the role of the aggressor, pushed the more talented and savvy Heels around, built a big lead and -- for the first time this season -- didn't crumble.
"There is process that every student-athlete goes through, and I can only tell you that process is not done. We are in the middle of that process," said Texas coach Rick Barnes of the Kabongo situation. "Every student-athlete is entitled to a process if something comes up, and that process is ongoing."
Kabongo has been under investigation for impermissible benefits concerning a workout that involved agent Rich Paul. According to sources, the penalty was so severe because Kabongo had been less than straightforward when the NCAA initially questioned him.
While Barnes refused to take further questions on Kabongo, North Carolina coach Roy Williams now has plenty of them about his team.
"It was like comedy of errors, except it wasn't very blankety-blank funny," Williams said.
The Tar Heels' defense refused to extend in the first half and allowed Texas to build a 19-point lead. That lead was aided by two straight surprising 3-pointers from Texas forward
Jonathan Holmes
. The sophomore had made only three shots from beyond the arc in his 10 previous games.
[+] Enlarge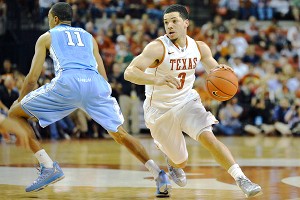 Brendan Maloney/USA TODAY SportsFreshman point guard Javan Felix effectively piloted Texas, scoring 8 points with 8 assists.
"We backed off him," Williams said.
And North Carolina continued to back down for most of the night.
"They did a better job of pushing the pace and getting us back on our heels," Williams said. "It seems like they got every loose ball."
There were plenty of those to go around, as Carolina turned it over 18 times. Texas, typically not a solid transition team, scored 14 points off those turnovers.
"Coming into the game, coach Barnes preached to us to getting the ball out and getting back in transition, and that was our game plan along with rebounding -- and that was what we tried to do," Felix said.
"They outran a running team," is how Williams put it.
In fact, Texas struggled only when it went into half-court sets. Starting the second half, North Carolina started to value the basketball more and made more of an effort to keep the Texas offense in front of it. That, coupled with the aggressiveness of
James Michael McAdoo
(14 points, 9 rebounds) and
Reggie Bullock
(a career-high 13 rebounds), allowed UNC to cut the lead to four.
Given that Texas has been a team that has struggled down the stretch -- the Longhorns were outscored 13-2 down the stretch in a 65-63 loss to UCLA -- it appeared as if the tide had started to turn.
Until, that is, North Carolina neglected to communicate on defense and allowed
Cameron Ridley
to throw down an uncontested dunk to push the lead back to seven with 6 minutes, 35 seconds remaining.
"We were aggressive and moved the ball pretty well, and some guys knocked some shots down," Barnes said. "But this was a game we thought would be won in transition and on the boards."
Texas didn't win on the boards in the box score (North Carolina had 43 to the Horns' 40). But UT did win in second-chance points with 18, and in fast-break points with 14.
"We have had a couple of tough losses because we had not played as hard as we should," said Holmes, who finished with 15 points and 8 boards. "[Wednesday night], we came out and did what we had to do. We definitely set the bar high for the rest of the season."
Regardless of who might be with Texas for the rest of the season.
--HornsNation writer Max Olson contributed to this report
December, 21, 2011
12/21/11
8:00
AM ET
AUSTIN, Texas -- Rick Barnes sees potential.
Five freshmen, each with a unique talent; a junior guard in
J'Covan Brown
who is a proven scorer and is becoming a more adept passer every game; and a big man,
Clint Chapman
, who after three years of watching is now snatching his opportunity ... and rebounds.
[+] Enlarge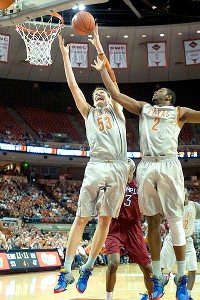 Brendan Maloney/US PresswireJaylen Bond (2) and Clint Chapman have picked up their performances recently for Texas.
"We've shown a lot of things that we can do," the Texas coach said. "I keep thinking that we have got so much room to improve, it's amazing."
There is room to improve and then there is the gulf of experience that appears to separate Texas from its next opponent, North Carolina. The No. 6 Tar Heels return much of the team that made the Elite Eight last season before being knocked out by Kentucky.
Texas starts three freshmen, and it could be a long and frustrating learning experience for Barnes' team inside the Dean Dome Wednesday night. But the key is, Texas is learning. Truth be told, this game is not make-or-break for the Longhorns. It's a nonconference test that fits perfectly into the schedule.
Barnes built this schedule with youth in mind, knowing he would have to allow his young players to grow into games such as this one at North Carolina and, later, the Big 12 schedule. Had it not been for a huge second-half collapse against North Carolina State and an overtime loss to Oregon State -- both games away from the Frank Erwin Center -- Texas would be exactly where Barnes wanted it.
As it is, there are indications that the Longhorns are maturing at a rapid rate and getting better play out of certain players who, at this point, were not supposed to be difference-makers. Take
Jaylen Bond
, for instance.
The freshman had been in a support role for the first couple weeks of the season. He averages just 15 minutes a game. But he is fourth on the team in rebounding and first in rebounds per minute played, and both numbers are rising. Just in the past two games, Bond, a 6-foot-7 forward, has pulled down 20 rebounds.
"What he has done on the boards is exactly what he did when we started preseason practice," Barnes said. "The last two games he is really starting to do some good things we need from him."
Bond said that is just part of the maturation process.
"As I get more confident in my offense and defense, I am able to help my team win," he said.
His offense, more than his rebounding, has been the most surprising aspect of his game in the last two contests.
Bond scored 18 against Nicholls State. It was a season high. In the next game, against Temple, Bond put up 12 points. Many of those were high-percentage putbacks.
Bond said he has always had the ability to read the ball out of shooter's hands and correctly slice for the rebound. That ability should help him as he goes up against the 7-foot
Tyler Zeller
and 6-foot-11
John Henson
when banging the boards at North Carolina.
What could help Texas as a team is the knowledge that while the players in Longhorns uniforms have changed throughout the years, their program does hold a four-game winning streak over the Tar Heels.
"We have beaten them twice in the last couple of years, so I know they are going to come into this game having something to prove," point guard
Myck Kabongo
said. "We have something to prove, too."
What the Longhorns have to prove is that the potential Barnes sees is real.
Texas Longhorns Show Out On Pro Day
BIG 12 SCOREBOARD
Thursday, 9/3
Friday, 9/4
Saturday, 9/5