Texas Longhorns:

Nate Boyer
June, 19, 2014
6/19/14
10:00
AM ET
Before Texas begins its first season under Charlie Strong, we're taking a deep dive into all the talent he inherits in 2014. Our Burnt Orange Breakdown series will take a closer look at each scholarship player returning this fall and what we can expect from him. We're going down the roster from No. 1 Shiro Davis all the way to No. 99 Desmond Jackson.
No. 37 Nate Boyer
Senior deep snapper
Recruitment rewind:
If you're unfamiliar with his incredible story,
read this piece from Grantland
. Boyer walked on to the Texas football team at the age of 29, after spending time as an actor, teacher and fishing boat worker and then earning a Bronze Star as a member of the Green Beret Special Forces. The 5-foot-11, 190 pound defensive back had never played football when he tried out for and made the team.
Career so far:
Boyer redshirted in 2010, appeared in one game in 2011 and then took over the starting deep-snapping duties in 2012 and 2013. He came to Texas thanks to the G.I. Bill, which covered his school costs, though Mack Brown elected to put Boyer on scholarship before the 2012 season. Last season, Boyer was responsible for snapping on field goals, PATs and punts. He received the Disney Spirit Award in 2012, the National Football Foundation Legacy Award last year and was a first-team Academic All-American as well.
Best-case scenario for 2014:
Another year of doing your job so well that nobody notices. That's the life of a snapper, though they don't make many like Boyer. You can expect the 33-year-old to be a perfect student in the classroom again and an important voice in the locker room. He has the utmost respect of his teammates, and not just because he's a decade older than them.
Worst-case scenario for 2014:
No worst-case here. Texas has one other designated long snapper on the roster, junior
Kyle Ashby
, but it seems unlikely he'll take over Boyer's duties this fall unless the senior is ineffective in his role.
Future expectations:
Boyer has been all over the world in his life and has achieved so much since arriving in Austin as a veteran with no football experience. When his playing days are over , you know Boyer will find another profession that gives him a chance to make the world a better place. For him, football was always just something fun to do in between.
November, 6, 2013
11/06/13
2:30
PM ET
By
Jordan Conn
| ESPN.com
In a state where love of football is akin to love of country, at a school that might soon fire its head coach, on a team that has only recently begun to show that this season can be something other than utter disaster, everyone, it seems, still loves the guy who carries the flag.
The fans call him a "hero," except for the fans who call him a "patriot," except for the fans who call him a "real American," and, of course, the fans who call him a "real American patriot hero." Teammates call him "America" or "old man," depending on their mood, and at least one assistant coach refers to him as "Jason Bourne." Mack Brown, the beleaguered head coach who has never lost his ability to make you wish he was your grandfather, says of the guy with the flag, "He's even better than Rudy."
As for the flag bearer himself, his name is
Nate Boyer
. He is a 32-year-old, 190-pound long-snapper for the University of Texas Longhorns. He is a failed actor and a damn good soldier, a veteran of the Army Green Berets but a novice on the football field, someone who never even played in high school. He's not crazy about his nicknames — worst of all "hero" — and unlike the film version of Rudy Ruettiger, he is not here just to inspire or to prove his self-worth.
Instead, Boyer is here, in Austin, a starting football player for one of the most prestigious programs in the country, carrying the American flag out of the tunnel every Saturday, for a simple reason: "It seemed like it would be fun."
To continue reading this story,
click here
.
October, 3, 2013
10/03/13
12:00
PM ET
Now here's a thought: Could a college football player be worth
$114,000
or as much as $419,000?
August, 30, 2013
8/30/13
9:00
AM ET
The 245-day wait is almost over. To help you pass the time while counting down the final Here's one final preview of
No. 15 Texas' season opener against New Mexico State
on Saturday (7 p.m., Longhorn Network).
Five notes


1.
Texas is 7-0 all-time against New Mexico schools and is averaging 50.4 points per game in games against New Mexico and New Mexico State. Texas has never won a game against those two schools by less than 30 points.
2.
First-year New Mexico State coach Doug Martin went 1-3 against Big 12 schools during his stint as head coach at Kent State from 2004-2010. The lone victory came against Iowa State in 2007. In its past three games against Big 12 schools, NMSU went 0-3 and averaged 7.7 points per game.
3.
In Mack Brown's first game as Texas coach, the Longhorns blew out New Mexico State 66-36 in 1998. Ricky Williams kicked off Brown's tenure and his own Heisman Trophy campaign with 215 rushing yards and a school-record six touchdowns.
4.
On the injury front:
Jaxon Shipley
and
Marcus Johnson
have been practicing this week and have a good chance of playing Saturday. Texas' staff has been coy about how it will use
Tyrone Swoopes
, citing the hamstring issue that has slowed him, but don't be surprised if he enters in the fourth quarter against NMSU.
5.
Texas has only three true freshmen – Swoopes, receiver
Jacorey Warrick
, guard/tackle
Kent Perkins
– listed on this week's depth chart. Mack Brown said Wednesday that "very few" freshmen will play in 2013 and most will redshirt, unlike the past two seasons.
Four quotes
[+] Enlarge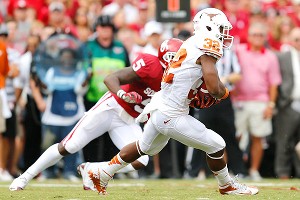 Cal Sport Media via AP ImagesSophomore Johnathan Gray will start the season as Texas' first-string tailback. Can Gray begin with a bang?
1. "
It's a unique opener, more than most, because we don't know anything about their offense. We don't know anything about their defense. We've heard a few things, but we don't have a clue about what they're going to do." -- Mack Brown
2.
"The team theme is, 'For the man on my right and the man on my left.' What that means to us in the military is all the training you're going through, everything that you're doing when you're in combat or in a situation, it's about making sure the guy next to you is successful, keeping him safe, keeping him alive." -- Texas deep snapper
Nate Boyer
3.
"I am excited. I see improvement, I see hope. I have worked as hard as I can possibly work for three years to get this team to where it will get back into the mix and I am excited about seeing if we are. I think we are, but we have to play and you have to do it every week." -- Mack Brown
4.
"I was confused. Man, that's cool. I doubt she really knows who I am. She's from Texas, she probably saw the jersey. If she did know who I was, I'm not going to not think that [is cool]." -- Texas quarterback
David Ash
, on a photo of Beyonce wearing his No. 14 jersey.
Three keys
1. Establish the run early.
Ash is at his best as a big-play passer when the run game is creating those opportunities. A hot start from
Johnathan Gray
with help from
Malcolm Brown
and
Joe Bergeron
will make Texas' play-action game hard to stop.
2. Avoid turnovers.
Don't make this opener – against one of the worst teams in FBS last season -- anything more than it needs to be.
3. Depth up front.
How will Texas' offensive line react and rotate when going up-tempo, and how effective will its defensive line be at pressuring NMSU while throwing as many as eight or nine different linemen into the game?
Two key players
1. Texas LB Jordan Hicks:
Texas knows so little about what NMSU will throw at it offensively that it's easy to see why Hicks' return is vital. As the veteran leader of the linebackers, he'll be trusted to get everyone else lined up correctly and make adjustments as needed. He's experienced and smart enough to handle the unknown this week, and he's been looking forward to this start for a long time.
2. New Mexico State P Cayle Chapman-Brown:
I know, he's just a punter and so what? Yes, but he's one of the better ones in the country, and the Australian has a big leg. If NMSU wants to give Texas a real fight, field position will be important. Pin the Longhorns in their own territory repeatedly and it's a safe bet their untested tempo plans will get thrown off. That could mean turnovers, and a chance.
One prediction
No. 15 Texas 45, New Mexico 10
Major Applewhite goes for some fireworks early – think a bomb to
Mike Davis
or
Daje Johnson
– as the Texas up-tempo makes its debut. There will be a few hiccups here and there, and the Longhorn offense will slow down as needed, but the first impression will be solid.
Jackson Jeffcoat
will get right back to business and lead a pass rush that overwhelms the Aggies, and Texas pulls away thanks to two interceptions. This one isn't close.
June, 19, 2013
6/19/13
1:30
PM ET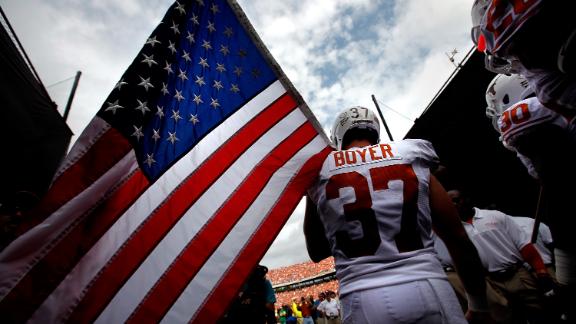 Texas junior long snapper
Nate Boyer
has been honored as the Big 12's Sportsperson of the Year.
Boyer, who was placed on scholarship last August as a sophomore, was a member of the Green Berets Special Forces before coming to Texas to play football. He also won the Disney Spirit award last year as college football's most inspirational story.
The 31-year-old earned a Bronze Star for his duty, which began as a response to the Sept. 11 attacks and included work in the Darfur region of the Sudan, as well as providing assistance to autistic children.
He began another tour of duty in May. Coach Mack Brown called it the "most unique story" he'd ever seen. Perhaps most unique: Boyer didn't even play high school football because his school didn't field a team.
He's found a niche on the Longhorns' team, and the Big 12 honored him with more hardware on Monday. Throughout the award season, though, he's only earned more respect. He brought two Wounded Warriors with him to the College Football Awards in Orlando and has earned a status much more prominent than just the guy who charges the field at Texas games as the first player out of the tunnel with the American flag in his hand.
"Nate sets a tremendous example for our guys and is a daily reminder of how our military personnel give so much to protect and provide us freedom," Brown said in a release. "He is a great example for student-athletes across the country and someone who is worthy of any award or recognition that comes his way."
I'll second that sentiment from Brown. See
more on Boyer's incredible story here
.
December, 6, 2012
12/06/12
8:15
PM ET
By
ESPN.com staff
| ESPN.com
August, 26, 2012
8/26/12
8:49
PM ET
AUSTIN, Texas -- Texas coach Mack Brown announced Sunday that special teams contributors
Cade McCrary
and
Nate Boyer
will be put on scholarship this season.
McCrary is a junior wide receiver from Austin's Lake Travis High School. He has served as the Longhorns' holder for the past two seasons, including on Justin Tucker's game-winning field goal against Texas A&M last fall.
Boyer joined the program last season as a 30-year-old walk-on after spending the previous nine years in the Army.
The former Green Beret staff sergeant -- he served for two tours of duty in Iraq -- is competing with freshman Kyle Ashby for Texas' long-snapping duties.
Texas Longhorns Show Out On Pro Day
BIG 12 SCOREBOARD
Thursday, 9/3
Friday, 9/4
Saturday, 9/5