Texas Longhorns:

Kheeston Randall
August, 29, 2012
8/29/12
5:00
PM ET
Everything seemed fine on the 40 Acres this time two years ago.
The defensive cupboard was well-stocked and Mack Brown was talking up the squad, openly inviting high expectations for his defense and claiming they might be the best in his time in Austin.
With the Acho brothers up front and three future NFL draft picks in the secondary, who could blame him?
[+] Enlarge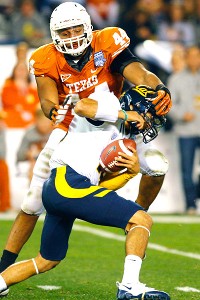 Jody Gomez/US PresswireJackson Jeffcoat, above, and Alex Okafor combine to form the Big 12's best defensive end tandem.
"It didn't turn out that way," Brown said this week.
The Longhorns defense was good, but not good enough. It led the Big 12 in total defense, but forced just 18 turnovers for 11th in the Big 12.
Oh, and Texas went 5-7.
The Longhorns bounced back with eight wins in 2011, and in 2012 the hype is back for a defense loaded with NFL talent once again. There is talk that it might be among the nation's best, if not
the
nation's best.
"I want our defense to live up to those expectations," Brown said. "All of us sitting here in preseason have expectations, especially at a school like the University of Texas. But, until you produce on the field, and we'll have a better idea of how they look on Saturday, then we're not sure how good they will be."
Brown's tempering the expectations a bit this time around, but he knows what he has.
The league's No. 1 and No. 2 defensive ends are anything but an unknown commodity. Both
Jackson Jeffcoat
and
Alex Okafor
could hear their names called in the first round of next April's NFL draft, though Jeffcoat said this week he wants to stay and get his degree from Texas.
Cornerbacks
Quandre Diggs
and
Carrington Byndom
morphed a question mark at cornerback into one of the team's strengths late in the season, and safety
Kenny Vaccaro
might be the best overall defender in the Big 12.
The one thing most closely resembling a question mark? The middle of the defense.
"I've consistently talked about the loss of the four seniors down the middle," Brown said, "and that we've got new, young guys in their places."
Linebackers Emmanuel Acho and Keenan Robinson were the vocal leaders of the defense last season, but have been replaced by super recruits
Steve Edmond
and
Jordan Hicks
, joining a speedster on the outside in linebacker
Demarco Cobbs
, who played quarterback, receiver, safety and returned kicks and punts in high school.
Tackle Kheeston Randall is gone, too, but the Longhorns look well suited to replace him by plugging juco transfer
Brandon Moore
and reformed running back
Chris Whaley
at the top of a rotation of five capable contributors in the middle of the defense.
Adrian Phillips
moves up to replace four-year starter Blake Gideon at strong safety opposite Vaccaro.
"Until they prove it on Saturday that they're ready to show that leadership and show that ability to handle Big 12 football at a fast pace, then we have to wait until they prove it before we can anoint them as a great defense," Brown said.
Here's guessing we won't wait long.
April, 28, 2012
4/28/12
5:50
PM ET
The long wait for linebacker Emmanuel Acho and defensive tackle Kheeston Randall is finally over.

Acho was picked by the Cleveland Browns in the sixth round with the 204th overall selection, and Randall went to the Miami Dolphins 11 picks later in the seventh.

Acho, a 6-foot-1, 238-pound senior, projects as an inside linebacker in the Browns' 4-3 defense. He'll get a chance to back up middle linebacker D'Qwell Jackson, a six-year veteran who led the team in tackles last season.

The Dallas native earned All-Big 12 honors as senior after leading Texas with 131 total tackles (19 for loss). He recorded only three sacks, though, and ESPN NFL draft expert Mel Kiper Jr. said that hurt his stock in the draft.

"He's strong, quick and very experienced," Kiper said. "Think about what he did at Texas during his career -- he put up numbers. The only problem is, not a lot of impact plays. ... Too many games, I thought, where he wasn't dominant as his numbers and physical talent suggest he should've been."

Kiper said he felt Acho had the physical talent of a potential second- or third-round draft but lacked consistency on the field.

"He's a gifted athlete," Kiper said. "You thought he would be more dominant game-to-game. He wasn't."

The 6-foot-4, 293-pound Randall, a native of Beaumont, started 35 games at Texas. He was a second-team All-Big 12 selection after recording 34 tackles (five for loss) this season.
ESPN's Todd McShay said one glaring flaw was to blame for Randall slipping to the seventh round.

"When he gets a gap and has an opportunity, he can absolutely disrupt in the backfield, penetrate, make a lot of plays," McShay said. "But the thing is, he doesn't make many plays in the passing game. He disappears. He only had four sacks in three years as a starter."

The selections of Acho, Randall and fourth-rounder Keenan Robinson may be all Texas has to show for the 2012 NFL Draft. Unless running back Fozzy Whittaker is drafted in the seventh round, this will be the fewest Longhorns selected in a draft since three went in 2005.

April, 28, 2012
4/28/12
1:14
PM ET
Keenan Robinson
became the first Longhorn selected in the NFL Draft when the Washington Redskins selected the linebacker late in the fourth round on Saturday afternoon.
Robinson was the No. 119 overall pick and will get a chance to reunite with former Longhorn and two-time Pro Bowler Brian Orakpo in Washington.
At 6-foot-3 and 243 pounds, Robinson projects out as an outside linebacker for the Redskins, a spot where they're already set for the future with Orakpo and 2011 first-rounder Ryan Kerrigan.
The Plano, Texas, native started 39 of his 51 career games at Texas during his five years in the program and earned second-team All-Big 12 and Holiday Bowl Defensive MVP honors last season.
ESPN's Todd McShay called Robinson's measurables "phenomenal" on Saturday but said he didn't think the linebacker reached his potential during his time at Texas.
"I thought early in his career he had star potential, and then he never really improved," McShay said. "He can get from sideline to sideline with the best of them. I think he's one of the best athletes at the linebacker position in this year's class."
Robinson's selection ended Texas' longest NFL Draft drought in more than a decade. No Longhorn was drafted in the first three rounds for the first time since 2000, when sixth-round defensive end Cedric Woodward was UT's only draft pick.
Though he has good range and is solid in man and zone coverage, the knock on Robinson that caused him to fall to late in the fourth round was his ability to take on and shed blocks.
"That's kind of important when you play the linebacker position," McShay said. "He's got to improve in that regard. He's a phenomenal athlete and could pan out but there's a lot of work there that needs to be done there for the Redskins."
Texas linebacker
Emmanuel Acho
, defensive tackle
Kheeston Randall
and running back
Fozzy Whittaker
are still hoping to hear their names called on Saturday during the draft's final three rounds.
March, 20, 2012
3/20/12
5:06
PM ET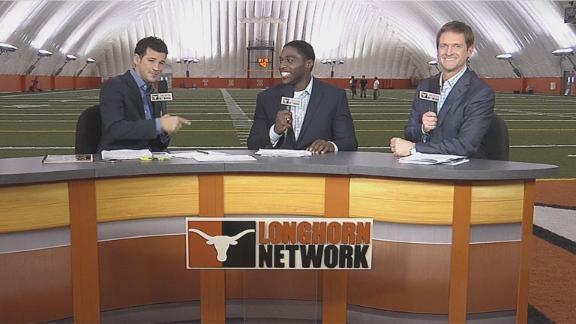 AUSTIN, Texas --
Blake Gideon
is well aware of the trappings that usually come with being a starting defensive back at Texas.
"A lot of guys have come out of that room and made a lot of money," Gideon said.
Gideon is trying to be the next one. But his name doesn't carry the cache of an Aaron Ross, who just signed a new $15 million deal, or Quentin Jammer, a top-10 pick. Nope, he is Blake Gideon, the guy who started 52 games at Texas, the second-most all-time. And, if not for Tuesday's pro day on campus, he might not have even received a look from the NFL.
[+] Enlarge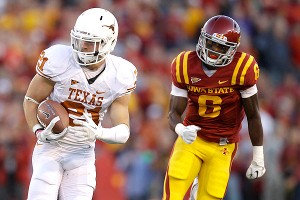 AP Photo/Charlie NeibergallBlake Gideon is not projected as an NFL draft pick despite his 52 career starts at Texas.
"I just wanted a chance," the former Texas safety said.
Gideon, along with 13 other former Longhorns, got their chance to impress more than 50 scouts and coaches Tuesday. The goal was to move the needle and show the NFL that they belonged.
The reality is that aside from three or maybe four players --
Keenan Robinson
,
Kheeston Randall
,
Emmanuel Acho
and Fozzy Whittaker -- it is a long shot to even turn the pro scouts' heads.
"It is what it is," offensive lineman
David Snow
said.
What it was for Snow was a disappointing day when it came to doing the 225-pound bench press. He is an offensive lineman and needs to display a tremendous amount of upper body strength. He only had 23 reps at 225, the same amount as Whittaker, a 194-pound running back.
"I wish I could do the 225 over again," Snow said.
A lot of the players probably want do-overs. That is not the way it works.
"You have to come out give it your all and leave it all on the field and on the track," offensive lineman
Tray Allen
said.
Allen said he posted a 5.1 time in the 40-yard dash. For a 300-pound player, he did leave plenty out there, but undoubtedly in the coming months he will question whether he could have done better.
Gideon was accepting of his 4.56 in the 40 but said he could post a lower number, as he had in training. Randall chose to participate only in individual drills in the practice bubble, under the watchful eye of scouts. He did not lift or run.
Whittaker only benched, upping his combine total of 20 by three.
Likewise, Robinson was reserved in what he did. But the 6-foot-3, 242-pound prospect might have done just enough to secure a pick in the top three rounds.
"I've heard anywhere from end of the first to the fourth," he said. "I just hope I get in a good situation with a good team.
"I wanted to show them I am a big guy who moves well in space."
Robinson posted the same time on his 40 as he did at the NFL combine, 4.78. He improved his vertical jump to 36.5 inches and his broad jump to 10 feet, 5 inches.
"All I can do now is sit back and wait and see what happens," he said.
While many of the players will have individual meetings with teams and additional workouts, that is essentially the same situation everyone is in now. The waiting game has started. So has the worrying game.
But one NFL veteran had some wisdom for his brother.
"Sam told me not to worry about where you get picked, just worry about getting through the door," said Emmanuel Acho, who opted out of many drills because of a quadriceps injury.
And it appears that the younger Acho has taken that advice to heart.
"Now I can exhale," he said at the end of the workouts.
February, 7, 2012
2/07/12
12:37
PM ET
By
HornsNation staff
| ESPN.com
Four Longhorns have been invited to the NFL scouting combine.

Linebackers Emmanuel Acho and Keenan Robinson, defensive tackle Kheeston Randall and running back Fozzy Whittaker are invited to the event held on Feb. 22-28 at Lucas Oil Stadium in Indianapolis.
December, 30, 2011
12/30/11
4:30
PM ET
By
HornsNation staff
| ESPN Insider
Six Texas seniors have been invited to participate in college all-star games, coach Mack Brown said Friday.

Linebacker Keenan Robinson and defensive tackle Kheeston Randall have been invited to the Senior Bowl.
December, 26, 2011
12/26/11
8:00
AM ET
AUSTIN, Texas -- It doesn't matter that Texas is winging its way to the West Coast to face a Pac-12 team that put the high in high-flying.
So what if Cal coach Jeff Tedford has been the passing game guru that has put numerous quarterbacks into the NFL.
[+] Enlarge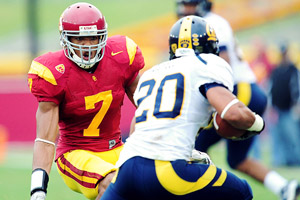 Gary A. Vasquez/US PresswireDepsite Cal's passing stats, Texas will focus on stopping 1,200-yard rusher Isi Sofele.
Who cares if Cal has a receiver that has more than 1,200 yards or a quarterback that is ranked in the top 50 in total offense?
For Texas the mindset is still the same -- stop the run, the rest will follow.
In Texas' five loss it allowed 134 rushing yards per game. In its seven wins, Texas allowed just 82 yards per game.
Cal rushes for 167 yards per game and has a back, Isi Sofele, who averages 105 yards per game. Add to that quarterback Zach Maynard is moving the offense with his ability to scramble and throw on the run, and Texas will be picking its poison on defense.
"Again, it always comes back to first thing's first," Texas defensive coordinator Manny Diaz said. "The best way to stop the quarterback is to stop the run, take away his best friend, and then you can do some different things with him."
With the exceptions of the Oklahoma State and Baylor games, Texas had been adept at making offenses one-dimensional. Texas gave up 191 on the ground to Baylor and 202 to Oklahoma State. Those were the two highest totals of the season. Baylor was also able to victimize Texas through the air more than the Cowboys.
Cal, while not as explosive, appears to be of the same mold. Couple that with the residual effects of the Baylor game, and it has made for refocusing of efforts during the bowl practices.
"In this game, and I have said it a million times is, all we do is go back and fix what we made mistakes on," Diaz said. "We are in a constant fight to battle to improve. That is really all we are trying to do. That is why getting the bowl bid the [day after the Baylor loss] was a quick way to refocus us.
"Then when you play an offense as dynamic as what Cal has, that is an easy way to get yourself excited to go out and finish the year the way we want to finish it. I always look at bowl games as the bridge to next year's football team. We have some guys who are trying to make a statement about who we want to be in the future, and we have a great opportunity to do that on national TV."
That national exposure could backfire. Cal has put up big plays, but against lesser teams than Texas. The Bears had a 74-yard touchdown pass against Arizona State. They also had a 90-yard touchdown pass against Washington. Sofele has eight runs of 22 yards or more with his season-best being a 56-yard run against Oregon State.
"We have to get after the running back and try to minimize that," defensive tackle Kheeston Randall said. "Then we will try to rush the passer. If we do that, we should put ourselves in a successful position."
December, 15, 2011
12/15/11
2:30
PM ET
It's always fun looking back on what we thought in the preseason, and today, we'll take another look.
Here's
who made the postseason team
.
How did
our All-Big 12 preseason team
stack up at season's end?
DEFENSE
DL: Brad Madison, Missouri
Madison ranked 11th in the Big 12 with 4.5 sacks and 16th with 8.5 tackles for loss and didn't earn a spot on any All-Big 12 first or second teams, though his teammate, Jacquies Smith, cracked the media and coaches' second team.
DL: Tony Jerod-Eddie, Texas A&M
Jerod-Eddie had four sacks and six tackles for loss with 47 total stops, but didn't crack any All-Big 12 first or second teams.
DL: Kheeston Randall, Texas
Randall was eighth on the team with four tackles for loss and had 29 tackles with one sack. He wasn't named to any All-Big 12 first or second teams.
DL: Frank Alexander, Oklahoma
Alexander led the Big 12 with 18 tackles for loss and 8.5 sacks. He was named the Big 12 Defensive Player of the Year by the media and shared the coaches award with A.J. Klein of Iowa State. He, of course, was a unanimous All-Big 12 first-team selection.
LB: Travis Lewis, Oklahoma
Lewis suffered a broken toe in preseason camp, and finished second on the team with 79 tackles, his first season at OU with fewer than 108 tackles. He made the media and coaches' second Big 12 teams.
LB: Jake Knott, Iowa State
Knott finished third in the Big 12 with 107 tackles and made the media any my first Big 12 teams. The coaches put Knott on the second team.
LB: Keenan Robinson, Texas
Robinson finished second on the team and 10th in the Big 12 with 90 tackles and made the coaches' second Big 12 team.
DB: Coryell Judie, Texas A&M
Judie fought a hamstring injury all season and didn't make any All-Big 12 teams after making 21 tackles and forcing one fumble.
DB: Markelle Martin, Oklahoma State
Martin made a few All-American teams and earned All-Big 12 first-team honors from the coaches and me after making 65 tackles and breaking up 11 passes. The media voted him second team.
DB: Trent Hunter, Texas A&M
Hunter made 73 tackles and broke up eight passes, but didn't earn any first or second-team honors.
DB: Demontre Hurst, Oklahoma
Hurst earned second-team honors from the coaches after making 51 tackles and having 10 pass breakups. He also returned his lone interception for a touchdown against Texas.
SPECIALISTS
K: Grant Ressel, Missouri
Ressel didn't earn any first or second team honors after making just 9-of-16 kicks and making all 30 of his extra points.
P: Quinn Sharp, Oklahoma State
Sharp earned All-Big 12 first team honors from the media and coaches after averaging over 46 yards on his 42 punts.
KR: Coryell Judie, Texas A&M
Injuries prevented Judie from returning more than eight kicks this season. He averaged 25 yards per return on his eight returns and didn't make any All-Big 12 teams.
PR: Ryan Broyles, Oklahoma
Broyles returned 19 punts at an average of just over 10 yards, and didn't earn any All-Big 12 teams as a punt returner.
AWARDS
Offensive Player of the Year: Justin Blackmon, WR, OSU
Defensive Player of the Year: Travis Lewis, LB, Oklahoma
An injury derailed Lewis' season and he never looked like his usual self during the season, ceding Player of the Year honors to his teammate, Frank Alexander.
Newcomer of the Year: Arthur Brown, LB, Kansas State
Brown won my Big Newcomer of the Year Award and the Defensive Newcomer of the Year from the coaches and media.
December, 9, 2011
12/09/11
9:01
AM ET
Linebacker Emmanuel Acho, defensive back Carrington Byndom and defensive end Alex Okafor were select to the first-team All-Big 12 team, as voted on by the Associated Press.

Defensive end Jackson Jeff coat and defensive tackle Kheeston Randall were selected to the second team defense while guard David Snow and kicker Justin Tucker were named to the second-team offense.
December, 7, 2011
12/07/11
5:40
PM ET
Big 12 coaches
voted 15 Longhorns
to the All-Big 12 team.
Running back
Fozzy Whittaker
was voted the first team kick returner while linebacker Emmanuel Acho, defensive end Alex Okafor and defensive back Kenny Vaccaro were named to the first team defense.
Cornerback Quandre Diggs was named Defensive Freshman of the Year.
Selected to the All-Big 12 second team defense along with Diggs were senior defensive tackle Kheeston Randall, senior linebacker Keenan Robinson and sophomore defensive end Jackson Jeffcoat.
All-Big 12 honorable mention selections went to: sophomore cornerback Carrington Byndom, senior safety Blake Gideon, senior running back
Cody Johnson
, freshman wide receiver
Jaxon Shipley
, senior lineman David Snow, senior kicker Justin Tucker, junior safety Kenny Vaccaro, sophomore lineman Mason Walters, and Whittaker.
Texas Longhorns Show Out On Pro Day
BIG 12 SCOREBOARD
Thursday, 9/3
Friday, 9/4
Saturday, 9/5