Texas Longhorns:

Kevin Sumlin
May, 21, 2013
May 21
10:00
AM ET
Get ESPN 150 safety
Jamal Adams
(Lewisville, Texas/Hebron) in any competitive environment and you'll begin to understand very quickly why he's so coveted.
Take for example the Dallas Nike Football Training Camp in Allen, Texas, on April 7 when he set the tone in 1-on-1 drills by
shoving a wide receiver three yards behind the line of scrimmage
at the snap of the ball.
Adams, the No. 23 player overall and No. 3 safety, isn't naming any favorites. But we caught up with him to get a sense for where he stands with a few of the programs generally thought to be in the mix.
To continue reading this article you must be an Insider
April, 16, 2013
Apr 16
8:00
AM ET
AUSTIN, Texas -- Welcome back, Texas. The recruiting world was, well, kind of boring without you.
But now it is like old times. Here it is the middle of April and 15 recruits have already pledged to the burnt orange and white. The rest of the Big 12 conference has 23 combined.
[+] Enlarge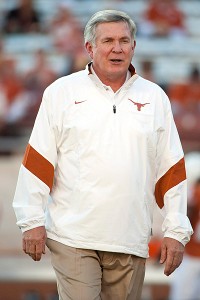 Brendan Maloney/US PresswireMack Brown and the Longhorns have gotten off to a fast start for the 2014 and 2015 recruiting classes.
Not even that new nemesis, Texas A&M, has as many commitments. The Aggies, who plucked four players from the juggernaut formerly known as Texas, just have 10. That's good enough for second nationally and, again, five behind Texas. What's more, Texas has won the head-to-head battle against the Aggies so far, getting six players who had TAMU offers to commit to Texas while the Aggies have had five players with Texas offers commit to them.
Of course, that is slightly hollow chest thumping when considering the Aggies were a top-10 team last year, a likely preseason top-five team this year and have a Heisman winner returning at quarterback.
But at this point, Texas, a program that has wandered more aimlessly than a Panhandle tumbleweed over these last three years and, by the way, been just about as sturdy in construction, has to point to something of promise on the horizon. And apparently that is just what the Longhorns are
successfully doing in recruiting
.
Recruits from as a far away as Florida (LB
Andrew Beck
) and as a close as Louisiana (DT
Courtney Garnett
and CB
Jermaine Roberts
) have been convinced to head west.
Yes, after thorough checking it has been confirmed the Red River Rivalry does air in both states and yet both still cast their lot with the team that was embarrassed. But now, some six months later, there is an embarrassment of riches at Texas.
April, 9, 2013
Apr 9
10:30
AM ET
ALLEN, Texas -- Cedar Hill (Texas) High School is no stranger to producing Division I football talent, and 2015 receiver
Damarkus Lodge
looks to be one in the next wave of Longhorns to have a chance to play big-time college football.
The sophomore has made unofficial visits to three in-state programs already this spring and picked up his first FBS offer -- from Arizona State -- in the meantime.
To continue reading this article you must be an Insider
April, 8, 2013
Apr 8
7:41
AM ET
ALLEN, Texas -- The last couple of month have been memorable for Orange (Texas) West Orange-Stark 2015 safety
Deionte Thompson
.
In February, Thompson attended an Alabama junior day, received an offer from head coach Nick Saban and promptly committed.
In recent weeks, the 6-foot-3, 172-pound prospect visited two other schools -- Texas and Texas A&M -- and picked up offers from both. On Sunday, he made the trek to the Dallas-Fort Worth area for the Dallas Nike Football Training Camp.
Needless to say, things have been busy.
To continue reading this article you must be an Insider
March, 3, 2013
Mar 3
8:30
AM ET
January, 15, 2013
Jan 15
8:00
AM ET
If the state of Texas threw a sock hop for all of its universities, the Longhorns would be the popular student with the fancy, expensive attire that purposely arrived late to garner attention.
It'd turn heads, sure, but the buzz of the dance would be about that student with the flashy makeover (Texas A&M) who brought his hoity-toity friends one can tell aren't from these parts (the rest of the SEC).
To continue reading this article you must be an Insider
December, 12, 2012
12/12/12
2:39
PM ET
Now that he's landed
Hoza Scott
and
Ricky Seals-Jones
, Kevin Sumlin might as well finish off the week by planting a maroon flag on the top of Chase Tower.
[+] Enlarge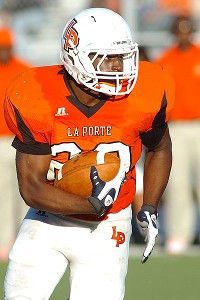 Max Olson/ESPN.comClass of 2014 linebacker Hoza Scott consistently said Texas was No. 2 on his list but the Aggies were too far out in front.
The celebration might be all too fitting. It is, after all, the tallest building in Texas and a 75-story behemoth towering over downtown Houston.
The man was introduced as Texas A&M's new head coach exactly one year ago today, and already he has effectively declared he owns the city of Houston and its surrounding area in the recruiting game.
To continue reading this article you must be an Insider
November, 29, 2012
11/29/12
8:00
AM ET
You'd think that when
Hoza Scott
's junior ends, the real fun begins.
After all, the La Porte (Texas) linebacker might be the No. 1 prospect in the state of Texas for the 2014 class. He has offers from everyone. His life should be getting much more stressful once the recruiting process starts consuming his time, right?
[+] Enlarge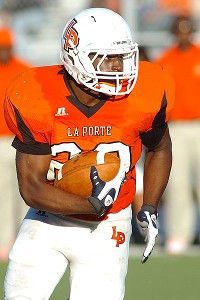 Max Olson/ESPN.comClass of 2014 linebacker Hoza Scott has the Aggies out in front of Texas.
Wrong. The biggest and best of the recruiting battles between Texas and Texas A&M for top 2014 prospects appears to be over already.
Scott, a coveted 6-foot-3, 225-pound linebacker, has been calling the Aggies his No. 1 school all year. He's planning to prove that soon.
"Really, honestly, my decision and my mindset is on A&M," Scott said. "That's where I really want to go."
So why hasn't Scott made it official yet and become the next blockbuster pickup of Kevin Sumlin's second full recruiting class?
"It's coming soon," Scott said. "It's going to come pretty soon."
All Scott is waiting for -- and hoping for -- is a happy ending to his junior season. La Porte pulled off a 21-17 win over Fort Bend Bush last weekend, but the lights get much brighter now: La Porte vs. Katy at Houston's Reliant Stadium.
"Oh man," Scott said, "it's going to be a big one."
It's moments like this that make Scott glad he has pushed recruiting off to the side lately. While this process hasn't reached the point of being overwhelming, the flood of interest and mail won't stop. His coaches deliver the college letters to his locker by the shoebox now, and plenty more come to his house. Opening each and every one? Not possible at this point.
"It's like 60 or 70 a week. It's a lot of mail, and that's every week," Scott said. "I'd say it comes from like 20 difference colleges. It doesn't get tiring. It's pretty cool. It's motivation."
Dealing with all that isn't too difficult, of course, when your mind is already made up.
Scott won't take any more visits before announcing his choice. He doesn't anticipate anything will make his change his mind in the next few weeks.
"I'm just waiting for the season to end so I can relax and finally tell people," Scott said. "It's pretty much A&M, done deal."
How Scott reached this point may be a sign of the times in the new Texas-Texas A&M recruiting rivalry. He's only one recruit, but he's as big of one as there is in the state. Both schools want him badly.
And both schools offer similar opportunities. Texas defensive coordinator Manny Diaz has been selling Scott on a shot to replace
Jordan Hicks
when the top Longhorn linebacker moves on to the pros. Texas A&M's pitch is even simpler: Come become the next
Von Miller
.
That's a role Scott is more than comfortable with. While he's capable of operating as a middle linebacker and could grow into a defensive end someday, he has made his hay at La Porte as an outside linebacker operating off the edge near the line of scrimmage.
When Texas coaches broke from tradition and started publicly offering juniors in August, they hoped it would help make up ground in the battle for Scott. While that move got his attention, what Texas A&M has done since August made this an easy call for Scott.
"I knew A&M was going to do good in the SEC," he said. "Coach Sumlin, I knew he was going to be a good coach because when he was at Houston they were almost undefeated that whole season. I knew A&M had something good coming."
The Aggies have an exciting new coach, a 10-2 record, a presumptive Heisman Trophy winner in
Johnny Manziel
and a boatload of momentum on the recruiting trail. They've blown away those prospects who took a wait-and-see approach to how A&M would fare in its new conference.
Texas, on the other hand, has ... well ... Scott has a hard time putting his finger on it.
"A&M is heading in a great direction," Scott said. "And UT, I like them still but, I don't know, it seems like they're falling apart. I know they're going to pull it together. They're a young football team."
That's not to say the Longhorns are in for humbling when it comes to 2014 recruiting. Texas already has six pledges and added the state's top offensive line prospect,
Demetrius Knox
, this week.
But the state's elite recruits aren't na´ve. There's a lot to like about the Aggies right now. If Scott is the face and leader of their next class, blue chip talents will likely follow.
To continue reading this article you must be an Insider
November, 19, 2012
11/19/12
12:00
PM ET
A year ago this Thursday night, I was roaming the sidelines at Kyle Field with a belly full of turkey and a gut full of anticipation.
You could feel it anywhere you went in College Station the whole day, whether fans were wearing maroon or burnt orange. There's a special atmosphere that looms over any game like that.
Fans want it more than any game on the schedule and the last century of college football has given us only a handful of games like that between teams of two fan bases who truly despise one another 365 days a year, culminating on one night to decide bragging rights for the next 365 days.


Texas owns those bragging rights for now via a 27-25 win last year that happened somehow, apparently. Looking back on it, I'm still not sure how.
This year, TCU comes into town to face Texas on Thanksgiving night. Texas A&M hosts Missouri two days later.
It's not the same. TCU's all well and good and it should be a fun game. They're not Texas A&M. The crowd in Austin will tell you that from start to finish.
Despite what either side will tell you, it's both of their faults this game isn't happening this year. Texas warned Texas A&M: Leave the Big 12, and this rivalry is over.
Texas A&M left the Big 12. Texas stuck to its word.
Now, here we are.
(For the record, these same things apply to Missouri and Kansas. KU, call me when you win a Big 12 game. Missouri, call me when you stop losing to Vanderbilt and Syracuse at home. Texas A&M and Texas could both still crash the BCS this year.)
It's pettiness on both sides. Texas A&M's first year in the SEC has been a fun one, but they're also living in a world in which No. 9 in the BCS is good for third in its division and fifth in its conference. Winning its second conference title in almost two decades will be an uphill battle, even if the Aggies are most certainly headed in the right direction under new coach Kevin Sumlin.
Texas is headed in the right direction, too, and a Big 12 title remains a possibility. Still, this weekend lacks the punch it has for the better part of the past 100 years.
College football fans are suffering because of the bickering of two high-powered programs.
Texas A&M left, but Texas holds the key to bringing back one of college football's greatest rivalry games on an annual basis.
As much as Texas fans are looking forward to Ole Miss coming to Austin next year, I think they'll be forgiving if you replace the Rebels with the team folks in Austin love to pretend they don't care about.
It's good for the bottom line. It's good for the state of Texas. It's good for the game of college football.
Texas wants to stick to its word. It doesn't want to look wishy-washy. I get that. Truth is, neither team needs this game more than the other. Both want it, though, as much as Texas fans want to pretend they don't.
Pretend you're taking the high road if you'd like, but just bring it back. A world of thanks from the world of college football awaits.
February, 22, 2012
2/22/12
1:47
PM ET
It's happening again.
It's the same as last year. It's the same as the year before.
It's February, almost a year until pen goes to paper, and yet Texas has completed 30 percent of its 2013 recruiting class. The
latest is ESPNU Watch List
athlete
Ricky Seals-Jones
(Sealy, Texas/Sealy). Just another top prospect. Another who is considered one of the best at his position. An in-state guy. A guy Texas had to have.
To continue reading this article you must be an Insider
February, 8, 2012
2/08/12
1:30
PM ET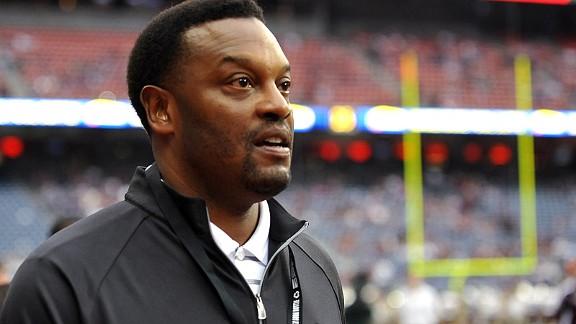 Cal Sport Media/AP ImagesBetween a young team and a tough new conference, coach Kevin Sumlin has his work cut out for him.
It's Moving Day No. 2 on the blog network today, and the Aggies are following Missouri out the door into the SEC blog. We introduced the Aggies to the SEC earlier, but now it's time to debate.
The Aggies' move to the SEC was more about having the program grow in new soil, whereas Missouri's move was more about conference stability.
Will the Aggies thrive? SEC blogger Chris Low and Big 12 blogger David Ubben go head-to-head to find out.
Chris Low:
OK, David, let's not tiptoe around. The SEC is a big-boy conference with big-boy stakes. I know everything is supposedly bigger in Texas, but do the Aggies really know what they're getting themselves into? For one, they tend to play all four quarters in the SEC. Judging by what I saw from the Aggies last season, somebody might want to remind them that there is a second half. Come to think of it, that's not very hospitable of me. I take that back. But, honestly, how do you think the Aggies will handle the grind of this league?
David Ubben:
Now, now, Chris, that's not very nice. The Aggies are ...
As one final tribute to Texas A&M, I elected to forfeit the second half of that sentence.
In the early running, Texas A&M will have a lot of issues. Losing the volume and quality of talent it did in 2011 will hurt, especially on offense, as the program moves into a league -- and, particularly, a division -- known for defense.
Ryan Tannehill
wasn't great last year, but his experience helped, and
Jeff Fuller
and
Cyrus Gray
are a pair of NFL players who don't roll around every year.
I like the talent on campus at A&M a lot, though. They're just going to be young for now. With what they have now, they'll get better and better, as long as Kevin Sumlin does well. Based on what we've seen from his career, I think he will.
[+] Enlarge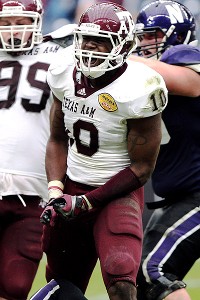 Troy Taormina/US PresswireLinebacker Sean Porter tallied 9 sacks for A&M last season, but the Aggies will need more from their defensive line.
Beyond these first three to four years, how well they progress will depend on recruiting. The Aggies think the SEC will be a big draw for Texas recruits who want to play in the best conference in college football. Being able to offer that could help them surpass Texas on the recruiting trail and on the field.
Are you buying that? I lean strongly toward no, but I could see it happening. What do you think? Is playing in the SEC going to be a draw for Texas kids? Why or why not?
CL:
I absolutely think the SEC will be a draw for some Texas recruits who see it as a chance to stay in the state, still play their college football and be able to do it against SEC competition. That's a pretty sweet proposition: Stay close to home in the football-crazed state of Texas and compete in the football-crazed SEC, which has a standing order with the sculptor who designs that crystal trophy every year for the BCS national champion.
There's also another side to this story. The boys in the SEC think their chances of going deep into the heart of Texas and landing elite prospects are better than ever with Texas A&M joining the league. Rival coaches can tell mamas and daddies (that's the way the Bear used to say it) that they'll be able to keep up with their sons just as they were in the Big 12 with the Aggies now part of the SEC family, although the recruiting atmosphere in this league isn't very family-oriented. Just ask Urban Meyer. He got so tired of the recruiting shenanigans in the SEC that he's now pulling his own in the Big Ten, according to some of his new brethren there.
That leads me to my next question: Has anybody informed the Aggies that the rules are a little different in the SEC? Unlike the Big 12, it's not the first team to 40 points that wins.
DU:
For the record, the league changed those rules for Baylor-Washington in the Alamo Bowl. First to 60 points wins now, but that's irrelevant news for the Aggies.
A&M's front seven has been really good these past two years, but this season, it was the secondary that let the team down. The Aggies led the nation with 51 sacks, but the team wasn't happy that it took a lot of risky blitzes to get those sacks. The defensive line wasn't the unit applying the pressure most often -- it was linebackers and defensive backs. That meant a lot of big plays in the passing game; the Aggies ranked 109th nationally in pass defense, giving up more than 275 yards a game. Now, they won't see the same caliber of quarterbacks in the SEC, but we will see if the front seven can handle the power of teams in the SEC West, which, to their credit, do have a handful of quarterbacks with a lot of potential.
Tyler Wilson
's great now.
AJ McCarron
and
Kiehl Frazier
could be elite soon.
We'll see what new defensive coordinator Mark Snyder can fix.
On the flip side of the recruiting debate, how much do you think SEC teams will try and slide into Texas? Could we see some collateral damage in the Big 12? Will the SEC someday take over the world? I heard Nicolas Sarkozy already has a special security detail in place in case Mike Slive comes after him.
CL:
I'm not sure about taking over the world. It's just college football that the SEC someday would like to own. Some might suggest it already does.
Arkansas and LSU probably will be helped the most in terms of going into Texas and getting players. Other schools in the SEC might be more apt to target players in the state of Texas and make a push for those select players, but I don't think you're going to suddenly see a mass of teams in the SEC setting up camp in Texas on the recruiting trail. There's no need to when you look at how bountiful the states of Florida, Georgia, Alabama, Louisiana and South Carolina are in most years.
You mention some of the quarterbacks in the Western Division. It's fair to say that this wasn't a quarterback's league this season, and I also realize that the Big 12 has produced some quarterbacks over the last few years who've put up Xbox-type numbers.
[+] Enlarge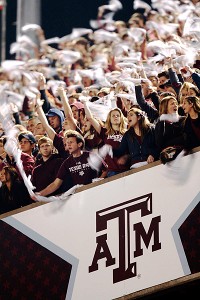 Thomas Campbell/US PresswireThere's little doubt that the state of Texas and the SEC share a deep passion for football.
But my question for you: Is Texas A&M capable of playing the kind of defense it takes to win big in the SEC?
DU:
I think so, eventually. The Aggies know they have to, which is huge. They've seen how teams succeed in the SEC, and it's with defense.
If you invest in something, especially with the resources A&M has, good things will happen. Don't forget, the Aggies' defense was really, really good last year. The athletes are there. For A&M, it's about putting it together.
CL:
With all due respect, "really, really good" on defense in the Big 12 is entirely different than being "really, really good" in the SEC on defense. The more I watch this conference, the more it's ingrained in me that you're never going to win at a high level unless you can run the ball, stop the run and consistently win the turnover battle. Everything else is window dressing. I understand that's not exactly rocket science, but being able to run the ball creates a mindset that positively impacts your entire team. The same goes for playing good run defense.
So if I were offering any advice to the Aggies as they make the big jump, it would be to fortify their offensive backfield and recruit like crazy in the offensive and defensive lines. There's no such thing as too much depth in the SEC.
Having a little Texas flavor in the SEC is exciting. I know you're on record as saying the Aggies might struggle next season. But over time, I think they have what it takes to be an upper-echelon team in the SEC. Of course, that's the beauty of the SEC. So does everybody else in the league.
DU:
Oh, there's no respect due when we're talking Big 12 defenses. The best in the SEC are on another stratosphere from the best in the Big 12.
Your game plan sounds like what I'd recommend, but it's easier said than done. Like Mizzou, A&M will have to start mining some of those junior colleges down South like the rest of the SEC West.
Generally, I'd agree with you on A&M's long-term prospects. The Aggies will win less than they did in the Big 12 ... which is to say not much. But they could put it together and have a huge year every now and then. I don't see them surpassing Texas as a program, but they're on their own now.
For some Aggies, that's enough. Next year, the Aggies will struggle, but watching them grow and try to build a new program will be fascinating.
January, 12, 2012
1/12/12
11:30
AM ET
The bowl season is over, and it's time to pass out a few awards.
Best offensive player:
Justin Blackmon
, WR, Oklahoma State. Blackmon went nuts against Stanford after the Cowboys were shut out in the first quarter against Stanford. His first two catches went for touchdowns, and he finished with 186 yards on eight grabs and his third three-touchdown game of his career. That was the first time he'd done that since the Tulsa game in 2010, the third game of the season.
[+] Enlarge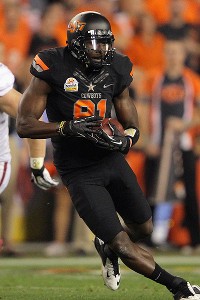 Doug Pensinger/Getty ImagesThree of Justin Blackmon's eight catches against Stanford in the Fiesta Bowl were for touchdowns.
Second-best offensive player:
Terrance Ganaway
, RB, Baylor. Ganaway ended his career in style, taking plenty of heat off his Heisman-winning quarterback,
Robert Griffin III
. He scored
five
touchdowns and ran for 200 yards, leading the way for three Bears 100-yard rushers in the 67-56 win over Washington in the Alamo Bowl.
Best defensive player:
Jamell Fleming, CB, Oklahoma. Passing? I think not, Iowa. Matched up with NFL-bound, Skycam-attacked
Marvin McNutt
, Fleming made seven tackles, returned an interception 21 yards and broke up
three
passes. Well done.
Best team performance:
Oklahoma State. The Cowboys got the Big 12's best win of the entire season, knocking off a solid Stanford team and handing
Andrew Luck
a loss in his final game as a Cardinal. Maybe they got lucky with a missed 35-yard field goal attempt to force overtime, but the Cowboys played well after a shaky first quarter and beat the nation's No. 4 team on a neutral field. Well done.
Best play:
Robert Griffin III's post-Heisman "Heisman moment." He somehow backpedalled out of a handful of Washington tacklers, escaped outside and galloped to the pylon, diving into the end zone as he took a big hit before scoring. A big-time play from the Heisman winner for a 24-yard score.
Craziest play:
North Carolina's
Bryn Renner
whipped a strike to
Dwight Jones
, but a hit jarred it loose. Somehow, it ended up on Jones' shoulder and rolled across his back, staying there long enough for Missouri LB Zaviar Gooden to sprint over and slide in to intercept the pass before it hit the ground.
Scariest play:
Marvin McNutt, WR, Iowa. McNutt was minding his own business in the Iowa huddle. Then the Skycam at Sun Devil Stadium came crashing down and sent McNutt into a panic. Fortunately, nobody was hurt, but it was memorable incident. The camera was grounded for the Fiesta Bowl later in the week.
Best out-of-nowhere performance
:
Colton Chelf
, WR, Oklahoma State. Starter
Tracy Moore
was reportedly suspended, and Chelf filled the void well. He caught just 16 balls in 12 games, but hauled in five for 97 yards in the win over Stanford, including a 24-yarder in overtime that was ruled a touchdown before being reversed and giving way to a game-winning field goal.
Worst performance:
Kansas State. It was shocking to see. The Wildcats made too many early mistakes that they hadn't made all year. There was a fumble to give Arkansas an easy three points, a handful of dropped passes, a wave of penalties and an ill-advised punt to
Joe Adams
that swung the game in favor of the Hogs. Not good, and K-State didn't give itself a chance in the 29-16 loss.
Best handling of distractions:
Texas A&M had to deal with the loss of senior offensive lineman Joey Villavisencio, who died in a car crash on his way home for Christmas. It fired coach Mike Sherman earlier. Interim coach Tim DeRuyter left for Fresno State, but stayed to coach the bowl game. The team was prepping for a move to the SEC and playing its bowl game in the home of its new coach, Kevin Sumlin. The Aggies, though, played pretty well against Northwestern and controlled most of the game in the 33-22 win.
Best atmosphere:
Cotton Bowl. For a second consecutive year, this bowl takes the cake. K-State and Arkansas fans absolutely packed Cowboys Stadium and cheered loudly from an hour before the game through the entire matchup. A big-time atmosphere for what should be a big-time game.
January, 10, 2012
1/10/12
3:30
PM ET
Welp, this is it. The college football season is over, and two teams have closed up shop in the Big 12. This will be Texas A&M's and Missouri's last time to make an appearance in the Big 12 Power Rankings.
After 14 weeks of the regular season and eight bowl games (the Big 12 went 6-2), here's how the league sits.
1. Oklahoma State (12-1, beat Stanford, 41-38 in overtime)
: The Cowboys needed some help from Stanford's kicker to get their BCS win, but their spot atop the Big 12 was never at stake. The Cowboys proved themselves as the Big 12's best team throughout the season and beat Stanford to make history. Stillwater's never seen a season like this, and Mike Gundy was
rewarded with a $1.6 million raise
after the season for his efforts.
Alamo Bowl: Oregon-Texas