Texas Longhorns:

Kevin Durant
August, 1, 2012
8/01/12
10:15
AM CT
By
Jeremy Willis
| ESPN.com
Texas Exes are showing up in force in the pool at the 2012 London Olympics.

Ricky Berens took home a gold medal as part of the men's 4x200 meter freestyle relay team for the United States. Berens swam the third leg of the race and gave Michael Phelps a four-second lead going into the anchor leg. The U.S. won with a time of 6:59.70, the only team to finish in under 7 minutes.

"Ricky had an outstanding effort in contributing to the gold medal for our country," said Texas Men's Swimming and Diving assistant coach Krik Kubik. "He always seems to be able to rise to the challenge, and tonight he most certainly did. The entire relay was superb."

For Berens, this was his second medal of the 2012 games, he earned a silver medal during these Olympics with the 4x100m freestyle relay. Berens also won a gold medal in 4x200 freestyle relay in the 2008 Beijing Games.

On the women's side, former Longhorns swimmer Kathleen Hersey posted the fasted time in the 200 meter butterfly to advance to the Olympic finals which will be held Wednesday.

Team U.S.A. basketball picked up another easy win and Kevin Durant again was a key contributor. Durant posted a double-double in a 110-63 win over Tunisia. Durant had 13 points after converting 4-of-10 field goals, including 1-of-4 from three-point range, and 4-of-4 free throws while adding one steal in 23 minutes of action.

Durant also had a team-high 10 rebounds.

The Americans continue pool play Thursday against Nigeria.

July, 30, 2012
7/30/12
9:30
AM CT
By
Jeremy Willis
| ESPN.com
Sunday's action at the London Olympics featured several Longhorns.

Kevin Durant had a game-high 22 points and 9 rebounds to lead U.S.A. past France in both teams' Olympic opener.

Durant converted 6 of 13 field goals, including 3-of-5 from three-point range, and 7 of 7 free throws while adding two assists, two blocked shots and two steals in 28 minutes of action.

At the Aquatics Centre, it was Texas Ex Brendan Hansen who climbed the podium. Hansen took the bronze after surging ahead three spots in the 100m breaststroke.

Hansen came out of retirement in 2011 and won the 100m breaststroke at the U.S. Olympic Trials. The bronze was Hansen's second medal after taking home silver in the 2004 Athens games.

Ricky Berens and Jimmy Feigen also made it to the medal stand, earning silver through their participation in the 4x100m freestyle relay.

The pair was part of the U.S. men's foursome for the qualifying heat of the 4x100m freestyle relay. The United States advanced to the relay final with the second-best time of 3:12.59 after two heats.

The foursome of Nathan Adrian, Michael Phelps, Cullen Jones and Ryan Lochte won the silver medal for the U.S. later Sunday. Though Berens and Feigen did not swim in the relay final, both will still receive medals for their qualifying efforts.

"The men's 400 relay tonight was almost a carbon copy of the 2008 final with a flip-flop of who got first and second," Kubik added. "Jimmy and Ricky did their parts to contribute by their efforts in the preliminaries, and that allowed the U.S. to race tonight with four new swimmers. They are now proud owners of a silver medal from the 2012 London Games and have added another chapter to the rich tradition of Texas Swimming and Diving."

For Feigen, this is his first Olympics. Berens is in his second Olympic Games. He won a gold in the 4x200 meter relay at the 2008 Beijing Olympics.

June, 19, 2012
6/19/12
1:30
PM CT
By
HornsNation staff
| ESPN.com
Kevin Durant spent one season in burnt orange. Is he really a Longhorn? In what sense was KD ever a college basketball player?
These are the questions asked by Grantland writer (and UT alum) Bryan Curtis.
Durant was only in Austin for one season, from 2006 to 2007. And he was required to be there thanks to the one-and-done rule implemented by the NBA that year. The result is that the connection I feel with Durant is more tenuous than the one I feel with, say, Ricky Williams. There has to be a better, more sophisticated way for an alum to process the one-and-done college career.

The high-minded reason for this: Anthony Davis, Michael Kidd-Gilchrist, and every one-and-doner deserves for this crucial-if-compulsory college season to be woven into their basketball DNA. The real reason: As a Longhorn, I want to take credit for the rings KD's eventually going to win. So sue me.
Curtis makes a great point. Durant was required, by rule, to go to school. He picked Texas, so in that, Longhorns fans can take some pride. And while he might only have a handful of highlights from his time on the 40 Acres, Durant still seems part of the UT community fabric.
Curtis also points out that this is a trend at Texas, and one the extends outside of sports. Computer magnate Michael Dell, video game developer Richard Garriott and legendary news man Walter Cronkite all attended Texas and "left early" for the pros.
Read the
full article
.
May, 29, 2012
5/29/12
3:30
PM CT
Sometimes, emails deserve their own post, and not a spot in the mailbag. This is one of those days.
Here's a note from
David in Austin:
You previously listed the Big 12 players you felt would be part of the All-Big 12 BBall team. In the spirit of the ongoing NBA Playoffs and considering Durantula is still going strong and representing Texas on his van, what about reversing the scenario? Which former Big 12 BBall players could make the transition to football like Antonio Gates? Durant would obviously play WR, maybe even QB, or one helluva kicker.
Oh my, great question. I love the NBA, and truthfully, I don't understand folks that love basketball and don't love the NBA. Either way, it's time to look at a few players who made names for themselves in the Big 12 that I'd love to see hit the field. Durant is clearly a receiver. Good call there. But let's move on.
Blake Griffin, TE, Oklahoma:
No question about this one. Griffin is a man-child who has no regard for his body. Have you seen him run in the open floor? I'm tempted to use Griffin as a running back, but I've got to maximize his jumping ability, especially in the red zone. Griffin is my tight end who could play some receiver. He'll be getting lots of bubble passes, daring defensive backs to tackle him.
DeMarre Carroll, DE, Missouri:
Carroll's nickname is the "Junkyard Dog," and for good reason. He's nasty, and he's got a motor that never stops. Sound familiar? Put him on the defensive line and let him loose.
[+] Enlarge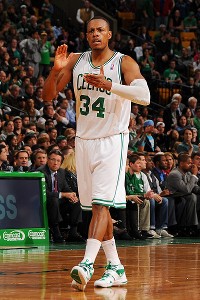 Steve Babineau/NBAE/Getty ImagesPaul Pierce is the type of veteran leader every team needs at QB.
Paul Pierce, QB, Kansas:
Pierce has been around the block for something like 83 years. He's got experience. He's got toughness. He's got a championship ring. Pierce is a smart, heady player who's exactly the type of guy you'd want with the ball in his hands. He's not the quickest guy in the world, but he's a gunner from three, too. Accuracy, homes.
DeAndre Jordan, WR, Texas A&M:
Jordan's is Griffin's teammate on the Clippers, and they're both high flyers. Jordan doesn't have the strength or mass that Griffin does, so I'd use him more as a big target. At 6-foot-11 and 250 pounds, he's as big as they come.
Tony Allen, CB, Oklahoma State:
Allen's still one of the league's toughest defenders, and his job is to stay in front of some of the best offensive players in the NBA. Sounds like a heck of a cornerback to me. He'll get in opposing offenses' heads.
Mario Chalmers, K, Kansas:
Chalmers can hit from long range, and proved he can make the big shot when he helped Kansas win a national title. What more could you ask from a kicker?
Dexter Pittman, OL, Texas:
Because ...
obviously
. Pittman checks in at 285 pounds these days, and he's
not afraid to get physical.
Let's just keep the elbows to the throat at a minimum. Deal?
Jamaal Tinsley, RB, Iowa State:
Tinsley's experienced, and his straight-line speed isn't the fastest, but he's got a great feel for space on the floor, and he's willing to do what it takes for his team to succeed. He'll spend a lot of time pass-blocking in this system, but he can make big plays if he gets space.
Marcus and Markieff Morris, LBs, Kansas:
Those two know how to communicate and how to dominate a tight space, i.e., the paint. They're tough, too,
maybe to a fault sometimes
. Either way, toughness and unity? Good footwork? Each checks in at about 240 pounds? Give me that at linebacker.
Who would you put on the team? Plenty of other great players I couldn't find a place for.
Michael Beasley
?
LaMarcus Aldridge
?
Nick Collison
? John Lucas?
Ekpe Udoh
? Where would you put them?
Spurs-Thunder, Game 2 tonight. Get after it.
March, 29, 2012
3/29/12
6:30
PM CT
By
Jeremy Willis
| ESPN.com
Welcome to your daily Board Meeting. Each evening we'll update you on the day's hottest topics on the
HornsNation forum
.
1.
Texas unveils new practice uniforms:
Nothing seems to get people talking like messing around with traditions or team uniforms. The Texas football equipment staff set the Twitter world abuzz this morning by tweeting out photos of Nike Pro Combat-inspired practice uniforms that featured black, orange and white jerseys and pants to match. Cue the retweets and calls to radio shows. And message board posts. The response has been both positive and negative.
From katzinthecradle30: "Those uniforms are awesome … Great recruiting move."
To continue reading this article you must be an Insider