Texas Longhorns:

Jordan Etier
May, 20, 2012
5/20/12
12:45
PM ET
AUSTIN, Texas -- Texas salvaged a game against Baylor.
Just like it salvaged a game against Texas A&M. Ditto for the Missouri series.
Now, with regular season over and the NCAA selections looming, everyone is left to wonder if the Longhorns can salvage their season.
"I would feel more comfortable if we had 40 wins," Texas coach Augie Garrido said. "Normally we are right around the 40-win mark and I'm pretty comfortable with that."
Instead Texas is stuck on 30 wins with 20 losses. Maybe that's enough. It has been in the past. Baylor made the tournament with a 29-26 record last season. The Big 12 has averaged six teams in the postseason over the past eight years. Texas is currently third in the Big 12 standings.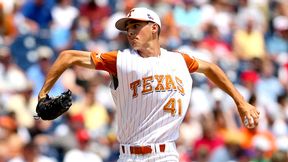 Brace Hemmelgarn/US PresswireHoby Milner salvaged the Baylor series for Texas by picking up the win in Saturday's game.
So there is an argument to be made for the Longhorns. But history and logic are typically not factors in decisions made by the selection committee.
"It really goes all over the place," Garrido said. "It's such a complex chore for the selection committee and there are so many things they're looking at back and over and around. The truth of the matter is the selection committee gets in that room and they have so many choices to make and so many different things to consider. It's impossible to be consistent."
That line could sum up Texas as well. This season it has been impossible for the Longhorns to be consistent.
It started in the fall with starting infielder Jordan Etier being arrested for evading arrest and marijuana. He was suspended from the team only to be reinstated Jan. 18 just prior to the season.
From there the season started to go up in smoke.
Cohl Walla, the starting center fielder, went down with an ACL tear. Starting pitcher Sam Stafford tore up his shoulder and was gone.
Parker French suffered a stress fracture in his elbow on his first Friday start at Missouri. Freshman Ricky Jacquez was booted from the team for disciplinary reasons. And one-time Friday starter Nathan Thornhill has been relegated to the bullpen.
"Now with the injuries happening, it's really kind of starting to fall apart," pitcher Corey Knebel said. "But we've got to pick it up and come back together."
The issue is the pieces are scattered all over the field. That has left Texas scratching its head, trying to scratch out wins and searching for a word that best describes this team.
"Immaturity is a good word, yeah," Garrido said.
That was an especially an apt description Friday as Garrido stared across the diamond at No. 7 Baylor.
"You see a team that's got it under control," the Texas coach said. "They've got their attitude in the right place. They've got their teamwork in the right place. And they've played together for two years."
There are nights when Texas looks as if it has not played together for two weeks.
Take Texas Tech when three errors in one inning cost Corey Knebel the win. Or the last week of April when Etier had five errors in two games and Erich Weiss another three in a game against Texas A&M. Of course, that same series against the Aggies, Texas hit five batters in a game.
All that adds up to a team going from winning 25 straight Big 12 series to losing three in a row.
The Longhorns hadn't lost three straight conference series since 1998. That also happens to be the last year Texas didn't make it to the postseason, a fate the Longhorns are toying with as they head into this week's Big 12 tournament in Oklahoma City.
April, 30, 2012
4/30/12
2:37
PM ET
By
HornsNation staff
| ESPN.com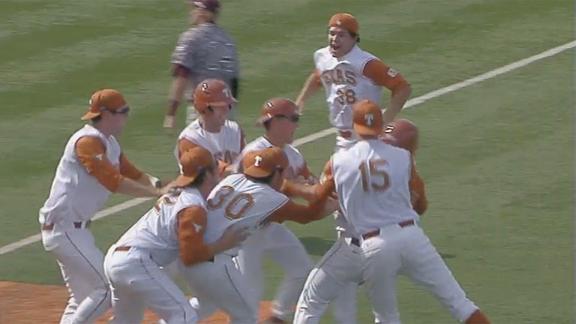 Texas wins Sunday's game against Texas A&M on Jordan Etier's walk-off hit.
Taylor Hoagland pounds to homers in softball's win over the Aggies.
Watch the highlights

.
April, 27, 2012
4/27/12
11:47
PM ET
COLLEGE STATION, Texas -- Texas couldn't touch Texas A&M pitcher Michael Wacha.

Then something happened.

"They changed pitchers," Longhorns coach Augie Garrido said.

That led to No. 20 Texas almost taking out the No. 9 Aggies. Down 6-0 in the top of the ninth, Texas came back with a furious five-run rally before being stopped on Jonathan Walsh's ground out to second. The 6-5 loss in front of a record 6,944 fans at Olsen Field at Blue Bell Park dropped Texas to 24-15, 11-5. For Texas A&M (30-12, 10-6) the win was the first against Texas in College Station in 10 tries.

"Our survival instinct clicked in," Garrido said of the final frame.

But all the damage necessary had been done. And while Wacha (6-0) did a lot of the damage, Texas self-inflicted a few wounds of its own. The Longhorns had three errors, allowed four unearned runs, allowed four runs with two outs and suffered two wild pitches.

"We didn't stay together as a team," Jordan Etier said.

It was Etier who has had a hard time keeping it together. The shortstop has had five errors in the past two games.

"Our defense is not clicking," Garrido said.

Neither were the bats against Wacha.

"That's the sixth or seventh first round pitcher we have faced this year," Garrido said. "And he was the best of the seven."

Added Etier: "We couldn't get him off his rhythm."

The worry for Texas A&M coach Rob Childress is that Texas might have found its rhythm in the ninth.

"You want them leaving here dejected and they're not," he said.

Texas was able to lifts its collective head slightly after stringing together five hits and drawing two walks in the ninth. That rally was in stark contrast to what happened during the first eight innings.

With Wacha on the mound, Texas was only able to produce four hits and fanned nine times. Texas stranded six runners against Wacha, including Mark Payton after he took the first pitch of the game to the wall for a double.

Texas A&M took little time in grabbing the lead with two in the bottom of the first off Texas starter Nathan Thornhill (4-4). Both runs were unearned, as were the next two given up by Texas in the third.

"The catching position didn't function. The middle of the infield didn't function," Garrido said. "It's a big problem."

Texas doesn't have that much time to figure out the problem as the Aggies will come to Disch Falk-Field for a 2:30 p.m. game Saturday.

March, 7, 2012
3/07/12
8:17
AM ET
By
Jeremy Willis
| ESPN.com
The Texas baseball team got back in the win column Tuesday after dropping two out of three games at the Houston College Classic.

Senior outfielder Tyler Maitland hit a walk-off single in the bottom of the 12th inning to give the Longhorns a 2-1 win over Dallas Baptist at UFCU Disch-Falk Field.

Before that inning, Texas had just three hits, but sophomore infielder Alex Silver's bloop single in the 12th got the rally started. Taylor Stell pinch-ran for Silver and advanced to second on a sacrifice bunt from sophomore Kirby Bellow. That's when things got dramatic.

The Patriots tried to set up a double play by intentionally walking Jordan Etier, and Mark Payton appeared to oblige the move when he hit a slow roller to short stop. The sophomore Payton was able to beat the relay throw from second base to give Texas runners on the corners with two outs.

In stepped Maitland.

The senior bounced a 1-0 pitch towards DBU short stop Joel Hutter, but with Maitland's speed, Dallas Baptist had no play at first. Hutter instead went to third to try and retire Etier before the winning run could score, but Stell crossed the plate first with the winning run.

Six Longhorns pitchers combined to allow just one run and five hits over 12 innings. Corey Knebel (1-0) earned the victory, pitching a scoreless 12th inning, allowing one hit while striking out one. Parker French, who entered in the 8th, pitched four scoreless innings allowing two hits and notching a strikeout. Nathan Thornhill and John Curtiss each tallied two scoreless innings.

Dallas Baptist (6-6) pounced on the Longhorns for a run in the top of the first inning. R.J. Talamantes doubled to the gap in right centerfield to start the frame and moved to third on a fly out to deep leftfield. Boomer Collins drew a walk to put runners on the corners and Talamantes scored when Collins drew the throw to second on a double-steal attempt.

Texas (5-7) knotted the game at 1-1 in the bottom of the second inning. With one out, Silver was hit by a pitch and replaced at first base by Bellow who grounded into a fielder's choice. Etier singled and Mark Payton walked to load the bases. Maitland was hit by a pitch to drive in Bellow with the equalizer.

Etier was the only player in the game to register multiple hits, going 2-for-4 on the day.

Michael Smith (1-1) was the hard-luck loser for Dallas Baptist. He allowed one run on two hits and one walk while striking out six over 5.2 innings. Andrew Elkins pitched 4.1 scoreless innings of relief, allowing two hits and one walk while striking out two.

Celebrating Black History Month With Texas HC Charlie Strong
BIG 12 SCOREBOARD
Thursday, 9/3
Friday, 9/4
Saturday, 9/5