Texas Longhorns:

Johnny Manziel
March, 20, 2013
Mar 20
8:00
AM CT
AUSTIN, Texas -- Each week Sean Adams looks at a few topics around the
Texas Longhorns
and college football.
First down: Texas vs. Texas A&M
To continue reading this article you must be an Insider
January, 31, 2013
Jan 31
12:30
PM CT
AUSTIN, Texas – Texas didn't miss much in 2011.
But the one they did miss hurt the most.
To continue reading this article you must be an Insider
January, 3, 2013
Jan 3
8:00
AM CT
AUSTIN, Texas -- There was a time when
Collin Klein
was average.
Actually, he was slightly below average, a reserve even. One deftly deployed to beat an awful Texas team in 2010, but a reserve just the same.
[+] Enlarge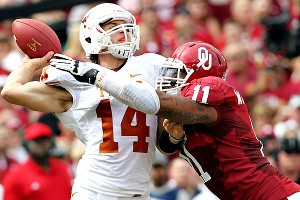 Tim Heitman/US PresswireLonghorns signal-caller David Ash improved in Year 2 as starter. What he does in his third year will determine Texas' fate.
That year Klein was a sophomore. Two years later his team is in the Fiesta Bowl, largely because of that one-time reserve.
In his second year in the program, Alabama's AJ McCarron held on extra points. Florida State's EJ Manuel had two starts his sophomore season, a win and a loss.
Jordan Lynch
, the Northern Illinois quarterback who was No. 3 nationally in total yards per game in 2012, was a backup as a sophomore.
Half of the quarterbacks in this year's BCS games either didn't play or were reserves in their second year in their current program. The other half is all in their second year. But of the latter group only Louisville's
Teddy Bridgewater
and Oregon's
Marcus Mariota
have better pass efficiency ratings that Texas'
David Ash
in 2012. It's a compelling argument that Ash, Texas' second-year quarterback, is far from being off the rails.
Still, obviously, the sophomore wasn't on track against Oklahoma, Kansas or TCU. Excuses can be found and fingers pointed, but ultimately Ash failed -- something he will readily admit -- to perform to his potential in those games. But that he flourished in so many others, particularly the last, in addition to the unavoidable conclusion that experience matters, should allow for those in the foam finger crowd to have a modicum of hope.
The point is, Ash is learning and the pace is not all that unnatural. In fact, it's been at breakneck speed. True there are others, Mariota, Bridgewater and Texas A&M's
Johnny Manziel
, who have been better quarterbacks given the same amount of time within their respective programs. They have also had better offensive minds and systems around them.
Ash had a play-caller clearly trying to find his way and his identity in a BCS conference after swimming for oh so long in the guppy waters of the far west.
Already the impact of having Major Applewhite as the quarterbacks coach appears to have taken hold of Ash. After starting poorly and ending worse in the three aforementioned games, Ash was able to turn things around against Oregon State in the fourth instead of watching from the bench. That maturity was not present at any other point this season.
That finish, while maybe not finishing off all the quarterback controversy talk this offseason, at least closed the valve a bit. There may be a leak here and there, but by and large, the belief is that Ash has now shown the ability to get the job done.
He also might have the experience necessary. To start the 2013 season, Ash will be the highest rated returning starter in the Big 12 unless
J.W. Walsh
is selected as the starter at Oklahoma State. He will also be the winningest and most experienced quarterback in the Big 12. All of which is a long way from average.
December, 26, 2012
12/26/12
12:00
PM CT
Each week Sean Adams takes a look at some topics around the
Texas Longhorns
and college football.
First down: Go long ...
Major Applewhite did it as the starting quarterback at Texas throwing deep to Wane McGarity, Kwame Cavil, Roy Williams, BJ Johnson and others. He knew it was the best way to stretch and stress the defense and to put points on the scoreboard.
To continue reading this article you must be an Insider
December, 24, 2012
12/24/12
8:00
AM CT
AUSTIN, Texas -- Texas A&M's
Johnny Manziel
was better than Texas'
David Ash
.
[+] Enlarge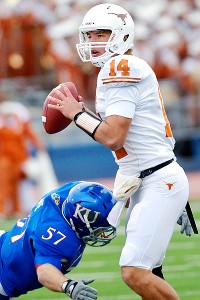 AP Photo/Reed HoffmannQuarterback David Ash finished the regular season with 17 touchdowns and seven interceptions.
The sky is blue. The Earth is round. Texas is an eight-win program. There, just wanted to go ahead and state all those obvious things right up top. Because what is not so obvious, not to those who watched Ash get yanked from two games and benched for one, was that while Manziel was better than Ash, not many other second-year quarterbacks (redshirt freshmen or true sophomores) were.
In fact, only five other second-year quarterbacks had better passing efficiency numbers than Ash. And Manziel wasn't even the leader of that group. Oklahoma State's
J.W. Walsh
finished the regular season as the highest rated in passing efficiency among first- or second-year guys with a 165.67 passing efficiency rating.
That's the same Walsh who threw a very costly interception against Texas and who could not lead OSU back after Ash led Texas on a touchdown drive late in the fourth quarter. Now, it was Walsh's first career start. Ash was in his ninth start. And Walsh ultimately would up as the higher-rated passer although he did not win as many games as Ash.
Ash went 8-3 as a starter -- really 7-3 when taking into account the fact that he was benched in the Kansas game with Texas trailing in the fourth. Among the six top young passers in pass efficiency rating, those seven wins ranked just a shade past the middle.
November, 29, 2012
11/29/12
8:00
AM CT
You'd think that when
Hoza Scott
's junior ends, the real fun begins.
After all, the La Porte (Texas) linebacker might be the No. 1 prospect in the state of Texas for the 2014 class. He has offers from everyone. His life should be getting much more stressful once the recruiting process starts consuming his time, right?
Wrong. The biggest and best of the recruiting battles between Texas and Texas A&M for top 2014 prospects appears to be over already.
To continue reading this article you must be an Insider
A new era begins this fall for Texas A&M, and the battle everyone will be watching in College Station is at quarterback.

OUT: QB Ryan Tannehill.
The Aggies were both explosive and balanced offensively last season, and Tannehill was the guy who made them go. We'll all be reminded of just how good he was by the midway point of the first round in the NFL draft two weeks from now. Tannehill is expected to be the third quarterback selected and with good reason. He passed for 3,744 yards and 29 touchdowns last season and completed 61.6 percent of his passes. He also ran for 306 yards and four touchdowns and was one of those quarterbacks who could beat you in a number of different ways. Those guys don't come around very often, and when they're gone, they're never easy to replace.
IN: Jameill Showers, Johnny Manziel, Matt Joeckel or Matt Davis.
The race for Tannehill's replacement is wide open, and further mystery is added by the fact that the Aggies will be running a new offense with Kevin Sumlin taking over as head coach. Whoever can handle the fast-paced tempo the best while taking care of the ball and also making enough plays to keep the defense honest is going to win the job. The Aggies just opened spring practice last Saturday, so there hasn't been enough time for any real separation. But offensive coordinator Kliff Kingsbury likes the way all four have picked up things. Showers, a sophomore, was Tannehill's backup last season, but only threw four passes. Manziel, a redshirt freshman, is a terrific athlete and one of those guys capable of extending the play. Joeckel, a sophomore, is more of a pocket passer, while Davis, a true freshman who enrolled early, is also versatile enough to be effective as a passer and a runner. Kingsbury said they recruited all four quarterbacks when he was at Houston with Sumlin, so the Aggies already have a good feel for all four.