Texas Longhorns:

Elisha Olabode
August, 23, 2013
8/23/13
3:00
PM ET
In today's mailbag, who has the best safety duo, possibilities of a three-way tie, and Andy from Austin with a not-so-triumphant return.
To the 'bag:
Matt in Kansas writes
: The
Kansas Jayhawks
are going to prove you wrong. Can't wait for the Hawks to prove the non-believers wrong!!
Jake Trotter:
It wasn't me who called your squad a "pile of crap."
---
Dan in Atlanta writes:
It seems the comments from the West Virginia coaching staff about true freshman WR
Daikiel Shorts
mirror the camp praise heaped on
Karl Joseph
last year. Déjà vu all over again?
Jake Trotter:
Shorts has turned heads this fall, no doubt. It would not surprise me at all if he eventually earned a starting job -- especially if he stays at inside receiver, where he was moved to last week. The Mountaineers have an opening there, and Shorts could fill it.
---
Pete in Paw Paw, Mich., writes:
I see that Jake's chats are very Texas and Oklahoma heavy. He mentioned it in one the week previous. I would suggest putting a notice that one is coming up with him on the Big 12 Blog to get more diverse questions. It can only help. Thanks.
Jake Trotter:
Quick PSA announcement: starting next week, my Big 12 chat on SportsNation will be moved to Tuesdays at 11 a.m. CST. Colleague Brandon Chatmon will also be holding a chat on Wednesdays at 3 p.m. CST.
---
Randall in Arlington, Texas, writes:
There is no doubt that the SEC has outperformed the Big 12 in football over the last decade and appears they will continue to do so in the near future. Looking at how the SEC has only expanded in recent years into states with rich football cultures, how reliant do you think the Big 12 is on Texas players for their talent and how will their inability to pull away talent away from southern states continue to factor into the disparity between the SEC and Big 12?
Jake Trotter:
Texas high school talent is the lifeblood of the Big 12. When SEC powers pluck players away from the Lone Star State, those are players that otherwise would be going go the Big 12. Texas A&M's SEC exodus has placed the Big 12 in precarious position with respect to recruiting. The Aggies have a strong pitch they can now make to prospects: stay close to home and play in the best conference in college football. It's an appealing case. Texas A&M being in the SEC has also cracked the door wider for the likes of LSU and Alabama to make inroads in Texas. The Big 12 must continue opening up other pipelines, while reinforcing to Texas kids that staying in the Big 12 is the best thing for them.
---
Zion in Chester, Va., writes:
Hey man! Love the mailbag! Do you think that
Karl Joseph
and
Darwin Cook
are the best safety combination in the big 12?
Jake Trotter:
I might give TCU the slight edge here.
Sam Carter
and
Elisha Olabode
are All-Big 12-caliber players. But West Virginia's twosome is right there. Iowa State, Kansas State and Oklahoma State all have solid safety duos, as well.
---
Michael in Clyde, Kan., writes:
Are there really no Big 12 teams that have top 10 potential this year? Or is the polls just overrating and putting the SEC teams in there too high? I know the SEC is actually good, but with Florida, Georgia, and South Carolina in the same division they can't all be a top 10 teams.
Jake Trotter:
Well, five SEC teams finished in the top 10 of the final AP poll last year, so actually they can. But the Big 12 has almost as many top 10 potentials, even if just one team finishes there.
---
Tom in OKC writes:
Will 10-2 win the Big 12 title this year? If so, do you think there is a possibility of a 3-way tie?
Jake Trotter:
I don't really see a 12-0 team in the conference this season; so yeah, 10-2 could definitely win the league. And yeah, because of the parity, there's opportunity for the first three-way tie since 2008. One obvious scenario in which this happens: OU beats Texas in Dallas; Texas beats OSU in Austin; OSU beats OU in Stillwater; and they all lose one other game along the way. All three would then be 7-2 in the league.
---
Andy in Austin writes:
OK, my nickname for
Jaxon Shipley
tanked last mailbag. But I will make believers of you all! Let me explain: Shipley is smooth like caramel, his playmaking makes your eyes pop, and, let's be honest, you've got to be a bit nutty to hang yourself out there for a catch over the middle. Also, I have another UT player nickname for you: Quandre "The Giant" Diggs.
Jake Trotter:
Last week, I put Andy on a mailbag ban. The masses, however, clamored for me to give him another chance. So I did. And behold, look what happened. This is not my responsibility. It's yours. Own it.
November, 25, 2012
11/25/12
2:04
PM ET
When rewatching David Ash's performance against TCU, you can't help but be reminded of a quote he dropped in his first preseason chat with reporters in August.
"People say leadership is a lot of different things, but when it comes down to it, it is a really abstract term that has a different meaning to everyone," he said then. "I think guys want to follow a guy who's going to put them in the end zone. So that's my goal."
Ash was pulled from Texas' 20-13 loss to TCU twice last Thursday, and with good reason. He couldn't get his team in the end zone.
For this week's film review, we offer a look at what can be learned from Ash's failures against the Horned Frogs.
[+] Enlarge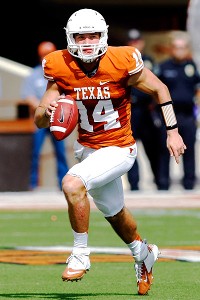 Brett Davis/US PresswireTexas QB David Ash had three turnovers before being benched in the loss to TCU.
1. Just a little off
When Ash is off, he's usually just a little off. That's been the case in each of his poor starts, and once again small mistakes plagued his first-half play.
His interception on Texas' opening drive could've be a touchdown if he'd led
Mike Davis
a bit. Instead, Ash put it up too high and
Jason Verrett
caught up.
On the next drive, a red-zone pass to
Ryan Roberson
on third down could've picked up a first had he put the ball right in the fullback's numbers. Instead, Roberson has to reach out and dropped it.
A few more passes were slightly underthrown. For the most part, though, that's not the product of TCU pressure. A little fine-tuning and Ash might've been off to a strong start.
2. The second interception
Ash was solid for the game's first 24 minutes. But it was his second interception that started getting him in trouble.
Ash had second down and 10 at the TCU 18. He faked a handoff to
Joe Bergeron
, turned and made a quick read.
The play is supposed to force TCU safety
Elisha Olabode
to make a decision.
Jaxon Shipley
runs a post route that breaks right in front of the safety. At the same time,
Marquise Goodwin
runs a flag route and breaks toward the sideline. Olabode can only help with one, right?
Wrong. Olabode turned to his left to indicate he's taking Goodwin. Ash made the throw to a should-be-open Shipley. Then Olabode broke right and jumped the route for the easy pick.
It's an understandable mistake by Ash. He got tricked by the safety and made a hasty decision. But that can't happen in the red zone.
3. Benchings weren't unfair
Texas coaches pulled Ash for the final drive of the first half after his third turnover of the day. The move made sense considering the circumstances.
TCU scooped up Ash's fumble and scored three plays later to go up 14-3. That drive took only 65 seconds of game time. Throwing Ash back on the field when it was clear he needed the halftime to calm down and make adjustments didn't make sense.
So the Longhorns went with
Case McCoy
for one drive, seeking a spark. Didn't work.
Ash came back in the second half and got three drives to make amends. He led Texas to a field goal, a punt and a turnover on downs. On the final two drives, Texas called only one run play.
It's not as if Ash didn't get a more than fair chance to win the game. But again, he didn't get his team in the end zone.
4. Rhythm
Ash led drives of 45, 49, 62 and 42 yards against TCU. Texas averaged 4.8 yards per play on those four drives. Getting into a rhythm was not the issue.
Loyal Texas Fans To Get Ticket Priority
BIG 12 SCOREBOARD
Thursday, 9/3
Friday, 9/4
Saturday, 9/5