Texas Longhorns:

DJ Monroe
February, 19, 2013
Feb 19
8:00
AM CT
AUSTIN, Texas -- Texas heavily invested itself in special teams in 2012.
The Longhorns, however, saw few returns.
It was 81st in kickoff return defense. It was 37th in kickoff return yards, despite having an Olympian and another player,
D.J. Monroe
, with top-end speed.
To continue reading this article you must be an Insider
January, 17, 2013
Jan 17
1:00
PM CT
AUSTIN, Texas -- Dana Holgorsen's run game was going nowhere.
And since Texas was only on West Virginia's schedule once, the Mountaineers coach was searching for answers.
[+] Enlarge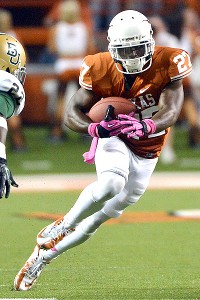 Cal Sport Media via AP ImagesDaje Johnson showed promise in his limited touches as a freshman.
"We had to do something," he said after the decision to move wide receiver
Tavon Austin
to running back.
That decision paid off, as Austin went for 344 rushing yards against Oklahoma.
"It probably should have been done four years ago," Holgorsen said in the postgame. "Moving him around and giving him some different matchups was probably a pretty good idea."
It's an idea -- an epiphany, if you will -- that Texas needs now, so that three years from now, when rising sophomore
Daje Johnson
is on the doorstep of exhausting his eligibility, as Austin was, the Longhorns coaches are not looking back, lamenting and mumbling, "You know, if we would've ... "
Now, while Johnson is not quite as mercurial or shifty as Austin, he does have similar abilities. And as he grows into the game, so too will his repertoire. But in the run game, those talents need to be fertilized.
As a freshman, Johnson only touched the ball on running plays an average of 2.2 times per game. (He was suspended the first game of the season.) He averaged 7.5 yards per run.
December, 31, 2012
12/31/12
8:00
AM CT
Take away the good and the bad, and you're left with what might've mattered more about Texas' Alamo Bowl win: The change.
We do not know what offensive philosophies are bouncing around inside Major Applewhite's head these days. In the months to come, his influences and experience will endure rigorous research by those hoping to nail down what Texas' new offensive play caller will have up his sleeve for 2013.
He had time only for little tweaks leading up to the
31-27 bowl victory over Oregon State
. The full vision gets installed from now until the end of August.
To continue reading this article you must be an Insider
December, 29, 2012
12/29/12
10:00
AM CT
Oregon State (9-3, 6-3 Pac-12) versus Texas (8-4, 5-4 Big 12):


Who to watch:
It took weeks for both teams to name their respective starting quarterbacks. Now that they have --
David Ash
for Texas and
Cody Vaz
for Oregon State -- all eyes will be on the two to see whether they can live up to the expectations. Ash was benched for the final game of the regular season after committing three turnovers against TCU. In the past three weeks, he has had to not only climb back into the starter role but also get accustomed to a new quarterbacks coach in Major Applewhite. Applewhite took over the role following the departure of Bryan Harsin to Arkansas State.
As for Vaz, he has been stellar in four games as a starter and only lost that role after suffering an ankle injury in the Stanford game. Vaz has 11 touchdowns to one interception. But if he struggles at all, Oregon State has a very capable backup in
Sean Mannion
.
What to watch:
The running game production for both teams should be crucial. While Oregon State prefers to throw the ball, it cannot drop back 40 or 50 times because of the potential pressure of the Texas defensive line. So the Beavers' best move could be to attack up the middle, where Texas is at its weakest. The Longhorns have allowed 199 rush yards per game, and at one point during the season, in five consecutive weeks, Texas allowed five different rushers season highs. Oregon State running back
Storm Woods
is from just outside Austin -- Pflugerville -- and undoubtedly will have a chip on his shoulder, as he was not recruited by the Longhorns.
Why watch:
Explosive plays and players. Texas, with a new playcaller in Applewhite, should be more committed to getting the ball to three of the fastest players in college football --
Daje Johnson
,
Marquise Goodwin
and
D.J. Monroe
. Any time any of the three touches the ball, it could result in a touchdown. Oregon State has one of the top receivers in the country in
Markus Wheaton
. The Beavers' all-time leading receiver could give the Texas secondary fits.
Prediction:
Oregon State's pass defense might be too much for Texas and Ash to overcome. The sophomore quarterback has struggled against strong pass defenses, and the Beavers are No. 16 in pass efficiency defense. Of the teams Texas has played, only Oklahoma is better, and the Sooners beat Texas by 42. Oregon State 33, Texas 28.
December, 26, 2012
12/26/12
8:00
AM CT
AUSTIN, Texas -- Texas has changed its play-caller.
But it will not change the plays Major Applewhite calls.
"I don't see a lot changing before the bowl game because they were already into the game plan and so we will be pretty much who we have been all year in the bowl game," said Texas coach Mack Brown.
[+] Enlarge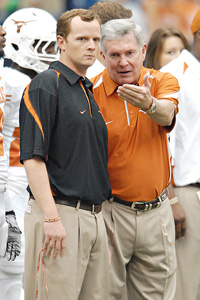 John Rivera/Icon SMIMajor Applewhite's vision on offense will likely take greater affect in 2013.
Yep, the offense it had under former co-offensive coordinator Bryan Harsin is good enough for Oregon State and the Valero Alamo Bowl. So take a seat
D.J. Monroe
. Grab a spot on the sideline
Daje Johnson
. And find a place to put that helmet down
Malcolm Brown
.
OK, it probably won't be that extreme despite the fact that, for weeks at a time, it was that extreme under Harsin. When Harsin ran what he liked to call a multiple attack it really translated into the myopic singling out of players for time and touches. One week Johnson wouldn't get a touch, questions would be asked, and suddenly there he was featured prominently the next. Ditto for
Jaxon Shipley
and others.
Eventually Harsin just gave up the fight and allowed that there was only one ball to go around. The fifth-grade talent show juggling act was over. Or at least the guise that Harsin was attempting to or even knew how to juggle was finally over.
Now Applewhite has been left to pick up the pieces. Texas doesn't want to mess with where Applewhite place those pieces too much given that practice time is limited as is this team's capacity for adroitly adapting to change. It will be spring before offensive changes will be implemented.
November, 25, 2012
11/25/12
2:04
PM CT
When rewatching David Ash's performance against TCU, you can't help but be reminded of a quote he dropped in his first preseason chat with reporters in August.
"People say leadership is a lot of different things, but when it comes down to it, it is a really abstract term that has a different meaning to everyone," he said then. "I think guys want to follow a guy who's going to put them in the end zone. So that's my goal."
Ash was pulled from Texas' 20-13 loss to TCU twice last Thursday, and with good reason. He couldn't get his team in the end zone.
To continue reading this article you must be an Insider