Texas Longhorns:

Darrell Royal
November, 7, 2012
11/07/12
8:57
AM ET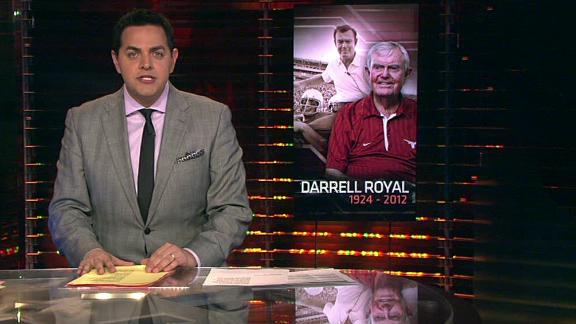 A Texas legend has died.
From our news story
:
AUSTIN, Texas -- Darrell K Royal, the former Texas football coach known as much for his folksy, simplistic approach to life as for his creative wishbone offenses and two outright national championships, has died. He was 88.

University of Texas spokesman Nick Voinis on Wednesday confirmed Royal's death. Royal had suffered from Alzheimer's disease and recently fell at an assisted living center where he was receiving care.
Royal will certainly be missed in the world of college football and in the Texas community.
July, 9, 2012
7/09/12
9:00
AM ET
As part of our Red River Rivalry in July, we look at five plays from the Red River Rivalry that OU fans would rather forget.
Royal's Roll gets started
Bobby Lackey threw only five passes against Oklahoma in 1958. He wasn't even the starter when the game began. That duty had fallen on the shoulders of Vince Matthews. But in the fourth quarter, when Texas, down by six, needed a play, it was Lackey who was under center against the No. 2 Sooners.
Texas had not beaten OU in eight years. This was perhaps the Longhorns' best chance. Lackey had Texas at the OU 10-yard line when he rolled out to find Bill Bryant for the tying touchdown. The sophomore from Welasco, Texas followed up the touchdown pass with an extra point to give Texas a one-point lead. He added a 28-yard interception on the Sooners' ensuing drive to seal the game.
It was the first of eight straight wins over Oklahoma for coach Darrell Royal.
[+] Enlarge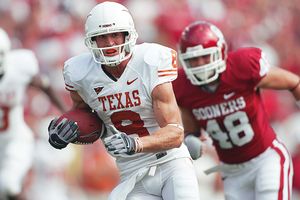 Tim Heitman/US PresswireJordan Shipley's kickoff return TD along with 11 catches and another score turned the 2008 Red River Rivalry for Texas.
Bubba's scoop and score
Peter Gardere was 4-0 against Oklahoma in his career at Texas. But it wasn't the quarterback's arm that propelled the Longhorns to a win in 1991. Instead it was the hands and the quick feet of Bubba Jacques. With 13:30 left to play and Texas on the wrong end of a 7-3 score to the No. 6 Sooners, Jacques scooped up fumble by OU fullback Mike McKinley and went 30 yards for what would be the game-winning touchdown.
However, it might have been the play before the play that turned the 5-foot-9 Jacques into a giant that day. Jacques told the media following the game that he had noticed OU's ball carriers were holding it high and told his teammates in the huddle to tackle the ball. James Patterson did just that when he went after McKinley. The ball came loose and Jacques, after finally securing the ball after three bounces, was running loose into the end zone.
Cashing In
Keith Cash was part of a package deal when he signed at Texas. Of course there was his brother Kerry, but also in the mix was another San Antonio Holmes High standout wide receiver, Johnny Walker. The trio dubbed themselves the "Posse." The goal was to return Texas to national prominence. Keith Cash's play in the final minutes against No. 4 Oklahoma in 1990 helped to do just that.
On a 4th-and-7 at the OU 16 with two minutes to play, Cash grabbed a touchdown pass from Peter Gardere to give Texas a 14-13 lead. It was the second straight year a member of the "Posse" came up with a game-winning grab. Walker had a 25-yard touchdown from Gardere with 1:33 left to play in the 1989 game.
Texas, who had not been ranked in the top five since 1984, made it to a No. 3 ranking that year before being crushed by Miami in the Cotton Bowl.
June, 21, 2012
6/21/12
8:00
AM ET
Together they formed an unusual triumvirate -- Joe Jamail, Willie Nelson and Darrell Royal -- a lawyer, a country singer and a football coach.
On the night after more than five months of testimony had wrapped up in the biggest case of Jamail's and the Texas court system's life, there was the football coach knocking on the door, the singer holding the beer. It was also 12 hours before closing arguments were to begin in Pennzoil vs. Texaco.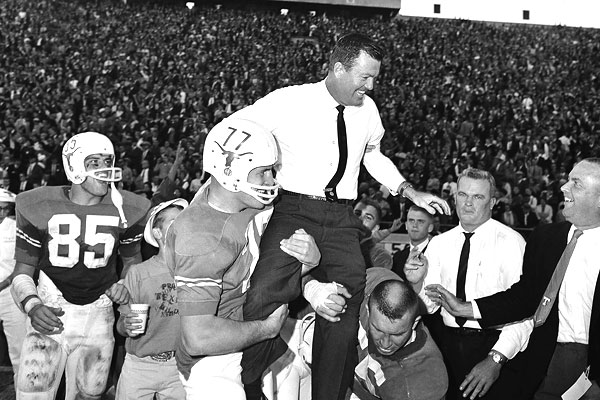 AP PhotoDarrell Royal has maintained his friendship with Joe Jamail for more than 50 years.
The best of friends and always there for the other. Maybe even when they weren't supposed to be.
A few beers wouldn't hurt. They never did with these three.
Jamail closed the case with a final argument worth $11.12 billion. He still has a memento from the settlement -- a check for $3 billion in acrylic glass – on a shelf in his office. He also has the photo of Royal and Nelson, from that night, mounted and much bigger than the check on the wall of his office.
That memory was just one of many in Jamail's relationship with Royal that has spanned more than 50 years. When they first met, it was Royal who needed help.
"(My wife Lee) called and said, 'I just got a call from Jack Josey.' He was vice president of the board of regents at the time and a good friend," Jamail said.
"[Josey] said he wanted to bring Darrell Royal by to meet her. I said, 'he has got to be kidding you baby.' Darrell, he hit Texas running and went to the Sugar Bowl his first year."
Josey was not. Royal wanted to visit, and he had a motive.
"He was recruiting a football player named Bobby Wuensch, who was all-everything," Jamail said. "And he knew, or somehow found out, that Lee and Bobby Wuensch's mother Opal went to San Marcos Academy as children together … We were very close friends, but Wuensch's uncle was dean of men at A&M. So it was going to be a problem for him … That's how I met Darrell and he left."
The Jamails later visited the Wuensches and Lee took over as recruiter.
"Lee put it on Opal like a mustard plaster … She said A&M's just another Boy Scout school," Joe said of his wife. "He's not going to make any friends of up there that can help him. [Opal told the Jamails] we don't have the clothes for Bobby to go over to Texas. Lee looked at her and said, 'Let me worry about that.' "
With a new suit and an upset Aggie family, Wuensch became a Longhorn. He would eventually become a two-time All-American and captain of the 1970 national championship team.
"We never told Darrell about that," Jamail said. "He still doesn't know to this day."
March, 22, 2012
3/22/12
11:30
AM ET
AUSTIN, Texas -- Despite having the support of her administration and two years left on her contract, Texas women's basketball coach Gail Goestenkors resigned on Monday, and by Monday night, had a text waiting from Longhorns football coach Mack Brown.
He thanked her for her work, and told her he appreciated her.
"Who in the world knows how somebody feels?" Brown said.

Brown
Brown doesn't know exactly, but when Goestenkors says things like "My heart's telling me it's time to take a break," Brown knew he had some idea of what she was going through.
It came from a conversation with legendary Longhorns coach Darrell Royal back in 2003, when Brown felt similar to Goestenkors.
"I asked him, 'Why did you quit?'" Brown said. "And there were reasons. But he said that when the losses became devastating and the wins became relief and it wasn't fun to even win, because you were supposed to, then I needed to get out."
Brown, then in his sixth season and third of what would be nine consecutive 10-win seasons, said he just needed to "wake up."
Two years later, he won a national championship and his second consecutive Rose Bowl.
That feeling crept back in during the Longhorns' trying 5-7 season in 2010. Even Texas' signature victory of that campaign didn't offer the same kind of pleasure such a win used to, Brown said.
"I remember beating Nebraska, walking off the field and I was worried about [Brown's wife] Sally because she lost her brother," Brown said. "I didn't have any joy in that win and that was stupid because it was a huge win for Texas and these kids. I didn't feel it walking off the field because of her loss and I felt a little guilty I was there without her and her brother being buried."
He saw the same in Goestenkors, Brown said. He needed another wakeup call after 2010, and may have got it in a new staff with two new, young coordinators, Manny Diaz (defense) and Bryan Harsin (offense). Bouncing back for eight wins may have helped, too, but Texas has bigger things in mind for 2012 and beyond: Namely, a return to the excellence Brown established in his first decade at the helm in Austin.
"If you're going to walk around and pout when you lose, act like a baby, and when you win act arrogant, not feel good about a win because Texas is supposed to win -- we don't anoint ourselves supposed to win -- then you're in some trouble and you need to have fun," Brown said. "You need to have joy."
Texas' Strong Discusses Aggressive Offense, Defense
BIG 12 SCOREBOARD
Saturday, 8/30
Sunday, 8/31