Texas Longhorns:

Bracketology
May, 16, 2012
5/16/12
9:00
AM ET
By
HornsNation staff
| ESPN.com
ESPN.com's college baseball experts Jeremy Mills looks at the latest standings and projects where things will shake out with conference tournaments about to start.
The SEC is cleaning up and could end up with four national seeds. In the Big 12, Baylor is poised for a national seed, but as Mills writes, the Bears have the weakest resume for a national seed.
Baylor gets Texas next. The Longhorns are still holding on and are currently slotted to play in a Houston Regional with Rice, Cornell and Dallas Baptist.
Check out the
full bracket here
.
May, 8, 2012
5/08/12
5:00
PM ET
By
HornsNation staff
| ESPN.com
After a weekend where Texas dropped two of three to Missouri, the Longhorns fell into a three-way tie for second place in the Big 12.
The losses didn't affect the Longhorns placement much in the College World Series bracket, according to ESPN.com's Jeremy Mills.
Mills has Texas slated to play in a Houston Regional with Rice, TCU and Stony Brook. Mills has fellow Big 12 teams Baylor and Texas A&M hosting regionals.
Take a look at the rest of the
bracket here
.
April, 16, 2012
4/16/12
1:38
PM ET
By
HornsNation staff
| ESPN.com
Sure it's only been two weeks since Kentucky was crowned national champs, but that doesn't mean we can't make some early bracketology projections.
Joe Lunardi has done just that and Texas is in the field for, what would be, a 15th consecutive season. Lunardi has the Longhorns as a No. 6 seed facing a No. 11 Purdue team.
By the way, Lunardi's No. 1 seeds are Indiana, Kansas, Louisville and Kentucky.
Check out the
full bracket
.
March, 5, 2012
3/05/12
3:00
PM ET
By
HornsNation staff
| ESPN.com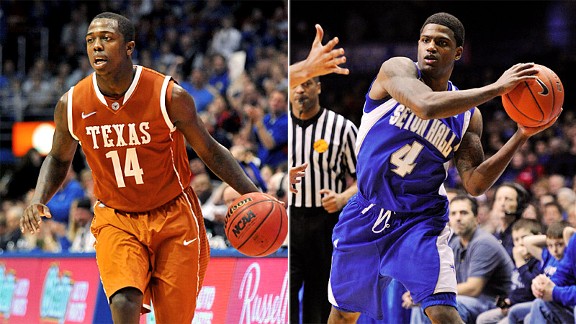 US Presswiretbd by editor
It's that time of year. It's championship week. Many teams, including the Texas Longhorns, will be watching and awaiting their NCAA tournament fate. Texas still holds a slim chance at a 14th straigh tournament bid, but they'll need help.
For Texas to even have a chance, it must get a win (or two) in the Big 12 tournament. Texas will open the conference tournament Thursday against Iowa State at 8:30 p.m. CT.
Myron Medcalf provides a
primer
of the second half of Championship Week:
Big 12
When: Wednesday, March 7 through Saturday, March 10
Where: Sprint Center in Kansas City, Mo.



Another (final) Kansas-Missouri classic? In their first matchup, Missouri and Kansas staged a memorable game that the Tigers won in the final minutes. In their second meeting this season, the Jayhawks stormed back from a 19-point second-half deficit to beat Missouri in overtime on Feb. 25 at Allen Fieldhouse. It's a shame that this rivalry will end next season when the Tigers leave for the SEC. But we could see one more battle between them in the Big 12 championship game on Saturday. We should be so lucky.



Fred Hoiberg and Co.: The Mayor did not want to wait. When he took over the Cyclones, his alma mater, two years ago, he immediately grabbed a crew of transfers and set his sights on the here-and-now. And his vision has been realized. With All-Big 12 first-teamer and Newcomer of the Year Royce White playing part-time point guard -- yes, he employs a 6-8, 270-pound point guard -- Hoiberg led the Cyclones to a tie for third in the Big 12 and an all-but-guaranteed at-large NCAA tourney bid in just his second season with the program. The Big 12 tournament is another showcase for the Cyclones and Hoiberg, who earned co-Big 12 coach of the year honors with Bill Self on Sunday.



Thomas Robinson: The Kansas power forward is locked in a two-man race for National Player of the Year honors with Kentucky freshman Anthony Davis. Robinson, who's averaging 18.0 ppg and 11.9 rpg, led Kansas to its eighth consecutive Big 12 regular-season title. Voters have a multitude of reasons to pick him for national player of the year. And this will probably be their last opportunity. Robinson will soon take his services to the NBA.
In the
Monday edition of Bracketology
, the Longhorns are still in.
Joe Lunardi has Texas as one of his last four teams in the tournament. The Longhorns are listed as a No. 13 seed.
Lunardi provides a
checklist for bubble teams
heading into conference championships.
March, 4, 2012
3/04/12
11:13
AM ET
By
ESPN.com staff
| ESPN.com
Editor's note: This update does not include BYU-Gonzaga in the WCC tournament.
NOTABLE
North Carolina moves up to top line as projected No. 1 seed.
Belmont (Atlantic Sun) clinches fifth NCAA bid in seven years.
Texas falls out of field, replaced by Xavier ("Last Team In").
Last Four In
Xavier
Northwestern
South Florida
Colorado State
First Four Out
Texas
VCU
Oregon
NC State
Next Four Out
Miami
Tennessee
Saint Joseph's
Dayton
BRACKET MATH
Take the "solid" at-large candidates (current Tournament Odds at 90% or better) and there are now 34 teams in the field. Add in the remaining automatic qualifiers and that's another 20 spots. All told there are 54 of the 68 spots accounted for, with 14 still up for grabs among current "Bubble" teams.
S-CURVE PROJECTIONS
1-KENTUCKY 2-SYRACUSE 3-KANSAS 4-NO. CAROLINA
8-Ohio State 7-Missouri 6-Duke 5-Michigan State*
9-Marquette 10-Georgetown 11-Baylor 12-Michigan
16-UNLV 15-Florida 14-Indiana 13-Wisconsin
17-Louisville 18-Wichita State 19-Florida State 20-TEMPLE
24-CREIGHTON 23-Notre Dame 22-
Murray State
21-Vanderbilt
25-Gonzaga 26-New Mexico 27- San Diego State* 28-MEMPHIS
32-Purdue 31-Kansas State 30-Iowa State 29-SAINT MARY'S
33-Alabama 34-Cincinnati 35-Virginia 36-Southern Miss
40-Connecticut 39-Washington* 38-California 37-Saint Louis
41-West Virginia 42-Seton Hall 43-Harvard* 44-LONG BEACH STATE
48-Colorado State 47-Mississippi State 46-Brigham Young 45-Arizona
49-South Florida 50-Northwestern 51-Xavier 52-IONA
56-NEVADA 55-ORAL ROBERTS 54-DREXEL 53-MIDDLE TENNNESSEE
57-
Belmont
58-DAVIDSON 59-AKRON 60-VALPARAISO
64-
UNC Asheville
63-UT ARLINGTON 62-MONTANA 61-BUCKNELL
65-LONG ISLAND 66-STONY BROOK 67-MISSISSIPPI VALLEY 68-SAVANNAH STATE
72-NC State 71-Oregon 70-VCU 69-Texas
73-Miami (Fla.) 74-Saint Joseph's 75-Dayton 76-Tennessee
Bold
- automatic qualifier; * - current conference leader.
ALL CAPS: Regular-season champion (NIT auto-bid if needed)
CONFERENCE BREAKDOWN
Big East (10)
Big Ten (7)
Big 12 (5)
SEC (5)
ACC (4)
Mountain West (4)
Atlantic 10 (3)
Pac-12 (3)
West Coast (3)
Conference USA (2)
Missouri Valley (2)
NCAA AUTOMATIC QUALIFIERS
UNC Asheville (Big South)
Murray State (Ohio Valley Conference)
Belmont (Atlantic Sun)
February, 19, 2012
2/19/12
1:00
PM ET
By
ESPN.com staff
| ESPN.com
Here's an abbreviated rundown of Joe Lunardi's Bracketology outlook after Saturday's games. Come back to ESPN.com on Monday morning for Joe's complete bracket.

TOP SEED PAIRINGS
EAST/Syracuse vs. WEST/Kansas (1 vs. 4)
SOUTH/Kentucky vs. MIDWEST/Missouri (2 vs. 3)

CONFERENCE BREAKDOWN (projected bids in parentheses)
Big East (9)
Big Ten (7)
Big 12 (6)
ACC (5)
SEC (5)
Atlantic 10 (3)
Mountain West (3)
Pac-12 (3)
West Coast (3)
Conference USA (2)
Missouri Valley (2)

BUBBLE BREAKDOWN (with odds to remain in field)

Last Four In
Seton Hall (55 percent)
Miami (Fla.) (50 percent)
Texas (50 percent)
Northwestern (40 percent)

First Four Out
NC State (45 percent)
Central Florida (30 percent)
Colorado State (30 percent)
Minnesota (30 percent)

Next Four Out
Oregon (30 percent)
Saint Joseph's (25 percent)
VCU (25 percent)
Illinois (30 percent)
February, 13, 2012
2/13/12
10:52
AM ET
By
HornsNation staff
| ESPN.com
It's amazing what a three-game winning streak will do for a team's tournament chances.
Coming off wins over Texas Tech, Texas A&M and Kansas State, Texas seems to be off the bubble and firmly in the NCAA tournament.
In the latest Bracketology, Joe Lunardi has the Longhorns as a No. 12 team facing No. 5 seed Gonzaga in Nashville in the South Region.
Here's the
full bracket
.
The
bracket odds
further highlight Texas' position.
The Longhorns are one of the last four teams to earn a first-round bye which means they avoid playing in the First Four matchups to start the tournament.
February, 10, 2012
2/10/12
4:00
PM ET
By
HornsNation staff
| ESPN.com
Texas hosts Kansas State Saturday at the Frank Erwin Center. This game will go a long way to helping the Longhorns' bubble chances.
According to Joe Lunardi's latest Bracketology, Texas is one of the last four teams into the NCAA tournament as a No. 12 seed.
Here's the
full bracket
.
The rest of the
hoops weekend
has Baylor and Missouri meeting in the Big 12's best game.
January, 16, 2012
1/16/12
10:55
AM ET
By
HornsNation staff
| ESPN.com
Joe Lunardi's latest bracketology is out. Despite dropping two conference games, the Longhorns are still in the Big Dance. Lunardi has Texas as a 10 seed facing No. 7 Murray State in the Greensboro Region.
Here's the
full bracket
.
For more, here's Lunardi's
bracket odds and rundown
.
January, 3, 2012
1/03/12
2:30
PM ET
By
HornsNation staff
| ESPN Insider
Big 12 play starts this week and Kansas, Missouri and Baylor are locks to make the NCAA Tournament, while Texas is hanging on to its postseason hopes.

In Joe Lunardi's expanded look at Bracketology, he looks at tournament odds and a bubble picture that is starting to take shape. The Longhorns find themselves firmly on that bubble.

Here's a look at what Lunardi said:
Loyal Texas Fans To Get Ticket Priority
BIG 12 SCOREBOARD
Thursday, 9/3
Friday, 9/4
Saturday, 9/5