Texas Longhorns:

BCS meetings
June, 11, 2012
6/11/12
11:53
AM ET
By
HornsNation staff
| ESPN.com
Commissioners of the 11 FBS conferences, Notre Dame AD Jack Swarbrick and other network TV and college football officials gather in Chicago this week, kicking off a month of meetings that could alter the future of college football's postseason.
Gene Wojciechowski kicks off the coverage calling for a selection committee and calling for a scrapping of the BCS system:
That's how I feel about the BCS standings. When the four-team playoff format is approved -- and it will be, of course -- I've got a piece of advice for the decision-makers who want to keep the BCS standings:

Don't do that.

The combo platter of the Harris Poll, USA Today Coaches Poll and six computer rankings worked as well as stripes with plaids. The polls, especially the Harris, were funnier than Chris Rock. The coaches' poll was often an exercise in favoritism, grudge-holding and ignorance. And don't even get me started on the six computer programs.

Polls don't work. You think the media doesn't see all the teams and all the games on a given weekend? Coaches see even less. They're focused on their own team and their next opponent. End of story.
Therefore, a selection committee is needed.
Here's how Gene thinks it should be set up
.
April, 27, 2012
4/27/12
10:45
AM ET
By
HornsNation staff
| ESPN.com
After three days of meetings between BCS conference commissioners, one thing is abundantly clear. College football will have a playoff system.
The 11 Football Bowl Subdivision conference commissioners and Notre Dame athletics director Jack Swarbrick didn't finalize much during three days of meetings here, but it's evident that college football will have a four-team playoff in place by the 2014 season.

There are plenty of details that must still be settled: how the four teams will be selected, where and when two semifinals and a championship game will be played, and how the current BCS bowl games (Fiesta, Orange, Rose and Sugar) will fit into the sport's new playoff model, if at all.

Regardless of the details, college football will finally have a playoff to determine its national champion.
As Mark Schlabach reports, there is still much to hammer out. Between sites, formats and the involvement of certain bowls, the commissioners have several details that will determine what the model looks like.
Read the
full story here
.
April, 25, 2012
4/25/12
5:30
PM ET
By
HornsNation staff
| ESPN.com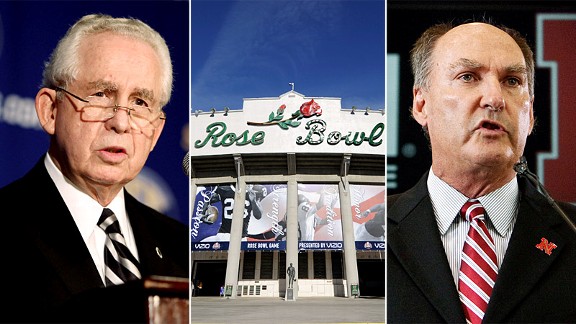 AP Photo, Cal Sport Media, AP Phototbd by editor
As the BCS meetings get underway, Mark Schlabach looks at the key points that will factor into the future of the championship format.
"They know this game is in the fourth quarter," BCS executive director Bill Hancock told ESPN's Joe Schad. "And it's time to get it done."

A final decision won't be made this week, but the BCS's governing body is expected to begin to iron out details such as how many teams will be involved in a playoff, how the teams will be selected, where the semifinals and championship game will be played and how the existing BCS bowl games will be incorporated into a playoff.
Schlabach has five key elements:
1.
The model:
How to play? The current leader seems to be a four-team, plus-one format.
2.
The participants:
Who gets in? One idea has a conference champions only format which doesn't seem to be sitting well with commissioners.
3.
The sites:
Where to play? Big Ten officials and coaches are pushing to have the higher-seeded team host a semifinal game on campus. This would give more northern teams an advantage were they to host a southern team. However, this hasn't gained much traction because of stadium sizes and available accomodations in some cities.
4.
The calendar:
When to play? This is a hot topic considering the 44 days Alabama waited between its regular season finale and the BCS title game. Many want to move BCS games closer to New Year's Day, but that date could be a likely date for semifinals in the plus-one scenario.
5.
The Rose Bowl:
What to do with the Granddaddy? Simply put, the Rose Bowl wants to keep its traditional tie-ins with the Big Ten and Pac-12. That is a monkey wrench in the works and could keep the Rose Bowl out of the mix for a semifinal game.
Read the
full story here
.
Kristi Dosh also looks at what a playoff model would be worth financially:
Economists and television consultants value a playoff system around $600 million to $1.5 billion per year, depending on the number of teams included. That's a major increase from the more than $125 million per year the BCS currently receives annually from its contract with ESPN for the national championship, Fiesta Bowl, Orange Bowl and Sugar Bowl. The Rose Bowl's contract with ABC generates another $30 million per year.
Read the
full blog post here
.
Texas Longhorns Show Out On Pro Day
BIG 12 SCOREBOARD
Thursday, 9/3
Friday, 9/4
Saturday, 9/5