Texas Longhorns:

Barry Switzer
November, 1, 2013
11/01/13
12:00
PM ET
August, 16, 2013
8/16/13
7:00
AM ET
In the eyes of some critics, Mack Brown is sitting on a seat far warmer than he realizes.
ESPN Insider's Phil Steele says Brown is the No. 1 coach on the hot seat entering 2013, and there is a faction of the Texas fan base that agrees and believes Brown's best days are behind him. But if history tells us anything about canning coaches, the grass isn't always greener.
Brown's contract runs through 2020, and he isn't looking to retire any time soon. He's 27 victories away from becoming the winningest coach in school history. Will he reach that milestone?
A look at the recent history of successful Big 12 coaches being shown the door reminds us that a new hire brings no guarantees of success. And there might not be a better example of that than the man considered the league's best coach today.
[+] Enlarge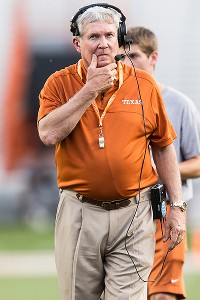 Cal Sport Media/AP ImagesWill Mack Brown get a chance to become the all-time winningest coach at Texas?
Coach on the bubble:
Mack Brown, Texas
Big 12 precedents:
Bill Snyder, Kansas State; Dan McCarney, Iowa State; Chuck Reedy, Baylor
Bill Snyder, 170-85-1 at Kansas State
Prior to his arrival:
The list of coaches who came before Snyder is a long one, but the last to win more games than he lost at Kansas State left in 1934 after one season. Snyder's predecessor, Stan Parrish, coached the Wildcats for 33 games and won two. The team was mockingly called "Futility U" before Snyder's debut, and had lost more games than any program in college football history.
Why he resigned:
The white-haired wizard was everything to Kansas State and achieved the most improbable rebuilding job college football has ever seen. But there reached a point in time, even after four Big 12 North titles, where KSU was ready to move on, in 2005. Leadership thought that after consecutive losing seasons, Snyder's heart just wasn't in it to go another season, even if he was hesitant to surrender the throne.
The aftermath:
In came Ron Prince, the 36-year-old Virginia offensive coordinator who had no ties to the KSU program. His best season was his first, and after consecutive 5-7 seasons, he was fired in November 2008 -- after agreeing four months earlier to a contract extension through 2012. Snyder heroically returned, and you know the rest.
Some believe Brown, 61, is getting old. Snyder was 66 when he was ousted. He was named 2012 Big 12 Coach of the Year at age 73 and got a new five-year deal this past offseason.
Dan McCarney, 56-85 at Iowa State
Prior to his arrival:
No, the track record of McCarney at Iowa State is not even close to what Brown has achieved at Texas. But no coach won more games at ISU than McCarney, who enjoyed five winning seasons in six years (2000-2005) and nearly won the Big 12 North outright twice. His predecessor, Jim Walden, retired after going 0-10-1 in 1994 and finished his ISU tenure with a record of 28-57-3. No Cyclones coach had won a conference title since 1912.
Why he resigned:
McCarney led the Cyclones to five bowl games, but the 2006 season went downhill and he stepped down. At the time he announced his decision, ISU was 0-6 in Big 12 play.
The aftermath:
Iowa State got as sexy a hire as it could have hoped in Texas defensive coordinator Gene Chizik. Then, after going 5-19 in two seasons, he bailed on the Cyclones for the Auburn job. Paul Rhoads has done a respectable job in Ames, with three bowl games in four seasons. McCarney is entering his third year as head coach at North Texas. His record there isn't great (9-15), but the Mean Green at least appreciate that they've got a good coach.
Chuck Reedy, 23-22 at Baylor
Prior to his arrival:
Yes, this is a bit of an obscure choice. Baylor had a solid, competitive program during the 21-year tenure of the great Grant Teaff and enjoyed winning records in eight seasons of his final decade in charge. When he retired, BU offensive coordinator Reedy was promoted to the head gig.
Why he was fired:
Replacing Teaff wasn't easy. The Baylor administration wasn't happy with some aspects of Reedy's coaching style, including recruiting high-risk players who were unlikely to qualify. But what sealed his fate was going 1-7 in conference play in the Big 12's inaugural year and losing four straight to end the 1996 season with a 4-7 record.
The aftermath:
Baylor didn't know it was signing up for a decade of futility when it canned Reedy. His replacement, Dave Roberts, went 4-18. The three coaches that came after Reedy went a combined 30-94 and finished last in the Big 12 South eight straight years. Art Briles has led an impressive rebuild, but he inherited enough of a mess that it took five years to get his career mark at Baylor above .500 (32-30).
I know what you're thinking. We've left out three coaching departures that are considered some of the biggest in recent Big 12 history: Barry Switzer, Mark Mangino and Mike Leach.
Considering Switzer resigned amid a flurry of scandal and NCAA probation, and Mangino and Leach departed after allegations of player abuse, they're not all that applicable to Brown or any current Big 12 coaches. But in the cases of Kansas and Texas Tech, who enjoyed unparalleled rises under Mangino and Leach, respectively, and haven't been the same since, it's another reminder that you never know what you'll get when you let a successful coach go.
October, 11, 2012
10/11/12
11:30
AM ET
With the Red River Rivalry game between No. 15 Texas and No. 13 Oklahoma coming up on Saturday, HornsNation's Carter Strickland and SoonerNation's Jake Trotter answer a few questions.
1. Does OU still have an edge at QB?
Carter Strickland:
No. Over the past six games
David Ash
has actually had the better stats and a better winning percentage, 5-1 to 4-2 for
Landry Jones
. But the reason OU's advantage is not as great as is not just because of Ash. Texas has more weapons on offense and is more comfortable getting the ball to the players and letting them create in space.
July, 10, 2012
7/10/12
9:00
AM ET
There are Sooners you don't like and the Sooners you hate. And then there are these guys.
Here's a look at five Sooners who Texas fans love to hate. Truthfully, the list is much longer than five, and lots of Oklahoma standouts could've made this list.
Adrian Peterson turned down Texas and then tore its defense apart. Kenny Stills is only a junior and already Texas fans can't stand him. Bob Stoops could easily earn a spot on it for beating the Longhorns in eight of the last 12 years.
But these five set themselves apart from the rest with big-time performances and, in the case of a few, a whole lot of trash talk. These are the five that Longhorns fans truly loathe.
[+] Enlarge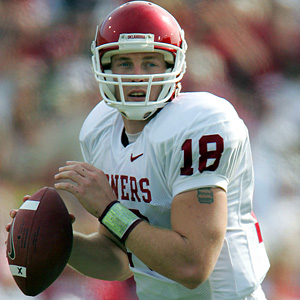 Ronald Martinez/Getty ImagesJason White was led OU to three wins over Texas in his career.
Roy Williams
No need to describe why. Texas fans won't soon forget his "Superman" dive, can't erase how the safety flew over the Longhorns line like a missile and forced Chris Simms' game-clinching pick-six to Teddy Lehman, springing Oklahoma to a 14-3 victory and win No. 2 of a five-year win streak in the Red River Rivalry. Williams also picked off a Simms pass that afternoon and recorded a sack during OU's win in 2000.
Quentin Griffin
A diminutive 5-foot-7 back from Houston's Nimitz High, Griffin tied an NCAA rushing record against Texas in 2000 despite running for only 87 yards. His six rushing touchdowns -- none from longer than 8 yards -- helped power a 63-14 whooping in which OU scored the game's first 42 points. As a senior two years later, Griffin burned the Longhorns for 250 rushing yards and scored two fourth-quarter touchdowns in a 35-24 victory.
Jason White
White played in three wins against Texas, with his finest performance coming during his 2003 Heisman Trophy year. He threw for 290 yards and four touchdowns in a 65-13 beatdown. His first Red River Rivalry game was another impressive feat: White came in for an injured Nate Hybl and threw for 108 yards during OU's 2001 victory.
Brian Bosworth
The infamous Sooners linebacker liked to say the color orange "reminds me of puke." A two-time Butkus Award winner, "Boz" was born in Oklahoma City but grew up in Irving, Texas. His contempt for Texas only grew when the Longhorns didn't recruit him, and the notorious trash-talker punished UT for that in his three Red River Rivalry games. His first was a 15-15 tie in 1984, but Oklahoma won in 1985 -- on the way to a national title -- and again in 1986.
Barry Switzer
No list of hated Sooners is complete without Switzer. His 9-5-2 career record against Texas will forever make him one of the rivalry's great villains. Few games cemented that status like the 1976 game, when Darrell Royal accused Switzer of sending a spy to Texas practices the week of the game. Switzer vehemently denied the accusations but eventually admitted to the snooping in his 1990 autobiography "Bootlegger's Boy."
Texas Longhorns Show Out On Pro Day
BIG 12 SCOREBOARD
Thursday, 9/3
Friday, 9/4
Saturday, 9/5