Texas Longhorns:

A&M-Texas-finale
April, 28, 2012
4/28/12
6:23
PM ET
AUSTIN, Texas -- In a series where Texas is supposed to care the most, the Longhorns appear to be doing anything but.

For the second straight game, No. 9 took advantage of careless errors -- physical and mental -- from the No. 20 Longhorns to pick up a 12-4 win in front of a season-high crowd of 7,716 at UFC Disch-Falk Field Saturday. The Aggies (30-12, 11-6) have now taken the first two games of the series and handed Texas (24-15, 11-5) its first Big 12 series loss since the start of the 2011 season, and only its second conference series loss since 2009. It's also the first series win for the Aggies against Texas since 2003.

Of course, this was the series that might have matter the most. It's the last time for the foreseeable future that Texas and Texas A&M are scheduled to play. And Texas has not left a lasting impression.

In two games, Texas has committed eight errors, allowed eight unearned runs, hit six batters and made mental miscues both at the plate and in the field that have allowed the Aggies to grab the first two.

"We were seriously outplayed," Texas coach Augie Garrido said.

That statement was true for every position as there was plenty of blame to go around Saturday. Erich Weiss had three errors at third. Starting pitcher Parker French committed another two on one play to allow a run. But those may not have the most egregious of miscues.

In the top of the fourth, with runners at the corners and two outs, Texas A&M's Tyler Naquin intentionally put himself into a position to be nailed in a run down, Texas took the bait and Scott Arthur came home to score. Adding insult to injury, Texas pitcher Hoby Milner neglected to cover first in the rundown and Naquin made it back to first unscathed.

"It's been contagious," Garrido said of the miscues. "And this team has been a victim of that disease."

It didn't get much better at the plate.

Jonathan Walsh and Jordan Etier tried to atone for their performance on Friday night. Walsh, who was responsible for two outs in the five-run ninth Friday, hit a solo shot to right. Etier, who had two errors Friday, finished the game with a homer in the ninth. That was essentially it for the Texas bats.

Texas has one last chance to win against the Aggies at 2 p.m. Sunday at Disch-Falk.

April, 27, 2012
4/27/12
11:47
PM ET
COLLEGE STATION, Texas -- Texas couldn't touch Texas A&M pitcher Michael Wacha.

Then something happened.

"They changed pitchers," Longhorns coach Augie Garrido said.

That led to No. 20 Texas almost taking out the No. 9 Aggies. Down 6-0 in the top of the ninth, Texas came back with a furious five-run rally before being stopped on Jonathan Walsh's ground out to second. The 6-5 loss in front of a record 6,944 fans at Olsen Field at Blue Bell Park dropped Texas to 24-15, 11-5. For Texas A&M (30-12, 10-6) the win was the first against Texas in College Station in 10 tries.

"Our survival instinct clicked in," Garrido said of the final frame.

But all the damage necessary had been done. And while Wacha (6-0) did a lot of the damage, Texas self-inflicted a few wounds of its own. The Longhorns had three errors, allowed four unearned runs, allowed four runs with two outs and suffered two wild pitches.

"We didn't stay together as a team," Jordan Etier said.

It was Etier who has had a hard time keeping it together. The shortstop has had five errors in the past two games.

"Our defense is not clicking," Garrido said.

Neither were the bats against Wacha.

"That's the sixth or seventh first round pitcher we have faced this year," Garrido said. "And he was the best of the seven."

Added Etier: "We couldn't get him off his rhythm."

The worry for Texas A&M coach Rob Childress is that Texas might have found its rhythm in the ninth.

"You want them leaving here dejected and they're not," he said.

Texas was able to lifts its collective head slightly after stringing together five hits and drawing two walks in the ninth. That rally was in stark contrast to what happened during the first eight innings.

With Wacha on the mound, Texas was only able to produce four hits and fanned nine times. Texas stranded six runners against Wacha, including Mark Payton after he took the first pitch of the game to the wall for a double.

Texas A&M took little time in grabbing the lead with two in the bottom of the first off Texas starter Nathan Thornhill (4-4). Both runs were unearned, as were the next two given up by Texas in the third.

"The catching position didn't function. The middle of the infield didn't function," Garrido said. "It's a big problem."

Texas doesn't have that much time to figure out the problem as the Aggies will come to Disch Falk-Field for a 2:30 p.m. game Saturday.

April, 26, 2012
4/26/12
2:00
PM ET
By
HornsNation staff
| ESPN.com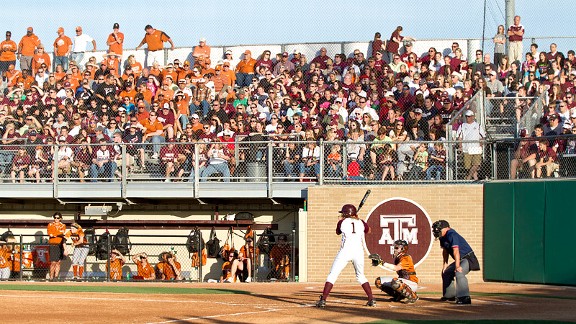 Texas A&MTBD By Editorial
Graham Hays writes:
The social institution that is the Texas-Texas A&M rivalry in the Lone Star State took longer to hit its stride in softball than it did in most sports, but it doesn't take Aggies and Longhorns much time to make any competition meaningful.

Which is one more reason the mood will be decidedly bittersweet when two teams with 25 native Texans between them square off for the final time before Texas A&M departs for the SEC and the hottest of rivalries sinks into a cold war.
Softball starts the final meetings between the Aggies and Longhorns. The softball series plays the opener in College Station before finishing in Austin with games Saturday and Sunday.
Read Graham's
full story here
.
Watch the opener on ESPN2 at 6 p.m. CT or on
Watch ESPN
.
Freshman Quarterbacks A Growing Trend?
BIG 12 SCOREBOARD
Thursday, 9/3
Friday, 9/4
Saturday, 9/5