Texas Longhorns:

Alex De La Torre
January, 23, 2014
Jan 23
4:00
PM ET
We've been counting down the 10 best games of the year in the Big 12, and here's No. 3. One of the most competitive games of the year went down to the wire in Morgantown, W.Va.
No. 3: Nov. 9, Texas 47, West Virginia 40 (OT)


This back-and-forth thriller featured big plays from both teams and seven combined touchdowns after halftime.
What happened:
Texas made the plays when it needed them. West Virginia did not.
On fourth-and-7 at the West Virginia 47,
Case McCoy
found
Jaxon Shipley
for a 9-yard gain. Five plays later,
Anthony Fera
tied the game at 40 with 13 seconds left, sending this one to overtime.
In overtime, McCoy was clutch again with a third-down conversion to
Marcus Johnson
followed by a two-yard touchdown pass to
Alex De La Torre
on third-and-goal. It was the Texas defense's turn on WVU's overtime possession, as it tightened its resolve after a 20-yard run by
Mario Alford
to start the possession. WVU gained one yard in the next four plays, capped by
Steve Edmond
's interception to end the game and send the Longhorns back to Austin with their Big 12 title hopes intact.
Player of the game:
UT defensive end
Cedric Reed
. Several Longhorns defenders had exceptional games, but Reed was relentless. He finished with seven tackles, including two tackles for loss, two sacks, two quarterback hurries, two fumble recoveries and one forced fumble. Not a bad day's work.
Stat of the game:
6. WVU allowed six sacks and had six fumbles (losing three). UT's defense was opportunistic and aggressive throughout the game, as its defensive line was all over Mountaineers quarterback
Paul Millard
after knocking
Clint Trickett
out of the game.
Quotable:
"When one of us gets a sack, that means the other guys are doing their job. We just knew we had to put pressure on these guys and disrupt them." -- Texas defensive end Jackson Jeffcoat.
The rest of the list:
November, 12, 2013
11/12/13
10:00
AM ET
AUSTIN, Texas -- Call it magic, or moxie, or luck, or whatever you want.
Case McCoy
likes a good comeback.
"I think sometimes he just likes to live close to the edge," Texas lineman
Mason Walters
said.
Following his trip to West Virginia last weekend, the senior quarterback's résumé now includes four comeback road victories. Texas has found some serious fortune when McCoy is facing a fourth-quarter deficit and a whole lot of pressure. He doesn't have an easy explanation for why this keeps working out for him and his Longhorns.
"I don't know what the formula is to any of that," McCoy said Monday.
He doesn't get away with it all the time (see: the 2011 Missouri loss). But these Longhorns have a strange knack for surviving close road games late when McCoy is behind center. Here's a review of the four comebacks he has pulled off in the last three years.
No. 25 Texas 27, Texas A&M 25
Nov. 24, 2011 | Kyle Field | College Station, Texas
[+] Enlarge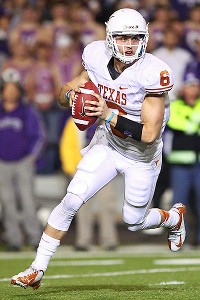 Tim Larson/Icon SMIThere's something about a late-game deficit on the road that brings out the best in Case McCoy.
The deficit:
Texas trailed 25-24 after Texas A&M quarterback Ryan Tannehill hit Jeff Fuller with a 16-yard touchdown pass with 1:48 left. The Aggies' two-point conversion failed.
The comeback:
McCoy led the Longhorns on a seven-play, 48-yard drive, and Justin Tucker became a Texas legend with his 40-yard field goal with time expiring to beat A&M in the final game of their century-old rivalry.
McCoy magic:
With 46 seconds left, McCoy dropped back to pass, then scrambled right and up the middle. He shed one tackle and bounced off another before gaining 25 yards, putting Texas in position for Tucker's game-winner.
Final line:
16 of 27, 110 passing yards; 7 rushes, 25 yards, 33.6 QBR
Quotable:
"I told him: 'Here's where you become the guy, and here's where you take us down and win the game. Every quarterback has to have a signature moment and this is going to be yours.' " -- Texas coach Mack Brown
No. 23 Texas 21, Kansas 17
Oct. 27, 2012 | Memorial Stadium | Lawrence, Kan.
The deficit:
Texas trailed 14-7 with 13:04 left when McCoy entered the game to replace an ineffective
David Ash
, who threw two interceptions. After going ahead 7-0 early, Texas' offense had produced five punts, two turnovers and one turnover on downs.
The comeback:
McCoy led two touchdown drives in the game's final 10 minutes and connected with tight end D.J. Grant for a 1-yard touchdown with 12 seconds left to escape a near-disastrous game with a victory and improve to 6-2.
McCoy magic:
After nearly throwing a game-sealing interception on his first attempt of the final drive, McCoy found
Jaxon Shipley
for an 18-yard gain on a fourth down, hit
Mike Davis
for a 39-yard gain one play later, then got the game-winner to Grant after
Johnathan Gray
was stopped twice at the goal line.
Final line:
5 of 7, 68 passing yards, 1 TD, 99.7 QBR
Quotable:
"It wasn't anything I did. I think our coaches and our team just decided to dig down deep and decide to fight. We definitely came out slow and sluggish, and that's something we can't do the rest of this year. We got lucky, and we were able to come out of here with a win." -- McCoy
Texas 31, Iowa State 30
Oct. 3, 2013 | Jack Trice Stadium | Ames, Iowa
The deficit:
Iowa State rallied with 10 points in the fourth quarter and extended its lead to 30-24 on a field goal with 3:40 left in the game.
The comeback:
Texas marched 75 yards in 12 plays, with the help of 38 yards off Iowa State penalties, to score with 51 seconds remaining. Of course, all anyone will remember from this drive are Gray's two controversial near-fumbles at the goal line.
McCoy magic:
After Gray's two short-yardage failures, McCoy pushed in for a 1-yard touchdown run on third-and-goal to put Texas ahead for good. More memorably, he found
John Harris
on a 44-yard Hail Mary to take a lead into halftime.
Final line:
26 of 45, 244 passing yards, 1 TD, 66.4 QBR
Quotable:
"This will be a real positive for us moving forward. I'm really excited. I think I love comeback wins on the road more than anything in football." -- Brown
Texas 47, West Virginia 40, OT
Nov. 9, 2013 | Milan Puskar Stadium | Morgantown, W.Va.
The deficit:
Texas trailed 26-16 midway through the third quarter, scored two touchdowns, gave up the lead, retook it and lost it again. The Longhorns were down 40-37 with 2:35 left in regulation.
The comeback:
The Longhorns went 57 yards in 12 plays and forced overtime with a 24-yard field goal from
Anthony Fera
, then found the end zone in six plays in overtime and got a four-play goal-line stand from its defense for the win.
McCoy magic:
The 10-yard touchdown to Jaxon Shipley to put Texas up 37-33. The 9-yard completion to Shipley on fourth-and-7 in the final drive of regulation. The 14-yard pass to
Marcus Johnson
on third-and-4 in overtime. The third-and-goal pass to
Alex De La Torre
that he missed against Oklahoma. He had a few big moments.
Final line:
27 of 49, 283 passing yards, 3 TDs, 1 INT, 71.9 QBR
Quotable:
"Never been more proud of my team, my offense and my defense. We didn't do everything right by any means, but we came into a hostile environment and got a win." -- McCoy
November, 10, 2013
11/10/13
1:25
AM ET
Survive and advance. That's all Texas could worry about doing on Saturday night.
A wild night in Morgantown, W.Va., ended with an even crazier finish, when Longhorns linebacker
Steve Edmond
snagged a diving interception on Paul Millard's fourth-down pass to clinch a 47-40 overtime victory.
The last-second win keeps Texas' Big 12 championship hopes alive another week. The Longhorns got to 6-0 in the league despite another perfect storm of injuries and mistakes. They couldn't have pulled this off without the help of a large cast of big-moment contributors and surprise saviors.
[+] Enlarge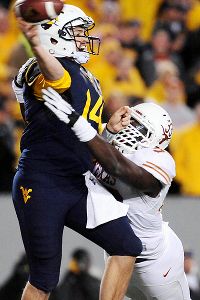 Evan Habeeb/USA TODAY SportsSteve Edmond and Texas made big plays when the Longhorns needed them most against West Virginia.
"That's the way this team has had it all year. Nothing has been easy," Texas coach Mack Brown said. "They've had to come back from the dead and they've had to fight and claw each week and they've had to win some tight games. They just continue to amaze me and overcome everything."
This wasn't like the Iowa State game, when Texas won an ugly 31-30 game and Brown was nothing but smiles, declaring a win a win and that he loves nothing more than a comeback on the road. That cheery optimism drew more than a few eye rolls.
No, this was a get the heck out of Dodge -- or, in this case, Appalachia -- and get home with a win, and no more casualties.
"We'll take this win any time," quarterback
Case McCoy
said.
For Texas, nearly everything that could've gone wrong early on did. The first four offensive possessions ended with a safety on a blocked punt, an interception, a fumble and a punt.
Its defense forced five turnovers and recorded six sacks. The Longhorns have never lost a game in the past decade when getting four takeaways. But they came awfully close on this night, with a rough first half of offense and injuries to running back
Johnathan Gray
, defensive tackle
Chris Whaley
and right tackle
Kennedy Estelle
.
Texas trailed 19-13 at halftime, then 26-16 midway through the third quarter. And yet, this team kept finding a way to scrap together just enough, delivering on every critical moment.
Jaxon Shipley
caught his first touchdown of the season, on as beautiful and difficult a pass as McCoy has thrown, with a diving two-handed grab on a corner route.
Then came Shipley's fourth-down conversion on Texas' final drive in regulation. And Malcolm Brown's 27-yard run. And Anthony Fera's field goal to send Texas to the first overtime of Brown's entire coaching tenure, and just the second in school history.
There was Marcus Johnson's third-down catch in overtime. And Major Applewhite's best play call of the year, a play-action pass on third down to
Alex De La Torre
, whose first career catch gave Texas its overtime lead.
And then there was Edmond, the once-maligned middle linebacker, batting a floated pass at the goal line on third down and slipping back to snag an interception on the game's final play.
Big moments, each of them. Drop the ball once and it could be game over. The Longhorns delivered, over and over again.
"When I got that pick, I felt like I just won the lottery, like I was just the richest man on earth," Edmond said. "I didn't know what to do. When you don't know what to do, you just do crazy stuff. I just took off running."
And his teammates, tired and worn out but undeniably relieved, chased him as Edmond tried running the length of the field.
How long a run does this Texas team have left? Next up, Oklahoma State and Texas Tech at home. Then Baylor on the road, possibly for the Big 12 title, Baylor's BCS title hopes, Texas' Fiesta Bowl dreams and all the other marbles.
But let's not get ahead of ourselves. These Longhorns aren't. They've been humbled a few times during the six-game streak, enough to know that they're living one week at a time.
We don't know the prognosis on Gray. If he misses extended time -- he was in a boot and crutches by the end of the night -- Texas' coaching staff will need to go back to the drawing board this week and find new ways for their offense to get the job done.
Another key leader went down early on, when Whaley was lost for the night with a left knee injury. The senior leader, a heart-and-soul cog of the defense, wiped away tears as he left the field on a cart.
His defense kept going, plugging in tackle
Desmond "Tank" Jackson
and getting an inspired performance and two sacks. They survived and advanced.
This is a resilient bunch. They shouldn't even be in this position after starting 1-2. West Virginia found ways to exploit them on both sides of the ball. They can lose any or all of these final three games.
But just when you're ready to count them out, the Longhorns somehow keep fighting.
"They've been called everything, they had their struggles when they got started, they never got their head down," Brown said. "They kept their head up and played with pride. I'm just happy to coach them and continue to watch them play.
"It'll be interesting to watch them the next three weeks. I'm not going to bet against them."
September, 24, 2013
9/24/13
9:00
AM ET
AUSTIN, Texas -- Texas' last five losses to Kansas State typically had been decided by turnovers and fourth-quarter mistakes. This time, the Wildcats were the ones making those miscues. This time, Texas capitalized.
After reviewing the Longhorns' 31-21 win over K-State on Saturday, here's a look back at five plays that helped decide the game and end the five-game losing streak.
1. Sams to the sidelines
[+] Enlarge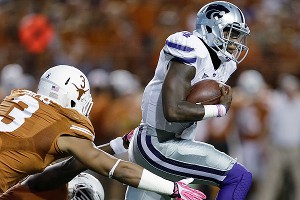 AP Photo/Eric GayDaniel Sams had 48 yards in eight carries before leaving the game in the second quarter.
Daniel Sams
had some early success stressing Texas' run defense, but for some reason he disappeared midway through the second quarter. On his final carry of the night, he rushed up the middle on a delay draw on second and 15. He gained five yards but wound up at the bottom of a pile under at least five Texas defenders and a few Kansas State linemen.
Did he get hurt? Bill Snyder doesn't divulge injury information, but that was the assumption Texas defensive coordinator Greg Robinson made. He thought Sams might've tweaked something on that rush. The TV broadcast proves inconclusive on this issue.
Whatever the reason, Sams didn't come back. Would he have changed the game had he stayed in? It's possible, but Texas had stopped him for no gain on his previous two carries, and he didn't attempt a single pass on the night. It's entirely possible that once Texas went ahead 24-7, KSU would've abandoned Sams and went with
Jake Waters
as its best bet to come back. We'll never know. But taking Sams out of the equation made life a little easier for Texas' defense, even if the plays he ran were predictable.
2. A key conversion
Mack Brown pointed out after the game that going ahead 17-0 late in the second quarter was huge for his team's momentum. He's right, and don't forget how Texas got there. After
David Ash
scrambled for eight yards on third and 10, Texas went with a surprising look on fourth down.
Instead of lining up in a power set, the Longhorns went four wide with
Joe Bergeron
lined up next to Ash. Presumably, a dive play was coming for Texas' short-yardage back. Instead, he motioned out of the backfield, a savvy move by the coaching staff to get K-State's middle linebacker to follow and cover him.
With the middle of the field wide open, Ash hit
Jaxon Shipley
on a quick slant for 10 yards to get to the 26. Two plays later,
Johnathan Gray
scored from 21 yards out. Getting aggressive on fourth down paid off big.
3. Ash leaves early
There's no easy way to pinpoint what went wrong here. We know very little about what happened to Ash on Saturday night or whether a specific play or hit caused his concussion-related symptoms to return. All we know is Brown is hopeful the issues are not serious.
But with 14 seconds left in the first half, Texas called a timeout. Ash was obviously wincing as he walked to the sideline. He took a sip of water and kept wincing and blinking. Then he went back on the field and threw incomplete on fourth down while trying his best to avoid being hit. He walked off the field with his head down, and his night was over.
To their credit, the Longhorns found a way to survive without him in the second half. But we won't know how important this moment was until we know how Ash is doing these days.
4. De La Torre's dash
You don't win games like this without seizing moments. The Longhorns scooped up a
John Hubert
fumble to open the second half but then faced a fourth down near midfield. They lined up in a punt safe formation, and fans started booing, which they would regret.
Two blockers lined up in front of Fera to protect him. One is lineman
Garrett Porter
, who snuck up to the line before the snap. The other is fullback
Alex De La Torre
, who took a direct snap and dashed downfield. Thanks to big blocks from Porter,
Chet Moss
and defensive backs
Sheroid Evans
and
Leroy Scott
, DLT picked up 19 to the KSU 29. Four more Johnathan Gray carries and Texas leads 24-7.
5. The fumble
I guess we're calling this a butt fumble, right? Jake Waters was about to put Texas in the danger zone. K-State was down 10 with a little more than two minutes left and was 7 yards from the end zone. KSU also had three timeouts left, in case its onside kick failed. If Texas allowed the score, it would be an interesting ballgame.
But Waters, on a delay power run right, stumbled behind lineman
Cody Whitehair
. The ball slipped out of his grasp when his right arm grazed Whitehair's behind.
Dalton Santos
quickly hit Waters and pounced on the fumble. He went crazy, as he is prone to doing, and Texas went to 2-2.
June, 25, 2013
6/25/13
12:00
PM ET
During the summer, HornsNation will analyze each of the scholarship players on the Texas roster -- excluding the Longhorns' 2013 recruiting class -- in our Burnt Orange Breakdown series. Starting with No. 1 Mike Davis, we will go through the roster numerically, finishing with No. 99 Desmond Jackson.
No. 36 Alex De La Torre
Sophomore fullback
To continue reading this article you must be an Insider
January, 23, 2013
1/23/13
5:05
PM ET
IRVING, Texas --
Rami Hammad
didn't have to say much.
"It's my dream school," he said. And that pretty much told the story.
[+] Enlarge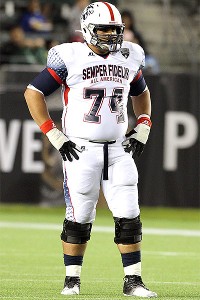 Cal Sport Media via AP ImagesThree-star lineman Rami Hammad adds to Texas' stellar offensive line class for 2013.
The moment Texas first offered last week, Hammad knew in his heart that playing in burnt orange was what he wanted. On Wednesday, the 6-foot-5, 314-pound Irving (Texas) High offensive lineman made it official with a verbal commitment, a tip of a fresh baseball cap and the traditional "Hook'Em" sign with his right hand.
Hammad's pledge gives the Longhorns 15 commits for the Class of 2013. A three-star recruit, Hammad is considered the No. 31 offensive guard in the country, but his size, footwork and overall versatility make him a legitimate candidate to play either guard or tackle at the next level.
"It's just a great opportunity, a school with a lot of tradition and great academics," Hammad said. "They're ranked in the nation for their academics, and with my commit to them, I'm going to work to make sure we're the best O-line in the nation. I believe in the setting there."
Recruited by offensive line coach Stacy Searels, Hammad's stock has skyrocketed in the last two months. He originally committed to Oklahoma State in June, but he decommitted to explore his options. He then committed to Baylor in November -- before putting on an outstanding performance at the Semper Fidelis All-American Bowl in Carson, Calif., to start 2013.
Since that game, Hammad has been one of the nation's hottest targets. Next, he was contacted by Texas, and promptly set up an official visit.
Things seemed to fit even better when Hammad's assigned player host was freshman fullback
Alex De La Torre
, the son of Irving head coach Aaron De La Torre.
"It was crazy when I got [the offer]," Hammad said. "Once I got it, I had to take a step back. I feel like I've found a school that really has good football and good academics.
"Austin is like New York to me. I'm excited about Coach Searels and learning under him. I'm also excited about living in Austin. I'm ready."
September, 20, 2012
9/20/12
8:00
AM ET
AUSTIN, Texas -- Head coach Mack Brown and the rest of the Longhorns coaching staff will continue to evaluate their freshmen class as they try to determine which players to redshirt as the season wears on.
Texas has played 14 freshmen through three games.
"That will probably continue to occur until the seventh week of the season," Brown said. "You won't travel with all of them but you still look at them."
To continue reading this article you must be an Insider
September, 9, 2012
9/09/12
6:30
PM ET
AUSTIN, Texas -- Class of 2014 defensive end
Solomon Thomas
(Coppell, Texas/Coppell) got exactly what he wanted out of his unofficial visit to Texas for its game against New Mexico on Saturday.
"I went down here to try to have a good time, watch the game and try to get a better connection with the team," Thomas said. "It worked out that way. I had a heck of a time."
To continue reading this article you must be an Insider
September, 4, 2012
9/04/12
8:00
AM ET
AUSTIN, Texas -- Four of the five schools that offensive lineman
Andrew Billings
(Waco, Texas/Waco) is still considering are selling him on the idea of being a defensive tackle.
That's exactly where the 6-foot-1, 315-pound state powerlifting champion wants to play.
"It's more fun," the four-star prospect said. "Offense is OK. You build good relationships with the guys on the line. But defensive line is more individual. You get more recognition. It's more my style of play. I don't like to wait on people. I like to go out there and get it."
[+] Enlarge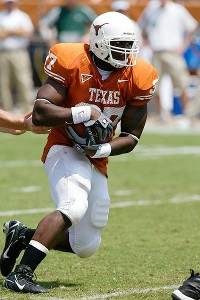 Icon SMIFormer Longhorn Henry Melton rushed for 625 yards and 16 touchdowns in college before moving to defensive tackle.
Hearing that must ease the minds of coaches as Baylor, SMU, Mississippi State and TCU, but only to a certain degree. That's because Texas, the lone finalist that wants him on the offensive line, normally has its pick of the litter when it comes to recruiting within state boundaries.
"It's Texas," Billings responded when asked if it hurt the Longhorns' chances that they want him on offense. "I just want to play four more years of football."
That's just it: The Longhorns sell themselves. And in instances when they do come across a recruit that might not see eye-to-eye with them on where they want him to play, they can point to the proven track record they have of changing a player's position once he's on campus that was beneficial for both parties.
It has happened throughout the course of Mack Brown's 15 seasons on the 40 Acres.
Henry Melton
spent his first two seasons at running back before coaches figured out his 6-foot-3, 260-pound frame would be better suited for the defensive line.
An honorable mention All-Big 12 selection as a senior, Melton now starts for the Chicago Bears. In his first year as a starter in 2011, he finished with seven sacks, which was tied for third-most among NFL defensive tackles.
The Longhorns recruited high school All-American Aaron Lewis as a defensive end out of Albuquerque, N.M., in 2005. After starting 10 games as an end during his sophomore and junior seasons, he was moved to defensive tackle as a senior and was named an honorable mention All-Big 12 member by league coaches for the first time.
Lamarr Houston
was a running back and linebacker out of Colorado Springs, but Texas moved him to defensive tackle as a junior and now he starts at defensive end for the Oakland Raiders.
"If you get the big guys that are speed guys when they start with and they gain so much weight they move down -- [former Longhorn]
Marcus Tubbs
was a tight end -- you just go back and look at some of those guys that can really be a force inside," Brown said.
There are several players following similar paths on Texas' roster.
Chris Whaley
converted from running back to starting nose guard.
Alex De La Torre
and
Chet Moss
were brought in as linebackers but have both made the switch to fullback.
Miles Onyegbule
has transitioned from receiver to tight end and now plays alongside
Greg Daniels
and
Caleb Bluiett
, who were both recruited as defensive ends.
"We felt like my job is to look around the team, and if a guy is not being able to produce where he is, find a place where he can produce better," Brown said. "And whether you're moving Lamarr Houston or Aaron Lewis or guys that we've moved throughout our 15 years here, that's part of my job is to try to figure out who can step up and have a chance."
The main issue for Texas, which really isn't much of one to begin with, is getting these players on campus in order to make a switch possible. Longhorns coaches have told Billings that they'd give him a shot at defensive tackle but that they see his future as a center.
He doesn't have any qualms with that and neither did fellow two-way ESPN 150 lineman
Jake Raulerson
, who was originally recruited as an offensive tackle but could start off on the defensive line.
To continue reading this article you must be an Insider
July, 3, 2012
7/03/12
4:20
PM ET
HornsNation will analyze each of the scholarship players currently on the Texas roster. (The bulk of the 2012 class is not currently on the roster.) We will look at the player's past contributions, what he might do for Texas this year and the future impact he could have on the program. Starting with No. 1 Mike Davis we will go through the roster numerically before ending with No. 99 Desmond Jackson.
No. 36
Alex De La Torre
Fullback, 6-1, 230, freshman
To continue reading this article you must be an Insider
March, 22, 2012
3/22/12
9:30
AM ET
AUSTIN, Texas -- The last time Texas football coach Mack Brown walked into the Southern Flyer alongside the Brenham Municipal Airport, Jack Hess, who doesn't know much about football but more than enough of about character, wanted to know when
Ryan Roberson
was going to start.
Roberson had been Hess' line cook five years while he was a high school football star for Brenham High and now Hess was looking out for one of his own.
[+] Enlarge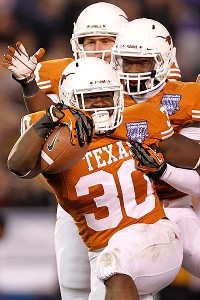 Ric Tapia/Icon SMIRyan Roberson has seven carries and two touchdowns in three seasons at Texas.
This is his year, Brown told Hess. He is the starter.
What Brown neglected to elaborate on was that Roberson would not only be the starter, but the backup and even the third string. The former burger flipper was the only fullback the Longhorns had.
Cody Johnson
is gone.
Jamison Berryhill
, the heir apparent, said his body couldn't take it anymore. That has left Roberson and Texas staring a huge hole it had to fill.
Texas did make a move Tuesday to help Roberson.
Alex De La Torre
has switched from linebacker to backup fullback for the remaining spring practices.
"Sometimes you always look at trying to look at a guy on the other side of the ball," Brown said. "We'll look at Alex De La Torre at fullback the second seven days, because we've seen him for eight days at linebacker. That doesn't mean he'll be a fullback in the fall, but that means we'll have a fair evaluation on both sides of the ball of where he fits."
Texas had already moved linebacker
Chet Moss
to fullback prior to the start of spring But Moss has run into academic trouble and as such cannot be a reliable option for Texas.
As a just-in-case measure Texas is also looking at
Barrett Matthews
as a possible fullback. Matthews is also playing tight end, but has seen his stock drop in at that position because of the emergence of
M.J. McFarland
.
Of course there was a pervasive school of thought that
Joe Bergeron
, because of his size and because of the crowd at running back, might get moved to fullback. Texas has repeatedly squashed that notion by bringing up the scenario from last season at Missouri when Texas had to play its fourth string back for most of the game.
"If we've committed to being a physical football, you better be really good at tailback, you can't be average," Brown said.
To do that, he feels Texas has to have three fresh, strong tailbacks and a strong presence at fullback. Roberson, who has primarily played on special teams his first three seasons, should be the player to fill that role.
What Roberson, or any fullback, should be able to provide for this offense is that one extra block to turn the ordinary into explosive. Texas has failed to produce explosive runs over the past two seasons, partly because the lack of backs, but also because of the inability of the offensive line.
In 2012 the offensive line is poised to be as good as it has been in several years. That means the defensive line and quite possibly a few linebackers should be taken care of by that group on run plays. Roberson, or whoever the fullback might be, will be responsible for picking up that one extra block that allows the running back to see daylight. And then, as always, the running back has to make one person miss for the play to work.
Then there is the extra touch co-offensive coordinator Bryan Harsin can add to the run game if that run game has a solid tailback/fullback combination.
"We can add toys," Brown said.
That should be much more entertaining for Roberson than flipping burgers in Brenham.
March, 21, 2012
3/21/12
8:34
AM ET
By
Jeremy Willis
| ESPN.com
1.
Shaking up spring football
: Mack Brown wasted little time shaking things up when the Longhorns returned to spring practice yesterday. While the players were on spring break, the Texas coaches were busy evaluating the practices they had seen.
"Now you reset your goals. If you didn't get something accomplished, you go back and try and work on it," Brown said.
Among the things the Texas coaches are trying to do is build depth and find roles for players where they will be more successful. With that,
D.J. Monroe
will move from running back to wide receiver and Alex De La Torre will move from linebacker to fullback.
Depth is certainly an issue at fullback with
Jamison Berryhill
and
Cody Johnson
graduating. Brown did say that he didn't know if the move would be permanent for De La Torre who was a four-star prospect and the nation's No. 11 inside linebacker according to ESPNU.
As for Monroe, he needs the ball in his hands and that's more the goal than anything else. There is a shortage at receivers, but Monroe should still see work catching, running fly sweeps and probably lining up in the backfield.
"If [Monroe is] going to play more, he needs to expand his package. And we need to expand his package. And to do that, there are places at tailback right now that we need him in there (at receiver). He needs to be outside. That's who he is. And to do that he's got to catch better."
John Harris
is back from injury and working with the receivers.
Demarco Cobbs
is also back working with the linebackers.
2.
Six in a row on the diamond
: It appears as if maybe the Texas baseball team has righted the ship. And it couldn't come at a better time.
The Longhorns started slow, at one point losing five straight games. With Texas' 9-1 win over Stephen F. Austin on Tuesday, Augie Garrido's team has now won six straight.
The bigger wins certainly came in a sweep of Oklahoma in Norman, Okla., over the weekend. That's a good way to kick off Big 12 play.
Against the Lumberjacks Tuesday, Jordan Etier had a big game with two RBI and a stolen base. Dillon Baker got the win and struck out four. He was among five Texas pitchers who combined to allow only five hits.
3.
UT still making money
: In a very comprehensive piece on the financial landscape of college sports, Alecia Jessop is taking a look at the most profitable athletics programs in each conference.
No surprise that Texas had the biggest expense or the largest amount of revenue. The Longhorns again made money in 2010-11. The Texas athletic program made just over $24 million in that time frame, but surprisingly, Kansas State was second with a little more than $23 million made.
She notes another interesting point about the two schools:
Kansas State achieved profits of $23,395,408.00, while Texas had profits of $24,317,815.00. Interestingly, though, is the fact that Kansas State's revenues in that same year were $68,875,266.00, while Texas' were $150,295,932.00. Texas' expenditures, on the other hand, were nearly three-times that of Kansas State's.
Read the full breakdown
here
.
March, 3, 2012
3/03/12
6:09
PM ET
AUSTIN, Texas -- Forget about the Texas quarterbacks for just a second.
OK, so it is nearly impossible. But just try. Because for all those sky-is-falling fans out there -- you know who you are and there are more of you than you might think -- the thing that needs to worry you, wait, check that, send you into a panic, wait, cause cold sweats at 3 a.m., is the kicking game.
That's right, it's no longer about arms at Texas. It's all about the legs. Or the lack thereof. The latter was clearly evident in the second spring practice open to the public.
Ben Pruitt
missed a 32 and a 37-yarder.
William Russ
missed a 32-yarder as well.
"That's not my area,'' said a relieved Bryan Harsin when asked about the kickers.
"That's not my area,'' the co-offensive coordinator said a second time.
Whether that second utterance was to drive the point home or just Harsin relishing for one second that he was not at the crux of the biggest flaw in the Longhorns is unclear.
What is clear is that
Nick Jordan
, the high school all-American from Coppell, is still in high school but will be welcomed with open arms when he does arrive in June. Until that time Texas will have to continue to work with Pruitt and Russ.
Here are a few other observations from the open practice
:
December, 13, 2011
12/13/11
2:06
PM ET
AUSTIN, Texas -- Since he committed to Texas on Feb. 12, four-star linebacker
Alex De La Torre
(Denton, Texas/ Ryan) has taken it upon himself to be one of the ringleaders of the Longhorns' 2012 recruiting class.
"It's important for me because I want to make sure we all get on the same page before two-a-days start and we get ready to go," De La Torre said. "Sometimes guys don't really talk. It's hard for guys to get out there and get to know each other, be a family before the season starts. I've been a big advocate for us to become a family."
With so many recruits (and fellow Texas commitments) in Austin on official visits, this past weekend served as the perfect opportunity for De La Torre to continue his duties as one of Texas' biggest advocates to
Mario Edwards
, the nation's top prospect and a Florida State commit, who was also visiting.
To continue reading this article you must be an Insider
All Access Wired: Chris Vaughn
BIG 12 SCOREBOARD
Saturday, 8/30
Sunday, 8/31