Texas Longhorns:

Alabama Crimson Tide
March, 22, 2014
3/22/14
9:15
PM ET
MARIETTA, Ga. -- The Nike SPARQ combines have grown with each passing year, and on Saturday there was a record turnout. If the 1,993 prospects who attended weren't impressive enough, the performances by several top prospects who came to compete certainly left spectators turning heads.
Here is a rundown of some of the event's top performers.
ESPN Junior 300 running back Taj Griffin posted one of the top SPARQ scores of the day. Griffin checked in at 5-foot-10, 174-pounds, ran a 4.41 40-yard dash and a 4.35 shuttle, had a 46-inch vertical leap and a 36-foot power ball toss for a combined score of 124.29. On the recruiting front, Oregon, Clemson, Florida State, Ohio State and Tennessee continue to stand out the most.



2015 RB Taj Griffin @tg__7 with the highest SPARQ score of the day in Atlanta. pic.twitter.com/SaY2QZLPrE

— Gerry Hamilton (@HamiltonESPN) March 22, 2014

No. 3 junior offensive tackle Chuma Edoga posted an impressive score of 94.65. After measuring at 6-4 and weighing 276 pounds, Edoga ripped off a 5.01 40-yard dash, a terrific 4.69 shuttle and had a 33.8-inch vertical jump and 37-foot power ball throw. Following his impressive effort, he said his top four schools in order are Tennessee, Southern California, Georgia and Stanford with a decision likely on May 25, his birthday. The big news might have been that he currently prefers the Volunteers, but his mother is in the corner of the Bulldogs and Cardinal.
No. 252 prospect C.J. Sanders made the trip and did not disappoint. He checked in at 5-9 and 176 pounds, ran a 4.57 40-yard dash, had a blazing 4.09 shuttle run, leaped 36.5 inches and tossed the power ball 41 feet. On the recruiting front, USC, Notre Dame and Georgia are the latest to offer, joining Duke, Northwestern, Stanford, Tennessee, Vanderbilt, Mississippi State and Ole Miss. He visited USC last week, and lists Reggie Bush as his childhood idol. Sanders is the son of former Ohio State and NFL wide receiver Chris Sanders. His mom played basketball at Michigan. He reports his family favors Duke and USC early on with a decision slated for the summer.
Ben Cleveland is already considered one of the top offensive line prospects in the country, and the 6-7, 317-pounder showed why Saturday. He clocked a very impressive 5.22 40-yard dash and 4.87 shuttle, and had a 25.8-inch vertical leap and 41.5-foot power ball throw for a score of 99.78. He has offers from Georgia, Clemson, Florida, South Carolina and Texas with Alabama expected in the near future. He made an unofficial visit to Clemson two weeks ago.
Class of 2016 prospect
Class of 2015 running back Jaylen Burgess posted a 118.44. The 5-10, 214-pounder ran a 4.66 40-yard dash and a 4.38 shuttle, and had a 36.7-inch vertical leap and 42.5 power ball throw. He is receiving interest from Tennessee, Vanderbilt, Clemson, Duke and a number of other ACC schools. Duke and Tennessee are the coaching staffs Burgess talks to the most. He posted more than 1,500 all-purpose yards as a junior.
Class of 2016 linebacker and defensive end Charles Wiley checked in at 6-3, 203 pounds. He clocked a 4.68 40-yard dash and 4.45 shuttle, and also leaped 35 inches and threw the power ball 34.5 feet. He has an early offer from Virginia Tech.
Class of 2015 athlete Jeremiah Mercer is flying completely under the recruiting radar. While he had to sit out the 2013 season due to transfer rules, he made his mark Saturday posting a score of 97.47. The 5-11, 163-pound running back and wide receiver ripped off a 4.48 40-yard dash and 4.18 shuttle, and added a 36.2-vertical leap and 31-foot power ball toss. He is receiving interest from Vanderbilt and Mississippi State and lists Florida State as his dream school.
Class of 2016 inside linebacker Tyler Reed posted a very impressive score of 104.91. After measuring 6-2, 234 pounds, Reed ran a 4.96 40-yard dash and 4.59 shuttle, and had a 35.5-inch vertical leap and 41-foot power ball throw. He recorded 130 tackles as a sophomore.
Class of 2015 running back Eric Montgomery posted a 115.47, one of the day's top scores. The tailback checked in at 5-11, 185 pounds, ran a 4.46 40-yard dash and a 4.19 shuttle, and jumped 36 inches and threw the power ball 38 feet. On the recruiting front, Kentucky, Cincinnati, Ole Miss and Mississippi State, among others, are showing interest.
March, 13, 2014
3/13/14
12:30
PM ET
The new College Football Playoff is supposed to encourage schools to schedule better nonconference games, as teams try to beef up their schedule strength to earn one of the playoff's coveted four spots at season's end.
On Thursday, Texas A&M and UCLA
announced that they'll play each other
during the 2016 and 2017 seasons.
Other schools have announced future marquee nonconference opponents, including Texas A&M vs. USC, Notre Dame vs. Texas, Alabama vs. Michigan State and LSU vs. Oklahoma.
Here are five other nonconference games I'd like to see in the future:
[+] Enlarge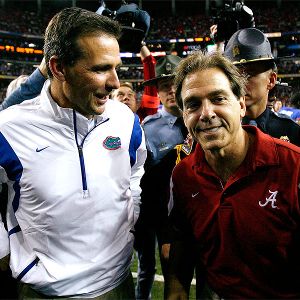 Kevin C. Cox/Getty ImagesUrban Meyer and Nick Saban have faced off for SEC titles, but their current teams, Ohio State and Alabama, have played only three times in history.
1. Alabama vs. Ohio State
: Alabama's Nick Saban and OSU's Urban Meyer dominated the SEC when Meyer was coaching at Florida, combining to win five BCS national championships from 2006 to 2012.
When Meyer was still coaching at Florida, the Crimson Tide and Gators played in two of the most anticipated SEC championship games. The No. 2 Gators beat the No. 1 Tide 31-20 in 2008, and then the Tide turned the tables on No. 1 UF with a 32-13 win in 2009.
Alabama and Ohio State have played only three times in history, with the Tide winning each time, most recently in a 24-17 victory in the 1995 Citrus Bowl.
2. Texas vs. Texas A&M
: Perhaps the biggest casualty in conference realignment, Texas and Texas A&M haven't played each other since the Aggies bolted the Big 12 for the SEC after the 2011 season. Sadly, there are no plans for the in-state rivals to play again in future regular seasons.
The Aggies and Longhorns played each other 118 times from 1894 to 2011, with their annual meeting traditionally being played on Thanksgiving Day. UT won nearly twice as many games as the Aggies (76-37-5), including nine of the last 12 meetings.
With former Louisville coach Charlie Strong taking over at Texas, and Kevin Sumlin building the Aggies into an SEC powerhouse, the game would also pit two of the sport's best African-American coaches against each other.
3. Oregon vs. Baylor
: Two of the game's most explosive offenses -- and two of its best-dressed teams -- would undoubtedly light up the scoreboard if they ever played. In fact, the contest would probably look more like a track meet.
Under coach Art Briles, the Bears have become the Ducks of the Southwest, with their hurry-up, spread offense and myriad flashy uniforms closely resembling what Chip Kelly and then Mark Helfrich built at Oregon. The Bears and Ducks follow the same blueprint on offense: play fast and score fast.
We hoped to see this matchup in the Tostitos Fiesta Bowl last season, but alas, it didn't happen. Oregon and Baylor have never met on the gridiron.
4. Michigan vs. USC
: Two of the sport's traditional heavyweights have faced each other eight times in the Rose Bowl Game Presented by Vizio, but only twice during the regular season -- in 1957 and 1958.
The Trojans won the last three meetings in the Rose Bowl, 32-18 in 2007, 28-14 in 2004 and 17-10 in 1990. USC has won six of the past seven meetings overall and holds a 6-4 advantage all-time.
We might have seen this matchup during the regular season if a Big Ten/Pac-12 scheduling partnership hadn't fallen apart in 2012.
5. Georgia vs. Florida State
: UGA coach Mark Richt was a longtime assistant under legendary FSU coach Bobby Bowden before taking over the Bulldogs, and he recently poached defensive coordinator Jeremy Pruitt off the Seminoles' staff.
The Bulldogs and Seminoles go head-to-head for a lot of recruits every year, and Florida State coach Jimbo Fisher upgraded his roster by effectively recruiting South Georgia and Atlanta.
The Bulldogs and Seminoles have played 11 times and only once since 1984 -- UGA defeated FSU 26-13 in the 2003 Sugar Bowl. Georgia leads the all-time series, 6-4-1.
December, 31, 2013
12/31/13
1:00
PM ET
LAKE BUENA VISTA, Fla. -- Cornerback
Tony Brown
, No. 11 in the ESPN 300 and the No. 2 prospect in Texas, suffered an injury to his left shoulder on Tuesday and likely will not play in the Under Armour All-America Game.
Brown, of Beaumont Ozen High School, was hurt while reaching to defend a pass in a non-contact coverage drill. He received medical attention at the ESPN Wide World of Sports Complex and was transported from the practice facility by cart, his head buried in his hands and his arm in a sling.
The 6-foot, 196-pound Brown, rated as the No. 4 cornerback nationally, is scheduled to announce his college decision during the 4 p.m. telecast of the Under Armour Game Thursday on ESPN.
Brown made official recruiting visits to Ohio State, Alabama, Texas, USC and LSU.
He graduated from high school early in order to enroll in January at his college of choice. Brown is an elite sprinter and plans to compete in football and track and field in college.
February, 7, 2013
2/07/13
4:00
PM ET
By
Mackenzie Kraemer
| ESPN.com
1
– Alabama's class rank. Every year that head coach Nick Saban has had a full season to recruit (since 2008), the
Crimson Tide
have had a top-three class. No other school has even had a top-10 class each of the past six years. Alabama received commitments from three of the top-10 running backs, plus
Derrick Henry
(No. 9 in ESPN 300, No. 1 Athlete), the leading rusher in high school football history.
3
– Number of Ole Miss's recruits ranked in the top 20 of the ESPN 300. Since ESPN recruiting rankings were introduced in 2006,
Ole Miss
had never had a single top-20 recruit. Head coach Hugh Freeze received letters of intent from two of the top five recruits, including the top ranked player in the ESPN 300, DE
Robert Nkemdiche
.
7
– Number of players since November who have decommitted from
USC
, and all were in the ESPN 300. USC's class was ranked No. 1 for more than three months between July and November, but now it's ranked 14th. Two of those decommits,
Eldridge Massington
(No. 172 in ESPN 300, No. 21 WR) and
Kylie Fitts
(No. 86 in ESPN 300, No. 8 DE) flipped their commitments to rival UCLA. The Bruins finished the day with the 12th-ranked class, the first time since 2006 they finished ahead of their crosstown rival.
7
– The number of top-10 recruiting classes Urban Meyer has had since 2006, and not one of those classes ranked lower than sixth. The only other coach with seven top-10 classes is Mack Brown. This year, Meyer and
Ohio State
scored the No. 3 recruiting class, headlined by CB
Eli Apple
(No. 11 in ESPN 300, No. 3 CB).
7
– The number of top-five recruiting classes
Florida
has had since 2006, most among all schools. Entering National Signing Day, the Gators had the top-ranked class before finishing the day second. Florida is one of three schools with multiple five-star recruits this year (Ole Miss and Notre Dame).
12
– The number of four-star recruits
Vanderbilt
has received letters of intent from. The past two seasons, James Franklin has recruited 15 players with a grade of 80 or better. In the previous four seasons, Vanderbilt didn't recruit a single such player.
14
- The number of SEC schools with top-40 recruiting classes. All 14 schools have top-40 classes, with none lower than 36th (Kentucky). Six of those schools are ranked in the top 10, the most any conference has had since 2006.
15
– Texas' class rank, the Longhorns' lowest since 2006.
Texas
had been the only school with a top-10 class every year since 2006. Texas still had the highest ranked recruiting class in the Big 12.
15
– Number of players in the ESPN 300 that have yet to sign letters of intent. Eleven have yet to commit to any school while four have yet to sign their letters of intent for various reasons.

16
- The number of states Notre Dame's 23 recruits reside in.
Notre Dame
has the No. 4 class this season, the highest ranked class it has had since 2006. It's Notre Dame's sixth top-10 class and third straight under Brian Kelly.
October, 7, 2012
10/07/12
2:11
PM ET
ESPN 100 shooting guard
JaJuan Johnson
(Memphis, Tenn/Southwind) tells HornsNation that he did not make his scheduled official visit to Texas this weekend.
"The Texas staff and I decided that it was best thing for me and the program," Johnson said.
Asked if the Longhorns were at all an option for him right now, Johnson responded, "At this time, no."
Johnson (6-foot-5, 182 pounds), who is rated No. 62 in the country, has already taken official visits to Miami (Sept. 15) and Alabama (Sept. 29), and has a visit to Marquette scheduled for Oct. 13. He told our Reggie Rankin that he would make his decision sometime after the Marquette visit.
July, 6, 2012
7/06/12
11:45
AM ET
By
RecruitingNation
| ESPN.com

As the top recruits across the county assemble in Beaverton, Oregon for Nike's The Opening, RecruitingNation asked them how much of a factor are the girls when it comes to picking a school.
May, 30, 2012
5/30/12
3:41
PM ET
By
Dave Telep
| ESPN Insider
Devonta Pollard
(De Kalb, Miss./Kemper County), a McDonald's All-American and the highest rated available player in the Class of 2012, will announce his college choice on Friday.
The soft-spoken small forward will pick from Alabama, Georgetown, Missouri and Texas, according to his mother. Missouri has the biggest recruiting class and biggest scholarship crunch so the school of thought here is that the other three are in better shape.
"He's come to the conclusion where he wants to go," Jessie Pollard, Devonta's mom said on Wednesday.
To continue reading this article you must be an Insider
February, 3, 2012
2/03/12
4:00
PM ET
ESPN The Magazine and RecruitingNation compiled the past five years (2007-11) of ESPNU 150 rankings and then crowned college football's
top 10 recruiting programs
.

Here's how they did it:
Our methodology was simple: We re-tallied the scores following signing day and ranked the schools based on total number of ESPNU 150 recruits (there have been 900) hauled in over the last six years. Of course, like success on the field, recruiting is cyclical -- and fans of programs both on and off this list might look back on Feb. 1, 2012 as the day their team began its rise (or fall) on the trail.
Here's the top-10.
1. Florida
2. Texas
3. USC

4. Alabama
5. Florida State
6. Notre Dame
T-7. Georgia
t-7: LSU
9. Miami
T-10. Ohio State
T-10. Oklahoma
Here's what it says about USC:
Top states: California (36), Florida (six), Arizona (four)
Surprise state: Georgia (three)
Sure, the Trojans have California locked up. But USC has also signed four of Arizona's 12 ESPNU 150 prospects and Georgia's second-best preps in 2008 (WR Brice Butler of Norcross) and 2010 (WR Markeith Ambles of McDonough). In 2012, USC signed seven ESPNU 150 commits -- OT Zach Banner (Lakewood, Wash.) was the lone out-of-state recruit.
(USC actually signed three out-of-state recruits, including receiver
Nelson Agholor
and DT
Leonard Williams
, who are both from Florida).
What's clear from this list: Sometimes teams with lots of ESPNU 150 players produce on the field (Alabama, LSU, Oklahoma, Ohio State) and sometimes they do not (Florida, Texas, Florida State, Notre Dame and Miami).
Florida is 15-11 over the past two seasons, when these highly rated classes should have been peaking. Texas is 13-12 over the same span. Miami has lost fewer than six games just once since 2007. Notre Dame's best years came the past two seasons -- both 8-5. Florida State has averaged 4.8 losses since 2007. Georgia was 10-4 this season, but it was a combined 14-12 in 2009 and 2010. Ohio State probably can be forgiven its 6-7 finish this year, based on the NCAA issues and firing of coach Jim Tressel. Oklahoma's lone blip was an 8-5 campaign in 2009. USC's "downturn" came in 2009 and 2010 when the Trojans went 17-9.
Conclusions?
Well, it's possible that Florida recruiting -- as good as it is -- is overrated. Perhaps the same can be said for Texas. Or at least these four programs -- Florida, Florida State, Miami and Texas -- aren't doing the best job of evaluating their wealth of in-state talent.
January, 31, 2012
1/31/12
10:30
AM ET
By
Sharon Katz
| ESPN.com
National Signing Day is a day away, and the nation's top wide receiver recruit remains unsigned. Dorial Green-Beckham will announce his intentions at 10:15 A.M. ET on Wednesday, with many of the nation's top programs looking on.
Green-Beckham has been described as a hybrid of
Calvin Johnson
and
Julio Jones
. At 6-foot-6, 220 pounds, he possesses the size and speed to be a significant deep threat and formidable red-zone target.
Any program in the nation would be happy to land Green-Beckham, but he has narrowed his list to five schools --
Arkansas
,
Texas
,
Missouri
,
Alabama
and
Oklahoma
–- all of which have significant holes at wide receiver.
January, 30, 2012
1/30/12
9:18
PM ET
By
Sharon Katz
| ESPN.com
National signing day is a day away, and the nation's top wide receiver recruit remains unsigned. Dorial Green-Beckham will announce his intentions at 10:15 A.M. ET on Wednesday, with many of the nation's top programs looking on.
Green-Beckham has been described as a hybrid of
Calvin Johnson
and
Julio Jones
. At 6-foot-6, 220 pounds, he possesses the size and speed to be a significant deep threat and formidable red-zone target.
Any program in the nation would be happy to land Green-Beckham, but he has narrowed his list to five schools --
Arkansas
,
Texas
,
Missouri
,
Alabama
and
Oklahoma
–- all of which have significant holes at wide receiver.
So the question becomes, who needs Dorial Green-Beckham most?
Alabama
has stocked up on wide receiver recruits in its 2012 class with five 4-star or 5-star recruits listed as ATH/WR. The Tide could use all of the help that they can get after losing their top four pass catchers from 2011. Most importantly, Alabama needs to find a top wide receiver to fill the void left by Julio Jones and
Marquis Maze
leaving in consecutive years.

Jones and Maze were targeted on almost half of Alabama's passes thrown 20 yards or more in the air since the start of 2010, resulting in 15 receptions and five touchdowns. Green-Beckham's downfield prowess would benefit
AJ McCarron
who improved his deep passing in the second half of last season.
Arkansas
is the predicted landing spot for Green-Beckham by all seven ESPN experts polled. If he chooses to sign with the Razorbacks, Green-Beckham would fill one of the greatest wide receiver voids in the nation.

Arkansas is losing three of its top four wide receivers, including the school's top two players in career receptions,
Jarius Wright
and
Joe Adams
. Wright and Adams combined for more receiving yards (1,769) than any other set of receivers in the SEC last season.
In fact, no SEC team had three wide receivers combine for more yards, receptions and touchdowns than Wright and Adams.
Missouri
needs a second wide-receiver option behind
T.J. Moe
next season with TE
Michael Egnew
and WR
Wes Kemp
graduating. Moe has the second-most receiving yards in the Big 12 since the start of 2010 among returning players, but he is not known for his deep-threat ability.

Of his 146 receptions in the past two seasons, only 13 have gone for 25 or more yards. Green-Beckham's downfield speed would lead to more big plays for the Tigers and open up underneath routes for Moe and others.
Oklahoma
must replace FBS's all-time leader in receptions,
Ryan Broyles
. Broyles was Oklahoma's top target downfield, in the red zone, on third down and when opponents brought the blitz over the last two years.
Landry Jones
struggled after Broyles' injury in 2011, and despite landing three 4-star wide receiver recruits, a talent like Green-Beckham could fill the void left by Broyles.
Broyles had some of the strongest hands in college football, dropping just two passes in 417 pass attempts since the start of 2009.
According to scouts, Green-Beckham also has strong hands and the ability to snatch balls in traffic, which will be valuable in an Oklahoma offense that throws a lot of quick slants. Oklahoma has focused on replacing Broyles with three 4-star recruits committed for next season, but the addition of Green-Beckham will have an immediate impact on a team with national title hopes.
Texas
could use Green-Beckham's size in the red zone. The Longhorns completed just 32 percent of their passes with three touchdowns and two interceptions in the red zone during conference play last season, which was the worst completion percentage by any Big 12 team in the last five seasons.

When throwing into the end zone, Texas completed just 5-of-17 passes with two interceptions. Beckham's 6'6" size and leaping ability would give Texas a target to drastically improve its red-zone passing offense.
January, 10, 2012
1/10/12
12:00
PM ET
By
Dave Telep
| ESPN Insider
In the last year, ESPNU 100 forward
Devonta Pollard
(DeKalb, Miss./Kemper County) had more on his plate than most high school players. His family lost their home in a fire following a lightning strike and Pollard subsequently missed time with an injury before playing football in his senior year. The result of all the distractions was a recruitment in which he didn't take a single official visit in the fall.
On Jan. 21, Pollard is set to take his maiden voyage on the visit trail. The Texas Longhorns host him, according to Jeff Andrews, one of the directors of the Southern Phenoms, Pollard's AAU team.
Following the Texas trip, the No. 20 overall player in the 2012 class will make others. Andrews relayed a list that included Kentucky, Marquette, Missouri, Alabama, Mississippi State and Georgetown. Pollard's a unique forward with the look and body style of Travis Outlaw. An explosive leaper, he shot the ball particularly well from midrange last spring and into the summer.
He has got enough athleticism to be a factor early. His best effort outside of high school ball was an MVP performance at the May Tournament of Champions, won by the Phenoms. His best non-basketball effort came last month when he was named the best wide receiver in his region.
To continue reading this article you must be an Insider
December, 26, 2011
12/26/11
4:00
PM ET
Forbes magazine put together a
list of the top 20 most valuable college football programs
, and the team at the top is no surprise.
Everything's bigger in (Austin) Texas. Especially football budgets.
The Longhorns topped the list with a value of $129 million, producing $96 million in revenue and $71 million in total profit, far ahead of its nearest competitors.
The program's value is $17 million more than No. 2, Notre Dame. Its produced $19 million more in revenue than Alabama, second in that category. It produced $18 million more in total profit than No. 2 Georgia.
The Big 12 had three teams in the top 20. Oklahoma checked in at No. 10 and Texas A&M was No. 17.
The Sooners were valued at $87 million, produced $59 million in revenue and made $36 million in profit.
The Aggies were valued at $63 million, produced $45 million in revenue and made $30 million in profit.
Forbes also studied the game's best teams for the money, and Kansas State checked in at No. 1 this year. Its expenses were just $11 million, which cashed out at $1,086,705 per victory, the best mark of any team in the country.
Oklahoma State checked in at No. 3, at $1,253,388 per win. Its expenses were $14 million.
Baylor was No. 8, at $1,619,672 per win. Its expenses were $15 million.
December, 19, 2011
12/19/11
8:00
AM ET
The Pac-10 and Big 12 nearly got married last year, but only Colorado ended up eloping with the now-Pac-12.

You know: The conference that can count!

But the Pac-12, which has, yes, 12 teams, and the Big 12, which has 10 teams (though it's often hard to keep up with which ones), play each other in three bowl games this holiday season.

Joy to the world.

Celebrating Black History Month With Texas HC Charlie Strong
BIG 12 SCOREBOARD
Thursday, 9/3
Friday, 9/4
Saturday, 9/5