Texas Longhorns:

Vance Bedford
November, 7, 2014
11/07/14
3:00
PM ET
Ready for some numbers? It's time for our weekly stat digs, in which we team with ESPN Stats & Information to find the numbers that matter most for the
Texas Longhorns
and their next opponent. Here are the stats to remember going into Texas' home game against No. 23 West Virginia:
1. 8-12
Defensive coordinator Vance Bedford makes Texas' pass defense sound easy. If the Longhorns are getting to the quarterback, he says defenders need to cover for only three to four seconds. His defenders have made that philosophy look awfully good nine games into this season.
[+] Enlarge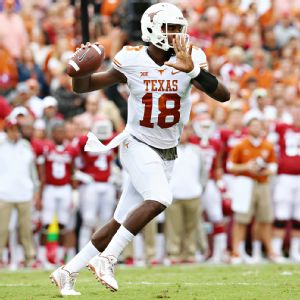 Ronald Martinez/Getty ImagesTyrone Swoopes is using his legs more, to the benefit of the Longhorns.
Texas ranks No. 6 nationally in yards per attempt defense, No. 3 in yards per completion, No. 7 in adjusted QBR defense and No. 9 in passing yards per game allowed. They've allowed just one 300-yard performance. But here's the number that's impressive: The Longhorns have more interceptions (12) than passing touchdowns allowed (eight), a feat no Texas team has achieved since the 2009 squad that played for a national title.
All of that success will be tested this week by West Virginia, especially
Kevin White
. He's one of the nation's most prolific receivers, but Oklahoma State and TCU held him to a combed six catches for 55 yards in the past two weeks, snapping his seven-game streak of 100-yard performances.
2. 16
The two best offenses in the Big 12 had their season-worst performances against West Virginia's defense.
WVU held Baylor to 318 yards and 27 points. TCU put up 389 yards and 31 points. Two of the nation's most explosive offenses combined to average less than 4.7 yards per play and punted a total of 16 times.
The Mountaineers didn't give up points on seven of Baylor's final eight drives, then did the same on six of TCU's seven first-half drives. Getting all those stops is a big reason why they almost went 2-0 in those games, and a big reason why Texas should not take this foe lightly.
3. 297
You won't see it on the stat sheet, but
Tyrone Swoopes
's increasing production in the run game is worth noting.
Excluding sacks, Swoopes has rushed for a total of 297 yards in Texas' last five games. He actually has outrushed
Johnathan Gray
during that stretch.
He's becoming adept at turning bootlegs into yards when his receivers are covered up, and the use of read-option concepts have had some success too. It's an aspect of Swoopes' game that is developing nicely and can prove dangerous in these must-win games.
Three more to remember
-5874:
The average attendance at Texas home games this season, through four games, is down from 98,976 last year to 93,102. Not hard to see why Strong is focused this week on getting Texas' home-field advantage back.
54-26:
The run-to-pass ratio of West Virginia's offensive playcalling against TCU. According to West Virginia MetroNews, that was the most run-heavy game of Dana Holgorsen's four years as head coach and even his six previous years as a coordinator.
77.1 percent:
Texas is set to lose more than three-fourths of its wide receiver production this offseason. It'd be nice to see a young wideout like
Jacorey Warrick
,
Lorenzo Joe
,
Dorian Leonard
or
Armanti Foreman
emerge over this final stretch of the season.
May, 5, 2014
5/05/14
9:45
AM ET

Longtime instate rivals Texas and Texas A&M haven't faced each other on the football field since the Aggies bolted for the SEC in 2012. That, however, hasn't stopped the two sides from trading barbs on Twitter.

With the NFL draft coming up, new Texas defensive coordinator Vance Bedford riled up Texas A&M fans with his Twitter views on the pro prospects of former Aggies quarterback Johnny Manziel.

Bedford started out general then he got specific:



Seriously, what do we do to get the Longhorns and the Aggies on the same field again?
April, 18, 2014
4/18/14
2:00
PM ET
AUSTIN, Texas -- The first Texas football game of the Charlie Strong era will look a lot more like a practice.
The Longhorns hit the field this weekend for the first time since Strong arrived. Even though fans can expect a more scrimmage-like approach to the annual Orange-White spring game, there will be plenty worth keeping an eye on.
When:
1 p.m. Saturday
Where:
Darrell K Royal-Texas Memorial Stadium
[+] Enlarge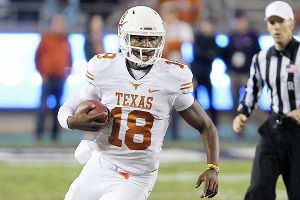 Matthew Visinsky/Icon SMISophomore QB Tyrone Swoopes will get a chance to work with the No. 1 offense in a game setting Saturday.
What to watch for:
Swoopes' confidence: The last time we saw Tyrone Swoopes in action, he looked like a flustered freshman (he was, in fact, a freshman) trying his hardest not to mess up amid a beatdown from Oregon in the Valero Alamo Bowl. He wasn't afraid to take some shots, and he scrambled for a 28-yard gain, but all in all it was a tough ask for a first-year QB who still had a lot to learn. With David Ash sidelined, Swoopes gets a chance to run the No. 1 offense in the spring game and show how far he has come in 14 practices with Shawn Watson, Texas' new quarterbacks coach. Watson is enthusiastic about the sophomore's future and praises his work as a student of the game, but this is a chance to see how well he can execute with a crowd watching and a No. 1 defense coming after him. Strong says the key to Swoopes' play is confidence and playing within himself. Everyone in attendance on Saturday will want to see if he can do just that.
New-look defense: This is going to be a vanilla ballgame on both sides of the ball. Both coordinators acknowledged that after their final practice Thursday. Why give up the good stuff when any Big 12 opponent can DVR the game on Longhorn Network and pick it apart? Even fiery defensive coordinator Vance Bedford will show restraint. But how he lines this defense up, both in scheme and personnel, will be intriguing. Texas coaches say this will be a multiple defense capable of lining up in 4-3 or 3-4, and you could see a little bit of both on Saturday. No, the defenders can't touch Swoopes. But you better believe Bedford will demand they get after him and put up a fight.
Playmakers on the outside: The hype is building for this Longhorns receiving corps, and their coaches have had nothing but good things to say about a group that must make up for the loss of deep threat Mike Davis. Nobody will be surprised if Marcus Johnson is the breakout player of the spring game. He's a star in the making. Jaxon Shipley, Kendall Sanders, Daje Johnson and Jacorey Warrick are all said to have had a big spring as well, and don't be shocked if you see tight end Geoff Swaim do some things in the passing game after primarily serving as a blocker in 2013.
Rising returnees: A new coaching staff means a clean slate for these Longhorns, and that means a fresh start for players who either weren't playing or were underperforming. The differences will be far more noticeable by August after a long summer of lifting and drills, but there will be some new standouts on Saturday. Guys such as safety Mykkele Thompson, offensive guard Taylor Doyle and linebacker Tim Cole have made an impression on the new staff and could do so again this weekend. Or perhaps it'll be someone nobody else is talking about, like how Duke Thomas caught everyone's eyes last year.
New sheriff in town: It's going to be a little strange to see someone other than Mack Brown on that sideline, isn't it? You know plenty of Texas fans will have their eyes on Strong for a glimpse of how he operates in a game setting and what he bring to the Texas sideline. You know the 100-plus recruits in attendance will care about that, too. For all the talk about how Strong is a stern coach out to lay down the law and whip the Longhorns into shape, let's see him have a little fun on Saturday.
March, 14, 2014
3/14/14
9:00
AM ET
This week, we're taking a closer look at the members of the new Texas coaching staff under Charlie Strong. The fifth and final part of our two-a-days series focuses on two critical coaches who should not go underappreciated, as well as how they complete the staff.
Bruce Chambers
Tight ends
There is real value in continuity amid a flurry of change. That idea can get easily lost as fans fantasize about their program assembling the best all-star staff money can buy.
[+] Enlarge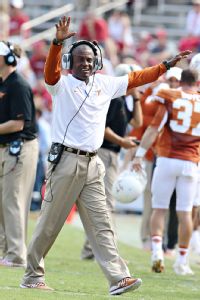 Matthew Emmons/USA TODAY SportsBruce Chambers is a holdover from Mack Brown's staff.
For Strong, bringing back the veteran Chambers for his 17th season with the program was his way of bridging the gap between coaching staffs and maintaining some consistency.
That move proved especially important in January, when Chambers escorted Strong on his first recruiting tour of the critical Dallas-Fort Worth area high schools.
"I love going with Bruce Chambers," Strong said, "because I meet so many people, I can't remember them all. He has me all over that city."
Chambers joined Mack Brown's first staff in 1998 and has been a Longhorn ever since, spending the past 12 years as the tight ends coach. The transition to the Strong regime hasn't been stressful, he said, because he already knew several of the new assistants from his time in the business.
"It's been smooth, it really has been," Chambers said. "It hasn't been hard at all. You just go back to work."
During Chambers' time on the road recruiting with Strong, the two quickly figured out they'd met before on the trail.
"One of the things I learned about him, and was reminded by him, is that when I was a high school coach he actually recruited three of my players," Chambers said. "He actually came into the high school and I met him then. But we hit it off really well, had a good time in Dallas."
As much as Chambers can help the next staff get familiar with last year's game tape and this year's roster, he's doing some learning this spring, too. He's offering his input on the creation of Texas' new offensive scheme and likes where the playbook is heading.
"It reminds me a lot of when I first got to Texas with Greg Davis," Chambers said. "It reminds me a lot of that feel. I think it's an offense that's big-play yet it can grind it out. I think it's a very, very balanced offense and a fun offense. I think the guys will enjoy playing in it and the fans will enjoy watching it."
The start of Brown's regime was exciting times for Chambers. These past few months have brought back similar feelings. He's doing the same job he's had for a long time, but the task of starting over is off to a good start.
Pat Moorer
Head strength and conditioning coach
The new leader of Texas' strength program comes from Louisville and was one of the first coaches Strong brought with him to the 40 Acres. He's revered for the transformative effect he had on the Cardinals' program, overseeing gains in strength, speed and a major overhaul in accountability.
"We have the best strength coach in the country in Pat Moorer," defensive coordinator Vance Bedford said. "You're going to see these guys, the bodies are going to change, they're going to look totally different. Their attitude is going to be totally different."
Moorer has run Texas' offseason program this winter and probably knows the Longhorn players far better than Strong and his assistants at this point. He'll be an omnipresent part of the program, and if you want to play you better exceed his standards.
He's also the bad cop of this operation, the no-nonsense disciplinarian. The last person a Texas player in trouble wants to see is Moorer.
"If you've made it to Coach Moorer," linebackers coach Brian Jean-Mary said, "that probably means you've had a bad experience. And it's probably going to be worse. After Pat's done with you, you're going to feel like that wasn't the best of decisions."
The former Florida linebacker earned SEC Freshman of the Year in 1986 and used to serve as Emmitt Smith's personal trainer. Moorer spent 11 years at South Carolina before joining Strong's staff at Louisville and achieved his master strength and conditioning coach certification, the highest honor of his profession, in 2006.
Jean-Mary knows from their time together at Louisville that Moorer is an invaluable extension of the staff, and the coach who spends more time with players than anyone else.
And what makes Moorer so effective, he says, is the fact he cares about a lot more than just how much the players are benching and squatting. This is truly a holistic process.
"I think Pat and Charlie are cut from the same cloth," Jean-Mary said. "They want to work on the total person, not just the bigger, faster, strong and looking the part on the field. He works so much more on the leadership aspect, the communication aspect with other students and faculty members outside of the football program. The community work.
"He really wants them to be the total person. He really tries to bring out the maturity level."
Getting the full buy-in from Longhorn players is critical this offseason, and those who can't keep up with Moorer's style might not last long. The ones who go all-in should look a lot different by August.
March, 12, 2014
3/12/14
9:00
AM ET
This week, we're taking a closer look at the members of the new Texas coaching staff under Charlie Strong. The third part of our two-a-days series focuses on two defensive coaches who followed Strong from Louisville, and what they'll bring to their respective position groups.
Vance Bedford
Defensive coordinator/secondary
When Duane Akina announced in January that he wasn't returning for a 14th season at Texas, the response from Longhorns fans and ex-players was understandable disappointment. He was, after all, the coach who helped make Texas "DBU." Akina, who's now coaching at Stanford, embraced that tradition like nobody else.
But when it comes to pride and passion for Longhorns defense backs, Bedford might be the perfect successor. He played cornerback at UT from 1977-81 and developed into a starter and a captain.
Get Bedford talking about Texas' legacy in the secondary and he'll go full-on historian, even mentioning that he caught up with two former "DBU" members -- Johnnie Johnson and William Graham -- while recruiting their sons at a recent junior day.
"'DBU' started with those guys. Raymond Clayborn, Johnnie Johnson, William Graham, Derrick Hatchett, Glenn Blackwood, Ricky Churchman, that's when it started," Bedford said. "Fred Akers came here and turned things around, said we're going to play man-to-man, and almost every guy I played with went to the NFL.
Jerry Gray
, Mossy Cade, Craig Curry, Fred Acorn, Jitter Fields; the list goes on and on and on."
Mack Brown and Akina kept it going, producing 14 All-Big 12 defensive backs and 11 who played in the NFL last season. They made sure today's players knew and respected those DBs who came before them.
Bedford intends to keep that tradition going. This means an awful lot to him.
"We're not just 'DBU,'" he said. "We want to make it Linebacker U and D-Line U, whatever it takes to get the best players in the state of Texas to come here and get this program back to the top where it belongs."
He felt like he'd won the lottery when he found out he was coming home to Texas, and it's easy to see Bedford is excited about selling and signing the next generation of Texas defensive backs.
"This is
the
place to live in the state of Texas, just like this university is the best university in this state," Bedford said. "Why would you not want to live in Austin, Texas, and go to the University of Texas? I just don't know who would do something else."
Brian Jean-Mary
Linebackers/recruiting coordinator
Believe it or not, Jean-Mary has more ties to the state of Texas than even he might've realized.
He played linebacker at Appalachian State for the legendary Jerry Moore, a Texas native who played at Baylor and was head coach at Texas Tech.
His defensive coordinator there was Ruffin McNeill, who went on to coach at Texas Tech for 10 years before becoming head coach at ECU. Jean-Mary's position coach when he arrived at App State was George Edwards, who later coached linebackers for the
Dallas Cowboys
and is now the Vikings' defensive coordinator.
And his roommate and best friend during those college years?
Dexter Coakley
, the future three-time Pro Bowler for the Cowboys.
So, yes, he's picked up some knowledge about this state along the way thanks to those friendships.
"It almost feels like I was born and raised here," Jean-Mary said.
A self-described college football junkie, Jean-Mary said following Strong and Bedford to Texas was a no-brainer because he understood the magnitude of coming to a program like this one.
He's proud of what he accomplished in four years at Louisville. Jean-Mary knows he left a program that's build to succeed in 2014 and beyond. But coaching at Texas -- and staying with Strong -- was too good to turn down.
"At the end of the day, you only get so many opportunities to really coach at a tradition-rich school like this and feel like you can take your next step in your career as an individual coach, but also helping a team take the next step as a program," he said.
Jean-Mary inherits a group of linebackers that could return every contributor from 2013, though five of those players --
Jordan Hicks
,
Steve Edmond
,
Dalton Santos
,
Tevin Jackson
and
Timothy Cole
-- are recovering from injuries. He likes this group's potential and depth once everyone gets healthy, and his expectations are simple.
"We all come from the same school of defense: We want to have smart, tough and dependable guys," Jean-Mary said. "We're not going to be too complex, but we do want to have guys who can handle different situations."
And whatever situations Jean-Mary finds himself in at Texas, he's glad he has more than few Texans he can call for advice.
March, 11, 2014
3/11/14
9:00
AM ET
This week, we're taking a closer look at the members of the new Texas coaching staff under Charlie Strong. The second part of our two-a-days series focuses on two new hires on the offensive staff and what they'll bring to their respective position groups.
Tommie Robinson
Running backs
Robinson won't tell this story to his new Texas running backs, but it's one
Malcolm Brown
,
Johnathan Gray
,
Joe Bergeron
and the rest of the gang ought to know.
[+] Enlarge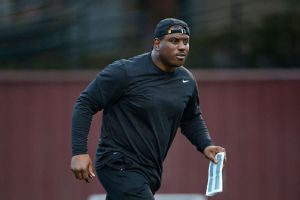 Kirby Lee/USA TODAY SportsNew Texas running backs coach Tommie Robinson wants to start fresh and encourage open competition.
Their new position coach is taking a different approach to planning for 2014. Robinson is not watching film of his running backs: He doesn't need to.
"I don't know what to expect because, on purpose, I didn't study them at all," Robinson said. "I didn't want to study them on tape. I want to go out and see these guys perform."
He's chatted with former running backs coach Larry Porter, but Robinson isn't interested in analyzing what his players have done in the past. He wants a clean slate, a fresh start. He has a good reason why.
When Robinson arrived at USC last year, leaving his NFL gig with the Arizona Cardinals to return to the college game, he knew the expectations. Penn State transfer
Silas Redd
led the Trojans in rushing in 2012, and they'd signed ESPN 300 backs
Justin Davis
and
Ty Isaac
. Those were the options.
Robinson didn't watch the film. He didn't want any biases. He kept the competition going and used five different backs last fall. The standout of the group was a surprise:
Javorius Allen
.
When Robinson first joined the program, he says he was told he didn't need to worry about Allen. The staff didn't think the sophomore, a former ESPN 150 recruit with six career carries, would amount to much.
"They didn't want him around, wanted to let him go," Robinson said. "I learned a very valuable lesson: Had I listened to what I was told, that kid would've never got a chance to play football at USC. But I didn't listen to what I was told about him. I wanted to formulate my own opinion about the kid, and the kid ended up leading us in rushing.
"This is a kid that wasn't supposed to be on the team, that I was told, 'Don't worry about him, he won't amount to anything,' and he ended up leading the team in rushing. So who knows?"
That's why, when Texas begins spring practice next week, Robinson intends to treat his rushers like true freshmen. They'll have to convince him they're his best option.
"I've made that point crystal clear," Robinson said. "Everybody has an opportunity."
Les Koenning
Wide receivers
Koenning and Vance Bedford both arrived at the University of Texas in 1977. They could tell you all sorts of stories about their college days, but they won't.
"They might be R-rated," Bedford said. "We had our day in the sun. It's amazing some of the things we did, that we're still here today. That's all I can tell you."
No doubt Koenning has done plenty of reminiscing during his first two months back on campus since joining Charlie Strong's coaching staff. After more than three decades coaching elsewhere, this is his homecoming.
"The one thing that's been really nice for myself is to come back and see what it's like, having the opportunity to play in the stadium, going back through campus," Koenning said. "Things have changed a little bit since I was last here. It's gotten a lot nicer."
Koenning's 33-year career has seen him make stops at Alabama, Louisiana-Lafayette, Mississippi State, Rice, Duke, Texas A&M, the Miami Dolphins, back to Duke, Houston, TCU, back to Alabama, back to A&M, South Alabama and Mississippi State. Finally, the road led him back to Austin.
You won't get him to talk badly about his time at Texas A&M, Alabama or anywhere else. Koenning says he's been fortunate throughout and given the chance to coach at some great programs.
Getting back to Texas, at a time when the program is in transition and in need of coaches with Longhorns roots, was too good an opportunity to pass up.
"I'm excited about it, and I think also the opportunity to come with Coach Strong is really nice," Koenning said. "His background and what he's done in the past has been really impressive to me. It's an opportunity to win."
The son of a longtime Texas high school football coach, Koenning hit the road to recruit right when he was hired and ran into folks he knew all over the place. He's looking forward to recruiting a state he knows well alongside coaches he trusts.
His offenses at Alabama and Mississippi State faced Strong's South Carolina and Florida defenses. He knows what Texas is getting in its new head man, and Bedford is happy to vouch for what Koenning brings to the group.
"He's one of the most competitive guys I've ever known," Bedford said. "You watched him as a player, and the same tenacity you saw as a player, you see as a coach. He's going to get the best out of his players."
March, 7, 2014
3/07/14
11:00
AM ET
AUSTIN, Texas -- If Charlie Strong is a freight train barreling down a straight line at full speed, Vance Bedford likens himself to a roller coaster.
Don't like that metaphor? No worries, that's one of many. Engage the new Texas defensive coordinator in an extended conversation and you're likely to hear all sorts of comparisons, boasts and tales.
Here's another: Bedford's reasoning for why his high-energy personality blends so well with Strong's even-keeled approach on a coaching staff.
[+] Enlarge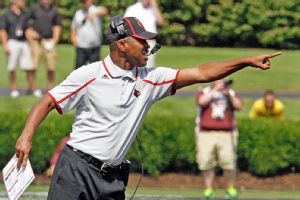 AP Photo/Garry JonesNew Texas defensive coordinator Vance Bedford wants to arrive at a ccheme that will allow his guys to play fast.
"If you were making a cake, you don't want all eggs, do you?" Bedford said. "All you're going to make is scrambled eggs. If you want a cake, you want flour, sugar, you want baking soda in there.
"Now, if you want a German chocolate cake, you put German chocolate in there. Now you've got a good mixture. You look at a coaching staff, everybody can't be the same."
Maybe that makes Bedford the sugar. Or is he the coconut-pecan frosting? He isn't vanilla, that's for sure.
Set aside the antics and anecdotes and restaurant recs -- he likes the St. Louis ribs and creamed corn at Rudy's -- and you get an unmistakably passionate coach who's serious about restoring the glory of his alma mater.
This is a dream-come-true opportunity for Bedford, a defensive back for the Longhorns from 1977-81. For as much as he loved what he'd helped build at Louisville, coming home was easy.
"The wind blew and I was here," Bedford said. "It was a no-brainer for me."
This is his big moment, but nothing Bedford does at Texas will be a one-man job. He'll help Chris Vaughn oversee the secondary while also staying involved with Chris Rumph's defensive linemen and Brian Jean-Mary's linebackers.
As for the involvement of the head coach, himself a defensive guru, Bedford doesn't just ask for Strong's input – he demands it. This is their seventh year coaching together, and that collaboration has brought big results.
"He's one of the best defensive coordinators in the country with two national championships. Why would you not want him to be part of everything that you do? Of all the game-planning that you do?" Bedford said. "I think that is important. He has great suggestions because the biggest thing that he believes in is keeping it simple. So do I, so we get along just fine. If it is simple, they can play fast. If they play fast, you have a chance to win a lot of games."
He holds up the record at Louisville -- the 22 wins in their last 25 games -- as proof this process can work at Texas. And if you want to dismiss those results by saying the Cardinals didn't play anyone, Bedford offers a suggestion: Ask Florida and Miami about that.
Bedford is Texas' third defensive coordinator in six months, and he and Strong intend to ask things of this group that their predecessors did not. Chief among those changes: Texas will experiment with both the 4-3 and 3-4 base defenses this spring. The personnel will dictate the plan.
"Then we'll configure, and that's the beauty of the defense," said Rumph, who previously coached a 3-4, two-gap scheme at Alabama. "We want those guys to line up, get their cleats in the ground and play fast."
No matter the scheme, Longhorns defenders are about to learn a thing or two about Bedford's infectious attitude.
He's wearing his T-Ring from his college days again and can fire off stories about playing with the likes of Earl Campbell, Johnnie Johnson, Kenneth Sims and Russell Erxleben. Bedford had visited Austin just once since 1984 -- last year, in fact -- but this was always where he wanted to coach.
What can he achieve in Year 1 against these Big 12 offenses? Bedford sees no reason not to be optimistic. He says Mack Brown could have won the league last year if not for injuries, that this program is in far better shape than some might fear.
And nothing would bring Bedford more pride than helping Texas get back where he knows the program belongs.
"We've just got to continue to take it to the next step, to the new millennium," he said. "Things have changed, kids have changed, and we've got to adjust to the change and hopefully we can do some of the things [Brown] did and get this place back to national championship contenders."
February, 6, 2014
2/06/14
10:00
AM ET
AUSTIN, Texas -- National signing day wasn't yet over, but that didn't stop Texas defensive coordinator Vance Bedford from calling his shot.
"Next year, 2015, we're coming and we're coming to get everybody," Bedford told Longhorn Network.
Texas has a lot of catching up to do for that boast to prove true.
Charlie Strong, Bedford and the rest of the staff inherited a tricky situation when they arrived in Austin. The staff was completed just one day before the dead period ended. They hit the recruiting trail hard, but their focus had to be on keeping Texas' committed recruits on board.
On that front, they survived and succeeded. Texas held onto 17 of its prior pledges and inked six more. The last-second scramble is finally finished, and Strong likes how the Longhorns fared when it was all over.
[+] Enlarge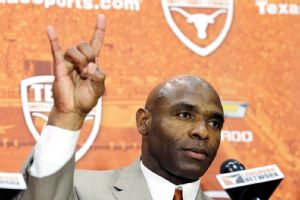 AP Photo/Eric GayCharlie Strong and the Texas coaching staff have to jump into 2015 recruiting immediately, as the Longhorns have a junior day scheduled in two weeks.
"It's been a very intense couple of weeks," Strong said Wednesday, "and what we were able to do as a staff was, we wanted to keep this class together. And it was an outstanding class."
The next challenge begins immediately: Get rolling with the Class of 2015.
To appreciate what they're up against, keep this in mind: Has recruiting the state of Texas ever been more challenging than it is right now?
Texas A&M and Baylor are thriving. Texas Tech and TCU are on the way back up. Those four programs are already ahead of the game in 2015, with a combined 18 early pledges. While Texas was still finishing its official visits, A&M, Baylor and TCU all held junior days on Jan. 26.
And those are just the local threats. Five of Texas' top-eight rated recruits of 2014 signed with out-of-state programs. A total of 19 of the state's top 50 left the state.
"It's hard to try to keep guys in," Strong said, "but you have to go recruit them and not be afraid to go battle those Southeastern Conference teams, whomever they may be."
Texas has six commitments on board for the 2015 class. The previous coaching staff was at one point so far ahead on this class that it held its first-ever sophomore day last spring.
The Longhorns had become the front-runners for more than a dozen of the state's best recruits. Most of those leads have evaporated with the staff change, and understandably so. Both the recruits and the Texas coaches have a lot to learn about each other in the next few months.
Strong, his coaches and his recruiting staffers have 16 days to prepare for their first junior day event. There's plenty of work to be done, and after living on the road for weeks they finally have a reprieve to meet as a staff, identify targets and make progress.
Texas will have a chance to sign more than 25 in next year's class, and perhaps as many as 30. The way Strong sees it, he'd like to stick to his ideals when it comes to filling out the next group.
"You have 25 scholarships to give out. Who are the top 10 players? Let's go get the top 10," he said. "Who are that next 10, or the guys that just fit your needs where you can build around? Because when you get the second 10, you are going to build around those. You take the other five and see if there is a late bloomer out there. There is going to be someone out there that isn't going to make an early decision. Let's make sure we save a scholarship there."
Remember, Texas has a chance to capitalize off a common recruiting phenomenon in the next 12 months: The first-year bump.
Tennessee finished with the nation's No. 5 class on Wednesday following Butch Jones' first season in Knoxville. Ole Miss did the exact same thing last year under Hugh Freeze.
Texas A&M and Ohio State locked up top-10 classes under new coaches in 2013. Heck, Kentucky lost 10 games and still inked a top-20 class.
These are relatively subjective standards, of course, but the ranking isn't the point. These first-year boons happen because a new coach and his staff can sell the future.
Kids want to play for programs on the rise. They buy into the hype and hope. And Strong is ready to start selling.
"I love recruiting," Strong said. "You know the reason why? You have a chance to not only sell your program and sell your university, but you get a chance to build a relationship. And you go out and meet more people. That's the fun part about recruiting, because the players are going to be who they are and then you just try to figure out what they are all about and what their goals are."
Strong has already revealed his goals. He wants the Longhorns to own this state again. His quest to change the game starts now.
January, 21, 2014
1/21/14
12:00
PM ET
January, 16, 2014
1/16/14
10:00
AM ET
AUSTIN, Texas -- Charlie Strong says he had a fairly good idea of what he wanted from his Texas coaching staff before the hunt began.
[+] Enlarge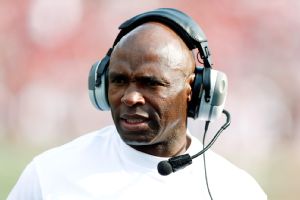 Joe Robbins/Getty ImagesNew Texas coach Charlie Strong has put together an experienced staff he's familiar with.
He wanted coaches he knew and coaches who know the state of Texas.
The staff Strong unveiled on Wednesday appears to have a good helping of both.
Ten days into the job, his staff is finally assembled, and he will hit the road on Thursday to begin selling a school the staff has barely had time to visit.
Strong had to stifle a laugh when asked if he was starting to settle in at Texas. It hasn't been easy. Not after all the work he had to put into interviewing coaches and piecing together a staff that met his standards.
He believes he's found a group that can get Texas back to its championship standard, and more importantly, he thinks these are the guys UT needs off the field.
"This is a staff that we know what it is all about," Strong said. "We are teachers, we're role models, we're going to motivate and lead. Just a staff that are family men, and you want that with the players.
"Because you want the players to look at a coach and say how, someday, if they don't end up being an engineer or a doctor but could go and be a coach, [they would] emulate the man standing right there in front of me. I am just so happy that we are aboard and finally completed it."
It's a group that touts a combined 232 years of coaching experience and, at least on paper, has a good deal of familiarity both with each other and with this state.
Strong hired four coaches he'd worked with in offensive coordinator Joe Wickline, defensive coordinator Vance Bedford, quarterbacks coach Shawn Watson and linebackers coach Brian Jean-Mary.
He hired four assistants who have coached college football in this state: Bedford, receivers coach Les Koenning, running backs coach Tommie Robinson and retained tight ends coach Bruce Chambers.
And he hired guys he'd recruited against in the past, coaches whose passion he respected in defensive line coach Chris Rumph and defensive backs coach Chris Vaughn.
And don't forget the 10th man, the one he considers just as valuable -- if not more so -- than the rest: Strength and conditioning coach Pat Moorer, who followed him from Louisville and is already putting his new players to the test with workouts this week.
All in all, it's a haul that has industry experts impressed. Is this the blank-check dream team that Texas fans envisioned when Strong took the job? No, maybe not. But he's found puzzle pieces that, thanks to all the familiarity, ought to fit together well and do so quickly.
Those fans fantasized about reeling in a big fish for an offensive coordinator, no doubt Strong's most important hire of the nine. They wanted Strong to swing for the fences with someone like Clemson's Chad Morris or Ohio State's Tom Herman.
They might not realize what they've got in Wickline, one of the nation's top offensive line coaches at Oklahoma State. He and Strong were grad assistants together at Florida in 1983 and met again in Gainesville from 2002 to 2004. He knew he was handing the keys to his offense to an underappreciated gem.
"Guys pay their dues, and guys have been around great systems, and if you look at the system he has been around at Oklahoma State for nine years, they have moved the ball very well on offense," Strong said. "When the guys have put in their time, it's like me: I have put in my time and want to be rewarded. So he has put in his time, and he is being rewarded."
What sold him on Wickline, and so many other members of the new staff, was a mandatory trait: Toughness. His offenses and players played. Strong is surrounding himself with hard-nosed leaders because that's what Texas needs right now.
Just as this group comes together, it's time to split up again. The new Longhorns coaches begin their recruiting quest on Thursday, and they've got plenty of catching up to do on that front.
Over the next few weeks, Strong will find out just what kind of recruiters he's hired. And then the real job -- putting the pieces back together at Texas -- will begin.
It's a familiar challenge for Strong. To pull this off, he's surrounded himself with familiar allies.
"I told them right from the start that this is going to be a coaching staff with no egos," Strong said. "We are here to work together, and it is all about success. We are here to win and whatever we have to do to go win a football game, that is what we have to do."
January, 15, 2014
1/15/14
5:30
PM ET
New Texas head coach Charlie Strong completed and announced his coaching staff on Wednesday. A closer look at who will join him in his first season of leading the Longhorns:

Offensive coordinator/offensive line: Joe Wickline
Age: 55 Alma mater: Florida
Previously: Oklahoma State offensive line coach
Past stops: Florida, Middle Tennessee State, Baylor, Southwest Mississippi C.C., Pearl River C.C., Ole Miss, Delta State, Tennessee
Coached up: Oklahoma State T Russell Okung, Oklahoma State OT Levy Adcock, Florida OT Max Starks
Stat: During Wickline's nine seasons at OSU, the Cowboys averaged 37.7 points per game, which ranked third-best in FBS behind Oregon and Boise State.
In short: The longtime Oklahoma State assistant is considered one of the nation's best line coaches and was a significant steal for Strong's first staff. He inherits plenty of young talent up front.

Assistant head coach/quarterbacks: Shawn Watson
Age: 54 Alma mater: Southern Illinois
Previously: Louisville offensive coordinator/quarterbacks coach
Past stops: Nebraska, Colorado, Northwestern, Southern Illinois, Miami (Ohio), Illinois
Coached up: Louisville QB Teddy Bridgewater, Nebraska QB Taylor Martinez, Colorado QB Joel Klatt
Stat: Bridgewater ranked No. 3 in FBS in raw QBR during the 2013 season at 84.5.
In short: Texas is getting an offensive mind that Strong trusts and who proved, with his coaching of Bridgewater, that he has what the Longhorns desperately need: The ability to develop a quarterback.

Running backs: Tommie Robinson
Age: 50 Alma mater: Troy State
Previously: USC pass game coordinator/running backs coach
Past stops: Arizona Cardinals, Miami, Memphis, Georgia Tech, Oklahoma State, Dallas Cowboys, TCU, Utah State, Arkansas
Coached up: Cowboys WR Michael Irvin, Cardinals RB Beanie Wells, Oklahoma State RB Tatum Bell
Stat: Four USC running backs combined for 2,225 rushing yards in 2013, with two surpassing 700 yards.
In short: Robinson comes to Austin after a year at Southern Cal, where he was a respected recruiter and position coach with a wide range of experience.

Receivers: Les Koenning
Age: 54 Alma mater: Texas
Previously: Mississippi State offensive coordinator/quarterbacks coach
Past stops: South Alabama, Texas A&M, Alabama, TCU, Houston, Duke, Miami Dolphins, Rice, Louisiana-Lafayette
Coached up: Texas A&M QB Stephen McGee, Texas A&M QB Reggie McNeal, Texas A&M WR Albert Connell
Stat: Mississippi State's offense set school records for passing yards, total yards and completion percentage in 2013.
In short: Koenning has coached all over Texas and is leaving an SEC coordinator job to return home. Strong needed assistants with ties to this state and Koenning is plenty of that.

Tight ends: Bruce Chambers
Alma mater: North Texas
Previously: Same role
Past stops: Dallas Carter High School
Coached up: Texas RB Ricky Williams, Texas TE Jermichael Finley, Texas RB Cedric Benson
Stat: Texas tight ends Geoff Swaim and Greg Daniels combined for six receptions last season.
In short: The only assistant retained from Mack Brown's staff, Chambers has been at Texas since 1998 and can help with this staff transition, especially in recruiting.

Defensive coordinator/secondary: Vance Bedford
Age: 55 Alma mater: Texas
Previously: Louisville defensive coordinator/secondary coach
Past stops: Florida, Oklahoma State, Chicago Bears, Michigan, Colorado State, Navarro J.C.
Coached up: Michigan CB Charles Woodson, Florida CB Joe Haden, Louisville DE Marcus Smith
Stat: Since the start of the 2012 season, the Cardinal defense ranks No. 4 in FBS in total defense and No. 5 in pass defense.
In short: Strong brought Bedford with him to Austin, and the former Longhorn defensive back brings a lot to the table. Known for being fiery and passionate in his time at Louisville.

Assistant head coach/defensive line: Chris Rumph
Age: 42 Alma mater: South Carolina
Previously: Alabama defensive line coach
Past stops: Clemson, Memphis, South Carolina State
Coached up: Clemson DE Da'Quan Bowers, Clemson DE Gaines Adams, Alabama DT Jesse Williams
Stat: In his stints at Clemson and Alabama, Rumph coached at least nine NFL Draft picks.
In short: Like Wickline, Rumph is considered one of the best of the best at what he does. Doesn't have much experience in Texas but does have a history of signing and developing elite linemen.

Linebackers/recruiting coordinator: Brian Jean-Mary
Age: 38 Alma mater: Appalachian State
Previously: Louisville linebackers coach
Past stops: Georgia Tech, North Alabama, South Carolina
Coached up: Georgia Tech LB Phillip Wheeler, Louisville LB Preston Brown, Georgia Tech LB Gerris Wilkinson
Stat: Under Jean-Mary's tutelage, Brown recorded 301 career tackles and twice earned all-conference honors.
In short: Jean-Mary was assistant head coach of the Louisville defense and followed Bedford and Strong. He'll be Texas' third linebackers coach in the past 12 months.

Defensive backs/special teams: Chris Vaughn
Age: 37 Alma mater: Murray State
Previously: Memphis cornerbacks coach
Past stops: Ole Miss, Arkansas
Coached up: Ole Miss CB Marshay Green, Ole Miss CB Cassius Vaughn, Arkansas LB Tony Bua
Stat: At Memphis, Vaughn inherited the second-worst pass defense in FBS in 2011. In his two seasons, the Tigers ranked 26th-best in the country in yards per completion allowed.
In short: The youngest member of the new staff, Vaughn already has eight years as an SEC recruiting coordinator on his resume.
Texas Longhorns Show Out On Pro Day
BIG 12 SCOREBOARD
Thursday, 9/3
Friday, 9/4
Saturday, 9/5