Texas Longhorns:

UT Season Deciders
August, 23, 2013
8/23/13
4:30
PM ET
This week we took a closer look at five Longhorns --
David Ash
,
Jackson Jeffcoat
,
Johnathan Gray
,
Mike Davis
and
Jordan Hicks
-- who are poised to change the course of the 2013 team.
Any list of that nature is bound to change plenty a week, a month and a season from now. There was no way of predicting Jeffcoat and Hicks would suffer season-ending injuries last year, and Gray was Texas' No. 3 back to start the 2012 campaign.
[+] Enlarge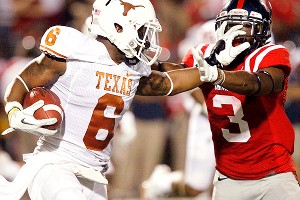 AP Photo/Rogelio V. SolisQuandre Diggs led the Longhorns with four interceptions in 2012.
So with that in mind, here are five Longhorns worth keeping an eye on. They might not have the big names of those aforementioned five, but their contributions could be critical to making Texas a Big 12 championship-caliber team. Lots of guys nearly made the cut, but we'll be watching these five closely.
1. CB Quandre Diggs
Diggs has All-Big 12 potential, there's no doubt about that. We're about to find out if he's All-America good. Diggs has started 23 consecutive games for the Longhorns and led the team in interceptions and pass breakups last season. He was tested by Big 12 passing attacks and won more battles than he lost in 2012, but he can be even better. He'll play multiple roles in the secondary and could be the Swiss Army knife-type defender Kenny Vaccaro became last fall.
2. LB Steve Edmond
Edmond was hyped up as the real deal entering last season. Once Texas got into Big 12 play, he struggled. He seems far better prepared entering his junior season and has been universally praised by coaches and players throughout fall camp. He's one of the keys to the Longhorns repairing their run defense and could finish as the team's leading tackler. A big season from Edmond would answer a major question mark on this defense.
3. OG Mason Walters
One of the most experienced offensive linemen in the country, Walters has started 38 consecutive games and is a leader in the locker room but has never earned better than second-team All-Big 12 honors. He can take the next step and prove he's an NFL-caliber lineman this fall. If his play over the course of the season becomes truly great, don't be surprised if the rest of the line thrives, too.
4. DT Malcom Brown
Expectations for Brown have been high since the day he set foot on campus. Texas will rotate its four defensive tackles, but it's time for Brown to take over a starting gig and hold it down for three years. Few players in the program have more raw talent. Hard to believe he isn't in for a lot more than the two tackles for loss he contributed as a true freshman.
5. S Mykkele Thompson
A surprise pick, yes, but Thompson really is one of the great unknown commodities on the Texas defense. He has to be a better tackler in 2013 and play with more confidence. He recorded no interceptions and one pass breakup. Texas coaches trust him enough to keep him in the starting lineup and believe he'll be a different player as a junior. He has made progress, and the Texas secondary can't play up to its potential without more.
August, 20, 2013
8/20/13
2:00
PM ET
This is the second of a five-part series on Texas players with the potential to change the course of the Longhorns' 2013 season. The No. 4 player on this year's list: Senior wide receiver Mike Davis.
AUSTIN, Texas --
Mike Davis
doesn't usually get talked up as one of the best wide receivers in Texas history. Statistically, he will be.
[+] Enlarge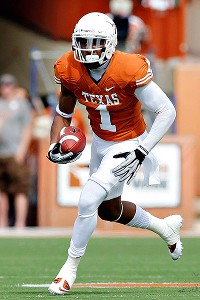 Brett Davis/USA TODAY SportsMike Davis could end his Texas career ranked among the school's all-time best wide receivers.
You don't need to dive into the record books to know the Longhorns haven't historically been known for big-time receivers. Jordan Shipley and Roy Williams sit comfortably atop most of the school's career stat lists.
But Davis, entering his fourth and final season as a starter, has a chance to join them. He only needs 64 receptions and 1,006 receiving yards this fall to vault to No. 3 on both all-time lists at Texas.
Considering Texas is converting to an up-tempo offense with more receivers on the field and more plays per game, neither feat is impossible for the wideout who likes to call himself "Magic."
"I have goals for myself," Davis said. "I think it's about helping the team win. It's not really about me. I think about the team and getting everything done and winning all the games."
Davis is as explosive a receiver as the Big 12 has to offer this year. On his seven touchdown catches last season, he averaged 41.1 yards per reception. Among wideouts with more than five scores, only Baylor's
Tevin Reese
(51.2) can top that average.
And when you get the ball in Davis' hands, it usually means instant offense. More than half of his receptions in 2012 went for first downs, and Texas ended its offensive drive with a score on 42 of his 57 catches.
He enjoyed big moments as a junior -- the game-saving catch vs. Oklahoma State, his stiff arm-and-score at Ole Miss, the long-ball scores to knock off Texas Tech -- and put up big numbers. How good can Davis be in 2013?
On Jan. 10, after telling teammates at the Alamo Bowl that he wasn't going anywhere, Davis declared he was entering the NFL draft. He changed his mind later that day, but the move was still a bit stunning at the time.
Davis just wanted to test the draft waters. He's that serious about his NFL future. Coming back for one more year provides him an opportunity to take the next step and become one of the nation's best at his position.
Even when he sat out the first week of practices, Davis found other ways to help. He's becoming more of a mentor to Texas' freshman and sophomore wideouts and frequently pulled them aside in the first days of practice to talk route-running technique.
"I'm a senior, so I'm kind of like a coach too," Davis said. "When I was out, I loved working with them. They listen, so it makes it better for me. When they're out there making plays and having fun and doing everything right, it makes me proud of myself."
Quietly, he's become one of the Longhorns' more respected veterans. He'll continue to guide
Kendall Sanders
,
Daje Johnson
,
Marcus Johnson
and the rest of the young wideouts entrusted to complement Davis and
Jaxon Shipley
.
Shipley might be considered more of the go-to receiver of the duo, but it's Davis who got more targets in the passing game with 86 last fall. He knows he won't catch defenses by surprise anymore, but that's not a problem as long as he's still outrunning corners and safeties.
Davis did think about going pro a year early. But there was just too much unfinished business he had to take care of first.
"I look at that like, I've got plays left on the field that have got to be made, wins that I want," Davis said. "I just want to win them all, when it all comes down to it. I feel like I owe the school that and coach Brown, coaches, players, the city and the fans."
August, 19, 2013
8/19/13
1:00
AM ET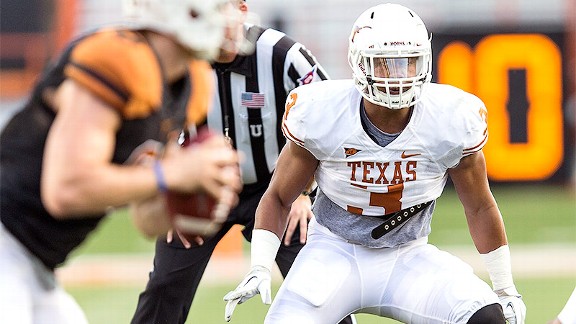 Cal Sport Media via AP ImagesJordan Hicks missed most of last season, watching as his teammates struggled.
This is the first of a five-part series on Texas players with the potential to change the course of the Longhorns' 2013 season. The No. 5 player on this year's list: Junior linebacker Jordan Hicks.
AUSTIN, Texas -- The truth is,
Jordan Hicks
was not really at fault. The problem was the timing.
The Texas linebacker went down against Ole Miss on Sept. 15 with a hip injury that was expected to keep him out a few weeks. He missed the rest of the season, but the impact of his injury was felt immediately.
Just look back at that schedule: Oklahoma State. West Virginia. Oklahoma. Baylor. And, yes, even Kansas.
The Texas defense was as bad -- particularly against the run -- as Hicks or anyone else could've feared in those first five games after he hit the sidelines and never came back.
He was sure he'd return at some point. The uncertainty of it all only made watching worse.
"I fully expected to come back," Hicks said. "That was a tough deal. It was really hard to be out, watching my team out there battling. I wanted to be out there battling with them. That's in the past. We're moving forward, and I think we're in a good direction."
Look back on his absence, though, and the raw data is still a little hard to believe.
[+] Enlarge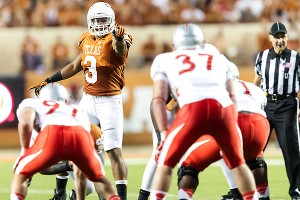 Tim Warner/Icon SMIAgainst New Mexico in his last full game last season, Jordan Hicks made nine tackles, four unassisted.
Those first four games to open Big 12 play came against some of the most prolific offenses in the country. Against them, Texas gave up 2,320 total yards, 1,065 rushing yards, 8.84 yards per attempt and 6.02 yards per carry. Foes picked up 109 first downs and went 9-for-9 on fourth-down conversions. The Longhorns couldn't stop the run and couldn't get off the field.
Lump in the near-debacle in Lawrence, Kan., and another defensive stat becomes striking: Explosive rushes.
There's no disputing the Texas run defense was weakened without Hicks anchoring an inexperienced linebacker unit. In those first five games without him, the Longhorns were plenty vulnerable to big plays in the run game.
Texas gave up 34 rushing plays of 12 or more yards during that stretch, including 18 rushes of 20-plus. In the entire 2011 season, Texas opponents produced only 31 such runs. Last season that number rose to a 64, seventh-worst in the nation.
Perhaps it's no surprise, then, that Texas ended up giving up twice as many rushing yards in 2012 as in 2011. Hicks wasn't going to stop all those big runs by himself. The problems were far more systemic.
At the very least, his return should more than solidify a group of linebackers that saw seven players make starts last season. When the Big 12 slate hits and Texas finds itself playing more nickel, he'll be one of the two linebackers patrolling the second level.
"I feel better than I have in a long time," Hicks said. "I feel like I'm moving well and taking better care of my body. I feel great."
He arrived at Texas as the No. 4 ranked recruit in the country, with as much potential as any linebacker the Longhorns have had in years. He earned preseason All-Big 12 honors this summer despite missing every conference game last year.
Yes, the expectations are as high as ever. But that's nothing new for Hicks.
"I think the pressure has always been there. Playing at the University of Texas, you're going to have pressure," he said. "Every single player on this team has pressure. If you let it get to you, it's only going to bog you down. I come out every day trying to get better. That's what I'm focused on."
Texas Longhorns Show Out On Pro Day
BIG 12 SCOREBOARD
Thursday, 9/3
Friday, 9/4
Saturday, 9/5