Texas Longhorns:

UT meet the coaches
March, 14, 2014
3/14/14
10:00
AM ET
AUSTIN, Texas -- Five miles on Monday. Six miles on Tuesday. Then five, six and five to finish out the week.
This is the routine, the ritual, by which Charlie Strong abides: The daily morning jog. He wakes up around 4:30 a.m., laces up his sneakers and hits the pavement.
"I've got my route here," he said. "There's some really good routes around here."
[+] Enlarge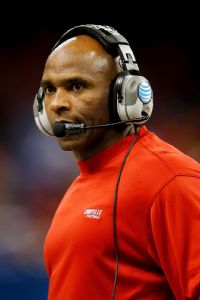 Chris Graythen/Getty ImagesCharlie Strong is getting a fresh start at Texas, but his routine hasn't changed.
Strong likes starting his day with some sweat, and a tradition that holds more importance than simple exercise. This is his little way of managing the hectic demands of being the head coach. This is his escape.
"That's just a way to get my time for myself. I think you need to have time for yourself," Strong said. "I don't like to run with anyone. I'm not gonna run with anyone. I don't want to talk. I just want to run and just let your mind kind of wander, let it go."
On the chaotic mornings and the calm ones, the new leader of the Longhorns gets away from it all. He'd been doing this for years, embracing the calm before the new day's storm.
"It's just a sense of relief, you know, because you're able to do your thinking and put your day together as you go on," he said. "And not only do you think about that, you think about everything else, too."
And that's how he'll continue to start his day as Strong continues to work toward giving Texas football the fresh start it desperately needed.
To appreciate the challenges Strong will face in his first year in burnt orange, understand that the first few honeymoon months haven't exactly been a cakewalk.
Strong had 10 days to assemble his coaching staff. One day after his assistants were all on board, they hit the road to save and salvage the 2014 recruiting class they'd inherited.
"We just tried to keep the class together," he said. "I know a couple might've slipped away from us, but just getting around to the different high schools for two weeks, I went non-stop."
Strong hit Dallas, Abilene, East Texas, Houston, Beaumont, New Orleans and everything in between, racing to meet as many commits as possible and sway a few more to join him in Austin. There was no break after that class signed. Texas had to piece together its plans for the next batch of recruits and host two junior-day events in the weeks that followed.
One month after agreeing to leave Louisville for the bright lights and big opportunities of Texas, Strong was still living out of an on-campus hotel room and spending many of his days in rental cars and planes.
When he was in town, he joked that he'd spend most of his time in a staff conference room. No time to decorate the new office.
This week provided one of his few chances to exhale. Texas begins spring practices on March 18, and the grind to get there hasn't let up. This is a day-by-day process, so you can see why he cares about starting those days off right.
Texas defensive coordinator Vance Bedford witnessed another daily routine during his years of coaching with Strong at Louisville.
"Charlie, every morning at 7 a.m., would call his two daughters and make sure they were up and ready to go to school," Bedford said. "To me, that's saying a whole lot about who he was as a man. He treats the players the same way. I can't say that about a lot of guys I've worked for. He has that same attitude on the football field -- he's going to coach them hard, but he cares about them as young men first."
Getting Longhorns players prepared for their fresh start is just the first of Strong's many challenges in 2014. The transformation is already underway, led by new strength coach Pat Moorer -- another Louisville import -- whose offseason training program is said to be infamously painful.
Meanwhile, Strong's staff has spent weeks putting together their playbook. Plenty still needs to be sorted out in spring ball, most notably the decision on whether a 3-4 or a 4-3 base defense best suits the Texas talent they've inherited.
And there are holes to fill in the lineup, of course, with three longtime starters on the offensive line, a Big 12 Defensive Player of the Year and a consensus All-America kicker/punter all gone.
At quarterback,
David Ash
missed 10 games with concussion issues and won't take any hits in spring practice. He'll need to learn the new scheme and get back to playing his best football quickly, or else landing USC transfer
Max Wittek
this spring is a must.
But that's the easy stuff, the in-house issues that Strong has 15 spring practices and a long summer to address. What should consume just as much of his time is figuring out how to slow down Texas A&M in recruiting and Baylor, Oklahoma and the rest of the Big 12 on the field.
Again, this is just half the job. Strong has to find his comfort zone when it comes to the public demands of his new gig. Mack Brown played the politician better than anyone. That's not exactly the game Strong wants to play.
He says a misconception exists that he doesn't like dealing with media. Truth is, he doesn't mind it. Strong's first few news conferences have exceeded expectations. Still, managing expectations in Year 1 -- with fans, boosters and anyone else bleeding orange -- will get challenging as the year goes on. He's well aware of that.
"I always say this: We're like a political office," Strong said. "You're open to public scrutiny. Everybody's got an answer about your job. Everybody can coach. I'm good with it. I'll give 'em a lesson if they need it, come on over here."
Stack up all those demands, and it's easy to see the pressure, though Strong said last month he isn't sensing it yet. After all, he did sign up for all of this.
"I don't think about it. If you prepare the right way, and preparation is the key, then it relieves all pressure," he said. "That's the key. You have to be prepared. You can't just bounce out there with no agenda, no vision, not knowing what you want to go do.
"Why change? Keep doing what you're doing. Just be yourself and keep doing what you were doing."
Times like these require staying grounded. That's where the daily routines help most. The job isn't easy, but Strong is ready to build Texas back up one day -- and one run -- at a time.
March, 14, 2014
3/14/14
9:00
AM ET
This week, we're taking a closer look at the members of the new Texas coaching staff under Charlie Strong. The fifth and final part of our two-a-days series focuses on two critical coaches who should not go underappreciated, as well as how they complete the staff.
Bruce Chambers
Tight ends
There is real value in continuity amid a flurry of change. That idea can get easily lost as fans fantasize about their program assembling the best all-star staff money can buy.
[+] Enlarge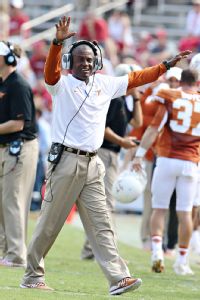 Matthew Emmons/USA TODAY SportsBruce Chambers is a holdover from Mack Brown's staff.
For Strong, bringing back the veteran Chambers for his 17th season with the program was his way of bridging the gap between coaching staffs and maintaining some consistency.
That move proved especially important in January, when Chambers escorted Strong on his first recruiting tour of the critical Dallas-Fort Worth area high schools.
"I love going with Bruce Chambers," Strong said, "because I meet so many people, I can't remember them all. He has me all over that city."
Chambers joined Mack Brown's first staff in 1998 and has been a Longhorn ever since, spending the past 12 years as the tight ends coach. The transition to the Strong regime hasn't been stressful, he said, because he already knew several of the new assistants from his time in the business.
"It's been smooth, it really has been," Chambers said. "It hasn't been hard at all. You just go back to work."
During Chambers' time on the road recruiting with Strong, the two quickly figured out they'd met before on the trail.
"One of the things I learned about him, and was reminded by him, is that when I was a high school coach he actually recruited three of my players," Chambers said. "He actually came into the high school and I met him then. But we hit it off really well, had a good time in Dallas."
As much as Chambers can help the next staff get familiar with last year's game tape and this year's roster, he's doing some learning this spring, too. He's offering his input on the creation of Texas' new offensive scheme and likes where the playbook is heading.
"It reminds me a lot of when I first got to Texas with Greg Davis," Chambers said. "It reminds me a lot of that feel. I think it's an offense that's big-play yet it can grind it out. I think it's a very, very balanced offense and a fun offense. I think the guys will enjoy playing in it and the fans will enjoy watching it."
The start of Brown's regime was exciting times for Chambers. These past few months have brought back similar feelings. He's doing the same job he's had for a long time, but the task of starting over is off to a good start.
Pat Moorer
Head strength and conditioning coach
The new leader of Texas' strength program comes from Louisville and was one of the first coaches Strong brought with him to the 40 Acres. He's revered for the transformative effect he had on the Cardinals' program, overseeing gains in strength, speed and a major overhaul in accountability.
"We have the best strength coach in the country in Pat Moorer," defensive coordinator Vance Bedford said. "You're going to see these guys, the bodies are going to change, they're going to look totally different. Their attitude is going to be totally different."
Moorer has run Texas' offseason program this winter and probably knows the Longhorn players far better than Strong and his assistants at this point. He'll be an omnipresent part of the program, and if you want to play you better exceed his standards.
He's also the bad cop of this operation, the no-nonsense disciplinarian. The last person a Texas player in trouble wants to see is Moorer.
"If you've made it to Coach Moorer," linebackers coach Brian Jean-Mary said, "that probably means you've had a bad experience. And it's probably going to be worse. After Pat's done with you, you're going to feel like that wasn't the best of decisions."
The former Florida linebacker earned SEC Freshman of the Year in 1986 and used to serve as Emmitt Smith's personal trainer. Moorer spent 11 years at South Carolina before joining Strong's staff at Louisville and achieved his master strength and conditioning coach certification, the highest honor of his profession, in 2006.
Jean-Mary knows from their time together at Louisville that Moorer is an invaluable extension of the staff, and the coach who spends more time with players than anyone else.
And what makes Moorer so effective, he says, is the fact he cares about a lot more than just how much the players are benching and squatting. This is truly a holistic process.
"I think Pat and Charlie are cut from the same cloth," Jean-Mary said. "They want to work on the total person, not just the bigger, faster, strong and looking the part on the field. He works so much more on the leadership aspect, the communication aspect with other students and faculty members outside of the football program. The community work.
"He really wants them to be the total person. He really tries to bring out the maturity level."
Getting the full buy-in from Longhorn players is critical this offseason, and those who can't keep up with Moorer's style might not last long. The ones who go all-in should look a lot different by August.
March, 13, 2014
3/13/14
10:00
AM ET
This week, we're taking a closer look at the members of the new Texas coaching staff under Charlie Strong. The fourth part of our two-a-days series focuses on two experienced defensive coaches Strong brought in from other schools, and what they'll bring to their respective position groups.
Chris Rumph
Assistant head coach/defensive line
Rumph must get this question a lot: What's it like at Alabama?
Actually, the inquiry probably sounds more like this: No, what's it
really
like at Alabama?
[+] Enlarge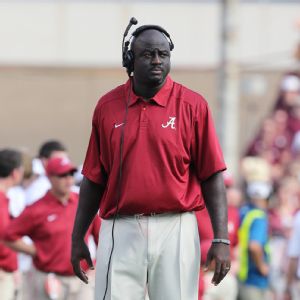 Matthew Emmons/USA TODAY SportsChris Rumph wants to bring the success and work ethic that has defined Alabama under Nick Saban to Texas.
Texas' new defensive line coach arrives fresh off a three-year stint with the great dynasty of college football. Rumph got two national title rings, coached NFL-caliber players and recruited five-stars. He knows The Process like the back of his hand.
And it's probably safe to say he gets lots of questions about Nick Saban, too.
"He has a method to his madness and you can't knock it," Rumph said. "Whatever you want to say about it, you can't knock it. Because it works."
What's the secret to Bama's success? This will sound cliché, of course, but Rumph believes much of what makes the difference comes down to two big things: Accountability and attention to detail.
At Alabama, those are the core standards. At Texas, it's a must if you want to play for Rumph.
"If I tell you that you need to walk one mile," Rumph said, "and you walk a half mile, I've got issues with that. I think that's the difference for some programs.
"We say get behind the line. Everybody better be behind the line. We say run 10 yards. You better run 10 yards. Not eight, not nine. A lot of places that aren't successful are that nine yards, that 'He ran hard but he only ran nine yards, he didn't run 10 yards.' I see the same thing here. We tell those guys it's attention to detail. It's about the little things, about doing your job."
It's like a dam, he says. All it takes is one little crack that goes overlooked and, over time, the dam busts.
Crimson Tide players had to be dedicated to doing things the right way every single time. When you do a squat in the weight room, Rumph said, it better be the best squat ever. You better dominate that squat, and then do it again. That's how you build toward big things.
"Stop being so result-oriented," Rumph said. "I tell my guys, don't worry about making 10 sacks. Don't worry about 20 sacks. Just the process to get there."
Even with Alabama's gigantic turnaround under Saban, Rumph proudly says Texas is the "best university in the universe." How quickly the Longhorns regain their national prestige will depend on how quickly the players buy into what Rumph and the coaches are demanding.
As he put it: "We want to make the most feared statement in college football: 'We play Texas next.'"
Chris Vaughn
Defensive backs/special teams
When you dedicate eight years of your career to being a recruiting coordinator in the SEC, you learn a few things along the way.
Four years of those duties at Arkansas and four more at Ole Miss gave Vaughn a wealth of knowledge about how to win a kid over. The key, he says, is knowing that convincing the recruit is a small piece of the pie.
Recruiting is a game of relationships, a lesson that Vaughn learned over and over and was reinforced by his 13 years of working with former head coach Houston Nutt.
"We all sound like car salesmen, of course, because we want to sell our university and what we believe in," Vaughn said. "But it's the mom and dad, the grandmother, the uncle, that when all the schools come in, they see through what's on the side of the helmet or what type of shoes you're wearing or the people sitting in the stadium.
"They just want to know somebody is going to take care of their baby. I think that's one thing I really learned from Houston: You've got to build relationships with the family. At the end of the day, that young man is going to ask a family member close to them, 'What do you think?'"
Vaughn, who will recruit southeast Texas and Louisiana for Texas, has ties all over the South from his past gigs. Those should pay dividends in the instances when the Longhorns staff looks outside the state for talent.
One talent Vaughn always likes to see when he's out evaluating recruits: Wrestlers.
Back in his days at Godby High in Tallahassee, Fla., Vaughn was runner-up in the state wrestling championship. He was an undersized 195-pounder in the 220-pound class, and he didn't lose often.
"If a guy is a good wrestler, as a football player, that carries a little weight with me," he said. "If he's good, I know he's dedicated, know he's a hard worker, know he loves to compete and doing the little things are important to him."
And when it comes to recruiting, those little things can make all the difference.
March, 12, 2014
3/12/14
9:00
AM ET
This week, we're taking a closer look at the members of the new Texas coaching staff under Charlie Strong. The third part of our two-a-days series focuses on two defensive coaches who followed Strong from Louisville, and what they'll bring to their respective position groups.
Vance Bedford
Defensive coordinator/secondary
When Duane Akina announced in January that he wasn't returning for a 14th season at Texas, the response from Longhorns fans and ex-players was understandable disappointment. He was, after all, the coach who helped make Texas "DBU." Akina, who's now coaching at Stanford, embraced that tradition like nobody else.
But when it comes to pride and passion for Longhorns defense backs, Bedford might be the perfect successor. He played cornerback at UT from 1977-81 and developed into a starter and a captain.
Get Bedford talking about Texas' legacy in the secondary and he'll go full-on historian, even mentioning that he caught up with two former "DBU" members -- Johnnie Johnson and William Graham -- while recruiting their sons at a recent junior day.
"'DBU' started with those guys. Raymond Clayborn, Johnnie Johnson, William Graham, Derrick Hatchett, Glenn Blackwood, Ricky Churchman, that's when it started," Bedford said. "Fred Akers came here and turned things around, said we're going to play man-to-man, and almost every guy I played with went to the NFL.
Jerry Gray
, Mossy Cade, Craig Curry, Fred Acorn, Jitter Fields; the list goes on and on and on."
Mack Brown and Akina kept it going, producing 14 All-Big 12 defensive backs and 11 who played in the NFL last season. They made sure today's players knew and respected those DBs who came before them.
Bedford intends to keep that tradition going. This means an awful lot to him.
"We're not just 'DBU,'" he said. "We want to make it Linebacker U and D-Line U, whatever it takes to get the best players in the state of Texas to come here and get this program back to the top where it belongs."
He felt like he'd won the lottery when he found out he was coming home to Texas, and it's easy to see Bedford is excited about selling and signing the next generation of Texas defensive backs.
"This is
the
place to live in the state of Texas, just like this university is the best university in this state," Bedford said. "Why would you not want to live in Austin, Texas, and go to the University of Texas? I just don't know who would do something else."
Brian Jean-Mary
Linebackers/recruiting coordinator
Believe it or not, Jean-Mary has more ties to the state of Texas than even he might've realized.
He played linebacker at Appalachian State for the legendary Jerry Moore, a Texas native who played at Baylor and was head coach at Texas Tech.
His defensive coordinator there was Ruffin McNeill, who went on to coach at Texas Tech for 10 years before becoming head coach at ECU. Jean-Mary's position coach when he arrived at App State was George Edwards, who later coached linebackers for the
Dallas Cowboys
and is now the Vikings' defensive coordinator.
And his roommate and best friend during those college years?
Dexter Coakley
, the future three-time Pro Bowler for the Cowboys.
So, yes, he's picked up some knowledge about this state along the way thanks to those friendships.
"It almost feels like I was born and raised here," Jean-Mary said.
A self-described college football junkie, Jean-Mary said following Strong and Bedford to Texas was a no-brainer because he understood the magnitude of coming to a program like this one.
He's proud of what he accomplished in four years at Louisville. Jean-Mary knows he left a program that's build to succeed in 2014 and beyond. But coaching at Texas -- and staying with Strong -- was too good to turn down.
"At the end of the day, you only get so many opportunities to really coach at a tradition-rich school like this and feel like you can take your next step in your career as an individual coach, but also helping a team take the next step as a program," he said.
Jean-Mary inherits a group of linebackers that could return every contributor from 2013, though five of those players --
Jordan Hicks
,
Steve Edmond
,
Dalton Santos
,
Tevin Jackson
and
Timothy Cole
-- are recovering from injuries. He likes this group's potential and depth once everyone gets healthy, and his expectations are simple.
"We all come from the same school of defense: We want to have smart, tough and dependable guys," Jean-Mary said. "We're not going to be too complex, but we do want to have guys who can handle different situations."
And whatever situations Jean-Mary finds himself in at Texas, he's glad he has more than few Texans he can call for advice.
March, 11, 2014
3/11/14
9:00
AM ET
This week, we're taking a closer look at the members of the new Texas coaching staff under Charlie Strong. The second part of our two-a-days series focuses on two new hires on the offensive staff and what they'll bring to their respective position groups.
Tommie Robinson
Running backs
Robinson won't tell this story to his new Texas running backs, but it's one
Malcolm Brown
,
Johnathan Gray
,
Joe Bergeron
and the rest of the gang ought to know.
[+] Enlarge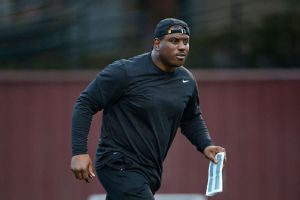 Kirby Lee/USA TODAY SportsNew Texas running backs coach Tommie Robinson wants to start fresh and encourage open competition.
Their new position coach is taking a different approach to planning for 2014. Robinson is not watching film of his running backs: He doesn't need to.
"I don't know what to expect because, on purpose, I didn't study them at all," Robinson said. "I didn't want to study them on tape. I want to go out and see these guys perform."
He's chatted with former running backs coach Larry Porter, but Robinson isn't interested in analyzing what his players have done in the past. He wants a clean slate, a fresh start. He has a good reason why.
When Robinson arrived at USC last year, leaving his NFL gig with the Arizona Cardinals to return to the college game, he knew the expectations. Penn State transfer
Silas Redd
led the Trojans in rushing in 2012, and they'd signed ESPN 300 backs
Justin Davis
and
Ty Isaac
. Those were the options.
Robinson didn't watch the film. He didn't want any biases. He kept the competition going and used five different backs last fall. The standout of the group was a surprise:
Javorius Allen
.
When Robinson first joined the program, he says he was told he didn't need to worry about Allen. The staff didn't think the sophomore, a former ESPN 150 recruit with six career carries, would amount to much.
"They didn't want him around, wanted to let him go," Robinson said. "I learned a very valuable lesson: Had I listened to what I was told, that kid would've never got a chance to play football at USC. But I didn't listen to what I was told about him. I wanted to formulate my own opinion about the kid, and the kid ended up leading us in rushing.
"This is a kid that wasn't supposed to be on the team, that I was told, 'Don't worry about him, he won't amount to anything,' and he ended up leading the team in rushing. So who knows?"
That's why, when Texas begins spring practice next week, Robinson intends to treat his rushers like true freshmen. They'll have to convince him they're his best option.
"I've made that point crystal clear," Robinson said. "Everybody has an opportunity."
Les Koenning
Wide receivers
Koenning and Vance Bedford both arrived at the University of Texas in 1977. They could tell you all sorts of stories about their college days, but they won't.
"They might be R-rated," Bedford said. "We had our day in the sun. It's amazing some of the things we did, that we're still here today. That's all I can tell you."
No doubt Koenning has done plenty of reminiscing during his first two months back on campus since joining Charlie Strong's coaching staff. After more than three decades coaching elsewhere, this is his homecoming.
"The one thing that's been really nice for myself is to come back and see what it's like, having the opportunity to play in the stadium, going back through campus," Koenning said. "Things have changed a little bit since I was last here. It's gotten a lot nicer."
Koenning's 33-year career has seen him make stops at Alabama, Louisiana-Lafayette, Mississippi State, Rice, Duke, Texas A&M, the Miami Dolphins, back to Duke, Houston, TCU, back to Alabama, back to A&M, South Alabama and Mississippi State. Finally, the road led him back to Austin.
You won't get him to talk badly about his time at Texas A&M, Alabama or anywhere else. Koenning says he's been fortunate throughout and given the chance to coach at some great programs.
Getting back to Texas, at a time when the program is in transition and in need of coaches with Longhorns roots, was too good an opportunity to pass up.
"I'm excited about it, and I think also the opportunity to come with Coach Strong is really nice," Koenning said. "His background and what he's done in the past has been really impressive to me. It's an opportunity to win."
The son of a longtime Texas high school football coach, Koenning hit the road to recruit right when he was hired and ran into folks he knew all over the place. He's looking forward to recruiting a state he knows well alongside coaches he trusts.
His offenses at Alabama and Mississippi State faced Strong's South Carolina and Florida defenses. He knows what Texas is getting in its new head man, and Bedford is happy to vouch for what Koenning brings to the group.
"He's one of the most competitive guys I've ever known," Bedford said. "You watched him as a player, and the same tenacity you saw as a player, you see as a coach. He's going to get the best out of his players."
March, 10, 2014
3/10/14
9:00
AM ET
This week, we're taking a closer look at the members of the new Texas coaching staff under Charlie Strong. The first part of our two-a-days series focuses on the leaders of the Longhorns' offense and what they'll bring to their respective position groups.
Joe Wickline
Offensive coordinator/offensive line
Mention to Wickline that he's one of the nation's best offensive line coaches, and you'll get a shrug.
He'll say his résumé of success was a byproduct of the Oklahoma State's consistent offensive success. But the results -- seven All-Big 12 offensive linemen, three of them All-Americans -- are undisputable. Their success has to, in many ways, be a byproduct of his philosophy.
So let's dig into that philosophy. What does he look for when recruiting linemen?
"As far as measurables, I like guys that are really athletic, smart and tough," Wickline said. "If they can get those three things, they've probably got a chance."
Once they get to campus, they quickly learn one of Wickline's overarching beliefs about offensive linemen: You must be versatile, capable of playing nearly any role on a line. There are three reasons why he wholeheartedly believes in cross-training.
"No. 1, I want to make sure there's always competition in the room and on the field," Wickline said. "If the second-team right tackle thinks at any given time the first-team right tackle can never lose his job, he just quits trying. If the first-team right tackle thinks he'll never lose his job, he'll just quit trying. It needs to be a day-to-day deal.
"Secondly, they need to be sure they can switch. The left guard needs to know the right guard can go take his place. So it's all about competition, and it's a daily deal. The other thing about switching guys, it forces them to learn the entire offense and entire scheme from a protection standpoint and running scheme. If you leave him locked it at one place the whole time, he can't really feel how does this whole thing go together."
And part three? Injuries can force you to change the plan. Take Oklahoma State's
Parker Graham
for example.
Wickline planned to move his starting left tackle of 2012 to guard last offseason, with
Devin Davis
taking over left tackle. Then Davis was lost for the season in August. Graham went back to left tackle, started five games and then returned to right guard for the rest of the season. He finished with first-team All-Big 12 honors.
"Well, it worked out," Wickline said. "Because he moved around a bunch, it wasn't a big deal to him."
That's why, when Wickline surveys his roster of Texas linemen for 2014, absolutely nothing is set in stone. He wants to find five starters. And then he'll keep tweaking the plan, moving new guys in and out, shifting some to other spots, until it works.
He'll eventually find his starting five for the season opener, but Wickline won't stop there. If you want to start, you better earn your job every single day.
"This will continue to game five, game eight," Wickline said. "It's week-by-week. I understand chemistry and I understand continuity.
"But in my world, all that's important is the quarterback doesn't get hit, you can run the football and you win football games."
[+] Enlarge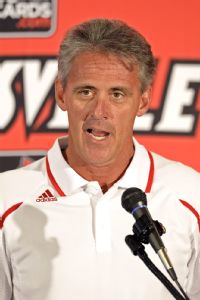 AP Photo/Timothy D. EasleyTexas hopes to see a big improvement in its offense with the addition of Shawn Watson to the coaching staff.
Shawn Watson
Assistant head coach/quarterbacks
The battle has been going on for more than a decade: Who is Shawn Watson's favorite pupil?
You can credit Joel Klatt for starting the debate back in 2003 with his record-setting sophomore season at Colorado. By the time his days at CU were over, Watson swore Klatt was the best quarterback he'd coached.
"He was the greatest competitor I've ever been around and a great student of the game," Watson said.
So then he went to Nebraska, and another scrappy, underrated quarterback earned his affection. Joe Ganz went on to break 21 school records under Watson's watch.
"Joe, at the end, he says, 'Wats, did I overcome Klatt?' Watson recalled. "I said, eh, I tell you what, flip a coin. He really chased Joel."
This is the standard Watson will hold his Longhorns quarterbacks to because these are the guys he covets: Gamers. Leaders. Passers with intangibles.
He's trained the prototypical pocket passers such as Klatt and the explosive dual-threats such as
Taylor Martinez
. No matter who's running the show at Texas, Watson will help tailor the offense to his signal-caller's sensibilities.
"I'm a grinder. My first hobby is football," Watson said. "I'm not kidding you. I've done this 33 years, and this is not a corny statement, but I've been Peter Pan. I've gotten to do what I love. I love the game of football, and I love to teach.
"The grinder part comes because I don't want anybody to catch me. I want to be the best at what I do. I enjoy studying the game."
And his former quarterbacks have studied the game enough to know who's now No. 1 on Watson's list.
Teddy Bridgewater
can claim the title belt when he becomes a first-round draft pick in May.
Bridgewater has heard all of Watson's stories about Klatt and Ganz. The Louisville star did eventually ask who's the best. Watson has a new answer: All of them.
Watson chuckles when he tells these stories. He knows Klatt and Ganz won't accept that non-answer.
"They'd say, 'Wats, we know who the best one is,'" Watson joked. "'Just remember us.'"
Loyal Texas Fans To Get Ticket Priority
BIG 12 SCOREBOARD
Thursday, 9/3
Friday, 9/4
Saturday, 9/5