Texas Longhorns:

Torshiro Davis
February, 21, 2013
2/21/13
1:45
PM ET
We're moving on with a new series today looking at the players across the Big 12 who have to replace program legends. We might as well call this the
Nick Florence
Memorial team, but let's talk
Texas Longhorns
.

Big shoes to fill: Texas' defensive ends
Texas isn't replacing much next season; the Longhorns
bring back 19 starters to lead the Big 12
and tie for the national lead. That's got to bring a smile to Mack Brown's face, but the departing
Alex Okafor
leaves behind a big hole at defensive end following a season with 16.5 tackles for loss and a Big 12-leading 12.5 sacks.
Jackson Jeffcoat
has the opposite end spot locked down, of course, but filling Okafor's role will get really interesting this spring. Senior
Reggie Wilson
contributed each of the past three seasons, made a start in 2012 and may step into that role, but junior
Cedric Reed
started the last six games of the year without Jeffcoat and had 4.5 tackles for loss in the final five games of the season. It seems like he might be the safer bet, but sophomore Torshiro Davis could be a dark horse after burning his redshirt year following Jeffcoat's injury. The Longhorns need production opposite Jeffcoat and have a few solid options to do it, so even with Okafor's absence, Texas has reason to feel solid about this spot heading into the 2013 season.
More big shoes to fill:
December, 21, 2012
12/21/12
8:00
AM ET
Last year, Texas picked up 10 commits after the month of November. Six of those pledges came from recruits who were already committed elsewhere.

The Longhorns are taking a smaller class this year, so getting 10 late commits isn't feasible. But as Texas coaches hit the trail in these next few months before signing day, they won't be afraid to inquire about other schools' commits.

Sometimes it's even easier than that: Coaching changes or late decommitments can lead to unexpected opportunity.
November, 7, 2012
11/07/12
8:00
AM ET
August, 2, 2012
8/02/12
5:16
PM ET
Texas, which had two stepped around the edges of early offers, finally has succumbed to the Siren's song of
getting in the 2014 recruiting game
.
No more waiting until after the current recruiting class' signing day so as not to take away their moment in the spotlight. No more being "approved" for an offer to come in February. No more waiting.
So now it is no holds barred. Texas has entered the fray. With the Longhorns comes a big stick. The Longhorns, long the recruiting bullies of the Lone Star State, have now placed themselves on equal footing with the likes of Texas A&M, Oklahoma, Alabama, LSU and even TCU, Baylor and Oklahoma State.
[+] Enlarge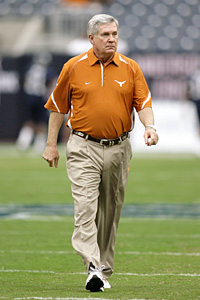 Brett Davis/US PresswireMack Brown and the Longhorns sent out a flurry of 2014 offers on Thursday.
Why it took this long is one part stubbornness and two parts arrogance.
Texas was loathe and slow to get into the early offer game because Mack Brown thought his way was the best way. He had, after all, perfected the art of the early offer back when early was the summer of a prospect's senior year.
The theory in recent years was that by waiting, until at least after a prospect's junior year, Texas was able to more comprehensively evaluate the player and how he might fit into the program. That worked. Until it didn't.
From Aug. 1, 2011 to June 1, 2012, Texas had 18 players transfer or leave the program for one reason or another. So much for that comprehensive evaluation process.
Even as far back as June, Brown seemed to know his old way wasn't working.
"We're the ones that started offering early in the summer of their senior year, and now we're two years late," he said. "… we all reassess everything we do daily. It's something that you just have to continue to look at and continue to do."
Right there Brown proved he was indeed flexible. But still more than a hint of arrogance remained. This is Texas, after all. And Texas did just pull off some late-in-the-recruiting-game switches with
Dalton Santos
,
Torshiro Davis
and
Daje Johnson
.
Success like that may have emboldened the coaching staff and led it to believe that its way was still the right way. Most assuredly the prevailing feeling around the program was that if some other school, say Tennessee or LSU or TCU, offered early, Texas could always come back around and get the guy it wants.
When Texas did miss on a guy, maybe because it wasn't in on the recruiting early enough, it was OK to let the little brothers in the state have a recruit or two.
"Sometimes people panic when you lose a guy," Brown said. "We might have been trying to lose the guy. Maybe we didn't want him. It didn't fit us. In some cases we've moved on long before the public moves on because we can't comment on kids publicly, and they can."
No comment speaks louder than the one Texas has made by
extending offers to the class of 2014
. With that move, the coaching staff is saying it is worried about Kevin Sumlin and Texas A&M, Nick Saban and Alabama, Les Milles and LSU, Art Briles and Baylor and others. Texas is worried because all of those programs have made strides.
In the case of the Aggies the strides might not be on the field. But Sumlin has been dynamic in the recruiting game and alumni-speaking circuit.
Briles has Baylor building a new stadium and has sent more players to the first round of the NFL draft the last two years than Texas –- four for Baylor, zero for Texas.
Now TCU has entered the fray. The facilities aren't there. Neither is the history. But the opportunity is – the Horned Frogs have had 10 drafted to Texas' 14 over the past three years. So, too, is the coaching.
To continue reading this article you must be an Insider
March, 1, 2012
3/01/12
10:31
AM ET
Shreveport (La.) Woodlawn defensive tackle
Chris Robinson
has not heard from Texas since his plans to attend the Longhorns' junior day on Saturday fell through.
Robinson, a teammate of 2012 Texas' commitment
Torshiro Davis
, was unable to make it to Austin because of car trouble. He did say he would try and make it down to Austin for a Texas summer camp.
The Longhorns currently have one defensive tackle commitment in
A'Shawn Robinson
(Fort Worth, Texas/Arlington Heights), and will likely only take one more. Texas already has an offer out to
Justin Manning
(Dallas/Kimball) and is further evaluating players like
Vincent Taylor
(San Antonio Texas/Madison) and former commitment
Quincy Russell
(San Antonio, Texas/Sam Houston/Trinity Valley Junior College).
To continue reading this article you must be an Insider
February, 16, 2012
2/16/12
8:16
PM ET
Class of 2013 defensive end
Torrodney Prevot
(Houston/Alief Taylor) woke up Thursday morning with three offers. By mid afternoon he'd doubled that.
The 6-foot-4, 220-pound Prevot received an offer from Baylor early in the morning and added offers from Oklahoma and Texas after that.
"It was a crazy day for me," said Prevot, who already had offers from LSU, Texas A&M and Utah.
To continue reading this article you must be an Insider
February, 8, 2012
2/08/12
8:00
AM ET
For weeks the constant question surrounding Texas' defensive ends was about production.
Jackson Jeffcoat had no sacks in the first six games of 2011. Alex Okafor had just two. Those were not the numbers anyone expected from the new Manny Diaz pin-your-ears-back defense. That the pair finished with 15 combines sacks is a testament to the fact that they finally started to understand the defense. Really that Texas finished with 30 sacks, 29th in the country, is testament that they all started to figure it out.
[+] Enlarge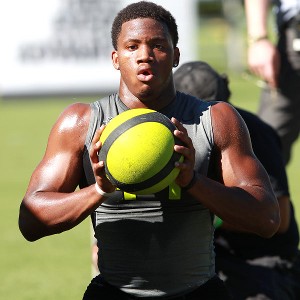 Tom Hauck for ESPN.comBecause of depth issues, defensive end Torshiro Davis could find early playing time in 2012.
But the keys were Jeffcoat and Okafor. Texas has to have pressure from one or both for the defense to be good in 2012.
To continue reading this article you must be an Insider
January, 23, 2012
1/23/12
3:02
PM ET
Four-star LSU defensive end commit
Torshiro Davis
(Shreveport, La./Woodlawn) will no longer receive an in-home visit from Texas coaches on Wednesday.
Former Woodlawn coach DeCarlos Holmes confirmed to HornsNation that UT assistant Bo Davis called him on Monday to cancel the visit.
"He's going to LSU," Holmes said. "The coach said they're not going to waste any more time and they're going to let him honor his commitment. ... Basically they're not going to keep trying to beat a dead horse."
To continue reading this article you must be an Insider
January, 18, 2012
1/18/12
10:30
AM ET
By
HornsNation staff
| ESPN Insider
HornsNation's William Wilkerson stopped by to chat and offered up a ton of recruiting updates as we get closer to national signing day. Read the
full chat here
.
Here's some of the best questions"
Joseph T (Texas)
To continue reading this article you must be an Insider
January, 12, 2012
1/12/12
8:00
AM ET
There are less than three weeks to go until prospects put pen to paper on national signing day. But Texas still has much to determine between now and then.
[+] Enlarge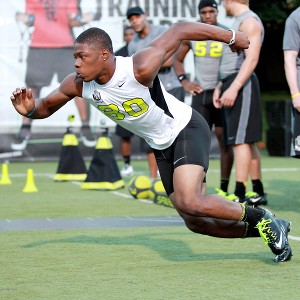 Tom Hauck for ESPN.comBaylor commit Corey Coleman could see more interest from Texas with the decommitment of Thomas Johnson.
For example, what to do after last week's decommitment from
Thomas Johnson
(Dallas/Skyline)?
Do the Longhorns look at another wide receiver? Do they try and go after another defensive back that would add depth to a depleted safety position? Or are they content with what they have on board?
To continue reading this article you must be an Insider
December, 11, 2011
12/11/11
6:48
PM ET
AUSTIN, Texas -- The Longhorns improved their chances with four-star defensive end
Torshiro Davis
(Shreveport, La./Woodlawn) over the weekend. But it is still going to be an uphill battle to get him to switch his commitment from LSU.
[+] Enlarge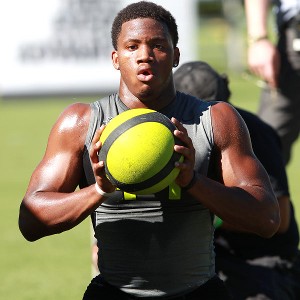 Tom Hauck for ESPN.comClass of 2012 defensive end Torshiro Davis could reconsider Texas because of his relationship with Longhorns defensive line coach Bo Davis.
Davis, the No. 8 defensive end and No. 70 player overall in the Class of 2012, took his official visit to Texas with around 20 other recruits. His host was
Tevin Jackson
.
When asked how much his trip helped Texas' cause, Davis replied "A little bit."
To continue reading this article you must be an Insider
November, 1, 2011
11/01/11
9:06
PM ET
AUSTIN, Texas -- Class of 2012 defensive end
Torshiro Davis
(Shreveport, La./Woodlawn) will take his official visit to Texas on Dec. 9, he told HornsNation on Tuesday.
Davis, an LSU commitment, is rated as the No. 8 defensive end and No. 70 prospect overall by ESPNU.
He has been a hot commodity for Texas since defensive tackles coach Bo Davis joined the staff. The two have been in communication since the summer before Torshiro's sophomore year, when he went to a camp at Alabama, while Bo Davis was the Crimson Tide's defensive line coach.
To continue reading this article you must be an Insider
October, 11, 2011
10/11/11
12:06
PM ET
AUSTIN, Texas -- Class of 2012 defensive end
Torshiro Davis
(Shreveport, La./Woodlawn) told HornsNation on Tuesday that he will be in attendance with his mother for Texas' home game against Oklahoma State on Oct. 15.
Davis, an LSU commitment, has been intrigued with the Longhorns ever since Texas' defensive tackles coach Bo Davis came over from Alabama. The two Davis' got to know each other during the summer going into Torshiro's sophomore year at an Alabama camp where Bo Davis was the Crimson Tide's defensive line coach.
Torshiro Davis was going to go to Texas' game against Oklahoma on Oct. 8 so his mother could speak with the Texas coaching staff, but Bo Davis told Torshiro they probably wouldn't have much time to talk. Thus, the reason for this trip, which could turn out to be a huge weekend for the Longhorns (4-1).
To continue reading this article you must be an Insider
Texas Longhorns Show Out On Pro Day
BIG 12 SCOREBOARD
Thursday, 9/3
Friday, 9/4
Saturday, 9/5