Texas Longhorns:

Timothy Cole
June, 13, 2014
6/13/14
10:00
AM ET
Before Texas begins its first season under Charlie Strong, we're taking a deep dive into all the talent he inherits in 2014. Our Burnt Orange Breakdown series will take a closer look at each scholarship player returning this fall and what we can expect from him. We're going down the roster from No. 1 Shiro Davis all the way to No. 99 Desmond Jackson.
No. 30 Timothy Cole


Sophomore linebacker
Recruitment rewind:
Cole, a four-star linebacker from Brenham, Texas, always planned to go to college with high school teammate
Malcom Brown
. Many thought that college might be in College Station, as Texas A&M was only 40 minutes from home. But after taking visits throughout the spring, Cole and Brown made their decision together in April 2011 at Texas' spring game. In his three years starting at Brenham, Cole racked up 184 tackles, 75 TFLs and 20 sacks.
Career so far: Cole redshirted in 2012 and has bulked up nearly 20 pounds during his time on campus. He played in 11 games last season and made his first career start when then-new DC Greg Robinson elevated him to first string for the Iowa State game. Cole finished with 10 tackles and one pass breakup in his debut season. Because of a slew of injuries to his fellow linebackers, Cole worked with the No. 1 defense this spring and in the spring game.
Best-case scenario for 2014: If the 6-foot-2, 232-pound Cole can inspire the confidence of new linebackers coach Brian Jean-Mary, he could play a lot this fall. He's not the biggest or fastest member of Texas' linebacker corps, but Cole can hit and has good instincts. Charlie Strong won't be afraid to roll out a 3-4 look on defense if he has an advantage, and that could provide Cole a chance to prove himself.
Worst-case scenario for 2014: The knock on Cole's performance in the start against Iowa State was how uncomfortable he looked while trying to make plays in space. He was still learning and just trying to stay above water. Once everyone gets healthy (if that's possible), Texas should have enough bodies at linebacker that Cole won't be guaranteed anything in 2014. He might have to settle for a backup role and some special-teams work.
Future expectations: A year from now, Cole will likely be one of only three upperclassman linebackers on the roster. His time will come. He just needs to do as much as he can this year to prepare. For that reason, it's kind of imperative that he continues to develop. Texas has young guys behind him waiting for their chance, but so far none of them have stepped foot on the field. If Cole does his job and does it well, he'll be in line for a better one in 2015.
May, 5, 2014
5/05/14
10:00
AM ET
AUSTIN, Texas -- A new coaching staff meant a clean slate and a new start for several Longhorns this spring. Here's a closer look at five Texas players who appeared to help their chances of making an impact in 2014 with their performances in spring ball.
1. WR Marcus Johnson
[+] Enlarge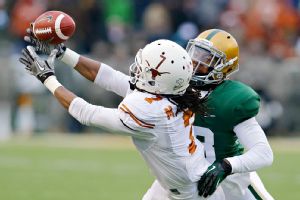 AP Photo/LM OteroMarcus Johnson is poised to become Texas' big-play threat this season.
You remember Johnson from his 59-yard touchdown against Oklahoma and the 120-yard day against TCU a week later, but they were just glimpses of the speedster's potential.
After being relatively underused last fall, Johnson seems poised for a breakout year. He caught the attention of his new head coach with
plays like this
.
"I'll say this, he can run," Charlie Strong said. "I know that he can separate from a defensive back. [He needs] confidence and just continue to work on his confidence. What I told Marcus, I said, 'You have big-time ability. You need to play like that each and every day.'"
Johnson finished fourth on the team in targets last year and caught 22 balls for 350 yards and two scores. It's hard to believe he's already a junior, but that's how it goes when your freshman season gets wasted the way Johnson's was in 2012. He appeared in eight games but didn't record a catch and was targeted only one time.
He has an opportunity, with deep threat
Mike Davis
gone, to become the kind of impact wideout who makes defenses look silly when they sneak up to stop the run. That's just what this Texas offense will need.
2. OG Taylor Doyle
The more casual Texas fan must've been a little confused when scoping out the new-look Longhorns offensive line at last month's spring game. They've rarely seen the guy who was holding down the first-team right guard spot.
That would be Doyle, a local kid from Lake Travis with just two games of playing experience at Texas. The reason the junior was in that starting spot had a lot to do with opportunity.
He has been sitting behind four-year starters
Mason Walters
and
Trey Hopkins
, who departed just in time for new offensive line coach Joe Wickline to show up. Doyle learned enough over three years on the scout team to show Wickline he can compete for the right guard job.
Doyle has to hold off talented redshirt freshman
Rami Hammad
, who came close to seeing the field in 2013, and it's entirely possible the injured but exciting
Kent Perkins
moves over and takes the right guard job after moving over from tackle this spring. But at least for this spring, Doyle got lots of first-string reps and opened the door for more.
[+] Enlarge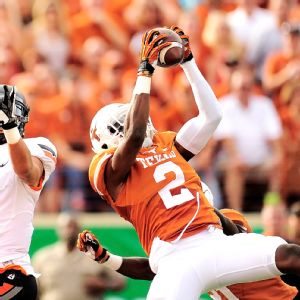 Stacy Revere/Getty ImagesIf he can play consistently, Mykkele Thompson could be poised for a big role in Texas' secondary.
3. S Mykkele Thompson
With 18 starts and 20 more appearances under his belt, is now the time when Thompson finally breaks out?
That's not to say there haven't been good days and big plays along the way, but Thompson is one of those guys who might have benefited in a big way from new coaches with new perspectives.
"We played him some at corner and some at safety," defensive coordinator Vance Bedford said. "He had an outstanding spring from the first practice to the last practice."
Thompson hasn't been very consistent in the last two years and struggled at times to be a reliable tackler and hitter, but Texas needs him to have a big year in the secondary with
Adrian Phillips
gone. It wouldn't be surprising if he's a defensive standout in 2014.
4. LB Timothy Cole
New coaches just seem to like this guy. Installing Cole as a starter was one of Greg Robinson's first moves as defensive coordinator last year, though that plan was short-lived.
Now the new guys running the Longhorns have taken a liking to the 6-foot-2, 235-pound Cole.
"I call him Nat King Cole's nephew," Bedford said. "I mean, he is a big, physical guy."
After having hip surgery in January, Cole was healthy for spring ball and took advantage of the fact so many other Texas linebackers were not, starting with the first-team linebackers in the spring game. He doesn't bring the size of
Steve Edmond
or
Dalton Santos
, but he's athletic and figures to make more plays in space than he did in his less-than-stellar first start against Iowa State last year.
Cole was still learning back then, as a redshirt freshman, and has more to learn now with a new playbook. But if Texas' veteran linebackers deal with more injuries this fall (and that seems likely, doesn't it?), Cole could be in for significant snaps.
5. K Nick Rose
Can't forget the kickers. Texas had a near-automatic placekicker in
Anthony Fera
last year. In Rose, it has a junior whose role has been exclusively used on kickoffs over the past two years.
An open competition this spring to replace Fera resulted in Rose's emergence. If the season started today, he'd figure to be the guy on field goals, extra points and, yes, kickoffs.
William Russ
would be the punter. There's still time for that to change, with several candidates for each duty.
But we know Rose can boom it, as evidenced by his kickoffs and two solid attempts in the spring game -- a 40-yard make and the 55-yarder he missed. He just needs to be consistent, or else somebody else will have to take Fera's place.
October, 3, 2013
10/03/13
8:00
AM ET
AUSTIN, Texas -- When the news came out Monday that all three linebackers of Texas' 2012 recruiting class are now starting, the collective response from
Dalton Santos
,
Peter Jinkens
and
Timothy Cole
was universal: This is going to be fun.
If the celebrating the trio has done on their Twitter accounts is any indication, it's safe to say the second-year linebackers are more than up to the challenge Thursday night at Iowa State (6:30 p.m. CT, ESPN). This week, their contributions should be critical.
[+] Enlarge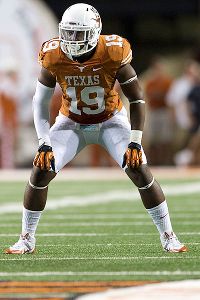 Cooper Neill/Getty ImagesPeter Jinkens is part of an all-Class-of-2012 starting linebacking corps that Texas will unleash against Iowa State.
Texas defensive coordinator Greg Robinson was looking for a spark in the wake of losing the Longhorns' most talented linebacker, junior
Jordan Hicks
. His season-ending torn Achilles was the last thing Robinson needed in his quest to repair the run defense.
The Longhorns defense fell apart without Hicks last season during its toughest five-game stretch. His absence opened the door for others, and a total of seven linebackers earned starts in 2012.
Yet Robinson didn't chose any of the remaining six to take over for Hicks. He picked Cole, a redshirt freshman from Brenham, Texas, who's spent nearly all of his debut season on special teams.
"Tim did a tremendous job against Kansas State on special teams, and because of that and practice the last four days, Greg Robinson is convinced he wants Tim out there as a starter," Texas coach Mack Brown said.
There's the benefit of getting a fresh set of eyes on Texas' linebackers. Cole wasn't in line to contribute much to that unit before Robinson took over for Manny Diaz last month.
A four-star prospect who came to Texas last year with best friend
Malcom Brown
, Cole makes up for non-prototypical size (he's listed at 6-foot-2, but that's generous) with a strong football IQ and a knack for leadership.
When Texas was recruiting him, Brenham coach Glen West vowed that Cole would end up being a team captain for Texas. His new coaches don't doubt that, and teammates recognized what made Cole unique early on.
"Since he got here, he was different than a lot of other guys," defensive end
Jackson Jeffcoat
said. "I knew he was a little more mature than other guys. His football game has come a long way since he first got here, but he looks good. He knows he has to step up and play well, and I think he will."
He'll team up tonight with Jinkens and Santos, two high-energy sophomores coming off strong finishes in Texas' win over Kansas State.
Steve Edmond
will likely have some role in the game, but he can't play in the first half after receiving a targeting ejection in the second half against KSU.
Juniors
Tevin Jackson
and
Kendall Thompson
were the presumptive favorites to step into the lineup in Hicks' place, but the Longhorns' young trio won over their new position coach.
They'll have to reward his faith with a stout showing against the Cyclones, who got a 137-yard rushing performance out of newcomer
Aaron Wimberly
last week vs. Tulsa.
In their first three game without Hicks last fall, Texas' defense let opposing running backs produce games of 199, 207 and 167 yards, respectively. That can't happen again, not if the Longhorns are hoping to turn the season around after a 2-2 start.
What matters more to Brown, though, is the leadership void that Texas must fill now that Hicks won't be on the field. Jeffcoat said he'll take on the responsibility along with defensive tackle
Chris Whaley
and defensive backs
Carrington Byndom
and
Adrian Phillips
.
Simply having more seniors to rely on this time around means more accountability across the board.
"That's a lot of guys who can keep their positions up and make sure guys don't start slacking off and guys pick up the slack from what was lost with Jordan," Jeffcoat said.
The sophomores are doing their part, too. Of the 25 members of Texas' 2012 class still on campus, Cole is about to become the 13th to earn a start.
While others broke into the starting lineup in year one, Cole was patient. He kept working and kept waiting for an opportunity. Here it is.
"He's upbeat and positive and smart and never makes a mistake," Brown said. "Greg Robinson said the other day, 'Don't tell him something that's wrong, because he's going to remember it and he's going to do it.' He just plays so hard. It'll be fun to watch him on Thursday night."
September, 20, 2012
9/20/12
8:00
AM ET
AUSTIN, Texas -- Head coach Mack Brown and the rest of the Longhorns coaching staff will continue to evaluate their freshmen class as they try to determine which players to redshirt as the season wears on.

Texas has played 14 freshmen through three games.

"That will probably continue to occur until the seventh week of the season," Brown said. "You won't travel with all of them but you still look at them."
February, 1, 2012
2/01/12
7:14
AM ET
AUSTIN, Texas -- Four-star linebacker
Timothy Cole
(Brenham, Texas/Brenham) has sent in his letter of intent to Texas.
Cole (6-foot-2, 215 pounds) is the No. 27 outside linebacker in the nation and the No. 44 player in Texas, according to ESPNU. His high school teammate,
Malcom Brown
, is also committed to the Longhorns.
[+] Enlarge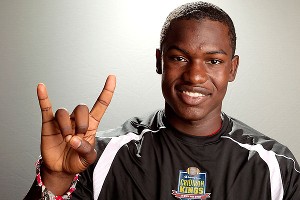 Miller Safrit/ESPN.comIncoming freshman Tim Cole wants to play early and often for the Longhorns in 2012.
Cole, a U.S. Army All-American, has been committed to Texas since April 3, 2011. He chose the Longhorns over offers from Arkansas, USC, Florida, Nebraska, Oklahoma, Clemson, Baylor, Texas A&M, Virginia, TCU and Texas Tech.
Cole is one of three linebackers in this class along with
Peter Jinkens
(Dallas/Skyline) and
Alex De La Torre
(Denton, Texas/Ryan).
Scouts take:
"Cole is an athlete with the physical strength and playing speed necessary to dominate at the point of attack. Has the size and athleticism for the outside linebacker position at the major level of competition. We see a strong wrap tackler with the balance and explosion required to knock ball carriers back where they came from."
Importance to class:
This kid is a football player through and through. One of the things that Brenham coach Glen West's likes most about Cole is his ability to run through ball carriers at the point of impact. Most players, West will tell you, like to gather themselves at that time and don't follow through completely. Not Cole. He's one of the purer tacklers in the state and has good size with room to add more bulk under Bennie Wylie.
How soon can he make an impact?
The Longhorns will need to find replacements for Emmanuel Acho and Keenan Robinson, and probably have them in some combination of Jordan Hicks, Steve Edmond and Demarco Cobbs. But the Longhorns will have to add depth behind backups Tevin Jackson and Aaron Benson and Cole could find his way into the mix, though he will have to beat out fellow incoming freshmen Peter Jinkens and Alex De La Torre, who is already enrolled.
Cole on signing with Texas:
"It feels good. I can get a free education and get to pursue my career in whatever I want to do. It's a blessing and I'm glad I got to get recruited by them. My dream's coming true and I'm glad I'm going to play for college team I love and finally be a Longhorn."
December, 11, 2011
12/11/11
6:48
PM ET
AUSTIN, Texas -- The Longhorns improved their chances with four-star defensive end
Torshiro Davis
(Shreveport, La./Woodlawn) over the weekend. But it is still going to be an uphill battle to get him to switch his commitment from LSU.
[+] Enlarge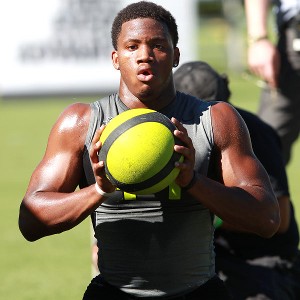 Tom Hauck for ESPN.comClass of 2012 defensive end Torshiro Davis could reconsider Texas because of his relationship with Longhorns defensive line coach Bo Davis.
Davis, the No. 8 defensive end and No. 70 player overall in the Class of 2012, took his official visit to Texas with around 20 other recruits. His host was
Tevin Jackson
.
When asked how much his trip helped Texas' cause, Davis replied "A little bit."
To continue reading this article you must be an Insider
Texas Longhorns Show Out On Pro Day
BIG 12 SCOREBOARD
Thursday, 9/3
Friday, 9/4
Saturday, 9/5