Texas Longhorns:

Taysom Hill
September, 3, 2014
9/03/14
10:00
AM ET
Are you ready for some numbers? It's time for our weekly stat digs, in which we team with ESPN Stats and Info to find the numbers that matter most for the Longhorns and their next opponent. Here are the stats to remember going into Texas' rematch with BYU.
1. 600
Charlie Strong does not have a problem with defending rushing quarterbacks.
In the past 10 years (six at Florida, four at Louisville) his defenses have give up a total of 600 rushing yards to quarterbacks. That's 131 games, 940 rushes, 600 yards. That's an average of 4.58 yards per game. We're including sacks in that number, but to put this in perspective: Last season, Texas gave up 715 rushing yards to QBs.
BYU quarterback
Taysom Hill
rushed for 259 yards against Texas last season. Strong's Louisville defenses gave up a total of 209 in the last three years. His teams of the past decade have never allowed a performance like the one Hill produced.
No team surpassed 300 rushing yards against Louisville during the Strong era. Excluding sacks, Texas gave up twice as many rushing yards to QBs (2,173) as Louisville did (1,034) in the past four years. No quarterback has surpassed 80 rushing yards against his defense in 10 years.
What's the point? While Hill is a rare talent as a rusher, history suggest he could have a hard time running wild again vs. Texas.
2. 60/40
The good thing about the disastrous news Texas received on Monday is this: They've done it before.
Having to play nine games without
David Ash
last season gave these Longhorns experience handling a crisis at quarterback. Texas went 6-3 in those contests and developed a run-first identity along the way that helped set Case McCoy up for success.
In those six wins, Texas run-pass distribution averaged an even 60/40 with 100 more rushes than pass attempts. Texas surpassed 400 total yards in five of those six wins, outscored teams by an average of 15.7 points and had a plus-5 turnover margin.
Texas obviously has new play-callers and coordinators who will draw up their own blueprint for winning without Ash, and Strong said the scheme will have to be tweaked in some ways. But the learning process of retooling last season can at least gives these players confidence that, as Strong said, it's not the end of the world just yet.
3. Zero
The point of a season opener like the one Texas played against North Texas is you get a chance to be tested in a variety of ways before playing big-time foes. You can find out what works and what doesn't.
What we did not find out against North Texas is how the Longhorns defense will recover after giving up big plays. UNT had zero explosive runs or passes. Its longest gain of the night was 8 yards. It didn't try for many big ones, either, preferring instead to run the ball and play not to lose. While that's great for Texas, it's also problematic.
BYU's offense had 24 explosive plays of 10-plus yards against Texas last year. Those plays accounted for more than 70 percent of the Cougars' total offense. Texas defenders could not stop them from happening. They've talked all offseason about being a changed group, one that refuses to be called soft. They had it awfully easy in Week 1, and after giving up just 94 yards, there's really nowhere to go but down. This time around, when Hill and BYU's offense lands a few punches, how will this defense respond?
Three more to remember
55:
The total number of snaps
Tyrone Swoopes
has played in his Texas career. The Longhorns offense has produced 200 total yards while he's been on the field.
13-2:
Texas' record since 2012 when its offense attempts 40 or more rushes. Six of those wins came with Ash out. Texas is also 11-1 in that span when rushing for 165-plus yards as a team.
0-8:
Hill did not complete a pass on third and long against Texas last season. But he did rush for 141 yards and a touchdown on six third-down carries. Yeah, that's 23.5 yards per carry on third downs.
January, 30, 2014
1/30/14
1:00
PM ET
Over the next two weeks, we'll continue to close the door on the 2013 season. Every Big 12 team suffered at least one loss during the regular season, and losses can be as beneficial as wins. In this team-by-team series, we'll take a look at the best loss of the year for each Big 12 team, including what happened and why it matters.
[+] Enlarge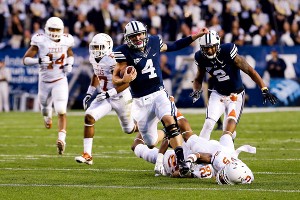 Chris Nicoll/USA TODAY SportsBYU QB Taysom Hill shredded Texas' defense, handing the Longhorns a lopsided defeat.
On Thursday, we focus on Texas.
Best loss:
40-21 at BYU
on Sept. 7 in a game that opened eyes, not only in Austin, Texas, but nationwide.
What happened
: The Longhorns defense watched as BYU rushed for 550 yards and averaged 7.64 yards per carry. Cougars quarterback
Taysom Hill
had 17 carries for 259 yards and three touchdowns. Texas, which started the season with talk of being in the national title picture, looked overwhelmed, outmatched and ill-prepared in the loss. And
David Ash
left the game with a concussion, the start of his head injury issues that cut his season short.
Look up worst-case scenario and this Longhorns loss is a prime example.
Why it was helpful:
First off it woke up Mack Brown to the realization that a change at the defensive coordinator spot was needed sooner rather than later. Getting beat is one thing, but losing while the defense is lethargic, sloppy and lacking a competitive fire is quite another. Brown fired Manny Diaz the next day and hired Greg Robinson to take over the defense. The Longhorns defense was a different unit under Robinson, who simplified things while allowing UT's athletes on defense to be playmakers instead of thinkers.
Most importantly, this loss instilled an "us against the world" mentality into the Texas locker room. Carrying the label "Texas football player" meant one thing when they boarded the plane to Provo, Utah, and quite another thing when they landed back in Austin. From that point forward, the Longhorns circled the wagons and focused on accomplishing the goal of winning a Big 12 title. That goal was still within reach on the season's final day thanks to a 7-1 start to Big 12 play before their season-ending loss to Baylor. The complete turnaround was sparked by this loss.
Revealing stat:
15.24. Hill averaged 15.24 yards per carry against the Longhorns' defense, the third-highest yards per carry average by an FBS quarterback in a game this season behind UCLA's
Brett Hundley
(16.1 against Virginia Tech) and Auburn's
Nick Marshall
(15.29 against Tennessee).
Quote of note:
"Our game plan and goal and objective was to stop the quarterback and tailback. We did neither. The decision to change defensive coordinators was based on our lack of ability to stop the run, period." -- Texas coach Mack Brown one day after firing Diaz and hiring Robinson.
September, 14, 2013
9/14/13
7:00
AM ET
AUSTIN, Texas -- The BYU game in the rearview mirror. It can't hurt you anymore, Texas fans. Next up is as intriguing a game as any on the schedule, especially after the tumultuous past week. Here's our final preview of Texas' nonconference finale against Ole Miss on Saturday (7 p.m. CT, Longhorn Network).
Five notes
1.
With
David Ash
sidelined,
Case McCoy
will lead the Texas offense. Believe it or not, the senior is making his first career start at Darrell K Royal-Texas Memorial Stadium. McCoy is 3-3 as a starter in his career.
[+] Enlarge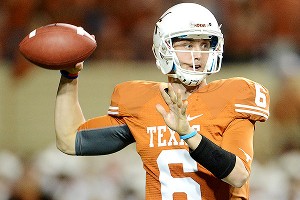 John Albright/Icon SMICase McCoy has split his six career starts at Texas, winning three and losing three.
2.
In 2011, Manny Diaz's first year at Texas, the Longhorns ranked No. 1 in the Big 12 in rush defense and rushing TDs allowed. New defensive coordinator Greg Robinson inherits a Longhorns defense that's currently ranked last in the Big 12 in both categories.
3.
If Robinson can simply make Texas a better tackling team, he'll see serious, immediate results. Last week against BYU, the Cougars picked up an incredible 271 yards after contact. That says it all about Texas' continued problems with missed tackles.
4.
Texas is 16-1 at home in nonconference games since 2007 and is averaging 41.9 points per game during that stretch. But only one of those 17 teams was ranked.
Mack Brown
is 1-1 at home against SEC teams, with both of those games coming against Arkansas.
5.
Injury update: In addition to Ash being ruled out, running back/receiver
Daje Johnson
(ankle) will miss the Ole Miss game. The severity of his injury is unknown, though he could be sidelined several weeks.
Four quotes
1.
"This team is going to be a player-led team. No matter who the coach is coming in, as leaders, we'll get this thing corrected." -- DE
Jackson Jeffcoat
2.
"We totally go back to work. This isn't the first time I've had things said about me and it won't be the last. The only way you can change the way things are outside is win. My total thought is on beating Ole Miss." -- Mack Brown
3.
"Our confidence level is very high in all of our quarterbacks. Whichever quarterback they put in, we feel comfortable that they can get the job done and do a great job." -- RB
Johnathan Gray
4.
"He's behind. We've just got to continue to teach him the things we know and just continue to learn on the go. I feel like since he's been around, he's watched practice, he's watched us since two-a-days, he knows some of the things. We continue to get him up to speed and we still have great coaches that help him get up to pace and we have great GAs that know the system. I feel like he has a great supporting cast." -- CB
Quandre Diggs
, on new DC Greg Robinson
Three keys
1. Bend-don't-break defense
: What can we really expect from Robinson's debut? He's had so little time to fix things, but you have to think Texas will focus on stopping the run. As his predecessor used to preach: All that matters is holding Ole Miss to one point fewer than Texas. That's especially true this week as the Longhorns scrap together their new defense.
2. Score early
: We'll keep harping on Texas' inability to get off to a fast start on offense until that trend changes. Last week, after talking all week about that trend, the Longhorns went three-and-out on its first three drives against BYU. The offense has to help this defense out as much as possible on Saturday.
3. McCoy magic
:Texas needs the McCoy that beat Texas A&M, the one who makes wild plays and makes his teammates better. He doesn't have to be the Favre-ian gunslinger who tries to make plays out of nothing and gets picked off. Remember, McCoy is 3-0 when he doesn't turn the ball over.
Two key players
Gray
: McCoy is an obvious choice here, but he's going to need help from Gray. The sophomore back produced 90 yards against BYU, but he needs to get off to a fast start as much as anyone on this offense. Gray has rushed for 48 first-half yards this season, and Texas needs more than that.
Ole Miss QB Bo Wallace
: Hey, after what
Taysom Hill
did to Texas last week, every dual-threat quarterback should be feared going forward. Wallace has wheels, too, and he's a lot better passer than Hill. That versatility could be a problem for the Longhorns, and Wallace's three-interception game last season will have him plenty motivated on Saturday.
One prediction
Texas 24, Ole Miss 21

Everything we've witnessed in the past week tells me to go with Ole Miss. That's the safe, logical choice. But for some reason, you just get a sense that this is going to be a weird game and it's possible we've overestimated the Rebels as we did last year. This can be one of the more remarkable wins of Brown's tenure or one of his worst losses. It can really go either way. Somehow, I think Texas survives.
September, 8, 2013
9/08/13
3:42
AM ET
PROVO, Utah -- BYU ran for more than a quarter mile on Saturday night.
Mack Brown had said he was ready to find out just how far Texas' run defense has come. The answer he received was startling and painful.
There was no progress to be found in BYU's 40-21 beatdown of Texas at LaVell Edwards Stadium. With a straightforward game plan and remarkable ease, the Cougars rushed for a school-record 550 yards and stunned a Longhorns team that absolutely didn't see this coming.
"I'm disappointed more than anything else," Brown said. "That's why I want to get home and watch it. I'll watch it on the plane going home."
The film Brown will watch might play like a mix tape of Texas' greatest defensive failures of 2012, most notably because UT's knack for missing tackles against aggressive offenses returned.
[+] Enlarge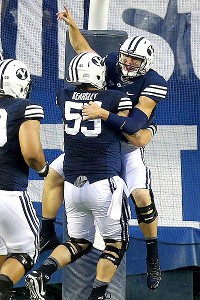 AP Photo/Rick BowmerBYU quarterback Taysom Hill ran through the Texas defense for 259 yards and three touchdowns.
To focus too heavily on Texas' defensive woes, though, is an injustice to what BYU accomplished Saturday.
Taysom Hill
was incredible, rushing for 259 yards and three touchdowns on only 17 carries. Most of those runs came on zone-read keepers, over and over.
And over and over, Texas' front seven got suckered by the fake handoff and watched Hill scamper around them. What made that so difficult to defend?
"I don't know," defensive end
Jackson Jeffcoat
said.
The last three FBS quarterbacks to rush for 250 yards in a game? That would be Vince Young, Denard Robinson and now Taysom Hill. He's a limited passer (9-for-26, 129 yards), but that didn't slow the Cougars' offense down one bit.
Texas had talked all week about its intentions to slow down
Jamaal Williams
. He rushed for 182 yards, and
Paul Lasike
chipped in 87 yards and two scores. BYU owned the line of scrimmage by the second quarter and kept executing, scoring on every drive it had in the second and third quarters.
"We expected to run on them. We didn't expect to break the school record," Hill said. "It was working, and we were able to move the ball really efficiently on the ground. There was no need to go away from it, and we didn't, and this was the result."
There were moments when Texas had momentum and a lead and seemed poised to take control of the ballgame. Those moments slipped away quickly, though, because BYU flat-out did whatever it wanted.
Its defense lived up to the hype, getting constant pressure on
David Ash
without needing more than four rushers and forcing UT to go 5-for-17 on third downs and 0-for-3 on fourth. Texas' plans on offense were built around
Daje Johnson
, and when he went down with an ankle injury there is no doubt Texas' plans for attacking BYU were thrown off.
"When you lose a guy that's involved in packages, like Daje obviously, you've got to find somebody else to put in that place, and certain things immediately go out the window," offensive coordinator Major Applewhite said.
For Texas defensive coordinator Manny Diaz, the toll taken by watching his defense fall apart again was obvious. BYU didn't do anything on offense that he and his players had not expected, and he admitted that.
"They got after us. They outplayed us," Diaz said. "The quarterback obviously was the difference in the game. We just could not execute getting stops. It was runs, it was scrambles. Very disappointing."
Texas' defensive leaders did not throw Diaz under the bus after the game. They insisted he has 100 percent of their trust. Brown said everyone should bear the blame.
"I didn't think our coaches or our players lived up to what we needed to tonight to win -- including me," Brown said.
Brown was then asked point-blank if Diaz will be coaching Texas' defense next Saturday against Ole Miss.
"I haven't even gotten out of the game, so ... I'd like to watch the video," he said.
He won't like what he sees, but that doesn't matter now. Texas has to pick up the pieces. Arguably the two most important components of its offense, Ash and Johnson, left the game with injuries of unknown severity.
The Longhorns badly need that duo on the field, but the defense is the far greater concern. Add this all up, though, and it's clear: BYU taught Texas and the rest of the country that the gap between where the Longhorns thought they were and where they really stand is far more than a quarter-mile wide.
September, 2, 2013
9/02/13
2:00
PM ET
A look at Brigham Young, the Longhorns' second opponent of the season. Texas plays on the road Saturday (6 p.m. CT, ESPN2).

Campus location:
Provo, Utah
Nickname:
Cougars
Conference:
BYU is in its third year as an FBS Independent after leaving the Mountain West Conference following the 2010 season.
All-time record vs. Texas:
2-1
Last game:
BYU lost a rain-drenched season opener on the road at Virginia on Saturday, 19-16. The Cougars overcame a two-hour severe weather delay in the first quarter but couldn't mount a comeback late.
Kevin Parks
got the go-ahead score for Virginia on a 13-yard touchdown run with 2:36 left following a
Taysom Hill
interception. Hill's Hail Mary throw to
Ross Apo
with time expiring was caught, but stopped 28 yards short of the goal line.
Last meeting with Texas:
A nail-biter in 2011. After Texas lost
Garrett Gilbert
to a shoulder injury,
Case McCoy
and
David Ash
rallied the Longhorns after they'd fallen behind 13-0 in the second quarter. Cody Johnson's 4-yard touchdown with 8:46 left ended up being the clincher in a 17-16 victory at Darrell K. Royal Stadium.
Key player:
With top receiver
Cody Hoffman
sidelined with a pulled hamstring against Virginia, BYU running back
Jamaal Williams
took on the burden of carrying the Cougars' offense. He rushed for 144 yards on 33 carries Saturday, including 104 in the second half. Williams has rushed for 100-plus yards four times in his 14 career games as a Cougar, and you know Texas' run defense will be put to the test after its consistent struggles in 2012.
Why BYU might win:
Its impressive defense will have to win the day. All-America candidate linebacker
Kyle Van Noy
leads a BYU unit that was essentially one of the five best in the nation last year. The Cougars held UVA to 114 passing yards, 109 rushing yards and forced 13 punts. If New Mexico State could stifle the Longhorns' offense for nearly 28 minutes, you have to wonder what BYU is capable of this weekend.
Why BYU might lose:
Its offense is still very much a work in progress. New offensive coordinator Robert Anae is preaching an up-tempo, physical attack, but the Cougars were doomed by costly mistakes against UVA -- highlighted by Hill's interception, which came with less than three minutes left and BYU in front. Their line struggled, their receivers dropped passes and the dual-threat Hill was erratic, completing 13 of his 40 attempts. There's no guarantee Hoffman will be ready to play by Saturday. Expect BYU to have serious trouble keeping up in a shootout if David Ash and Texas get rolling the way they did against NMSU.
May, 28, 2013
5/28/13
10:00
AM ET
AUSTIN, Texas -- Each week Sean Adams looks at a few topics around the Texas Longhorns and college football.

First down: Why you don't have to wait for Oklahoma to learn about Texas

Texas playing BYU on Sept. 7 in Provo, Utah, will be a game that will tell the Texas fanbase and coaching staff just what they have in the 2013 Longhorns.


College Teams Most Needing A Big Spring
BIG 12 SCOREBOARD
Thursday, 9/3
Friday, 9/4
Saturday, 9/5