Texas Longhorns:

Steve Patterson
May, 29, 2014
5/29/14
9:20
AM ET
IRVING, Texas -- Despite the dissolution of the BCS, the Big 12 leadership decided during the first day of spring meetings Wednesday that it would keep the same formula for breaking three- and four-way ties.
[+] Enlarge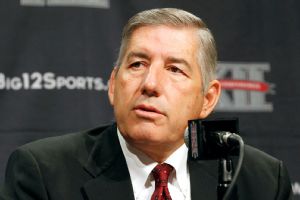 AP Photo/Tim SharpBig 12 commissioner Bob Bowlsby addressed several topics during the first day of spring meetings, including a tiebreaker tweak and unlimited meals for student-athletes.
With one slight tweak.
The BCS standings previously determined the third step of the tiebreaker. Beginning this season, it will be the College Football Playoff committee
that will do the tie breaking
.
"The biggest change we made was we struck the places where it said BCS and inserted CFB poll," Big 12 commissioner Bob Bowlsby said. "So there really wasn't much of a change to it."
Going forward, in the event of a three- or four-way tie, the highest-ranked team in the College Football Playoff poll (that does not advance to the playoffs) will be the Big 12 representative in the Champions Bowl (
aka, the Sugar Bowl
) against the SEC.
Everything else in the three-way tiebreaker will remain the same, including the head-to-head clause that was added following the 2008 season.
That year, Oklahoma emerged out of a Big 12 South Division three-way tie with Texas Tech and Texas despite losing to the Longhorns earlier that season. The Sooners were ranked one spot ahead of Texas in the BCS standing and thus advanced to the Big 12 title game.
Spearheaded by former Texas athletic director DeLoss Dodds, the Big 12 amended the three-way tiebreaker to allow head-to-head to come back into play should the top two teams be ranked within one spot of one another. Had the clause been in effect in 2008, Texas would have played for the Big 12 title instead of the Sooners.
"DeLoss' lasting legacy," Kansas State athletic director John Currie joked of the amendment.
Currie added that the three-way tiebreaker would be on the agenda during the athletic directors' meeting in August in case "something developed" within the College Football Playoff ranking system.
No momentum for early signing period
Two weeks ago, the
ACC concluded
it would recommend an
early signing period in college football
to the College Commissioners Association.
The Big 12, conversely, was far from reaching a consensus on the issue on Wednesday.
"I don't perceive any extreme momentum for that," Currie said of the Big 12 opinion. "For every argument for that, there's a big stack of arguments against it. Whether or not the intended result of an early signing period would reduce chaos on the back end, does that really offset? Is an early signing period going to drive more early recruiting and more early decisions? I personally believe those decisions are being made far too early in many cases."
An
early signing period
is on the agenda for the College Commissioners Association's June meeting. The ACC wants the early signing period to begin Aug. 1.
"The biggest challenge we have is a lot of people are in support of it, but there are a multitude of different options out there," Baylor athletic director Ian McCaw said. "The football recruiting subcommittee is going to gather feedback from high school coaches, student-athletes, coaches and try to make a determination on a date that makes sense. It's something that will be looked at extensively."
Texas Tech athletic director Kirby Hocutt is actually chair of the NCAA football recruiting subcommittee.
Feeding the monster
Last month, the NCAA's legislative council approved a proposal to allow Division I schools to
provide unlimited meals and snacks to all athletes
, including walk-ons.
A chunk of Wednesday's meeting in Irving was spent discussing how the Big 12 would implement the new legislation, which takes effect Aug. 1.
"I was really surprised during the meetings at how much variance there was among schools," Bowlsby said. "And yet there was a fairly high comfort level that although there were uniqueness, that institutions could deal with them in their own way without others thinking, 'Oh gosh, they're going to get an advantage on us.'
"It was an interesting discussion that we maybe we can move into an era where all of us don't have to do exactly the same things."
One possible area of variance? How much each institution might spend on the unlimited meal plan.
Currie said he expects Kansas State to spend somewhere between $700,000 and $1 million a year. Texas athletic director Steve Patterson, meanwhile, estimated Texas' cost could soar "north of $2 million."
While the details are still being worked out across the board, Currie said Kansas State would add a morning snack to its student-athlete training table, as well as "fueling stations" in different facilities for before and after practices. Currie also said inside Kansas State's new $65 million Vanier Football Complex will be a "significant nutrition area" that will give Kansas State's student-athletes access to items like banana smoothies into the night.
"This is going to be very positive," Currie said. "One of the best things we've done."
April, 1, 2014
4/01/14
6:12
PM ET
AUSTIN, Texas -- In his meeting with reporters Tuesday, Texas athletic director Steve Patterson addressed a wide range of topics on Longhorn and college athletics. His comments on Texas A&M got understandable attention (
you can find those here
), but Patterson was far more passionate when it came to the topic of the Northwestern labor lawsuit.
As a college administrator who's also been a pro sports executive and general manager, Patterson has experience on both sides of the fence here on professionals vs. amateurs.
While Patterson does support the push to raise student-athlete compensation to full cost of attendance, that's about as far as he'll go. Patterson is not on board with the Northwestern football players' attempt to unionize.
Here's what Patterson had to say when asked if student-athletes should be considered employees:
"When you get into an NLRB process, the presumption is that the plaintiffs are employees and you have to overcome the assumption they are employees. I think it probably was some smart lawyering on the part of the plaintiff's side, in the path they took and the way they classified it.
"The reality is, though, professional athletics is something completely different. And if you want to go play minor league baseball out of high school, on your way up to the majors, you can make that decision. You can go ride the bus from Biloxi to Beloit, and stay in the hotels that they stay in, and you cannot get an education and you can live on $12,000 a year, if you decide that's a better existence and a better path to a long-term outcome for your career in baseball and after baseball.
"Even if the one percent of the student-athletes that go to the pros go there, their average career is four years. So they have a half a century, on average, after they're done. And what are you going to do with that second half-century of their life? If you want to decide that's a better life, then come to the University of Texas -- even if Augie [Garrido] might get on your tail a little occasionally. God bless you, go do it, knock yourself out.
"If you're a football player coming out of high school that decides you want to go to the pros, go take your issue with Roger Goodell and the owners and the union. That's your place to go if you want to go play professional football, if you want to be an employee.
"If you want to go play professional basketball, go to the D-League, knock yourself out. And then go in the draft to the NBA. That's your place if you want to be an employee, if you want to be a professional.
"This is not your place. And this is a free country, you can make that choice all day long. Knock yourself out. This is student-athlete athletics."
That stance seems to falls closely in line with what Big Ten commissioner Jim Delany and other executives have offered on the topic of paying players.
For the record, Texas coach Charlie Strong said when he was hired in January that paying players is something to "look at" due to the large revenues of football, but also argued the value of a scholarship gets underappreciated.
"If we develop them the right way," Strong said then, "their payday will be in the end, because they're going to have a chance to compete on the next level."
January, 3, 2014
1/03/14
11:00
AM ET
AUSTIN, Texas -- If Texas truly is the No. 1 coaching job in college football, we're about to find out what that means.
[+] Enlarge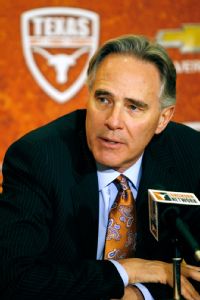 Erich Schlegel/Getty ImagesNew Texas athletic director Steve Patterson has a high-profile coaching vacancy.
With no obvious front-runner at the moment, and athletic director Steve Patterson keeping as quiet as possible, there's still plenty we don't know about what the Longhorns are looking for in their search to find the next Mack Brown.
But we do know the criteria that matter to Patterson and Texas president Bill Powers. At Brown's resignation news conference last month, Patterson laid out some of what he's seeking.
"I think you have to be good with the press, you have to be able to recruit, you have to be able to understand what a big-time college football program is about," Patterson said. "You're going to be under a lot of scrutiny. You've got to win and you've got to win big.
"You have to graduate your student-athletes, you have to take real classes. You've got to mentor them, you've got to recruit the right kind of folks. You're not going to necessarily have all of those requirements at some other schools out there."
And so, we started crunching the numbers and comparing resumes. No matter whether you think Texas is down to 10, five or two candidates, the public speculation over who's interested and available has created a long, long list of potential candidates worth considering.
We've trimmed that list down to 25 big names. Some of these coaches have already said publicly they're not interested. But chances are good that, by Jan. 15, one of these 25 will be the next coach of the
Texas Longhorns
.
Comparing the candidates
A few trends to consider among these coaches, just to give a better sense of how loaded the field might be for Patterson and his committee:
Of these 25 coaches Texas could consider, 21 have BCS conference head coaching experience, 19 have won at least one division or conference title, and 16 have led programs to BCS bowl games.
The coaches on this list have an average of nearly 20 years of college coaching experience, and 21 of them have a 10-win season on their head coaching resume.
Only seven of these coaches have experience coaching in Texas at any level: Art Briles, Gary Patterson, Les Miles, Will Muschamp, Nick Saban, Charlie Strong and Mike Gundy. Briles (Rule), Gus Malzahn (Irving) and Mark Dantonio (El Paso) were born in the state.
Need an elite recruiter? You'll find plenty on this list. Of these coaches, 13 currently have top-25 recruiting classes, according to ESPN, and based on past recruiting data, as many as 14 have a track record of averaging top-25 classes.
Grades and integrity matter to Powers, and 16 of these 25 coaches have APR grades surpassing 950. The national average is 949. At least 18 of the 25 have a clean resume from an "integrity" standpoint. Realistically, though, that's a subjective matter that should be left to the vetting of the search firm and committee.
It's a strong group and Patterson has plenty of appealing options. But data on paper isn't everything. This information helps build reputations and will land some candidates interviews.
What you can't put on paper might be the most important factor: Fit.
Former Big 12 interim commissioner and Big East commissioner Chuck Neinas has run an executive search firm since 1997 and aided in the hires of Brown, Bob Stoops, Mark Richt, Miles and countless other head coaches. He's a strong believer in the importance of finding comfortable fits between coach and institution.
"I've never been in an interview process where they bring in the board and say, 'How do you diagram blocking a zone blitz?' " Neinas said. "They're looking for leadership. You just work it out, spend time and see what interaction there is and hopefully be able to judge how everyone is going to work together."
What makes a successful hire
To get more background, we also analyzed the 25 best college coaching hires of the past five years. What did these successful coaches have in common?
Four trends stood out. The majority of these coaches shared the following traits:
A total of 21 of 25 had more than 10 years of college experience as head coaches or assistants.
Surprisingly, 18 of the 25 had never held a BCS conference head coaching job prior to being hired.
Of the 25, 16 were in their 40s, and 16 had backgrounds as offensive coaches.
Only 16 of the 25 had been head coaches in the past, but 13 of those 16 already had won at least one division or conference title.
For nine of these schools, hiring a coordinator instead of a head coach paid off big. Five of those coordinators were in-house and promoted, and the strong majority of those were on offense. Five of the 25 best hires were of coaches who had taken off the previous season.
Texas isn't looking to hire a coordinator to replace Brown. Patterson rightfully wants someone who's already won big. It's worth noting that only four of these coaches (Urban Meyer, Brian Kelly, Rich Rodriguez and the rehired Bill Snyder) already had led programs to BCS bowl games.
But here's what matters: Five new hires in the past five years have led their programs to the BCS title games.
Finding a coach who meets most of Patterson's criteria won't be difficult. Finding one who can lead the Longhorns back to national-title contention is the reason Texas is searching in the first place.
December, 31, 2013
12/31/13
12:00
PM ET
The final day of 2013 is upon us. Here's the latest from the Big 12.
December, 18, 2013
12/18/13
7:21
PM ET
AUSTIN, Texas -- For new athletic director Steve Patterson, the first step in starting Texas' head coaching search was seeking the help of the people who were smart enough to hire him.
Texas announced Tuesday that Patterson is bringing an eight-person advisory committee and the Korn/Ferry executive recruiting firm into the mix to find the Longhorns' successor to Mack Brown.
[+] Enlarge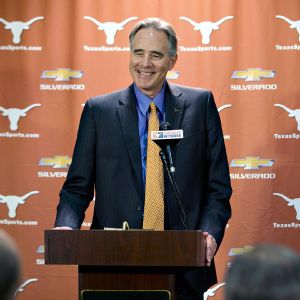 AP Photo/Deborah CannonNew Texas athletic director Steve Patterson will have an eight-person panel helping him search for the Longhorns' next football coach.
That advisory committee is made up of the eight people who helped convince UT president Bill Powers to hire Patterson in November. Included in the group are the following:
Michael Clements, an accounting professor at the McCombs School of Business at UT Austin
Steve Hicks, vice chair of the UT System Board of Regents and owner and executive chairman of the private investment firm Capstar Partners LLC.
Ricardo Hinojosa, a U.S. federal judge for the Southern District of Texas
Charles Matthews, the former VP and general counsel of Exxon Mobil as well as the president of the Texas Exes
Robert Rowling, a former member of the Board of Regents and chairman of TRT Holdings Inc.
Robert Stillwell, a member of the Board of Regents, retired partner at Baker Botts LLP and original director of Mesa Petroleum Co.
Charles Tate, the chairman of Capital Royalty
Pamela Willeford, the former chair of the Texas Higher Education Coordinating Board and a former U.S. ambassador to Switzerland and Liechtenstein
These eight advisors were brought on Oct. 14 as Powers' committee to hire a new athletic director. The presumed longtime frontrunner, West Virginia's Oliver Luck, got an interview. So did Patterson, who blew the committee away and was the surprise hire.
Why does this matter? Patterson knew what he was signing up for when he accepted the job. He and all other candidates had to realize making a decision on Mack Brown and finding his replacement might be required this winter.
The eight-member committee trusted Patterson was the right guy to make the call and handle that situation, and he'll have to do so early in his tenure. Patterson's first day at Texas was Nov. 25, but he's no stranger to hiring coaches as a longtime sports executive.
Now he and Powers will have eight people they trust in their corner as they work to find Texas' first new head coach in more than 16 years.
Don't expect Patterson go public with much during this process from here on out, though. He acknowledged Sunday that deals like this one require a high priority on privacy and a bunker mentality.
"
I think that's the only successful way to have a search process," Patterson said. "I'm not going to be sitting in front of you guys everyday talking about who I had a phone call with.
"At the end of the day, there's been a lot of malarkey in the press over the last couple of weeks. I think Bill and I have had lunch with about a dozen coaches or something, it's been reported one time or another. We haven't talked to anybody or had anything go on. I think you have to have the ability to have a private conversation and come out of it with the best coach you can get. That's the only way you're going to get there."
Powers will give his input throughout, but he made it clear this is going to be Patterson's hire. He know now he'll have plenty of help, but now the pressure is on him.
December, 17, 2013
12/17/13
1:00
PM ET
AUSTIN, Texas -- Your average resignation news conference involving a legendary coach is typically filled with thank-yous, fond recollections and excessive sentimentality. Mack Brown's had that.
Your average resignation news conference doesn't include a school president having to answer whether regents forced out the head coach. The average ones don't involve asking who's actually hiring the next coach and whether that coach can reunify the fan base.
[+] Enlarge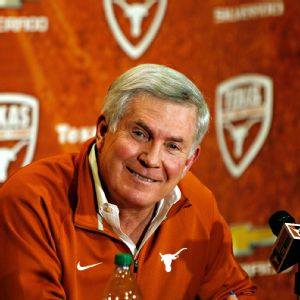 Erich Schlegel/Getty ImagesMack Brown spoke of the many great things about being the Texas coach, but also hinted at some of the problems the next coach will face.
Mack Brown's had that, too. Makes you wonder if that next coach was watching on TV. If so, he should have a better sense of the potential dysfunction that awaits whoever takes over Texas' football program.
Texas is arguably the No. 1 college football job in the country. National brand, unparalleled resources, talent-rich recruiting base, gorgeous campus and city, and oh, by the way, a generous paycheck. It's all there, a dream job in so many ways.
President Bill Powers and athletic director Steve Patterson won't need to accept applications and résumés for this opening. They'll go after the very best of the best in the coaching profession. They won't have a hard time getting someone to take the gig.
But whoever does should know what he's walking into. Brown hinted at this throughout the weekend.
When he put out a statement Saturday night declaring that his run was over, Brown alluded to the Texas program being "pulled in different directions" and that change was necessary.
A day later, he opened his news conference by referring back to a conversation he had with the late Darrell Royal when Brown took the job in the winter of 1997.
"There is such a diverse group that follows this football team that you have to pull them all together, and that is very difficult to do," Brown said. "He said when you get them all together, it's wonderful and it's a powerful place. But when it is not, it is very divided and it is a very difficult place to manage.
"So he said it's like a box of BBs and the BBs are dropped all over the room. What you got to do is get all the BBs back in the box. And we were able to do that. We were able to do that for a long time, until 2010. And then, as of late, the BBs have gotten back out of the box."
The BBs aren't just the fans and season ticket-holders. They're also the big-money donors and boosters, members of the UT System Board of Regents, the people who make up Texas' athletic department and anyone else supporting the cause of Longhorn football.
And they all have a say. They have immense influence. That's why Powers was asked whether the regents drove Brown out, which he denies. That's why he had to declare Patterson is in charge of this hire.
Think Nick Saban faces "special pressures" as the owner and operator of the Alabama dynasty? They're probably nothing like this. Did I mention that the regents could've voted Powers out last week, or that a current and former regent tried to make a run at landing Saban in January?
In Brown's final four years at Texas, he lost 20 games and the faith and support of a strong faction of the fan base. The swirling negativity and vitriol wore on him, his coaches and his players, and was exacerbated with each loss, especially in 2013.
The atmosphere of home games noticeably worsened, to the point that the Longhorns typically played better on the road in recent years.
That's why "energy" and "culture change" are two of the biggest buzzwords associated with what's setting up to be a monumental hire for Texas. The new guy needs serious savvy, enthusiasm and a willingness to play politician when necessary.
And let's not forget, that's on top of the inherent pressure of replacing a coach who won 158 games in 16 seasons, of living and playing up to the standard Brown set during his tenure.
Texas is one of just eight programs in the country with a winning percentage above .750 in the past decade. Its next coach must lead the Longhorns back into the hunt for playoff berths and national championships as soon as possible.
If Royal were still around today, he'd likely offer the new guy the same advice he once gave Brown, after a long spiel about all the folks he'd need to impress at UT: "Oh, yeah: You need to win all the games."
First, Brown's successor will have to mend some fences. He'll need to unify a fractured base. Winning is usually the most effective antidote, but it'll take more than that.
The BBs don't get back in the box all by themselves.
November, 6, 2013
11/06/13
5:00
AM ET
1. Everybody knows it's tough to follow a legendary coach. We're about to find out how tough it is to follow a legendary athletic director. But when Steve Patterson takes over for DeLoss Dodds at Texas, he will be changing the way that Texas has operated for 32 years. He will have to replace legendary football (Mack Brown) and baseball (Augie Garrido) coaches sooner rather than later. And Patterson will be expected to make every decision correctly from the day he sets foot on the 40 Acres. No pressure there at all.

2. Among the four AQ conferences split into divisions, who are the only two coaches undefeated in their own divisions since the beginning of the 2012 season? Urban Meyer at Ohio State, obviously, since he is unbeaten against everyone. The other is UCLA's Jim Mora, who takes a 7-0 record in the Pac-12 South to Arizona on Saturday night. Mora is 1-6 against the Pac-12 North, which is a reflection of both the relative strength of the two divisions and the fact that UCLA has played Stanford three times and Oregon once.

3. Arkansas head coach Bret Bielema is still looking for his first SEC victory and is one loss away from his first losing record after seven seasons at Wisconsin. But according to Bielema, the honeymoon continues. "If we weren't doing things right, if we didn't have kids believing in what we were saying, we'd be having problems right now," Bielema said Monday. "We'd have kids that would be erupting on the sidelines. We'd have kids that are being problems in the classroom or doing some things that are just really disruptive to what's going on and everybody just keeps humming, everybody just keeps sawing wood, everybody just keeps moving themselves in the right path."


November, 5, 2013
11/05/13
7:00
PM ET
AUSTIN, Texas -- Steve Patterson might not have the arm Oliver Luck possesses, but give him credit: He knows how to throw a good curveball.
One week after reports emerged that he'd already turned Texas down, and amid weeks of speculation that pegged West Virginia's Luck as the undisputed front-runner, Patterson is leaving Arizona State to
become the next athletic director at Texas
.
Handing the keys to the most powerful athletic department in the country to Patterson makes sense considering what Texas seeks. The only way to replace the irreplaceable DeLoss Dodds after 32 years was to find a big-picture visionary and an even sharper businessman.
Luck has all the things you'd look for in a Texas AD: cachet, experience, a UT law degree and a spot on the College Football Playoff committee.
But Patterson was the choice because he's a game-changer. He's well equipped to inherit Texas athletics in its current state because he has a track record of making significant, immediate change.
[+] Enlarge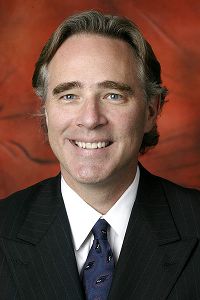 Courtesy of Arizona StateIncoming athletic director Steve Patterson has undergraduate and law degrees from Texas.
Patterson helped bring the creation of Reliant Stadium to fruition. He brought Super Bowl XXXVIII and the 1989 NBA All-Star Game to Houston. As a GM, he's credited with constructing the 1993-94 Houston Rockets team that won an NBA title. His fingerprints are all over several other projects in his six years creating and running Pro Sports Consulting.
When you're accustomed to making those kinds of Texas-sized projects happen, imagine what can be achieved by joining forces with the richest power in college athletics.
Patterson faced an uphill battle as COO and then AD at Arizona State, taking over a department that made $55 million in revenue and needed to get to $100 million to become successful. When he started, facility upgrades were on hold. Coaching vacancies needed to be filled. There wasn't enough money or resources.
His time in Tempe was spent in dedication to fixing up the business side of Sun Devils sports, and then to big-time facility decisions and an ambitious project, known as "The District," for long-overdue rebuilds, including Sun Devil Stadium.
Money and funding will not be an issue in his new gig. Texas prints money, to the tune of $160 million in revenue a year. He's getting a raise of nearly $1 million from the $450,000 a year he made in Tempe. And he's taking over a machine as well-oiled as any in college athletics.
What Texas needed was someone with a plan to stay ahead of the game, to remain the titan it is today. There will be facility decisions on his plate in the near future, but those aren't nearly as daunting as the problem solving he'll face from a personnel standpoint. And Patterson isn't a stranger to that responsibility.
He reportedly made as many as 100 personnel changes in two years at ASU. He oversaw similar turnover as president of the Portland Trail Blazers. He has a reputation for cleaning houses and building better ones.
Terms like "culture change" and "transitional periods" get thrown around a lot in discussing who should take over Longhorns athletics. But what Texas needed, what it always had in Dodds and must always have in his replacement, is a shrewd businessman with a plan.
And at the end of the day, that's what Texas athletics is: One gigantic, wildly rich and financially successful business. Dodds created it, and nobody can fill his shoes. But if Patterson's past work is any indication, he won't be daunted by the challenge.
Texas Longhorns Show Out On Pro Day
BIG 12 SCOREBOARD
Thursday, 9/3
Friday, 9/4
Saturday, 9/5