Texas Longhorns:

Sheldon McClellan
October, 11, 2012
10/11/12
9:45
AM ET
AUSTIN, Texas -- All of this could have been avoided.
Myck Kabongo
could be taking part in his first NBA training camp right now and not be the subject of an
NCAA investigation into his relationship with a professional agent
, which Yahoo! Sports first reported late Wednesday night.
But the Longhorns sophomore point guard didn't want his last game in a Texas uniform to be a 65-59 loss to Cincinnati in the first round of the NCAA tournament. He wanted his legacy in Austin to be much more memorable than that and figured he could make that happen with at least one more season as a Longhorn.
[+] Enlarge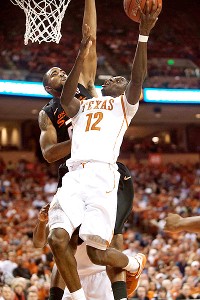 Brendan Maloney/US PresswireAs a freshman, Myck Kabongo averaged 9.6 points per game last season for the Longhorns.
"Personally for me I didn't want to go out without winning," Kabongo said recently. "This program deserves to win. They've done everything possible from a Sweet 16, Elite 8, Final Four. They just haven't gotten to that big stage yet. I just think with the big pieces that we have coming back we could do that."
The Big 12's head coaches reminded everyone last week of the expectations he brings with him into the season by naming him to the Preseason All-Big 12 Team. But if the findings in the NCAA investigation cause him to miss time this season, those expectations could be tempered a bit.
Kabongo, a 2011-12 All-Big 12 honorable mention, started all 34 games last season as a true freshman. A pass-first point guard, he finished fourth in the league in assists per game (5.2), second on the team in steals (38) and third on the team in scoring (9.8 ppg).
He was expected to be the face of a program whose roster features just two seniors (both walk-ons) and no juniors. He is up to 180 pounds after adding 10 pounds of muscle this summer, and said he felt much better about being able to handle the rigors of an NCAA season.
"I thought I could use another year of college to get stronger," he said. "Talent-wise I think I was ready to go. But physically and mentally it was a good thing for me to come back, get bigger and stronger, and build a bond with my teammates."
October, 4, 2012
10/04/12
5:45
PM ET
AUSTIN, Texas -- The Big 12's head coaches reminded everyone today of the expectations Longhorns sophomore point guard
Myck Kabongo
brings with him into this season by naming him to the Preseason All-Big 12 Team.
Kabongo, a 2011-12 All-Big 12 honorable mention selection, started all 34 games last season as a true freshman. A pass-first point guard, he finished fourth in the league in assists per game (5.2), second on the team in steals (38) and third on the team in scoring (9.8 ppg).
"I think it is a testament to the coaching staff and the work that I've put in," Kabongo said. "Just countless hours in the gym and you are seeing it pay off."
Kabongo is joined on the team with Baylor's
Pierre Jackson
, Kansas'
Jeff Withey
, Kansas State's
Rodney McGruder
and Oklahoma State's
Le'Bryan Nash
.
"I just want to continue to get better," he said. "I know it is a preseason honor and I am honored for it. But at the same time I know any of my teammates could have been on that list. So I'm just happy to be on the list."
Fellow Longhorns sophomore
Sheldon McClellan
was named an Honorable Mention selection. He's the team's top returning scorer after averaging 11.3 points per game last season.
Jackson, Baylor's point guard, was named the Preseason Player of the Year.
Amath M'Baye
(Oklahoma) was voted as the Preseason Newcomer of the Year and Flower Mound (Texas) Marcus'
Marcus Smart
(Oklahoma State) was tabbed the Preseason Freshman of the Year.
March, 15, 2012
3/15/12
10:30
AM ET
Texas freshman
Jonathan Holmes
wanted to make one thing perfectly clear after the matchups came out on Sunday night: "I'm not afraid of
Yancy Gates
. I'm not afraid of anybody."
Maybe Holmes did not see the right hook Cincinatti's Gates laid on Xavier's
Kenny Frease
in their brawl back in December. Of course neither did the unsuspecting Frease. The point is Gates has some fight in his game. And Texas has to be more than a punching bag. The No. 11 seed Longhorns (20-13) have to throw a few haymakers of their own as they match up with the No. 6 seed Cincinnati (24-10) in the first round of the NCAA Tournament in Nashville Friday.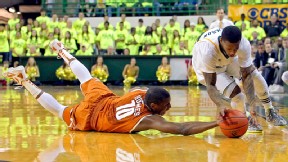 Kevin Jairaj/US PresswireTexas will need Jonathan Holmes to be physical against Cincinnati.
To make sure Texas has at least a puncher's chance here are three keys to the game:
February, 29, 2012
2/29/12
9:00
AM ET
Oklahoma is looking to avenge its Valentine's Day loss to Texas when the Sooners travel to face the Longhorns on Wednesday night at the Ervin Center in Austin, Texas.
In the first meeting the Sooners struggled to contain UT's guards,
Myck Kabongo
and
J'Covan Brown
, who sparked the 69-58 Longhorns win.
Even though the Sooners will face Texas A&M in the first round of the Big 12 tournament regardless of the outcome in its next two games, OU is hoping to grab some momentum heading into postseason play.


Key to OU win
: Containing Kabongo and Brown off the dribble. Both players are excellent at getting into the lane and creating opportunities for themselves and teammates. OU must play strong perimeter defense on Wednesday.
Key to UT win
: Forcing anyone but
Steven Pledger
to beat them. When Pledger is playing well offensively, it sparks the entire OU squad so getting him out of rhythm can knock the Sooners out of rhythm.
Stat line that will tell the tale
: UT free throw attempts. In the first meeting, UT made 24 of 29 free throws, while OU shot just eight free throws total, making five of those attempts.
Sooners X factor
:
Andrew Fitzgerald
. As teams have begun to defend him differently, Fitzgerald has struggled to find ways to score in OU's last four games. The last time he scored in double figures was Feb. 11. The Sooners are more dangerous when the junior forward is involved.
Longhorns X factor
:
Sheldon McClellan
. One of the best sixth men in the conference, McClellan scored 13 points in the first meeting. He's an efficient scorer who takes advantage of the penetration of Kabongo and Brown.
February, 17, 2012
2/17/12
3:00
PM ET
AUSTIN, Texas – Texas has finally figured out that it is offensively limited.
OK, maybe they figured that out when they didn't break 60 against Oklahoma State at home. It's just that now Texas has figured out what to do about it. Play defense.
Texas has won four straight and in those games has allowed just 62 points per game. The defense has even become stingier in the second halves of the last two games. Kansas State scored just 24 points and shot 32 percent after leading at halftime against Texas. Oklahoma scored just 25 points and shot 42 percent in the second half after leading at halftime. Now the Longhorns will try for five straight Saturday when they travel to Oklahoma State.
Couple that defense with a more aggressive attack, which allows for Texas to get the free throw line, and that's why the Longhorns have been successful as of late.
"We got to the free throw line 29 times and shot a nice percentage [against Oklahoma] compared to the fact that they only got there eight times," Texas coach Rick Barnes said. "That's a big step for us. If you go back the last couple games, we've been getting to the free throw line"
Texas has made it to the free throw line 77 times in the last two games. The Longhorns have converted 59 of those attempts. Their opponents have been 20 times and made 13. That's a 46-point differential.
The reason those free throw attempts are piling up for Texas, and not for the opponents, is because of the defense.
Alexis Wangmene
, after watching Texas A&M's
David Loubeau
back down into the lane and get to the stripe 10 times, has stepped up his interior defense.
"The one thing you are always searching for is consistency in every single thing," Barnes said. "What we need him to do for us is to know we can count on him every single night to play defense, rebound and screen for us. He has been a guy that has made some key defensive plays for us."
With Wangmene playing solid interior defense that allows Texas' guards, specifically
Myck Kabongo
and
Julien Lewis
, to put more pressure on the perimeter players. With that, the ball has a hard time getting into the paint.
With the ball relegated to the perimeter, Kabongo has been able to get active with his hands, force turnovers and get fouled on breakaways (Texas has 19 points off turnovers in the second half against OU). The rest of the Texas players are seeing the success he has had getting to the rim, and subsequently the free throw line, and doing the same.
"We've got a couple of freshman that are way ahead of the curve in Myck and Julien," Barnes said about the pair's defensive pressure. "The whole key [for the other freshmen] is how quick they can grasp it, how quickly can they pick it up and move forward."
It appears as if most of them have started to do just that in the last four games.
February, 13, 2012
2/13/12
1:30
PM ET
It took 24 games and 20 minutes but Rick Barnes was finally satisfied, wait, strike that, almost giddy, with the way his Texas team played on both ends of the floor.
"I've been doing this a long time," Barnes said after Texas' 75-64 win over Kansas State. "And I sat there in the second half and enjoyed it.
"I love teams that get after people on the defensive end and I love teams that attack on the offensive end. They are in a constant attack mode and that is what we have told our team since they have been here."
[+] Enlarge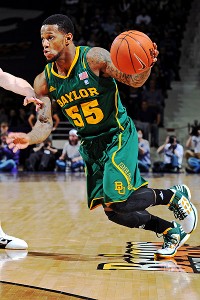 Peter G. Aiken/Getty ImagesTexas had success against Baylor's Pierre Jackson, but can the Longhorns duplicate that success again?
Texas will have to be on the attack as it goes down the stretch. With the current three-game winning streak, Texas (16-9, 6-6) has now pulled to .500 in the Big 12. If Texas can remain at .500 or better through the remaining six games, odds are it will make it into the NCAA tournament for the 14th straight year.
Here is the schedule down the stretch and what Texas' chances are in each of those games:
Oklahoma (13-11, 3-9):
Texas will play the Sooners twice beginning with a game Tuesday night in Norman. Two of the Sooners' three Big 12 wins have come against Kansas State so there is little doubt Lon Kruger's group has the ability to pull an upset over Texas. Oklahoma has lost four straight. One of those was by three to No. 4 Missouri. But Missouri seems to play a lot of close games. So that game might be more of an indictment of Missouri than an endorsement of OU's style of play.
The one OU player Texas will have to watch for is guard Steve Pledger. The junior is shooting 46 percent from beyond the arc and much like Texas' J'Covan Brown, can get hot. But Pledger struggles finding his shot outside of the offensive sets. That should help Texas' defense.
Chances of a sweep:
80 percent
Oklahoma State (12-13, 5-7):
Texas had some trouble with the Cowboys the first time around before finally putting together a run in the second half to win by 10. But this game is on the road, and the Cowboys have proven to be difficult at home with wins over No. 4 Missouri and Iowa State in the past two weeks.
Oklahoma State gives Texas trouble on the inside because of the length of the interior players -- LeBryan Nash and
Michael Cobbins
. Both are very good leapers and shot blockers. Texas center
Clint Chapman
struggles with his back to the basket against those types of players.
February, 6, 2012
2/06/12
11:12
PM ET
COLLEGE STATION, Texas -- The historical significance of facing Texas A&M one last time in Reed Arena didn't matter to Texas.
The future does.
And that future is looking brighter, if only slightly, after the Longhorns notched their second straight victory with a 70-68 win over the Aggies in front of 9,792 fans Tuesday night. While the win certainly will not send the RPI soaring, it is a boost for a Texas team that struggled to a 3-6 record in the Big 12 during a rugged January. Now that the page has turned on the calendar, so too have Texas' fortunes. Texas finds itself 5-6 in the conference with a legitimate shot at pulling to .500 with a home win over Kansas State Saturday.
[+] Enlarge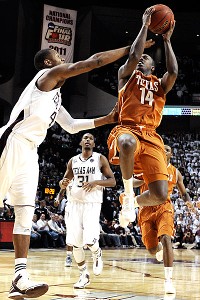 AP Photo/Pat SullivanJ'Covan Brown led the way for Texasa with 20 points against Texas A&M.
If Texas (15-9, 5-6) can manage a .500 record and win once in the Big 12 Tournament, its streak of consecutive NCAA tournament bids would remain alive at 14. It was assumed this young team would eventually mature. With this last-minute win, it appears Texas may have started to do just that.
"We just came together as a team and listened to the coaches," Texas freshman
Sheldon McClellan
said. "Early on (in the season) we were doing things on our own and now we are focusing and doing things as a team."
If anything, this was a team effort.
J'Covan Brown
led with 20 points, but when it came to the winning play, it was the team that stepped up. Trailing by one with less than a minute to go, Texas coach Rick Barnes called a timeout and drew up a play; one that Texas had never drawn up before. The "gate" play as Barnes dubbed it required two screens to be set, Brown to get through them, get the ball and get to the rim. All of it worked as Brown laid it in from the left side.
Suddenly, Texas, a team that was 0-7 in games decided by two possessions or less, had the win.
"It feels great to get out of that slump," Brown said. "These young guys, they battle every day. You can see in their face they want to win and they want to get to that tournament."
It was also evident in the play of the young Longhorns that this is a team, at least in this game and the last against Texas Tech that is carrying itself with more confidence.
"I didn't think at any point and time there was doubt," Barnes said of his players. "Tonight we carried ourselves well even when things got going a little. When we got down, our guys stayed together."
Texas never got too far down. But it never pulled away either. Twice the Longhorns grabbed nine-point leads. Twice Texas A&M came back to take the lead.
But unlike it had against Baylor, Missouri and Kansas, this time Texas was able to grab the lead and keep it.
"There were games when we would get a lead and couldn't get stops," Barnes said. "We got a stop and that was the difference for us there at the end."
Again that stop came through team effort as Alex Wangmene forced the ball out
David Loubeau
's hands and into Myck Kabongo's.
Couple that type of defense with 58 percent shooting in the second half and it was just enough to get the team's first road win since UCLA in early December.
"A win like this it brings us together even more as a team," said McClellan, who finished with 15 points.
Texas is going to need that togetherness if it wants to keep stringing wins together in the second half of the Big 12 season.
January, 24, 2012
1/24/12
4:01
PM ET
Here are this week's Big 12 power rankings:
1.
Kansas
: Bill Self said Saturday's 69-66 victory at Texas was his team's best win of the season. Not because the Jayhawks played particularly well against the struggling Longhorns, but because they found a way to grind out a victory in a tough road environment. Kansas is 36-7 in Big 12 road games in the past five-plus seasons.

2.
Missouri
:
Ricardo Ratliffe
scored 27 points in Saturday's 89-88 win at Baylor, but many of those came on easy baskets against the Bears' soft interior defense. The bigger story was the performance of point guard
Phil Pressey
, who had 18 points, seven assists and six steals in the Tigers' most impressive victory of the season.
January, 24, 2012
1/24/12
9:30
AM ET
AUSTIN, Texas --
Myck Kabongo
had to sit and watch against Kansas.
Rick Barnes didn't pull any punches when asked why.
"We need to run offense," the Texas coach said.
Kabongo, a freshman, is apparently only capable of that when he is sternly reminded.
"When he went back in, he did exactly what he needed to do for us," Barnes said.
By then it was too late.
That's the theme at Texas lately. The Longhorns, who have dropped three straight in Big 12 play, are great late and terrible early.
In six Big 12 games, Texas has averaged 30 points in the first halves as opposed to 38.5 points in the second halves.
Kabongo's inability to get his team into transition early is one of the main reasons why the offense has been so poor in the first half. The other is Kabogno does not have the court awareness it takes to understand when the best times are to run and when Texas should set up the offense.
Then there is the offense itself. Rarely does a post player make himself available for an entry pass. Therefore, Texas is resigned to passing the ball around the outside, hoping to get a decent look. And when they are there in the post, Kabongo, who is so involved in his own game, refuses to look.
"We wanted to run and run hard early in the game," Barnes said after the Kansas game. "[The post players] were there and we never looked at them."
Instead Texas settles for an outside shot. Sometimes it works --
Sheldon McClellan
had three straight 3s against Kansas -- most times it does not, particularly after smart teams figure it out and adjust.
Texas figures out how to adjust as well. But, as is evident by the 2-4 conference record, by then it is too late.
January, 20, 2012
1/20/12
11:00
AM ET
AUSTIN, Texas -- Before Texas started its five-game, 12-day trip through the toughest part of its schedule,
J'Covan Brown
implored his teammates to walk into each game with a chip on his shoulder.
That chip is carrying a little less weight after Wednesday. Texas lost the first of the five, 84-80 to Kansas State. Next up is No. 7 Kansas. Then comes Iowa State, a team that has already beaten Texas. Followed by No. 3 Baylor, and finally there is No. 5 Missouri, again another team that has already beaten Texas.
[+] Enlarge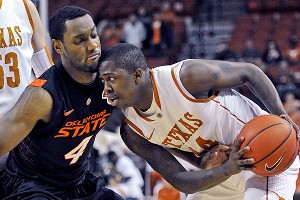 AP Photo/Michael ThomasJ'Covan Brown has urged his younger teammates to step up their games in Big 12 play.
By the end of the run through the Big 12's best, Texas might need to forget about carrying a chip on its shoulder and find a shoulder to cry on instead. And they might want to save a few tears for the end of the regular season.
The way things are shaping up, Texas (12-6, 2-3) appears in serious jeopardy of missing the NCAA Tournament for the first time in 14 years. But those are woes for later. The here and now concerns center around Texas maturing and playing with an attitude.
"We're not going to let anybody walk over us," Brown said. "If you're going to play us, you're going to play on our terms."
That all sounds good. And, as a junior, Brown probably means what he said and is able to puts some action behind those words.
However, not everyone is able to play up to Brown's standard for 40 minutes. Take freshman point guard
Myck Kabongo
. He has had flashes of brilliance in the last two games and notched back-to-back double-doubles. But Texas has lost both of those games because Kabogno had ill-timed turnovers and allowed the opponent's defense to dictate how he sets up the Texas offense.
Brown said, in order for the offense to run correctly, things have to be settled by the point guard, and that "everybody is not trying to make that big play."
Texas has to figure out who its playmakers are. Brown clearly is one. He leads the conference with 19.2 points per game and can seemingly get his shot off at any time. But most of the top teams have a complementary scorer or even a third option. Kansas has
Thomas Robinson
and
Tyshawn Taylor
. Missouri has
Marcus Denmon
,
Kim English
and
Ricardo Ratliffe
. Baylor has
Quincy Acy
,
Pierre Jackson
and
Quincy Miller
.
Texas has Brown and a collection of freshmen players --
Sheldon McClellan
,
Julien Lewis
and Kabongo -- who have shot 35 percent in five conference games.
Still, as bad as that appears, Texas has had chances to win on the road at Kansas State, Missouri and Iowa State.
Texas had the ball, down two, with 20 seconds left against Kansas State when Kabongo turned the ball over. Texas was within five against Missouri midway through the second half before three turnovers in four possessions allowed the Tigers to take control down the stretch.
"We have to execute our offense," assistant coach Chris Ogden said.
"We can't play outside of that offense," added senior
Clint Chapman
.
Texas also has to forget about whom they are facing the next four games or what has happened in the last two games.
"You've got to play," Ogden said. "You've got to figure out the things that are making us lose and change some things."
If Texas doesn't, the one that is going to change is its streak of postseason appearances.
January, 17, 2012
1/17/12
5:43
PM ET
AUSTIN, Texas -- At a time when a team, even a young one like Texas, should be hitting its stride, the Longhorns (12-5, 2-2) are hitting the wall.

And to make matters worse, the players are not hitting shots. Or even taking the right ones for that matter.

In the last three games, the Texas offense has averaged 64 points per game -- 12 below its average -- shot 33 percent in the first halves and started games glacially slow -- averaging just 13 points in the first 10 minutes of each game. The staggering thing is, twice Texas got away with such poor offensive play in large part because of how bad Texas A&M and Oklahoma State were, and because of the Texas defense.

December, 21, 2011
12/21/11
9:00
AM ET
AUSTIN, Texas -- Texas has won seven in a row and had five different leading scorers during the streak.
But while the younger players might be stepping up their games, Texas is still a team that can only go as far as junior
J'Covan Brown
can take it. The guard's minutes have jumped from 21.5 last season to 33.6. Not surprisingly, Brown is averaging nearly nine more points a game, and taking twice as many shots. He leads the team in scoring with 19.3 points per game.
But where his impact is clearly felt most is in shot selection. When Brown is in the game, he takes 31.6 percent of the team's shots. That's the third-highest total in the Big 12.
To continue reading this article you must be an Insider
Texas Longhorns Show Out On Pro Day
BIG 12 SCOREBOARD
Thursday, 9/3
Friday, 9/4
Saturday, 9/5