Texas Longhorns:

Shawn Watson
April, 30, 2014
Apr 30
10:00
AM ET
Editor's note: This week we're taking a closer look at five key takeaways from Texas' spring practices and what they mean for the summer and beyond.
AUSTIN, Texas -- With all the talk about culture change and the confusion over coordinators and the conundrum at quarterback, an important question didn't really get answered this spring.
What is Texas' new offense going to look like?
You have to wonder how the Longhorns' offensive leaders are handling a third consecutive year of transition. They've played in a pro-style offense for Bryan Harsin and an up-tempo spread under Major Applewhite that got scrapped for a run-heavy attack. Now they have to master a brand new playbook constructed by two coaches.
[+] Enlarge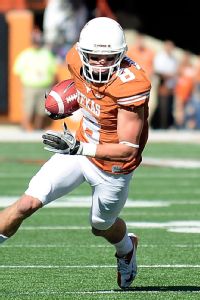 Stacy Revere/Getty ImagesJaxon Shipley is among the Texas veterans adjusting to another new offense this spring.
Shoot, even the veterans like
Malcolm Brown
and
Jaxon Shipley
made their verbal commitments out of high school with the intention of playing for Greg Davis. They've been in for change on a near-annual basis ever since.
Perhaps that's why assistant head coach Shawn Watson focused on bringing Texas' offense back to basics this spring.
"Getting our base formations, personnel groups, the base run taught, the base protection, the base pass," Watson said. "We haven't gone much past that because we wanted to bring that to detail."
Bringing everything "to detail" is a concept Watson throws around a lot when talking about where the Longhorns are and where they need to be. It's not about starting from scratch. It's about learning to execute the new plays exactly as they're drawn up. Master the minutia first.
"Everyone has really stepped up to the challenge," Shipley said after the spring game. "We've put in new stuff throughout the whole spring and this was the first time to really go through all of the plays. This is not going to be all of it, we'll have more stuff to put in and it'll improve."
The new staff intended to stay especially vanilla in its Orange-White spring game. They showed nothing groundbreaking, and would've been hard-pressed to anyway with just one true scholarship quarterback available. But center
Dominic Espinosa
expects a number of new wrinkles by the end of August. No need to show off now.
"That was a little taste of what we're trying to do," Espinosa said after the scrimmage.
Knowing what to reasonably expect from this unit in 2014 is tricky. At Louisville, Watson says it all came together in Year 2. Over his three-year stint, the Cardinals ranked No. 3 in FBS in completion percentage, No. 2 in fewest turnovers and top 10 in yards per attempt.
Teddy Bridgewater
can take credit for much of that efficiency, but he thrived in part because his offense was built on a sturdy foundation.
Pair that with the philosophies of Joe Wickline, whose Oklahoma State offensive lines paved the way for one of the nation's best spread run games, and you can put together a picture of a powerful system.
Envision an offense that pounds inside-outside with the run to set up a four-wide passing game, one that can also go under center and grind with two tight ends. And, on top of that, a capability to go tempo and adjust on the fly when its quarterback heats up.
Or maybe Watson and Wickline have something entirely different in mind. They have a long summer to concoct something special for an offense that's unmistakably loaded at running back and receiver.
After two years of transitions, mixed messages and changing demands, there's merit in taking it slow and doing this right. That was Watson's mindset going into the spring game.
"It is more about the players right now and putting them out there and seeing what we have now," Watson said.
The next few months are a different story. Watson and Wickline know what they've got in these players. Now they must figure out what to do with them.
April, 25, 2014
Apr 25
9:00
AM ET
Spring football is coming to a close in the Big 12, with several players making a move in their respective programs and securing or improving their roles on the team. We reviewed the Big 12's stars of the spring by taking a closer look at their pre-spring roles, spring performance and potential roles this fall. The two-day review
began with Part 1
on Thursday.
Running back/receiver Tyreek Hill, Oklahoma State
Pre-spring role:
While it was unclear what role Hill would play in the Cowboys' offensive attack, one thing was certain: He had elite track speed.
What he did this spring:
Hill showed he can do a variety of different things in Oklahoma State's system, from taking straight handoffs as a running back to making plays on the perimeter as a receiver. He showed he doesn't just have speed, he has big-play ability and the potential to change games in one play this fall.
What his role could be this fall:
Ideally, Hill will take on a
Tavon Austin
or
Percy Harvin
-type role for the Cowboys, with Oklahoma State using him in a variety of ways to take advantage of the weakness of the defense they're facing that weekend. Hill should be one of the main threats in the Oklahoma State offense in 2014.
Quotable:
"He has, obviously, that God-given speed that we all see, but he also has a hunger deep inside. You don't know about that until you get to know somebody and get around them and get 15 practices in. It's good to see his hunger and drive inside." - Oklahoma State offensive coordinator Mike Yurcich
[+] Enlarge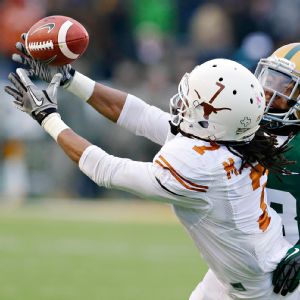 AP Photo/LM OteroMarcus Johnson showed big-play ability this spring for Texas.
Receiver Marcus Johnson, Texas
Pre-spring role:
Johnson was expected to be one of several receivers competing to replace
Mike Davis
as a main target in Texas' offense after recording 22 receptions for 350 yards and two touchdowns as a sophomore.
What he did this spring:
Johnson had a terrific spring, showing he has the ability to make plays during scrimmages and competitive spring drills. The junior has the speed to test defenses and showed it during his first opportunity to impress Charlie Strong and the new coaching staff.
What his role could be this fall:
Johnson could end up being the man to replace Davis alongside
Jaxon Shipley
. The Longhorns need a No. 2 receiver to emerge, and Johnson could be the guy if he becomes more consistent on a weekly basis.
Quotable:
"Marcus is a big-play player. I mean, he has got great speed, he is assignment-sound, he has played a lot of football, so he has got a real good feel for the game. He is a great fit in what we do and he has had a great spring for us. He has played really well." - Texas offensive coordinator Shawn Watson
Safety Kenny Iloka, TCU
Pre-spring role:
A newcomer who arrived from the junior college ranks during January, Iloka was signed to provide depth and versatility in TCU's secondary.
What he did this spring:
Iloka staked his claim to a role in TCU's defense despite several experienced safeties returning, including
Sam Carter
. Iloka, the younger brother of Cincinnati Bengals safety
George Iloka
, stepped on campus as a ready-made impact player with his willingness to set a physical tone in the secondary.
What his role could be this fall:
TCU returned three safeties who started games in 2013, but Iloka looks like he will make an immediate impact, even if he doesn't force his way into the starting lineup.
Quotable:
"Kenny had a heck of a spring; he really adds to the depth. He's going to be an exceptional safety for us." - TCU defensive coordinator Dick Bumpus
[+] Enlarge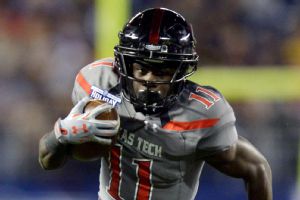 Kirby Lee/USA TODAY SportsJakeem Grant scored seven TDs last season and is poised to improve on that in 2014.
Receiver Jakeem Grant, Texas Tech
Pre-spring role:
Grant was a playmaker for Texas Tech during his sophomore season, but the Red Raiders are searching for a even bigger impact from the junior in 2014.
What he did this spring:
Grant looks ready to handle being the focus of an opposing defense. His speed and quickness are a handful, but he's starting to develop into a legitimate receiving threat as opposed to a change-of-pace kind of offensive weapon.
What his role could be this fall:
Grant, if he continues developing, could become one of the Big 12's top receivers and the centerpiece of the Red Raiders' offense, replacing
Jace Amaro
as a matchup nightmare for Big 12 defenses.
Quotable:
"He made some big plays last year, but really had a big spring for us. He's developed on and off the field and, academically, he's much improved. On the field, his consistency as a receiver and his work ethic is night and day from last year." - Texas Tech head coach Kliff Kingsbury.
Running back Dustin Garrison, West Virginia
Pre-spring role:
Garrison was a relative afterthought at the position with
Andrew Buie
's return and the addition of
Rushel Shell
.
What he did this spring:
Garrison reminded people that he led the Mountaineers in rushing in 2011 with a strong spring showing. Injuries hampered his production during the past two seasons, but his direct running style and competitive nature was on full display through during the 15 spring practices.
What his role could be this fall:
He might have earned himself some carries this fall even though West Virginia goes four or five deep at running back. His emergence could allow West Virginia to get creative with its use of sophomore
Wendall Smallwood
.
Quotable:
"I thought Garrison had a really good scrimmage. He showed up. He was a guy that stuck out." WVU offensive coordinator Shannon Dawson told The Charleston Gazette after a two-touchdown performance by Garrison in a spring scrimmage.
April, 23, 2014
Apr 23
9:30
AM ET
AUSTIN, Texas -- Calling Texas quarterback
Tyrone Swoopes
' performance in the Orange-White spring game "inconsistent" or "up-and-down" doesn't suffice. It's too simplistic a summation of what was really a tale of two performances.
So we reviewed the film. Here's a closer look at the plays that stood out from the second-year QB's critical day.
The bad
[+] Enlarge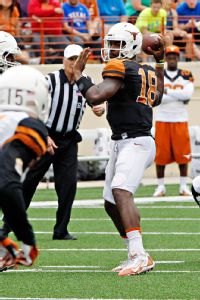 AP Photo/Michael ThomasQB Tyrone Swoopes showed flashes of his incredible talent, but was inconsistent in the Orange-White game.
We have to start off here only because of Swoopes' rocky start. Facing a second-team defense, his first four drives as Texas' QB went like this: Interception, punt, three-and-out and a missed field goal after three plays netted zero yards.
His only first-quarter completion was a screen pass. So was his second completion of the day. When Shawn Watson appeared for a quick in-game interview on Longhorn Network, he admitted Swoopes had "a little deer-in-the-headlights look" early on.
In fairness, his offensive line should take some of the blame for his early mistakes.
Desmond Harrison
ignored defensive tackle
Hassan Ridgeway
on Swoopes' first dropback, leading to an 11-yard sack. In a real game, Swoopes would've been flattened on that one.
On the next snap, right tackle
Kennedy Estelle
didn't slow down a blitz from the slot by
Naashon Hughes
, who got good pressure.
Dalton Santos
did an impressive job of dropping back deep into coverage, leading Swoopes to try throwing the pass high. It sailed past his receiver and into walk-on
Dylan Haines
' arms.
Swoopes got oh-so-close on two potential touchdown balls to
Jaxon Shipley
. On the first, Shipley beat
Chevoski Collins
for an easy third-down TD over the middle if the pass was even chest-high. Instead, another overthrow that seemed more a product of Swoopes' footwork.
He had a heck of a throw later when Shipley was fading to the right corner of the end zone. Swoopes put it in the perfect spot, right where
Bryson Echols
and
Adrian Colbert
had no chance to make a play, but just one yard too far from Shipley's outstretched hands.
One more play to note, because it came right before Swoopes started to get rolling: The ugly conversion on fourth and 4 in the second quarter. Texas lined up in a power set with two tight ends and a fullback and went with a play-action pass that was well-protected.
But Swoopes looked right and didn't find what he wanted. So he rolled left and fired a pass off his back foot. He was fortunate Shipley broke off his comeback route toward the sideline. The sophomore QB fit the pass into traffic for a difficult but important completion.
The response from Watson? Screaming. He threw down his headset and ripped into Swoopes, presumably for making the wrong look off the run fake and turning a tricky play into a much more difficult one.
The good
From there, Swoopes got better. Texas found the end zone three plays after the fourth-down pass to Shipley. Then, after a quick takeaway from the No. 1 defense, came the play that turned the tide for Swoopes.
He rolled to the right and all the way to the sideline on the final play of the first half. With
Caleb Bluiett
in close pursuit, Swoopes loaded up and fired a pass off his back foot that traveled at least 50 yards. The diminutive
Daje Johnson
pulled it down in a crowd of three defenders.
That, in one shiny nutshell, is what you can get when Swoopes' raw tools are put to good use. A lucky completion, obviously, but one that still requires a cannon.
The Texas coaches were wise to simplify from there. Swoopes got in a zone by hitting some easy stuff, comebacks and passes over the middle and two bootleg passes to tight end
Geoff Swaim
. It's also good vanilla ball for a spring game on TV.
Swoopes ended his day with a magnificent throw. Clean drop, looked off a safety, made the right read and threw a perfect ball that fluttered nearly 45 yards to Shipley. He pulled it down in between Collins and Colbert and finished for the score.
That gave Swoopes reason to celebrate. He watched, waited, even leaned in as he watched the ball. When he knew it was good, he threw up his hands and let out a shout. Plays like that build confidence, no matter the setting.
The unknown
There's a lot more work to be done here. Watson will work with Swoopes on his mechanics this summer, though he says those fixes won't need to be significant. He'll get stronger -- though the physical tools are all there -- and he'll spend a lot of time studying the scheme the summer.
But how far Swoopes advances by the end of summer and into fall camp will depend on what he puts in. With
Jerrod Heard
and, potentially,
Max Wittek
arriving in the summer, and
David Ash
returning from his foot fracture, reps with the No. 1 offense won't be handed to Swoopes by default like they were over the final week of spring ball.
This isn't to say Swoopes will be some forgotten man. Not at all. But if he wants to seriously contend for the job this fall, he's going to have to master this offense and outwork everyone else.
If his rally on Saturday means anything, perhaps it's this: Don't count him out just yet.
April, 18, 2014
Apr 18
2:00
PM ET
AUSTIN, Texas -- The first Texas football game of the Charlie Strong era will look a lot more like a practice.
The Longhorns hit the field this weekend for the first time since Strong arrived. Even though fans can expect a more scrimmage-like approach to the annual Orange-White spring game, there will be plenty worth keeping an eye on.
When:
1 p.m. Saturday
Where:
Darrell K Royal-Texas Memorial Stadium
[+] Enlarge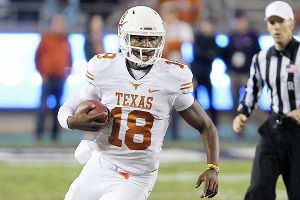 Matthew Visinsky/Icon SMISophomore QB Tyrone Swoopes will get a chance to work with the No. 1 offense in a game setting Saturday.
What to watch for:
Swoopes' confidence: The last time we saw Tyrone Swoopes in action, he looked like a flustered freshman (he was, in fact, a freshman) trying his hardest not to mess up amid a beatdown from Oregon in the Valero Alamo Bowl. He wasn't afraid to take some shots, and he scrambled for a 28-yard gain, but all in all it was a tough ask for a first-year QB who still had a lot to learn. With David Ash sidelined, Swoopes gets a chance to run the No. 1 offense in the spring game and show how far he has come in 14 practices with Shawn Watson, Texas' new quarterbacks coach. Watson is enthusiastic about the sophomore's future and praises his work as a student of the game, but this is a chance to see how well he can execute with a crowd watching and a No. 1 defense coming after him. Strong says the key to Swoopes' play is confidence and playing within himself. Everyone in attendance on Saturday will want to see if he can do just that.

New-look defense: This is going to be a vanilla ballgame on both sides of the ball. Both coordinators acknowledged that after their final practice Thursday. Why give up the good stuff when any Big 12 opponent can DVR the game on Longhorn Network and pick it apart? Even fiery defensive coordinator Vance Bedford will show restraint. But how he lines this defense up, both in scheme and personnel, will be intriguing. Texas coaches say this will be a multiple defense capable of lining up in 4-3 or 3-4, and you could see a little bit of both on Saturday. No, the defenders can't touch Swoopes. But you better believe Bedford will demand they get after him and put up a fight.

Playmakers on the outside: The hype is building for this Longhorns receiving corps, and their coaches have had nothing but good things to say about a group that must make up for the loss of deep threat Mike Davis. Nobody will be surprised if Marcus Johnson is the breakout player of the spring game. He's a star in the making. Jaxon Shipley, Kendall Sanders, Daje Johnson and Jacorey Warrick are all said to have had a big spring as well, and don't be shocked if you see tight end Geoff Swaim do some things in the passing game after primarily serving as a blocker in 2013.

Rising returnees: A new coaching staff means a clean slate for these Longhorns, and that means a fresh start for players who either weren't playing or were underperforming. The differences will be far more noticeable by August after a long summer of lifting and drills, but there will be some new standouts on Saturday. Guys such as safety Mykkele Thompson, offensive guard Taylor Doyle and linebacker Tim Cole have made an impression on the new staff and could do so again this weekend. Or perhaps it'll be someone nobody else is talking about, like how Duke Thomas caught everyone's eyes last year.

New sheriff in town: It's going to be a little strange to see someone other than Mack Brown on that sideline, isn't it? You know plenty of Texas fans will have their eyes on Strong for a glimpse of how he operates in a game setting and what he bring to the Texas sideline. You know the 100-plus recruits in attendance will care about that, too. For all the talk about how Strong is a stern coach out to lay down the law and whip the Longhorns into shape, let's see him have a little fun on Saturday.
March, 25, 2014
Mar 25
10:00
AM ET
It's Take Two Tuesday again, when we give our takes on a burning question in the league.
Today's Take Two topic: Who has the best chance of jumping up and challenging Big 12 favorites Baylor and Oklahoma for the conference crown?
Take 1: Max Olson -- Texas
Oklahoma and Baylor should both be considered top-10 squads in 2014, there's no dispute about that. They're in terrific shape going forward. But the way this league is set up, it's hard to see either emerging undefeated by December.
The team best built to challenge them is Texas, at least on paper. Remember, for all its flaws in 2013, the Longhorns were two quarters away from winning the Big 12 despite major injuries and inconsistent quarterback play. They lose key pieces, but could come back better than expected.
That's because there's a new sheriff in town. Charlie Strong is dedicated to changing the mentality of this program and bringing back the toughness and accountability that went missing in recent years. He put together an impressive staff and brought in a revered strength coach. This program is undergoing big changes.
And there's enough talent on board to sustain another run at a conference title. Joe Wickline and Shawn Watson will build an offense around the run game trio of
Malcolm Brown
,
Johnathan Gray
and
Joe Bergeron
, and there's good depth at receiver and on the line. What Texas needs most is a full year from
David Ash
, but
Max Wittek
seems likely to become the insurance option there.
If Texas is going to challenge the league favorites, it'll be with a defense that brings back leaders at all three levels (
Cedric Reed
,
Steve Edmond
,
Quandre Diggs
) and is full of experienced talent. This is a unit that will line up a bunch of different ways and cause a lot of problems.
Revamping this Texas program will take time, but the Longhorns could have enough to make another run in 2014.
Take 2: Jake Trotter -- Kansas State
[+] Enlarge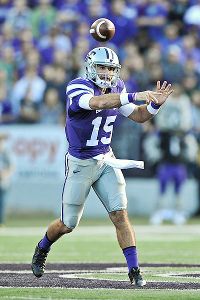 Peter G. Aiken/Getty ImagesJake Waters was one of the nation's most effective quarterbacks during the second half of last season.
The Longhorns certainly have the talent and supporting cast to seriously compete for a Big 12 title. But until they find the answer at quarterback -- and I'm dubious they will in Strong's first season – it's hard to see them doing so.
The
Kansas State Wildcats
have no such issues. And they too have the surrounding cast to make a run at the Bears and Sooners for the league championship.
After struggling early,
Jake Waters
settled in at quarterback the last half of the season and cut talented playmaker
Daniel Sams
out of the rotation. From Oct. 26 on, Waters produced the 13
th
-best Adjusted QBR in the country, according to ESPN Stats & Info, while leading the Wildcats to wins in six of their final seven games (he threw for 348 yards and three touchdowns in the lone loss, too).
Besides Waters, K-State also boasts one of the top wide receivers in the nation in the uncoverable
Tyler Lockett
, who had the third-most receiving yards in college football during the same Oct. 26-on stretch.
On the other side, Bill Snyder replenished his defense with a trio of ESPN JC 50 signees in defensive tackle
Terrell Clinkscales
, outside linebacker
D'Vonta Derricott
and cornerback
Danzel McDaniel
, who should fill the slots in the lineup where the Wildcats have holes.
K-State will have to earn its way into the conference title chase, with road trips to both Baylor and Oklahoma. But K-State gets the Longhorns in the Little Apple, where it hasn't lost to Texas since 2002.
The Wildcats also get defending national runner-up Auburn in Manhattan, Kan., earlier in September. If they topple the Tigers in that Thursday night clash, the rest of the Big 12 will quickly realize that K-State is a legitimate contender.
March, 19, 2014
Mar 19
1:15
PM ET
AUSTIN, Texas -- Charlie Strong finally put an end to all the confusion on Tuesday. Or did he?
The great question is who exactly is responsible for calling the offensive plays at Texas, a topic that seemed fairly cut and dried when Strong first addressed it on Jan. 15, following the hiring of his staff.
"Joe Wickline will call plays on offense," Strong said then. "He's the offensive coordinator; he will call plays."
[+] Enlarge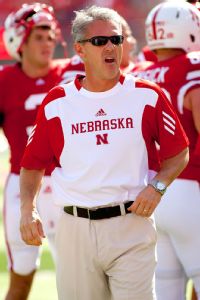 John S. Peterson/Icon SMIShawn Watson, shown at Nebraska in 2010, is the assistant head coach of the Texas offense and will be in charge of play calling, though he won't necessarily be the playcaller.
Wickline is indeed the offensive coordinator after nine years of coaching the offensive line at Oklahoma State. Shawn Watson was hired as the assistant head coach of the offense and quarterbacks coach after serving as Strong's offensive coordinator and playcaller at Louisville, and Strong insisted in January that Watson will be heavily involved in influencing the Longhorns offense.
This seemed like a simple plan at the time, but then a different message started to spread.
Earlier this month, Strong told CBS' Jeremy Fowler that Watson is "
gonna be in charge
" of play calling and will run the game planning and organization of the offense.
This came just days after Wickline and Watson each met with Texas reporters for the first time and explained that their efforts to oversee the Longhorns offense would be a collaboration. (Wickline discussed his relationship with Watson
in this Q&A
.) And Strong's quotes to CBS led to a Texas spokesperson confirming to multiple outlets that, yes, Wickline was still expected to call plays on game day.
There are some off-the-field aspects of this story, too. Watson will be paid more than Wickline. And as the
Austin American-Statesman reported
in January, language in Wickline's contract at Oklahoma State demanded that Texas would have to pay OSU a sum of $600,000 if Wickline wasn't named "offensive coordinator (with play-calling duties)."
So, what's going on here? Strong was given a chance to clarify Tuesday after his first spring practice.
"The one final voice will be Shawn," Strong said. "Joe is the offensive coordinator. Shawn is the assistant head coach in charge of the offense. Two guys work together."
Strong went on to explain that such a split is, in his experience, not uncommon. He was co-defensive coordinator with Greg Mattison for three years at Florida, from 2005 to 2007, and they both made calls. Sometimes those calls were overruled by Urban Meyer. They all made it work. He believes his offensive coaches can handle this.
"When you talk about play-calling duties, they're mature enough. They've been around it enough. Neither one has an ego," Strong said. "Wickline is going to be involved in it. He's going to make some calls. Shawn is going to make some calls. When we go down the stretch and we have to have a call made, I think Shawn, because he's been doing it for a long time and I'm comfortable with him.
"I don't think it will ever be an issue because those two guys have been around too long for the egos. I'm not going to put up with it and they know that. We're not here for ourselves; we're here for these players. And if you have an ego, you're working at the wrong place. Check your ego at the door and let's get going around here. We're here to win and get these young men graduated."
So there's your answer. Watson has final say. Both coaches will contribute play calls. It might sound like a convoluted plan, but that's the plan.
It's not that Strong is attempting to play a shell game and fool everybody. More likely, he's just working with two coaches he knows and trusts and is trying to give both the responsibilities they want.
This may be causing consternation with the fan base, but that doesn't seem to be the case internally. Wickline and Watson publicly act comfortable and confident when talking about their respective roles and about this collaboration process.
Of course, this scheme also threatens to cause issues in the moments when Wickline and Watson have conflicting views on what needs to happen. Wickline acknowledged this month that you never really know how a staff will work together until you hit the season, run into problems and must fix them. That's when Texas truly needs to know who its offensive "voice" is, and that title belongs to Watson.
Right now, all Watson and Wickline care about is getting this Texas offense assembled and up to speed. They'll continue to collaborate and cooperate. That's Strong's story, and he's sticking to it.
March, 19, 2014
Mar 19
10:00
AM ET
After developing a reputation as one of the nation's top offensive line coaches in nine years at Oklahoma State, Joe Wickline decided the timing was finally right to make the big move.
[+] Enlarge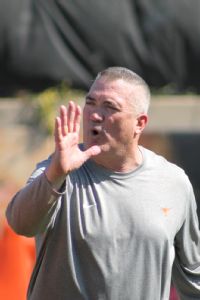 Max OlsonJoe Wickline, who spent nine years at Oklahoma State, has known Texas coach Charlie Strong since they were graduate assistants at Florida in 1983.
He had the opportunity before, after the 2010 season, when Mack Brown approached him about the offensive line job. Wickline decided to stay put. But teaming up with Charlie Strong, a coach he has known for 30 years since their days as graduate assistants at Florida, was too tempting to turn down.
Earlier this month, the new Texas offensive coordinator discussed his decision to leave Oklahoma State and his growing relationship with UT assistant head coach Shawn Watson.
What did it feel like to make that switch from Oklahoma State to Texas?
Wickline:
Well, it's been an interesting ride. The big thing, more than anything, is you're at one place for nine years. When you're there, you're kind of just riding and rolling, and it was a good ride. But then, boom, things transition and you move here and it's new faces, new people, new players, a new system. The biggest thing is just learning new people and new faces.
Is it a weird feeling when you might build up animosity toward a program like this one, and then you make that move?
Wickline:
It may be for a lot of people, maybe I should say it is. But I would probably like to say it's part of the game. We're all doing the same thing, whether it's Baylor University or whether it's Oklahoma State or Texas Tech. It's another game.
Why was this the right time to come to Texas?
Wickline:
Well, the first thing is that Coach Strong and me go way back, and I believe in Charlie Strong. We started this thing together in '83 together at the University of Florida, we've been against each other on different sidelines, we've been back on the same staff together 10 or so years ago, back and separated again. Back together again. Just the relationship with Charlie and our relationship and how long we've been together and what we stand for is probably the first thing.
And the next thing is it's the University of Texas. You can say whether you want, there's not a better school in the United States for football and for academics, the environment and what it can do for the student-athlete and the places we can go at Texas.
Was it at all a difficult decision to take this job?
Wickline:
No, it wasn't. Don't get me wrong, I love Stillwater and I love the people of Oklahoma and I gained a lot from being there and I'm very fortunate to have to have gone there. I tell you what, they did a nice job. I wouldn't be where I'm at today if it hadn't been for the people there, [athletic director] Mike Holder and [head coach] Mike Gundy and the staff members there. But my son was graduating in June and he actually signed a scholarship with Texas-San Antonio. And my daughter loves horses and my wife loves horses, and there are places to ride around here. As long as they're happy, we'll be all right.
How would you describe the dynamic you have with Shawn Watson in running this offense?
Wickline:
It's been special. You don't really know where it's at until you go through a battle, until you've been through a year and you've had a bunch of bad things happen and some good things, and there's ideas and views and opinions. But as far as the relationship, the good thing is we all come from excellent backgrounds. I can tell you right now that every guy in that room -- Bruce Chambers, Tommie Robinson, Shawn Watson, Les Koenning myself -- are unbelievably qualified not only at their positions but as offensive coaches.
It's been a lot of fun, actually, because you're hearing new ideas, seeing how people did things. When you get with one area for a long time and you hear the same thing, it's refreshing to get back and hear other ideas and concepts as a group.
How is your relationship with Watson coming along so far?
Wickline:
The best thing about Shawn is he's an unbelievably intelligent guy, he knows what he wants to do, he's organized. I mean, he's got a good feel for where he's at with the quarterback play, offensive football. It's a good situation for us. And secondly, it's good to work with a guy who doesn't have a giant ego and doesn't need to prove to anybody 'I'm this' or 'I'm that.' He understands where we're all at and this is my job and this is your job. It's been a blast and I love it.
March, 10, 2014
Mar 10
9:00
AM ET
This week, we're taking a closer look at the members of the new Texas coaching staff under Charlie Strong. The first part of our two-a-days series focuses on the leaders of the Longhorns' offense and what they'll bring to their respective position groups.
Joe Wickline
Offensive coordinator/offensive line
Mention to Wickline that he's one of the nation's best offensive line coaches, and you'll get a shrug.
He'll say his résumé of success was a byproduct of the Oklahoma State's consistent offensive success. But the results -- seven All-Big 12 offensive linemen, three of them All-Americans -- are undisputable. Their success has to, in many ways, be a byproduct of his philosophy.
So let's dig into that philosophy. What does he look for when recruiting linemen?
"As far as measurables, I like guys that are really athletic, smart and tough," Wickline said. "If they can get those three things, they've probably got a chance."
Once they get to campus, they quickly learn one of Wickline's overarching beliefs about offensive linemen: You must be versatile, capable of playing nearly any role on a line. There are three reasons why he wholeheartedly believes in cross-training.
"No. 1, I want to make sure there's always competition in the room and on the field," Wickline said. "If the second-team right tackle thinks at any given time the first-team right tackle can never lose his job, he just quits trying. If the first-team right tackle thinks he'll never lose his job, he'll just quit trying. It needs to be a day-to-day deal.
"Secondly, they need to be sure they can switch. The left guard needs to know the right guard can go take his place. So it's all about competition, and it's a daily deal. The other thing about switching guys, it forces them to learn the entire offense and entire scheme from a protection standpoint and running scheme. If you leave him locked it at one place the whole time, he can't really feel how does this whole thing go together."
And part three? Injuries can force you to change the plan. Take Oklahoma State's
Parker Graham
for example.
Wickline planned to move his starting left tackle of 2012 to guard last offseason, with
Devin Davis
taking over left tackle. Then Davis was lost for the season in August. Graham went back to left tackle, started five games and then returned to right guard for the rest of the season. He finished with first-team All-Big 12 honors.
"Well, it worked out," Wickline said. "Because he moved around a bunch, it wasn't a big deal to him."
That's why, when Wickline surveys his roster of Texas linemen for 2014, absolutely nothing is set in stone. He wants to find five starters. And then he'll keep tweaking the plan, moving new guys in and out, shifting some to other spots, until it works.
He'll eventually find his starting five for the season opener, but Wickline won't stop there. If you want to start, you better earn your job every single day.
"This will continue to game five, game eight," Wickline said. "It's week-by-week. I understand chemistry and I understand continuity.
"But in my world, all that's important is the quarterback doesn't get hit, you can run the football and you win football games."
[+] Enlarge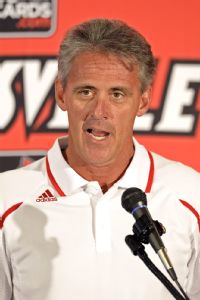 AP Photo/Timothy D. EasleyTexas hopes to see a big improvement in its offense with the addition of Shawn Watson to the coaching staff.
Shawn Watson
Assistant head coach/quarterbacks
The battle has been going on for more than a decade: Who is Shawn Watson's favorite pupil?
You can credit Joel Klatt for starting the debate back in 2003 with his record-setting sophomore season at Colorado. By the time his days at CU were over, Watson swore Klatt was the best quarterback he'd coached.
"He was the greatest competitor I've ever been around and a great student of the game," Watson said.
So then he went to Nebraska, and another scrappy, underrated quarterback earned his affection. Joe Ganz went on to break 21 school records under Watson's watch.
"Joe, at the end, he says, 'Wats, did I overcome Klatt?' Watson recalled. "I said, eh, I tell you what, flip a coin. He really chased Joel."
This is the standard Watson will hold his Longhorns quarterbacks to because these are the guys he covets: Gamers. Leaders. Passers with intangibles.
He's trained the prototypical pocket passers such as Klatt and the explosive dual-threats such as
Taylor Martinez
. No matter who's running the show at Texas, Watson will help tailor the offense to his signal-caller's sensibilities.
"I'm a grinder. My first hobby is football," Watson said. "I'm not kidding you. I've done this 33 years, and this is not a corny statement, but I've been Peter Pan. I've gotten to do what I love. I love the game of football, and I love to teach.
"The grinder part comes because I don't want anybody to catch me. I want to be the best at what I do. I enjoy studying the game."
And his former quarterbacks have studied the game enough to know who's now No. 1 on Watson's list.
Teddy Bridgewater
can claim the title belt when he becomes a first-round draft pick in May.
Bridgewater has heard all of Watson's stories about Klatt and Ganz. The Louisville star did eventually ask who's the best. Watson has a new answer: All of them.
Watson chuckles when he tells these stories. He knows Klatt and Ganz won't accept that non-answer.
"They'd say, 'Wats, we know who the best one is,'" Watson joked. "'Just remember us.'"
March, 6, 2014
Mar 6
10:00
AM ET
AUSTIN, Texas -- Balance is a boring word when used by a football coach, a simplistic summation of saying an offense can be anything and everything.
It's common-sense coach talk, and it's a word Joe Wickline throws around liberally and insistently when discussing the scheme he'll construct as Texas' new offensive coordinator.
The thing about it is, balanced never looked boring at Oklahoma State. Being balanced led to 41 points per game and 485 yards per game over the past five years.
[+] Enlarge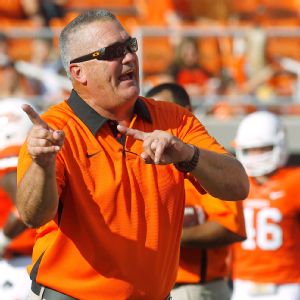 AP Photo/Sue OgrockiFinding the correct balance in play-calling and tempo is the main priority for Joe Wickline and the rest of Texas' offensive staff this spring.
For that, Wickline won't accept much credit or praise. He says his success in Stillwater was the byproduct of a great system. Wickline likes to talk up the offensive geniuses he learned from: Larry Fedora, Todd Monken, Dana Holgorsen. Each one brought their own twists and tricks.
And now, after nine years at OSU, it's Wickline's turn to offer up his take on winning offensive football, to install his philosophy at Texas and build something that can rival the Big 12's most powerful offenses.
That philosophy? Balance, running the ball, and some more balance.
"If you really look at what Coach (Mike) Gundy tried to get done, and what we tried to do as a staff, we're not going to be one-dimensional," Wickline said. "We're not going to throw, throw, throw or run, run, run. It's about balance in down and distance. Balance in run-pass. When we run, inside-outside. It's about balance on types of runs, speed, tempo."
The mission is not to build a replica model of the Cowboys' wildly and consistently successful offense. There will be obvious influences, but Wickline has more to offer than that.
He'll be the play caller down on the sideline, but he says his offense will be run by a committee of coaches. Quarterbacks coach Shawn Watson, running backs coach Tommie Robinson, receivers coach Les Koenning and longtime tight ends coach Bruce Chambers will all have a say.
Someone will specialize in the run game, someone will oversee the pass game, another will focus on situational playcalling. This isn't a one-man show.
As Wickline puts it, he's constructing a University of Texas offense.
"What does that mean? We're going to do a little bit of everything," he said. "We're going to have some of Louisville, some Mississippi State, some Oklahoma State. The bottom line is, we're going to do what our personnel allows us to do and get in multiple formations and be balanced and play fast."
At Oklahoma State, the offensive scheme was revisited annually. It might've all looked the same on TV, year after year, but every spring Wickline and the offensive staff met to evaluate their personnel, their previous season's play-calling and found ways to adjust. New wrinkles, new options, new ideas.
He'll do the same as the Longhorns' OC and offensive line coach. All those years in Stillwater have made him far more familiar with what he's inheriting at Texas than he might've realized. He's seen enough film, and recruited enough of these players, over the years to have a solid sense of what Texas can put on the field in 2014.
"I will say this: We have a very impressive looking group of guys, in terms of maturity and in terms of the physical combativeness of them," Wickline said. "In terms of where they'll fit and where they'll end up, I think we'll know more at the end of spring."
Watson said the staff has spent the past three weeks working to piece together their offensive system. Thus far, the staff has stuck to running this show by committee, and this marriage of his ideas with Wickline's is off to a good start.
"The other aspect, and what I think is a real important part of the multiplicity, is the speed part and the no-huddle part, which we have all been a part of," Watson said. "At Louisville last year, we did that quite a bit to help us out with some injury situations. Joe has a great background with that and so does Les. Everybody has had experience with it, but everyone has had a unique and different experience."
Wickline and Watson didn't spend much time Wednesday talking about their new players. There's plenty of time for that this spring, once they've put Texas' talent to the test. They've got an offense to construct first, but they're in agreement on the blueprint.
"Right now," Watson said, "we're working together and just putting it all together."
February, 28, 2014
Feb 28
9:00
AM ET
Editor's note: This is the fifth and final part of a weeklong series taking a closer look at Texas players worth watching when the Longhorns begin spring practices in three weeks.
You might be wondering why a series about Longhorns who need to thrive this spring isn't wrapping up with a treatise on quarterback
David Ash
and his comeback from the concussion-related symptoms that shut him down in 2013.
[+] Enlarge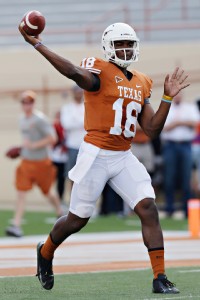 AP Photo/Eric GayCan Tyrone Swoopes impress the new Texas coaching staff?
Well, yes, he's plenty important this spring and fall. But we know what Ash is capable of at his best -- he was a top-25 passer in several metrics as a true sophomore starter. We don't know what's next for
Tyrone Swoopes
.
He was put in an impossible situation last fall as a true freshman who needed to redshirt and get used to the college level. Swoopes' cameo in the middle of the season, in the final minutes of a blowout win at TCU, was the first of his six appearances.
The experiment went about how we should've expected. Swoopes had too much to learn and never looked comfortable or confident. His practice performances improved late in the season, but that didn't translate during his occasional playing time.
The last time we saw Swoopes, he completed 1 of 6 passes for 8 yards and rushed for 38 yards in the Valero Alamo Bowl loss to Oregon. A 26-yard rush was encouraging, and maybe the highlight of his season, but nothing else came easy for the first-year passer.
He has a chance to change things this spring, under a new quarterbacks coach in Shawn Watson, and he'll get plenty of opportunity to get better. Here's the best thing working in Swoopes' favor in March and April: He'll get a ton of snaps.
Once spring ball is over, freshman
Jerrod Heard
enters the program and the competition. USC transfer
Max Wittek
could, too. No matter who's in the mix this summer and fall camp, Swoopes should be battling for the No. 2 job with the understanding he's one snap away from being the starter.
Watson has experience with the inexperienced, preparing
Teddy Bridgewater
and
Taylor Martinez
to play as freshmen at his previous two gigs, and Swoopes appears to have some raw tools that can wow his new coach.
But it's still going to take time and patience if Texas wants to see Swoopes reach his ceiling, and he'll need to work hard to master this new scheme.
He's got a chance to flash his potential in a more meaningful way this spring, while the Longhorns only have two scholarship QBs on campus. Time to take advantage and show the new coaches what he can become over time.
January, 22, 2014
Jan 22
9:00
AM ET
Charlie Strong has more than six months to come up with his answer to the question, but Texas fans will demand to know by March.
What kind of offense will the Longhorns install this offseason? That's all anyone has wanted to know since Strong was hired earlier this month.
The answer he's offered up so far: A spread attack with a power run game.
"You look at Louisville, and we weren't a spread team. We lined up and had a good mixture. It is all about balance," Strong said last week. "You look at Oklahoma, and it is a balance and what you want to see, a balance with your run and pass.
"You can talk about all those teams that throw the ball around, but at the end of the day, if you can't line up and run downhill and punch somebody in the mouth, then you are going to have issues."
Strong is planning to marry the concepts and talents of offensive coordinator Joe Wickline, one of the nation's premier offensive line coaches, with quarterbacks coach Shawn Watson, his OC at Louisville.
Let's take a closer look at what Wickline and Watson achieved at their previous stops. If they can come anywhere close to recreating their recent success, Texas' No. 66-ranked scoring offense in 2013 could be in for some promising changes.
Wickline at Oklahoma State
Wickline helped oversee one of the most successful offenses in in the country while coaching the Cowboys' offensive line. The numbers certainly back that up.
Since arriving at OSU in 2005, Oklahoma State has had the No. 3 scoring offense in FBS with an average of 37.7 points per game. Over that same nine-year tenure, OSU ranked No. 5 nationally in total offense, fifth in yards per play and ninth in yards per rush.
Just as impressive: The Wickline-coached offensive lines gave up the third-fewest sacks in FBS over the past nine seasons.
Wickline comes from an offense that was best in the Big 12 in scoring, rushing, yards per play and explosive plays of 20-plus yards over the past nine years. His QBs were kept clean, averaging fewer than 15 sacks per season, and his rushers thrived, with four different backs combining for six straight All-Big 12 honors.
You can attribute that to Oklahoma State head coach Mike Gundy. You can credit the six different offensive coordinators OSU had during those nine years. It truly is remarkable production for that much staff turnover. But give Wickline his due credit, too.
His offensive lines protected and paved the way for six top-20 offenses. Quarterback Zac Robinson started 36 games in his career and was sacked a total of 32 times. Brandon Weeden (26 starts) went down 21 times in his career.
Clint Chelf
took 18 sacks.
Meanwhile, Colt McCoy was sacked 92 times in 53 starts.
David Ash
has 22 starts and has already been sacked 30 times.
We don't know what Wickline brings to the table as a play-caller. But we do know he helped build the foundation for one of the nation's best spread attacks and comes to Austin with a wealth of knowledge on how to install a similar scheme at Texas.
Watson at Louisville
[+] Enlarge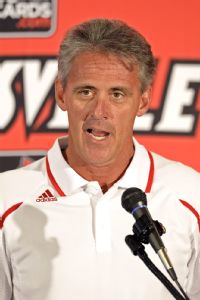 AP Photo/Timothy D. EasleyTexas hopes to see a big improvement in its offense with the addition of Shawn Watson to the coaching staff.
The three-year averages of Watson's time as Louisville offensive coordinator are, well, average.
Since the start of 2011, Louisville's offense ranked No. 53 in scoring and No. 58 in total offense nationally. But those stats don't explain the growth the Cardinals enjoyed under Watson.
Just compare the offenses of 2011 and 2013. A 21.9-points-per-game offense evolved into 35.2 per game, which ranked in the top 25 nationally. Total offense went up 127 yards per game in two seasons, and Louisville went from 90th in FBS in yards per play to 12th.
The Cardinals enjoyed year-to-year improvements in nearly every major offensive statistic from 2011 to 2013, while remaining faithful to a 50-50 run-pass split.
And there is one statistic the Cardinals truly hung their hat on over these past three years: Their offense turned the ball over just 44 times, which tied with Alabama and Navy for second fewest in FBS. They had the fewest turnovers in the country in 2013 with 10, a number only three teams have bested in the past decade.
And yes,
Teddy Bridgewater
had an awful lot to do with this progress. You can also argue that Louisville's conference competition weakened over this period due to realignment.
But the results are real, and it's not hard to see why Strong brought Watson with him.
How Watson and Wickline will collaborate on this Longhorn offense remains to be seen. But if their last jobs are any indication, the future of Texas' offense appears to be in capable hands.
January, 16, 2014
Jan 16
10:00
AM ET
AUSTIN, Texas -- Charlie Strong says he had a fairly good idea of what he wanted from his Texas coaching staff before the hunt began.
[+] Enlarge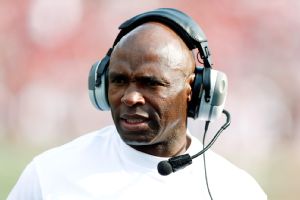 Joe Robbins/Getty ImagesNew Texas coach Charlie Strong has put together an experienced staff he's familiar with.
He wanted coaches he knew and coaches who know the state of Texas.
The staff Strong unveiled on Wednesday appears to have a good helping of both.
Ten days into the job, his staff is finally assembled, and he will hit the road on Thursday to begin selling a school the staff has barely had time to visit.
Strong had to stifle a laugh when asked if he was starting to settle in at Texas. It hasn't been easy. Not after all the work he had to put into interviewing coaches and piecing together a staff that met his standards.
He believes he's found a group that can get Texas back to its championship standard, and more importantly, he thinks these are the guys UT needs off the field.
"This is a staff that we know what it is all about," Strong said. "We are teachers, we're role models, we're going to motivate and lead. Just a staff that are family men, and you want that with the players.
"Because you want the players to look at a coach and say how, someday, if they don't end up being an engineer or a doctor but could go and be a coach, [they would] emulate the man standing right there in front of me. I am just so happy that we are aboard and finally completed it."
It's a group that touts a combined 232 years of coaching experience and, at least on paper, has a good deal of familiarity both with each other and with this state.
Strong hired four coaches he'd worked with in offensive coordinator Joe Wickline, defensive coordinator Vance Bedford, quarterbacks coach Shawn Watson and linebackers coach Brian Jean-Mary.
He hired four assistants who have coached college football in this state: Bedford, receivers coach Les Koenning, running backs coach Tommie Robinson and retained tight ends coach Bruce Chambers.
And he hired guys he'd recruited against in the past, coaches whose passion he respected in defensive line coach Chris Rumph and defensive backs coach Chris Vaughn.
And don't forget the 10th man, the one he considers just as valuable -- if not more so -- than the rest: Strength and conditioning coach Pat Moorer, who followed him from Louisville and is already putting his new players to the test with workouts this week.
All in all, it's a haul that has industry experts impressed. Is this the blank-check dream team that Texas fans envisioned when Strong took the job? No, maybe not. But he's found puzzle pieces that, thanks to all the familiarity, ought to fit together well and do so quickly.
Those fans fantasized about reeling in a big fish for an offensive coordinator, no doubt Strong's most important hire of the nine. They wanted Strong to swing for the fences with someone like Clemson's Chad Morris or Ohio State's Tom Herman.
They might not realize what they've got in Wickline, one of the nation's top offensive line coaches at Oklahoma State. He and Strong were grad assistants together at Florida in 1983 and met again in Gainesville from 2002 to 2004. He knew he was handing the keys to his offense to an underappreciated gem.
"Guys pay their dues, and guys have been around great systems, and if you look at the system he has been around at Oklahoma State for nine years, they have moved the ball very well on offense," Strong said. "When the guys have put in their time, it's like me: I have put in my time and want to be rewarded. So he has put in his time, and he is being rewarded."
What sold him on Wickline, and so many other members of the new staff, was a mandatory trait: Toughness. His offenses and players played. Strong is surrounding himself with hard-nosed leaders because that's what Texas needs right now.
Just as this group comes together, it's time to split up again. The new Longhorns coaches begin their recruiting quest on Thursday, and they've got plenty of catching up to do on that front.
Over the next few weeks, Strong will find out just what kind of recruiters he's hired. And then the real job -- putting the pieces back together at Texas -- will begin.
It's a familiar challenge for Strong. To pull this off, he's surrounded himself with familiar allies.
"I told them right from the start that this is going to be a coaching staff with no egos," Strong said. "We are here to work together, and it is all about success. We are here to win and whatever we have to do to go win a football game, that is what we have to do."
January, 15, 2014
Jan 15
5:30
PM ET
New Texas head coach Charlie Strong completed and announced his coaching staff on Wednesday. A closer look at who will join him in his first season of leading the Longhorns:

Offensive coordinator/offensive line: Joe Wickline
Age: 55 Alma mater: Florida
Previously: Oklahoma State offensive line coach
Past stops: Florida, Middle Tennessee State, Baylor, Southwest Mississippi C.C., Pearl River C.C., Ole Miss, Delta State, Tennessee
Coached up: Oklahoma State T Russell Okung, Oklahoma State OT Levy Adcock, Florida OT Max Starks
Stat: During Wickline's nine seasons at OSU, the Cowboys averaged 37.7 points per game, which ranked third-best in FBS behind Oregon and Boise State.
In short: The longtime Oklahoma State assistant is considered one of the nation's best line coaches and was a significant steal for Strong's first staff. He inherits plenty of young talent up front.

Assistant head coach/quarterbacks: Shawn Watson
Age: 54 Alma mater: Southern Illinois
Previously: Louisville offensive coordinator/quarterbacks coach
Past stops: Nebraska, Colorado, Northwestern, Southern Illinois, Miami (Ohio), Illinois
Coached up: Louisville QB Teddy Bridgewater, Nebraska QB Taylor Martinez, Colorado QB Joel Klatt
Stat: Bridgewater ranked No. 3 in FBS in raw QBR during the 2013 season at 84.5.
In short: Texas is getting an offensive mind that Strong trusts and who proved, with his coaching of Bridgewater, that he has what the Longhorns desperately need: The ability to develop a quarterback.

Running backs: Tommie Robinson
Age: 50 Alma mater: Troy State
Previously: USC pass game coordinator/running backs coach
Past stops: Arizona Cardinals, Miami, Memphis, Georgia Tech, Oklahoma State, Dallas Cowboys, TCU, Utah State, Arkansas
Coached up: Cowboys WR Michael Irvin, Cardinals RB Beanie Wells, Oklahoma State RB Tatum Bell
Stat: Four USC running backs combined for 2,225 rushing yards in 2013, with two surpassing 700 yards.
In short: Robinson comes to Austin after a year at Southern Cal, where he was a respected recruiter and position coach with a wide range of experience.

Receivers: Les Koenning
Age: 54 Alma mater: Texas
Previously: Mississippi State offensive coordinator/quarterbacks coach
Past stops: South Alabama, Texas A&M, Alabama, TCU, Houston, Duke, Miami Dolphins, Rice, Louisiana-Lafayette
Coached up: Texas A&M QB Stephen McGee, Texas A&M QB Reggie McNeal, Texas A&M WR Albert Connell
Stat: Mississippi State's offense set school records for passing yards, total yards and completion percentage in 2013.
In short: Koenning has coached all over Texas and is leaving an SEC coordinator job to return home. Strong needed assistants with ties to this state and Koenning is plenty of that.

Tight ends: Bruce Chambers
Alma mater: North Texas
Previously: Same role
Past stops: Dallas Carter High School
Coached up: Texas RB Ricky Williams, Texas TE Jermichael Finley, Texas RB Cedric Benson
Stat: Texas tight ends Geoff Swaim and Greg Daniels combined for six receptions last season.
In short: The only assistant retained from Mack Brown's staff, Chambers has been at Texas since 1998 and can help with this staff transition, especially in recruiting.

Defensive coordinator/secondary: Vance Bedford
Age: 55 Alma mater: Texas
Previously: Louisville defensive coordinator/secondary coach
Past stops: Florida, Oklahoma State, Chicago Bears, Michigan, Colorado State, Navarro J.C.
Coached up: Michigan CB Charles Woodson, Florida CB Joe Haden, Louisville DE Marcus Smith
Stat: Since the start of the 2012 season, the Cardinal defense ranks No. 4 in FBS in total defense and No. 5 in pass defense.
In short: Strong brought Bedford with him to Austin, and the former Longhorn defensive back brings a lot to the table. Known for being fiery and passionate in his time at Louisville.

Assistant head coach/defensive line: Chris Rumph
Age: 42 Alma mater: South Carolina
Previously: Alabama defensive line coach
Past stops: Clemson, Memphis, South Carolina State
Coached up: Clemson DE Da'Quan Bowers, Clemson DE Gaines Adams, Alabama DT Jesse Williams
Stat: In his stints at Clemson and Alabama, Rumph coached at least nine NFL Draft picks.
In short: Like Wickline, Rumph is considered one of the best of the best at what he does. Doesn't have much experience in Texas but does have a history of signing and developing elite linemen.

Linebackers/recruiting coordinator: Brian Jean-Mary
Age: 38 Alma mater: Appalachian State
Previously: Louisville linebackers coach
Past stops: Georgia Tech, North Alabama, South Carolina
Coached up: Georgia Tech LB Phillip Wheeler, Louisville LB Preston Brown, Georgia Tech LB Gerris Wilkinson
Stat: Under Jean-Mary's tutelage, Brown recorded 301 career tackles and twice earned all-conference honors.
In short: Jean-Mary was assistant head coach of the Louisville defense and followed Bedford and Strong. He'll be Texas' third linebackers coach in the past 12 months.

Defensive backs/special teams: Chris Vaughn
Age: 37 Alma mater: Murray State
Previously: Memphis cornerbacks coach
Past stops: Ole Miss, Arkansas
Coached up: Ole Miss CB Marshay Green, Ole Miss CB Cassius Vaughn, Arkansas LB Tony Bua
Stat: At Memphis, Vaughn inherited the second-worst pass defense in FBS in 2011. In his two seasons, the Tigers ranked 26th-best in the country in yards per completion allowed.
In short: The youngest member of the new staff, Vaughn already has eight years as an SEC recruiting coordinator on his resume.
January, 12, 2014
Jan 12
8:15
PM ET
Former Louisville offensive coordinator Shawn Watson will serve as quarterbacks coach at Texas, a source told ESPN.com.
Watson was introduced as Texas' new quarterbacks coach during a Sunday night team meeting, the program's first since Charlie Strong was named head coach on Jan. 5.
The source said no offensive coordinator or wide receivers coach was named or introduced during the team meeting. Those appear to be the two remaining vacancies on Strong's first coaching staff at Texas. Co-offensive coordinator and receivers coach Darrell Wyatt is not expected to be retained.
Watson served as offensive coordinator and quarterbacks coach in three of his four years at Louisville under Strong and is credited with developing
Teddy Bridgewater
, the Cardinals' potential No. 1 overall draft pick. Watson was previously offensive coordinator at Nebraska.
His name was one of several that has reportedly been considered for Texas' vacant offensive coordinator post. Though it's possible Watson could still be named offensive coordinator, the team was told he will coach quarterbacks.
Must-Get Big 12 Recruit
BIG 12 SCOREBOARD
Saturday, 8/30
Sunday, 8/31