Texas Longhorns:

Quan Cosby
November, 4, 2013
11/04/13
2:35
PM ET
The Big 12 has featured some prolific wide receiver tandems over the years.
Baylor's
Tevin Reese
and
Antwan Goodley
, however, have a chance to top that list.
[+] Enlarge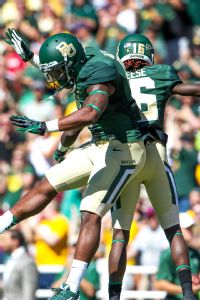 Jerome Miron/USA TODAY SportsAntwan Goodley and Tevin Reese rank 1-2 in the Big 12 in receiving yards per game.
This season, Reese is second in the Big 12 with 118 yards receiving a game. He trails only Goodley, who leads the league with an average of 128 yards receiving. They are a big reason why the Bears are on pace to break the FBS records for points (56.0) and yards (624.9) per game that were set by Army in 1944 and Houston in 1989.
But Reese and Goodley aren't the only big-time duos in the Big 12 this year.
Kansas State's
Tramaine Thompson
and
Tyler Lockett
have been lighting it up since returning from injury. The last two weeks the two have totaled five touchdown catches.
Jalen Saunders
and
Sterling Shepard
lead the Sooners with five touchdowns apiece. Texas Tech's
Eric Ward
and
Jakeem Grant
are fifth and sixth in the league in receiving. Oklahoma State's
Josh Stewart
and
Tracy Moore
are beginning to warm up with
Clint Chelf
at QB. And
Jaxon Shipley
and
Mike Davis
have been stalwarts in this league for years.
But who are the best tandems ever to play Big 12? We lay it out below.
Tight ends were not included (sorry Jermaine Gresham and Chase Coffman). The tandems were evaluated on what they accomplished together, not on whether their careers simply overlapped (eliminating Jeremy Maclin and Danario Alexander, for example); and, this is a list for duos, not singles, trios or quartets (apologies to Rashaun Woods, and the 2008 Oklahoma and 2010 Baylor receiving corps).
To the list:
1. Stedman Bailey and Tavon Austin, West Virginia (2012):
In their only year in the league, this tandem was one-two in the Big 12 in receiving, combining for 224 receptions and 2,914 receiving yards. Bailey himself had 25 receiving touchdowns; nobody else in the league had more than 13. Austin, meanwhile, also rushed for 344 yards in one game at running back. As Bailey tweeted out earlier Monday morning on this topic, "case closed."
2. Michael Crabtree and Danny Amendola, Texas Tech (2007):
Crabtree got all the headlines in 2007 on his way to winning his first of two Biletnikoff awards. But out of the slot, Amendola quietly put up 109 receptions for 1,245 yards, as Tech went 9-4.
3. Jordan Shipley and Quan Cosby, Texas (2008):
Shipley and Cosby starred on one of the three best Big 12 teams that didn't win a conference title. The two each had 1,000 receiving yards and double-digit TDs from QB Colt McCoy, as the Longhorns finished the year 12-1, their only loss coming on Crabtree's game-winning touchdown in the final seconds in Lubbock. The two were also prolific on special teams, with Shipley's kick return touchdown sparking Texas' 45-35 comeback win over Oklahoma.
4. Justin Blackmon and Josh Cooper, Oklahoma State (2011):
As with Crabtree-Amendola, Blackmon got all the attention on his way to a second Biletnikoff award. But Cooper was a pivotal piece in OSU's first Big 12 title team, as he racked up 71 receptions out of the slot. Blackmon, of course, had a monster year with 121 catches and 18 touchdowns.
5. Kendall Wright and Terrance Williams, Baylor (2011):
Reese was actually the third wheel to this duo, which shined with RGIII at quarterback. Wright was an All-American with 108 catches, 1,663 yard and 14 touchdowns. Williams was big time, too, finishing fifth in the Big 12 in receiving before taking over the No. 1 role in 2012.
6. Ryan Broyles and Kenny Stills, Oklahoma (2010):
Broyles led college football with 131 receptions on his way to becoming the all-time FBS leader in career catches. Stills broke OU's freshman single-season receiving record, as the Sooners stormed back to capture the Big 12 crown after a pair of midseason losses.
7. Kerry Meier and Dezmon Briscoe, Kansas (2008):
It might be difficult to remember now, but the Jayhawks used to play some ball. Meier tied Crabtree for second in the league with 97 receptions. Briscoe trailed only Dez Bryant with 1,402 receiving yards. This was an underrated duo.
8. Quincy Morgan and Aaron Lockett, Kansas State (1999):
On one of the first passing teams in the Big 12, Morgan and Lockett shined. Morgan had 42 receptions for 1,007 yards and nine touchdowns and was a first-team all-conference selection. Lockett, Tyler Lockett's uncle, was a second-team all-league pick for the Wildcats, who went 11-1 and finished the year ranked sixth in the polls.
9. Jarrett Hicks and Joel Filani, Texas Tech (2005):
Neither might be a household name around the Big 12 anymore, but these two were both first-team All-Big 12 selections in '05 along with Iowa State WR Todd Blythe.
10. Mark Clayton and Travis Wilson, Oklahoma (2004):
Clayton carried the moniker of best receiver in OU history until Broyles came around. Because of Adrian Peterson, Clayton's numbers dipped in '04, but he was still an All-American with 66 catches. Wilson led the Sooners with 11 TD grabs, as OU advanced to a second consecutive national championship game.
July, 10, 2013
7/10/13
11:00
AM ET
AUSTIN, Texas -- Now that the picks in the inaugural
all-time Texas draft
are in, it is time to pick a few nits. And maybe a few superlatives as well. Here is the good and the bad of the draft.
[+] Enlarge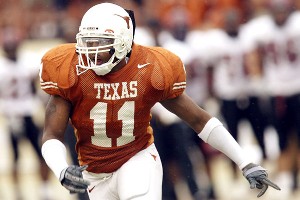 Stephen Dunn/Getty ImagesLinebacker Derrick Johnson was drafted with the first pick of the second round in our #HornsNationDraft.
Best pick:
Steve Worster, fullback, 1968-70: Sure there were a lot of players picked before Worster. In fact, he went in the last round. And it is that fact, plus his obvious skill and accomplishments while at Texas, that makes him the best pick of this draft. Worster was an integral piece of the wishbone offense under Darrell Royal. He rushed for 2,353 yards at Texas and was part of back-to-back national title teams. For Worster to last as long as he did was a shock and a nod to the fact that fullback is a position many overlook these days. Galindo, whose team was built on defense and line play, picked up a valuable asset who fits the dynamic of his team when he snagged Worster in round 24.
Most underrated pick:
Doug English. The defensive tackle had 260 career tackles (111 solo), was a two-time all-conference player, a first-team All-American in 1974 and is a member of the College Football Hall of fame. Somehow he slipped to the 18th round of a 24-round draft.
Biggest reach:
Kwame Cavil
. Texas has not been a school blessed with wide receivers, but for Cavil to be the third receiver picked, after
Jordan Shipley
and
Roy Williams
, is a stretch. Mike Adams,
Quan Cosby
and B.J. Johnson had more career receiving yards. And current Longhorn
Mike Davis
may very well, too, by the end of his career. Plus, Cavil is not in the top 10 in career touchdowns for a receiver.
Toughest position to pick:
Wide receiver. Texas simply has not produced much talent at this position. Behind Williams and Shipley it can be a crapshoot when selecting this group. Mike Davis, a current receiver who has had his ups and downs, is actually sixth on the all-time yardage list for receivers. That is how shallow the pool is for receivers at Texas.
Best offensive team:
Strickland.
Colt McCoy
to Jordan Shipley might be enough. It was the most prolific quarterback to receiver combination in the history of Texas and one of the most prolific in college football history. Add in
Jermichael Finley
who had 76 receptions over a two-year period, more than any Texas tight end, and
Alfred Jackson
, who averaged 19 yards per catch during the Earl Campbell years, and it makes for the most explosive offense of the four.
Best defensive team:
Galindo. It was clear from the start Galindo was going to pick the best Texas players from the weakest positions, which is why, saddled with the last pick of the first round and the first pick of the second, Galindo went with linebackers Tommy Nobis and
Derrick Johnson
. Add in
Brian Orakpo
as his third pick and
Tony Brackens
as the fourth, and this was a team built around defense first.
Team that would win four-team playoff:
Adams. Any of the teams can be picked apart, but Adams has a solid balance of offensive firepower and the strongest secondary of the four.
Vince Young
and Earl Campbell can do a lot of damage to any defense. Shon Mitchell was a flash-in-the-pan back but was productive in the 1995-96 seasons. Add in
Johnathan Gray
and Adams' team has the ground game covered. His team is slightly weak in the passing game -- make that very weak -- but in a four-team playoff, controlling the ball and stopping the other team from making explosive plays will win out.
Best lines:
Dunn. There were a lot of linemen to go around, especially on the defensive side of the ball. Dunn was bale to pick up maybe the best two Texas linemen early with Bob McKay and Jerry Sisemore. He followed that up with Bill Atessis at defensive tackle, completing a run in which three of his first five picks were used to build the lines. Dunn grabbed Doug English in the 18th round. The only real reach on either line was
Roger Roesler
, a third team All-American in 1999, but that didn't come until the 22nd round.
Best backfield:
Dunn. Earl Campbell and
Jamaal Charles
were two of the most prolific backs to play at Texas. Add in Bobby Layne at the quarterback position and it makes for the most complete and sturdy backfield in this year's draft.
Texas Longhorns Show Out On Pro Day
BIG 12 SCOREBOARD
Thursday, 9/3
Friday, 9/4
Saturday, 9/5