Texas Longhorns:

Patrick Vahe
February, 23, 2014
Feb 23
10:00
AM ET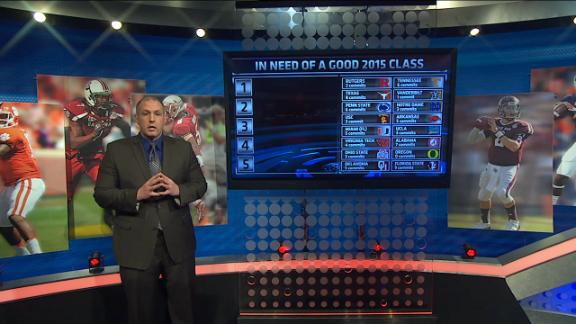 AUSTIN, Texas -- In the midst of the January recruiting frenzy, a process far more hectic than usual for Texas' brand new coaching staff, defensive coordinator Vance Bedford submitted a plea on his Twitter account to the class of 2015: Be patient.
The new Longhorns coaches were scrambling to crisscross the state and finish off the recruiting class they inherited. They needed every day they could get.
Once the fax machine was turned off for good on signing day, the next battle began. Charlie Strong and his coaches had 16 days to plan for its first junior day and, truly, its first impression with a brand new batch of recruits.
That big day arrived Saturday. When it was over, the visiting recruits offered a common reaction as they left campus. Texas, they said, seemed different.
[+] Enlarge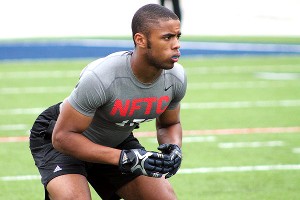 Max Olson/ESPNLinebacker Cameron Townsend says the new Texas coaching staff has made a strong early impression.
"Coach Strong and Coach Mack Brown are two totally different people. But, you know, I still get similar vibes," Missouri City (Texas) Ridge Point linebacker
Cameron Townsend
said. "I definitely like the new coaching staff a lot. I really like Coach Strong. He seems like a really legit guy."
Based on the standards his predecessor established, Strong's first Texas junior day wasn't filled with fireworks or countless rapid-fire commitments. But the first step in a long year of recruiting was a successful one.
Offensive tackle
Ronnie Major
switched his commitment from Baylor to the Longhorns midway through the day. The Huntsville, Texas, lineman landed his offer during the visit and committed on the spot.
Parting ways with Baylor wasn't easy -- Major had been committed since August -- but it was the relationship he built with Joe Wickline and the staff in the past month that sealed the deal.
"That's a great coaching staff," Major said. "I'm going to like playing for them. They said when I come to Texas, we'll have a great program and I'll get a lot better."
Major was one of seven visiting recruits who left town with scholarship offers. Those new offers went to ESPN 300 cornerback
Holton Hill
, receiver
Ryan Newsome
, safety
DeShon Elliott
, defensive end
Charles Omenihu
, Houston cornerback pledge
Jordan Tolbert
and a 2016 prospect, tight end
Kaden Smith
.
Smith already holds offers from the likes of Alabama, Oklahoma, Clemson, Texas A&M and Michigan but had never visited the Longhorns. Strong made it clear just how much Texas needed him.
"We were definitely impressed with Coach Strong," said Janell Smith, his mother. "He has a lot of energy and it looks like a great future here."
Hill, a corner from Houston Lamar, received the second offer of the day and admitted he's built up a stronger relationship with this staff in a short period of time than he had with previous Texas coaches.
"I actually liked it better," Hill said of the coaching change. "I like the coaching staff. I feel like I'll have a better connection to them."
Former LSU commit
Xavier Lewis
(Laplace, La./East St. John) remembers the first thing Strong said to him Saturday when they shook hands was simple: "I want you here."
"Coach [Chris] Vaughn and Coach Bedford, they're not all just about football," the ESPN 300 cornerback said. "They're about building you up as a man. I liked that [Strong] was really hands-on with everybody and moving around and talking to everybody."
The experience had to be somewhat surreal for the six prospects committed to Texas. Brown and his assistants had recruited them for nearly a full year and convinced them they belonged on the 40 Acres. How would the new staff make them feel wanted?
That's a question ESPN 300 running back
Jordan Stevenson
wanted to answer. The Dallas South Oak Cliff standout was recently offered by Alabama but says he's confident he'll still feel comfortable at Texas, no matter who's coaching him.
Stevenson made his verbal pledge one day after Texas' stunning Red River Rivalry victory over Oklahoma in October. A lot has changed since then.
"Everything happened so fast," he said. "But now I'm stronger and prouder of the decision I made. I don't ever question that. It's a blessing."
When his cousins
Sione Teuhema
and
Maea Teuhema
decommitted from Texas earlier this month and chose LSU,
Patrick Vahe
knew many expected him to do the same.
The ESPN 300 offensive guard from Euless (Texas) Trinity said he isn't having second thoughts after spending time with Strong and his coaches. He brought his entire family along for the visit and was proud of what he witnessed.
"The coaches had a really close bond, and it only took them a few weeks to get that," Vahe said. "That said a lot about them, about how they communicate with each other and get on the same page. I feel like they'll do the same with the players.
"I'm not following people. I've thought about it and I think UT is the best place for me. Coach Strong, he showed us a lot."
Corpus Christi (Texas) Flour Bluff cornerback
Jalen Campbell
is one of the leaders of that committed class. He still has lots of love for Brown and what he did at Texas.
But after Saturday, Campbell can't wait to see what's coming next.
"You could tell everybody was ready to go. The main goal is winning," Campbell said. "I think, for the most part, the coaches were more serious. They were smiling, but they're ready to go."
February, 22, 2014
Feb 22
8:00
AM ET
Texas takes its first big step toward building up its 2015 recruiting class under new coach Charlie Strong on Saturday, with the Longhorns' first junior day of the year.
The Longhorns are reportedly bringing in as many as 70 prospects for unofficial campus visits this weekend, including six committed prospects and more than a dozen ranked in the ESPN 300.
To continue reading this article you must be an Insider
September, 5, 2013
9/05/13
2:00
PM ET
College football is in full effect, but high school football opened with a bang as well. From SportsCenter-worthy catches to conflicting reports about a Big 12 commit -- or decommit, depending on which side you believe -- the weekend is expected to provide a lot of enthusiasm and excitement.
Here's a look at some of the Big 12 storylines:
To continue reading this article you must be an Insider
August, 22, 2013
8/22/13
9:00
AM ET
RecruitingNation released its first ever ESPN junior 300 in mid-July, and a slew of already committed prospects have put six programs off to an electric start in the 2015 recruiting cycle. With the college season just days away, here are the fast starters with future commitments on the horizon.
To continue reading this article you must be an Insider
July, 28, 2013
7/28/13
2:01
PM ET
Texas landed commit No. 8 for its 2015 class on Sunday, and once again the pledge came from a member of the ESPN Junior 300.
Euless (Texas) Trinity offensive guard
Patrick Vahe
became the fourth lineman to commit to the Longhorns' next class during the Longhorn's Texas Stampede recruiting event on Saturday, but didn't announce it until a day later.
"It feels amazing," Vahe said. "It feels good. I'm very blessed."
Vahe is ranked No. 4 ranked among guard prospects and No. 79 in the ESPN 300, and Texas was the first and only school to offer him thus far. The 6-foot-4, 280-pound junior also received interest from Utah, Utah State and Nevada.
Word got out of Vahe's pledge to UT on Saturday night, but he said he didn't announce it because his cellphone died on his way home from the visit. It was the second visit Vahe had made to Texas' campus in a week after an unofficial visit on Monday.
"It was really fun on Saturday," Vahe said. "Everyone made me feel at home. I just wanted my family to be able to watch me play in college, and that was one of the reasons. I liked the opportunity and I feel like I should be a part of their team."
For Vahe, a commitment to the Longhorns was no surprise after his cousins, Keller (Texas) 2014 defensive end
Sione Teuhema
and 2015 tackle
Maea Teuhema
, committed in May.
Vahe was expected to attend the program's new "Texas Stampede" recruiting event this Saturday, but he instead chose to do his visit to Austin to better get to know the coaching staff and all that the Longhorns have to offer.
He'd considered pulling the trigger on a commitment at Texas camp in June, but Vahe was unable to attend. He made up for that with a pair of visits that sold him on joining the Longhorns' impressive 2015 class.
"I told them at the end of the day I was committing," Vahe said. "It was really exciting. I just liked the way they brought me into their school and showed me around and made me feel at home."
Vahe is the fourth offensive lineman in the Longhorns' 2015 class, joining Teuhema and fellow ESPN 300 prospects
Aaron Garza
(Sherman, Texas/Sherman) and
Connor Lanfear
(Buda, Texas/Hays).
In fact, all eight members of the Longhorns' 2015 class made ESPN's initial Junior 300. Vahe becomes the No. 2 rated prospect in the class behind Teuhema, and he's ranked No. 11 in the state of Texas.
He'd considered waiting until after his junior season to make a decision, but a chance to stick with the Teuhema brothers at the next level was too good to turn down.
"They were really happy that we're all going to go to college together," Vahe said. "I'm happy, too."
July, 28, 2013
7/28/13
9:00
AM ET
AUSTIN, Texas -- The Texas Stampede wrapped up before dark on Saturday, leaving the Longhorns with one commitment, on the verge of another and three new players with offers to consider.
Here is a look at those players and a few other things we learned from a first-of-its-kind event for Mack Brown and his program:
Equal balance
You never know who is going to show up to events like these. Things change. Family obligations take precedence, rides can be hard to come by, etc.
The list we had confirmed of those who would be in attendance was star-studded, but so to was the list of talent that wasn't going to make it to town.
As the day unfolded, some of the players who originally said they would make it weren't able to attend, while others that didn't think they'd be coming actually showed up. In the end, it all seemed to balance out for Texas' staff.
No, it didn't get the chance to visit with
Tony Brown
(Beaumont, Texas/Ozen), who was in North Carolina competing at the Junior Olympics. But the Longhorns were able to get several hours with
Daylon Mack
(Gladewater, Texas/Gladewater).
No, Texas didn't get to talk with 2015 defensive back
Kris Boyd
(Gilmer, Texas/Gilmer). But he's a heavy Texas lean, anyway. Besides that, the Texas staff was able to spend time with four-star safety
John Bonney
(Houston/Lamar).
No, 2015 offensive lineman
Trevor Elbert
(Rockwall, Texas/Heath) didn't make it down. But 2014 athlete
Kevin Shorter
(Newton, Texas/Newton) did, and now Texas is a serious contender for his commitment on Aug. 2, along with Arkansas and Texas A&M.
No, 2014 defensive tackle
D.J. Williams
(Lufkin, Texas/Lufkin) didn't make it down. But Texas was able to get TCU safety commitment
Nick Orr
(DeSoto, Texas/DeSoto) to town. The Longhorns didn't offer, but they were at least able to spend some time with him in case an offer does come up down the road.
Longhorns continue to impress Ketchum
To continue reading this article you must be an Insider
July, 26, 2013
7/26/13
9:00
AM ET
Welcome to The Heard, HornsNation's weekly in-depth look inside the never-ending world of Longhorns recruiting with news, notes and interesting tidbits on the latest happenings around the program. We'll release this every Friday.
Talk about it in our
forum
and, if there's a recruit out there you'd like to hear more from, let us know.
In this week's edition of The Heard:
Texas Stampede visitors list
To continue reading this article you must be an Insider
July, 26, 2013
7/26/13
8:00
AM ET
AUSTIN, Texas -- Texas hosts its first-ever Texas Stampede recruiting event on Saturday. Here's what you need to know going into the big, one-day event and which recruits we're keeping an eye on this weekend.
Five things to watch
What's the message?
We know this recruiting event is not a camp. No 40-yard dashes will be run, no position drills will be conducted. Nearly every recruit attending already holds an offer from the Longhorns and doesn't need to prove his value at this point. Most of them have already been on campus for one of Texas' various events -- junior days, sophomore day, spring game, state track, camp – and the majority aren't coming to get a tour of facilities and the campus. What's going to set this day apart and make it a meaningful one for Texas' chances of landing each prospect? Is it about promoting a family atmosphere and working hard to win over parents? Will recruits attending Stampede see and do things that no other visitor has this spring or summer? We're curious to see how Texas sets itself apart on Saturday.
The big fish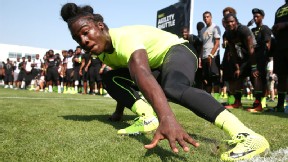 Tom Hauck for Student SportsLonghorns coaches are hoping to get Tony Brown on campus for the first-ever Texas Stampede this weekend.
If
Tony Brown
were the only recruit scheduled to attend Texas Stampede, it would still be a significant recruiting day for the Longhorns. The Longhorns have long believed they were in good shape to land the Beaumont (Texas) Ozen two-sport star, and getting him on campus Saturday for one more visit before he takes official visits this fall is potentially huge. The timing is perfect for Texas, too, because it gives Brown and his family a chance to spent time with the new Longhorns track and field staff. Head coach Mario Sategna and newly hired hurdles coach Tonja Buford-Bailey are already recruiting Brown, and they will be critical figures in Texas' hopes of signing him.
The Fab Four
Most members of the the
Daylon Mack
-created "Fab Five" we first told you about in May are expected to be on campus Saturday, including Mack himself. Whitehouse (Texas) safety
Justin Dunning
and Sulphur Springs (Texas) safety
Larry Pryor Jr
. won't make it to Austin, but Mack (Gladewater, Texas/Gladewater) will be joined on the trip by Gilmer (Texas) cornerback
Kris Boyd
, Mesquite (Texas) Poteet linebacker
Malik Jefferson
and Longview (Texas) running back
Ja'Mycal Hasty
, the only member of the pact who doesn't have a UT offer. Mack has suddenly shown increased interest in Texas and assistant coach Bo Davis, and the four recruits visiting have all said Saturday is their opportunity to catch up with one another and discuss what each is thinking. There's no doubt the Longhorns will be in that conversation after Stampede.
Pulling the trigger
Saturday might not go like most Texas sophomore and junior days, where you're sitting by the laptop repeating tapping refresh and waiting with nervous excitement to find out who committed to the Longhorns. That's not what Stampede is about – the goal is to continue to get ahead with kids, even if that means that few leave campus committed. Several members of our five to watch below could go ahead and commit, but don't be surprised if you see only one or two make that move.
Unifying the classes
Texas is recruiting now like it never has before, as the 2014 and 2015 classes are almost equally important in terms of their attention and efforts. We've written plenty about which guys are the leaders of the 2014 class, but realistically, wouldn't now be the perfect time to unify these two classes? We're expecting 18 of the Longhorns' combined 28 commits from these two classes to attend Stampede. Shouldn't it be their goal to start working together to recruit everybody else?
Five recruits to watch
2014 CB Tony Brown (Beaumont, Texas/Ozen)
Those in the know insist that Texas is still in the running for Brown, despite many believing this is a two-horse race between LSU and Alabama. If Brown does show up -- there is a chance he could, though nothing has been confirmed -- it would go a long way toward confirming what the Longhorns already believe. Brown is still a ways away from making any sort of announcement. However, he does want to enroll early so he can run track in the spring of next season, wherever he decides to go. He would like to take some of his official visits and Texas figures to have a good chance of receiving one of them.
2015 OG Patrick Vahe (Euless, Texas/Trinity)
This one only seems like a matter of time. Vahe unofficially visited Texas on Monday and all reports are that the visit went great. The No. 4 OG in 2015 and No. 79 player overall in the ESPN Junior 300 will make a return trip to the Texas Stampede, and few would be surprised if he went ahead and joined cousins
Sione
and
Maea Teuhema
as 2015 Longhorns commitments.
2014 S Jason Hall (Grand Prairie, Texas/South Grand Prairie)
To continue reading this article you must be an Insider
July, 23, 2013
7/23/13
8:00
AM ET
Here is a look at five things we've learned about Longhorns recruiting this summer.
1. Suddes making big impact
Patrick Suddes, Texas' Director of Player Personnel, could go down as one of coach Mack Brown's best hires in his time at UT. All Suddes has done since coming on board in March is help make smart, innovative decisions that have helped the Longhorns appeal to recruits despite not winning like they're used to on the field.
To continue reading this article you must be an Insider
July, 16, 2013
7/16/13
12:23
PM ET
June, 28, 2013
6/28/13
9:00
AM ET
Welcome to The Heard, HornsNation's weekly in-depth look inside the never-ending world of Longhorns recruiting with news, notes and interesting tidbits on the latest happenings around the program. We'll release this every Friday.
Talk about it in our
forum
and, if there's a recruit out there you'd like to hear more from, let us know.
In this week's edition of The Heard:
2014 DE names top two
2015 OL from Virginia interested in UT
Heard ready to recruit
Offer gets Anderson's attention
Rising junior RB looks to build off 2012 season
2015 OG Vahe visiting soon
2016 RB waiting on Longhorns
Gamble makes impression at camp
To continue reading this article you must be an Insider
June, 7, 2013
6/07/13
9:00
AM ET
Welcome to The Heard, HornsNation's weekly in-depth look inside the never-ending world of Longhorns recruiting with news, notes and interesting tidbits on the latest happenings around the program. We'll release this every Friday.
Talk about it in our
forum
and, if there's a recruit out there you'd like to hear more from, let us know.
In this week's edition of The Heard:
Second camp heavy on 2015 stars
All tied up for Springs
2015 QB closing in on offer?
More on K.D. Cannon
Vahe could follow Teuhemas
New TE possibility emerges
2015 ATH has Texas ties
Garza ready to be a Longhorn
Bradley ready to make name for himself
2015 S looks to make lasting impression
Read The Heard after the jump.
To continue reading this article you must be an Insider
June, 7, 2013
6/07/13
8:00
AM ET
Texas is having its first camp of the summer on Sunday and several commits and targets will be in attendance. Here's what we'll be keeping an eye on.
William Wilkerson's three storylines:
1. How will staff handle 2015 QBs?
To continue reading this article you must be an Insider
May, 9, 2013
5/09/13
7:17
PM ET
Patrick Vahe
(Euless, Texas/Trinity) thought it was a joke at first.
There Vahe was, a 6-foot-3, 280-pound sophomore offensive lineman with tons of untapped talent but possessing zero offers and minimal looks from colleges. Why would the Texas Longhorns be interested in having him become a part of their 2015 class?
To continue reading this article you must be an Insider
RB Coach Tommie Robinson Talks Tradition
BIG 12 SCOREBOARD
Saturday, 12/21
Monday, 12/23
Tuesday, 12/24
Thursday, 12/26
Friday, 12/27
Saturday, 12/28
Monday, 12/30
Tuesday, 12/31
Wednesday, 1/1
Thursday, 1/2
Friday, 1/3
Saturday, 1/4
Sunday, 1/5
Monday, 1/6