Texas Longhorns:

Patrick Suddes
October, 2, 2013
10/02/13
10:00
AM ET
The walls in Patrick Suddes' new office are still mostly blank, save for a whiteboard filled with plans for where Texas' coaches will go recruiting during the bye weekend. He has a few magazines on his desk, and a replica BCS championship trophy from his Alabama days, but that's about it.
He doesn't have time to decorate his new digs. Since being hired on March 7, the Longhorns' director of player personnel hasn't taken many days off. He's been hard at work organizing and innovating the program's recruiting efforts.
We sat down with Suddes last week to discuss his recruiting philosophies and what he's achieved in his brief time on the job.
You already have commitments for the classes of 2015 and 2016. How do you feel about this process going a couple years down the road, and how does that change the way you evaluate?
In the past couple years, it's hard to get rising seniors to your camp to evaluate them. Camp is the best evaluation tool we have. You can do the tape and go see them in person, but until you can get them in your drills and how you want it done and how they take to your coaching, you don't know. It's been hard, the past couple years, to even get rising juniors.
[+] Enlarge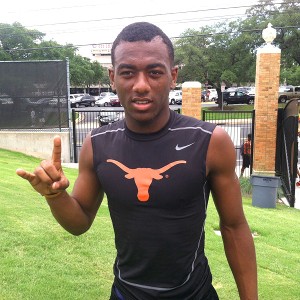 Max Olson/ESPNGetting younger players such as 2015 commit Keke Coutee on campus has been one of Patrick Suddes' main projects since becoming Texas' director of player personnel in March.
We had a good turnout this past camp, but there were still some juniors who wouldn't come work. To me, that's a telltale sign that I want the guys who will come in and bust their butts. I want the guys that compete. You play football because you're competitive. You not coming shows me a lack of confidence in yourself. Look, for some of them it's a money issue and I completely understand that. But these kids now, you've got '16 kids and '17 and it's just so much easier for these kids to get exposure now because of you guys and everybody else.
What have you learned so far in your seven months on the job?
You learn that there are a ton of players in Texas, which I already knew, but I didn't know how many schools. I've also learned the areas where guys are pumped up and the areas that they are still just as good of players and they're not pumped up. Just as many good players are coming out of East Texas. I understand why, because the big-time schools that are flying in here can't get into East Texas. They'll fly into Dallas and Houston. These kids aren't going to have the offers. Now with Twitter and all that stuff, though, these guys are blowing up.
San Antonio has good players. Below San Antonio, I'm told there's never any players. You still have to recruit down there and do your research, because if there's one good player, that's enough to go down there. I think that's the toughest thing: allocating your time, but also knowing that even if you have to go out to West Texas and there's only one guy out there, you've got to go out there.
With so many in-state kids, how do you allocate your time wisely when it comes to national recruiting?
I'm used to recruiting Georgia and Florida and Louisiana. I think Louisiana, it's not that long of a drive so you can recruit those kids like they're in-state. I think everywhere else, you have to find some sort of Texas connection, or we're looking for those kids that like Stanford or Notre Dame. I feel like we fit into that profile better than if a kid is from Ohio and he likes Florida and Georgia. We fit the kids that want the education on top of the athletics. I think that's what we have to go after, or the guys who are just wide open.
How do you think you have influenced the process or changed the way Texas recruits?
I think it's just from an organizational standpoint, in that everybody can go to one person for information or I can give them a plan. Everyone was like independent contractors in the past, and Mack [Brown] has to deal with the team and recruiting and going all over the place. It's just making sure everybody is on the same page. Mack knows what we're doing, Mack knows who we're offering, who we're going after, what the plan is. Information is the biggest thing. For me, it's being tied in with all these kids on Twitter and Facebook. These coaches don't have time to sit on Twitter and Facebook.
Fans have made you a bit of a legend already and think you're reinventing recruiting. How much is that you and how much is it Mack Brown?
It's been funny, but for me, I don't read a lot of that stuff and nothing I've done is mind-blowing. It's just getting a structure in place. They had one, but there was no common person to go to besides Mack, and Mack has a ton of his plate. He's the final decision maker and the guy whose head is on the line. There's more we can do. A lot of that is Mack. It's not me. Mack is very open to change. For a guy being here 16 years, he gets it. He really does. He's up for doing anything to make this place as good as it can possibly be.
July, 23, 2013
7/23/13
8:00
AM ET


Here is a look at five things we've learned about Longhorns recruiting this summer.

1. Suddes making big impact

Patrick Suddes, Texas' Director of Player Personnel, could go down as one of coach Mack Brown's best hires in his time at UT. All Suddes has done since coming on board in March is help make smart, innovative decisions that have helped the Longhorns appeal to recruits despite not winning like they're used to on the field.


May, 2, 2013
5/02/13
10:00
AM ET
AUSTIN, Texas -- Seven games into the 2012 season, Texas thought it needed a shift in its coaching assignments.
The kickoff coverage team, heralded in the first two weeks of the season for its stellar play, had gone stagnant in the eyes of the coaches. So to shore up what was considered a weak link with five games remaining, Texas coach Mack Brown shifted defensive coordinator Manny Diaz and defensive backs coach Duane Akina to kick coverage duties.
[+] Enlarge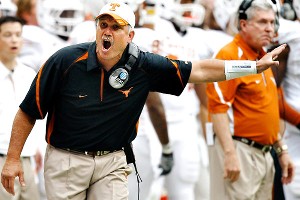 Bob Levey/Getty ImagesDefensive backs coach Duane Akina helped coach the Texas kickoff coverage team late last season.
Things got worse. Texas went from allowing 20.8 yards per return to 26.7 yards per return. Throw out the first two games against Wyoming and New Mexico in which Texas only allowed 12.6 yards per return against overmatched opponents and the numbers are only slightly better -- 23.9 yards per return allowed prior to the change as opposed to 26.7 after the switch.
But there will not be another switch made prior to the 2013 season. Brown said he expects Diaz and Akina to take care of kick coverage. Although he does expect the results to be better. That was part of the reason why Brown brought in his former player Everett Withers to take a look at Texas' special teams and point out a few things. Withers, who played for Brown at Appalachian State and coach defensive backs at Texas from 1998-2000, is now co-defensive coordinator at Ohio State.
April, 1, 2013
4/01/13
8:00
AM ET
AUSTIN, Texas -- Overcast skies cast a welcomed escape from the sun over the weekend in Austin. While they never opened up to supply the city with much-needed rain, a perfect storm did in fact unfold on the University of Texas.
The unique combination and location of the Texas Relays and the Longhorns' spring game supplied coach Mack Brown, director of player personnel Patrick Suddes and the rest of Texas' staff the perfect opportunity to entertain recruits and give them a taste of what takes place in the state's capitol.
To continue reading this article you must be an Insider
March, 15, 2013
3/15/13
8:00
AM ET
Every Friday, HornsNation recruiting writers William Wilkerson and Max Olson answer a question about the Longhorns.
This week's question: If you were new Texas director of player personnel Patrick Suddes, what would your first order of business be in your new position?
To continue reading this article you must be an Insider
March, 11, 2013
3/11/13
12:00
PM ET
Mack Brown was eager to answer the question Friday morning as he introduced the man charged with running Texas' entire recruiting operations going forward.
How quickly will Texas benefit from the hiring of Patrick Suddes?
"Today, very honesty," Brown said. "We are already starting to fix things today. And the staff gave Patrick a list of 10 things this morning that we all discussed yesterday as a staff and that we want him to do immediately."
Some steps will take time. The strongest video department in college football won't be built in a day. Nor will a staff of expert scouts and evaluators.
But the Longhorns' newly hired director of player personnel does have a lot on his plate now, and in only a few days he already is starting to make an impact on UT recruiting. We don't know what's on that list of 10 immediate fixes, but here's a look at five issues Suddes faces now that he's running the show.
To continue reading this article you must be an Insider
March, 11, 2013
3/11/13
8:15
AM ET
AUSTIN, Texas -- Patrick Suddes is doing exactly what he wants to do.
Texas coach Mack Brown said the school received more than 100 applications to be the football program's director of player personnel. He said they interviewed four candidates before hiring Suddes.
Suddes is going to be a success because being a personnel director is what he wants to do. That concept is not as simple as it seems.
To continue reading this article you must be an Insider
March, 8, 2013
3/08/13
12:58
PM ET
AUSTIN, Texas -- Texas, long perceived to be the leader in recruiting, started to realize it was anything but.

Sure the Longhorns were still getting stellar classes. But the methods on which they relied in gathering information and, subsequently efficiently distributing and disseminating that information were archaic.

"We have been kind of mom-and-popping it here for a long time," Texas coach Mack Brown said.

The times changed with the hiring of Patrick Suddes as Texas' director of player personnel Thursday. Suddes has been put in charge of modernizing the flow of information from prospective players, high school coaches and Texas' current coaches as well as building a department to take advantage of social media and other recruiting assets that have become larger players in the game in the past five years.


March, 7, 2013
3/07/13
5:42
PM ET
AUSTIN, Texas -- Mack Brown's theory of "If you can't beat them, hire them" has continued.

The Longhorns on Thursday hired Patrick Suddes, associate director of football operations at the University of Alabama. Suddes will be Texas' director of player personnel, the school announced. Suddes is Texas' second hire in the last three years from Alabama, as Brown hired away defensive line coach Bo Davis away from Alabama in 2011. Suddes had spent the last six seasons at Alabama, including the last five as associate director of football operations.
At Texas, Suddes will be charged with overseeing the recruiting process and creating new multimedia avenues for Texas to reach out and stay in contact with recruits and coaches.
In describing what he was looking for when Texas listed the position on Feb. 21, Brown said: "What we feel like it needs to be is as good a recruiting coordinator as there is in the country and that would mean a guy that can look at the new rules and see, what can we send out, and be the best. One time we were the best in our media guides and one time we were the best in our website. Right now I don't think we are, and that's who this person we think needs to be.''
Suddes will also coordinate Texas football camps and the annual clinic for high school coaches.
Texas Longhorns Show Out On Pro Day
BIG 12 SCOREBOARD
Thursday, 9/3
Friday, 9/4
Saturday, 9/5