Texas Longhorns:

Oliver Luck
November, 5, 2013
11/05/13
7:00
PM ET
AUSTIN, Texas -- Steve Patterson might not have the arm Oliver Luck possesses, but give him credit: He knows how to throw a good curveball.
One week after reports emerged that he'd already turned Texas down, and amid weeks of speculation that pegged West Virginia's Luck as the undisputed front-runner, Patterson is leaving Arizona State to
become the next athletic director at Texas
.
Handing the keys to the most powerful athletic department in the country to Patterson makes sense considering what Texas seeks. The only way to replace the irreplaceable DeLoss Dodds after 32 years was to find a big-picture visionary and an even sharper businessman.
Luck has all the things you'd look for in a Texas AD: cachet, experience, a UT law degree and a spot on the College Football Playoff committee.
But Patterson was the choice because he's a game-changer. He's well equipped to inherit Texas athletics in its current state because he has a track record of making significant, immediate change.
[+] Enlarge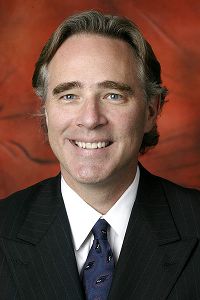 Courtesy of Arizona StateIncoming athletic director Steve Patterson has undergraduate and law degrees from Texas.
Patterson helped bring the creation of Reliant Stadium to fruition. He brought Super Bowl XXXVIII and the 1989 NBA All-Star Game to Houston. As a GM, he's credited with constructing the 1993-94 Houston Rockets team that won an NBA title. His fingerprints are all over several other projects in his six years creating and running Pro Sports Consulting.
When you're accustomed to making those kinds of Texas-sized projects happen, imagine what can be achieved by joining forces with the richest power in college athletics.
Patterson faced an uphill battle as COO and then AD at Arizona State, taking over a department that made $55 million in revenue and needed to get to $100 million to become successful. When he started, facility upgrades were on hold. Coaching vacancies needed to be filled. There wasn't enough money or resources.
His time in Tempe was spent in dedication to fixing up the business side of Sun Devils sports, and then to big-time facility decisions and an ambitious project, known as "The District," for long-overdue rebuilds, including Sun Devil Stadium.
Money and funding will not be an issue in his new gig. Texas prints money, to the tune of $160 million in revenue a year. He's getting a raise of nearly $1 million from the $450,000 a year he made in Tempe. And he's taking over a machine as well-oiled as any in college athletics.
What Texas needed was someone with a plan to stay ahead of the game, to remain the titan it is today. There will be facility decisions on his plate in the near future, but those aren't nearly as daunting as the problem solving he'll face from a personnel standpoint. And Patterson isn't a stranger to that responsibility.
He reportedly made as many as 100 personnel changes in two years at ASU. He oversaw similar turnover as president of the Portland Trail Blazers. He has a reputation for cleaning houses and building better ones.
Terms like "culture change" and "transitional periods" get thrown around a lot in discussing who should take over Longhorns athletics. But what Texas needed, what it always had in Dodds and must always have in his replacement, is a shrewd businessman with a plan.
And at the end of the day, that's what Texas athletics is: One gigantic, wildly rich and financially successful business. Dodds created it, and nobody can fill his shoes. But if Patterson's past work is any indication, he won't be daunted by the challenge.
October, 25, 2013
10/25/13
4:00
PM ET
In today's mailbag, Texas Tech fans attempt a detente with Baylor Nation, Iowa State faithful look to me for answers and we determine whether K-State is the best 2-4 team in college football.
To the 'bag:
Matt in Dallas writes:
Jake, as a K-State fan disappointed with this season's results thus far, I feel I must resort to "moral victories." How encouraged should my fellow Wildcats be that Baylor has destroyed every team BUT K-State? Are we truly the best 2-4 team in the nation?
Jake Trotter:
Hmm, let's find out. Here are the AQ schools with similar winning percentages: Virginia (2-5), Syracuse (3-4), Kansas (2-4), Indiana (3-4), Arkansas (3-5). I think I'd pick K-State against all four. So there you go: K-State
is
the best team in college football with a sub-.400 winning percentage.
---
John in Cornelius, N.C., writes:
Jake, I'm a 1976 ISU grad. Do you know whether or not the conference sees it as a priority to expand to at least 12 schools? If so, which schools do you think could be good fits? Would BYU be a possibility? UConn?
Jake Trotter:
At the moment, conference expansion is not a priority for the leadership of the league. If the Big 12 wanted BYU, the Cougars would already be in the conference. UConn is way too far away. Honestly, who out there is worth adding? The Big 12 missed a chance to get back to 12 by adding Louisville. That was, by far, the best available option.
---
Squirt in Texarkana, Texas, writes:
Why is everyone buying the Baylor hype? Do they not realize all the teams they have played are pretty bad and the only decent competition they had (K-State) barely lost?
Jake Trotter:
Don't look at who they've played. Look at what they've done to who they've played. It's been incredibly impressive. Baylor's mettle will be put to the test soon enough. But the Bears are worthy of their ranking just based on their handing out head-kickings like Halloween candy.
---
Andrew in Phoenix writes:
When does Iowa State take the next step? Or are we as fans doomed to be brothers with KU?
Jake Trotter:
The thing that has killed your Cyclones has been quarterback instability. Who has been Iowa State's best QB since Seneca Wallace? Austen Arnaud maybe? In the last three years, the Cyclones have frantically been rotating through QBs trying to find the long-term answer. Until they accomplish that, Iowa State won't be anything more than a .500 team.
---
Hunter in Lubbock, Texas, writes:
What do
Jace Amaro
and company have to do to get past Oklahoma's solid secondary?
Jake Trotter:
It's not just about getting past the OU secondary. It's about catching balls in front of the OU defensive backs, then making them miss. According to ESPN Stats & Info, Tech is averaging 221 yards after catch per game, second-most among AQ teams. The Red Raiders had 266 yards after the catch last week in the win at West Virginia. If Amaro and company pile up yardage after the catch, the Red Raiders will stand a good chance of piling up some points, too.
---
David in Virginia writes:
If Maryland and WVU played again, do you think WVU has improved enough since to win? That loss has just been bothering me all season.
Jake Trotter:
I do, but that has as much to do with Maryland's decline. The Terrapins have looked awful since beating the Mountaineers in Baltimore. But on top of that, QB
Clint Trickett
has given West Virginia a spark since taking over the week after the Maryland game.
---
John in Charleston, W.Va., writes:
Is Ollie Luck the next AD at Texas?
Jake Trotter:
It appears he'll be taking a very hard look at accepting if offered. I think there's a good chance he's offered, too.
---
Warren in Austin, Texas, writes:
Like most Red Raiders fans, I'm probably getting a little ahead of myself here. But say Tech and UT win all of their games from now until Thanksgiving, and UT beats Tech in Austin, only to lose to Baylor the following week. With all three at 8-1, who gets the BCS bid?
Jake Trotter:
Probably Baylor.
---
Red Raider in Phoenix writes:
I am loving the depth we have at QB this year. But will all three be on the roster next year?
Jake Trotter:
It's very difficult keeping three QBs of similar age on campus. Just ask Oklahoma State. If
Michael Brewer
ended up being the No. 3 guy again next year, too, what would the incentive be in him staying?
---
Kurt in Lubbock, Texas, writes:
Hey guys, love the blog, I look at it almost every day! Just wondering if you think Tech's Big 12 title hopes are on the line in Norman. If we lose, do we still have a chance?
Jake Trotter:
It's possible, but I don't see Tech winning the conference without a win in Norman, too.
---
Colby in San Angelo, Texas, writes:
Hey Jake, love the blog! I'm a huge Tech fan/alum and I don't doubt Baylor as the top dog of the conference. But why is everyone discrediting Tech for an easy schedule when Baylor's isn't any different?
Jake Trotter:
Probably because
Baylor has been pummeling its opponents, while Tech has not.
---
Thomas in Coppell, Texas, writes:
I'm a die-hard Tech fan and have had enough of the Baylor-Tech chatter. It sounds like a couple of second-graders arguing about whose dad is tougher. Wreck 'em, Tech!
Caleb the Great in Lubbock, writes:
As a lifelong Red Raider fan and current Tech student, Baylor looks legit. All I see on here are Tech fans hating on Baylor, or the other way around. Both teams look great. But Baylor looks better so far. Until the two teams play or one loses, quit hating.
Jake Trotter:
An olive branch? Baylor fans, what say you?
---
Will in Dallas writes:
Baylor beat Iowa State by 64, Tech won by 7. Baylor beat WVU by 31, Tech won by 10. Why do all these Tech trolls still think they can beat Baylor?
Jake Trotter:
Oh man, we were so close to an accord.
---
Charlie Bear in Panama City, Fla., writes:
Thanks again for doing what you do. I don't know how you keep writing, even in the face of such criticism and ungratefulness from Big 12 fans. What is your take on the first week of BCS rankings?
Jake Trotter:
Wait, people are criticizing me? When did this starting happening? The BCS looked about right to me. Baylor and Tech will only rise when they start beating ranked teams.
---
Kristin in Dallas writes:
Out of the four conference games Texas Tech has played, your guest picker has picked them to lose three times. Just like Kingsbury likes it when the "GameDay" crew picks us to lose, clearly we play better than your guest pickers don't have faith in us.
Jake Trotter:
That might be a bad sign for you, Kristin. This week's guest picker picked Tech to win.
---
AG in Ames, Iowa, writes:
You mentioned that Baylor and Texas Tech have "uphill climbs" to have any hopes of reaching the title game. While I understand they are both at a disadvantage, doesn't the rest of the season set them up well to move up?
Jake Trotter:
They might be able to pass Ohio State. But neither has any shot of passing Florida State, Oregon or Alabama. Neither Baylor nor Tech played challenging nonconference schedules and the Big 12 is weak with the computers because of how the league fared during the nonconference season (no wins over a team currently ranked in the Top 25).
---
Caleb in Waco, Texas, writes:
How come Stanford (6-1) is ranked above Baylor (6-0) in the BCS? What's with the computers ranking Baylor 12th?
Jake Trotter:
That's what happens when the only teams you've played with a winning record are Wofford and Buffalo.
---
Beau in Denver writes:
I'm glad Baylor is finally getting some love in the polls, but how is
Bryce Petty
not higher in the Heisman discussions yet?
Jake Trotter:
Baylor has yet to play in a national spotlight game, and
Lache Seastrunk
is splitting the Baylor vote to some degree at the moment.
---
Gary Patterson in Fort Worth, Texas, writes:
When am I firing my offensive coordinators and finding someone to help this team score some points?
Jake Trotter:
Probably after the season. Can't get anyone in the middle of the year.
---
Colt in Reality Land, Texas, writes:
Jake, can you try to shrink some of those giant heads in Red Raider Land by reminding them they have only played one team that is better than .500 this season?
Jake Trotter:
I believe you just did.
---
Baylor Bear in Waco, Texas, writes:
Jake, I just wanted to apologize on behalf of Baylor Nation for that one fan who called you an idiot. That's not what our school is all about. We have tough academic standards, but somehow that jackass got in.
Jake Trotter:
Apology accepted. Now, don't let it happen again.
---
Mike Leach in Dallas writes:
Do you think the big reason the Big 12 is down this year is because there is so much overall poor QB play?
Jake Trotter:
No doubt. Where would TCU and its defense be with stellar QB play? What about the Bedlam schools? They would surely both be in the top 10. QB play has been the Big 12's calling card. But it has really hampered teams in the league this year.
---
Dave in Lagos, Nigeria, writes:
Jake, I saw where a Texas high school coach got called in for questioning by school officials on a bullying charge. The coach's team beat another team like 91-0. If these charges stick, is Art Briles next?
Jake Trotter:
Baylor does not fall under UIL jurisdiction. Otherwise, Charlie Weis might have to put Texas' high school governing body on speed dial.
October, 18, 2013
10/18/13
12:00
PM ET
September, 30, 2013
9/30/13
10:04
PM ET
DeLoss Dodds is stepping down as athletic director of Texas
. The effects of that decision on the future of the Longhorns athletic department will be far-reaching.
Dodds will formally announce Tuesday his plan to leave the job he has held for 32 years and step down as AD at the end of August, 2014. The search for his replacement is already underway and could end as early as Dec. 1.
[+] Enlarge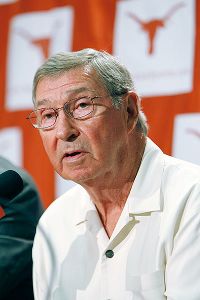 Erich Schlegel/Getty ImagesDeLoss Dodds will step down as Texas AD in 2014, sources confirmed.
Whoever is tapped to replace the Texas legend inherits one of the most powerful thrones in college athletics, and could face one of the most important transition periods in school history. We'll get into that in a moment, though it's a topic we'll be talking about throughout the next year.
Dodds is a powerful man with a legacy to match. He made the Longhorns the financial behemoth it has become today and oversaw one of the greatest periods of athletic success in school history. Whoever is deemed fit to take his place has Texas-sized shoes to fill.
By setting these plans in motion nearly a year in advance, he's providing UT more than enough time to make a smooth transition. That Dodds will stick around as a consultant should help, too. This is a major move and one that must be handled carefully.
Just imagine the résumés that will wind up on UT President Bill Powers' desk during the search process. He'll eventually pick from an elite group of candidates, and there's no doubt he'll be seeking a leader with the kind of big-picture thinking, sharp judgment and business savvy that Dodds displayed during his long tenure.
In its report breaking Monday's news, the Austin American-Statesman said West Virginia athletic director Oliver Luck is one candidate to keep an eye on. Notre Dame AD Jack Swarbrick's name has come up plenty in recent weeks, and more major players will in the next few weeks.
The successor could face a critical dilemma whenever he or she is finally chosen. What will be done about the coaches of three of Texas' most important programs?
Mack Brown knows he has to win and win big this year, and a 2-2 start didn't make life any easier. The Texas football coach has long said he has a tremendous relationship with Dodds and Powers, who have backed him throughout a trying month for Longhorn football.
"I've got the two best bosses in the world," Brown said days after Texas' loss to BYU. "They get it. They understand. I have great conversations with them. They put me in a position to run it, they want me to do it, and I'm responsible for it. That's what I've got to do. DeLoss has been around a long time. I don't have knee-jerk bosses. They get it."
Well, one of those bosses is now leaving. Who knows how much success in 2013 will be enough to impress the next boss, or whether Brown's sub-.600 record since 2009 will simply be too much to overcome.
Will the next AD be prepared to clean house? He or she could face similar big-picture decisions with Longhorns men's basketball and baseball.
The legendary Augie Garrido hasn't taken UT to a College World Series in two years and didn't make the Big 12 tournament in 2013. Rick Barnes hasn't advanced past the second round of the NCAA tournament since 2008 and didn't make the field last season.
These are worst-case scenarios, to be sure, but not unrealistic ones. The candidates for Texas' athletic director job will be well aware of these potential first-year decisions.
There are many other reasons why Texas must find the right person for the job. The truth is, there's really no replacing Dodds. This day had to come eventually, though, and evidently the countdown to that day begins Tuesday.
October, 5, 2012
10/05/12
2:30
PM ET
West Virginia's trip to Texas on Saturday will hold plenty of special meaning for the Mountaineer faithful.
None, however, will remember the day more fondly than Greg Comer and his fiancé, Julia Abbott. That won't change, win or lose.
If you're roaming around the north side of Darrell K. Royal-Texas Memorial Stadium on Saturday at 1 p.m., don't be surprised if you see a few tears being shed before the game even begins.
Greg and Julia are just getting married.
[+] Enlarge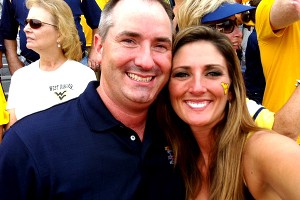 Greg ComerWest Virginia fans Greg Comer and Julia Abbott will get married in Austin before the Texas-West Virginia game.
"It was just a spur of the moment-type decision, but it's turned into something pretty exciting," Comer told ESPN.com this week.
The couple and their families are all huge West Virginia fans, and when the Mountaineers announced plans to join the Big 12, Greg and Julia planned on making a trip to Texas as soon as they could.
Julia originally hoped to attend the University of Texas, but chose to stay closer to her father and family. Both graduated from West Virginia and now work in the oil and natural gas industry in Morgantown.
Still, she had an affinity for Texas, and hoped to return to Austin soon. The Big 12 membership gave her a chance to make a return.
Then, the Big 12's schedule made a special occasion even more special. The Texas game would coincide with the anniversary of the couple's first date, and be their favorite team's first road game in their new conference.
"It just all kind of fell together for us, and we thought, 'You know what, let's just get married there.'"
Around 65-100 people are expected to attend, but the tailgate reception in the tailgating lot between the Penick-Allison Tennis Center and 15th Street in Austin is open to any and all fans.
The couple even invited West Virginia AD Oliver Luck, who won't be able to attend, but sent them a personalized email of congratulations.
"We've talked to Mountaineer fans going to the game and said, 'Hey, it's open to everyone.'" Comer said. "We'll let Texas fans come in, too, but it's a place for all the fans that we know who are going to kind of have as their home base."
After the wedding, the couple will head for their honeymoon in Turks and Caicos.
Comer didn't get much resistance from any family or friends on the unusual wedding plan, either.
"Every one thinks it's pretty cool. I have a brother and sister who think we're crazy, but they love it, they think it's a neat idea," Comer said. "The first question is always 'why? Why Texas?' Honestly, it's just 'Wow, that's really cool.'
The Comers even got retired judge Harley Clark to officiate the wedding. Clark, a Texas cheerleader back in 1955,
helped coin the famed "Hook 'Em Horns" hand gesture
more than half a century ago.
It'll be a historic day for everyone involved.
"There's so many emotions going in because this is a great time in our life, and to have a Heisman Trophy candidate to watch while we're at Texas, we're just ecstatic, elated," Comer said. "We're just thrilled to get in Austin. We've heard a lot about Sixth Street, and it'll be even more fun if we figure out how to play a little defense."
October, 4, 2012
10/04/12
12:45
PM ET
AUSTIN, Texas -- To say Oliver Luck has a lot going on right now would be an understatement.
There's his day job as West Virginia's athletic director, which, honestly, covers all hours of every day. Especially right now as he is tasked with the responsibility of making the Mountaineers transition into the Big 12 as seamless as possible.
Then there are his duties as a father to his four kids, one of whom is
Andrew Luck,
the No. 1 pick in the 2012 NFL draft and starting quarterback for the Indianapolis Colts.
A former quarterback in his own right, one that made a name for himself at West Virginia and then with the Houston Oilers, Luck is also a member of the NFL's Player Safety Advisory Panel.
[+] Enlarge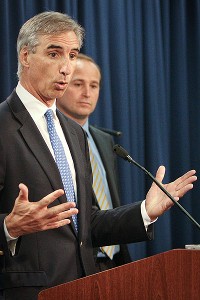 AP Photo/David SmithOliver Luck was named the West Virginia athletic director in 2010.
He's a busy man, all right, but Luck, who also holds a law degree from Texas, took the time to talk to HornsNation in anticipation of this week's clash of new Big 12 foes:
HornsNation:
First things first, as a former quarterback, what were your thoughts watching
Geno Smith
last week against Baylor?
Oliver Luck:
He did a phenomenal job. He's an excellent player and a very smart kid, very mature. He's been everything that we expected as a senior. It's a delight for an old quarterback like me to watch him perform so well. He deserves all the accolades he's getting.
HN:
You threw for a then-school record 19 touchdowns your junior season at West Virginia, and Smith threw eight against the Bears. Do you look at that and laugh at how progressive offenses have become?
Luck:
There's been a steady increase over the last four years in offensive production in the way coaches are coaching, the opportunities kids have in high school to do 7-on-7. The schemes that exist now at the college level are, quite honestly, schemes that we had in the NFL 25 years ago. There is a number of different reasons from the work the kids put in the weight room, to the camps and clinics kids attend to 7-on-7. They are throwing 10,000 more passes than guys from previous generations. There are a lot of reasons you are seeing this offensive explosion. My gut tells me this isn't the ceiling. We will continue to see this as we go to the next phase of college football.
HN:
Could you have picked a better time to be strolling into Austin to play the Longhorns after a performance like that, at least from an offensive standpoint?
May, 24, 2012
5/24/12
3:45
PM ET
USA Today
released its annual survey of athletic director salaries
, noting that they're rising almost as fast as coaching salaries. How did the Big 12 stack up?
Here's how they ranked:
DeLoss Dodds, Texas: $1,095,756
Joe Castiglione, Oklahoma: $975,000
Bill Byrne, Texas A&M: $690,000
Mike Alden, Missouri: $659,775
Kirby Hocutt, Texas Tech: $580,000
Jamie Pollard, Iowa State: $450,000
Sheahon Zenger, Kansas: $450,000
Ian McCaw, Baylor: $423,449
John Currie, Kansas State: $412,500
Mike Holder, Oklahoma State: $387,560
I kept old Big 12 schools in this list because they were in the Big 12 when these numbers were taken.
For the new schools?
Oliver Luck, West Virginia: $405,600
TCU's Chris Del Conte was paid $115,639 for a partial-year salary. He took over in October 2009, and his full salary was not available on public tax returns.
The most surprising name on the list was Mike Holder, who is at the bottom of the list, despite holding the position since 2005. Oklahoma State's not exactly starved for money these days, either.
Kansas State's John Currie is a newcomer to the job, and a first-time athletic director who has
helped K-State become the most profitable athletic department in the country
. You've got to expect a raise is coming his way, even though he had a high-profile gaffe when hoops coach Frank Martin exited stage right all the way to South Carolina.
Not surprising to see Texas and OU at the top, but that's a pretty big gap between Dodds, Castiglione and the rest of the league, especially now that Missouri and Texas A&M are gone.
Dodds is only the fourth-highest paid AD, behind Vanderbilt, Florida and Louisville's athletic directors.
What else stuck out to you?
April, 18, 2012
4/18/12
11:30
AM ET
The Big 12 still hasn't officially welcomed TCU and West Virginia.
That day will arrive on July 1 later this year. Until then (and even after), there will be plenty of discussion on what the Big 12 should do.

Few Big 12 administrators have endorsed either option publicly, but West Virginia AD Oliver Luck
made his thoughts clear in a recent interview with ESPN.com.
"My recommendation would be to look long and hard at moving up, whether it's to 11 or 12, particularly when you look at how big the SEC is, how big the ACC is going to be, the number that the Big Ten and the Pac-12 are at," Luck said. "I think it would be wise to take a long hard look at that because there is some strength in numbers."
The big question for the Big 12, though? Will new members bring in enough revenue to warrant inclusion? Selling expansion to the league's 10 members won't go over all that well if the league can't prove that the annual conference revenue paychecks won't get significant cuts.
So, what do you think the best option is? Vote in our poll.
April, 17, 2012
4/17/12
4:00
PM ET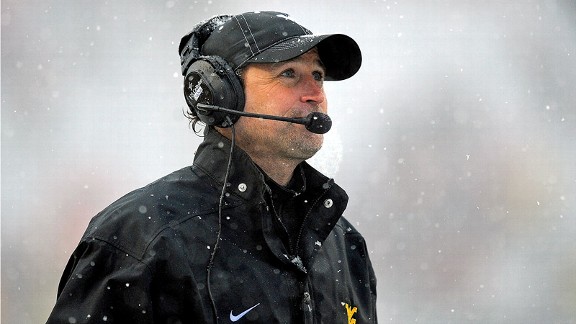 Patrick McDermott/Getty ImagesThe Big East is in the rearview mirror as Dana Holgorsen and the Mountaineers enter the Big 12.
MORGANTOWN, W.Va. -- Texas A&M looked likely to leave the Big 12 in late August. Rumors and speculation reigned on the topic of who could replace the Aggies.
At least one report placed Pittsburgh on the supposed "Big 12 short list."
West Virginia athletic director Oliver Luck saw it, and thus began the Mountaineers' road to the Big 12.
"If Pitt is on the short list, there's no reason that West Virginia shouldn't be on the Big 12 short list," Luck told ESPN.com. "That's when, to myself, I began to think, because normally, you don't think Big 12 and Pittsburgh. You don't think Big 12 and West Virginia.
"I remember saying to myself and saying to my wife, 'If that story was accurate, and Pitt used that as leverage to get in the ACC,' I remember thinking: Well, this is certainly a possibility."
Luck was driving with his family to the Mountaineers' road win over Maryland on Sept. 17 when he got the call. He was just outside Hancock, Md. Pitt and Syracuse were leaving for the ACC.
"We love to hate Pitt, but we have 104 years of history together," Luck said. "When those two schools left, that was a blow to the Big East. I don't care how you cut it, it was a blow to the Big East."
Weeks later, Texas A&M made its move to the SEC official. The Big 12 plugged its vacancy with TCU, who canceled plans to join the Big East.
"I think it was pretty obvious that the league was going to struggle. We hadn't added a new member since 2005. Sitting in these AD meetings, there was no expansion committee to speak of," Luck said. "You're down to five members with no clear-cut expansion candidates, with no activity, so at that point I think people -- and not just me -- realized that we needed to look around and make sure first and foremost that we were going to be in a conference that maintained high standards and high-quality opponents."
Texas Longhorns Show Out On Pro Day
BIG 12 SCOREBOARD
Thursday, 9/3
Friday, 9/4
Saturday, 9/5