Texas Longhorns:

Oliver Luck
October, 5, 2012
10/05/12
2:30
PM CT
West Virginia's trip to Texas on Saturday will hold plenty of special meaning for the Mountaineer faithful.
None, however, will remember the day more fondly than Greg Comer and his fiancÚ, Julia Abbott. That won't change, win or lose.
If you're roaming around the north side of Darrell K. Royal-Texas Memorial Stadium on Saturday at 1 p.m., don't be surprised if you see a few tears being shed before the game even begins.
Greg and Julia are just getting married.
[+] Enlarge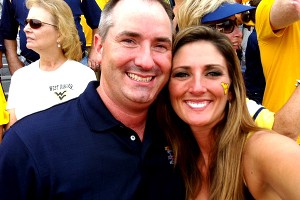 Greg ComerWest Virginia fans Greg Comer and Julia Abbott will get married in Austin before the Texas-West Virginia game.
"It was just a spur of the moment-type decision, but it's turned into something pretty exciting," Comer told ESPN.com this week.
The couple and their families are all huge West Virginia fans, and when the Mountaineers announced plans to join the Big 12, Greg and Julia planned on making a trip to Texas as soon as they could.
Julia originally hoped to attend the University of Texas, but chose to stay closer to her father and family. Both graduated from West Virginia and now work in the oil and natural gas industry in Morgantown.
Still, she had an affinity for Texas, and hoped to return to Austin soon. The Big 12 membership gave her a chance to make a return.
Then, the Big 12's schedule made a special occasion even more special. The Texas game would coincide with the anniversary of the couple's first date, and be their favorite team's first road game in their new conference.
"It just all kind of fell together for us, and we thought, 'You know what, let's just get married there.'"
Around 65-100 people are expected to attend, but the tailgate reception in the tailgating lot between the Penick-Allison Tennis Center and 15th Street in Austin is open to any and all fans.
The couple even invited West Virginia AD Oliver Luck, who won't be able to attend, but sent them a personalized email of congratulations.
"We've talked to Mountaineer fans going to the game and said, 'Hey, it's open to everyone.'" Comer said. "We'll let Texas fans come in, too, but it's a place for all the fans that we know who are going to kind of have as their home base."
After the wedding, the couple will head for their honeymoon in Turks and Caicos.
Comer didn't get much resistance from any family or friends on the unusual wedding plan, either.
"Every one thinks it's pretty cool. I have a brother and sister who think we're crazy, but they love it, they think it's a neat idea," Comer said. "The first question is always 'why? Why Texas?' Honestly, it's just 'Wow, that's really cool.'
The Comers even got retired judge Harley Clark to officiate the wedding. Clark, a Texas cheerleader back in 1955,
helped coin the famed "Hook 'Em Horns" hand gesture
more than half a century ago.
It'll be a historic day for everyone involved.
"There's so many emotions going in because this is a great time in our life, and to have a Heisman Trophy candidate to watch while we're at Texas, we're just ecstatic, elated," Comer said. "We're just thrilled to get in Austin. We've heard a lot about Sixth Street, and it'll be even more fun if we figure out how to play a little defense."
October, 4, 2012
10/04/12
12:45
PM CT
AUSTIN, Texas -- To say Oliver Luck has a lot going on right now would be an understatement.
There's his day job as West Virginia's athletic director, which, honestly, covers all hours of every day. Especially right now as he is tasked with the responsibility of making the Mountaineers transition into the Big 12 as seamless as possible.
Then there are his duties as a father to his four kids, one of whom is
Andrew Luck,
the No. 1 pick in the 2012 NFL draft and starting quarterback for the Indianapolis Colts.
A former quarterback in his own right, one that made a name for himself at West Virginia and then with the Houston Oilers, Luck is also a member of the NFL's Player Safety Advisory Panel.
[+] Enlarge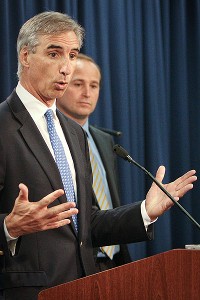 AP Photo/David SmithOliver Luck was named the West Virginia athletic director in 2010.
He's a busy man, all right, but Luck, who also holds a law degree from Texas, took the time to talk to HornsNation in anticipation of this week's clash of new Big 12 foes:
HornsNation:
First things first, as a former quarterback, what were your thoughts watching
Geno Smith
last week against Baylor?
Oliver Luck:
He did a phenomenal job. He's an excellent player and a very smart kid, very mature. He's been everything that we expected as a senior. It's a delight for an old quarterback like me to watch him perform so well. He deserves all the accolades he's getting.
HN:
You threw for a then-school record 19 touchdowns your junior season at West Virginia, and Smith threw eight against the Bears. Do you look at that and laugh at how progressive offenses have become?
Luck:
There's been a steady increase over the last four years in offensive production in the way coaches are coaching, the opportunities kids have in high school to do 7-on-7. The schemes that exist now at the college level are, quite honestly, schemes that we had in the NFL 25 years ago. There is a number of different reasons from the work the kids put in the weight room, to the camps and clinics kids attend to 7-on-7. They are throwing 10,000 more passes than guys from previous generations. There are a lot of reasons you are seeing this offensive explosion. My gut tells me this isn't the ceiling. We will continue to see this as we go to the next phase of college football.
HN:
Could you have picked a better time to be strolling into Austin to play the Longhorns after a performance like that, at least from an offensive standpoint?
USA Today
released its annual survey of athletic director salaries
, noting that they're rising almost as fast as coaching salaries. How did the Big 12 stack up?
Here's how they ranked:
DeLoss Dodds, Texas: $1,095,756
Joe Castiglione, Oklahoma: $975,000
Bill Byrne, Texas A&M: $690,000
Mike Alden, Missouri: $659,775
Kirby Hocutt, Texas Tech: $580,000
Jamie Pollard, Iowa State: $450,000
Sheahon Zenger, Kansas: $450,000
Ian McCaw, Baylor: $423,449
John Currie, Kansas State: $412,500
Mike Holder, Oklahoma State: $387,560
I kept old Big 12 schools in this list because they were in the Big 12 when these numbers were taken.
For the new schools?
Oliver Luck, West Virginia: $405,600
TCU's Chris Del Conte was paid $115,639 for a partial-year salary. He took over in October 2009, and his full salary was not available on public tax returns.
The most surprising name on the list was Mike Holder, who is at the bottom of the list, despite holding the position since 2005. Oklahoma State's not exactly starved for money these days, either.
Kansas State's John Currie is a newcomer to the job, and a first-time athletic director who has
helped K-State become the most profitable athletic department in the country
. You've got to expect a raise is coming his way, even though he had a high-profile gaffe when hoops coach Frank Martin exited stage right all the way to South Carolina.
Not surprising to see Texas and OU at the top, but that's a pretty big gap between Dodds, Castiglione and the rest of the league, especially now that Missouri and Texas A&M are gone.
Dodds is only the fourth-highest paid AD, behind Vanderbilt, Florida and Louisville's athletic directors.
What else stuck out to you?
The Big 12 still hasn't officially welcomed TCU and West Virginia.
That day will arrive on July 1 later this year. Until then (and even after), there will be plenty of discussion on what the Big 12 should do.

Few Big 12 administrators have endorsed either option publicly, but West Virginia AD Oliver Luck
made his thoughts clear in a recent interview with ESPN.com.
"My recommendation would be to look long and hard at moving up, whether it's to 11 or 12, particularly when you look at how big the SEC is, how big the ACC is going to be, the number that the Big Ten and the Pac-12 are at," Luck said. "I think it would be wise to take a long hard look at that because there is some strength in numbers."
The big question for the Big 12, though? Will new members bring in enough revenue to warrant inclusion? Selling expansion to the league's 10 members won't go over all that well if the league can't prove that the annual conference revenue paychecks won't get significant cuts.
So, what do you think the best option is? Vote in our poll.
April, 17, 2012
4/17/12
4:00
PM CT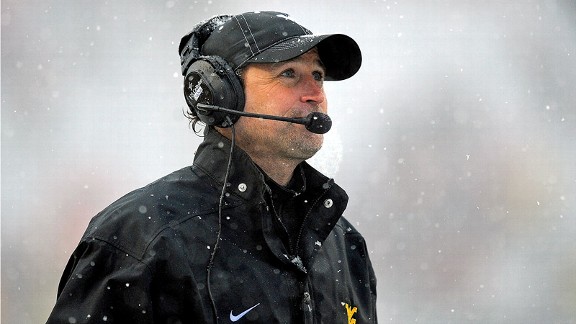 Patrick McDermott/Getty ImagesThe Big East is in the rearview mirror as Dana Holgorsen and the Mountaineers enter the Big 12.
MORGANTOWN, W.Va. -- Texas A&M looked likely to leave the Big 12 in late August. Rumors and speculation reigned on the topic of who could replace the Aggies.
At least one report placed Pittsburgh on the supposed "Big 12 short list."
West Virginia athletic director Oliver Luck saw it, and thus began the Mountaineers' road to the Big 12.
"If Pitt is on the short list, there's no reason that West Virginia shouldn't be on the Big 12 short list," Luck told ESPN.com. "That's when, to myself, I began to think, because normally, you don't think Big 12 and Pittsburgh. You don't think Big 12 and West Virginia.
"I remember saying to myself and saying to my wife, 'If that story was accurate, and Pitt used that as leverage to get in the ACC,' I remember thinking: Well, this is certainly a possibility."
Luck was driving with his family to the Mountaineers' road win over Maryland on Sept. 17 when he got the call. He was just outside Hancock, Md. Pitt and Syracuse were leaving for the ACC.
"We love to hate Pitt, but we have 104 years of history together," Luck said. "When those two schools left, that was a blow to the Big East. I don't care how you cut it, it was a blow to the Big East."
Weeks later, Texas A&M made its move to the SEC official. The Big 12 plugged its vacancy with TCU, who canceled plans to join the Big East.
"I think it was pretty obvious that the league was going to struggle. We hadn't added a new member since 2005. Sitting in these AD meetings, there was no expansion committee to speak of," Luck said. "You're down to five members with no clear-cut expansion candidates, with no activity, so at that point I think people -- and not just me -- realized that we needed to look around and make sure first and foremost that we were going to be in a conference that maintained high standards and high-quality opponents."