Texas Longhorns:

Nick Saban
March, 13, 2014
3/13/14
10:00
AM ET
This week, we're taking a closer look at the members of the new Texas coaching staff under Charlie Strong. The fourth part of our two-a-days series focuses on two experienced defensive coaches Strong brought in from other schools, and what they'll bring to their respective position groups.
Chris Rumph
Assistant head coach/defensive line
Rumph must get this question a lot: What's it like at Alabama?
Actually, the inquiry probably sounds more like this: No, what's it
really
like at Alabama?
[+] Enlarge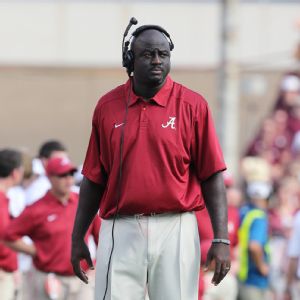 Matthew Emmons/USA TODAY SportsChris Rumph wants to bring the success and work ethic that has defined Alabama under Nick Saban to Texas.
Texas' new defensive line coach arrives fresh off a three-year stint with the great dynasty of college football. Rumph got two national title rings, coached NFL-caliber players and recruited five-stars. He knows The Process like the back of his hand.
And it's probably safe to say he gets lots of questions about Nick Saban, too.
"He has a method to his madness and you can't knock it," Rumph said. "Whatever you want to say about it, you can't knock it. Because it works."
What's the secret to Bama's success? This will sound cliché, of course, but Rumph believes much of what makes the difference comes down to two big things: Accountability and attention to detail.
At Alabama, those are the core standards. At Texas, it's a must if you want to play for Rumph.
"If I tell you that you need to walk one mile," Rumph said, "and you walk a half mile, I've got issues with that. I think that's the difference for some programs.
"We say get behind the line. Everybody better be behind the line. We say run 10 yards. You better run 10 yards. Not eight, not nine. A lot of places that aren't successful are that nine yards, that 'He ran hard but he only ran nine yards, he didn't run 10 yards.' I see the same thing here. We tell those guys it's attention to detail. It's about the little things, about doing your job."
It's like a dam, he says. All it takes is one little crack that goes overlooked and, over time, the dam busts.
Crimson Tide players had to be dedicated to doing things the right way every single time. When you do a squat in the weight room, Rumph said, it better be the best squat ever. You better dominate that squat, and then do it again. That's how you build toward big things.
"Stop being so result-oriented," Rumph said. "I tell my guys, don't worry about making 10 sacks. Don't worry about 20 sacks. Just the process to get there."
Even with Alabama's gigantic turnaround under Saban, Rumph proudly says Texas is the "best university in the universe." How quickly the Longhorns regain their national prestige will depend on how quickly the players buy into what Rumph and the coaches are demanding.
As he put it: "We want to make the most feared statement in college football: 'We play Texas next.'"
Chris Vaughn
Defensive backs/special teams
When you dedicate eight years of your career to being a recruiting coordinator in the SEC, you learn a few things along the way.
Four years of those duties at Arkansas and four more at Ole Miss gave Vaughn a wealth of knowledge about how to win a kid over. The key, he says, is knowing that convincing the recruit is a small piece of the pie.
Recruiting is a game of relationships, a lesson that Vaughn learned over and over and was reinforced by his 13 years of working with former head coach Houston Nutt.
"We all sound like car salesmen, of course, because we want to sell our university and what we believe in," Vaughn said. "But it's the mom and dad, the grandmother, the uncle, that when all the schools come in, they see through what's on the side of the helmet or what type of shoes you're wearing or the people sitting in the stadium.
"They just want to know somebody is going to take care of their baby. I think that's one thing I really learned from Houston: You've got to build relationships with the family. At the end of the day, that young man is going to ask a family member close to them, 'What do you think?'"
Vaughn, who will recruit southeast Texas and Louisiana for Texas, has ties all over the South from his past gigs. Those should pay dividends in the instances when the Longhorns staff looks outside the state for talent.
One talent Vaughn always likes to see when he's out evaluating recruits: Wrestlers.
Back in his days at Godby High in Tallahassee, Fla., Vaughn was runner-up in the state wrestling championship. He was an undersized 195-pounder in the 220-pound class, and he didn't lose often.
"If a guy is a good wrestler, as a football player, that carries a little weight with me," he said. "If he's good, I know he's dedicated, know he's a hard worker, know he loves to compete and doing the little things are important to him."
And when it comes to recruiting, those little things can make all the difference.
January, 27, 2014
1/27/14
5:00
AM ET
1. With the signing of Florida State transfer quarterback
Jacob Coker
, Alabama head coach Nick Saban papered over a recruiting misstep. Without Coker, the Crimson Tide had no experienced quarterback to follow AJ McCarron. Phillip Sims, who had been the next in line, left Tuscaloosa nearly two years ago for Virginia. As Coker signed, 2015 recruit
Ricky Town
switched his commitment from Alabama to USC. But clearly that's only a coincidence. Coker's eligibility expires after 2015.
2. Once the NCAA put a black mark on Louisville assistant Clint Hurtt dating to his days at Miami and the Nevin Shapiro case, it was a matter of time before Hurtt shifted his career to the pro game. My colleague Brett McMurphy reported that Hurtt is going to the Chicago Bears. It was clear that Texas wasn't going to welcome his arrival with Charlie Strong. History has shown that NFL teams don't care about NCAA sanctions. The pro game has a lot fewer recruiting rules.
3.
Adam Rittenberg's analysis
of the Big Ten's issues at quarterback in 2014 reminded me of the lack of experience at quarterback in the Big 12 last season.
David Ash
of Texas began the season with 18 starts, the most of any quarterback in the league. It didn't take long to see the Big 12's offensive problems. But by the end of the season, the young talent began to grow up. If you saw Oklahoma's
Trevor Knight
and Texas Tech's
Davis Webb
, you know what I mean.
December, 18, 2013
12/18/13
4:45
PM ET
COLUMBUS, Ohio -- The rumors, conversation and speculation might ultimately include his name, but Urban Meyer has preemptively doused the flame.

The Ohio State coach is happy where he is, and if Texas comes calling, he doesn't appear to have any interest.

Surrounded by the media after practice on Wednesday for the Discover Orange Bowl, Meyer quickly dismissed any potential link between him and the job his friend Mack Brown just stepped down from with the Longhorns, making it clear his focus is on the elite job he already has with the No. 7 Buckeyes and not the one that just came open.

"There's no take," Meyer said. "I'm here. I'm the coach at Ohio State."

That simple, strong message still might not be enough to silence whispers that Meyer could be a target for the Longhorns given how high they are likely to be aiming to replace Brown. Their sights were obviously on guys already at the top of the profession to begin with based on the reported pursuit of Alabama's Nick Saban, which is barely in the rearview mirror now and started well before the gig was even officially available.

If Texas does wind up chasing decorated coaches with experience at marquee programs, Meyer would clearly fit the bill and would almost certainly appear on a short-list of candidates for a school with deep pockets and sky-high expectations given his reputation as a motivator and proven winner with a pair of national titles on his resume.

But Ohio State has a strong recruiting base and Meyer is already having success expanding it nationally. The Big Ten might have been relatively down the last couple years, but the competition is still strong enough to keep the Buckeyes in position to qualify for the upcoming College Football Playoff. And, perhaps most important, Meyer has relished the opportunity to return to his home state and build the Buckeyes back into annual contenders for the national title, and he's also already quite well compensated for that work.

Those factors are likely enough on their own to keep Meyer from having much interest in any potential opening, even one that comes with as much prestige as Texas. But like Saban, he also considers Brown a close friend, and that might provide yet another discouragement from even thinking about leaving Ohio State after two seasons.

"Really good friends -- [but] we don't talk much about jobs," Meyer said. "I'm very close with his wife, Sally, and they're great friends with Shelley, so it's more about our children, lives, wives -- we don't talk much about [jobs]. ... I care about Mack. I don't look at Mack as a football coach, I look at him as a friend."

"I really love the guy, he's a great friend of mine and we'll talk in the offseason a little bit."

That conversation won't be between the former coach at Texas and the next one. Meyer already had a cold bucket of water ready to pour out on that flame even before there was smoke.
December, 14, 2013
12/14/13
12:14
AM ET
AUSTIN, Texas -- Mack Brown has not yet said he's coming back. But we at least know he has survived his biggest challenger in the saga surrounding the head coaching job at Texas.
Brown did not address his future at the Texas football banquet Friday night amid news that Nick Saban has secured his own future by agreeing to a new deal to stay at Alabama. While this ordeal remains unresolved, the coach many had speculated was Texas' top target to replace Brown is no longer an option.
[+] Enlarge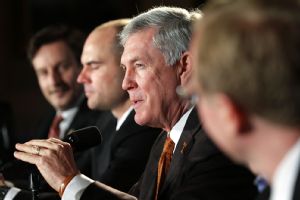 AP Photo/Eric GayMack Brown refused to talk about his job status at Texas' banquet Friday, leaving his saga unresolved.
In a six-minute speech to end the Longhorns' annual banquet Friday at the Frank Erwin Center, Brown thanked president Bill Powers, former athletic director DeLoss Dodds and new athletic director Steve Patterson, but made no statements on whether he'll return next season.
"I'm proud of this team," Brown said to end his speech. "It's been a team with no excuses. It's been a team with no regrets. Now what we need to do is go beat Oregon."
Less than 15 minutes before Brown took to the podium, reports emerged that Saban had agreed to a long-term extension.
As U.S. Secretary of Commerce Donald Evans' long keynote speech continued, word spread, prompting many of the more than 500 people in attendance to pull out their smartphones to find out what had happened.
We don't know what Brown knew when his speech began. He met with Patterson and Powers on Friday afternoon to discuss the program and the plan. He had an opportunity Friday night, in his speech to close the banquet, to declare that he'll be back. Brown didn't.
When asked before the banquet if he had anything to say about the Friday meeting, Patterson offered only, "When we've got something to say, we'll say it." Following the event, Patterson and Powers did not speak with reporters. As Brown left the arena, a Texas spokesperson said he would have no comment.
Saban, meanwhile, finally broke his silence and announced that he plans to finish his coaching career in Tuscaloosa.
We might never know how serious his interest in Texas was, or whether it was all just smoke, leverage and message-board rumormongering. But the coach who'd long said he was "too damn old" to leave is sticking with the dynasty he's already built and will be paid handsomely to keep it rolling.
The rumors of Texas' interest in Saban have been a persistent problem for Brown this season. The simple possibility that the best coach in college football might take the Texas job was enough to turn a faction of the fan base against Brown.
Now those who envisioned Saban saving Texas are left to wonder: Is it going to be Brown or the field? What's preferable at this point?
Brown has to like his chances against the field. In his speech Friday, Powers acknowledged the case to be made for giving Brown another year: Texas overcame countless injuries and obstacles and still played for a Big 12 championship.
"I am so proud of these seniors and I'm so proud of this football team," Powers said. "I'm proud of the coaches and everyone involved in it."
Will that be enough to keep Brown, despite all the grumbling from the fan base? An answer is needed soon, and it can only come from the three men who met Friday.
The head coach of the Crimson Tide isn't coming to Texas. But until Brown's fate and future are finally resolved, there's still a gigantic elephant in the room.
December, 12, 2013
12/12/13
5:30
AM ET
1. The Heisman Trust dictated that when we voted this year, we pledge not to reveal it to the media or our spouses or our bartenders. To which I say, control freak who? All right, have it your way. I read the police report regarding Florida State quarterback
Jameis Winston
, and I didn't like what I read about him. But I sighed, held my nose and cast my vote, and the guy I voted for is going to win. Whoever that might be.
2. The secrecy pledge is a study in chutzpah, asking media members that do nothing but beat the drum for the Heisman 12 months a year not to talk about their individual vote. The Heisman people also just shoved the pledge under the voter's nose as he/she cast the electronic ballot: sign this or else, pal. That's what bullies do. Oh yeah, my second-place vote went to a tattooed quarterback who didn't win a third national championship this year. And if you led the FBS in rushing, I might have voted you third.
3. I have tried very hard not to get sucked into the Nick-Saban-to-Texas vortex, because I think it's a case of Texas people saying what they want to hear, combined with Saban's agent, Jimmy Sexton, roiling the waters on behalf of his client. And did Texas really say that they want to hire a head coach who has won a Super Bowl or a BCS title? If nothing else, that shows a lack of imagination. How many coaches who have won either had done so before that team/school hired them? One: Saban.
December, 11, 2013
12/11/13
7:49
PM ET
TUSCALOOSA, Ala. -- The road to the interstate hasn't yet been blocked. Flights still leave the airport daily. Gas stations regularly pump unleaded for around $3 a gallon. And the grocery stores here remained stocked with canned goods and water.
If a disaster is about to occur at the University of Alabama -- and Nick Saban leaving for Texas would qualify -- you wouldn't know it in the sober expression of the town the school inhabits.
The campus is quiet. The most noticeable buzz comes from libraries and coffeehouses, where a growing number of students twitch and hurriedly whisper to one another with a book in one hand and caffeine in another. The only audible plea for an extension is directed at professors as finals are being administered here this week.
Make no mistake, if Saban left, the school and the city of Tuscaloosa would be devastated. He's the largest and most important figure here, without question. His meaning to the community cannot be understated.
It goes beyond coaching a handful of games each fall. This is a town that has always identified with coaches. Paul W. Bryant Drive cuts through the center of UA's campus and runs alongside Paul W. Bryant Museum, and a street over you'll find a statue of Paul W. Bryant standing only a few yards from a bronzed statue of Nicholas L. Saban.
There hasn't yet been a real threat to the statue and the promise it holds. Saban's feet remained entrenched at Alabama amid the swirl of rumors and speculation. As Bill Battle, the school's athletic director, said on Wednesday, "It's business as usual," as the recruiting season kicks into high gear and bowl practice remains a week or so away.
But
until Saban signs an extension to stay at Alabama
, the level of anxiety will grow here and abroad. The more days that pass until a deal is reached, the more frenzied the rumor mill will become.
The fact remains that Tuscaloosa has been Saban's longest stop as a head coach, and even after seven years, there are many who wonder what kind of loyalty to Alabama exists in him. Would a 62-year-old man -- a man who's "too damn old" by his own estimation -- embark on a rebuilding project at Texas? Would he leave a finely tuned dynasty he's built in Tuscaloosa for a giant question mark in Austin?
Until everything is said and done, there's no way of knowing. There are those here who scoff at the idea that an extension would do anything to stamp out the Saban-to-Texas speculation. Until the Longhorns have a replacement for Mack Brown, the talk will likely continue.
But the truth is this is nothing new. People here are used to Saban's name coming up for coaching jobs, whether it's in college or pros. It was only some eight months ago that he signed an extension through 2020, and even then it wasn't enough to keep his name out of coaching searches.
Frankly, what's happening now is the price of doing business in college football. Alabama and its fans understand that. There won't be any mad dash for supplies around Tuscaloosa between now and the end of this saga. There hasn't been a single bonfire or couch burned in protest.
This is the rumor mill at work, and until it's over we'll all find a way to survive.
December, 10, 2013
12/10/13
12:00
PM ET
November, 6, 2013
11/06/13
12:40
PM ET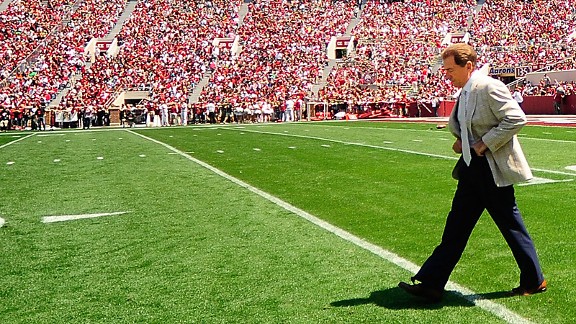 Stacy Revere/Getty ImagesNick Saban says he's happy at Alabama and 'too old' to take another coaching job.
The rumors won't go away: Nick Saban keeps getting tied to the head coaching job many expect to be vacant by the end of the season at Texas. This time the news is centered around a
report that Saban's agent said
if Saban were to leave Alabama it would only be for Texas.
Saban, for his part, continues to say he's going nowhere. But that doesn't mean we can't look at the merits of the job and whether Saban should be interested in it. Is Texas really a better place for him to be than Alabama?
My colleague, Max Olson, and I took on that question today in a Take Two debate.
Take 1: Scarborough -- It's simply not worth it
Nick Saban is too darn old to go anywhere, even a place like Texas.
When's the last time you heard of a 62-year-old coach leaving an established program to resurrect a failing one? Saban is great, arguably the best coach in college football today, but he's not at a point in his life where he'll run from a good situation to chase the challenge of fixing a bad one.
He tried that once. He learned his lesson. He left in the afterglow of LSU's national championship only to realize the beaches of Miami weren't quite as warm as he expected.
Texas, granted, is different. There's a lot to like about walking into Austin. The city is nice and the campus is beautiful. Saban would get total control there and have every resource imaginable. He could mine many of the country's blue-chip recruits without ever leaving the state's borders.
Though his legacy has very little room from improvement, it would no doubt reach new heights if he brought Texas back from the dead.
But it's a fool's errand for someone like Saban. What he has at Alabama is what he'd try to build at Texas. And what's the point of that? Why not enjoy a nice city and a beautiful campus both he and his wife already enjoy? He already has complete control and every resource imaginable from the administration. Unlike dealing with Texas' convoluted and overly involved boosters, Saban has no red tape to cut through at Alabama. He wanted a new weight room and it happened. Alabama broke ground on a new $9 million facility before the project was ever voted on by the Board of Trustees. It was finished in less than nine months.
And recruiting? Tell me how you build upon back-to-back top-ranked classes and top-three finishes every year since 2008. Saban has had no problem convincing the country's top prospects to choose Alabama so far. He has the No. 1 class today and that's not likely to change before signing day in February.
Texas has prestige, but Alabama has what more people -- and recruits --- care about today: success they can remember. The three crystal football trophies sitting around the corner from Saban's office are enough reminder not to flirt with another program.
If he left, it would be for nothing other than vanity over his legacy because at the end of the day Alabama is already there while Texas isn't anywhere close. It would be a challenge, and Saban is too darn old for that.
Take 2: Olson -- Texas is alluring
The head coaching job at the University of Texas is the best in college football. There is nothing controversial about that statement. If you're putting together the list -- be it a top 25 or 125 -- Texas is at the top and has been for a long time.
This is the complete package. Everything is in place to win and win big. Let's go down the list.
Gorgeous campus and city. Elite stadium and facilities. Unparalleled resources and budgets. Strong tradition and national brand. Optimal recruiting territory. Gigantic paycheck. And that's just the short list.
The head coach of Texas is afforded immense power and near-unparalleled advantages. They have the backing of the richest program in college athletics, and the school spent nearly $25 million on football in 2011-12. It's been written plenty before but it's still true: If you can't win at Texas, go find a new profession.
There's a reason why Texas A&M and Oklahoma fans make T-shirts demanding that Texas keep Mack Brown. They know the next coach in Austin will have a chance to build the next Death Star of college football.
That's what potentially makes this opening tempting for Saban. If he's looking for a breath of fresh air, Texas is as close to paradise as he's going to find. There are "special pressures" to be found in Austin, too, there's no doubt about that. But there's also enough talent on this Texas roster to win immediately, especially considering he'd get a blank check to assemble the best coaching staff in the game.
You can't ignore the allure. You can't dispute the fact it's a gigantic opportunity. Yes, Alabama will probably raise or double any offer Texas makes. But he's already tried the NFL. If there's any job worthy of the final move of his career, this might be it.
To Saban's credit, he has revived Alabama's status as a big-time job. Nobody will be surprised if he decides he really is "too damn old" to start over elsewhere and finishes out his career in Tuscaloosa. Most guys would not walk away from that dynasty.
But it shouldn't be a surprise that Texas would make a move for him if and when its job opens up. The Longhorns might not hire another head coach for a decade. They must exhaust every possible option and explore every avenue to luring the nation's best coach and building his next dynasty.
April, 30, 2013
4/30/13
2:00
PM ET
HUMBLE, Texas --
Deionte Thompson
's last visit to Alabama was a memorable one. And though it's hard to top that day, when the Orange (Texas) West Orange-Stark 2015 safety committed to the Crimson Tide, he had a pretty fun time when he returned to Tuscaloosa, Ala., recently for A-Day.
He even brought along a friend, fellow Southeast Texas defensive back
Tony Brown
(Beaumont, Texas/Ozen) an ESPN 150 prospect.
[+] Enlarge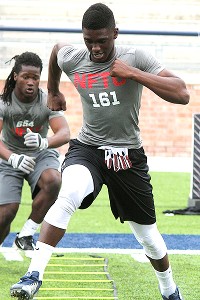 Sam Khan Jr./ESPNTexas and Texas A&M have been pursuing Alabama commit Deionte Thompson.
"It was great," said Thompson, who competed in the Texas Class 3A Region III track and field championships with his West Orange-Stark teammates over the weekend. "Tony Brown came with me. We talked to a lot of other recruits, two of the other commits from the Class of 2015. We watched the game, saw some stuff where they need to improve on and what they're good at, so it was a great time going out there and having fun."
April, 8, 2013
4/08/13
7:41
AM ET
ALLEN, Texas -- The last couple of month have been memorable for Orange (Texas) West Orange-Stark 2015 safety
Deionte Thompson
.
In February, Thompson attended an Alabama junior day, received an offer from head coach Nick Saban and promptly committed.
In recent weeks, the 6-foot-3, 172-pound prospect visited two other schools -- Texas and Texas A&M -- and picked up offers from both. On Sunday, he made the trek to the Dallas-Fort Worth area for the Dallas Nike Football Training Camp.
Needless to say, things have been busy.
To continue reading this article you must be an Insider
Loyal Texas Fans To Get Ticket Priority
BIG 12 SCOREBOARD
Thursday, 9/3
Friday, 9/4
Saturday, 9/5