Texas Longhorns:

Montell Cozart
November, 21, 2013
Nov 21
9:00
AM ET
So, I received this email from Charlie "Bear" Boyd, last week's guest picker:
I do not know how you pulled off that Kansas pick, but you better believe I will be launching an all-out investigation to see if there was any foul play involved. Seriously, though, well done! You were probably one of five people in the known universe who picked Kansas to beat West Virginia. Props where props are due.
I cannot confirm or deny whether foul play was involved. But Charlie is right about one thing -- props are due.
Like
Clint Chelf
in his return as Oklahoma State's quarterback, I'm back with a vengeance in the picks following a sparkling 5-0 week. Sources have told ESPN that KU officials are planning to erect statues of both me and Charlie Weis outside Memorial Stadium to commemorate the West Virginia victory.
Can I keep the train rolling against this week's guest picker, Wichita, Kan., resident Drew Hays?
Hey, I'm currently wrapping up my masters in sports management at Wichita State, however I graduated undergrad at Oklahoma State in 2012. I currently work in baseball, for an American Association Independent Baseball team called the Wichita Wingnuts (#GoNuts)! Currently, we are in our offseason, which means I get to sit around the house all-day on Saturday's doing nothing but watching football. You were one of two people that had the Jayhawks winning last weekend (very impressive pick I might add) -- my girlfriend was the other one. As a big Jayhawks fan, she likes to constantly remind me that her team beat the team that beat my team. So pick this Wingnut as your guest picker, so I can silence my girlfriend (until Marcus Smart does backflips again in Allen Fieldhouse).
Good luck silencing your girlfriend, Drew. Hope you have better luck than me with my wife (don't worry, I got permission before writing that).
This weekend, Brandon and I will be in Stillwater manning the game of the week in college football. It should be a good one.
To the Week 12 picks:
SEASON RECORD
Trotter last week:
5-0 (1.000)
Guest picker (Charlie "Bear") last week:
4-1 (.800)
Trotter overall:
52-15 (.776)
Guest picker overall:
38-12 (.760)


Kansas State 31, Oklahoma 24:
An early start with a freshman quarterback (
Trevor Knight
) with two more key offensive players (RB
Damien Williams
and WR
Lacoltan Bester
) out against a well-coached team? This is a tough spot for the Sooners. K-State is on a roll and playing with confidence, while 13 weeks into the season, Oklahoma is still trying to find its footing offensively. Even if QB Trevor Knight shines again, which he does, the Sooners lack the adequate firepower around him to keep up. Instead, K-State drops off 30 for the fifth straight week to thwart Bob Stoops' attempt to break the Oklahoma record for coaching victories. With a road trip to Stillwater and the bowl game (Holiday Bowl?) all that's remaining, it could be awhile before Stoops breaks that record, too.
Drew's pick:
Did anyone honestly think I would pick the dark side? The Cats are hot right now, and while the Sooners won't make this easy,
Jack Cantele
nails another fourth-quarter field goal to start the party in Aggieville.
K-State, 30-27


Kansas 28, Iowa State 24:
Usually this time of year, the Jayhawks are the only ones in full basketball mode. But last week, Iowa State fans stormed the court after a home victory over Michigan (come on, guys, it's November). Then again, given how south this season has gone in Ames, it's understandable. Meanwhile,
James Sims
shows again why he's one of the best running backs in the Big 12, while QB
Montell Cozart
makes enough plays with his feet to give Kansas -- that's right -- the third-longest winning streak in the Big 12.
Drew's pick:
As an OSU fan, seeing anyone play a night game at Jack Trice Stadium makes me feel queasy. I don't expect a repeat performance from Sims from last week, and Iowa State holds on for its first Big 12 win. This pick ensures I will be in the doghouse with my girlfriend for at least a week, but probably longer.
Iowa State, 24-17


Baylor 49, Oklahoma State 45:
Baylor coach Art Briles said this week that the Bears have played in comparable road environments this season. In actuality, Baylor has only played at Kansas State during the day and Kansas at night. A sold-out Stillwater, with "College GameDay" in town, will be a completely different animal. Especially against these Cowboys, who seem to be improving with every passing week. Especially against this veteran Oklahoma State defense, which is the class of the Big 12. This Baylor offense, however, is the class of college football. And with
Levi Norwood
emerging at wideout and
Lache Seastrunk
back to flank
Shock Linwood
in the backfield, the Bears outgun Oklahoma State in a Big 12 thriller to solidify their No. 3 ranking ahead of Ohio State in the BCS standings.
Drew's pick:
First, I would like to thank the Baylor faithful for returning almost your entire ticket allotment back to OSU. This will only make Boone Pickens Stadium louder. Behind the home crowd, "Choo-Choo" Chelf and
Desmond Roland
establish the run game early and the Oklahoma State defense keeps forcing turnovers, as the Cowboys prevail in another wild Stillwater shootout.
OSU, 45-42
November, 18, 2013
Nov 18
12:00
PM ET
In case you missed it,
this is a must see.
Gotta love it when people go above and beyond to make others' dreams come true.
November, 16, 2013
Nov 16
7:00
AM ET
Oklahoma State and Texas will duke it out with Big 12 title implications on the line; Oklahoma, Texas Tech and West Virginia will try to bounce back from disappointing losses; Kansas and Iowa State will attempt to get off the Big 12 snide; TCU will hope to remain bowl eligible, and Baylor and Kansas State will look to keep rolling.
Those, among others, will be the storylines to watch in Week 12 of the Big 12:


Iowa State at No. 18 Oklahoma, 11 a.m. CT (FS1):
Coach Bob Stoops said he would be sticking with
Blake Bell
as his starting QB, but also indicated backup
Trevor Knight
could get more playing time. The Sooners are beat up after last week's loss at Baylor, with receiver
Sterling Shepard
, linebacker
Jordan Evans
and defensive backs
Julian Wilson
and
Aaron Colvin
all dealing with an assortment of injuries. Iowa State is still looking for its first Big 12 victory and guaranteed to have its worst record since Paul Rhoads became coach in 2009.


West Virginia at Kansas, 11 a.m. CT (FSN):
Despite a deflating overtime loss to Texas last weekend, the Mountaineers are still on track for a bowl berth. But they have to win here. Behind freshman QB
Montell Cozart
, who is expected to get more playing time if not the start over
Jake Heaps
, Kansas will attempt to snap its 27-game losing streak in Big 12 games. If the Mountaineers don't take better care of the ball -- they turned it over five times against Texas -- the Jayhawks just might have a shot.


No. 12 Oklahoma State at No. 24 Texas, 2:30 p.m. CT (FOX):
Both teams enter this showdown on a roll. Texas has won six straight while Oklahoma State has reeled off five in a row. The Longhorns, however, will be without running back
Johnathan Gray
and defensive tackle
Chris Whaley
, who both suffered season-ending injuries last weekend. This game carries major Big 12 title repercussions, though Texas could still win the league with a loss. This is the fifth time Oklahoma State and Texas have met as BCS-ranked teams. The Longhorns won the previous four meetings.


TCU at Kansas State, 2:30 p.m. CT (FSN):
K-State is one of the hottest teams in the Big 12, coming off three straight wins and a 49-26 victory at Texas Tech. QBs
Daniel Sams
and
Jake Waters
have been incredibly efficient during the win streak, completing 73 percent of their passes without an interception. Senior running back
John Hubert
has had the hot hand, too, rushing for more than 100 yards the last two games. TCU has to win this game to keep its slim bowl hopes alive. The good news is that
Brandon Carter
is beginning to perform like the No. 1 wideout the Horned Frogs thought he would be at the beginning of the season. Carter had six receptions for 93 yards in last week's win at Iowa State.


Texas Tech at No. 5 Baylor, 6 p.m. (FOX):
Baylor is in the thick of the national championship conversation, but remains on the outside looking in on the title game and could use some more style points. The Bears, however, will be without star wideout
Tevin Reese
, who suffered a dislocated wrist last week. Running backs
Lache Seastrunk
(groin) and
Glasco Martin
(knee) are banged up, too, and questionable for this game. Texas Tech is 1-10 in the month of November, and desperately needs a victory to stave off another late-season collapse. That won't be easily achieved here. The Bears are four-touchdown favorites.
November, 14, 2013
Nov 14
9:00
AM ET
How close I was last weekend. Close to perfection.
After starting out 4-for-4 in the picks, I had the Mountaineers in the nightcap edging out Texas in an upset special.
But at the end, neither I nor West Virginia could stop Case Magic.
Instead, it was Claire Hashtag who went undefeated with the picks, handing me a second consecutive loss to the guest picker. Suddenly, I have losing streak rivaling that of the
Kansas Jayhawks
.
But this week, I vow to get back on track against Charlie "Bear" Boyd, a Big 12 fan who's been fighting the good fight in the Florida panhandle:
I have been battling hard in the trenches for the Big 12 deep in SEC/ACC territory. On my daily drive to and from work I face a barrage of Alabama bumper stickers with quips of the impending "Roll Tide Dynasty" apocalypse. I dastardly maneuver my way through neighborhoods riddled with land mines in the form of Florida State and Florida flags (along with a vast and clever assortment of other lawn décor paraphernalia). Daily, I undergo intense psychological torment from my "friends," all trying to convince me of the superiority of their conferences to the Big 12, and the error of my ways. Somehow, in spite of seemingly insurmountable odds, I stand strong. A lone beacon of Big 12 pride. My Baylor flag waving proudly in the smoke of warfare. A steadfast reminder to all who gaze upon it that though we may be shaken, the Big 12 will never fall.
Good luck with the picks, Charlie. Just don't give me another loss. I'm not sure I can handle it.
To be next week's guest picker,
contact me here
and sell me on why you deserve a shot. And, as always, creativity counts.
To the Week 12 picks:
SEASON RECORD
Trotter last week:
4-1 (.800)
Guest picker (Claire Hashtag) last week:
5-0 (1.000)
Trotter overall:
47-15 (.758)
Guest picker overall:
34-11 (.756)
Saturday


Oklahoma 29, Iowa State 7:
The Sooners go into this game with major uncertainty at quarterback. Coach Bob Stoops said this week
Blake Bell
would remain his starter, but the clamor for OU to try out
Trevor Knight
or
Kendal Thompson
has reached piercing levels in Norman. The truth is, it won't matter who the quarterback is this week. Iowa State continues to play hard but, once again, fails to generate enough offense.
Charlie's pick:
While I would love to make a crack at OU here, I just can't bring myself to do it. I have too much respect for their program and their players. Iowa State has seen signs of life as of lately -- mostly of special teams -- and they come out looking hungry to prove they have not slipped into Big 12 irrelevance. But finding a road win proves too big a task. OU, 34-17.


Kansas 20, West Virginia 17:
It will be interesting to see how the Mountaineers respond after the deflating overtime loss to Texas. They still have plenty to play for, needing to win these last two games to qualify for a bowl. And they have plenty to build from off last week's offensive outbreak. Then again, this is a prime spot for a West Virginia letdown. Led by linebacker
Ben Heeney
, the Jayhawks continue to play solid defense, and they have seemingly uncovered something at quarterback in true freshman
Montell Cozart
. Kansas played OU tough at home last month and trailed Texas only 14-6 deep into the third quarter two weeks ago. The 27-game conference losing streak has to end at some point. The combination of a West Virginia hangover and Cozart at quarterback finally ends it.
Charlie's pick:
West Virginia comes out flat, but quickly finds pace and clinches a key road win in their quest for bowl eligibility. West Virginia, 33-17.


Kansas State 55, TCU 21:
If the season started over today, where would you pick the Wildcats to finish in the conference? Second? Third? No worse than fourth. Outside Baylor, K-State is playing as well as anyone in the league and has the look of a team poised to close out the regular season with a six-game winning streak. TCU had a nice reprieve from a miserable year with a gutty fourth-quarter victory at Iowa State last week. But the hobbled Horned Frogs are headed straight into a Bill Snyder buzz saw.
Charlie's pick:
Snyder is a miracle worker. A turnaround specialist extraordinaire. A wizard. He continues to inspire his players, and they put another solid win in the books. K-State, 48-20.


Oklahoma State 31, Texas 27:
The Cowboys and Longhorns have faced each other four times as BCS-ranked teams. And the Longhorns have all won all four. But never in those games have the Cowboys held the advantage defensively. Texas will be without its best offensive player, injured tailback
Johnathan Gray
, too. QB
Case McCoy
has been clutch for the Longhorns. But without Gray, against what might be the Big 12's best defense, that isn't quite enough this time.
Charlie's pick:
This pick had me spinning circles. Both great teams. Both playing their best ball at this point in the season. I think this game ends up being more of a defensive battle than people expect. This one to go into overtime, but this time Texas loses by a field goal. I will be glued to this one. OSU, 34-31.


Baylor 49, Texas Tech 31:
A month ago, this game looked like it might be for the Big 12 title. Now, Baylor is a four-touchdown favorite. The Red Raiders have fallen apart defensively due in part to injuries, while their true freshman quarterbacks have been turning the ball over in droves. Baylor, however, has bigger games looming, and could get caught looking ahead. The Bears will also be adjusting to the absence of star wideout
Tevin Reese
, as well as a banged up backfield. The Red Raiders come out fired up to halt their late-season slide, and with receivers
Eric Ward
and
Jakeem Grant
delivering big plays in the passing game, Tech hangs tough for three quarters. Baylor's talent, however, is too much in the fourth.
Charlie's pick:
Tech's air-raid offense finds limited success against Baylor's hyped-up defense, but ultimately their struggling run game limits their offensive output. Baylor puts this game away early in the fourth quarter. Baylor, 55-30.
November, 11, 2013
Nov 11
12:00
PM ET
November, 11, 2013
Nov 11
9:00
AM ET
And then there were three:

1. Baylor (8-0, 5-0 Big 12, last week 1):
We're 11 weeks into the season, and Baylor still leads the Big 12 in total defense, scoring defense and red zone defense. Those numbers aren't a fluke, as Oklahoma found out the hard way.
Ahmad Dixon
is one of the best safeties in the conference;
Eddie Lackey
and
Bryce Hager
are a stout one-two punch at linebacker; and the defensive line has size and speed. The Sooners might not be very good offensively this year. But Baylor made them look downright ridiculous. This is a complete team.
2. Oklahoma State (8-1, 5-1, LW 2):
This will be just the fifth time Oklahoma State has played Texas when both teams have been ranked in the BCS. The Longhorns have won all four such previous meetings. As a program still aspiring to greater heights, this is the kind of game the Cowboys need to win. Texas is banged up. Oklahoma State has the better defense. And as a result of both, the Cowboys are favored in Austin. Some of the more haunting moments in Oklahoma State history have occurred at the hands of the Longhorns. This is a prime opportunity for the Pokes to produce a memorable one.
3. Texas (7-2, 6-0, LW 3):
The Longhorns have depth at running back and defensive tackle. But they no longer have all-conference players at those positions. That's what tailback
Johnathan Gray
and defensive tackle
Chris Whaley
are. Can Texas overcome these additional hits against one of the hotter teams in the Big 12 in Oklahoma State this weekend? If the Horns do, Mack Brown should get votes for Big 12 Coach of the Year.
4. Kansas State (5-4, 3-3, LW 6):
More and more, K-State is beginning to resemble the Baylor of last year. Maybe not in style, but most certainly in efficiency. The Wildcats scored touchdowns on their first five possessions to basically put then-No. 25 Texas Tech away on its home field by the second quarter. Think about this: From the third quarter of the West Virginia game three weeks ago to halftime at Texas Tech, K-State has scored touchdowns on 14 of 22 possessions (not counting kneel downs). That level of touchdown efficiency would even impress Baylor coach Art Briles. Like the Bears last year, K-State could finish this season with a flourish to set up a run back at the Big 12 title in 2014.
5. Oklahoma (7-2, 4-2, LW 4):
The Sooners' quarterback situations have been the envy of the Big 12 dating back to the advent of the Bob Stoops era. No more. OU has major problems at the position, not only for the rest of this season, but beyond. It's difficult to see the Sooners winning a Big 12 championship with
Blake Bell
at quarterback next season. But the fact the Sooners won't let
Trevor Knight
attempt a pass or
Kendal Thompson
step on the field raises red flags, too. OU had no shot of coming back on Baylor with Bell behind center, yet the Sooners still refused to give either one of the other quarterbacks a chance. Stoops is not one to make drastic changes. But if the Sooners don't shake things up offensively, they could easily finish this regular season a disappointing 8-4.
6. Texas Tech (7-3, 4-3, LW 5):
After three straight losses, the unranked Red Raiders find themselves four-touchdown underdogs to Baylor at a neutral site. A month ago, this game looked like it might be for the Big 12 crown. Instead, Tech will be playing to avoid going 1-11 in the month of November over the past three years.
7. West Virginia (4-6, 2-5, LW 7):
The Mountaineers just missed out on landing another marquee home win, falling 47-40 to Texas in overtime. They have to put that behind them. By snagging these next two winnable games against Kansas and Iowa State, West Virginia will go to a bowl. Considering all the pieces the Mountaineers had to replace from last year, that would constitute a solid season for a team in rebuilding mode.
8. TCU (4-6, 2-5, LW 8):
Credit TCU for not throwing in the towel after dropping three straight for the first time in the Gary Patterson era. The Horned Frogs continued to struggle offensively. But despite missing several key players, they gutted out a game-winning, fourth-quarter touchdown drive at Iowa State to keep their slim bowl hopes alive.
9. Iowa State (1-8, 0-6, LW 9):
The Cyclones had yet to win a Big 12 game and were facing an opponent riding a three-game losing streak in a late-morning kickoff. And yet, Jack Trice Stadium was just about full. Cyclone Nation brought it this weekend, even if their team came up another goal-line stand short.
Tweeted
Iowa State defensive back
Deon Broomfield
: "Best fans in nation. Even through a season like this we have a packed stadium. Sorry for the letdown." It's been a rough year to be an Iowa State fan. You can bet the players will fight to reward that loyalty in the form of a Big 12 win before the end of the season.
10. Kansas (2-7, 0-6, LW 10):
The Jayhawks are 118th in scoring offense, 119th in total offense and 120th in 10-plus-yard plays. Kansas' offense is going nowhere as it's currently constructed. It's time for coach Charlie Weis to give freshman quarterback
Montell Cozart
the keys to the offense. Even though the Jayhawks failed to reach the end zone at Oklahoma State, Cozart flashed promise, leading Kansas to 202 yards on the ground and 13 of its 15 first downs.
November, 7, 2013
Nov 7
12:30
PM ET
Let's take a look at the top storylines in the Big 12 for Week 11:
1. Can Baylor remain dominant?
The Bears have rolled to a 7-0 record, beating opponents by an average of 48 points, best in the nation. Yet Baylor hasn't seen a team like Oklahoma this season. The Sooners bring talented athletes and a battle-tested coaching staff to Waco, so it will be interesting to see how the Bears respond in their biggest game of the season thus far.
2. Keep an eye on Texas outside of the state of Texas:
The Longhorns haven't exactly dominated when they've left their home state. They snuck out of Ames, Iowa, with a 31-30 win against Iowa State and were embarrassed by BYU in a 40-21 loss. If they want to add another brick to their "road to redemption" wall, the Longhorns will have to go to Morgantown and dominate a West Virginia squad that has struggled on offense through much of the season.
[+] Enlarge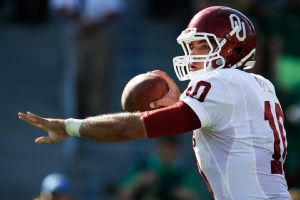 AP Photo/Darron CummingsSooners quarterback Blake Bell will have to keep up with Baylor's offense.
3. Don't question the Sooners:
Few people are giving the Sooners a chance against Baylor. How will they respond? Oklahoma tends to circle the wagons and accept the challenge when people believe the Sooners are facing long odds. There are a lot of prideful competitors in the program, so don't expect them to sit back and allow Baylor to embarrass them in front of a national audience.
4. Will Oklahoma State continue to roll?
The Cowboys put themselves in the forefront of people's minds last week with their 52-34 win over Texas Tech in Lubbock. If they really want to send a message, they will have to look dominant against Kansas on Saturday. Quarterback
Clint Chelf
was outstanding against Texas Tech, earning ESPN.com player of the week honors, but championships are won by consistency, so he needs to play just as well or better against the Jayhawks if Oklahoma State (7-1) wants to put the rest of the conference on notice.
5. Which unit in the crosshairs steps up in Thursday's matchup?
Oklahoma's offense is in the spotlight, as everyone knows the Sooners want to control the game while scoring points if they expect to beat Baylor. The Bears' defense has been overlooked, but it has been just as impressive as their offense. They have the chance to prove themselves against OU.
6. Is Texas walking into a trap in Morgantown?
The Mountaineers have been showing signs of improvement each week, topped off by their overtime win against TCU last week. Are they ready to take down Texas? Probably not. But if the Longhorns come in lacking focus in any way, the Mountaineers do have the talent and competitiveness to make them pay dearly.
7. Will Texas Tech get back to its winning ways?
The Red Raiders are coming off back-to-back losses to Oklahoma and Oklahoma State and risk letting people brush off their outstanding 7-0 start if they lose to Kansas State. If they want to prove it wasn't just a mirage, they have to beat the Wildcats in Lubbock.
8. Has Kansas State found its identity?
On the flip side, K-State seems to have found a rhythm and confidence on offense, as its use of quarterbacks
Daniel Sams
and
Jake Waters
is becoming a strength of the offensive attack. The Wildcats have started taking better care of the football and likely won't beat themselves against the Red Raiders. Look for K-State to play the type of sound football that could expose some of the inexperience on Texas Tech's roster.
9. Which team will finally get a win: TCU or Iowa State?
The two have combined to go 1-9 in their past 10 games. Iowa State has been decimated by injuries and TCU isn't far behind in that respect. The Cyclones have placed
Grant Rohach
atop the depth chart at quarterback as they try to find confidence on offense. TCU's offense looked much improved last week with
Casey Pachall
throwing to
Trevone Boykin
to spark the Horned Frogs, yet turnovers again kept them out of the winner's circle. Both teams need a win badly, just for morale's sake.
10. Is Montell the future at quarterback for KU?
Kansas took the redshirt off quarterback
Montell Cozart
for a reason and are working the true freshman into the game plan each week. He's showing signs of improvement, and Saturday's game against Oklahoma State could provide the freshman another chance to show he can make plays against a quality team.
November, 1, 2013
Nov 1
12:00
PM ET
October, 29, 2013
Oct 29
1:00
PM ET
By
ESPN.com staff
| ESPN.com
Naming the best quarterback in the Big 12 is easy. Deciding who's second-best right now is near-impossible. So we went a step further: Why not rank them all?
This continues to be been a strange, unpredictable year for Big 12 quarterbacks. We've already seen 18 start at least two games. Only three schools -- Baylor, Kansas and Iowa State -- have started the same guy for every game, and even they've used multiple quarterbacks.
The following rankings judged how these QBs are playing right now as well as their full 2013 resumes. Deciding where to slot injured passers was tricky. You might not agree with all or any of these rankings, but this is how we'd size up the competition after nine weeks:
[+] Enlarge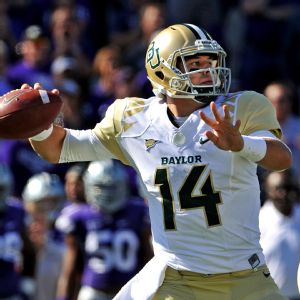 Peter G. Aiken/Getty ImagesConsidering how well he's run Baylor's high-scoring offense and the fact he leads the Big 12 in nearly every passing statistic, there is no debate that Bryce Petty is the Big 12's top QB.
1. Bryce Petty, Baylor
: Best passer in the Big 12 by nearly every statistical measure, first in FBS in yards per attempt, TD-INT ratio of 18-1 and it's only his first season of starting. The gap between No. 1 and everyone else on this list right now is tremendous.
-- Max Olson
2. Case McCoy, Texas
: The career backup has been a huge part of Texas' resurgence. In wins over Oklahoma and TCU, McCoy has Adjusted QBRs of 83.9 and 95.4.
-- Jake Trotter
3. Davis Webb, Texas Tech
: Webb hasn't been perfect but he's averaging 420.67 passing yards and 5.67 completions of 20 yards or more in TTU's past three games. He's been very solid for a true freshman.
-- Brandon Chatmon
4. Daniel Sams, Kansas State
: He might be too high at No. 4, but Sams is the best athlete of the bunch and already has 538 rushing yards on just 100 carries. Still has plenty to prove as a passer.
-- MO
5. Blake Bell, Oklahoma
: Great against Texas Tech and Notre Dame, bad against Texas. Has promising moments as a passer, firm grasp on the job and a chance to prove he's league's second-best QB.
-- MO
6. Baker Mayfield, Texas Tech
: The walk-on made waves while leading the Red Raiders to a 5-0 start before a knee injury sidelined him, but he threw more interceptions than touchdowns in his final three starts before the injury.
-- BC
7. Clint Chelf, Oklahoma State
: Chelf finally has the job again, but he'll have to complete more passes to keep it. His completion percentage this year is less than 50 percent.
-- JT
8. David Ash, Texas
: Ash is throwing again, and could be cleared to return soon. But will he resume his starting role? The way McCoy is performing, probably not.
-- JT
9. J.W. Walsh, Oklahoma State
: His combination of moxie and leadership is hard to deny but his struggles connecting on deep passes led to Chelf replacing him in the starting lineup. He remains a valuable piece as the disposal of Mike Gundy's squad, however.
-- BC
10. Jake Waters, Kansas State
: Juco transfer is starting to get the hang of Big 12 ball and his own offense, and coming off an impressive showing against West Virginia.
-- MO
11. Casey Pachall, TCU
: Pachall has only played in seven games over the last two seasons. It would be difficult for anyone to overcome that level of rust.
-- JT
12. Clint Trickett, West Virginia
: Trickett's season has mimicked the roller coaster nature of WVU's offense, but he did lead the Mountaineers to a win over Oklahoma State, the highlight of their season.
-- BC
13. Seth Russell, Baylor
: Getting mop-up time and experience in every game this season and has 427 yards on 60 percent passing. Would he start for a couple Big 12 teams?
-- MO
14. Sam B. Richardson, Iowa State
: Richardson has been banged up all year, and it's shown. At some point, the Cyclones may be forced to go with the healthier option in
Grant Rohach
.
-- JT
15. Jake Heaps, Kansas
: The BYU transfer just can't seem to find any confidence or rhythm for the Jayhawks passing attack, forcing Charlie Weis to start drastically experimenting with KU's offense.
-- BC
16. Trevone Boykin, TCU
: Dual-threat sophomore has his moments, but five touchdowns and nine turnovers in 2013. Back to backing up Pachall and could play some receiver.
-- MO
17. Trevor Knight, Oklahoma
: Knight won the job out of camp, but lost it to Bell two games in after moving the chains ineffectively. Bell's performance against Texas Tech means Knight will remain on the sidelines.
-- JT
18. Michael Brewer, Texas Tech
: Generally expected to be the Red Raiders starter heading into fall camp, Brewer has been surpassed by the true freshman quarterbacks.
-- BC
19. Paul Millard, West Virginia
: Started first two games for the Mountaineers before losing his job, got another chance late against K-State.
-- MO
20. Ford Childress, West Virginia
: The freshman quarterbacked West Virginia's worst performance of the year, a 37-0 loss to Maryland, before suffering a pectoral injury that could keep him out the rest of the year.
-- JT
21. Grant Rohach, Iowa State
: He's come off the bench to replace Sam Richardson in ISU's last two games but has yet to surpass 100 passing yards in the game.
-- BC
22. Montell Cozart, Kansas
: True freshman is now splitting snaps with Heaps and got half the reps against Baylor. Can make plays in the run game and be a spark.
-- MO
23. Michael Cummings, Kansas
: Cummings started five games in 2012 but has lost the No. 2 spot to Cozart, and is unlikely to play much going forward with Heaps also part of the offense.
-- JT
24. Tyrone Swoopes, Texas
: The 6-foot-4, 245-pound true freshman made his debut on Saturday and is a talented rusher, but he didn't attempt a pass. If McCoy goes down, he'll have to take over.
-- MO
25. Tyler Matthews, TCU
: The Horned Frogs got so desperate for production they turned to the redshirt freshman on multiple occasions, yet he's seen very limited game reps and hasn't completed a pass this season.
-- BC
October, 24, 2013
Oct 24
10:15
AM ET
A huge showdown in Norman, a statement game in Fort Worth and a must-win game (for both teams) in Manhattan are just a few of the many things we'll be keeping an eye on Saturday. Here's what to watch in the Big 12 for Week 9:
[+] Enlarge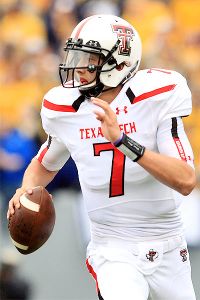 AP Photo/Chris JacksonOklahoma will be the biggest test to date for Davis Webb and undefeated Texas Tech.
1. Time to earn that top-10 ranking, Red Raiders.
Texas Tech debuted at No. 10 in the initial BCS standings thanks to the not-so-fine work of five top-10 teams who lost last week. This week, the nation finds out just how good these Red Raiders really are. Oklahoma has been in an unmistakably odd funk the past two weeks but is still the No. 15 team in the country. A win by any margin in Norman would be huge.
2. So … who's Oklahoma State's starting quarterback?
Hate to be intellectually lazy and go for the low-hanging fruit, but this battle is ultimately a pretty big deal in the context of the Big 12 title race.
Clint Chelf
finally got the second chance he'd been waiting for and helped Oklahoma State finish off TCU last week. Does Mike Gundy go with the fairly logical choice of starting Chelf against Iowa State and working in J.W. Walsh as a run-pass option? Does Walsh win his job back in practice this week? Or, more important, will OSU even have an answer to its QB question after Saturday?
3. Sooners looking to plug the leaks.
Since losing
Corey Nelson
and
Jordan Phillips
for the season, Oklahoma has given up a combined 440 rushing yards the past two weeks. This is still, statistically, the No. 1 pass defense in the country, but you know Kliff Kingsbury will draw up a plan to try to exploit OU's deficiencies up the middle early on. And he did operate the No. 1 rushing offense in the SEC last season, so it's not as if he's afraid to lean on his rushing attack if necessary. The Sooners have to find some answers this weekend.
4. Does TCU keep its up-down streak one more week?
Through seven games, the Horned Frogs have followed every loss with a win … and every win with a loss. So, following the loss in Stillwater last Saturday, doesn't this week call for a victory over Texas? The timing might be just right. The Longhorns, after all, are coming to Fort Worth bursting with confidence following their Oklahoma victory and would be in trouble if they underestimate TCU.
5. Rebuilding West Virginia's confidence.
West Virginia defensive coordinator Keith Patterson had one of the best, most honest quotes of the Big 12 season this week when he said this about WVU's 73-42 loss to Baylor: "The deal at Baylor was unlike anything I've ever been associated with in my life. It was just catastrophic in a lot of ways to our psyche." Then Texas Tech escaped Morgantown with a 37-27 win. The big question is if the Mountaineers defense will respond this week against Kansas State.
6. Is the Texas defense becoming legit?
Texas' defense made such drastic improvements against Oklahoma, in so many areas, that you have to wonder how much was the Longhorns' doing and how much was OU ineptitude. Greg Robinson got another two weeks to work with the defense since that win, and a repeat performance -- even against a struggling TCU outfit -- would send a message that Texas is in fact on the right track.
7. What does Sams do for an encore?
Remember, anyone and everyone still has a shot at winning the silver medal at quarterback in the Big 12. In his most significant action of the season, quarterback
Daniel Sams
rushed for 199 yards and three touchdowns on 30 carries and gave Baylor a serious test two weeks ago. That wasn't enough to end K-State's losing streak, but a similar performance against West Virginia might be more than enough for a 'W.'
8. Can Iowa State get its magic back?
So it's not exactly on par with Iowa State's revered "Hilton Magic" home-court advantage in basketball, but the Cyclones have pulled off a few upsets at Jack Trice Stadium. You might remember the big one from 2011, when ISU stunned No. 2 Oklahoma State in two overtimes on Nov. 18. Think Paul Rhoads is going to use a little tape from that game as motivation this week? His teams are good for one big upset every year, and the Pokes already have suffered that road loss at West Virginia.
9. Can Kansas find a weakness in the Baylor D?
Kansas running back
James Sims
is coming off probably his best game this season, a 129-yard, two-touchdown performance against a typically difficult Oklahoma defense. He played a big role in KU's early 13-0 lead in that game. Can he make a dent against Baylor's defense? We'll also be keeping an eye on true freshman quarterback
Montell Cozart
, who could be called upon as a rushing weapon in this game and just might catch the Bears by surprise.
10. Will Baylor surpass 70 again?
Maybe the better question is, will Baylor cover? The Bears are 34.5-point favorites entering their trip to Kansas. This game is basically the Big 12's version of Broncos versus Jaguars, except for one thing: The Bears have played on the road only once this season and were held to 35 points by Kansas State. A win over KU probably won't impress many, but road play is one of the only question marks facing Baylor at this point.
October, 21, 2013
Oct 21
9:00
AM ET
There was little change in this week's power rankings, as the favorites held serve:

1. Baylor (6-0, 3-0 Big 12, last week 1):
The No. 8-ranked Bears got some major help in the national title picture over the weekend, as LSU, Louisville, Texas A&M, Clemson and South Carolina all got knocked out of the mix. That really leaves only Alabama, Oregon, Florida State, Missouri, Ohio State and Miami (Fla.) ahead of Baylor in the pecking order at the moment. Missouri will have to beat Alabama to get the title game, and Baylor has a decent chance of passing the Buckeyes, due to the weakness of the Big Ten. The Bears, however, have virtually no shot of passing Oregon or Florida State. Those are the two teams Baylor fans need to begin rooting against.
2. Texas Tech (7-0, 4-0, LW 2):
The faith Kliff Kingsbury showed in true freshman QB
Davis Webb
on Saturday was extraordinary. Webb's second-quarter fumble at the West Virginia 1-yard line completely changed the complexion of the game, but that didn't shake Kingsbury's confidence in his quarterback. And, even though Texas Tech's defense had shut down West Virginia on four straight drives and led by a field goal, Kingsbury put the game on Webb's arm by calling two third-down pass plays in the final two minutes. Webb completed both passes, which should also give him plenty of self-confidence heading into this weekend's road tilt at Oklahoma.
3. Texas (4-2, 3-0, LW 3):
Was the dominant performance against Oklahoma a one-game anomaly? The Longhorns have the talent to make a run at the Big 12 title. Maybe they have the identity now, too. If Texas keeps pounding the ball between the tackles with
Johnathan Gray
and
Malcolm Brown
, that will continue to set up one-on-one opportunities for
Mike Davis
downfield. As the Sooners found out, such a formula could make the Longhorns formidable the final month and a half of the season.
4. Oklahoma State (5-1, 2-1, LW 5):
The Cowboys finally turned the offense back over to
Clint Chelf
and not a moment too soon, as
J.W. Walsh
threw another two interceptions in the first quarter. But, in reality, Oklahoma State's offense would be best off utilizing both quarterbacks going forward. The Cowboys hit their stride offensively last season only when they used Chelf as the base quarterback, then brought in the Walsh package in certain situations. Chelf's arm strength can get the ball to Oklahoma State's talented receivers downfield, which, in turn, opens up the running game. But Walsh brings savvy, toughness and leadership -- and he can make plays with his legs. Perhaps that quarterback blend will finally ignite this offense, which looks pretty rough at the halfway point of the season.
5. Oklahoma (6-1, 3-1, LW 4):
The Sooners' downfield passing game continues to be incompetent, as Oklahoma completed just two passes longer than 16 yards at Kansas. One of those was a reverse pass from
Lacoltan Bester
to
Sterling Shepard
. That's two straight games in which QB
Blake Bell
has completed only one pass downfield. The Sooners were able to grind out 235 yards on the ground, but that was against a Kansas defense missing its best player (linebacker
Ben Heeney
). If the Sooners can't complete passes downfield against man coverage, they have little chance of getting to double-digit wins.
6. West Virginia (3-4, 1-3, LW 7):
West Virginia has begun to show some life offensively. The Mountaineers gained 473 yards of offense against a Texas Tech defense that has been pretty solid. At one point, the Mountaineers scored on five straight possessions.
Clint Trickett
is all over the place with his throws, but at least he makes things happen. Running back
Charles Sims
is a star, and backfield mate
Dreamius Smith
is legit, too. The schedule also eases up considerably for the Mountaineers, as West Virginia has already faced four of the top five teams in the league. If the offense keeps developing, this could still be a bowl team. That wouldn't be a bad season, either, considering the offensive firepower the Mountaineers had to replace from last season.
7. Kansas State (2-4, 0-3, LW 8):
The Wildcats have not played poorly despite their 0-3 start in the league, but with Oklahoma and Texas Tech still on the schedule, K-State almost has to beat West Virginia at home this weekend if it's going to advance to a bowl. The good news is that starting receivers
Tyler Lockett
and
Tramaine Thompson
are expected back, which should be a big boost to QBs
Daniel Sams
and
Jake Waters
.
8. TCU (3-4, 1-3, LW 6):
The Horned Frogs are beginning to stake their claim as one of the worst offenses in Big 12 history. Switching coordinators or switching quarterbacks -- Gary Patterson tried both Saturday -- isn't going to make any difference, either. Even with the best defense in the Big 12, the Horned Frogs will be in danger of missing out on a bowl game if they don't beat Texas this weekend. QB
Casey Pachall
is close to returning, but not even he can salvage this dumpster fire of an offense.
9. Iowa State (1-5, 0-3, LW 9):
After three straight promising performances, the Cyclones took a step back in Waco, Texas. Nobody expected Iowa State to win, but to get completely annihilated was disappointing, as coach Paul Rhoads called the game a "fiasco." Now, yet again, the quarterback position has become a moving part.
Sam B. Richardson
is so banged up the Cyclones considered shutting him down for the season. Rhoads replaced Richardson with
Grant Rohach
in the second quarter to no avail. The No. 1 obstacle that's kept Iowa State from becoming more than a .500 program has been the inability to find a long-term answer at quarterback. Dating back to last November, the Cyclones have put their chips on Richardson being that answer. Now, who knows what direction they'll go.
10. Kansas (2-4, 0-3, LW 10):
Now that the Jayhawks have burned the redshirt of freshman QB
Montell Cozart
, they might as well turn the offense over to him.
Jake Heaps
just isn't getting it done, as he completed five of 13 passes for 16 yards against Oklahoma.
Sixteen yards
. It's not all on Heaps: The Kansas receiving corps is terrible. But that's all the more reason to go with Cozart, who can at least make plays with his feet.
August, 19, 2013
Aug 19
11:00
AM ET
May, 30, 2012
5/30/12
2:00
PM ET
May is nearly over, and as we head into June, it's time to update the Big 12 recruiting scorecard. You can see each full class by clicking on the team name, but you'll need ESPN Insider access to see the full coverage.
Here's where the Big 12 stands for the respective 2013 classes, which can't sign letters of intent until next February.
Remember, this card is in pencil. Players are free to switch commitments until they sign a letter of intent with a school.
1. Texas Longhorns
Total commits:
14
ESPN 150 commits:
8
Key commits
: QB
Tyrone Swoopes
, WR
Ricky Seals-Jones
, C
Darius James
, OT
Jake Raulerson
Class update:
Texas added just one players since our last update, cornerback Antwuan Davis. The Bastrop, Texas, native is the nation's No. 13 cornerback and the No. 19 player in Texas. He checks in at No. 147 on our ESPN 150.
2. Oklahoma Sooners
Total commits:
9
ESPN 150 commits:
3
Key commits
: RB
Greg Bryant
, RB
Keith Ford
, DE
D.J. Ward
Class update:
Oklahoma has added five commits since our last update, but no ESPN 150 commits. The biggest pickup was pro-style QB Cody Thomas, a native of Colleyville, Texas. The Sooners also added ATH Stanvon Taylor, kicker Jack Steed and offensive lineman Dalton Rodriguez. It's a nice bounce back from a slow start on the trail for the Sooners.
3. Baylor Bears
Total commits:
9
ESPNU 150 commits:
1
Key commits
: QB
Chris Johnson
, OLB Raaquan Davis, RB
Johnny Jefferson
, WR
Quan Jones
Class notes:
Baylor has added three commits since our last update, but no ESPN 150 recruits. Davis pledged his intent to come to Waco from Heath, Texas. DT Tanner Thrift is also on the way, and OLB D.J. Green is one of the class' top talents as the nation's No. 27 outside linebacker.
4. Texas Tech Red Raiders
Total commits:
7
ESPNU 150 commits:
0
Key commits
: ATH
Devin Lauderdale
, WR
Dylan Cantrell
, OG Baylen Brown
Class notes:
Texas Tech added two commits since we last updated the scorecard. Brown is the top recruit to join the fold. The 6-foot-4, 280-pounder is from Helotes, Texas. Safety Stormy Butler is trying to crash both Lubbock and my All-Name Team.
5. Oklahoma State Cowboys
Total commits:
5
ESPNU 150 commits:
0
Key commits
: WR
Fred Ross Jr.
, WR Marcell Ateman, OT Zach Crabtree
Class update:
OSU has been a big mover since our last update, picking up four commits, giving the Cowboys two four-star players and helping OSU leap over Kansas State. Crabtree joined the class on Tuesday, and Ateman gave OSU a second receiver earlier this month.
6. Kansas State Wildcats
Total commits:
4
ESPNU 150 commits:
0
Key commits
: ILB
Tanner Wood
, DE
Jordan Willis
, WR
LeAndrew Gordon
Class notes:
Guard Chance Allen is the only addition to the class since we last checked in with the SnyderCats. He's a 6-foot-4, 295-pounder from Spring, Texas, a Houston suburb.
7. TCU Horned Frogs
Total commits:
4
ESPNU 150 commits:
0
Key commits
: OLB Paul Whitmill, OLB
Sammy Douglas
, OG
Patrick Morris
Class notes:
TCU added two commits since our last update, but only two of the class members are ranked. Whitmill was the biggest addition, and takes a place as the top recruit in the class. The 6-foot, 200-pounder is the nation's No. 21 outside linebacker and hails from Bastrop, Texas. ATH Ty Slanina also committed last week.
8. West Virginia Mountaineers
Total commits:
4
ESPNU 150 commits:
0
Key commits
: QB Chavas Rawlins, OT Marcell Lazard, RB DeShawn Coleman
Class notes:
WVU didn't have a commit the last time we checked in, but has the weakest class of those with just four commits. Only one, Rawlins, is nationally ranked. It's early, but WVU's got to pick it up. Worth noting: Three of the commits are from Pennsylvania and one is from New Jersey. The recruiting strategy switch hasn't paid off just yet. It's very, very early, though.
9. Kansas Jayhawks
Total commits:
3
ESPNU 150 commits:
0
Key commits
: QB
Montell Cozart
, TE
Ben Johnson
, LB
Kellen Ash
Class notes:
Kansas hasn't added anyone since our mid-April update, but the program is branching out its recruiting strategy to a national stage, not just the Kansas City area and Texas. That's nothing new for former Notre Dame coach Charlie Weis. Can he convince them to commit, though? We'll find out soon.
10. Iowa State Cyclones
Total commits:
0
ESPNU 150 commits:
0
Key commits
: None
Class notes:
Still nada on the board for the Cyclones, who are the lone Big 12 team without a commit in the fold yet.
April, 18, 2012
4/18/12
12:30
PM ET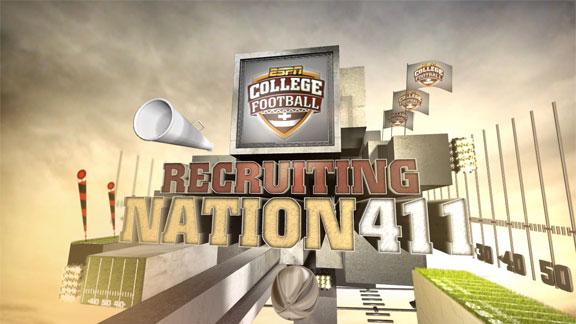 Recruiting season got started in earnest on Tuesday
with the release of the ESPN 150
, so it's time to offer our first real check-in on where the Big 12 recruiting classes sit with a little less than 10 months before players can officially sign.
Remember, this card is in pencil. Players are free to switch commitments until they sign a letter of intent with a school.
1. Texas Longhorns
Total commits:
13
ESPNU 150 commits:
7
Key commits
: QB
Tyrone Swoopes
, WR
Ricky Seals-Jones
, C
Darius James
, OT
Jake Raulerson
Class notes:
Texas' top three commits are all the best at their positions, and 10 of the class' 13 commitments are four stars or higher. That's nothing new in Austin, but Swoopes looks like the quarterback of the future in Austin, though he hails from a smaller school in Whitewright, Texas. Seals-Jones is a physical presence at 6-foot-5, 220 pounds.
2. Oklahoma Sooners
Total commits:
4
ESPNU 150 commits:
3
Key commits
: RB
Greg Bryant
, RB
Keith Ford
, DE
D.J. Ward
Class notes:
Oklahoma's class is still pretty small for now, but the Sooners are getting some much needed help at running back, where numbers are suddenly thin following a rash of transfers after the season. Ward joins fellow DE
Matt Dimon
in the class, too.
3. Baylor Bears
Total commits:
6
ESPNU 150 commits:
1
Key commits
: QB
Chris Johnson
, RB
Johnny Jefferson
, WR
Quan Jones
Class notes:
No surprise here: Baylor's new class is loaded with skill position talent. Johnson is the nation's No. 2 dual-threat passer and Jefferson is the nation's No. 36 running back. It seems like almost every year, Baylor reels in a huge prospect. For now, 2013 is no different, and coach Art Briles looks like he can continue his QB lineage. Johnson is a four-star, and Jefferson and Jones are three-star recruits.
4. Texas Tech Red Raiders
Total commits:
5
ESPNU 150 commits:
0
Key commits
: ATH
Devin Lauderdale
, WR
Dylan Cantrell
, CB
Will Barrow
Class notes:
Texas Tech has landed top-25 recruiting classes in each of Tommy Tuberville's first full seasons in Lubbock, and the Red Raiders are off to another nice start in 2013. Super recruiter Robert Prunty's developed a penchant for reeling in ESPN 150 talent, so keep an eye on the newest major player on the recruiting scene. Lauderdale is a four-star recruit.
5. Kansas State Wildcats
Total commits:
3
ESPNU 150 commits:
0
Key commits
: ILB
Tanner Wood
, DE
Jordan Willis
, WR
LeAndrew Gordon
Class notes:
Two of Kansas State's three commits are three-star recruits. The Wildcats won 10 games in 2011, but another solid year in 2012 could help spur recruiting efforts even further.
6. Oklahoma State Cowboys
Total commits:
1
ESPNU 150 commits:
0
Key commits
: WR
Fred Ross Jr.
Class notes:
Ross is a four-star and the nation's No. 21 receiver, but OSU could climb this list quickly, riding the success from its first Big 12 title in 2011. It's a slower start than you'd envision for OSU, but we'll see if the Cowboys can win some battles with Texas Tech, TCU and others.
7. TCU Horned Frogs
Total commits:
2
ESPNU 150 commits:
0
Key commits
: OLB
Sammy Douglas
, OG
Patrick Morris
Class notes:
Douglas is a three-star recruit and the nation's No. 36 outside linebacker. That's a big position of need for TCU, but the Big 12 entrance and recent campus drug sting that resulted in four players being arrested will be battling for positive and negative pushes on the recruiting trail. We'll see which one wins out in 2012.
8. Kansas Jayhawks
Total commits:
3
ESPNU 150 commits:
0
Key commits
: QB
Montell Cozart
, TE
Ben Johnson
, LB
Kellen Ash
Class notes:
Kansas doesn't have a nationally ranked recruit, but Weis sounds like he's high on Cozart, a highly recruited QB from the Kansas City area who had offers from West Virginia and Minnesota.
9. West Virginia Mountaineers
Total commits:
0
ESPNU 150 commits:
0
Key commits
: None
Class notes:
WVU is one of two teams without a commit yet in the 2013 class. We'll see if that picks up if WVU can validate its membership in the Big 12 with a strong debut season.
10. Iowa State Cyclones
Total commits:
0
ESPNU 150 commits:
0
Key commits
: None
Class notes:
Iowa State has started slow, too. Another bowl appearance would help, but it has to be a bit frustrating for the Cyclones to be behind the eight-ball for now. That's especially true considering what Kansas has done thus far.
Mack Brown's Future