Texas Longhorns:

Meet The Freshmen 2013
July, 18, 2013
7/18/13
1:30
PM ET
Darius James
was the most highly touted member of Texas' 2013 class, but he arrived in Austin this month with a considerable chip on his shoulder.
The nation's No. 17 overall prospect from Killeen (Texas) Harker Heights is hungry to prove he deserved that acclaim after missing nearly his entire senior season with a broken left foot.
With his best friend
Naashon Hughes
by his side, James has his eyes on the prize: He wants to start from day one, and he wants to win a national title.
HornsNation:
Your career as a Texas Longhorn is about to begin. How does that feel?
[+] Enlarge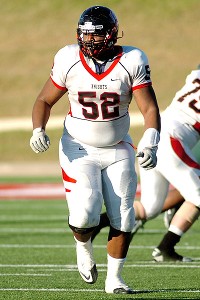 Max Olson/ESPNLonghorns signee Darius James was rated the No. 1 prospect in the state of Texas in the Class of 2013.
Darius James:
It's so surreal. It's pretty crazy. The more it gets closer, the more nervous I get. Everybody is telling you to get hyped for college and how everyone in college is so much faster and bigger. You don't know how you match up to that. You're ready for that, but it's still a little crazy.
HN:
You've been hearing for a long time that you'll play right away when you get to Texas. Do you feel ready for that challenge?
James:
I feel like I'm ready for anything. But there's also the fact that you're playing with seniors who are four or five years older than you. I'm just going to go in there scared and pissed off.
HN:
You spent this spring having to get back in shape following your injury. How did that go?
James:
The spring was hell. It was pretty crazy. It was a lot of vigorous work and running and tires and weights. I've been going to a trainer and he's been helping me get my weight down. I went from 360 to now I'm like 329 pounds.
HN:
How do you feel when you look back on missing so much of your senior season? Are there mixed emotions?
James:
Oh yes, very mixed emotions. I feel like if I would've played this year, I would've been one of the best out there. But it's in the past. You can't change anything in the past. I'm just ready to go out there and try to be the best player in college.
July, 16, 2013
7/16/13
10:00
AM ET
ESPN 150 offensive tackle
Kent Perkins
(Dallas/Lake Highlands) values relationships.
The bond he has built with fellow 2013 signees and the Texas coaching staff cemented his feelings of wanting to become a Longhorn when he committed to them 16 months ago.
Perkins (6-foot-5, 310 pounds) is anxious to continue to build those relationships in Austin, where he'll arrive and enroll in school on June 10. But more so than anything he wants to be entrenched in the game he's grown so fond of… and is also so dominant in.
[+] Enlarge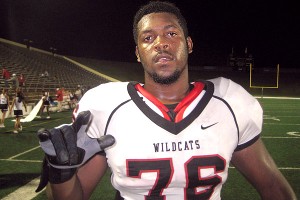 Max Olson/ESPN.comFour-star offensive tackle Kent Perkins chose the Longhorns over Oklahoma and Texas A&M.
HornsNation caught up with the No. 76 player overall before Perkins enrolled at Texas and before summer workouts began to get his feelings on becoming a Longhorn and where exactly he sees himself playing when football activities start.
HornsNation:
Where is your excitement level right now about getting down to Austin?
Kent Perkins:
It's skyrocketed. I am so excited to go down there. I am ready to compete. I am excited about everything. I'm excited about football, the next step in my life.
HN:
Take me back to the day that you knew you wanted to become a Longhorn. What was it about Texas?
Perkins:
Well I was down to A&M, Texas and OU. I visited all those schools and talked to every coach. I just felt I could see myself at Texas. I enjoy being around the guys, Mack Brown, Coach [Stacy] Searels. I love Coach Searels. I saw how he is in his meetings and how he talks to his players and how he coaches. I want to be a part of that.
HN:
What is it about Coach Searels that you like so much and how important is it to have a good relationship with your position coach?
Perkins:
It's real important to me because he reminds me so much of my high school coach. He can joke around at times and then when it is time to get serious he can be serious. If you listen to every detail he says you are going to get better.
HN:
You spent your high school career on the right side of the line. Where do you think you'll end up at Texas?
Perkins:
Right now I know, speaking with Coach Searels, that he is going to play his top five linemen. Basically if you are good you are going to play anywhere on the line. You have to be ready to come in and work. I'm really thinking the left side because I know [
Donald] Hawkins
is fixing to leave so I am thinking the left side.
HN:
Is the footwork for a right tackle going to the left side that big of a deal or not?
Perkins:
It's a huge deal because you change your side, your hand placement, which foot you step with first, which foot you kick with. You kick with your left foot instead of your right. It's a big change but I am a hard worker and I can get that down.
HN:
There's been a lot of hype around the class of offensive linemen coming in. Do you guys talk about that at all?
Perkins:
I talk with
Rami [Hammad
] and he talks to
Darius James
and others. We all talk about having one of the best offensive lines in the country. We are going to work as hard as we can, put the work in the weight room and conditioning and get our jobs done right.
HN:
Do you honestly believe that this group of offensive linemen coming in can be one of the best to ever come through Texas?
Perkins:
I really, truly believe that. We have size, speed and smart guys. We can get down the plays and can be aggressive.
HN:
What have you been doing to keep yourself in shape since signing day?
Perkins:
I have a conditioning program that I've been keeping up with. I'm lifting and running in the morning and the afternoon. I'm trying to keep my grades up at the same time.
HN:
What are you weight-wise and what does Searels want you to come in at?
Perkins:
I'm at 310 pounds and he wants me at 300.
HN:
What are you most excited about as you begin your career as a Longhorn?
Perkins:
I'm excited about, dang, football. I love playing football. I'm excited about being around a group of older guys that will teach me the game. Being in front of thousands of people in a huge stadium. I'm excited about the next step.
HN:
Was there ever a time after you committed to Texas that you thought about looking around anywhere else?
Perkins:
Nope, I never thought about that. I think I made a really good choice. I look at academics first and I think I made a really good choice.
July, 9, 2013
7/09/13
10:00
AM ET
Mack Brown isn't afraid to play freshmen. This much we know.
The Longhorns have trotted out 34 true freshmen over the past two seasons, which is the most in FBS.
As those players mature, slots for incoming freshmen to play have dwindled. But if there is a short list of those wet behind the ears with a chance to contribute,
Antwuan Davis
' name will be on it.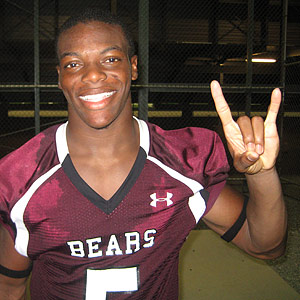 Max Olson/ESPN.comCan Texas signee Antwuan Davis contribute on defense for the Longhorns in 2013?
Davis, an ESPN 300 cornerback from Bastrop, Texas, has the physical makeup (6-foot, 180 pounds) and speed (4.3 speed) to factor into the defensive back rotation.
His ready-to-play skills are what made him the No. 148 player overall and the No. 15 cornerback in the country in 2013. He was highly sought after, with offers from Alabama, LSU, Michigan, Notre Dame, Oklahoma, Tennessee and Texas A&M. But there was really never a doubt that Texas was where he'd end up.
Now he's on campus, enrolled in summer school, and ready to test the waters of fall camp. We caught up with Bastrop head coach Gerald Perry to get his insight on what to expect from Davis this season.
HornsNation:
What are you most excited about seeing from Davis as a Longhorn?
Gerald Perry:
Knowing him for the last couple of years, he is such a great teammate. It's always exciting to see how kids fit in with other teammates and find that niche. Antwuan has so much talent, so much raw talent that he hasn't realized, he's going to get on the field soon. We played a lot of man coverage so he's done a lot of the things that they are going to do at Texas. He's a great kid to be around. He's a hard, hard worker, and is very, very comfortable. I think he'll play soon.
HN:
He's so quick but he's also so physical. What is his greatest asset on the field?
Perry:
It's hard to find a kid that's got so much speed and strength together. I've been doing this for 20 years now and I've had some great kids. But for the corner position, for him to be that strong and for him to have the world-class speed that he's got, it's incredible to have that total package. That's why he was in such high demand. You have to be physical in the Big 12, and he's got that. He also has the speed to play those great receivers.
HN:
Recruiting can often get to a kid's head. Did you see Antwuan change at any point or did he stay the same?
Perry:
He's a very humble young man with a great family. I'm heavily involved in the recruiting of our kids and we talk to them about how to act and how to deal with Facebook. He's very humble. He was very good with the process and took his time. I think he knew he wanted to go to Texas from the beginning.
HN:
You mentioned playing so much man coverage. How much do you think that will help him get to the field sooner rather than later?
Perry:
I think it will help. When he moved in he was playing a lot of cover three. We played so much bump-and-run, man coverage when he was with us. It's going to help him. We faced some great talent. He's seen some good talent and gone to some big-time camps and gotten better and better. I talked to him the other day and they were doing 7-on-7. I am excited for his opportunities.
HN:
Does he get the sense that he is going to play early?
Perry:
We've talked. He just wants to contribute. Very few kids want to come in and redshirt. Some kids need to. They need that extra year to get stronger. He's already got that strength. It just depends on what they have at Texas. He is a kid that can play special teams as well. I think he will be used, especially when you go to nickel packages.
HN:
Do you think that cornerback is it for him or do you think he could move to safety at some point?
Perry:
I think he'll stay at corner. He's got the strength to play the slot. But I think he is a natural corner. He's got good, decent height. I've seen little corners without the strength. This guy has so much upper body strength that I think he's going to be a big asset for them at corner.
June, 27, 2013
6/27/13
10:30
AM ET
Just get four-star athlete
Chevoski Collins
(Livingston, Texas/Livingston) on the field. That's the best advice Livingston head coach Randy Rowe has for Texas' coaches. The rest will play out itself.
Whether it's at a position to be determined by Longhorns defensive backs coach Duane Akina, or split out wide for Texas co-offensive coordinator Major Applewhite.
The Longhorns recruited Collins, who committed to Texas over Oklahoma, Baylor, TCU and Oklahoma State, as a defensive back. But he always maintained that there would be a chance for him to play on offense, which is what he preferred for the longest time.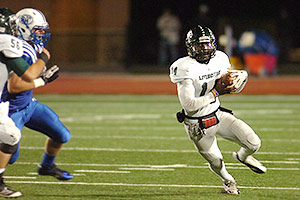 Max Olson/ESPN.comESPN 300 recruit Chevoski Collins could play either receiver or defensive back for the Longhorns.
HornsNation checked in with Rowe to talk about Collins' future at Texas.
HornsNation:
Where would you play Collins if you were Texas' coaches?
Randy Rowe:
Well I don't know if they need my advice but I think he does great things with the ball in his hand. I think Coach Akina got it right. I think he can play corner and has the physical-ness to play safety too. Plus he can return kicks. I think just being a safety or a corner and returning kicks.
HN:
Why do you like him in the secondary more than on offense?
Rowe:
I would just say because he is physical and he'll hit you. I like his added ability to flip his hips as they say. He can really cover. It's a biased opinion but I think you'll see what I'm talking about.
HN:
What is it about Collins, the No. 253 recruit overall in 2013, that you appreciate the most?
Rowe:
I like his intelligence, his football intelligence. He studies the game. I don't even know how to put it.
HN:
What about his defensive back abilities?
Rowe:
College coaches like to say he has tremendous hips. If you put him on the track in the 100, he might not win the race. But if you put a football in his arm he is going to get it done. He's a tremendous competitor too.
HN:
Recruiting can get into the head of these prospects sometime. Did you see Collins change through it all or did he always stay the same?
Rowe:
I think he is a very genuine person. I think it's difficult for any young man. A lot of people might not know this, it was the previous regime, but after his sophomore year A&M offered him. They gave him a verbal that he could come in. I've been doing this 23 years, 16 as a head coach, and I've never had that happened. And I've had the pleasure of coaching some great young men. It really started after his sophomore year. I tried to ease him up as a freshman. I moved him up the last couple of practices. But he broke his collarbone in practice.
HN:
What will you miss the most about Collins?
Rowe:
I am just looking forward to his great success. The thing I'll remember about him is his great smile. He had a great personality. Everybody likes him. I think he's a natural leader. I'll miss him coming into the office and we'll be having our football discussions. He studies athletics. We might talk about the NBA or what's going on in the NFL. He is just an impressive young man and I know he'll do well.
June, 25, 2013
6/25/13
10:00
AM ET
The play happened in slow motion to those who watched San Antonio during Cibolo (Texas) Steele's season opener against San Antonio Madison in 2012.
Four-star safety
Erik Huhn
reached up somewhat majestically to snag an interception on Steele's second play on defense; he stopped Madison's running back at the line of scrimmage on the first play.
On the way down is where everything went wrong.
Huhn, the 16th-ranked safety in the nation, crumpled to the ground untouched and clinched his left leg in agony. He was helped off the field and to a table behind Steele's bench. Diagnosis: torn ACL, out for the season.
[+] Enlarge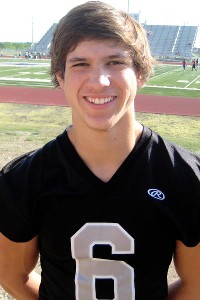 Max Olson/ESPN.comTexas safety signee Erik Huhn is recovering from a knee injury.
It was a crushing blow to Huhn's psyche at the time as he struggled to cope with the reality of his situation.
But he knew he couldn't mope in the world of what-ifs. He had to help his team. He'd just have to do it vocally. He'd need to hit rehab hard. Feed his soul positive thoughts.
Doubters crept in, believing he'll never be the same. It was inevitable. That's fine by him. He's just using that as fuel to work harder and get back to the level he was at when he committed to the Longhorns.
HornsNation caught up with Huhn to discuss the state of that ACL and his thoughts on beginning his career at Texas with a healthier knee on the verge of being 100 percent.
HornsNation:
You haven't played football in a very, very long time. I'm sure you are overly excited to get back to the game, aren't you?
Erik Huhn:
I'm really excited. I haven't played in a year-and-a-half now, missing what I love to do. I'm really excited to get back out there on a bigger level, a bigger stage and show what I'm made of. Hopefully I can have a good season.
HN:
What do you miss most about the game?
Huhn:
I just miss being out there with my best friends. A bunch of stuff happens and afterward you talk about it with your friends. Everyone at school is telling you that you did a good job. It's just the friendships you build with everyone and the love from the fans. I miss everything.
June, 20, 2013
6/20/13
8:00
AM ET
He's not a freshman, but
Desmond Harrison
is as important a signee as any in Texas' 2013 recruiting class. And ever since signing in February, Harrison has been hard at work to ensure he'll actually make it to Austin.
The 6-foot-8, 315-pound offensive tackle from Conta Costa (Calif.) College has been juggling a full class load and extra workouts to prepare himself for the next level.
Harrison is still taking classes at the junior college this summer, and coach Alonzo Carter said he believes the coveted lineman will arrive in Austin by mid-July. From there, Harrison will jump right into the competition to start at left tackle this fall.
We caught up with Harrison for the latest on his academic progress and his expectations for when he does finally join the Longhorns.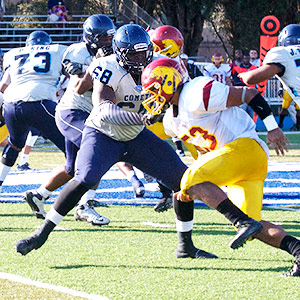 Courtesy of Contra Costa CollegeJunior college transfer Desmond Harrison said he wants to be "dominant from Day One" when he gets to Texas.
HornsNation:
What's your status these days? What are you working on right now to get to Texas?
Desmond Harrison:
Right now I'm just taking a couple classes and then I'll try to get there before camp starts. I've just got to make sure I'm good academically first and finish all the way up, and then I'll try to get in there before camp. I'm aiming to come as soon as possible. I'm finishing up math and English.
HN:
How excited are you to get those classes behind you and get to Austin?
Harrison:
I'm real excited for the transition. I'm ready to come in and play ball and just go out there, have fun and get to the next level.
HN:
What have the UT coaches said they expect from you?
Harrison:
They're ready for me to come out there ready to learn, get my playbook and just get in condition.
HN:
Do you consider the left tackle spot yours for the taking?
Harrison:
Oh, yes sir. I'm coming in to play. I want to play left tackle. That's it.
HN:
What do you like about offensive line coach Stacy Searels?
Harrison:
Coach Searels is a good teacher, and it ain't just about football with Coach Searels. It's the off-the-field things too. He's a good dude.
June, 18, 2013
6/18/13
10:00
AM ET
IRVING, Texas -- Though it's essentially meaningless now that he's on campus and a member of the Longhorns, Texas offensive line signee
Rami Hammad
still can't get over the fact he was deemed a three-star prospect.
He won't soon forget that. It's been a driving force for the Irving, Texas, offensive guard for the past year, and he's confident he'll dispel any doubt about his talent by competing for a starting job immediately this summer and fall.
[+] Enlarge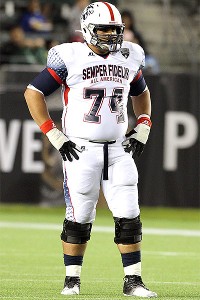 Cal Sport Media via AP ImagesRami Hammad plans on competing for a starting job on Texas' O-line.
Thanks to the Bennie Wylie workout plan this spring, the 6-foot-5 lineman went from 335 pounds on signing day to 308 pounds today. He's done everything he possible could to prepare for his arrival and his freshman debut.
Before he left for Austin, Hammad sat down with HornsNation to discuss is plans for 2013 and how far he's already come.
HN:
It seems like your goals for your freshman season are pretty obvious. How do you map them out?
Hammad:
First things first. I've got to take care of academics and adapt to college life. I don't think it'll be that tough for me considering I don't like to party or do anything wrong. My main goal is to play in Year 1. I don't want to settle for anything else.
HN:
Think back to a year ago. How would you have felt had you been told you'd end up a Longhorn?
Hammad:
Man, I'd probably think you're crazy. They never talked to me then, and it was pretty much last minute when I caught their attention. I like to earn my things, and I think I earned it. People doubted me throughout the way, even at my own high school. I'm really glad I proved myself.
HN:
Why do you think it took so long for Texas to target you?
Hammad:
I don't know. I think they might've overlooked me. I wasn't as solid-looking my junior year, and it was my first year on varsity. I really don't know.
June, 13, 2013
6/13/13
8:00
AM ET
Three-star outside linebacker
Naashon Hughes
(Harker Heights, Texas/Harker Heights) was comfortable with his decision.
Early on in his recruitment, Hughes decided to
take Texas' offer of a grayshirt
to be near his brother,
Camrhon Hughes
, a redshirt freshman offensive tackle and best friend
Darius James
, a fellow 2013 commit.
[+] Enlarge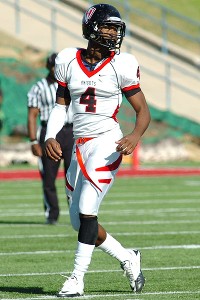 Max Olson/ESPNThree-star prospect Naashon Hughes said he likes playing both outside linebacker and safety.
Other schools tried to sway Hughes -- he also had offers from Baylor, LSU, Oklahoma, Oklahoma State and South Carolina -- but he wanted to be a Longhorn even if it meant he'd have to sit out the 2013 season and enroll at Texas in January 2014.
Hughes' patience paid off when he was awarded a full ride by Texas coach Mack Brown during breakfast at Brown's house on the weekend of Dec. 7 while on an official visit.
With all of his worries subsided, Hughes turned his focus toward becoming the best player he could be in his last few months at Harker Heights. Now that time has come to an end, and he's ready to start his career.
HornsNation:
What most excites you about the journey you are about to embark on?
Naashon Hughes:
Just getting started with football actually. Just getting back to working out and everything. I miss it a lot. A lot. It just feels like a longer break but really I'm just switching schools.
HN:
What have you been doing to stay in shape since signing day?
Hughes:
I've been working out with a trainer in Kileen at like 6 a.m. We do bench, single Bulgarian split squats, alligator walks, hang cleans, power cleans, everything cleans. We switch it up everyday.
HN:
Is it tough to wake up that early and workout when you know it is summer time and your friends are out having fun?
Hughes:
It started off hard but since I've been been doing it for so long it's not that hard. But at the beginning it was pretty tough.
HN:
Have you set any goals for your freshman season?
Hughes:
I just want to work as hard as I can so I can try and play. I'm just trying to work hard and earn my spot.
HN:
There was talk during your recruitment that you could play either outside linebacker or safety. Where do you think you'll end up?
Hughes:
Kind of in that outside linebacker position. I actually prefer that and safety about the same.
HN:
What do you like about outside linebacker so much?
Hughes:
You can get a little bit of the offensive linemen but you also get the running backs and receivers as well. Defensive linemen, the majority of the time, deal with linemen. Safeties mostly deal with receivers. But that "SAM" position gets a little bit of both.
HN:
Have you put on any weight this summer?
Hughes:
I have. I'm up 10 pounds to 223 and am 6-foot-4 ½.
HN:
What has your brother told you about what to expect and how to handle yourself?
Hughes:
He basically told me to work hard and earn my spot. He told me in whatever I do just work as hard as I can and my time would come.
HN:
Now, Camrhon tore his ACL playing in a pickup basketball game around this time last year. How is he now?
Hughes:
He is doing good. They cleared him to play and everything. Now he is just working out and getting his leg stronger so he can actually play at full speed.
HN:
Will you play any basketball this summer?
Hughes:
I'll probably still play a little bit because I am the only one that has played in my family. But I think Camerhon is definitely done. I'll play a little bit.
HN:
You should probably tell everyone you are playing against to take it easy when guarding you, right?
Hughes:
Definitely.
June, 11, 2013
6/11/13
10:00
AM ET
We're kicking off this year's Meet the Freshmen series with the member of Texas' 15-man signing class that Longhorns fans know the least about:
Montrel Meander
.
The Amarillo (Texas) Palo Duro wide receiver was the final piece of the class,
committing two days before signing day
. He'd been committed to Washington State and had taken official visits to WSU, New Mexico, San Diego.
But Texas, seeking one more receiver for 2013, made a last-second run at Meander and stole him in a rapid five-day recruitment that included a surprise official visit. Now Meander is preparing to make the eight-hour drive south to Austin to join the program this week, and he's ready to make a name for himself.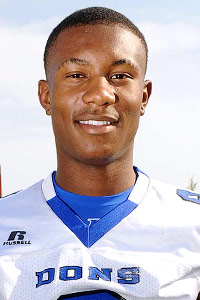 Courtesy of Palo Duro HSThree-star receiver signee Montrel Meander was Texas' last commit in the 2013 class.
HornsNation:
When you think back, how crazy was that final week before signing day for you?
Montrel Meander:
It was real crazy for me. For a long time I wasn't thinking that Texas was going to be in my future. For them to come so late, it was a blessing to me. I was confused -- I knew what I wanted to do, but I didn't know what I wanted to do. It took a lot of hard thinking after the visit.
HN:
What was it about Washington State that you really fell in love with? Or was it simply that they were your best option?
Meander:
They were really my best option, to me. They sounded legit. Their coaches were honest men and they didn't beat around the bush about nothing. I wanted to play for them, and they said I had a strong possibility to start when I came in.
HN:
Hadn't Texas only been talking to you for only two days when you boarded the plane for the official visit to Austin?
Meander:
I took the visit on Saturday morning before signing day. I first heard from Texas on that Thursday. Coach [Darrell] Wyatt contacted my head coach and coach told me to call him. I called and Coach Wyatt told me I should come down that following day and that, most likely, I was going to be offered a scholarship. Then he offered me a scholarship and asked me to go on the visit, and I told him I would. He asked if I could come right after school Friday but I had a basketball game. So after my game was over, I called him and then I took the visit that next morning.
Texas Longhorns Show Out On Pro Day
BIG 12 SCOREBOARD
Thursday, 9/3
Friday, 9/4
Saturday, 9/5