Texas Longhorns:

Kerry Hyder
October, 18, 2013
Oct 18
12:00
PM ET
September, 23, 2013
Sep 23
3:00
PM ET
Several Big 12 schools had a bye but other squads saw several players step up when they needed them on Saturday. Here's a look at the Big 12's unsung heroes during Week 4:

Receiver Antwan Goodley, Baylor:
On an offense full of stars, Goodley is quietly making a major impact with the Bears. He had five receptions for 156 yards and two touchdowns in Baylor's 70-7 win over Louisiana-Monroe. He brings excellent size and speed to the Baylor offense, adding yet another explosive threat at quarterback
Bryce Petty
's disposal. He has 14 receptions for 370 yards and four touchdowns this season, with 13 of those 14 receptions ending up in a first down or touchdown.

Linebacker Ben Heeney, Kansas:
The junior was exceptional for the second straight week. Heeney gets overlooked because of KU's struggles but he's one of the league's top defenders. He had 10 tackles -- including a half-tackle for loss -- one interception and one pass breakup. He's a linebacker who is comfortable in space with the ability to make plays in the running game or passing game. He should be an anchor of KU's defense for the rest of the year, he just needs help from his teammates.

Linebacker Blake Slaughter, Kansas State:
Slaughter was a beast against the Longhorns, making Wildcats fans momentarily forget Arthur Brown. He had 10 tackles, three pass breakups and one quarterback hurry, but his activity on the second level of KSU's defense should be encouraging with the heart of Big 12 play right around the corner.

Receiver Marcus Johnson, Texas:
Who? That's exactly what Kansas State was saying as Johnson made clutch reception after clutch reception in UT's 31-21 win over the Wildcats. He finished with five receptions for 70 yards, with three of those catches coming on third down. The sophomore stepped up with
Mike Davis
and
Daje Johnson
out against KSU and could emerge as a clutch playmaker who can take advantage of one-on-one opportunities when that playmaking duo returns to the Texas' lineup.

Linebacker Will Smith, Texas Tech:
The Red Raiders defender is constantly around the ball, evidenced by his 9-yard fumble return after
Kerry Hyder
's fumble in Tech's 33-7 win over Texas State. He had eight tackles and one tackle for loss against the Bobcats. It's rare to watch a Red Raiders game and not notice No. 7's active nature. His continued consistency could be a key for Texas Tech as they enter the heart of Big 12 play.

Running back Dreamius Smith, West Virginia
: Really? An unsung hero after the Mountaineers' 37-0 shellacking at the hands of Maryland? Well, Smith actually had 12 carries for 74 yards, 6.2 yards per carry and, most importantly, he didn't turn the ball over in the loss. On a squad searching for playmakers on offense, it's been unusual to watch Dana Holgorsen use Smith sparingly at times. Expect that to change in the future as WVU tries to find some type of identity on offense.
Note: Iowa State, Oklahoma, Oklahoma State and TCU had a bye.
September, 22, 2013
Sep 22
9:00
AM ET
Recognizing the best and brightest from around the Big 12 in Week 4:
RB Johnathan Gray, Texas

Texas needed the sophomore more than ever against Kansas State, especially when
David Ash
was sidelined for the second half with concussion-related symptoms, and Gray delivered. He put up a career-best 141 yards and two touchdowns on a career-high 28 carries in the 31-21 win. The Longhorns trusted their workhorse and he came up big.
WR Tyler Lockett, Kansas State
Lockett put on a show against Texas with a whopping 237 receiving yards on 13 catches. That's the second-best receiving day in the country this season behind
Mike Evans
' 279 yards last week vs. Alabama. Lockett had catches of 47, 22, 31 and 52 yards and also contributed a 40-yard kick return. He was unstoppable on Saturday.
Baylor Defense
Baylor has one of the best offenses in the country with several guys who are worthy of Helmet Stickers. But isn't it time to give a little love to that Bears defense? Baylor racked up eight tackles for loss and intercepted three passes in a 70-7 win over Louisiana-Monroe, and two of those picks were returned for touchdowns of 41 and 63 yards, respectively. We'll see how the defense holds up against better Big 12 competition, but so far so good.
K Matthew Wyman, Kansas
Let's give some props to the guy who ended Kansas' 22-game losing streak against FBS opponents. It wasn't just that Wyman made the game-winning field goal with time expiring to beat Louisiana Tech 13-10 -- don't forget the degree of difficulty. Wyman connected from 52 yards, causing the Jayhawks to storm the field. Big kick, big win.
QB Davis Webb, Texas Tech
Webb relieved a struggling
Baker Mayfield
and threw for 310 yards and two touchdowns in a 33-7 rout of Texas State, one that probably reopens the discussion of who should be starting under center for the Red Raiders. Honorable mention to
Kerry Hyder
for his decision to pitch his fumble recovery and create a 9-yard touchdown return. Way to be selfless, Kerry.
September, 16, 2013
Sep 16
11:00
AM ET
Oklahoma and Oklahoma State rolled, Texas capitulated, Texas Tech prevailed, TCU scuffled, West Virginia and Kansas State cruised, Iowa State and Kansas faltered and Baylor watched. The third weekend that was in the Big 12:
Team of the week:
Texas Tech. So far, the Red Raiders have been the big surprise of the Big 12. The first two games Tech won with quarterback
Baker Mayfield
and its air assault. Thursday, the Red Raiders beat TCU 20-10 with hard-nosed defense. Tech is off to a phenomenal start and could keep it going with four winnable games coming up next. Those games will be even more winnable if this defense proves to be the real deal.
Disappointment of the week:
Iowa State. After a disappointing opening performance, the Cyclones had high hopes they could turn their season around against their instate rival. Instead, Iowa jumped to a 27-7 lead, then withstood Iowa State's mild fourth-quarter rally. The Cyclones have not looked good offensively through two games, and outside
Sam Richardson
throwing the ball up to
Quenton Bundrage
, have really shown no pop. The Cyclones desperately need a running back and a running game to emerge. So far, neither has.
[+] Enlarge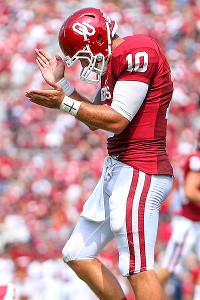 Kevin Jairaj/USA TODAY SportsBlake Bell took charge as quarterback for Oklahoma.
Big (offensive) man on campus:
Blake Bell
. After losing the preseason quarterback battle to
Trevor Knight
, Bell roared back to recapture the job for good. Bell completed 27 of 37 passes for 413 yards and four touchdowns in Oklahoma's 51-20 win over Tulsa. Accounting for both rushing and passing, Bell finished the game with a QBR of 96.7. According to ESPN Stats & Info, that's the highest single-game QBR (before opponent adjustment) by a qualifying Oklahoma quarterback since
Sam Bradford
recorded a 99.0 at Baylor in 2008.
Big (defensive) men on campus:
Terrance Bullitt
and
Will Smith
. Several different Red Raiders qualified for the honor, but the senior linebackers were instrumental in the win over TCU. Bullitt collected six tackles and batted down four passes, which helped prevent Horned Frogs quarterback
Trevone Boykin
from generating any rhythm on his shorter passes. Smith, who led Tech with nine tackles, helped stuff TCU's run up the middle. With
Tre' Porter
anchoring the secondary and
Kerry Hyder
wreaking havoc up front, the Red Raiders have the makings of a very solid defense, if this level of linebacker play from Bullitt and Smith continues.
Special teams player of the week:
Anthony Fera
. Don't blame the Texas kicker for the Longhorns' 44-23 loss to Ole Miss. Fera nailed all three of his field goal attempts in the defeat, including a 47-yarder that put Texas up two scores just before halftime. Of course, the Longhorns failed to score the rest of the game. Fera was effective punting, too, pinning Ole Miss inside its own 20 twice. The Longhorns don't have much going for them at the moment, but at least they have a reliable kicker and punter.
Play of the week:
Texas Tech's
DeAndre Washington
appeared to have scored the go-ahead touchdown on a 49-yard pass in the fourth quarter against TCU. Washington, however, let go of the football just before crossing the goal line. The ball rolled into the end zone and came to a stop, but no one touched it after the field judge signaled touchdown. The play was reviewed and the touchdown was overturned, but Tech was given the ball at the half-yard line (though a celebration penalty pushed the ball back to the 15). The Frogs have a beef about the field judge signaling touchdown prematurely, but, according to the rulebook, officials made the right call on the replay. Had a Frog picked up the ball or had the ball rolled out of the end zone, TCU would have taken over possession, but none of that happened. Instead, Tech was given back the ball, and
Davis Webb
found
Bradley Marquez
for the game-winning touchdown -- a play that could have long-lasting effects for both the Red Raiders and TCU.
Stat of the week:
After giving up 272 rushing yards to Ole Miss, Texas now has the third-worst rush defense in college football. The Longhorns are allowing 308.7 rushing yards per game. No one else in the Big 12 is giving up more than 223.
Quote of the week:
"Forget the coaches, come for the kids. Come for the young guys who are really trying, and come watch them try to beat Kansas State, which we haven't done very often."
-- coach Mack Brown, in a plea to Texas fans to keep filling the stadium despite the Longhorns' 1-2 start.
July, 23, 2013
Jul 23
5:19
PM ET
DALLAS -- During this era of realignment, a sense of unfamiliarity has become common. Yet that doesn't make the getting-to-know-you phase any easier.
In 2012, every Big 12 team faced the challenge of preparing for a conference game against an unfamiliar opponent. As teams prepped for TCU and West Virginia during their first season in the league, there was plenty of uncertainty about the different challenges the newcomers would bring to the table.
"We didn't know what to expect," Texas Tech defensive tackle
Kerry Hyder
said.
[+] Enlarge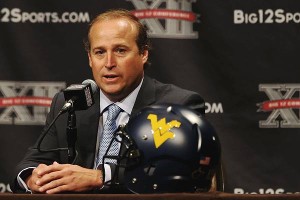 Kevin Jairaj/USA TODAY SportsDana Holgorsen and the Mountaineers have had a full season to acclimate to the rigors of Big 12 football.
Texas defensive end
Jackson Jeffcoat
added, "It's kind of like those first three games against teams not in your conference. When I first saw West Virginia on film I was like 'Wow, we're really playing them.' Everybody talked about playing them but to actually play them was cool, it made it real."
TCU brought solid defense, West Virginia brought explosive offense and nobody in the Big 12 had a great feel for their new conference rivals.
"You had to do more studying than usual," Oklahoma center
Gabe Ikard
said. "You may have seen that scheme but you haven't seen their personnel. If I've played a guy at Texas three times, you kind of know a little about them, but I hadn't played against any of them."
It wasn't a major issue that decided games, but it was a noticeable change from the weekly routine of preparing for a well-known conference opponent.
"Every year is different," Iowa State coach Paul Rhoads said. "We knew less about TCU and West Virginia a year ago, but this year's teams [at TCU and WVU] are going to be different than those teams. I don't know if we have a leg up this year but it's good to have a library of thoughts and film."
For the first time since 2010, the Big 12 will enter this football season with the same members as it had the previous season, giving teams a better idea of what it is going to take to win a conference title in 2013.
"This year we'll have a better game plan for them, we'll be more prepared for them," Hyder said of the newest conference members. "Experience helps in every aspect of life."
On the flip side, TCU and West Virginia will have a much better understanding of what it takes to have success in the Big 12. TCU coach Gary Patterson and WVU coach Dana Holgorsen did their best to prepare their teams with their words, but actually experiencing a Big 12 schedule was a better teacher than anything Patterson or Holgorsen could have said.
After one season in the Big 12, TCU safety
Sam Carter
came away with a much better idea of what success in the new conference requires.
"One mistake can cost you a game," Carter said. "Not just on defense, our offense understands that mistakes can kill you in this conference. Our first Big 12 loss [to Iowa State], we gave up a few big plays, and coaches had been telling us the whole summer that one mistake can cost you in the Big 12. And it came up and really cost us in a few games."
The Mountaineers had a slight advantage with Holgorsen at the helm. He had an extensive Big 12 background with coaching experience at Oklahoma State and Texas Tech before taking over at WVU in 2011. However, Holgorsen believes it will take at least two seasons before the Mountaineers really feel at home in the conference.
"I did my best of explaining what it's going to be like at the different places," Holgorsen said. "After a couple years, you start getting some familiarity with it, the fan base understands it, the administration understands it and your players understand it, and they can talk about it with the other guys."
While the Mountaineers have more experience after one season in the conference, Holgorsen said he'll still have some teaching do to. For example, since the Mountaineers hosted the Sooners in 2012, the players still don't know what it's like to play OU in Norman, Okla. Once they have played in stadiums across the Big 12, then he'll be more confident that his team has a complete understanding of what Big 12 football is all about.
"It's going to take time for half of our team to understand what it's like in Lubbock, Texas," he said. "And be able to relay that to the other kids in the locker room."
All these variables add to what could be one of the most entertaining Big 12 seasons in recent memory.
"It's the first year with everybody knowing what everybody is going to do," said OSU receiver
Josh Stewart
, a junior who has never experienced playing a conference schedule that featured the exact same teams he played the previous year. "It's going to be some exciting football in the Big 12."
Mack Brown A Victim Of His Success