Texas Longhorns:

Kendall Wright
November, 4, 2013
Nov 4
2:35
PM ET
The Big 12 has featured some prolific wide receiver tandems over the years.
Baylor's
Tevin Reese
and
Antwan Goodley
, however, have a chance to top that list.
[+] Enlarge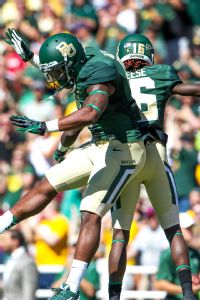 Jerome Miron/USA TODAY SportsAntwan Goodley and Tevin Reese rank 1-2 in the Big 12 in receiving yards per game.
This season, Reese is second in the Big 12 with 118 yards receiving a game. He trails only Goodley, who leads the league with an average of 128 yards receiving. They are a big reason why the Bears are on pace to break the FBS records for points (56.0) and yards (624.9) per game that were set by Army in 1944 and Houston in 1989.
But Reese and Goodley aren't the only big-time duos in the Big 12 this year.
Kansas State's
Tramaine Thompson
and
Tyler Lockett
have been lighting it up since returning from injury. The last two weeks the two have totaled five touchdown catches.
Jalen Saunders
and
Sterling Shepard
lead the Sooners with five touchdowns apiece. Texas Tech's
Eric Ward
and
Jakeem Grant
are fifth and sixth in the league in receiving. Oklahoma State's
Josh Stewart
and
Tracy Moore
are beginning to warm up with
Clint Chelf
at QB. And
Jaxon Shipley
and
Mike Davis
have been stalwarts in this league for years.
But who are the best tandems ever to play Big 12? We lay it out below.
Tight ends were not included (sorry Jermaine Gresham and Chase Coffman). The tandems were evaluated on what they accomplished together, not on whether their careers simply overlapped (eliminating Jeremy Maclin and Danario Alexander, for example); and, this is a list for duos, not singles, trios or quartets (apologies to Rashaun Woods, and the 2008 Oklahoma and 2010 Baylor receiving corps).
To the list:
1. Stedman Bailey and Tavon Austin, West Virginia (2012):
In their only year in the league, this tandem was one-two in the Big 12 in receiving, combining for 224 receptions and 2,914 receiving yards. Bailey himself had 25 receiving touchdowns; nobody else in the league had more than 13. Austin, meanwhile, also rushed for 344 yards in one game at running back. As Bailey tweeted out earlier Monday morning on this topic, "case closed."
2. Michael Crabtree and Danny Amendola, Texas Tech (2007):
Crabtree got all the headlines in 2007 on his way to winning his first of two Biletnikoff awards. But out of the slot, Amendola quietly put up 109 receptions for 1,245 yards, as Tech went 9-4.
3. Jordan Shipley and Quan Cosby, Texas (2008):
Shipley and Cosby starred on one of the three best Big 12 teams that didn't win a conference title. The two each had 1,000 receiving yards and double-digit TDs from QB Colt McCoy, as the Longhorns finished the year 12-1, their only loss coming on Crabtree's game-winning touchdown in the final seconds in Lubbock. The two were also prolific on special teams, with Shipley's kick return touchdown sparking Texas' 45-35 comeback win over Oklahoma.
4. Justin Blackmon and Josh Cooper, Oklahoma State (2011):
As with Crabtree-Amendola, Blackmon got all the attention on his way to a second Biletnikoff award. But Cooper was a pivotal piece in OSU's first Big 12 title team, as he racked up 71 receptions out of the slot. Blackmon, of course, had a monster year with 121 catches and 18 touchdowns.
5. Kendall Wright and Terrance Williams, Baylor (2011):
Reese was actually the third wheel to this duo, which shined with RGIII at quarterback. Wright was an All-American with 108 catches, 1,663 yard and 14 touchdowns. Williams was big time, too, finishing fifth in the Big 12 in receiving before taking over the No. 1 role in 2012.
6. Ryan Broyles and Kenny Stills, Oklahoma (2010):
Broyles led college football with 131 receptions on his way to becoming the all-time FBS leader in career catches. Stills broke OU's freshman single-season receiving record, as the Sooners stormed back to capture the Big 12 crown after a pair of midseason losses.
7. Kerry Meier and Dezmon Briscoe, Kansas (2008):
It might be difficult to remember now, but the Jayhawks used to play some ball. Meier tied Crabtree for second in the league with 97 receptions. Briscoe trailed only Dez Bryant with 1,402 receiving yards. This was an underrated duo.
8. Quincy Morgan and Aaron Lockett, Kansas State (1999):
On one of the first passing teams in the Big 12, Morgan and Lockett shined. Morgan had 42 receptions for 1,007 yards and nine touchdowns and was a first-team all-conference selection. Lockett, Tyler Lockett's uncle, was a second-team all-league pick for the Wildcats, who went 11-1 and finished the year ranked sixth in the polls.
9. Jarrett Hicks and Joel Filani, Texas Tech (2005):
Neither might be a household name around the Big 12 anymore, but these two were both first-team All-Big 12 selections in '05 along with Iowa State WR Todd Blythe.
10. Mark Clayton and Travis Wilson, Oklahoma (2004):
Clayton carried the moniker of best receiver in OU history until Broyles came around. Because of Adrian Peterson, Clayton's numbers dipped in '04, but he was still an All-American with 66 catches. Wilson led the Sooners with 11 TD grabs, as OU advanced to a second consecutive national championship game.
May, 4, 2012
5/04/12
2:30
PM ET
The 2012 NFL draft is over, but it's never too early to look ahead to 2013. I mean, we basically have to, right?
NFL draft guru
Todd McShay released his first-round mock draft
,

and there are plenty of Big 12 talents on the list. You'll need ESPN Insider to see it all, but here's who he pegs as a first-rounder for next year.
No. 3, Minnesota Vikings: Jackson Jeffcoat, DE, Texas
My take:
This is the first of many times you'll see Jeffcoat's name on draft lists. Jeffcoat came to Texas as the nation's No. 1 recruit in the 2009 class, and next offseason will be the first in which he's available for the NFL draft. He's made good on his potential, but struggled with an ankle injury that slowed an otherwise outstanding first season. He was very solid in 2011, but could be poised for a breakout season in 2012 on the national stage. Either way, I'd be shocked if Jeffcoat wasn't a first-rounder whenever he leaves. If he continues to progress, top five is a near certainty.
No. 12, Seattle Seahawks: Terrance Williams, WR, Baylor
My take:
Williams has a lot to prove in 2012. He may have had the quietest 900-yard receiving season in history last season, overshadowed by the Big 12's leading rusher (Terrance Ganaway), leading receiver (Kendall Wright, 1,600+ yards), and Heisman winner Robert Griffin III. Can Williams handle the pressure from defenses as the bona fide No. 1 target for a new quarterback in
Nick Florence
? You have to love Williams' physical attributes, but can he maintain his production? I'm confidently betting yes, but we'll find out next year.
No. 19, Kansas City Chiefs: Landry Jones, QB, Oklahoma
My take:
Jones has plenty to prove, too. When Ryan Broyles went down, Jones struggled. He's back, and coaches love what he's done this spring. If he plays well, I could see Jones reinvigorating his stock and rising into the top 10 or top five. If he struggles again, I'd be shocked if he was a first rounder. Of all the Big 12 talents on this list, I'd say Jones' stock is the most volatile.
No. 25, Cincinnati Bengals: Alex Okafor, DE, Texas
My take:
Love Okafor's game a whole lot, and admittedly, I regret snubbing him from the Big 12's top 25 players in 2011. The thing with him is, his physical attributes don't wow you like his teammate Jeffcoat's does. That said, he's consistently productive, and that says a lot. He has plenty of help in Texas' defense, and the Longhorns defensive line will be scary this year with Jeffcoat, Okafor and juco transfer defensive tackle
Brandon Moore
, who teammates pegged as "unstoppable" this spring.
April, 11, 2012
4/11/12
8:15
AM ET
So, maybe you're not an NFL GM (or maybe you are).
If you're an obsessive fantasy football player (guilty here), you know the tier system well. It's similar to what NFL teams use on draft day, to know when they're getting a player at a value, and when they can afford to wait around. Often, they're broken into position groups.
Our draft guru, Todd McShay,
broke down the tier system for this year's draft
, and placed players in several groups. Here's who landed where from the Big 12:
Tier 1 -- elite prospects
Tier 2 --top 10 quality, but below elite
Tier 3 -- good value in picks 10-20
Tier 4 -- Late first-round value picks
Tier 5 -- Round 2 value picks
Tier 6 -- Mid-to-late second round value
Tier 7 -- Solid third-round picks
April, 2, 2012
4/02/12
4:00
PM ET
AUSTIN, Texas -- Texas has a well-earned reputation as the nation's "DBU," a proverbial factory of NFL defensive backs.
Even so, when three NFL-caliber corners leave a team, like they did at Texas before the 2011 season, doubts will surface.
Can you replace Aaron Williams' versatility? What about Curtis Brown's cover skills and Chykie Brown's knack for being in the right place for the big play at the right time?
[+] Enlarge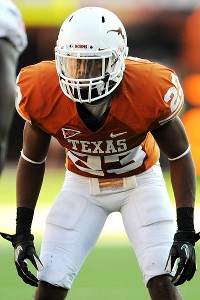 John Albright/Icon SMICarrington Byndom is part of an experienced Texas backfield.
New defensive coordinator Manny Diaz looked down his depth chart and saw a true freshman,
Quandre Diggs
, and a little-used sophomore in
Carrington Byndom
.
By season's end, though, the duo transformed one of the Longhorns' biggest question marks -- and after a 5-7 season in 2010, they had plenty -- into arguably its biggest strength.
"Both of them are both very bright," coach Mack Brown said. "They made an easy transition to the field. Both of them were in very good high school programs."
Diggs showcased his fearlessness early in the spring. He went head-to-head with -- and held his own against -- the team's top and more experienced receivers while he should have been in high school. The contact did not faze the former high school running back.
March, 12, 2012
3/12/12
12:00
PM ET
It's been a long and winding road, but we've finally met the end.
Sitting at the top of our 25 best players in the Big 12 in 2011 should be no surprise. He won the Heisman Trophy as the best player in all of college football, following it up with one of the most memorable speeches in Heisman history.
Without further ado, time to crown the best player of 2011.

No. 1: Robert Griffin III, QB, Baylor
2011 numbers:
Completed 291-of-402 passes (72.4 percent) for 4,293 yards, 37 touchdowns and six interceptions. Ran for 699 yards and 10 touchdowns on 179 carries. Also caught one pass for 15 yards.
Most recent ranking:
Griffin was ranked No. 5 in
our preseason list of the top 25 players
, but grabbed the
No. 1 spot in the midseason ranking of the Big 12's top 25 players
.
Making the case for Griffin:
No quarterback accounted for more of his team's offense than Griffin, who produced 65.4 percent of Baylor's yardage. That's especially impressive considering the Bears' offense ranked No. 2 nationally in total offense. Every time Baylor needed a big play, Griffin provided it.
Need to convert a tough third down on a game-winning drive against TCU? Griffin will catch a pass in the middle of the defense and take a beating, get his wind knocked out and stay on the field.
Need to erase a three-touchdown, fourth-quarter deficit against KU? Griffin will break a long run and throw two touchdowns to force overtime, where, yes, he'll win the game there.
Need to go 80 yards in less than a minute to beat Oklahoma for the first time in school history? Griffin will scramble for almost 30 yards and throw a 34-yard game-winning touchdown pass with seconds remaining.
That doesn't even tell the full story of what Griffin means to the Baylor program he'll leave behind after this season. He changed the game and paved the way for others at Baylor. He restored some faith in the Heisman, proving that the award is a lot more than a figurative honor for the best player on the best team in college football. The best player in the game really does still win, even if his team has three losses.
Griffin's best attribute, though, may be his fierce loyalty to teammates and an unshakeable confidence which was strong and infectious. Griffin believed in his teammates. He knew what they were capable of doing. Time and time again, they proved him right, from his beefy, physical offensive line to Big 12 rushing champ
Terrance Ganaway
to receiving champ
Kendall Wright
.
The result was a historic season that made it easy to forget the difficult decade-plus in the Big 12 B.G. (Before Griffin). His arrival signified greater days were ahead. Now that he's gone, will they continue? That's the big question at Baylor, but a bowl win, a 10-win season and a Heisman Trophy assure that Griffin's time in Waco will never, ever be forgotten by the green and gold.
The rest of the list:
March, 8, 2012
3/08/12
12:00
PM ET
Mel Kiper Jr. and Todd McShay dropped their latest mock drafts on us this week with the combine behind us and the draft coming quickly approaching us next month.
You'll need ESPN Insider to see them both (
here's Kiper Jr.
) (
here's McShay
), but here's a look at what they had to say.
McShay writes:
February, 14, 2012
2/14/12
10:30
AM ET
We're continuing our look at the postseason rankings for each position in the Big 12. Here's a look back at
where the receivers ranked in the preseason
.
In this position, unlike quarterback, depth is a major, major factor in these rankings.
More postseason position rankings:
[+] Enlarge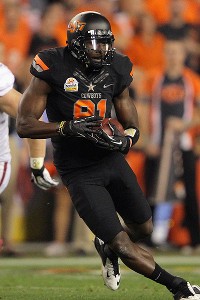 Doug Pensinger/Getty ImagesJustin Blackmon highlighted Oklahoma State's deep group of receivers this season.
1. Oklahoma State:
The Cowboys boasted two-time Biletnikoff winner
Justin Blackmon
, but he wasn't the only weapon. The Cowboys had nine (!) receivers with at least 19 catches and 200 yards receiving this season. Insane. Life is good with
Brandon Weeden
at quarterback.
2. Baylor:
Kendall Wright
actually outperformed Blackmon and
Ryan Broyles
on the stat sheet, catching 108 balls for 1,663 yards. The Bears didn't have the insane depth of OSU, but the trio of Wright,
Terrance Williams
(59 rec, 957 yards, 11 TDs) and
Tevin Reese
(51 rec, 877 yards, 7 TDs) were all in the Big 12's top seven receivers.
3. Texas A&M:
Ryan Swope
emerged to become one of just four Big 12 receivers to notch 1,000-yard seasons.
Jeff Fuller
's season was disappointing, but he still finished eighth in the league in receiving, and
Uzoma Nwachukwu
was in the league's top 15 in receiving.
4. Oklahoma:
The Sooners weren't quite as solid as they thought to begin the season. Broyles was as advertised, though his Biletnikoff-contending season was cut short by a torn ACL. The unit was productive, but came down with the drops late in the season. Broyles and
Kenny Stills
were both in the league's top seven in receiving, and
Jaz Reynolds
caught 41 passes for 715 yards to crack the top 10.
5. Texas Tech:
Tech's top target,
Darrin Moore
, battled injuries all year, but
Eric Ward
emerged as the team's most consistent target, catching 84 passes for 800 yards and 11 scores.
Alex Torres
missed two games, but added 616 more yards.
6. Missouri:
The Tigers' receivers had their production dip with a dual-threat passer in
James Franklin
who ran the ball more than his predecessor, but they were still pretty good, despite lacking a true big-time threat.
T.J. Moe
caught 54 passes for 649 yards and four scores. Tight end
Michael Egnew
added 50 grabs for 523 yards and three scores.
L'Damian Washington
,
Marcus Lucas
and
Wes Kemp
had unremarkable individual seasons, but their production added up to a good year for Mizzou's receivers.
7. Kansas State:
Kansas State was better than most thought to begin the season, but the ground-based offense limited their receivers' ability to finish with big production.
Chris Harper
(40 rec, 547 yards, 5 TDs) led the group.
Tramaine Thompson
and
Tyler Lockett
showed some good promise, too.
8. Texas:
The Longhorns could get really good, really fast at this spot. The uncertainty/struggles at quarterback limited this group, but
Jaxon Shipley
and
Mike Davis
could both mature into absolute stars. For now, though, they didn't quite crack the top 15 in the Big 12 in receiving. Both topped 40 catches and 600 receiving yards.
9. Iowa State:
Darius Reynolds
' size downfield will be missed, but
Aaron Horne
and
Josh Lenz
are tough covers working the middle of the field. Reynolds caught seven touchdowns, and Horne and Lenz both topped 38 catches.
10. Kansas:
Yikes. The Jayhawks didn't have a receiver in the league's top 20, but
D.J. Beshears
led the team with 40 grabs for 437 yards and three touchdowns. He was the only Jayhawk in the Big 12's top 32 in receiving.
January, 19, 2012
1/19/12
11:00
AM ET
We're marching along in our recap of 2011 here on the blog, and today it's time to look back on the most improved players of 2011.
Here's a few other posts you might want to check out:
In no particular order, here are the players who showed the most growth during 2011 or from 2010 to 2011.
Frank Alexander, DE, Oklahoma:
The physical tools had always been there for Alexander, but he'd never quite progressed into what he looked like he could be as a freshman in 2008. Until this year, that is. Alexander was a monster all season, leading the Big 12 in tackles for loss (19) and finishing second in sacks (8.5) to win defensive player of the year honors.
Collin Klein, QB, Kansas State:
Nobody knew exactly what to expect from Klein this season, but he exceeded anyone's expectations on the ground, and developed into a serviceable passer by season's end. That growth should only continue into 2012. He ran for more than 1,000 yards and tied the Big 12 single-season record with 27 touchdowns, which also tied an FBS record for quarterbacks.
Carrington Byndom, CB, Texas:
Byndom was a huge question mark when the season began, but by December, he'd developed into arguably the league's best shutdown corner. Players like that don't often put up big stats, but ask around the league's receivers about Byndom and look at how many big plays the Longhorns gave up. Both are testaments to Byndom's talents.
Kendall Wright, WR, Baylor:
Wright, like Alexander, was a good player who became truly elite in 2011. Wright, believe it or not, had never enjoyed a 1,000-yard receiving season before 2011, even though he'd led the Bears in receiving in the three previous seasons. But who led the Big 12 in receiving this year? It wasn't Biletnikoff winner
Justin Blackmon
. It wasn't
Ryan Broyles
. It was Wright, with 1,663 yards and 17 scores. Insane.
Robert Griffin III
is the biggest reason for Baylor's rise, but Wright is a much closer second than most realize.
Texas' offensive line:
Tough to pick one guy out of this group, which was dreadful last year but was a big part of Texas' moderate rebound this year. Stacy Searels coaches the unit, which ranked third in the Big 12 in rushing offense this season.
Ryan Swope, WR, Texas A&M:
Jeff Fuller
earned the headlines at Texas A&M this year, but Swope was the man for the Aggies. He actually had the same number of catches as Fuller in 2010, but had almost 250 fewer yards and eight fewer scores. Fuller battled injuries this year, but Swope caught 89 balls for 1,207 yards and 11 touchdowns, far surpassing the future NFL receiver's output.
Leonard Johnson, CB, Iowa State:
Johnson, like Byndom, didn't quite get the press of other cornerbacks in the Big 12 like
Brodrick Brown
,
E.J. Gaines
or
Justin Gilbert
who broke up tons of passes and intercepted lots of others, but he quietly earned a reputation as one of the league's premier lockdown defenders.
James Franklin, QB, Missouri:
Franklin looked shaky in a season-opening win over Miami (Ohio), throwing for just 129 yards and looking generally unimpressive. He wouldn't have another game like that the rest of the year. He topped 285 yards passing in four games this season and was sixth in the Big 12 in total offense, throwing for 2,872 yards as a first-year starter, and equaling the eight wins produced by Chase Daniel and Blaine Gabbert in their first years as starters.
January, 18, 2012
1/18/12
1:30
PM ET
We took a
look at the best atmospheres on Tuesday
, and today, it's time to rank the top 10 games involving Big 12 teams of 2011.
1. Kansas State 53, Texas A&M 50 (4 OT):
Kansas State erased a double-digit lead in the final half of the fourth quarter to force overtime.
Collin Klein
burrowed into the end zone on a quarterback sneak to earn a huge win and a memorable night in Manhattan.
2. Baylor 50, TCU 48:
The first game of the entire season for the Big 12 began in style.
Robert Griffin III
began his Heisman campaign with five touchdown passes, but the Bears blew a 47-23 lead in just over 11 minutes, giving up 25 fourth-quarter points. Griffin, though, hauled in his only catch of the season to extend a game-winning drive on third down, and
Aaron Jones
booted a 37-yard game winner with just over a minute left, cueing the Baylor fans to storm the field after a game-clinching interception.
3. Oklahoma State 41, Stanford 38 (OT):
This was what we thought it was. Neither defense could stop the opposing offense, and Oklahoma State converted a fourth down from
Brandon Weeden
to
Justin Blackmon
to extend the game and take the lead, but Stanford drove back down the field and missed a 35-yard field goal as time expired. It missed another kick in overtime, and OSU kicked a game-winning field goal after
Colton Chelf
's game-winning touchdown was overturned to just a 24-yard gain.
4. Baylor 45, Oklahoma 38:
This gave way to the signature moment of Robert Griffin III's Heisman campaign, and it wasn't the 87-yard touchdown pass to
Kendall Wright
off
Tevin Reese
's helmet. The teams traded second-half leads and Oklahoma erased a 14-point, fourth-quarter lead before Griffin extended a play and hit
Terrance Williams
for a 34-yard, game-winning touchdown pass with eight seconds left.
5. Iowa State 37, Oklahoma State 31 (2 OT):
This game made our top 10 moments of 2011, too. The Cowboys lost a 24-7 second-half lead and missed a game-winning field goal. Brandon Weeden threw an interception in the second overtime and
Jeff Woody
set off the biggest party in Ames in a long while with his game-winning, four-yard touchdown run in the second overtime.
6. Texas 27, Texas A&M 25:
The Aggies led 10-0 and 16-7, but once again, it didn't matter.
Jeff Fuller
gave the Aggies back the lead with a big 16-yard touchdown with 1:48 to play. The two-point conversion failed, though, and
Case McCoy
got free for a 25-yard scramble that set up a 40-yard, game-winning field goal by
Justin Tucker
as time expired to give the Longhorns bragging rights in the heated rivalry for as long as they want, perhaps forever. The two teams aren't scheduled to meet again after A&M leaves for the SEC.
7. Oklahoma State 52, Kansas State 45:
OSU fell behind 24-14 early after a pick six by Weeden, putting the undefeated season in doubt. The teams traded three touchdowns in just under two minutes, and
Joseph Randle
's 23-yard run gave OSU the lead for good with 3:16 to play, making it four touchdowns in three minutes. Kansas State drove to tie the game and possibly win it with a two-point conversion, but two Collin Klein passes fell incomplete, and OSU survived to move to 9-0.
8. Baylor 31, Kansas 30 (OT):
This game wasn't televised, but it was quietly a classic. Baylor struggled to stop the run, and trailed 24-3 in the fourth quarter before RG3 broke a 49-yard run and hit on two long touchdown passes to tie the game. The two teams traded touchdowns in overtime, but Kansas failed to convert a game-winning two-point conversion, and Turner Gill's guts went unrewarded. Kansas also went without a win in conference play. Baylor loses this game, and RG3 doesn't win the Heisman.
9. Missouri 31, Texas Tech 27:
This is a sneaky pick for our top 10 list. Texas Tech jumped out to a 14-0 lead, and Missouri trailed by 10 in the fourth quarter, but
James Franklin
threw one touchdown pass and ran for another to take the lead. Texas Tech drove inside the Missouri 10-yard line in the final minute, but a tipped
Seth Doege
pass was intercepted to give Mizzou a dramatic win.
10. Missouri 38, Texas A&M 31 (OT):
The SEC bowl helped bury Texas A&M's season and spark Missouri's. The Tigers trailed by 14 early and 11 points at half before taking the lead in the fourth quarter.
Randy Bullock
tied the game with a field goal in the final minutes to force overtime. James Franklin hit
Marcus Lucas
for an 11-yard score and
Ryan Tannehill
's final pass was batted down as Missouri stormed the field and celebrated the end of their three-game losing streak. The Tigers would win four of their final five games, and that bounced Mizzou to 4-4 instead of 3-5. That loss for then-No. 16 Texas A&M keyed off four in the final five regular-season games, including two in overtime (K-State, Mizzou) and another as time expired (Texas).
Honorable mention:
Kansas State 28, Miami 24; Baylor 67, Washington 56; Iowa State 44, Iowa 41 (3 OT); Texas 17, BYU 16; Arkansas 42, Texas A&M 38; Oklahoma State 30, Texas A&M 29.
January, 10, 2012
1/10/12
3:23
PM ET
With the season over, it's time to take a look at the Big 12 in 2012. For now, that means assuming a few things. And we all know what assuming does.
It makes us all look like geniuses.

So, for the purpose of this, I'll assume a few predictions. First, I'll assume
Robert Griffin III
is heading for the NFL. I'll also assume Mike Stoops lands back at Oklahoma.
That said, it's time to project what this league looks like in 2012.
And, before we start, let me make this clear: The Big 12 from 1-6 is absolutely wide open. Last year, the league only had three legitimate title contenders: Oklahoma, Texas A&M and Oklahoma State. This year, every one of the top six teams (and maybe seven, if RG3 returns) can win the Big 12 in a realistic scenario. The difference between Nos. 2 and 6 is minuscule and could change a ton by the end of spring practice.
And for the curious: I would have Missouri behind Kansas State on this list, and I'd have Texas A&M right behind Texas.
1. Oklahoma:
The Sooners moved into the familiar role of favorite after
Landry Jones
announced he'd return in 2012, but not nearly as heavy a favorite as they were in 2011. Injuries hurt Oklahoma late this season, and replacing Big 12 Defensive Player of the Year Frank Alexander, along with linebacker Travis Lewis and corner Jamell Fleming won't be easy. Receivers
Kenny Stills
and
Jaz Reynolds
have to play big for the Sooners to get the win.
December, 26, 2011
12/26/11
2:00
PM ET
Time to dish out a few predictions for the Big 12's non-BCS bowls.
I notched perfection in the season's final weekend, but bowl picks are always tough.
For the curious, here's
how I've done predicting each team's games this year
. You guys gave me a solid B. I'll take it.
Last week:
3-0
Overall:
57-18 (.760)
Today
Missouri 34, North Carolina 28:
The Tigers match up pretty well with UNC, and take care of business with a solid performance from
James Franklin
, who tops 125 yards rushing and throws for 225, accounting for four touchdowns. The Tigers head to the SEC on the right note.
Dec. 28
No. 24 Texas 20, California 17:
The Longhorns suffocate another offense in this one, quieting
Keenan Allen
and
Zach Maynard
. Texas has seen better offenses and played well. They take care of business out in San Diego to notch a Holiday Bowl win. A healthy backfield of
Malcolm Brown
and
Joe Bergeron
get back down to business and build toward a big sophomore year.
Dec. 29
No. 12 Baylor 47, Washington 31:
RG3 doesn't give many clues as to his future plans, but he looks the part of an NFL quarterback in this one, sending
Kendall Wright
into the NFL with a big day. We expected plenty of offense in this one, and both teams delivered.
Chris Polk
racks up big yardage on a suspect Baylor defense, but the Bears pull away late.
Dec. 30
Iowa State 24, Rutgers 21:
Doubt Paul Rhoads' teams in bowl games at your own risk. They say the team that wants to be in bowl games the most wins them, and games like these are huge for the Cyclones. They'll be ready to go against a mediocre Rutgers team. It should be interesting to see what
Jared Barnett
looks like with a month to prepare, and I'm betting he looks pretty good.
No. 14 Oklahoma 23, Iowa 21:
On the flip side of the "Bet who wants to be here more" coin is Oklahoma, whose trip to the Insight Bowl is far from what they'd hoped in a season that began with national title hopes. The Sooners are banged up and dealing with player exits, but they're still significantly better than Iowa. We see a pretty lackluster performance from the Sooners, but they survive. Iowa is, after all, a team that lost to Iowa State, Minnesota and Penn State, and is playing without its top two running backs.
Dec. 31
Texas A&M 31, Northwestern 21:
The Aggies are shaken up, too, with one coach (Mike Sherman) fired and its interim coach (Tim DeRuyter) getting ready to take over at Fresno State. The Aggies talent takes over in this one, and
Cyrus Gray
is expected to return. The Wildcats rebounded later in the season to reach a bowl game, but have only one quality win all season: Nebraska. Texas A&M's talent takes over this big lead is safe.
Jan. 6
No. 6 Arkansas 24, No. 8 Kansas State 23:
This could be a classic. The Wildcats win the time of possession game (they always do. K-State ranks fourth nationally in the stat) and suffocates Arkansas' offense, which has struggled running the ball all year, ranking ninth in the SEC. K-State finally loses a close game, though, and like the loss to Oklahoma State, a late drive comes up short. A strong performance from the defense though, and K-State enters 2012 as one of the Big 12 favorites.
December, 20, 2011
12/20/11
2:00
PM ET
So, the season gets, you know, kind of crazy. It's unrelenting, and recruiting plummets in priority. Thus, we haven't had a recruiting update since before the season.
Time to update.
Signing Day is less than two months away, and here's where each Big 12 team sits as we hit the recruiting home stretch before the big day in February.
All commit totals, rankings and stars via ESPN Recruiting, which
updated its national recruiting rankings this week
.

1. Texas Longhorns
National ranking:
No. 1
Total commits:
25
ESPNU 150 commits:
10
Key commits
: RB
Johnathan Gray
, DT
Malcom Brown
, WR
Cayleb Jones
, QB
Connor Brewer
Class notes:
Four of Texas' top five commits are skill position players, a huge need for the Longhorns. They're one of a handful of schools still chasing one of the nation's top recruits, too, receiver Dorial Green-Beckham. Gray will come to Texas as the Gatorade National Player of the Year. Texas also has two juco transfers coming next year, OT Donald Hawkins and DT Brandon Moore, a rarity for the Longhorns.
December, 14, 2011
12/14/11
7:40
AM ET
The season has come and gone, and
brought with it an All-Big 12 team
. But where do these guys come from? How easy is it for a no-name recruit to earn all-conference first-team honors?
Let's take a look at the All-Big 12 offense and see who surprises us.
You'll need ESPN Insider

to see each player's recruiting page from back in the day, but I excerpted a bit of what the scouts had to say about each player coming out of high school.
OFFENSE
QB:
Robert Griffin III
, Baylor
Griffin was infamously recruited as an "athlete" by top programs like Texas that may have moved him to safety or receiver. Scouts graded him as a 77 and the No. 40 quarterback. He committed to Houston before following coach Art Briles to Houston. One interesting note: He only threw for 1,734 yards as a high school senior. Development much? Scouts take: Griffin is a wonderful athlete with great size, solid arm strength and the ability to move to wide receiver if he doesn't remain at quarterback in college. He is long-legged, well built and is a smooth athlete. He's at his best when he is out of the pocket and can improvise. He will create when things break down and he shows very good presence to avoid the rush, use his feet to get on the perimeter and throw on the move.
All-purpose:
Collin Klein
, QB, Kansas State
Klein was graded as a 75 by ESPNRecruiting and the nation's No. 60 quarterback. He picked K-State over Colorado State, Utah and Air Force. Scouts take: Klein has prototypical size and a powerful arm. What you don't expect is how athletic he is and while he is a pocket passer, if he gets on the move, he can build momentum and create a few plays here and there with his legs. He can be unorhtodox in his delivery and mechanics can be inconsistent, but he is very productive and has a lot of physical tools to mold at the next level.
RB:
Terrance Ganaway
, Baylor
Ganaway played at Houston before transferring from junior college to Baylor. He was graded at the minimum grade of 45 and wasn't ranked by ESPN coming out of high school or junior college.
RB:
Henry Josey
, Missouri
Josey was a two-star recruit and the nation's No. 258-ranked athlete. He was also recruited by Baylor, TCU and UTEP. Scouts take: Josey flashes playmaker skills on both sides of the ball at the high school level and may get recruited on either side of the ball in college. We feel he is a bit of an overachiever and his weaknesses may get exposed at the major college level, but we like his foot-speed, quickness and overall savvy as a potential hybrid safety/Bandit type or change-of-pace back on offense.
FB:
Trey Millard
, Oklahoma
Millard was a three-star prospect and the nation's No. 59 athlete in the 2010 class. He graded out at 78, and was also recruited by Syracuse, Iowa, South Carolina and Tennessee. Scouts take: Millard is a thick inside linebacker prospect with good mobility and downhill burst between the tackles. We like his athleticism as a future tight end or H-back as well. Has a large upper-body and overall frame. Carries his weight well and has above average lateral agility for a defender with his thickness.
WR:
Kendall Wright
, Baylor
Wright was No. 118 in the 2008 ESPNU 150 and was the nation's No. 12 athlete. He was also recruited by Arkansas, Nebraska, Oklahoma and Texas A&M. Scouts take: Wright is an athlete playing quarterback who belongs at either wide receiver or at cornerback at the next level. He is an athlete with great speed and acceleration. He is at quarterback because he is a playmaker and is very difficult to handle in the open field. With the ball in his hands, he has running back-type skills. (My take: Hey, remember this?)
WR:
Justin Blackmon
, Oklahoma State
Blackmon was the nation's No. 139 receiver and was also recruited by Colorado and Missouri, grading out at a 74. Scouts take: Blackmon is a smooth-looking, natural receiver prospect with well-rounded tools at the position. A potential sleeper at this time. He is tall, rangy and layered with good muscle tone. Shows great downfield, big-catch ability with his good size, hands and large catch radius. Displays very good concentration tracking the ball in tight coverage and plucks the ball smoothly in stride.
WR:
Ryan Broyles
, Oklahoma
Broyles was the No. 58 receiver and graded out at a 77. He committed to Oklahoma State before switching to OU just before signing his letter of intent. He was also recruited by Arkansas, South Carolina and Tennessee. Scouts take: This versatile athlete excels as both a cornerback and wide receiver but appears to be more of a playmaker on the offensive side of the ball at this stage. Broyles is a lean, sleek athlete who is very shifty and fluid in his movements. He has excellent straight-line speed and acceleration. He is a threat to turn a short gain into a big play but is also a vertical threat who plays bigger than his size. Has very good hands.
TE:
Michael Egnew
, Missouri
Egnew was a two-star recruit who graded out at 40 and wasn't ranked. He was also recruited by Purdue and TCU.
C:
Grant Garner, Oklahoma State
Garner was the No. 20 center in the 2007 class and graded out at 72. He was also recruited by Iowa State and Vanderbilt. Scouts take: Garner is a good center prospect but will need to add bulk to his frame. He is going to need some time to properly get up into that 280-290 lbs. range. He looks to have a strong quick snap and can also adequately handle shotgun responsibilities. Once he snaps the ball, he does a good job of bringing his off hand and making good contact.
OL:
Kelechi Osemele, Iowa State
Osemele graded out at 68 and was the nation's No. 149 offensive tackle in the 2007 class. He was also recruited by Arkansas, Houston and TCU. Scouts take: Osemele is a good sized prospect that can deliver a good initial blow. He gets good hand placement and displays the ability to get into a defender and push him off the line of scrimmage in the run game. He needs to work on his initial footwork coming out of his stance.
OL:
Levy Adcock, Oklahoma State
Adcock was a junior college recruit and not scouted by ESPN.
OL:
Gabe Ikard, Oklahoma
Ikard was the nation's No. 19 tight end and graded out at 78. He was also recruited by Notre Dame, Stanford and Oklahoma State. Scouts take: Ikard is a good football player and it is tough not to like him. He comes across as a smart, hard working, and productive player. He plays both defensive end and tight end in high school and is a legitimate recruit on both sides of the ball. He is a sound defensive end prospect.
OL:
Luke Joeckel, Texas A&M
Joeckel was No. 83 in the 2010 ESPNU 150 and was a four-star recruit. He was ranked as the nation's No. 6 offensive tackle prospect. He was also recruited by Nebraska, LSU, Oklahoma and Oklahoma State. Scouts take: Joeckel is a dominant offensive lineman. He has great size and is an intimidating force on the field. Exceptional run blocker that completely engulfs smaller defensive lineman. Has a real nasty streak and finishes his run blocks on a consistent basis. Does a great job of getting his hands into the frame of the defensive lineman and locks on like vice grips. Drives feet after initial contact and often puts defender into the turf due to his aggressiveness in finishing the block.
Fascinating stuff here. I enjoyed looking these guys up. The two most highly recruited players on the All-Big 12 team? Kendall Wright and Luke Joeckel. Shocking stuff.
December, 9, 2011
12/09/11
10:01
AM ET
Editor's Note: Tune into the "AT&T ESPN All America Team Show" on Saturday (ABC, 1:30 p.m. ET) to see who ESPN's writers and experts selected.
It's been a fun season across the Big 12, with a few big names who didn't play as well as we thought, and lots of unknowns who became household names by the end of the season.
I'll offer my comments below, but here's our All-Big 12 team for 2011.
OFFENSE
[+] Enlarge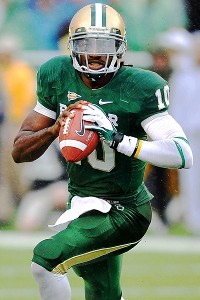 Jerome Miron/US PresswireThe heroics of Robert Griffin III got Baylor to 9-3 and made him a Heisman Trophy finalist.
QB:
Robert Griffin III
, Baylor
All-purpose:
Collin Klein
, QB, Kansas State
RB:
Terrance Ganaway
, Baylor
RB:
Henry Josey
, Missouri
FB:
Trey Millard
, Oklahoma
WR:
Kendall Wright
, Baylor
WR:
Justin Blackmon
, Oklahoma State
WR:
Ryan Broyles
, Oklahoma
TE:
Michael Egnew
, Missouri
C:
Grant Garner, Oklahoma State
OL:
Kelechi Osemele, Iowa State
OL:
Levy Adcock, Oklahoma State
OL:
Gabe Ikard, Oklahoma
OL:
Luke Joeckel, Texas A&M
DEFENSE
DE:
Frank Alexander, Oklahoma
DT:
Dominique Hamilton, Missouri
DE:
Alex Okafor, Texas
DE:
Jamie Blatnick, Oklahoma State
LB:
Sean Porter, Texas A&M
LB:
Jake Knott, Iowa State
LB:
Emmanuel Acho, Texas
NB:
Tony Jefferson, Oklahoma
CB:
Nigel Malone, Kansas State
CB:
Carrington Byndom, Texas
S:
Kenny Vaccaro, Texas
S:
Markelle Martin, Oklahoma State
SPECIALISTS
P:
Quinn Sharp, Oklahoma State
PK:
Randy Bullock, Texas A&M
PR:
Dustin Harris, Texas A&M
KR:
Tyler Lockett, Kansas State
Finally, a few notes and explanations:
I loved the media's idea to craft an all-purpose spot to accomodate Collin Klein. The Big Ten did the same for Michigan's Denard Robinson last season. I followed suit, and did so on the defensive side of the ball with a nickel-back spot for Oklahoma's Tony Jefferson. Two players that missed first-team designation by the coaches, but clearly deserve to be recognized.

Additionally, I prefer the teams to reflect the Big 12 style of play, so the nickel back fits. Each team doesn't have 11 players, but there were deserving linebackers. The same with Egnew and Millard. Does every team use a fullback or a tight end? No, but both are standout performers. They'd rotate in anyway, just as Jefferson would in a theoretical package.

Tough call to leave Philip Blake from Baylor off my team, but Garner's been better. Blake is very, very close, though.

Hated to leave off Brodrick Brown and E.J. Gaines, but I went with a more traditional two corners and two safeties, rather than four corners like the media's team.

Steven Johnson and Arthur Brown would have been right behind my three linebackers. That race was probably closer than at any other position, except maybe cornerback. Difficult to leave either of those guys off my first team, but the three on the team were better. I gave Brown my Newcomer of the Year nod, though.

I don't like going with three defensive ends and one defensive tackle, but there wasn't a defensive tackle who deserved the honor more than Okafor, my third defensive end. Okafor was a defensive tackle last year anyway, so that's close enough, right? He moved from tackle to end before spring practice earlier this year. In the Big 12, an additional pass rusher is necessary, too, right?

I made a similar move with my offensive line. Went tackle-heavy, but the guards didn't have quite as many standouts.
Sources: Mack Brown Set To Resign