Texas Longhorns:

Kansas Jayhawks
March, 19, 2013
Mar 19
11:00
AM CT
With No. 3 overall prospect
Julius Randle
committing to Kentucky on Wednesday, we've decided to take one last look at his game to see what he will offer his team at the next level.
The 6-foot-9, 225-pounder was named a
McDonald's All American
and selected to play in the
Jordan Brand Classic
. Randle recently led his Dallas Prestonwood Christian squad to its second consecutive state crown despite missing the bulk of the season with a foot injury.
Here's a final breakdown of Julius Randle's game.
To continue reading this article you must be an Insider
January, 19, 2013
Jan 19
5:59
PM CT
AUSTIN, Texas -- For Kansas, it is supposed to be easier than this.
At least it has been a lot easier for much of the season. The Jayhawks, riding a 14-game win streak, a No. 4 ranking, one of the top freshmen in the country in
Ben McLemore
and a scoring margin of 17.4, are supposed to walk over and away with a win against a team that has lost three straight and was beaten by Chaminade.
It didn't quite play out that way Saturday in Austin.
"It was muddy track all day, and there was no rhythm," said Kansas coach Bill Self.
Sometimes thoroughbreds have issues getting dirty. Kansas (16-1, 4-0 Big 12) finally found its footing, overcoming an 11-point second-half deficit and pulled ahead at the wire for a
64-59
win in front of 11,537 fans at the Frank Erwin Center.
[+] Enlarge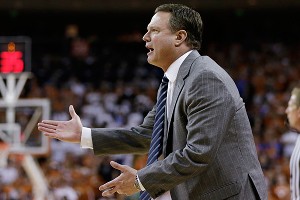 AP Photo/Eric GaySaturday at Texas was frustrating for Bill Self and Kansas, but the Jayhawks found a way to win.
"We looked like a bunch of inexperienced kids off the playground playing through that bad stretch," Self said. "We turned the ball over just by kicking it to them."
Eventually, it was Texas (8-9, 0-4) kicking itself. It's a familiar action for the Longhorns, as they have twice lost in overtime in the Big 12 and blew an eight-point lead in the final minutes against UCLA this season.
"We get relaxed a lot when we have the lead," said Texas'
Sheldon McClellan
. "We feel like we can do things we are not supposed to do and it won't hurt us, but in the end it does."
"It's the same old record," said Texas coach Rick Barnes. "We do a lot of things well, but we don't win because we don't consistently do it when the game is on the line."
So the line on Texas remains the same: No matter the lead, the youthful Longhorns will do what it takes to let an opponent take over the game. As for the line on Kansas, it also remains the same: No matter what happens, KU has the poise, confidence and maturity to overcome adversity.
Since the Michigan State loss on Nov. 13, Kansas has outscored its opponents 48-24 in the final five minutes of games that are within five points.
"We know what to expect, and we are a mature team," said KU center
Jeff Withey
. "We took the blows and punched back."
The counterpunching was primarily done by McLemore. The freshman was held to three shot attempts in the first half. He turned it on in the second and finished with a team-high 16 points.
"I was trying to get myself more involved in the game," McLemore said of the second half.
That didn't really happen until the final 10 minutes. For the first 10 minutes of the second half, Kansas was, well, "miserable," Self said.
The Jayhawks turned the ball over four straight times, allowing Texas to go on a 12-0 run and take a 42-31 lead with 15:21 remaining.
"They started pressuring a little bit, and we got a little nervous. And we had to play through it, and that is what we did," McLemore said. "Coach told us to be more aggressive, and that is what we did. We started getting stops and making our run."
As for the run Texas is on, this is the worst start to the conference in Barnes' 15 years. The team littered with only freshman and sophomore scholarship players is in all likelihood about to miss the NCAA tournament for the first time in the Barnes era.
"I know this -- that my job is continue to coach, test guys to get them better," Barnes said. "I expect them to get better. There is too much time left for this [season to be] disappointing. I could say we are five possessions from being 13-4, but the fact is we're not. We are who we are."
That is a team that cannot handle the maturity or skill of Kansas, no matter how easy the Jayhawks try to make it.
March, 5, 2012
3/05/12
1:15
PM CT
The Big 12 tournament is in Kansas City this week. Here's hoping for a rubber match between Kansas and Missouri in Saturday's championship game at the Sprint Center. Of course, getting to the title game won't be easy for either team. Here are this season's final Big 12 Power Rankings.
Kansas - The Jayhawks have now won eight straight league titles, which is the most by a team from a power conference since John Wooden's UCLA Bruins won 13 in a row from 1967-79.
Missouri - Frank Haith appears to have been an excellent hire for the Tigers, who are hoping to become the first team in school history to reach the Final Four. It's certainly doable with this group.
Iowa State - Saturday's victory over Baylor at Hilton Coliseum forced a tie between the Cyclones and Bears for third place in the Big 12 standings. The Cyclones will be the No. 3 seed in the Big 12 tournament. Baylor will be No. 4
Baylor - Scott Drew's squad will face Kansas State in the quarterfinals of this week's Big 12 tournament. The teams split the season series, with the games being decided by a combined two points. Pierre Jackson had 35 points at Iowa State Wednesday.
Kansas State - The Wildcats have won four of their last five games and are a lock to make the NCAA tournament. They could greatly improve their seed, however, by defeating Baylor in Thursday's semifinals.
Texas - With a 19-12 overall record and a 9-9 mark in the Big 12, the Longhorns are still on the NCAA tournament bubble. A victory over Iowa State in Thursday's semifinals would certainly enhance their résumé. Two wins this week would secure a bid.
Oklahoma State - The Cowboys have lost six of their last eight games, but they open Big 12 tournament play Wednesday night against Texas Tech, the Big 12's worst team. Keiton Page is averaging 27 points in his last five games.
Oklahoma - Wednesday's game against Texas A&M will mark the second time these teams have played in less than a week. The Sooners defeated the Aggies 65-62 in the regular-season finale Saturday in Norman, Okla.
Texas A&M - The Aggies have lost nine of their last 10 games, and six of those defeats have come by single digits. Khris Middleton has scored in double figures in four of his last five games.
Texas Tech - The Red Raiders' only Big 12 win came on Feb. 11 against Oklahoma. Billy Gillispie's squad is improving, though, and could threaten to upset an Oklahoma State team that will be without star freshman Le'Bryan Nash.
February, 19, 2012
2/19/12
1:00
PM CT
By
ESPN.com staff
| ESPN.com
Here's an abbreviated rundown of Joe Lunardi's Bracketology outlook after Saturday's games. Come back to ESPN.com on Monday morning for Joe's complete bracket.

TOP SEED PAIRINGS
EAST/Syracuse vs. WEST/Kansas (1 vs. 4)
SOUTH/Kentucky vs. MIDWEST/Missouri (2 vs. 3)

CONFERENCE BREAKDOWN (projected bids in parentheses)
Big East (9)
Big Ten (7)
Big 12 (6)
ACC (5)
SEC (5)
Atlantic 10 (3)
Mountain West (3)
Pac-12 (3)
West Coast (3)
Conference USA (2)
Missouri Valley (2)

BUBBLE BREAKDOWN (with odds to remain in field)

Last Four In
Seton Hall (55 percent)
Miami (Fla.) (50 percent)
Texas (50 percent)
Northwestern (40 percent)

First Four Out
NC State (45 percent)
Central Florida (30 percent)
Colorado State (30 percent)
Minnesota (30 percent)

Next Four Out
Oregon (30 percent)
Saint Joseph's (25 percent)
VCU (25 percent)
Illinois (30 percent)
February, 13, 2012
2/13/12
5:00
PM CT
The race for the Big 12 title appears to be a two-team affair between Missouri and Kansas. The rest of the league, however, is in a state of flux. Here are this week's power rankings:
1. Missouri:
Aided by Oklahoma's porous free throw shooting, the Tigers escaped Norman with a three-point victory last week before dismantling Baylor at home Saturday. On Wednesday they get to avenge last month's loss to Oklahoma State when they take on the Cowboys in Columbia.
Marcus Denmon
has made 14 of his previous 26 attempts from 3-point range.

2. Kansas:
The Jayhawks looked like a totally different team last week thanks to the emergence of
Jeff Withey
. The 7-foot center scored a career-high 25 points in Wednesday's win at Baylor before erupting for 18 points, 20 rebounds and seven blocks Saturday against Oklahoma State. Kansas travels to Manhattan to play Kansas State on Big Monday. Bill Self's squad defeated the Wildcats by 18 points on Jan. 4. Expect a closer game on the road.
February, 6, 2012
2/06/12
2:00
PM CT
Here are this week's Big 12 power rankings:
1. Missouri:
The Tigers have played the two toughest teams in the league (Kansas and Baylor) and defeated them both. Guard
Marcus Denmon
had made just five of his previous 31 attempts from 3-point range before going 6-for-9 from beyond the arc in Saturday's win against Kansas.

2. Kansas:
The Jayhawks blew an eight-point lead with just more than 2 minutes remaining in Saturday's loss at Missouri, but with Baylor up next on Wednesday, there's no time to mope about the loss. Kansas is 16-2 all-time against the Bears, who it defeated by 18 points last month at Allen Fieldhouse.
3. Baylor:
The Bears' Big 12 title hopes depend largely on what happens this week. Baylor hosts Kansas on Wednesday and travels to Missouri Saturday. Baylor's only two losses are against those two teams. The Bears' offense looked sloppy and disorganized in last week's victories over Texas A&M (63-60) and Oklahoma State (64-60).
4. Iowa State:
The Cyclones won at Oklahoma Saturday despite getting just three points from leading scorer
Royce White
. Fred Hoiberg's squad has won five of its past six games overall and could continue that streak this week against Texas A&M and Oklahoma State.
5. Kansas State:
The Wildcats got back on the winning track by defeating Texas A&M Saturday at home. And the good times should continue when Kansas State hosts Texas Tech on Tuesday. Leading scorer
Rodney McGruder
has made just four of his previous 20 3-point attempts.
6. Texas:
Rick Barnes' squad hasn't caught many breaks in conference play. Texas' six league losses have come by an average of five points. The Longhorns had lost five of their previous six games before defeating Texas Tech on Saturday. Monday's road game against a beat up Texas A&M squad is winnable.
7. Texas A&M:
The Aggies almost defeated Baylor without
Khris Middleton
and
Dash Harris
on Wednesday, and they led Kansas State at halftime before falling 64-53 Saturday in Manhattan. Considering all of the injuries, Texas A&M deserves credit for competing as well as it has.
8. Oklahoma:
The Sooners have dropped four of their previous five games heading into Monday's contest against Missouri. All of a sudden the team that got off to a 9-1 start is 3-7 in league play.
Steven Pledger
and
Andrew Fitzgerald
are averaging a combined 31.1 points.
9. Oklahoma State:
Three weeks after losing to them by 41 points, Oklahoma State nearly upset the Baylor Bears before falling 64-60 Saturday in Stillwater. Freshman
Brian Williams
had 23 points in the loss. On Tuesday, Oklahoma State hosts the same Iowa State squad that it lost to on a buzzer-beater Jan. 18 in Ames.
10. Texas Tech:
Last week's home game against Oklahoma State appeared to be the Red Raiders' best chance of picking up a Big 12 win. Instead, Billy Gillispie's team was throttled 80-63.
Jordan Tolbert
leads Texas Tech in scoring with 11.9 points per contest. But he's averaging just 6.3 points in his past three games.
January, 24, 2012
1/24/12
4:01
PM CT
Here are this week's Big 12 power rankings:
1.
Kansas
: Bill Self said Saturday's 69-66 victory at Texas was his team's best win of the season. Not because the Jayhawks played particularly well against the struggling Longhorns, but because they found a way to grind out a victory in a tough road environment. Kansas is 36-7 in Big 12 road games in the past five-plus seasons.

2.
Missouri
:
Ricardo Ratliffe
scored 27 points in Saturday's 89-88 win at Baylor, but many of those came on easy baskets against the Bears' soft interior defense. The bigger story was the performance of point guard
Phil Pressey
, who had 18 points, seven assists and six steals in the Tigers' most impressive victory of the season.
January, 20, 2012
1/20/12
11:00
AM CT
AUSTIN, Texas -- Before Texas started its five-game, 12-day trip through the toughest part of its schedule,
J'Covan Brown
implored his teammates to walk into each game with a chip on his shoulder.
That chip is carrying a little less weight after Wednesday. Texas lost the first of the five, 84-80 to Kansas State. Next up is No. 7 Kansas. Then comes Iowa State, a team that has already beaten Texas. Followed by No. 3 Baylor, and finally there is No. 5 Missouri, again another team that has already beaten Texas.
[+] Enlarge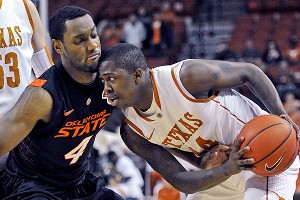 AP Photo/Michael ThomasJ'Covan Brown has urged his younger teammates to step up their games in Big 12 play.
By the end of the run through the Big 12's best, Texas might need to forget about carrying a chip on its shoulder and find a shoulder to cry on instead. And they might want to save a few tears for the end of the regular season.
The way things are shaping up, Texas (12-6, 2-3) appears in serious jeopardy of missing the NCAA Tournament for the first time in 14 years. But those are woes for later. The here and now concerns center around Texas maturing and playing with an attitude.
"We're not going to let anybody walk over us," Brown said. "If you're going to play us, you're going to play on our terms."
That all sounds good. And, as a junior, Brown probably means what he said and is able to puts some action behind those words.
However, not everyone is able to play up to Brown's standard for 40 minutes. Take freshman point guard
Myck Kabongo
. He has had flashes of brilliance in the last two games and notched back-to-back double-doubles. But Texas has lost both of those games because Kabogno had ill-timed turnovers and allowed the opponent's defense to dictate how he sets up the Texas offense.
Brown said, in order for the offense to run correctly, things have to be settled by the point guard, and that "everybody is not trying to make that big play."
Texas has to figure out who its playmakers are. Brown clearly is one. He leads the conference with 19.2 points per game and can seemingly get his shot off at any time. But most of the top teams have a complementary scorer or even a third option. Kansas has
Thomas Robinson
and
Tyshawn Taylor
. Missouri has
Marcus Denmon
,
Kim English
and
Ricardo Ratliffe
. Baylor has
Quincy Acy
,
Pierre Jackson
and
Quincy Miller
.
Texas has Brown and a collection of freshmen players --
Sheldon McClellan
,
Julien Lewis
and Kabongo -- who have shot 35 percent in five conference games.
Still, as bad as that appears, Texas has had chances to win on the road at Kansas State, Missouri and Iowa State.
Texas had the ball, down two, with 20 seconds left against Kansas State when Kabongo turned the ball over. Texas was within five against Missouri midway through the second half before three turnovers in four possessions allowed the Tigers to take control down the stretch.
"We have to execute our offense," assistant coach Chris Ogden said.
"We can't play outside of that offense," added senior
Clint Chapman
.
Texas also has to forget about whom they are facing the next four games or what has happened in the last two games.
"You've got to play," Ogden said. "You've got to figure out the things that are making us lose and change some things."
If Texas doesn't, the one that is going to change is its streak of postseason appearances.
December, 19, 2011
12/19/11
4:30
PM CT
Here are the latest Big 12 power rankings, which feature a few changes from last week.
1. Baylor:
The Bears notched one of the best road wins in school history Saturday when they knocked off BYU 86-83 in front of 22,700 in Provo.
Perry Jones III
scored a career-high 28 points, but things will only get tougher from here. Baylor plays St. Mary's and West Virginia in this week's Las Vegas Classic before taking on Mississippi State in Dallas on Dec. 28. Baylor needs to get tougher in the paint -- the Bears were outrebounded 41-26 by BYU.
October, 24, 2011
10/24/11
12:03
PM CT
A few tidbits from Mack Brown's Monday on the Big 12 teleconference.
On whether it will be David Ash or Case McCoy this week:
"It has not changed. We are still evaluating it day to day. We will watch them throughout this week and make that decision probably on Friday."
To continue reading this article you must be an Insider