Texas Longhorns:

Jordan Shipley
June, 11, 2014
6/11/14
10:30
AM ET
Jordan Shipley
retired from the NFL in February, and he has never been busier.
The former All-America wide receiver at Texas had an easy time transitioning into life after football following his three-year stint in the pros. Shipley has a burgeoning TV career as the host for "Bucks of Tecomate" and "Tecomate Whitetail Nation" on Outdoor Channel and is chasing his love of fishing, hunting and all things outdoors.
Shipley is also trying out acting in his spare time. He's portraying former Texas great Cotton Speyrer in "My All American," a movie about Freddie Steinmark and UT's 1969 national title team which is filming in Austin. ESPN.com recently caught up with him to talk about his new ventures, his brother and his former coach.
[+] Enlarge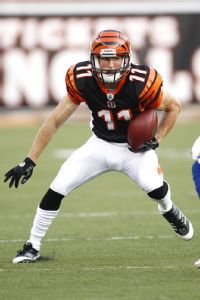 John Grieshop/Getty ImagesJordan Shipley has traded professional football for an acting and outdoor television hosting career.
First off, how is the life of a movie star treating you so far?
Shipley:
Oh man, I was laughing the other day because they gave me my own trailer. I think they have to. That deal is going to be really fun. Growing up here, you hear all these stories about the national championship teams in '69 and '70 and Freddie Steinmark and all these guys. To have it made into a movie is pretty special. I'm happy to be a part of it and playing Cotton.
How do you like seeing the old-time uniforms and haircuts?
Shipley:
What I'm having to get used to is no facial hair. I've been bearded for a while now, so I still haven't gotten used to that. But the uniforms, it feels a lot like junior high when you have the big pads. The biggest difference is being in pads for 12 hours a day. In the NCAA and NFL, they can only keep you on the field so long. That's been a little different.
How is working with Aaron Eckhart? Think he's doing a good job portraying Darrell Royal?
Shipley:
Actually, I've talked to Aaron a ton. The other day, I probably visited with him for an hour and a half. He's taking the role very seriously and it's obviously big shoes to fill. I took him to the stadium and showed him around, showed him the building and the old pictures of these guys in the movie, all the memorabilia. I think he's going to do a great job.
How did you get your break with Outdoor Channel?
Shipley:
It's a pretty incredible deal. David Morris, who's a hunting legend, was co-hosting the shows with Jeff Foxworthy for a long time. I've basically taken Jeff Foxworthy's spot. It's awesome and it's a full-time job.
Josh Hamilton was supposed to come down on a hunt with these guys and his whole family got sick and had to cancel. They called me and I came down. I was in Amarillo and I drove all the way down to Laredo, about 11 hours, with my wife and did the hunt. That went great and David pulled me aside and said he was looking for somebody to take the load off of him and eventually become the face of "Tecomate." He said, 'If you think you might be ready to be done playing football ...' and I didn't even let him finish. 'I'm ready. Sign me up.' Really, I guess I should thank Josh Hamilton.
I'd imagine that kind of work takes you all over the country, right?
Shipley:
Yeah, for my hosting next year we have hunts on the docket for Montana, Oklahoma, Kansas, Ohio, South Dakota, Wisconsin and then I'll have some in Texas. It's all over the place.
Is there pressure when the cameras are following you on a hunt and you need results?
Shipley:
There is, yeah. One hunt this year, it was down to the wire, the last afternoon of my hunt. With our schedule there's no extra days, you've got to get it done. I shot my deer from 300-something yards the last day and it was the only one I saw that was potentially for the show. So yeah, it's pressure. It's a lot like playing a football game. You've got the cameras on you and you've got to make something happen.
You knew your playing days would end eventually. Is it crazy to you that this is what you ended up doing? Or was this your plan all along?
Shipley:
This is crazier to me than playing in the NFL. This was my dream job. A lot of people laugh about that. My uncles were giving me a hard time, saying, 'What are you trying to do, do all of our dream jobs?' I wanted to do something in the outdoor industry, I knew that, but to get a hosting job on one of the highest-watched show in outdoor television has been a huge blessing. It kind of just happened.
You spent some time this spring fishing with Mack Brown. How'd that go?
Shipley:
It was fun. He wanted me to show him Lake Austin because he spends a lot of time out there and he knew I'd caught some really good fish out there. I took him out there and showed him some of my fishing holes, and we're going to do that again sometime.
Did he seem like he's enjoying the time off and the chance to relax?
Shipley:
He told me before he does anything else, he wants to spend a good amount of time playing golf and fishing. I know him and Miss Sally have gone on some trips. I think it's been great for him to have some time to decompress. We all know that job at Texas is super stressful and a high-demand job. I'm sure he's liked having some time to be a normal person again.
Your brother, Jaxon Shipley, is entering his senior year. What are you expecting this fall?
Shipley:
A lot of people don't know this, but he had a pretty significant surgery right before last season started and missed all of two-a-days. They went in and cut the attachments for his groin muscle on both sides and reattached them. They were torn and frayed everywhere. I don't know how he was even back to being able to play. That was four weeks before two-a-days.
He just didn't feel great last year, and I was impressed he played the way he did for going through that. I think watching him in the spring game, he looks like he's way ahead. I think he's going to have a great year.
January, 8, 2014
1/08/14
10:10
PM ET
His cousins made the family name famous at Texas, but
Hanner Shipley
says he wants to blaze his own path.
The 2015 three-star defensive end (Marble Falls, Texas/Faith Academy Marble Falls) called Les Miles on Wednesday night to chat. When the coach offered Shipley a scholarship, he offered his commitment.
November, 4, 2013
11/04/13
2:35
PM ET
The Big 12 has featured some prolific wide receiver tandems over the years.
Baylor's
Tevin Reese
and
Antwan Goodley
, however, have a chance to top that list.
[+] Enlarge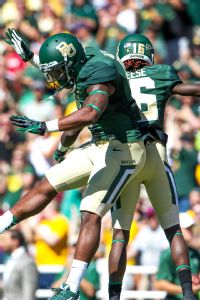 Jerome Miron/USA TODAY SportsAntwan Goodley and Tevin Reese rank 1-2 in the Big 12 in receiving yards per game.
This season, Reese is second in the Big 12 with 118 yards receiving a game. He trails only Goodley, who leads the league with an average of 128 yards receiving. They are a big reason why the Bears are on pace to break the FBS records for points (56.0) and yards (624.9) per game that were set by Army in 1944 and Houston in 1989.
But Reese and Goodley aren't the only big-time duos in the Big 12 this year.
Kansas State's
Tramaine Thompson
and
Tyler Lockett
have been lighting it up since returning from injury. The last two weeks the two have totaled five touchdown catches.
Jalen Saunders
and
Sterling Shepard
lead the Sooners with five touchdowns apiece. Texas Tech's
Eric Ward
and
Jakeem Grant
are fifth and sixth in the league in receiving. Oklahoma State's
Josh Stewart
and
Tracy Moore
are beginning to warm up with
Clint Chelf
at QB. And
Jaxon Shipley
and
Mike Davis
have been stalwarts in this league for years.
But who are the best tandems ever to play Big 12? We lay it out below.
Tight ends were not included (sorry Jermaine Gresham and Chase Coffman). The tandems were evaluated on what they accomplished together, not on whether their careers simply overlapped (eliminating Jeremy Maclin and Danario Alexander, for example); and, this is a list for duos, not singles, trios or quartets (apologies to Rashaun Woods, and the 2008 Oklahoma and 2010 Baylor receiving corps).
To the list:
1. Stedman Bailey and Tavon Austin, West Virginia (2012):
In their only year in the league, this tandem was one-two in the Big 12 in receiving, combining for 224 receptions and 2,914 receiving yards. Bailey himself had 25 receiving touchdowns; nobody else in the league had more than 13. Austin, meanwhile, also rushed for 344 yards in one game at running back. As Bailey tweeted out earlier Monday morning on this topic, "case closed."
2. Michael Crabtree and Danny Amendola, Texas Tech (2007):
Crabtree got all the headlines in 2007 on his way to winning his first of two Biletnikoff awards. But out of the slot, Amendola quietly put up 109 receptions for 1,245 yards, as Tech went 9-4.
3. Jordan Shipley and Quan Cosby, Texas (2008):
Shipley and Cosby starred on one of the three best Big 12 teams that didn't win a conference title. The two each had 1,000 receiving yards and double-digit TDs from QB Colt McCoy, as the Longhorns finished the year 12-1, their only loss coming on Crabtree's game-winning touchdown in the final seconds in Lubbock. The two were also prolific on special teams, with Shipley's kick return touchdown sparking Texas' 45-35 comeback win over Oklahoma.
4. Justin Blackmon and Josh Cooper, Oklahoma State (2011):
As with Crabtree-Amendola, Blackmon got all the attention on his way to a second Biletnikoff award. But Cooper was a pivotal piece in OSU's first Big 12 title team, as he racked up 71 receptions out of the slot. Blackmon, of course, had a monster year with 121 catches and 18 touchdowns.
5. Kendall Wright and Terrance Williams, Baylor (2011):
Reese was actually the third wheel to this duo, which shined with RGIII at quarterback. Wright was an All-American with 108 catches, 1,663 yard and 14 touchdowns. Williams was big time, too, finishing fifth in the Big 12 in receiving before taking over the No. 1 role in 2012.
6. Ryan Broyles and Kenny Stills, Oklahoma (2010):
Broyles led college football with 131 receptions on his way to becoming the all-time FBS leader in career catches. Stills broke OU's freshman single-season receiving record, as the Sooners stormed back to capture the Big 12 crown after a pair of midseason losses.
7. Kerry Meier and Dezmon Briscoe, Kansas (2008):
It might be difficult to remember now, but the Jayhawks used to play some ball. Meier tied Crabtree for second in the league with 97 receptions. Briscoe trailed only Dez Bryant with 1,402 receiving yards. This was an underrated duo.
8. Quincy Morgan and Aaron Lockett, Kansas State (1999):
On one of the first passing teams in the Big 12, Morgan and Lockett shined. Morgan had 42 receptions for 1,007 yards and nine touchdowns and was a first-team all-conference selection. Lockett, Tyler Lockett's uncle, was a second-team all-league pick for the Wildcats, who went 11-1 and finished the year ranked sixth in the polls.
9. Jarrett Hicks and Joel Filani, Texas Tech (2005):
Neither might be a household name around the Big 12 anymore, but these two were both first-team All-Big 12 selections in '05 along with Iowa State WR Todd Blythe.
10. Mark Clayton and Travis Wilson, Oklahoma (2004):
Clayton carried the moniker of best receiver in OU history until Broyles came around. Because of Adrian Peterson, Clayton's numbers dipped in '04, but he was still an All-American with 66 catches. Wilson led the Sooners with 11 TD grabs, as OU advanced to a second consecutive national championship game.
July, 10, 2013
7/10/13
11:00
AM ET
AUSTIN, Texas -- Now that the picks in the inaugural
all-time Texas draft
are in, it is time to pick a few nits. And maybe a few superlatives as well. Here is the good and the bad of the draft.
[+] Enlarge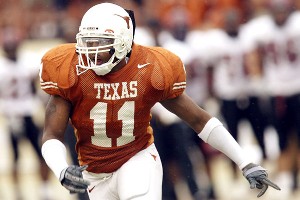 Stephen Dunn/Getty ImagesLinebacker Derrick Johnson was drafted with the first pick of the second round in our #HornsNationDraft.
Best pick:
Steve Worster, fullback, 1968-70: Sure there were a lot of players picked before Worster. In fact, he went in the last round. And it is that fact, plus his obvious skill and accomplishments while at Texas, that makes him the best pick of this draft. Worster was an integral piece of the wishbone offense under Darrell Royal. He rushed for 2,353 yards at Texas and was part of back-to-back national title teams. For Worster to last as long as he did was a shock and a nod to the fact that fullback is a position many overlook these days. Galindo, whose team was built on defense and line play, picked up a valuable asset who fits the dynamic of his team when he snagged Worster in round 24.
Most underrated pick:
Doug English. The defensive tackle had 260 career tackles (111 solo), was a two-time all-conference player, a first-team All-American in 1974 and is a member of the College Football Hall of fame. Somehow he slipped to the 18th round of a 24-round draft.
Biggest reach:
Kwame Cavil
. Texas has not been a school blessed with wide receivers, but for Cavil to be the third receiver picked, after
Jordan Shipley
and
Roy Williams
, is a stretch. Mike Adams,
Quan Cosby
and B.J. Johnson had more career receiving yards. And current Longhorn
Mike Davis
may very well, too, by the end of his career. Plus, Cavil is not in the top 10 in career touchdowns for a receiver.
Toughest position to pick:
Wide receiver. Texas simply has not produced much talent at this position. Behind Williams and Shipley it can be a crapshoot when selecting this group. Mike Davis, a current receiver who has had his ups and downs, is actually sixth on the all-time yardage list for receivers. That is how shallow the pool is for receivers at Texas.
Best offensive team:
Strickland.
Colt McCoy
to Jordan Shipley might be enough. It was the most prolific quarterback to receiver combination in the history of Texas and one of the most prolific in college football history. Add in
Jermichael Finley
who had 76 receptions over a two-year period, more than any Texas tight end, and
Alfred Jackson
, who averaged 19 yards per catch during the Earl Campbell years, and it makes for the most explosive offense of the four.
Best defensive team:
Galindo. It was clear from the start Galindo was going to pick the best Texas players from the weakest positions, which is why, saddled with the last pick of the first round and the first pick of the second, Galindo went with linebackers Tommy Nobis and
Derrick Johnson
. Add in
Brian Orakpo
as his third pick and
Tony Brackens
as the fourth, and this was a team built around defense first.
Team that would win four-team playoff:
Adams. Any of the teams can be picked apart, but Adams has a solid balance of offensive firepower and the strongest secondary of the four.
Vince Young
and Earl Campbell can do a lot of damage to any defense. Shon Mitchell was a flash-in-the-pan back but was productive in the 1995-96 seasons. Add in
Johnathan Gray
and Adams' team has the ground game covered. His team is slightly weak in the passing game -- make that very weak -- but in a four-team playoff, controlling the ball and stopping the other team from making explosive plays will win out.
Best lines:
Dunn. There were a lot of linemen to go around, especially on the defensive side of the ball. Dunn was bale to pick up maybe the best two Texas linemen early with Bob McKay and Jerry Sisemore. He followed that up with Bill Atessis at defensive tackle, completing a run in which three of his first five picks were used to build the lines. Dunn grabbed Doug English in the 18th round. The only real reach on either line was
Roger Roesler
, a third team All-American in 1999, but that didn't come until the 22nd round.
Best backfield:
Dunn. Earl Campbell and
Jamaal Charles
were two of the most prolific backs to play at Texas. Add in Bobby Layne at the quarterback position and it makes for the most complete and sturdy backfield in this year's draft.
April, 30, 2013
4/30/13
10:00
AM ET
Texas might not be done landing members of the famed Shipley family.
No, Bob Shipley – the Longhorns'
newly hired football analyst
– doesn't have any more sons after
Jordan Shipley
and
Jaxon Shipley
. But he does have a nephew, one who could end up being an intriguing prospect in the class of 2015.
To continue reading this article you must be an Insider
October, 20, 2012
10/20/12
12:03
PM ET
Jake Oliver
had his eye on a big record all season long. Last night, he broke it.
The Dallas Jesuit receiver rewrote the record books on Friday, surpassing former Longhorn
Jordan Shipley
's state record of 264 career receptions.
[+] Enlarge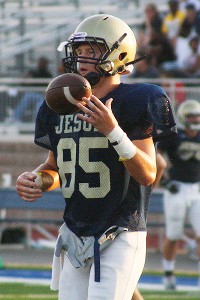 Travis L. Brown/ESPN.comJake Oliver set the Texas high school career receptions record, passing former Longhorn Jordan Shipley.
Oliver, a longtime Texas commit, caught 15 passes for 174 yards against Lake Highlands to set the new record at 274 and counting.
To continue reading this article you must be an Insider
July, 9, 2012
7/09/12
9:00
AM ET
As part of our Red River Rivalry in July, we look at five plays from the Red River Rivalry that OU fans would rather forget.
Royal's Roll gets started
Bobby Lackey threw only five passes against Oklahoma in 1958. He wasn't even the starter when the game began. That duty had fallen on the shoulders of Vince Matthews. But in the fourth quarter, when Texas, down by six, needed a play, it was Lackey who was under center against the No. 2 Sooners.
Texas had not beaten OU in eight years. This was perhaps the Longhorns' best chance. Lackey had Texas at the OU 10-yard line when he rolled out to find Bill Bryant for the tying touchdown. The sophomore from Welasco, Texas followed up the touchdown pass with an extra point to give Texas a one-point lead. He added a 28-yard interception on the Sooners' ensuing drive to seal the game.
It was the first of eight straight wins over Oklahoma for coach Darrell Royal.
[+] Enlarge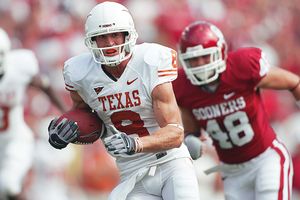 Tim Heitman/US PresswireJordan Shipley's kickoff return TD along with 11 catches and another score turned the 2008 Red River Rivalry for Texas.
Bubba's scoop and score
Peter Gardere was 4-0 against Oklahoma in his career at Texas. But it wasn't the quarterback's arm that propelled the Longhorns to a win in 1991. Instead it was the hands and the quick feet of Bubba Jacques. With 13:30 left to play and Texas on the wrong end of a 7-3 score to the No. 6 Sooners, Jacques scooped up fumble by OU fullback Mike McKinley and went 30 yards for what would be the game-winning touchdown.
However, it might have been the play before the play that turned the 5-foot-9 Jacques into a giant that day. Jacques told the media following the game that he had noticed OU's ball carriers were holding it high and told his teammates in the huddle to tackle the ball. James Patterson did just that when he went after McKinley. The ball came loose and Jacques, after finally securing the ball after three bounces, was running loose into the end zone.
Cashing In
Keith Cash was part of a package deal when he signed at Texas. Of course there was his brother Kerry, but also in the mix was another San Antonio Holmes High standout wide receiver, Johnny Walker. The trio dubbed themselves the "Posse." The goal was to return Texas to national prominence. Keith Cash's play in the final minutes against No. 4 Oklahoma in 1990 helped to do just that.
On a 4th-and-7 at the OU 16 with two minutes to play, Cash grabbed a touchdown pass from Peter Gardere to give Texas a 14-13 lead. It was the second straight year a member of the "Posse" came up with a game-winning grab. Walker had a 25-yard touchdown from Gardere with 1:33 left to play in the 1989 game.
Texas, who had not been ranked in the top five since 1984, made it to a No. 3 ranking that year before being crushed by Miami in the Cotton Bowl.
January, 23, 2012
1/23/12
9:00
AM ET
Adrian Peterson was the prize of the state in 2004.
A sleek running back with power and agility from Palestine, Texas, Peterson was the type of player who could take a recruiting class from a top 20 ranking to a top 10.
Texas, like every other school, was desperate to get him. It never had a shot.
Peterson never made an official visit to Texas. Instead he went to Oklahoma and led them to the national title game as a freshman.
[+] Enlarge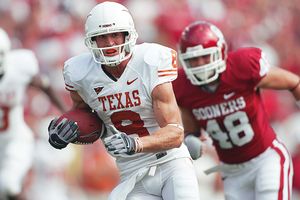 Tim Heitman/US PresswireJordan Shipley had more than a few memorable moments against archrival Oklahoma.
Texas, for the second year in a row signed a light class. Only 19 were inked. In fact, the Longhorns didn't even entertain that many prospects. They used just 24 of the 56 official on-campus visits allowed by the NCAA.
What Texas did get was strong across the lines with two future NFL linemen -- Brian Orakpo and Frank Okam as well as one of the most productive receivers in Texas history, Jordan Shipley.
The one thing Texas failed to do was sign a quarterback. It had Vince Young, Chance Mock and Matt Nordgren in the fold. But neglecting to get a quarterback set the stage for some recruiting drama in 2005.
Biggest Get: Brian Orakpo
The defensive end wasn't the most highly rated prospect in the class of 2004. That would go to defensive tackle Frank Okam. In fact, Orakpo considered himself weak when he arrived at Texas in 2004. He quickly set about to change all that. Orakpo added 50 pounds of muscle in his time at Texas. He also picked up a few honors along the way. The Lamar High (Houston) product won the Nagurski Trophy (nation's top defensive player), Lombardi Award (nation's top lineman) and Hendricks Award (nation's top defensive end).
He started 21 of his 47 games at Texas. At the end of his career he was selected 13th overall by Washington in the NFL Draft.
Most underrated: Jordan Shipley
The wide receiver appeared to be a bust. He was a Parade All-American out of tiny Burnet (Texas) High where he had been coached by his father, Bob. In his first two years at Texas, Shipley sat on the shelf. Knee injuries were the root of his problem.
To continue reading this article you must be an Insider
December, 19, 2011
12/19/11
8:00
AM ET
The Pac-10 and Big 12 nearly got married last year, but only Colorado ended up eloping with the now-Pac-12.

You know: The conference that can count!

But the Pac-12, which has, yes, 12 teams, and the Big 12, which has 10 teams (though it's often hard to keep up with which ones), play each other in three bowl games this holiday season.

Joy to the world.

Texas Longhorns Show Out On Pro Day
BIG 12 SCOREBOARD
Thursday, 9/3
Friday, 9/4
Saturday, 9/5