Texas Longhorns:

Jonathan Holmes
January, 19, 2013
1/19/13
3:39
PM ET
AUSTIN, Texas -- A few quick thoughts from Kansas'
64-59
rally at Texas …


Overview:
Kansas has rarely been tested this season. And when the Jayhawks have been, much more often than not they have proven to be up to the challenge. Saturday presented another of those challenges as No. 4 Kansas had to rally from 10-points down in the second half to beat lowly Texas at the Frank Erwin Center.
Kansas' win streak has been extended to 15. The Jayhawks are atop the Big 12 with a 3-0 record and are 16-1. Texas (8-9) has started the Big 12 with four straight conference losses for the first time in Rick Barnes' 15 seasons.
Turning point:
For most of the game
Naadir Tharpe
remained silent. But he picked the right time to make some noise. The sophomore guard hit a crucial 3-pointer to pull Kansas within one, 53-52 with 4:35 left in the game. Feeding off that emotion, Kansas picked it up on the defensive end as
Jeff Withey
swatted away
Javan Felix
's next attempt. That led to a dunk by
Ben McLemore
and to a lead for the Jayhawks. Texas briefly regained that lead, but KU proved to have too much momentum and talent down the stretch.
Kansas key player:
As he has done almost all season (save for the Michigan State game) McLemore provided a consistent scoring punch for the Jayhawks. The freshman, who is on pace to become to the highest scoring KU freshman, had 16 points. He averages 16.4 points per game.
Texas key player:
When the Longhorns got on a roll, it was largely because of
Jonathan Holmes
. The sophomore forward was saddled with two early fouls, but he came back in the second half to key an 11-0 run. In that run, Holmes had seven points and created a steal that led to another Texas bucket. Holmes fouled out with 2 minutes to go and finished with 10 points.
Noteworthy number:
Kansas did not climb to better than 40 percent shooting until there was 1:15 remaining in the game. The Jayhawks shot 28 percent in the first half. That's two straight games now for KU that the shooting percentage has been questionable. The Jayhawks shot 38 percent in a win against Baylor.
Etc...:
Kansas game into the game leading the Big 12 in scoring margin at 17.4 per game. The Jayhaws didn't take more than a two-possession lead against Texas until there was 1:16 remaining.
Next up:
The biggest game of the Big 12 season is next for Kansas. The Jayhawks, who have won 15 straight, will head to No. 16 Kansas State on Tuesday. Texas, 0-4 in the conference, will be at Oklahoma on Monday.
December, 20, 2012
12/20/12
12:06
AM ET
AUSTIN, Texas -- Texas suffered its biggest loss of the season on the night it pulled off its biggest win.
Prior to the Longhorns'
85-67 victory
over No. 23 North Carolina at the Frank Erwin Center, point guard
Myck Kabongo
was ruled ineligible for the season by the NCAA, barring an appeal, according to sources from within the Texas athletics department. The story was first reported by Yahoo! Sports on Wednesday night.
The loss of Kabongo put a serious dent in this young Texas team's chances of making a 16th consecutive NCAA tournament. But the win against the Tar Heels at least gives the 7-4 Longhorns some hope.
Playing with a true freshman point guard in
Javan Felix
and only freshmen and sophomores on the court, UT played the role of the aggressor, pushed the more talented and savvy Heels around, built a big lead and -- for the first time this season -- didn't crumble.
"There is process that every student-athlete goes through, and I can only tell you that process is not done. We are in the middle of that process," said Texas coach Rick Barnes of the Kabongo situation. "Every student-athlete is entitled to a process if something comes up, and that process is ongoing."
Kabongo has been under investigation for impermissible benefits concerning a workout that involved agent Rich Paul. According to sources, the penalty was so severe because Kabongo had been less than straightforward when the NCAA initially questioned him.
While Barnes refused to take further questions on Kabongo, North Carolina coach Roy Williams now has plenty of them about his team.
"It was like comedy of errors, except it wasn't very blankety-blank funny," Williams said.
The Tar Heels' defense refused to extend in the first half and allowed Texas to build a 19-point lead. That lead was aided by two straight surprising 3-pointers from Texas forward
Jonathan Holmes
. The sophomore had made only three shots from beyond the arc in his 10 previous games.
[+] Enlarge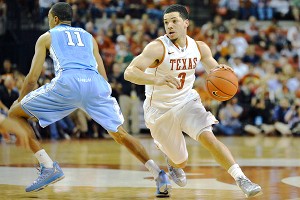 Brendan Maloney/USA TODAY SportsFreshman point guard Javan Felix effectively piloted Texas, scoring 8 points with 8 assists.
"We backed off him," Williams said.
And North Carolina continued to back down for most of the night.
"They did a better job of pushing the pace and getting us back on our heels," Williams said. "It seems like they got every loose ball."
There were plenty of those to go around, as Carolina turned it over 18 times. Texas, typically not a solid transition team, scored 14 points off those turnovers.
"Coming into the game, coach Barnes preached to us to getting the ball out and getting back in transition, and that was our game plan along with rebounding -- and that was what we tried to do," Felix said.
"They outran a running team," is how Williams put it.
In fact, Texas struggled only when it went into half-court sets. Starting the second half, North Carolina started to value the basketball more and made more of an effort to keep the Texas offense in front of it. That, coupled with the aggressiveness of
James Michael McAdoo
(14 points, 9 rebounds) and
Reggie Bullock
(a career-high 13 rebounds), allowed UNC to cut the lead to four.
Given that Texas has been a team that has struggled down the stretch -- the Longhorns were outscored 13-2 down the stretch in a 65-63 loss to UCLA -- it appeared as if the tide had started to turn.
Until, that is, North Carolina neglected to communicate on defense and allowed
Cameron Ridley
to throw down an uncontested dunk to push the lead back to seven with 6 minutes, 35 seconds remaining.
"We were aggressive and moved the ball pretty well, and some guys knocked some shots down," Barnes said. "But this was a game we thought would be won in transition and on the boards."
Texas didn't win on the boards in the box score (North Carolina had 43 to the Horns' 40). But UT did win in second-chance points with 18, and in fast-break points with 14.
"We have had a couple of tough losses because we had not played as hard as we should," said Holmes, who finished with 15 points and 8 boards. "[Wednesday night], we came out and did what we had to do. We definitely set the bar high for the rest of the season."
Regardless of who might be with Texas for the rest of the season.
--HornsNation writer Max Olson contributed to this report
October, 11, 2012
10/11/12
9:45
AM ET
AUSTIN, Texas -- All of this could have been avoided.
Myck Kabongo
could be taking part in his first NBA training camp right now and not be the subject of an
NCAA investigation into his relationship with a professional agent
, which Yahoo! Sports first reported late Wednesday night.
But the Longhorns sophomore point guard didn't want his last game in a Texas uniform to be a 65-59 loss to Cincinnati in the first round of the NCAA tournament. He wanted his legacy in Austin to be much more memorable than that and figured he could make that happen with at least one more season as a Longhorn.
[+] Enlarge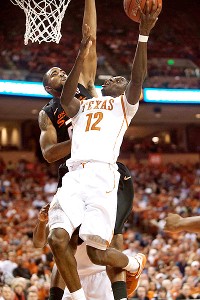 Brendan Maloney/US PresswireAs a freshman, Myck Kabongo averaged 9.6 points per game last season for the Longhorns.
"Personally for me I didn't want to go out without winning," Kabongo said recently. "This program deserves to win. They've done everything possible from a Sweet 16, Elite 8, Final Four. They just haven't gotten to that big stage yet. I just think with the big pieces that we have coming back we could do that."
The Big 12's head coaches reminded everyone last week of the expectations he brings with him into the season by naming him to the Preseason All-Big 12 Team. But if the findings in the NCAA investigation cause him to miss time this season, those expectations could be tempered a bit.
Kabongo, a 2011-12 All-Big 12 honorable mention, started all 34 games last season as a true freshman. A pass-first point guard, he finished fourth in the league in assists per game (5.2), second on the team in steals (38) and third on the team in scoring (9.8 ppg).
He was expected to be the face of a program whose roster features just two seniors (both walk-ons) and no juniors. He is up to 180 pounds after adding 10 pounds of muscle this summer, and said he felt much better about being able to handle the rigors of an NCAA season.
"I thought I could use another year of college to get stronger," he said. "Talent-wise I think I was ready to go. But physically and mentally it was a good thing for me to come back, get bigger and stronger, and build a bond with my teammates."
March, 15, 2012
3/15/12
10:30
AM ET
Texas freshman
Jonathan Holmes
wanted to make one thing perfectly clear after the matchups came out on Sunday night: "I'm not afraid of
Yancy Gates
. I'm not afraid of anybody."
Maybe Holmes did not see the right hook Cincinatti's Gates laid on Xavier's
Kenny Frease
in their brawl back in December. Of course neither did the unsuspecting Frease. The point is Gates has some fight in his game. And Texas has to be more than a punching bag. The No. 11 seed Longhorns (20-13) have to throw a few haymakers of their own as they match up with the No. 6 seed Cincinnati (24-10) in the first round of the NCAA Tournament in Nashville Friday.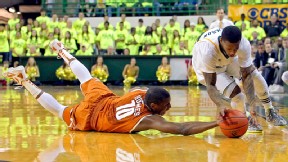 Kevin Jairaj/US PresswireTexas will need Jonathan Holmes to be physical against Cincinnati.
To make sure Texas has at least a puncher's chance here are three keys to the game:
March, 9, 2012
3/09/12
7:21
AM ET
KANSAS CITY, Mo. -- Moments before a final half of basketball that may have decided the fate of Texas' season, coach Rick Barnes stood before a dry-erase board in the Longhorns' locker room.
On one side, Barnes scribbled three letters: "N-I-T."
Then he took a step to his right and jotted down four more: "N-C-A-A."
Barnes put down the marker and looked at his team.
"Who are we?" he asked the Longhorns. "Which one would you put your name under?"
By the time Texas left the Sprint Center, the question had been answered.
In a game that so many predicted they would lose, the Longhorns fought back from an 11-point deficit and defeated Iowa State
71-65
in the quarterfinals of the Big 12 tournament. Along with propelling them into Friday's semifinal against Missouri, the victory significantly enhanced the résumé of a Texas team that entered the contest on the NCAA tournament bubble.
Now 20-12, the Horns feel much better about their chances of earning a 14th consecutive bid under Barnes, who isn't the type to politick to the selection committee.
He shouldn't have to.
Texas finished 9-9 in what is generally regarded as the second-best league in the country behind the Big Ten. The Longhorns' strength of schedule is No. 20 in the country according to
ESPN's InsideRPI
, and they have only one defeat (at Oklahoma State) that can be viewed as a "bad loss."
Thursday's victory over Iowa State also should turn some heads considering the Cyclones -- who tied for third in the Big 12 standings -- entered the game touting wins in four of their previous five contests. Texas' win Thursday came before 18,792 people, most of whom were in support of Iowa State.
"You love to walk into other gyms and quiet their fans," UT guard
J'Covan Brown
said.
Texas led 65-59 with 2 minutes, 55 seconds left before Iowa State scored six consecutive points to force a tie. But rather than flounder in the face of adversity, the Longhorns flourished.
[+] Enlarge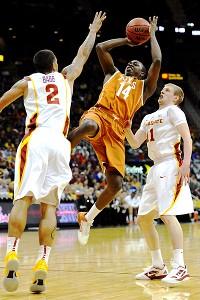 Peter G. Aiken/US PresswireJ'Covan Brown's late-game cool helped Texas hold off Iowa State -- and strengthen its NCAA case.
With 36 seconds left, Brown spun into the lane and swished a floater as he was fouled. He sank the ensuing free throw to convert the 3-point play to give Texas a 68-65 lead. It was yet another huge shot for a player whose career has been defined by gut-check moments.
Brown scored seven of his game-high 23 points in the second half.
"A few seconds before I hit that shot, Coach was like, 'Are you feeling it?'" said Brown, a junior. "I told him I was, and he let me go out and do my thing. It gives you a lot of confidence when your coach has your back like that."
Brown's performance this season -- he averages a Big 12-best 20.1 points -- is even more impressive considering he's on a team that features five freshmen among its top seven players. Opposing defenses are geared to stop Brown, yet he still finds ways to score. His game winner Thursday came against Iowa State's
Chris Babb
, who is regarded as one of the top defenders in the Big 12.
"[Brown] is a gifted offensive player," Barnes said. "He has such great vision. On that last play he had three or four different options, and he picked the right one to get the ball where it needed to be."
The Cyclones still had a chance after Brown's clutch basket, but standout
Royce White
lost control of the ball on the perimeter, and it ended up in the hands of Texas forward
Jonathan Holmes
. Iowa State immediately fouled Holmes, and the freshman made both free throws to make it 70-65 with 22 seconds left.
Ballgame.
As proud as he was of Brown, Barnes was also ecstatic about the play of freshman point guard
Myck Kabongo
, who has been on a steady incline all season. Kabongo finished with 11 points, five assists and no turnovers -- Texas had only six turnovers as a team -- and he played excellent defense on Iowa State 3-point ace
Scott Christopherson
.
A senior, Christopherson entered Thursday's game averaging 21.8 points in his previous five contests and had made 19 of 36 3-point attempts during that span. Pestered by Kabongo, he scored just 10 points on 4-of-13 shooting and missed four of his six attempts from beyond the arc.
As a team, the Cyclones made just five 3-pointers Thursday. They came in averaging nine per game.
Texas now advances to play another strong shooting team in Missouri. The Tigers are shooting 49.9 percent from the field, a mark that ranks third in the nation. Mizzou defeated Texas 84-73 in Columbia on Jan. 14 and 67-66 in Austin on Jan. 30.
"We feel good about this win," Brown said. "But we can't let our young guys celebrate too much. We've got another big one tomorrow."
December, 31, 2011
12/31/11
5:34
PM ET
AUSTIN, Texas -- Coming off a loss to North Carolina that shook up the team, Texas coach Rick Barnes decided to shake up the lineup for the first time this season.
But the replacements were not exactly a roll of the dice.
Clint Chapman
,
Sheldon McClellan
and
Jaylen Bond
had all earned significant minutes off the bench. Plus the opponent, Rice, allowed for a little tinkering. Turned out the experiment worked well enough as Texas (10-3) pulled away from Rice (9-5) midway through the second half for a 73-59 win in front of 14,506 fans at the Frank Erwin Center Saturday.
To continue reading this article you must be an Insider
Texas Longhorns Show Out On Pro Day
BIG 12 SCOREBOARD
Thursday, 9/3
Friday, 9/4
Saturday, 9/5