Texas Longhorns:

Joe Jamail
February, 3, 2013
2/03/13
3:16
PM ET
AUSTIN, Texas -- The University of Texas system's Board of Regents went behind closed doors Sunday to discuss matters Texas was unable to keep behind closed doors.
The board met by phone for two hours with only regents and UT systems personnel and discussed the recent revelations of two separate sexual relationships with adult students by football coach Major Applewhite and former track coach Bev Kearney.
Two hours following the meeting, UT systems chancellor Francisco G. Cigarroa and Board of Regents chair Gene Powell released a statement which said, in part, that there would be a review of all policies in place concerning student and employee relationships.
"The review will include policies concerning disciplinary actions and procedures as well as compliance with policies for immediate notification of institution administration and the Board of Regents whenever and wherever policies are violated," the statement read.
Kearney, 55,
admitted her relationship
nearly 11 years after the fact and resigned two months after being placed on unpaid leave by the university. Applewhite, who is married,
reported his affair
to athletics director DeLoss Dodds weeks after it happened in 2009, had his pay frozen for nearly a year, was sent to one mandatory counseling session to determine if further counseling was necessary and had a letter of reprimand put in his personnel file. Applewhite's affair was made public Friday night after a Freedom of Information request led to the release of the aforementioned letter of reprimand.
The board, which was, until recently, kept in the dark about the Applewhite affair, discussed Kearney's and Applewhite's situations, the punishment meted out and the legal ramifications that might be facing the university.
August, 14, 2012
8/14/12
8:00
AM ET
Editor's note: RecruitingNation is taking a look at the state of each team's brand.
Somewhere around the loss to Iowa State in 2010, or maybe it was the second loss in a row to Kansas State or the second in a row to Baylor in 2011 -- Joe Jamail, the attorney who usually asked the questions, was on the defensive again.
What of Mack Brown now? What of 5-7? What of 13-12 over two years? What has happened? Why hasn't Brown been fired?
"Fire him?" Jamail, a donor of such largess that Texas' field bears his name. "We ought to give him a raise. If he worked like I do he would get a third."
That's one third of $150 million. A year.
That is what the Texas brand has become during his Brown's 14 years on the sideline. The Longhorns, never fledgling mind you, have become the wealthiest program in college sports. All the while entertaining a myriad of suitors before ultimately flexing their muscle and pulling a conference together, launching a $300 million network with ESPN and, don't forget, wondering if they might ever get another quarterback.
Texas sold more merchandise than any other college program in the national championship year of 2005.
Texas also sold more merchandise than any other college program in 2010. That year the Longhorns went 5-7, their first losing record since 1997, or the year before Brown arrived.
Merchandise sales were $10.6 million in 2011. That number is more than the football budget of Texas' first two opponents in 2012, Wyoming ($5.2 million) and New Mexico ($6.6 million). But it is lint in the pocket of a university whose football program alone generated $95.7 million in revenue in the last fiscal year.
So while maybe those around the Lone Star State do not wear their hearts on their sleeves as they do in the SEC's Deep South, the Texas brand is still printed across many chests from Beaumont to El Paso and beyond.
To that end, Texas continues to brand more athletes than any other institution within the state. As former Baylor coach Grant Teaff said in an interview with HornsNation last year, "Texas has always been Texas. It has always been the thing. It represents the state. Unless your parents went to another school like Texas Tech or Baylor, if you were born in Texas, you were going to Texas."
The recruiting rankings serve to validate his words. Texas has finished in the top five of ESPN's rankings the last four years and currently sit at No. 7 for a 2013 class that will not be signed for another six months.
It's the brand that has drawn them. From freshman Daje Johnson – "I have wanted to go to Texas since eighth grade …" -- to freshman Adrian Colbert – "Why wouldn't you want to play football at the University of Texas? It's the greatest school in the country" -- players have been lured by the brand and program that is Texas.
Now, after the two worst years since Brown's arrival, those players, the coach and the program believe the results on the field can match the marketing and the brand name that thrives because of it.
"All we want to do is rise to the occasion," junior offensive lineman Mason Walters said. "We are not lowering the standard at the University of Texas, we're going to go meet it."
June, 21, 2012
6/21/12
8:00
AM ET
Together they formed an unusual triumvirate -- Joe Jamail, Willie Nelson and Darrell Royal -- a lawyer, a country singer and a football coach.
On the night after more than five months of testimony had wrapped up in the biggest case of Jamail's and the Texas court system's life, there was the football coach knocking on the door, the singer holding the beer. It was also 12 hours before closing arguments were to begin in Pennzoil vs. Texaco.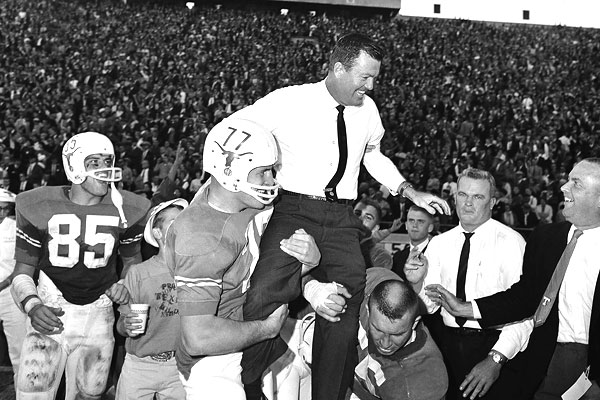 AP PhotoDarrell Royal has maintained his friendship with Joe Jamail for more than 50 years.
The best of friends and always there for the other. Maybe even when they weren't supposed to be.
A few beers wouldn't hurt. They never did with these three.
Jamail closed the case with a final argument worth $11.12 billion. He still has a memento from the settlement -- a check for $3 billion in acrylic glass – on a shelf in his office. He also has the photo of Royal and Nelson, from that night, mounted and much bigger than the check on the wall of his office.
That memory was just one of many in Jamail's relationship with Royal that has spanned more than 50 years. When they first met, it was Royal who needed help.
"(My wife Lee) called and said, 'I just got a call from Jack Josey.' He was vice president of the board of regents at the time and a good friend," Jamail said.
"[Josey] said he wanted to bring Darrell Royal by to meet her. I said, 'he has got to be kidding you baby.' Darrell, he hit Texas running and went to the Sugar Bowl his first year."
Josey was not. Royal wanted to visit, and he had a motive.
"He was recruiting a football player named Bobby Wuensch, who was all-everything," Jamail said. "And he knew, or somehow found out, that Lee and Bobby Wuensch's mother Opal went to San Marcos Academy as children together … We were very close friends, but Wuensch's uncle was dean of men at A&M. So it was going to be a problem for him … That's how I met Darrell and he left."
The Jamails later visited the Wuensches and Lee took over as recruiter.
"Lee put it on Opal like a mustard plaster … She said A&M's just another Boy Scout school," Joe said of his wife. "He's not going to make any friends of up there that can help him. [Opal told the Jamails] we don't have the clothes for Bobby to go over to Texas. Lee looked at her and said, 'Let me worry about that.' "
With a new suit and an upset Aggie family, Wuensch became a Longhorn. He would eventually become a two-time All-American and captain of the 1970 national championship team.
"We never told Darrell about that," Jamail said. "He still doesn't know to this day."
Texas Longhorns Show Out On Pro Day
BIG 12 SCOREBOARD
Thursday, 9/3
Friday, 9/4
Saturday, 9/5