Texas Longhorns:

Jeremy Hills
March, 27, 2013
3/27/13
8:00
AM ET
AUSTIN, Texas -- Each week Sean Adams looks at a few topics around the Texas Longhorns and college football.
First down: Trust your eyes
Over the last few years I have grown weary of spring practice reports, even through sources I have talked to who attend practice.
[+] Enlarge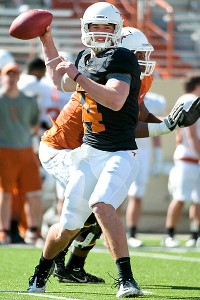 Brendan Maloney/US PresswirePractice reports are great, but the spring game will be a better indicator of where Texas is as a team.
It is difficult to build an opinion of any one player through the occasional eyes of a practice bystander. Saturday's spring game is the only thing that actually matters. I liken it to forgiving the preseason talk and forming an opinion about the team after you see them play.
Your eyes will tell you all that you need to know about where this Texas football team is during the Orange and White Scrimmage on Saturday night.
Reports are great and they will lead you to what you need to watch on Saturday, but trust your eyes and make your own opinion.
Second down: Pro day
Texas' pro day
, just like at other schools, is a weird mix of dream-chasing and men ogling other men in underwear.
Days such as pro day are one of the bigger days in the lives of a football player. There are double-digit numbers of family members there in support and hope for that dream.
While pro day is never the end all and be all to working out, it does add perspective to the most important thing, game film.
You could see the pressure on the faces of the athletes born out of nervousness and pressue. It is, however, the best place to be in because their hard work, their performance and play on the field that will be the sole reason for their success in football.
What we all want in life is a shot, and they have it.
Third down: NFL tells the story
Texas, Alabama, Notre Dame, LSU, Florida and all of the other top schools in the country can be read like a book by looking at the NFL draft and the schools' impact on it.
January, 28, 2013
1/28/13
8:00
AM ET
AUSTIN, Texas -- Recruiting is all about choices.
Some are good. Some are bad. And sometimes teams don't even get a chance to make a choice. Players just want to go elsewhere.
With all that in mind, HornsNation decided to take a look at the top players in Texas, as rated by ESPN, who did go elsewhere – aka not the Texas program -- in the past five years. It's a look back at what could have been.
To continue reading this article you must be an Insider
December, 12, 2012
12/12/12
2:30
PM ET
HornsNation is counting down the top five moments of Texas' 2012 season this week.
Play No. 3
The game:
Texas won all three of its nonconference games but still needed to prove something. Oklahoma State was just the team to do that against. The Cowboys, although void of the talent it had put on the field in recent years, still was a formidable opponent and the game was at their place.
An early Big 12 win could provide Texas with confidence that its offense was on the right track and that the turnaround coach Mack Brown had not-so-cautiously predicted was also chugging right along.
The play:
David Ash
had put himself and his team in a terrible spot. Down two with 2:34 to go, Ash had thrown an incompletion, rushed for no gain and on third and 10 hit
Jeremy Hills
for a measly four yards. So it came down to 4th-and-6 for a quarterback who was trying to win his first big game and a team trying to shed the failures of the past.
Ash dropped back and found senior tight end
D.J. Grant
down the seam for 29 yards and the first down. The play gave the offense life and Ash confidence. Two plays later he hit
Mike Davis
for 32 yards down the sideline and Texas was at the Oklahoma State five with a first down. The Longhorns would go on to punch the ball in and win their first game against Oklahoma State in three years.
November, 1, 2012
11/01/12
11:00
AM ET
Texas, riding a nine-game losing streak to top AP 25 teams, is headed to No. 20 Texas Tech this Saturday. Here is a look at five storylines that could determine the outcome of the game:
1. Speed Thrills
Marquise Goodwin
clearly wants the ball -- earlier and more often.
To continue reading this article you must be an Insider
October, 2, 2012
10/02/12
7:47
PM ET
Malcolm Brown
has been
ruled out for the West Virginia game
with a sprained ankle, but if there's one position on this Texas roster that can handle that loss it's the stable of running backs.
Brown was off to a strong start to his sophomore season with two 100-yard rushing games, but it's
Joe Bergeron
who Texas has leaned on more this season. Though the two split carries, Bergeron is the starter for a reason.
[+] Enlarge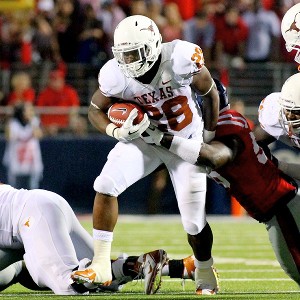 Spruce Derden/US PresswireMalcolm Brown ran the ball just three times in Texas' 41-36 win over Oklahoma State.
The 6-foot-1, 230-pound sophomore leads Texas with 52 carries for 255 yards and five scores and provides the bruising power rushing necessary to complement the versatile Brown.
Since rushing for 110 yards on 15 carries in the opener against Wyoming, Bergeron has produced three near-identical stat lines of 48 or 49 rushing yards on between 11 and 15 carries. When Brown went down against Oklahoma State, he took over the lion's share of the carries.
In the greater scheme of the offense, Bergeron has been the steady rock that Texas's scheme relies on, and offensive coordinator Bryan Harsin has paired Bergeron's 4-yards-per-carry punch with a collection of explosive skill players.
D.J. Monroe
has scored a touchdown in each of Texas's four games this season, including three on the ground. Fellow back/receiver
Daje Johnson
has produced 127 yards of total offense on 12 touches in his freshman season.
Marquise Goodwin
is also a threat on sweeps and reverses and produced an 69-yard touchdown run against Ole Miss.
Texas will have these three weapons in full force against a West Virginia defense that showed against Baylor it is prone to making mistakes that create lots of open space.
Without a doubt, though, the Texas rushing game can survive Brown's absence -- and perhaps even thrive despite it -- because of the emergence of
Johnathan Gray
.
The freshman back has begun playing up to his five-star hype. After seeing limited action in the Longhorns' first two games, Gray has established himself as a threat that Harsin and co-offensive coordinator Major Applewhite can trust.
He rushed for 50 yards on nine carries in mop-up time against Ole Miss, but it wasn't until Texas called upon him when Brown went down against OSU that Gray showed he's ready.
Gray got a struggling rushing game back on track with 12 carries for 68 yards, and operated the Longhorns' Wild formation with ease. He ran for 20 of those yards on three carries out of the Wild, including 13 yards after contact.
In Gray, Bergeron and senior
Jeremy Hills
, Texas has a proven rotation of running backs. When Brown went down three carries into his night against Oklahoma State, the trio got the job done.
That job is markedly more difficult without Brown, but Texas has the luxury of lots of options for replacing the hole he leaves in its lineup and a full week to prepare accordingly. Expect a game plan that features an even greater role for Gray and Hills and more methods for getting the ball to Monroe and Johnson.
September, 21, 2012
9/21/12
11:00
AM ET
It can be difficult for an upperclassmen to take a backseat to an underclassmen, or at least see their roles diminished because of a younger player.
But two seniors that aren't showing any signs of that being an issue for the Longhorns are
Jeremy Hills
and
D.J. Monroe
.
"Jeremy Hills and D.J. Monroe are really impressing us with their roles as seniors," coach Mack Brown said. "They are working really hard on kick teams. When we ask them to go in they are being very productive."
Hills is a fourth string running back that has found his niche by being one of the team's answer on third downs. He's only carried the ball twice for 13 yards this season and has three receptions for 27 yards.
Monroe has been one of Texas' better offensive performers so far even though he doesn't get the ball all that much. He's carried the ball eight times for 56 yards but has scored on three of them.
"I had D.J. and Jeremy stand up [after the Ole Miss game]," Brown said. "The freshmen always gripe. They think they should be playing more. I said 'Here are two seniors that are really good players, that are on kick teams and handling their role. They are not griping at all.' Freshmen always want to play and these two want to win. That's always exciting."
Brown acknowledges that he needs to get Monroe the ball more, but that he is limited sometimes because he is not a "wide receiver" like freshman
Daje Johnson
is capable of being.
"DJ is much better than he has ever been. He is more confident. He's stronger. He's all about football now," Brown said. "He wants to win and that's what seniors do. He's never said one word. He just wants to help us win. We need to let DJ get back in there some. I think just about every time he's touched it he's scored."
August, 30, 2012
8/30/12
8:00
AM ET
The Texas quarterbacks have dominated the headlines for the past month -- actually the past 12-plus months -- but there are a few more storylines for the No. 15 Longhorns as they take the field for the first time against Wyoming on Saturday.
With that in mind here are three questions Texas hopes to have answers to by the time Week One is over and Week Two begins.
Who, if anybody, will run the wild formation?
Texas is not as in love with the wild formation as it was a year ago. A lot of that has to do with Fozzy Whittaker being gone. He was extremely adept at being patient and finding the right creases in that set.
[+] Enlarge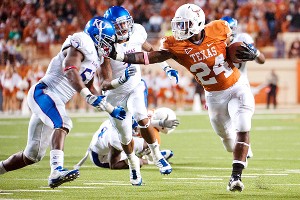 Brendan Maloney/US PresswireTexas tailback Joe Bergeron will likely be the go-to guy for the wild formation in 2012.
After weeks of trying out everybody from
Jalen Overstreet
to
Jeremy Hills
, Texas appears as if it has settled on
Joe Bergeron
to take the direct snap in short-yardage situations and
Johnathan Gray
to be more of a traditional wild back.
Bergeron brings with him a powerful, straight-ahead running style that is conducive to getting one or two tough yards if he has a full head of steam. He also has enough shimmy in his game that if something opens up he can bust a longer run.
Gray can get to the outside and is a better cutback runner than Bergeron. These two qualities make him perfectly suited to take the direct snap in those longer down-and-distance plays.
But Texas might not rely on the formation as much as it did a year ago. The Longhorns typically used the package in red zone situations. This year there is the thought, at least early on, that Texas must expand its options in the red zone and therefore might shy away from the wild formation at least in the nonconference games.
Can Texas create depth in the offensive line?
Offensive line depth is the largest concern Texas has in 2012. There was the thought hat
Sedrick Flowers
would step up and he has yet to do that. Remember this was a player Texas was depending on as a true freshman until he suffered an injury and redshirted. Flowers is over the injury but, despite being the top athlete on the offensive line, has not shown that he has what it takes to be a consistent player.
He is not alone in that. Right now Texas only feels comfortable with seven offensive linemen --
Luke Poehlmann
and
Thomas Ashcraft
are the top two subs. That means Texas is going to be looking hard at
Garrett Porter
and
Garrett Greenlea
in this first game.
Kennedy Estelle
, a true freshman, is also going to get work at tackle. Texas has to get Estelle up to speed because he is going to play in Big 12 conference games.
With Anthony Fera out how sound is the kicking game?
To continue reading this article you must be an Insider
August, 22, 2012
8/22/12
6:07
PM ET
AUSTIN, Texas -- Mack Brown made two things clear concerning his heralded freshmen class at his press conference on Wednesday: They can't sing worth a darn but, boy, can they play.
"We had a little night last night where the freshmen had to sing and they were awful," Brown said. "Awful. They better make a living in football because they won't make it in singing."
[+] Enlarge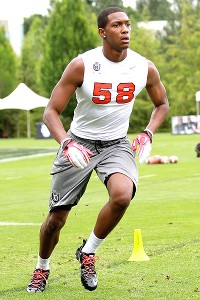 Tom Hauck for ESPN.comTrue freshman Cayleb Jones is listed as a backup receiver for the Longhorns.
From the sounds of it there are several that have at least taken the first step toward doing so.
Fifteen freshmen were listed on the depth chart when it was released to the media on Wednesday. This coming after the Longhorns played 18 freshmen in 2011, which was the most in the country.
Brown admitted that there were others from the 26 freshmen that were signed in 2012 that would probably play against Wyoming on Sept. 1.
One name notably absent from the list was
Daje Johnson
, who has been one of the talks of camp because of his versatility as both a running back and receiver in Texas' "T&Z" package with senior
D.J. Monroe
.
Brown said that Johnson is suspended for the season opener for a violation of team rules.
"He will not be involved in the first depth chart and that will not change," Brown said.
There were, however, nine freshmen that did make the cut offensively. None really came as a surprise.
Johnathan Gray
, high school football's all-time touchdown leader, is listed as the third string running back behind sophomores
Malcolm Brown
and
Joe Bergeron
, and ahead of senior
Jeremy Hills
.
August, 22, 2012
8/22/12
9:30
AM ET
For as much attention as the heated quarterback battle gets, Texas' rushing attack is what will carry this team in 2012.
On Wednesday, HornsNation took a
long look
at some of the most successful three-back systems in recent years for a glimpse at what kind of blueprint the Longhorns could adopt.
That story focused on 500-yard rushers, but there are so many other statistics that merit consideration when trying to set the bar of expectations for this backfield.
To continue reading this article you must be an Insider
August, 20, 2012
8/20/12
9:32
PM ET
AUSTIN, Texas -- Texas used the wild formation a little more in the second scrimmage of the season. Currently three running backs,
Joe Bergeron
,
Johnathan Gray
and
Jeremy Hills
, are getting the majority of the snaps from the formation.
There had been some thoughts about using freshman quarterback
Jalen Overstreet
as the trigger man in the wild, but Overstreet has not been in that formation as of late and has been operating more as a traditional quarterback.
"What we're trying to do with Jalen is primarily quarterback," co-offensive coordinator Bryan Harsin said. "The focus has been playing quarterback. The focus has been learning the offense."
As for picking just one player to run the wild as Fozzy Whittaker did for Texas last year, Harsin instead wants as many options as possible to run plays in the formation.
"It's like quarterback you want to have your guy out there," Harsin said. "You're going to have your guy that's going to go roll out there. But that particular play you've got those backs now that are in the flow of the game and you need to have a couple. You might call that play and the guy just ran four in a row so he's gassed. Now if it is Joe in there then Johnathan Gray has to go in. So you still have to have, in that particular play, especially using running backs, is have a couple of them that you can rotate in there and operate it like it's supposed to be."
June, 8, 2012
6/08/12
4:30
PM ET
Over the next two months, HornsNation, will analyze each of the scholarship players currently on the Texas roster. (The bulk of the 2012 class is not currently on the roster.) We will look at the player's past contributions, what he might do for Texas this year and the future impact he could have on the program. Starting with No. 1
Mike Davis
we will go through the roster numerically before ending with No. 99
Desmond Jackson
.
No. 5
Jeremy Hills
Running back, 6-0, 202, senior
To continue reading this article you must be an Insider
May, 9, 2012
5/09/12
9:00
AM ET
Here is a quick look around the college football world and the things that are affecting Texas.
1st down: Nobody knows what to think about the 2012 Longhorns
Texas was 5 – 7 in 2010 and made a turnaround to 8 – 5 with a bowl win in 2011. While Texas did not finished the 2011 season ranked, most Longhorns fans believe that Texas is on track to return to the top 10.
Even a cross-section of media polls done this spring can't agree on where Texas should start the season:
The Big Show

To continue reading this article you must be an Insider
February, 16, 2012
2/16/12
9:00
AM ET
Mack Brown and Texas want balance when it comes to the offense.
Since that is the case, Texas needs to start working on its quarterback situation because the running game is doing more than its share.
When healthy,
Malcolm Brown
and
Joe Bergeron
proved to be Texas' best one-two combination at running back since Jamaal Charles and Selvin Young in 2006. That pair rushed for 1,422 yards on 293 carries. Brown and Bergeron rushed for 1,205 yards on 244 carries.
To continue reading this article you must be an Insider
Texas Longhorns Show Out On Pro Day
BIG 12 SCOREBOARD
Thursday, 9/3
Friday, 9/4
Saturday, 9/5