Texas Longhorns:

Jeff Woody
September, 30, 2013
9/30/13
1:00
PM ET
A look at Iowa State, Texas' first Big 12 road opponent of the season. The Longhorns play ISU on Thursday (6:30 p.m. CT, ESPN).
Campus location:
Ames, Iowa
All-time record vs. Texas:
2-10

Last game:
ISU notched its first win of 2013 with a 38-21 victory on the road against Tulsa on Thursday. Sam Richardson threw for 255 yards and two scores, and
Jeff Woody
rushed for three short touchdowns. The Cyclones forced four turnovers and pulled away in a 14-14 game at the half with 17 consecutive points.
Last meeting with Texas:
Three days after the death of Darrell K Royal, the Longhorns honored him with a Wishbone pass on their first play from scrimmage and went on to win 33-7.
David Ash
threw for 364 yards and two scores, and
Mike Davis
and
Jaxon Shipley
each had 100-yard days while the Texas defense shut out ISU in the second half.
Key player:
How will Texas respond to the loss of
Jordan Hicks
? His season-ending injury once again creates problems for the Longhorn linebackers and their new position coach Greg Robinson. That means the ISU player to keep an eye on is running back
Aaron Wimberly
, a juco transfer from Iowa Western who broke out with 137 yards on 19 carries against Tulsa.
Why Iowa State might win:
This is a classic trap game, and Paul Rhoads' Cyclones always win one of these games every season. Nobody has forgotten ISU's win at Texas in 2010, right? The Longhorns have enough issues of their own – namely the loss of Hicks and the questionable status of Ash – that they can get into trouble against ISU if they show up rusty off the bye and make early mistakes.
Why Iowa State might lose:
Even if the Longhorns don't show up like they should early on, this team should still has a serious advantage in the talent department. You saw that last year, when Texas sat comfortably on a two-score lead for much of the game and held off ISU with ease. This time around, Texas should go right after a below-average Cyclones run defense and just grind this one out. But don't be surprised if the score ends up being a little closer than expected.
September, 10, 2013
9/10/13
12:00
PM ET
Look at the bright side, Pokes fans: At least this afternoon's headlines will be dominated by
new iPhones
.
January, 26, 2012
1/26/12
11:04
AM ET
We're continuing our look at the postseason rankings for each position in the Big 12. Here's a look back at
where the running backs ranked in the preseason
.
In this position, unlike quarterback, depth is a major, major factor in these rankings.
1. Texas A&M
The Aggies had the two most talented backs, and despite injuries to both, proved it through an otherwise frustrating 2011.
Christine Michael
suffered a torn ACL, but still managed 899 yards on just 149 carries.
Cyrus Gray
injured his shoulder late in the season, but secured his second consecutive 1,000-yard season and ranked third in the Big 12, despite carrying the ball just 198 times. This duo should have easily surpassed 1,000 yards, but even when they were injured,
Ben Malena
played well in the final two games.
[+] Enlarge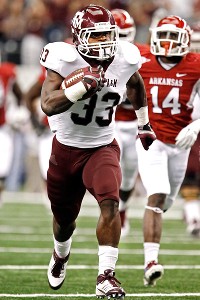 AP Photo/Brandon WadeChristine Michael averaged 6 yards per carry before a torn ACL ended his season.
2. Missouri
Mizzou dealt with injuries, too, first to
Kendial Lawrence
and
De'Vion Moore
. Cue
Henry Josey
. Josey became the best back in the Big 12 this year before suffering a major knee injury that included torn ligaments. He may not be back in 2012. His 1,168 yards were third most in the Big 12, despite carrying the ball just 145 times. Lawrence finished 12th with 566 yards.
3. Oklahoma State
Joseph Randle
stole the show this year, rushing for 24 scores and ranking second in the Big 12 with 1,216 yards. Only
Collin Klein
ran for more touchdowns and
Terrance Ganaway
was the only player with more yardage. Still,
Jeremy Smith
had averaged more than 7 yards a carry, and he'd be able to start for anyone else in the league.
Herschel Sims
showed promise, too, with 242 yards on 31 carries.
4. Baylor
Ganaway led the Big 12 in rushing with huge performances late in the season, including a 200-yard, five-touchdown game in his final outing as a college athlete in the Alamo Bowl. He averaged more than 6 yards on his 250 carries and had 330 more yards than any other back in the league.
Jarred Salubi
added 331 yards, too.
5. Texas
Texas'
Malcolm Brown
and
Joe Bergeron
were banged-up late in the season, but Fozzy Whittaker played well until suffering a torn ACL against Missouri, too. Scatback
D.J. Monroe
was effective in the passing game as well. Four running backs topped 300 yards and Brown led the team with 742 yards, despite missing three games and having his carries limited early in the season.
6. Oklahoma
Oklahoma got great contributions from walk-on
Dominique Whaley
early on, and he proved to be the team's most effective runner and best runner between the tackles. He fractured his ankle in midseason, and finished with just 627 yards to lead the team.
Roy Finch
emerged late in the seasons after a quiet first half and added 605 yards.
7. Kansas
KU's
James Sims
led the team in rushing again with 727 yards.
Darrian Miller
was excellent, too, with 559 yards, though he was dismissed after the season. Freshmen
Tony Pierson
and
Brandon Bourbon
have plenty of promise, both averaging more than 5.5 yards a carry in 2011. The bad news: All their carries were limited by an awful defense that limited KU's chances to run the ball.
8. Kansas State
K-State's rushing attack centered around Klein, but
John Hubert
, a slippery back from Waco, Texas, had a good year. Hubert was seventh in the Big 12 with 970 yards. Bryce Brown offered basically nothing to K-State, and beyond Klein and Hubert, the Wildcats were pretty thin. Additionally, without Klein, would Hubert have duplicated his success?
9. Texas Tech
An awful knee injury derailed
Eric Stephens
' likely 1,000-yard season, and the rest of Texas Tech's backfield got banged-up, too. Stephens will probably return in 2012 from his dislocated knee, and finished with 565 yards, 17th in the Big 12.
Aaron Crawford
and
DeAndre Washington
both topped 300 yards.
10. Iowa State
ISU lost
Shontrelle Johnson
for the season early on, but
James White
filled in well. He finished with 743 yards, which ranked ninth in the Big 12.
Jeff Woody
had 380 yards and provided quality carries late, including the game-winning touchdown against Oklahoma State.
January, 25, 2012
1/25/12
2:00
PM ET
I unveiled
my All-Interview team this week,
but I heard about as much feedback from that post as any we've had on the blog.
Folks wanted more.
So, here it is. I asked the local reporters for help: Tell us the story of players this season who provided one memorable interview for one reason or another, or consistently offered a look inside teams that few other players could duplicate.
Here they are:
David Snow, OL, Texas
: Imagine what you'd expect a guy who grew up lifting hay bales and shooting deer in the small East Texas town of Giilmer to sound like. That's exactly the voice that comes from Snow, who spent every Longhorns media session spewing blunt honesty through his thick, slow drawl. If Texas stunk, Snow owned up to it, sometimes in PG-13 terms. If he didn't like an opponent (and he usually didn't) he had no problem describing his distaste. He was one of the few guys who seemed to genuinely enjoy talking to the media, and his listeners enjoyed it too. --
Mike Finger, San Antonio Express-News
Javon Harris, S, Oklahoma:
Came into the interview room for 30 minutes the Monday after that Baylor game, and answered every question honestly. --
Jake Trotter, SoonerNation
Shaun Lewis, LB, Oklahoma State
It's not about quantity. It's about quality. You don't get a lot of words from Lewis, but he always helps make the story better.
-- Bill Haisten, Tulsa World
Grant Garner, C, Oklahoma State:
Excellent, both on topics specific to the offensive line and the big-picture condition of Oklahoma State football. --
Bill Haisten, Tulsa World
Richetti Jones, DE, Oklahoma State:
Other than Weeden, Richetti was my favorite guy to chat with because he told you exactly how he felt about absolutely anything. He called out critics of the OSU defense when the Cowboys climbed to No. 2 in the nation. He ripped the BCS for the title game rematch that featured a team that didn't win its conference. But his jabs--or any answers he gave--were always entertaining. One of my interview highlights of the season was him describing how he thought the first earthquake that hit Oklahoma in November was paranormal activity in his bedroom. The dude is hilarious, and I'll miss talking with him. --
Gina Mizell, The Oklahoman
Gabe Ikard, OL, Oklahoma:
I noticed you had
Ben Habern
, and that's a very fine selection from the Sooners. But Gabe Ikard is more than suitable as an addition. In fact, once, we interviewed Habern and Ikard together, sitting next to one another. It was their choice. They cut up and had a good time with it, but they also gave a lot of answers I could use. (I remember that being the day I was writing about walk-on
Dominique Whaley
's impact on the team and previously working at Subway to pay for school.)
Both of those guys, and Ikard in particular, are extremely engaging. Not only do they not mind interviews ... they seem to like them. That's rare, at least over the course of the long season. Ikard, who has a 4.0 I think, is very thoughtful and honest with his answers. Those two guys often fill your notebook, regardless of what you're working on. I appreciate their positive attitudes about media when we sometimes run into malcontents by, oh, sometime in October. --
Travis Haney, The Oklahoman
Brandon Weeden, QB, Oklahoma State:
Not only did you feel like you were dealing with a grown up -- no age jokes allowed -- Weeden always gave every question sincere thought and provided a thoughtful answer. He showed up every week, after every game, ready and willing to talk. He should be hired by every team in the league to teach a Media 101 session. --
John Helsley, The Oklahoman
Jeff Woody, RB, Iowa State:
Great knack for giving you insight to the game, and the emotion that goes into it - without throwing teammates under the bus. He described running back
Shontrelle Johnson
as a rabbit darting across the back yard, while being chased by a dog. --
Andrew Logue, Des Moines Register
Steven Johnson, LB, Kansas:
No matter what the situation was, Steven Johnson was a guy we could count on for the truth. Whether it was after tough loss, a big win or the opening practice of the season, Johnson always told it like it was and rarely held back his emotions or expectations. Sometimes that meant him breaking down to the point of tears, other times it meant him holding out hope for winning the Big 12 or making a bowl game even though the Jayhawks were five or six games into a disappointing season. Johnson will go down as one of the classiest players to ever wear a KU uniform and he easily was this team's go-to guy for good quotes. --
Matt Tait, Lawrence Journal-World
Terrance Ganaway, RB, Baylor:
Thoughtful with his answers, willing to answer difficult questions and very well-reasoned and well-worded responses. --
Jimmy Burch, Fort Worth Star-Telegram
R.J. Washington, DE, Oklahoma:
Epic interviews in high school made us all eager to get some time with him. But after a redshirt year, he clearly had been taught to dial it back a bit. Still, he's very good. Almost always offers up something interesting, and it's frequently subject matter that you may not have asked about. He gets it. He knows not to be overly defensive or closed-down in interviews because he refuses to buy the company line that the media is out to get him. --
John Hoover, Tulsa World
Terrance Frederick, CB, Texas A&M:
He seemed real -- appropriately serious but at times still light hearted -- as the season turned sour. --
Suzanne Halliburton, Austin American-Statesman
Steven Johnson, LB, Kansas
: Looked like you already got him, but I'll put in another vote for KU's Steven Johnson. He was the guy you could count on to say what everyone was thinking. --
Austin Meek, Topeka Capital-Journal
Ter'ran Benton, CB, Iowa State:
Benton is smart, funny and you never know where an interview with him will go. He might tell you why Louisiana Hot Sauce is the best hot sauce in the world. He might joking tell you that cornerback
Leonard Johnson
should be playing well because he has a light class load. He's great at explaining why things are, or aren't, working for the defense. He's an all-around great quote. --
Bobby La Gesse, Ames Tribune
B.J. Finney, C, Kansas State:
The freshman center was the face of K-State football this season, at least at press conferences. He showed up at every single media availability and gave thoughtful answers to every question he was asked. Quite impressive when you consider he was the only football player to show up for a few of the midweek pressers and reporters desperate for a quote asked him about the opposing team's offense and what strategy the K-State secondary had for that week. He gets the perfect attendance award.
-- Kellis Robinett, Wichita Eagle/Kansas City Star
Chris Harper, WR, Kansas State:
Never afraid to speak his mind on a topic. Will respond to dull questions with incredible insight. A former quarterback, he can analyze every offensive position. By far the best and most entertaining talker on the team. But he lost points for criticizing the Pinstripe Bowl. Bill Snyder didn't care for that, and made him off limits to media for several weeks. --
Kellis Robinett, Wichita Eagle/Kansas City Star
January, 18, 2012
1/18/12
1:30
PM ET
We took a
look at the best atmospheres on Tuesday
, and today, it's time to rank the top 10 games involving Big 12 teams of 2011.
1. Kansas State 53, Texas A&M 50 (4 OT):
Kansas State erased a double-digit lead in the final half of the fourth quarter to force overtime.
Collin Klein
burrowed into the end zone on a quarterback sneak to earn a huge win and a memorable night in Manhattan.
2. Baylor 50, TCU 48:
The first game of the entire season for the Big 12 began in style.
Robert Griffin III
began his Heisman campaign with five touchdown passes, but the Bears blew a 47-23 lead in just over 11 minutes, giving up 25 fourth-quarter points. Griffin, though, hauled in his only catch of the season to extend a game-winning drive on third down, and
Aaron Jones
booted a 37-yard game winner with just over a minute left, cueing the Baylor fans to storm the field after a game-clinching interception.
3. Oklahoma State 41, Stanford 38 (OT):
This was what we thought it was. Neither defense could stop the opposing offense, and Oklahoma State converted a fourth down from
Brandon Weeden
to
Justin Blackmon
to extend the game and take the lead, but Stanford drove back down the field and missed a 35-yard field goal as time expired. It missed another kick in overtime, and OSU kicked a game-winning field goal after
Colton Chelf
's game-winning touchdown was overturned to just a 24-yard gain.
4. Baylor 45, Oklahoma 38:
This gave way to the signature moment of Robert Griffin III's Heisman campaign, and it wasn't the 87-yard touchdown pass to
Kendall Wright
off
Tevin Reese
's helmet. The teams traded second-half leads and Oklahoma erased a 14-point, fourth-quarter lead before Griffin extended a play and hit
Terrance Williams
for a 34-yard, game-winning touchdown pass with eight seconds left.
5. Iowa State 37, Oklahoma State 31 (2 OT):
This game made our top 10 moments of 2011, too. The Cowboys lost a 24-7 second-half lead and missed a game-winning field goal. Brandon Weeden threw an interception in the second overtime and
Jeff Woody
set off the biggest party in Ames in a long while with his game-winning, four-yard touchdown run in the second overtime.
6. Texas 27, Texas A&M 25:
The Aggies led 10-0 and 16-7, but once again, it didn't matter.
Jeff Fuller
gave the Aggies back the lead with a big 16-yard touchdown with 1:48 to play. The two-point conversion failed, though, and
Case McCoy
got free for a 25-yard scramble that set up a 40-yard, game-winning field goal by
Justin Tucker
as time expired to give the Longhorns bragging rights in the heated rivalry for as long as they want, perhaps forever. The two teams aren't scheduled to meet again after A&M leaves for the SEC.
7. Oklahoma State 52, Kansas State 45:
OSU fell behind 24-14 early after a pick six by Weeden, putting the undefeated season in doubt. The teams traded three touchdowns in just under two minutes, and
Joseph Randle
's 23-yard run gave OSU the lead for good with 3:16 to play, making it four touchdowns in three minutes. Kansas State drove to tie the game and possibly win it with a two-point conversion, but two Collin Klein passes fell incomplete, and OSU survived to move to 9-0.
8. Baylor 31, Kansas 30 (OT):
This game wasn't televised, but it was quietly a classic. Baylor struggled to stop the run, and trailed 24-3 in the fourth quarter before RG3 broke a 49-yard run and hit on two long touchdown passes to tie the game. The two teams traded touchdowns in overtime, but Kansas failed to convert a game-winning two-point conversion, and Turner Gill's guts went unrewarded. Kansas also went without a win in conference play. Baylor loses this game, and RG3 doesn't win the Heisman.
9. Missouri 31, Texas Tech 27:
This is a sneaky pick for our top 10 list. Texas Tech jumped out to a 14-0 lead, and Missouri trailed by 10 in the fourth quarter, but
James Franklin
threw one touchdown pass and ran for another to take the lead. Texas Tech drove inside the Missouri 10-yard line in the final minute, but a tipped
Seth Doege
pass was intercepted to give Mizzou a dramatic win.
10. Missouri 38, Texas A&M 31 (OT):
The SEC bowl helped bury Texas A&M's season and spark Missouri's. The Tigers trailed by 14 early and 11 points at half before taking the lead in the fourth quarter.
Randy Bullock
tied the game with a field goal in the final minutes to force overtime. James Franklin hit
Marcus Lucas
for an 11-yard score and
Ryan Tannehill
's final pass was batted down as Missouri stormed the field and celebrated the end of their three-game losing streak. The Tigers would win four of their final five games, and that bounced Mizzou to 4-4 instead of 3-5. That loss for then-No. 16 Texas A&M keyed off four in the final five regular-season games, including two in overtime (K-State, Mizzou) and another as time expired (Texas).
Honorable mention:
Kansas State 28, Miami 24; Baylor 67, Washington 56; Iowa State 44, Iowa 41 (3 OT); Texas 17, BYU 16; Arkansas 42, Texas A&M 38; Oklahoma State 30, Texas A&M 29.
December, 7, 2011
12/07/11
5:48
PM ET
The Big 12's not so simple anymore.
Maybe it's unfair, but conferences are most often judged by their top teams. Glance at Oklahoma and Texas, the two teams that won every Big 12 title since 2003, and you'll see a combined eight losses in 2011.
The Longhorns improved from 5-7 to 7-5. Oklahoma? A 2010 Big 12 title bled into a national title chase in 2011 that ended with a third loss in its regular season finale, and a particularly embarrassing one, too.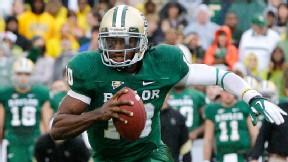 AP Photo/Tony GutierrezRobert Griffin III's star turn got Baylor nine wins -- and himself an invitation to the Heisman ceremony.
Outright Big 12 champion
stomped the Sooners in Stillwater
, ending the Longhorns and Sooners' Red River Reign over the league. This year's second-place finisher, Kansas State, had been the last team not the Longhorns or Sooners to win the Big 12. Since that title in 2003, it's been all Texas and Oklahoma.
The league ain't what it used to be, in lots of good and bad ways. The newfound parity is a good sign.
Texas A&M and Missouri leaving for the SEC? A profoundly bad sign.
Texas A&M and Missouri's combined 0-6 record against Oklahoma, Oklahoma State and Kansas State? Another good sign.
TCU and West Virginia (
probably
) join the Big 12 next season, and will find a league that looks much different than it did even two years ago.
Texas' ascent still looks in-progress, and until the Longhorns find a quarterback, can't reasonably count on having any real shot at a Big 12 title. Oklahoma will be strapped for experience next season without
Ryan Broyles
and three of its best defenders. It will only get more difficult if
Landry Jones
, projected as a top-10 pick, leaves early for the NFL.
Oklahoma State broke the proverbial glass ceiling this year in resounding fashion, challenging the idea that 2011 was a "down year" in the Big 12. Oklahoma was a disappointment. Texas A&M tanked. The Longhorns were still too young and lacked enough offense.
But there's a reason why, even without a team in the national championship game for the second consecutive year, this was far from a down year for the Big 12. You just have to look a little harder.
Oklahoma State surpassed last year's 10-win regular season with 11 this year, the most in school history. Kansas State is one of the nation's biggest surprises, and was robbed of a spot in the BCS by the Hokie-loving Sugar Bowl. Baylor? All the Bears did was win more Big 12 games (5) than any year before, and put themselves in position for the program's first Heisman winner ever.
Injuries morphed Oklahoma from great to just good, but this year, the Big 12's identity was much deeper than "How did Texas and Oklahoma do?"
The league went 27-3 in nonconference play, winning the eternal love of the BCS computers and landing eight teams in bowl games, despite switching to a nine-game conference schedule. In other words, every team replaced a likely nonconference win with a Big 12 opponent. The league, top to bottom, still put together an outstanding season. That .900 percentage was the best nonconference winning percentage of any league since the SEC in 1997.
Two of those losses, by the way, came from Texas A&M and Missouri, who will be gone to the SEC after this season.
The Big 12 missed out on the national title race, but it wasn't down this year. It was way, way up. You just had to look a little harder to tell.
Time to look back on the season that was:
Offensive MVP:
Robert Griffin III, QB, Baylor
Griffin might be the nation's offensive MVP, so why would it be any different here? The Heisman finalist (and likely favorite) helped carry the Bears to a 9-3 season and broke the NCAA record for pass-efficiency rating, at 192.31. He racked up 3,998 yards, 36 touchdowns and six interceptions on 267-of-369 passing.
Defensive MVP: Frank Alexander, DE, Oklahoma
Alexander played through a painful shoulder injury in Bedlam, and suffered a knee injury in the game, but he was outstanding throughout the season as the biggest wrecking ball on defense of anyone in the Big 12. He's got all the physical measurables, using his speed, flexibility and quickness at 6-foot-4, 255 pounds to lead the Big 12 with 8.5 sacks and 18 tackles for loss.
Newcomer(s) of the year: Arthur Brown, LB, Kansas State and Nigel Malone, CB, Kansas State
I couldn't decide between these two. Both helped completely revitalize a K-State defense that struggled last year. Brown transferred to K-State from Miami and Malone arrived via the City College of San Francisco. Brown was arguably the Big 12's surest tackler, ranking ninth in the league with 95 stops, including 7.5 for loss, two sacks and his first pick was a game-changer against Baylor to help K-State get the victory. He was the first player all season to intercept RG3, and one of just six all season. Malone, meanwhile, snatched seven picks, two more than any player in the Big 12. He also broke up nine passes and made 57 tackles (46 solo).
[+] Enlarge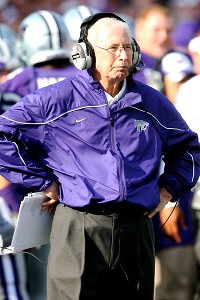 Scott Sewell/US PRESSWIREBill Snyder molded Kansas State's crew of unknowns into the Big 12's biggest surprise.
Coach of the Year: Bill Snyder, Kansas State
Easy pick here. The numbers say it all. Kansas State was loaded with unknowns. Lots of first-year players, especially on defense (see above), and one of his most hyped players, running back
Bryce Brown
, left the team at midseason. He also had a former receiver at quarterback,
Collin Klein
, who became one of the nation's most valuable players. The big man took a beating, but ran for 1,099 yards and a Big 12-best 26 touchdowns. The Wildcats were picked to finish eighth in the Big 12, and don't exude talent as much as most other Big 12 teams do. They nearly won the Big 12, though, and finished
eighth in the BCS standings
.
Biggest Surprise: Iowa State 37, Oklahoma State 31 in 2OT on Nov. 18.
This one had the biggest impact, too. The Cowboys were 28-point favorites and raced to a 24-7 third-quarter lead. They didn't score again until overtime. Iowa State rallied to tie the game, and the usually reliable Quinn Sharp missed what could have been a game-winning 37-yard field goal with just over a minute to play. After
Brandon Weeden
threw an interception in the second overtime, Iowa State pounded the running game and
Jeff Woody
crossed the goal line to win the game, put Iowa State into a second bowl game in three years, and knocked Oklahoma State out of the national title chase. The morning of the game, Oklahoma State learned that women's basketball coach Kurt Budke and assistant Miranda Serna had been killed in a plane crash. After the gam, the Cowboys were left trying to stomach a painful, shocking loss on the field, where the stands at Jack Trice Stadium had emptied for an epic field rush.
Biggest Disappointment: Texas A&M
No question about this one. Texas A&M was a Big 12 contender and had the talent to possibly win a national title. The mental makeup, though, didn't exactly reek of toughness. The Aggies were favored in 11 games and led by double digits in all 11 of those games. They lost six, including five losses with double-digit halftime leads. They saved the most painful loss for last. Hated rival Texas, a catalyst for the move to the SEC, erased a 10-0 and 16-7 halftime lead to beat the Aggies 27-25 on a last-second field goal after a late two-minute drill. Less than a week later, Texas A&M fired coach Mike Sherman and is looking for his replacement before moving to the SEC next season.
Best Game: Kansas State 53, Texas A&M 50 in 4OT on Nov. 12
This might be the best game in Big 12 history. With just 6:38 to play, Kansas State trailed, 31-21. Klein hit
Chris Harper
for a 53-yard score to get the Wildcats within reach, and K-State forced overtime on a 44-yard kick by Anthony Cantele with just 2:12 to play. The two teams traded touchdowns in the first and third overtimes, sandwiched around field goals in the second overtime. In the third, though? Texas A&M elected to kick a 20-yard field goal on 4th-and-1 at the K-State 3-yard line. Kansas State answered with all running plays and drew a pass-interference penalty before Klein pushed the pile for a 1-yard touchdown to win the game.
Loyal Texas Fans To Get Ticket Priority
BIG 12 SCOREBOARD
Thursday, 9/3
Friday, 9/4
Saturday, 9/5